It's been a while since we've posted a wedding on here and the wait was worth it when you see what I have for you today. All you wine lovers get ready, poor a big glass, because there are so many pretty photos to see…
We had the pleasure of designing and planning the wedding of Megan Robinson and Jake Kloberdanz last year. He is the founder and CEO of One Hope Wine and she is the Art Director. When they got engaged they knew they had to get married at the new private estate on One Hope's vineyards in Napa, Estate 8. It is a stunning home surrounded by vineyards and One Hope's future tasting room which will be open to the public by appointment in Summer of 2020.
Matt Rice captured this day so beautifully, I'm so excited to finally share it with you today and have it also featured on Style Me Pretty. Now, get your pin button ready, because this one is GOOD!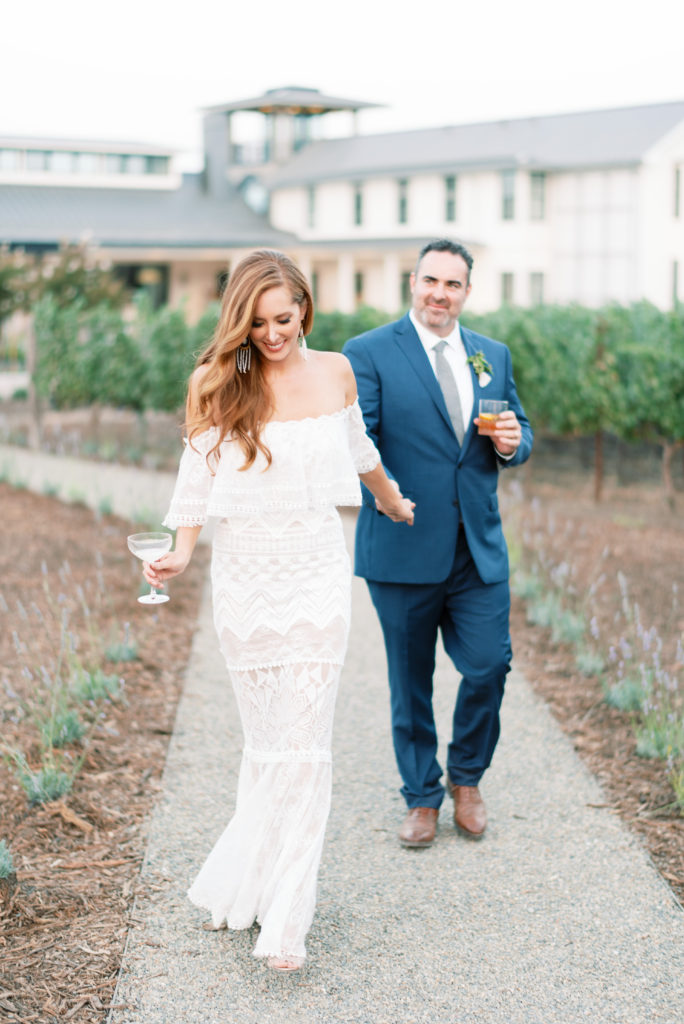 Meg and her bridesmaids got ready at Estate 8 in one of the gorgeous light filled bedrooms. She had the dream team of 1011 Hair & Makeup taking care of each of them. Meg is so naturally beautiful, I'm sure she made their job easy! The girls of course had some tasty One Hope rosé to sip during their pampering!!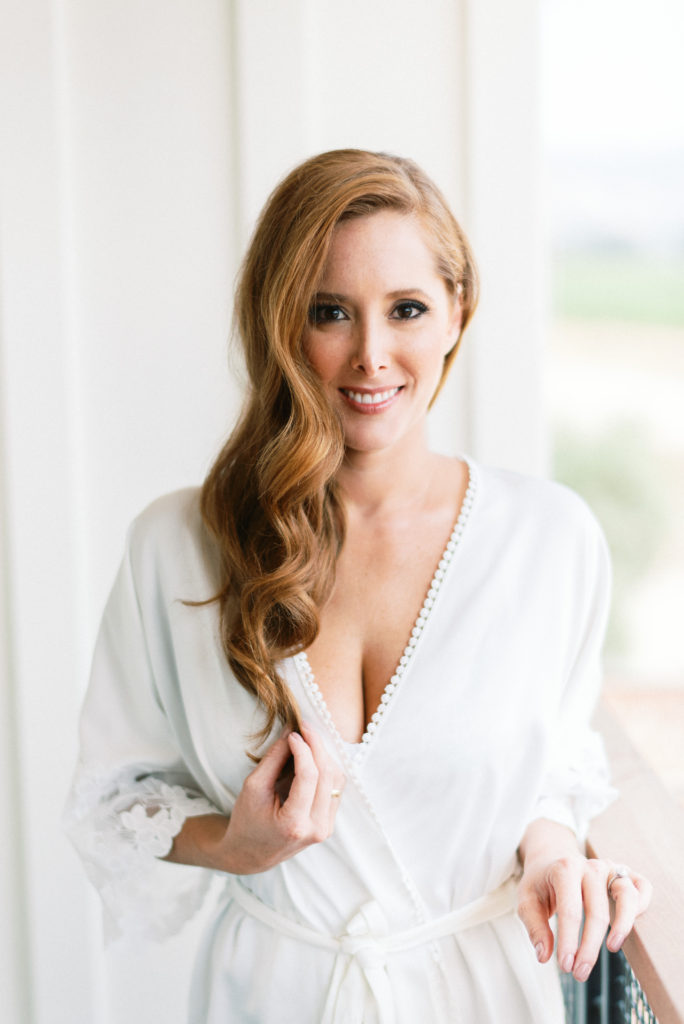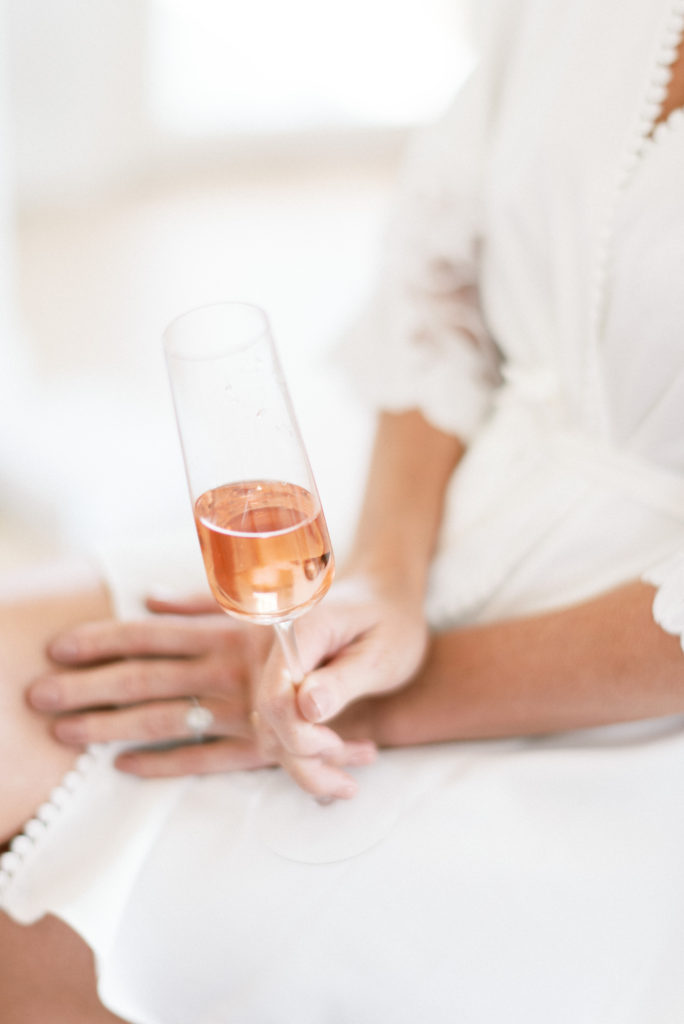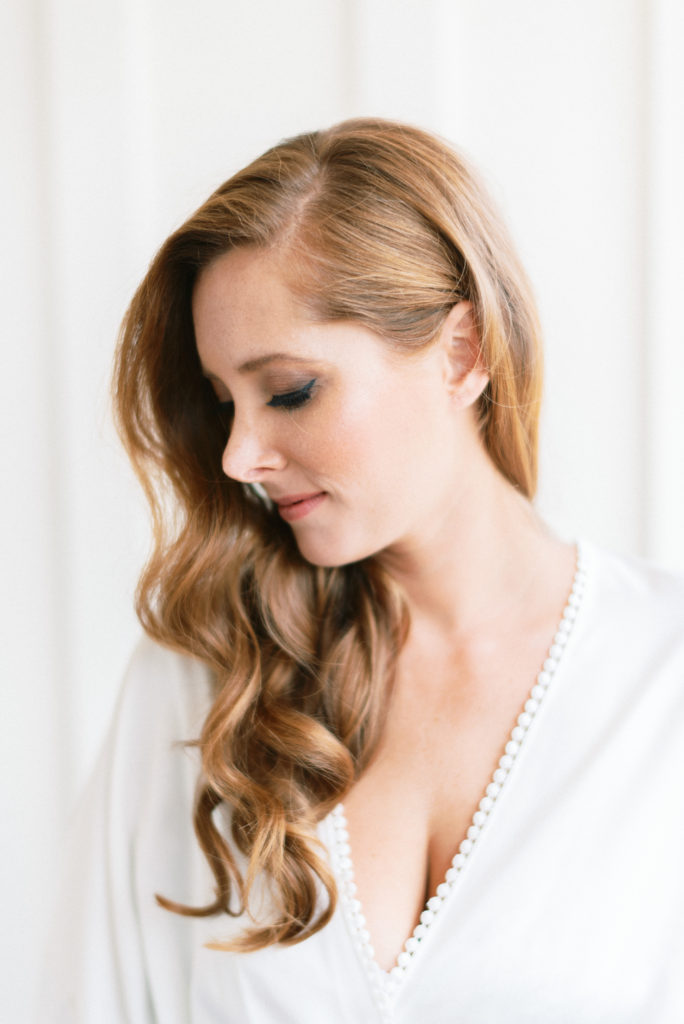 I mean, just STUNNING!! Jake is one lucky guy!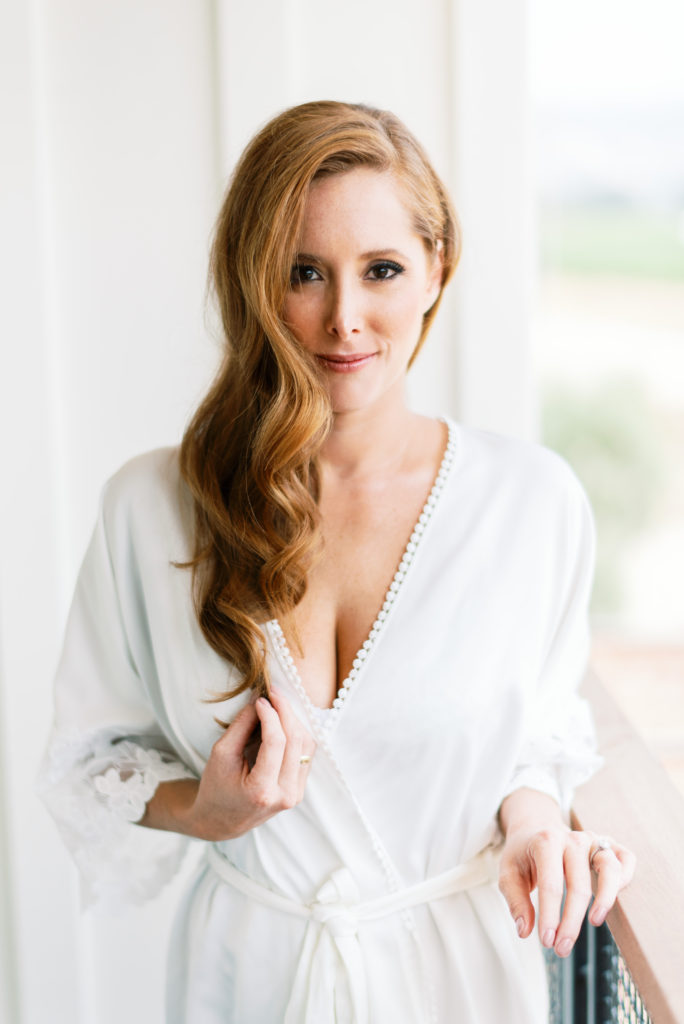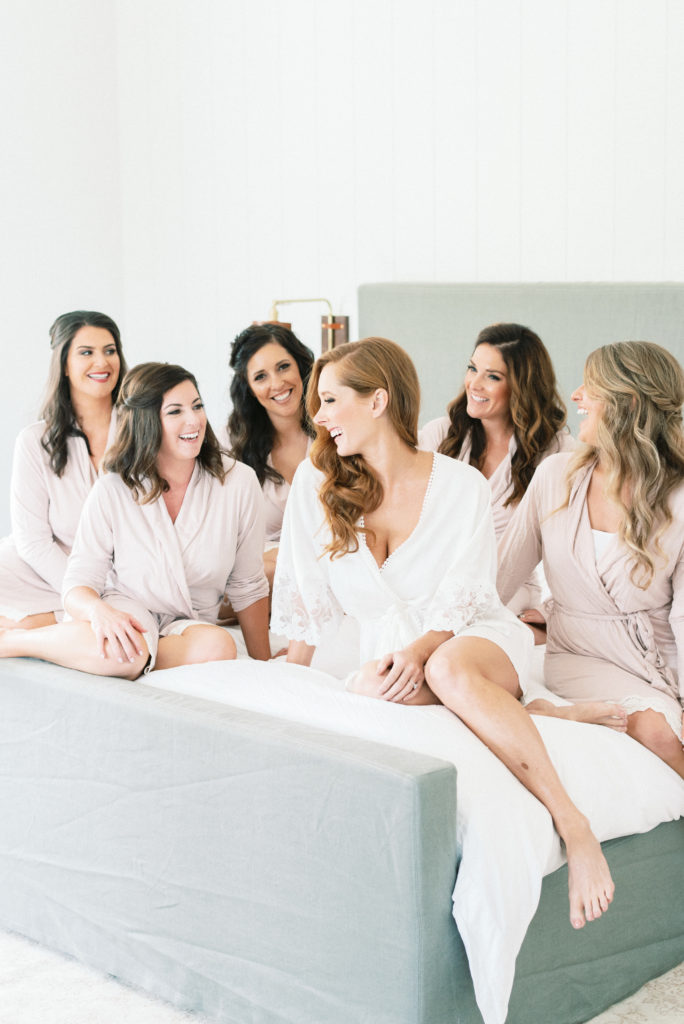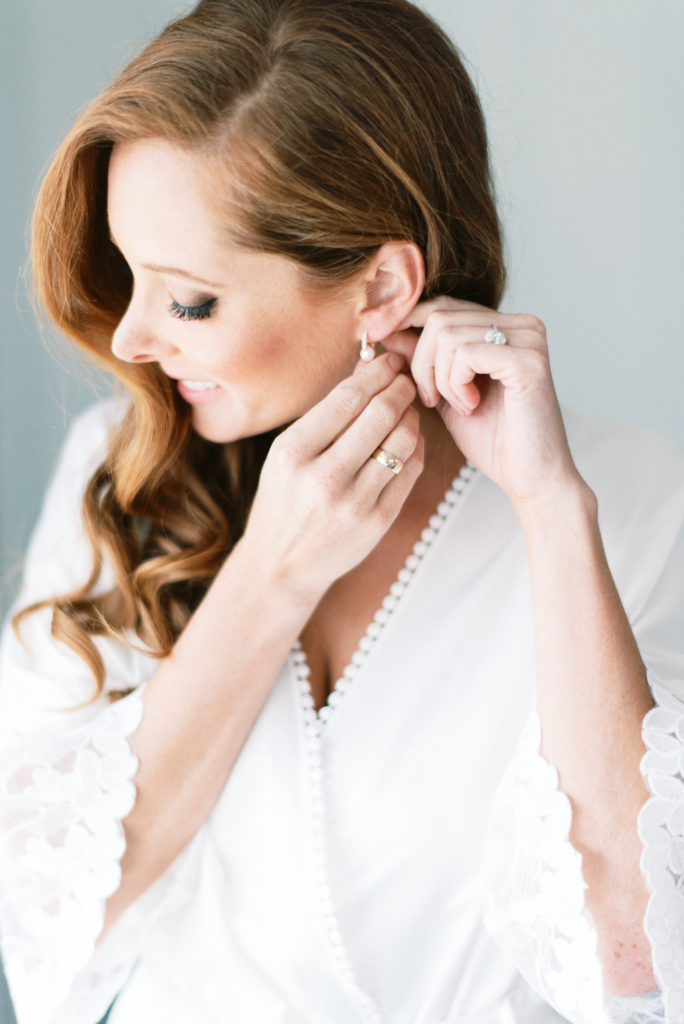 Her bridesmaids helped her get into her beautiful Sarah Seven dress. I love how happy she looks in all of these photos!!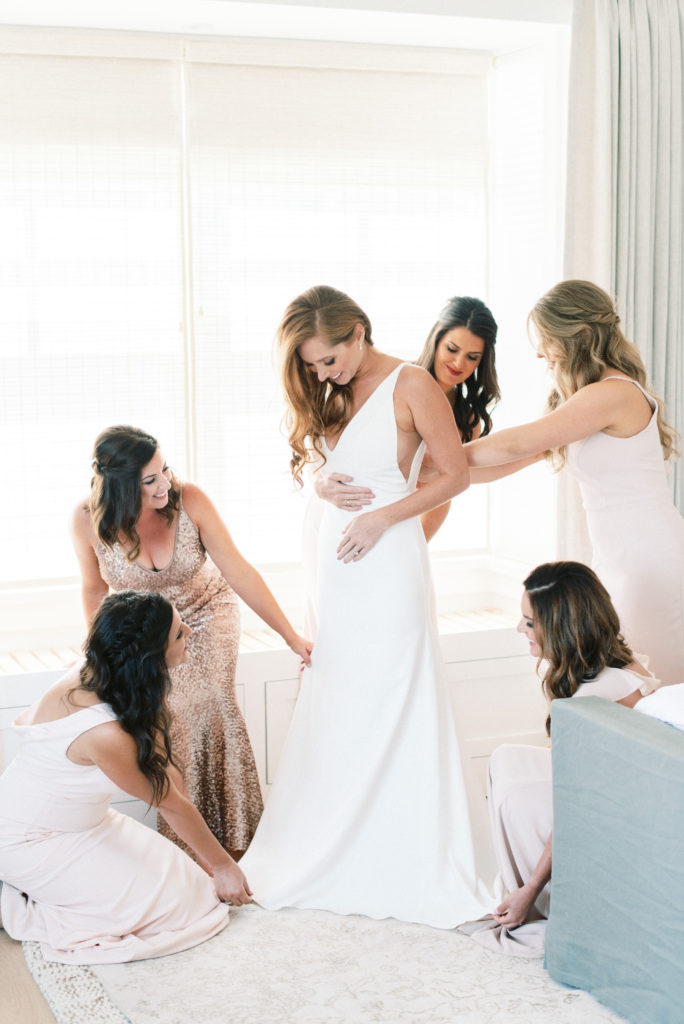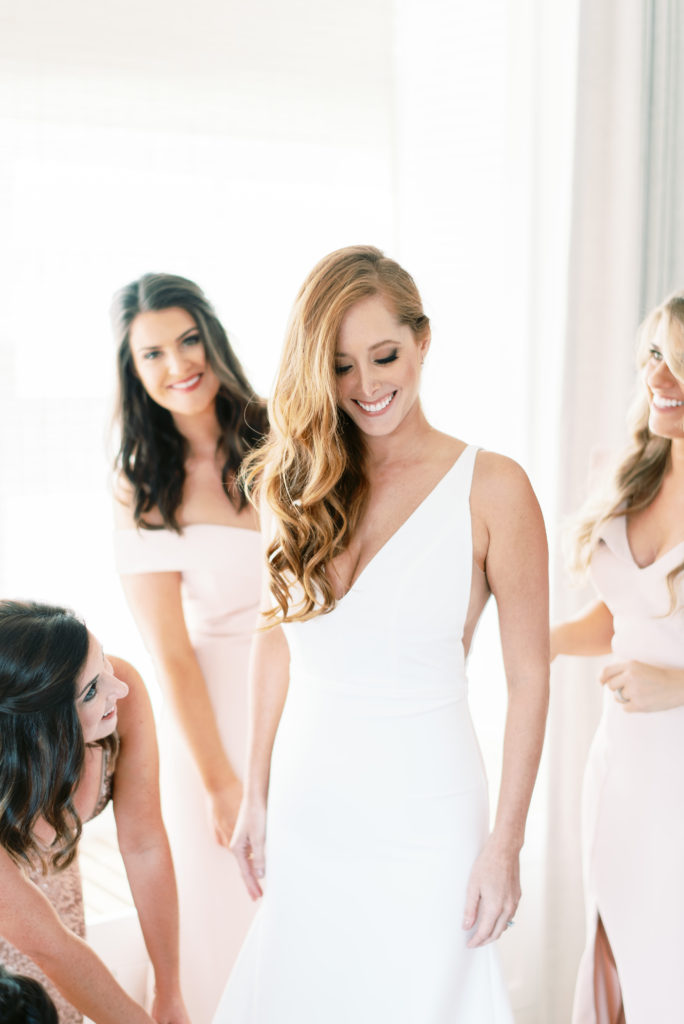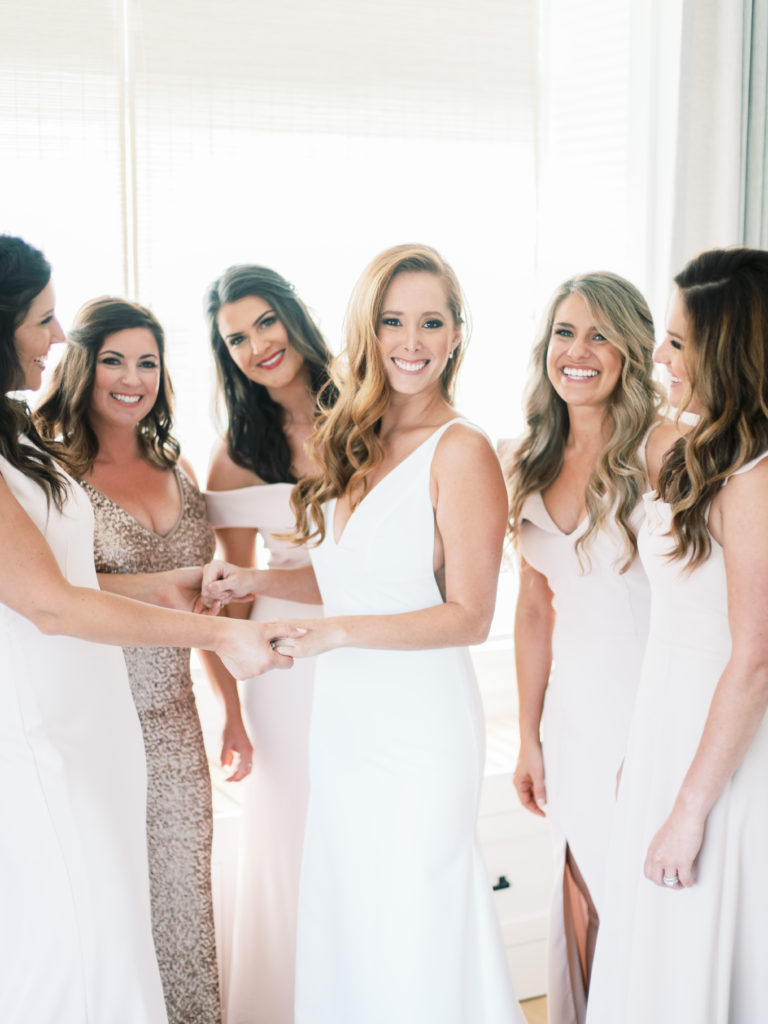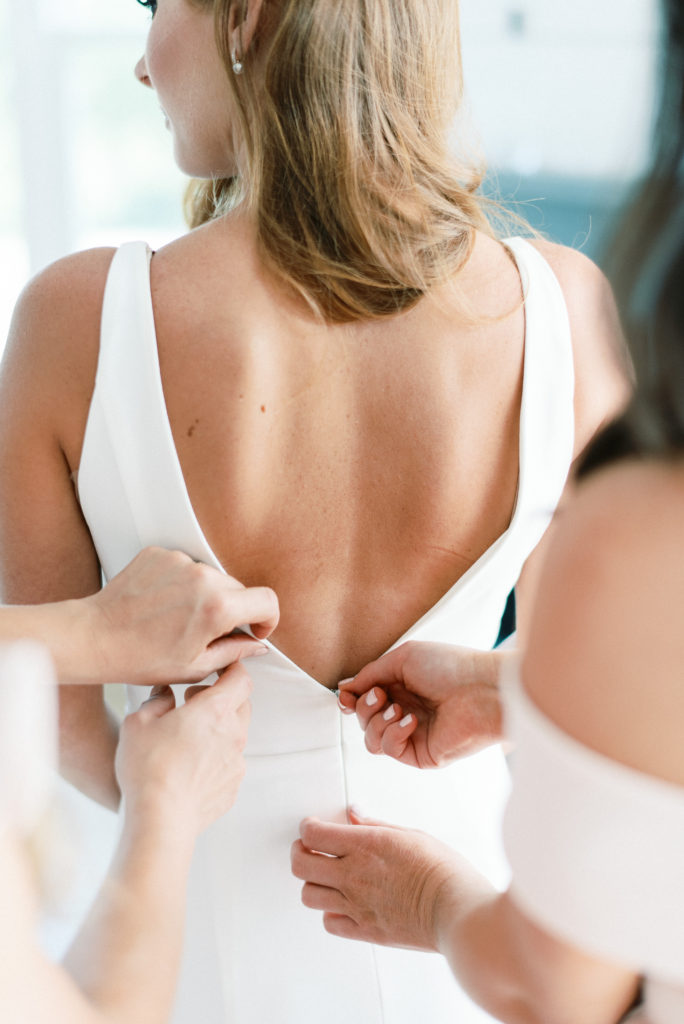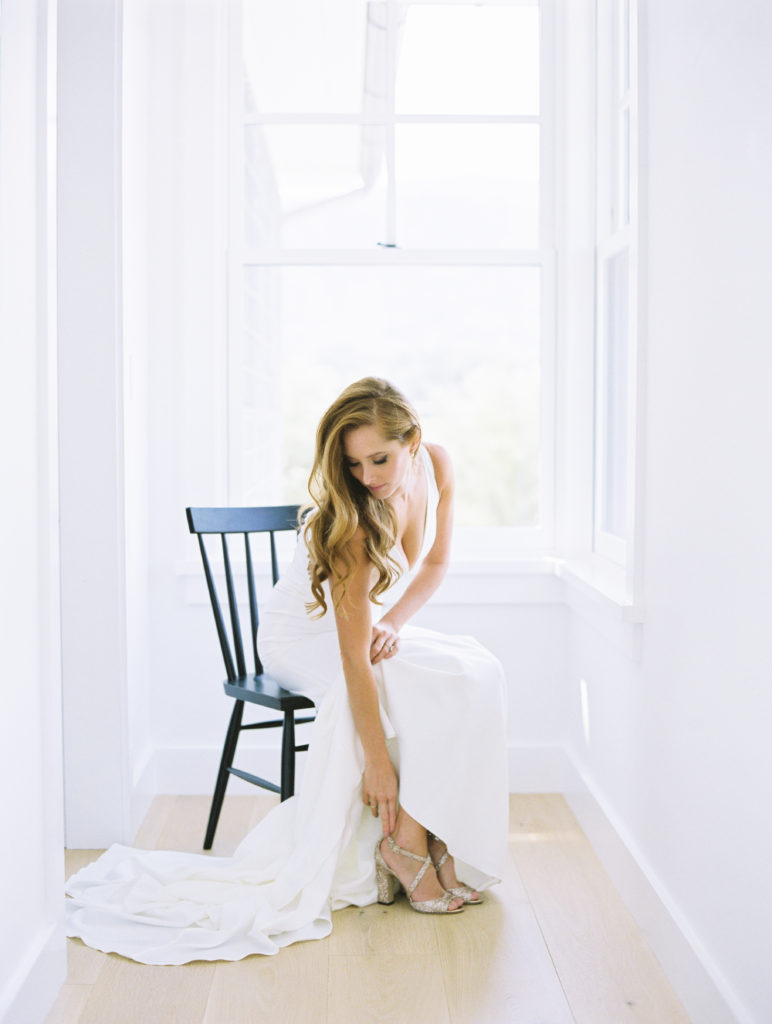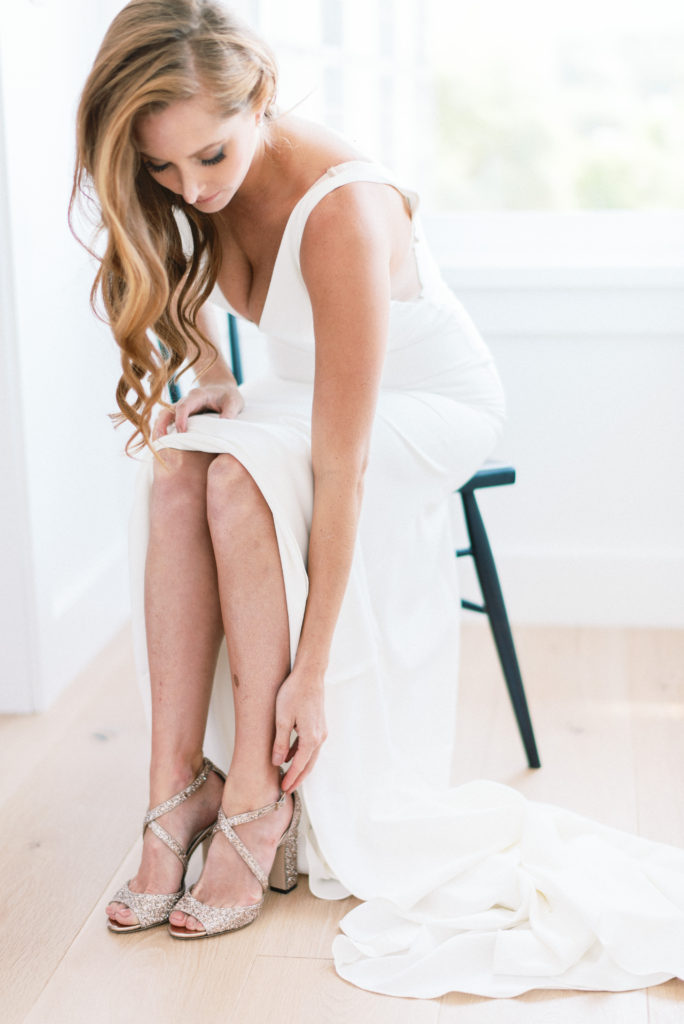 And her gorgeous mother helped with the final touches!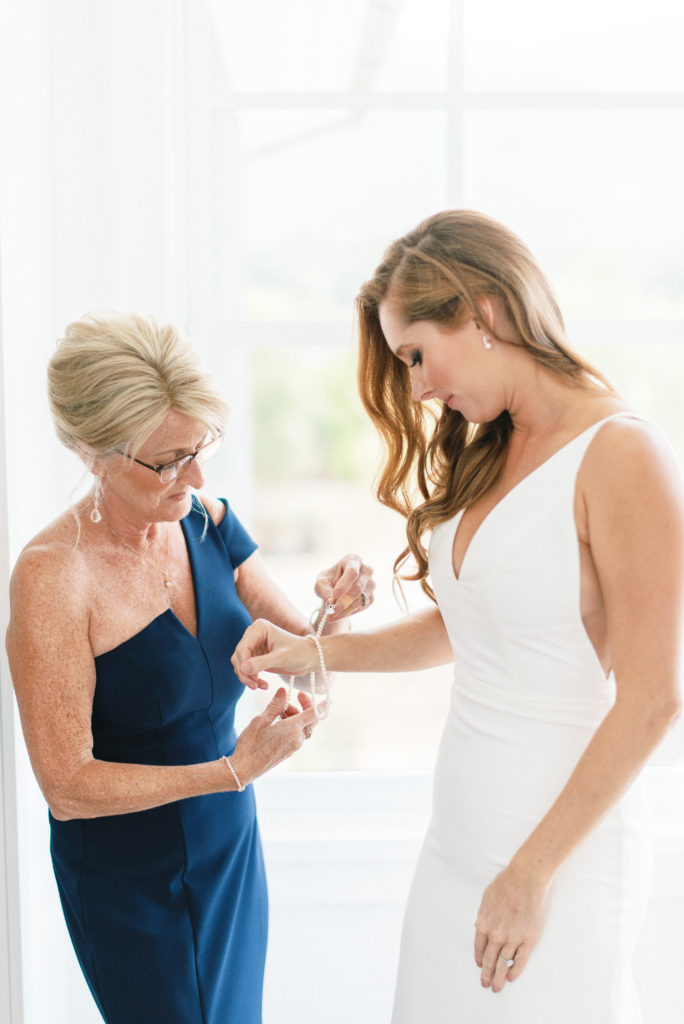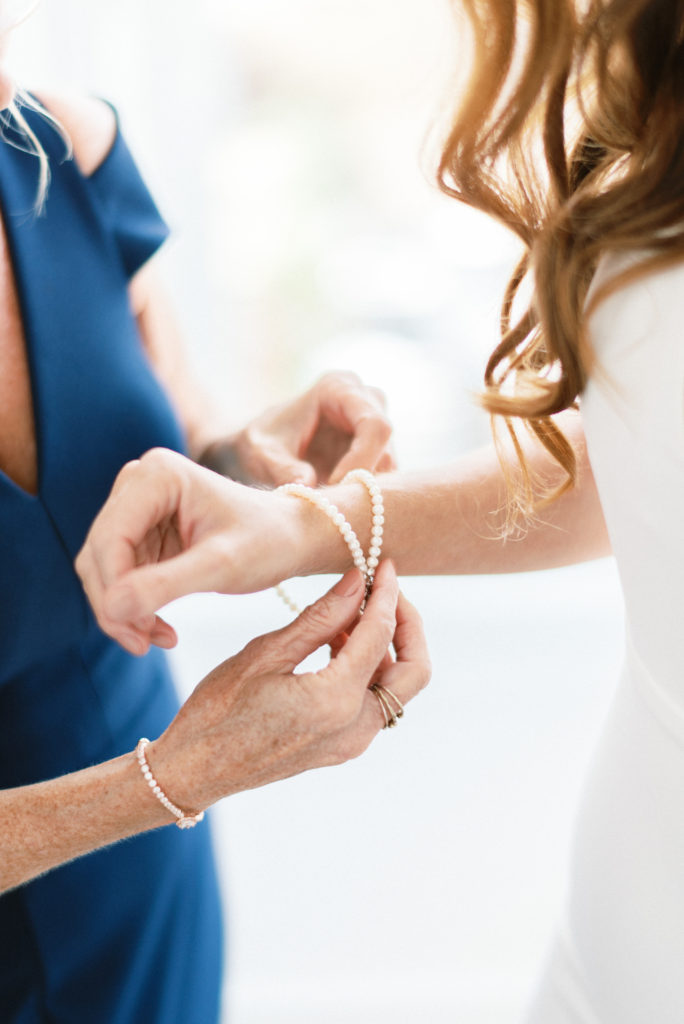 We'll share lots more flowers, but we always have to start with the bridal bouquet! Hawthorn Flower Studio did wonders this day, and the bouquet was just breathtaking.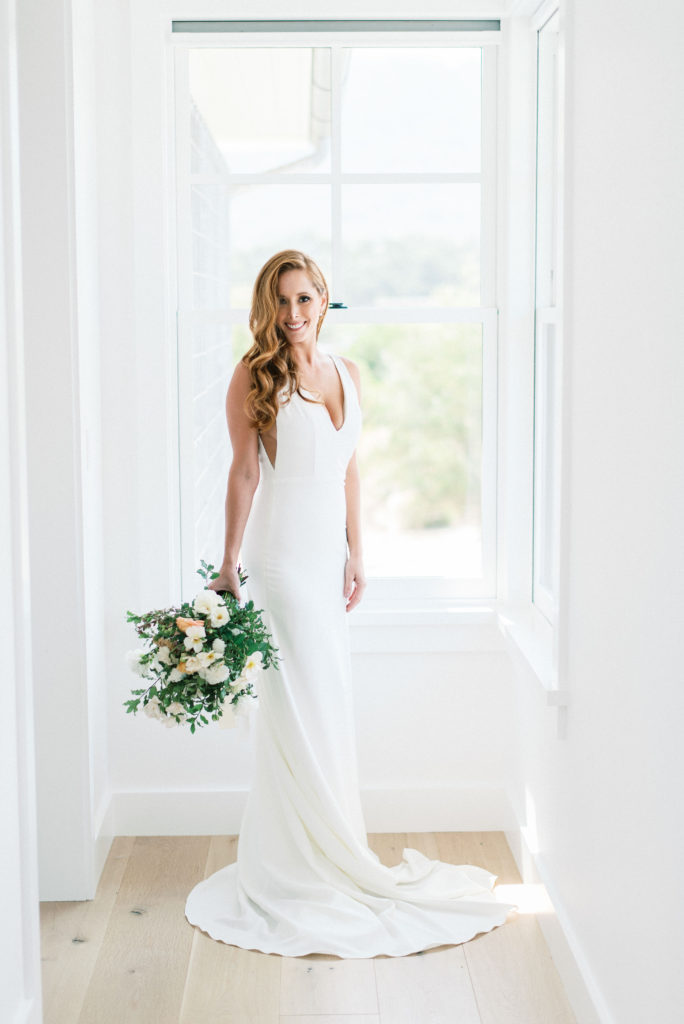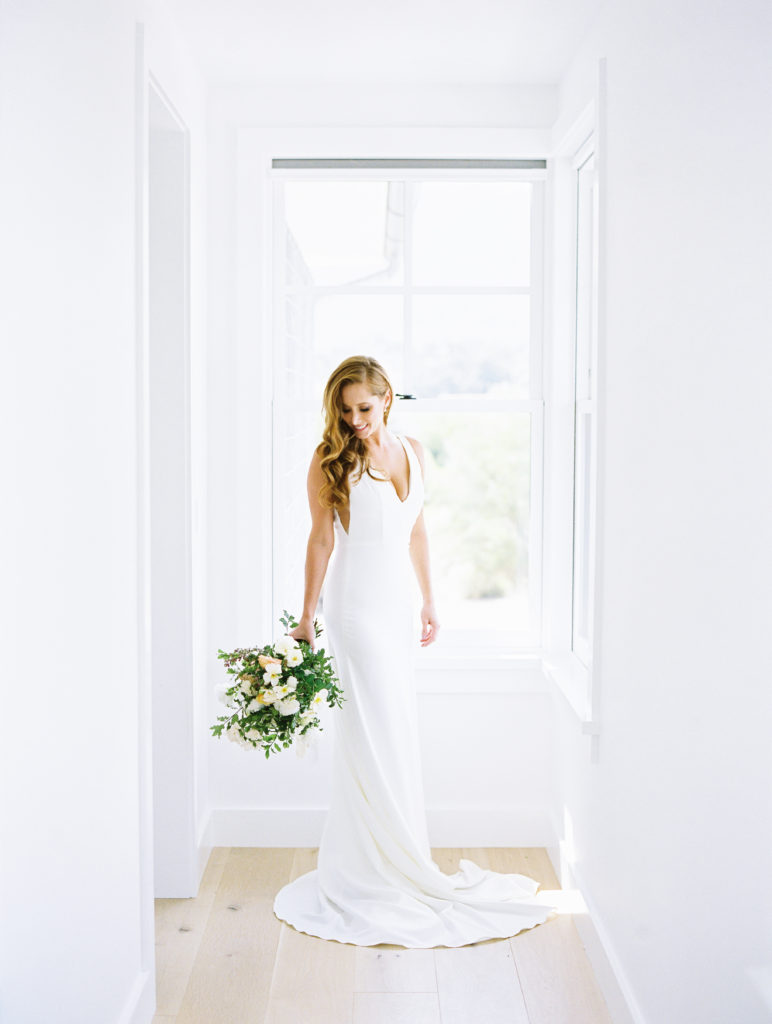 Meanwhile, Jake and the boys were also getting ready downstairs. He looked so dapper in his Calvin Klein navy suit, and it looks like the guys had a blast together!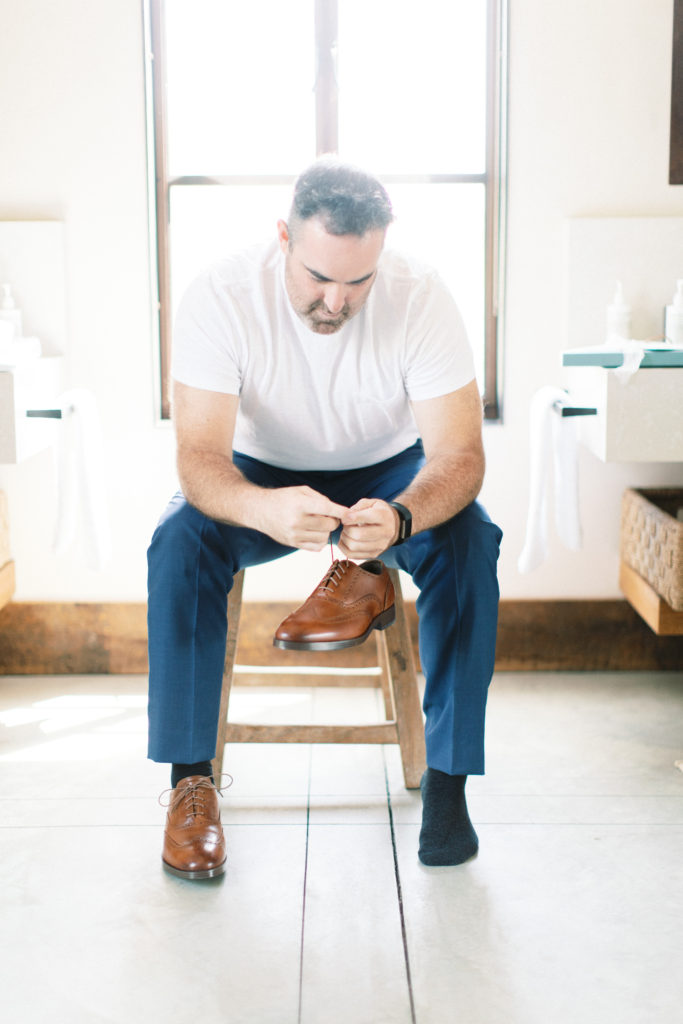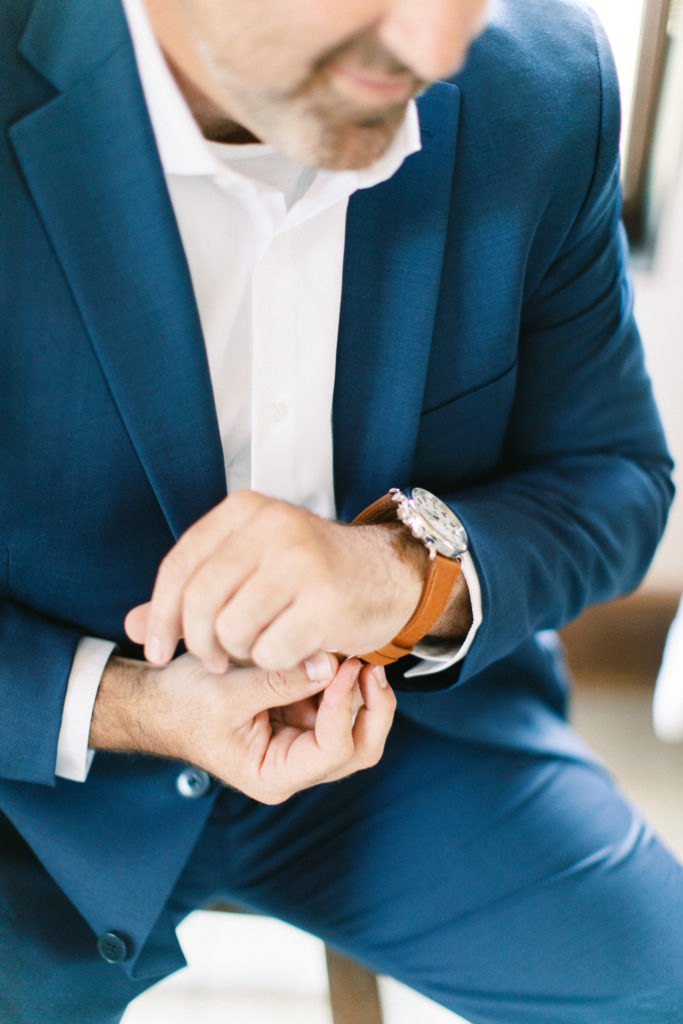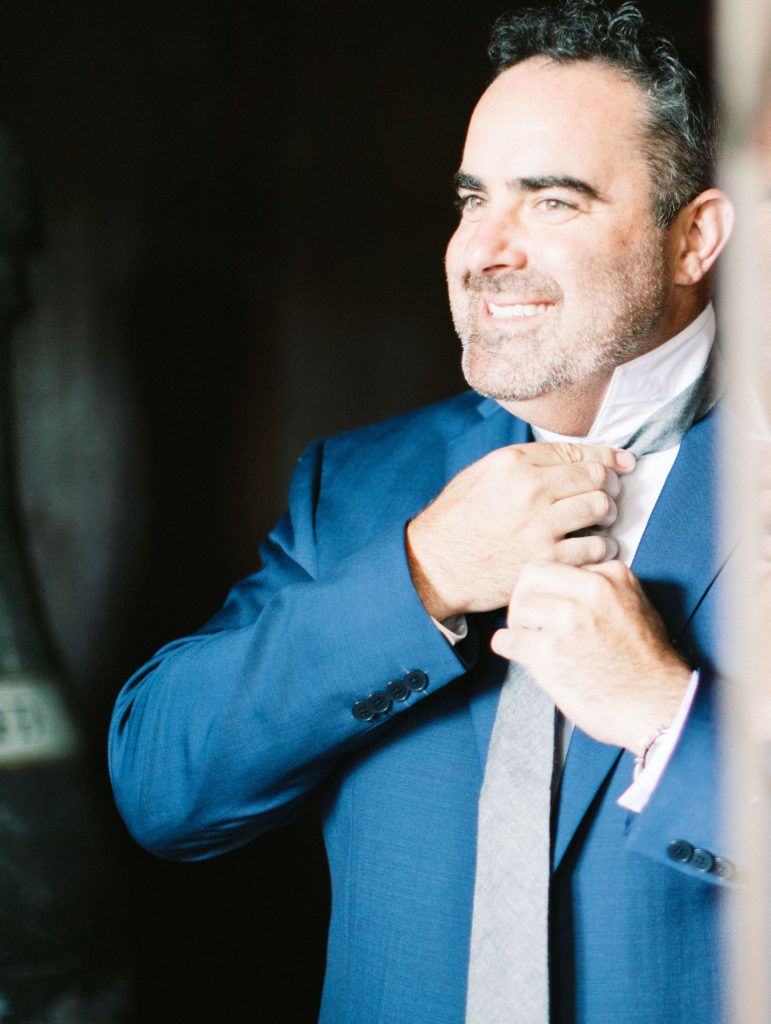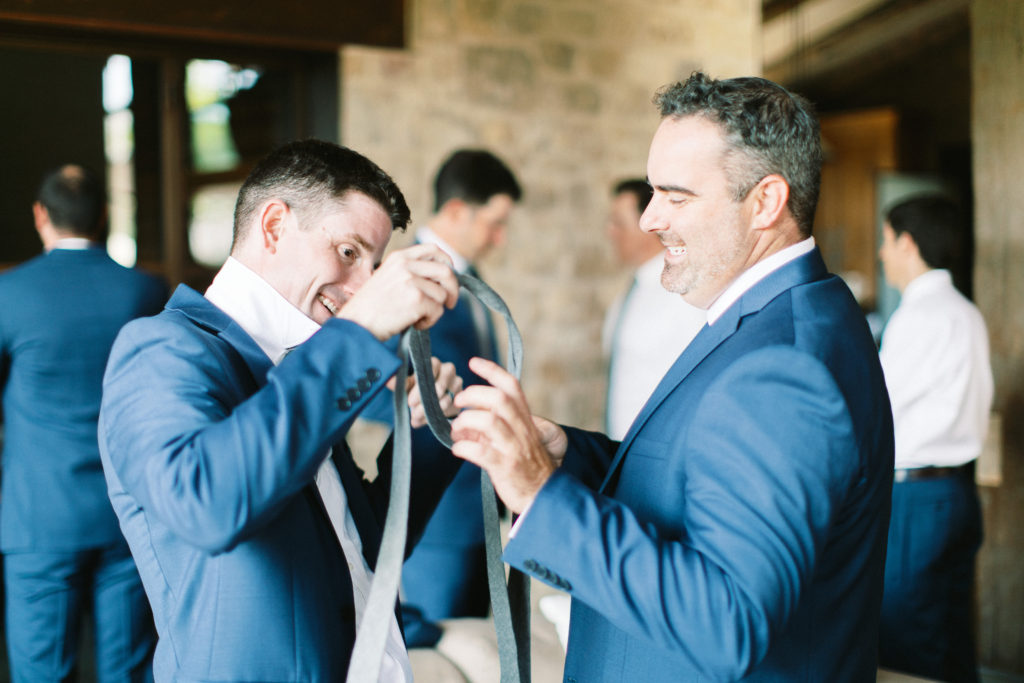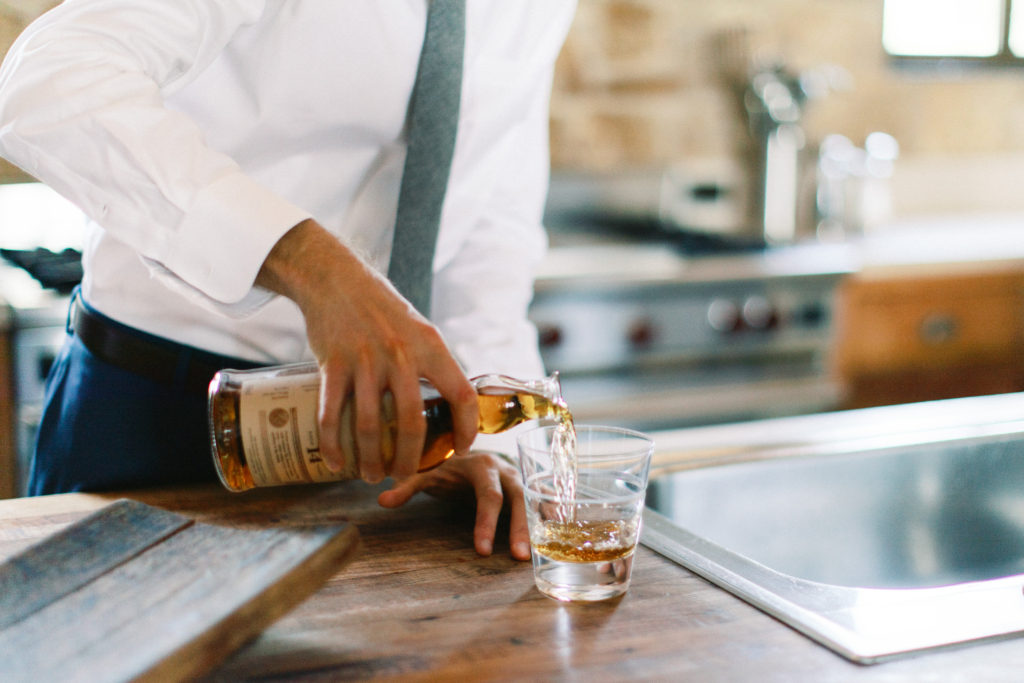 Jake's pretty sisters helped him out with his boutonniere, isn't that a sweet photo?!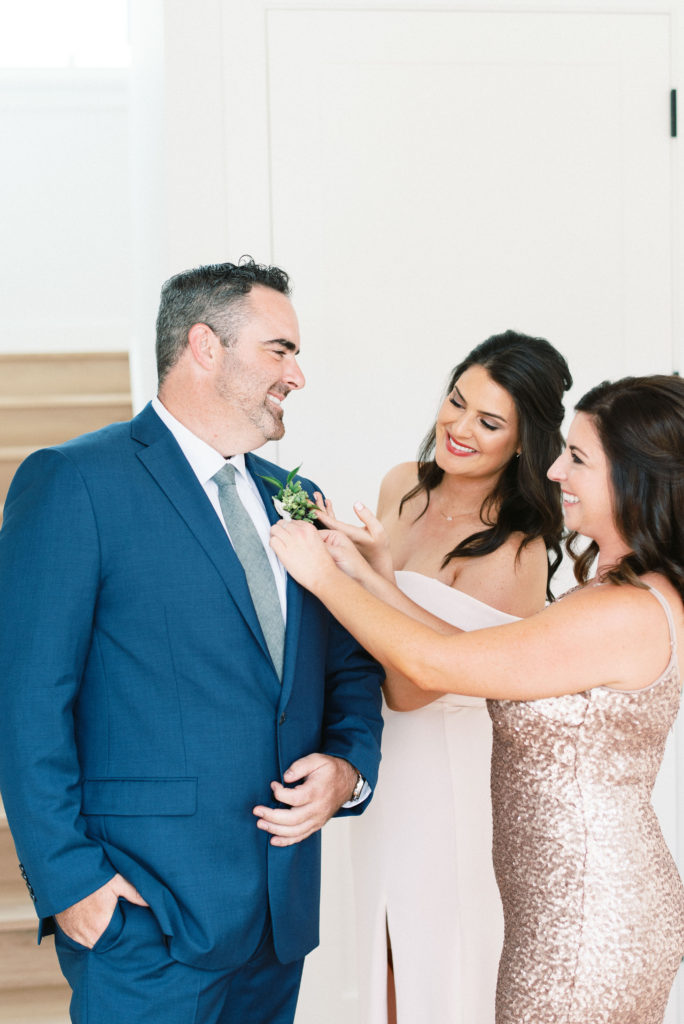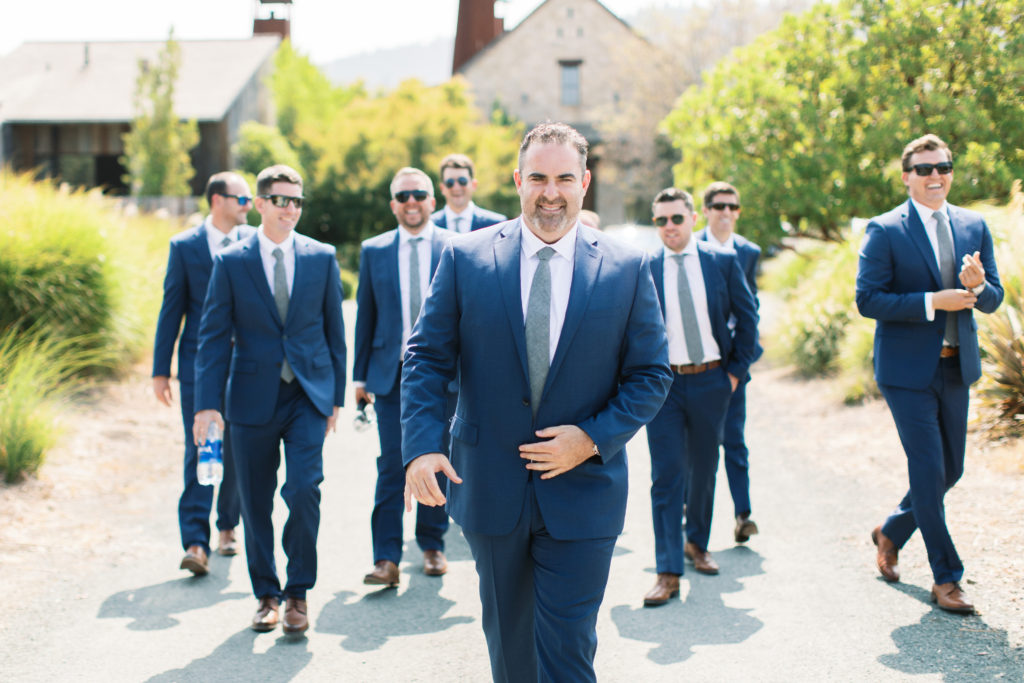 Before we head into the first look, let's take a stroll through some amazing details… First the invite, it's from Artifact Uprising. I had no idea you could get invites made through them but I absolutely love these!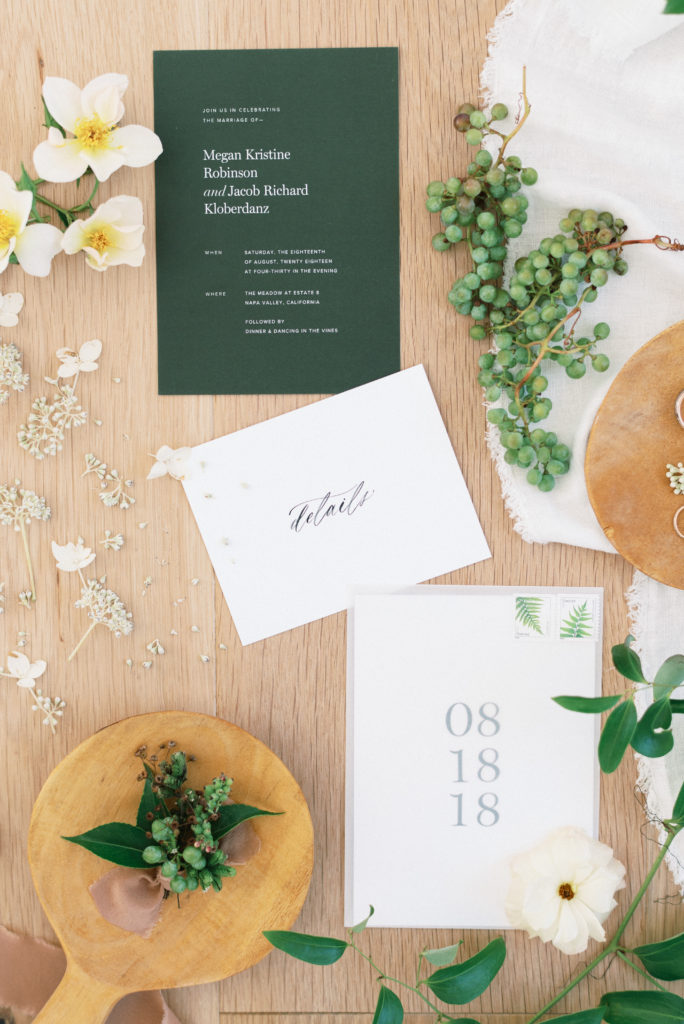 In love with their rings on the grapes, so perfect for these two!!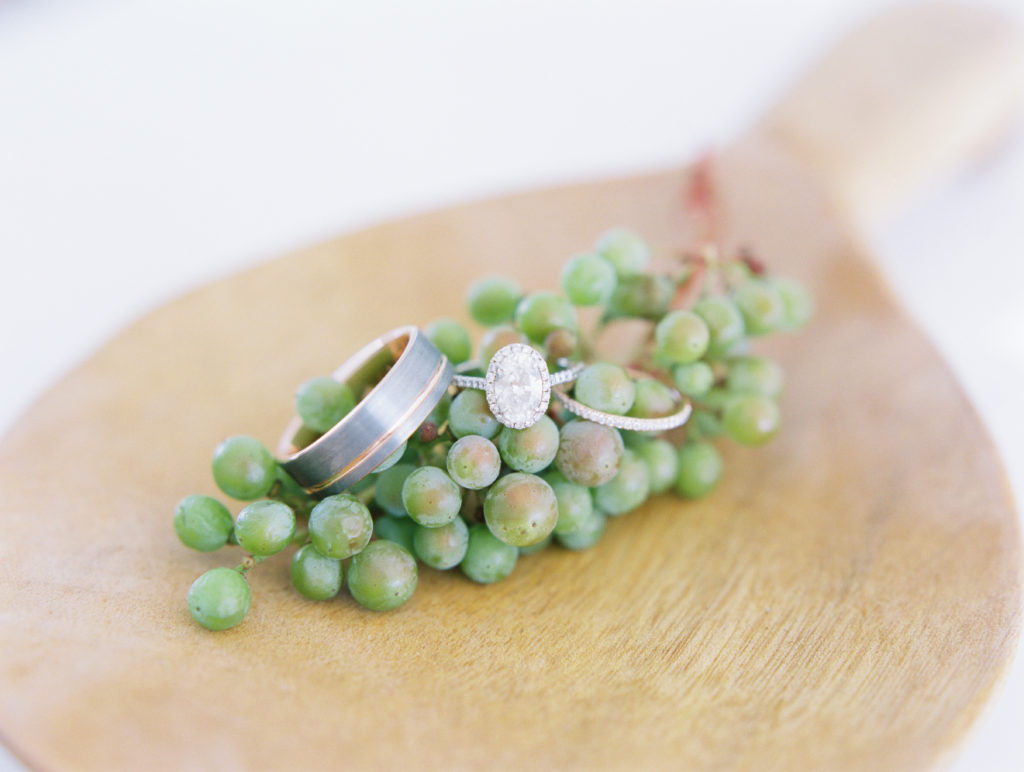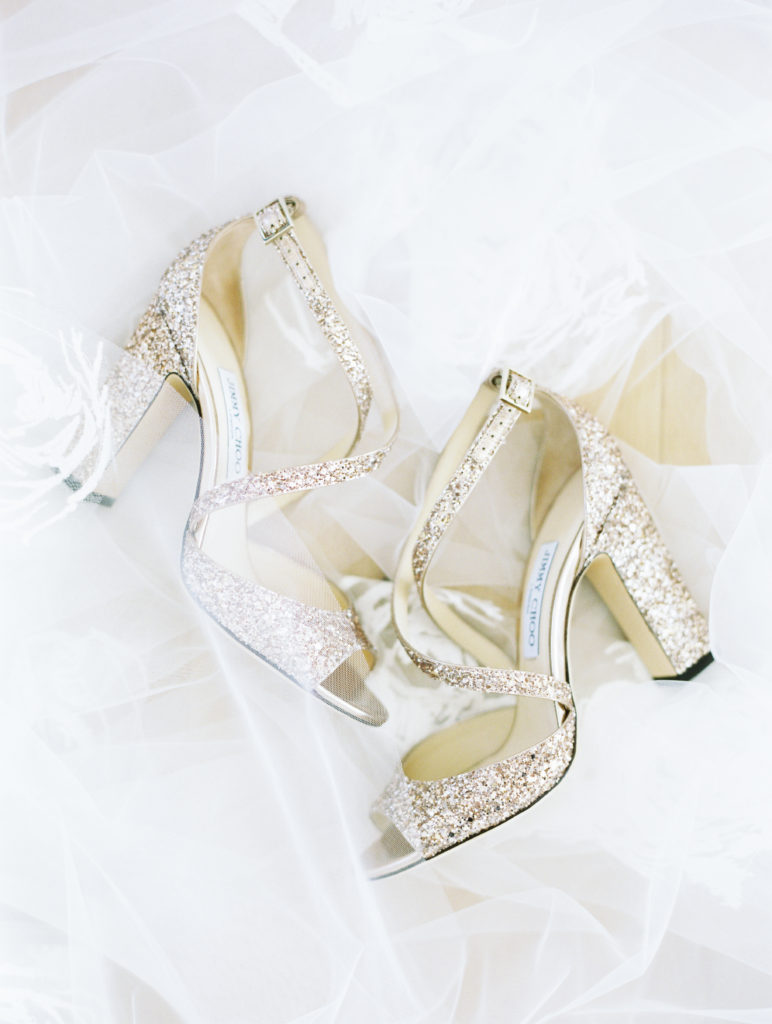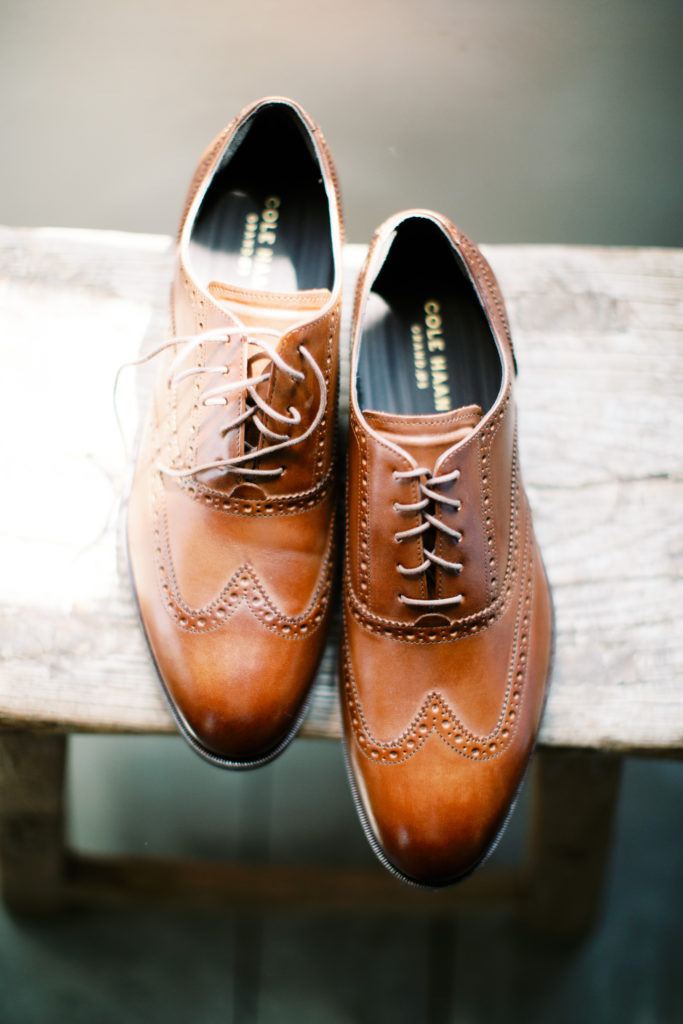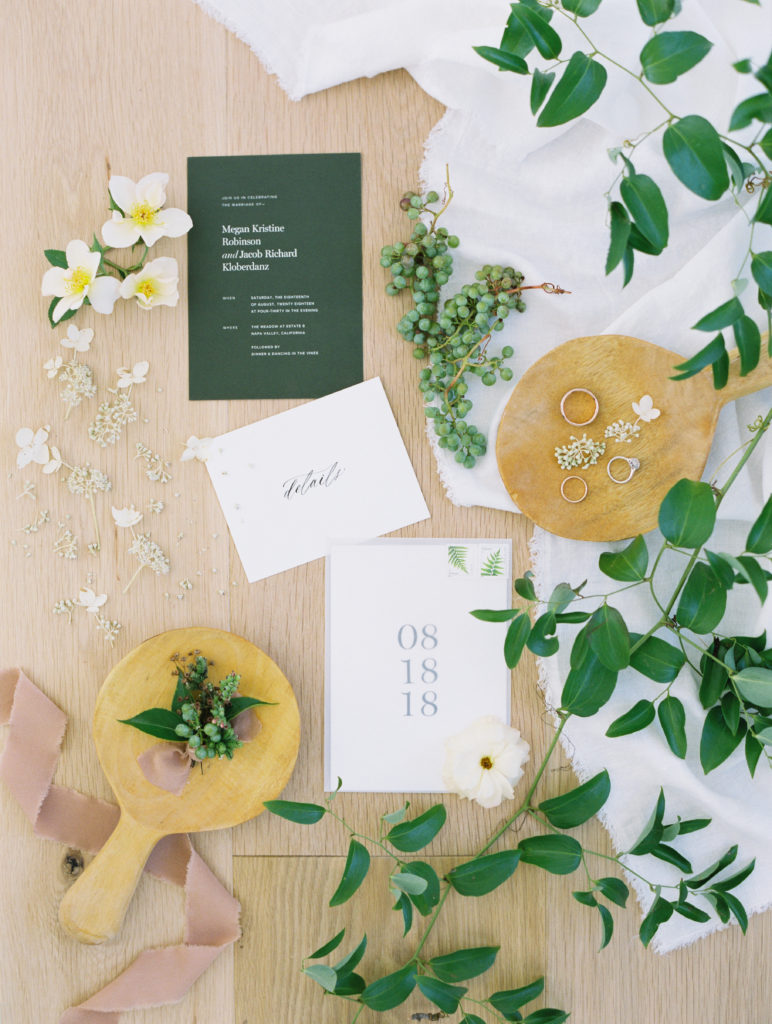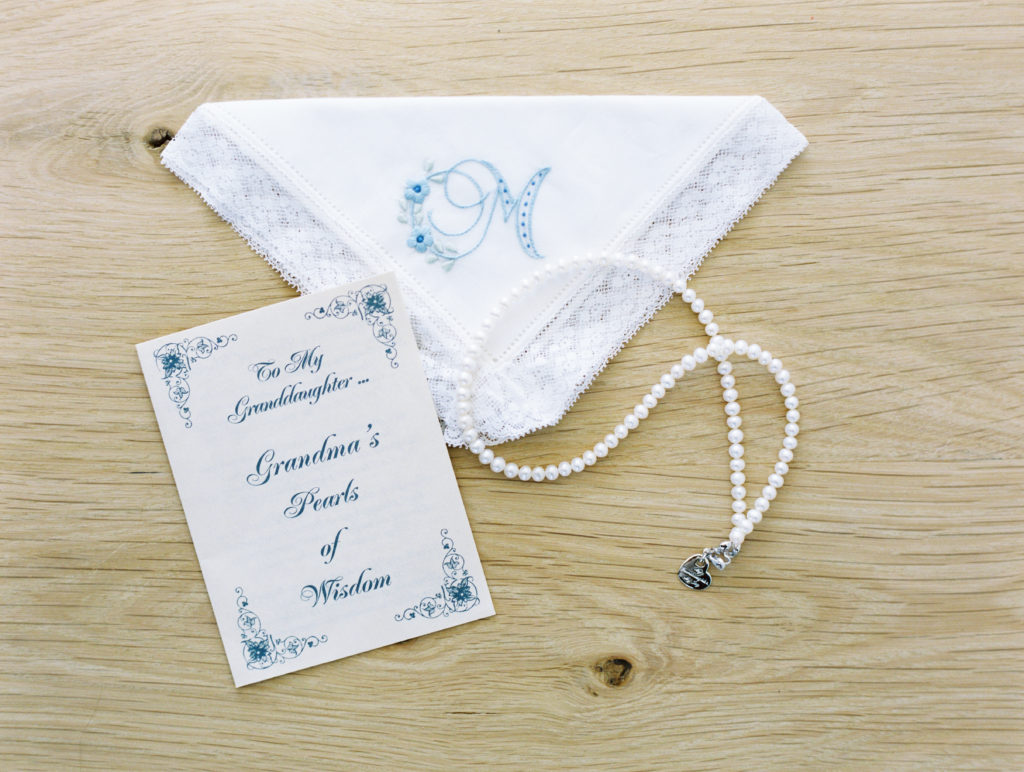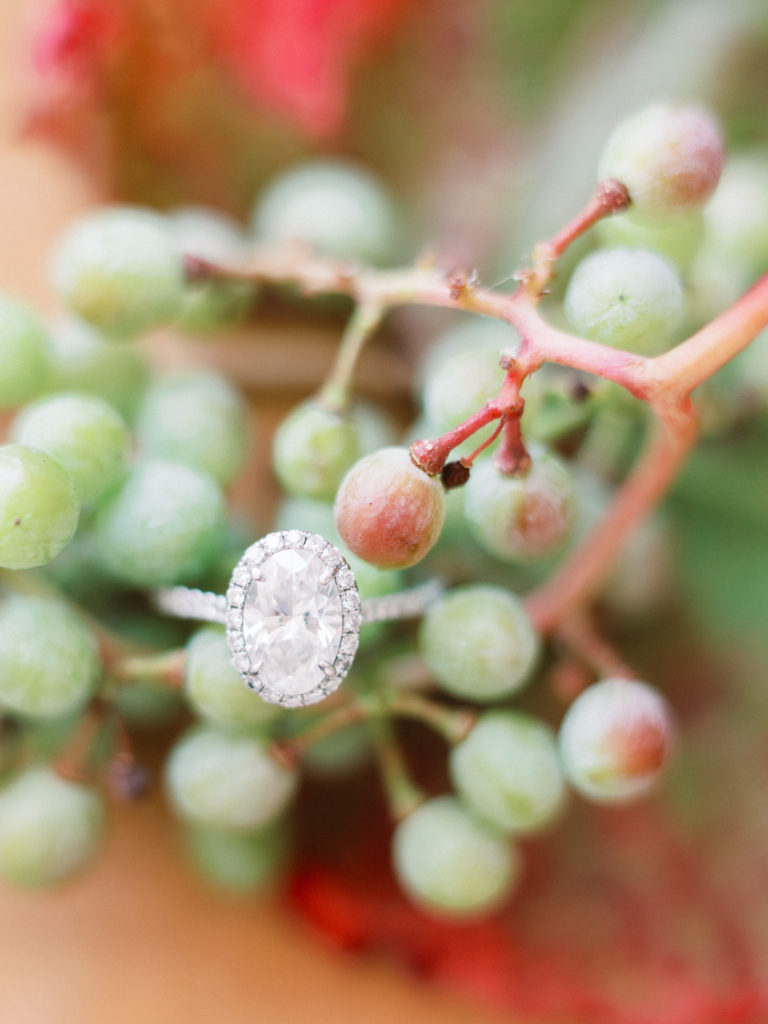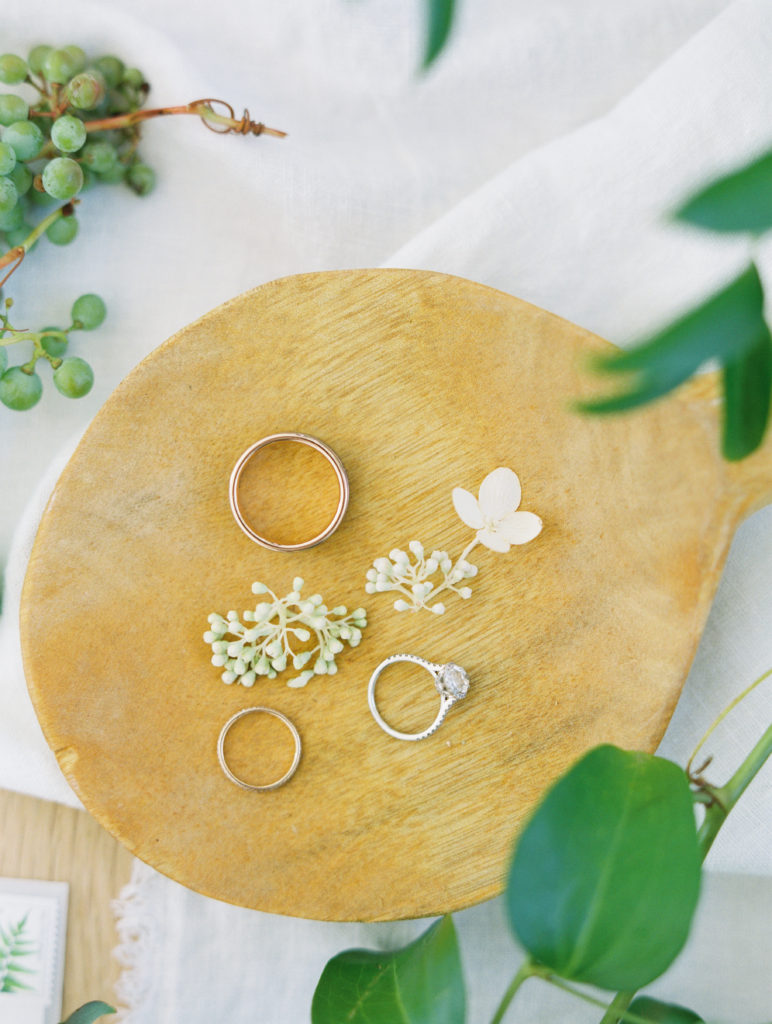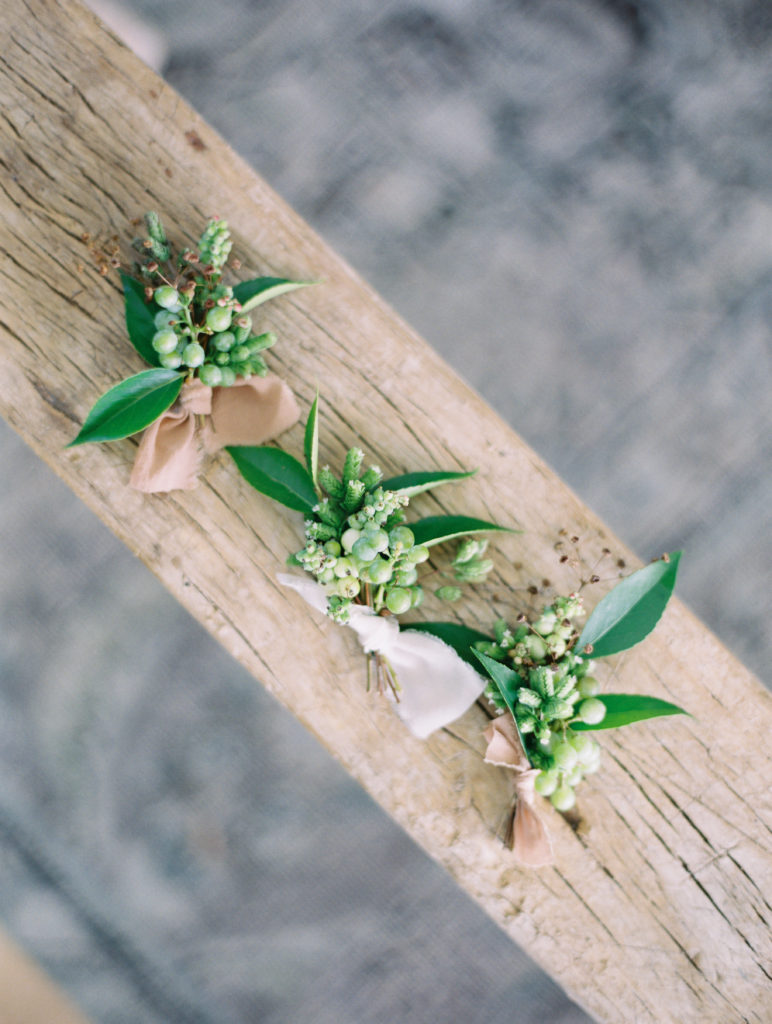 Now for a look at Estate 8, One Hope Wine's private estate. Meg being the Art Director also doubles as the Interior Designer! So she had her hands and heart in this property, and as you can see her taste is impeccable.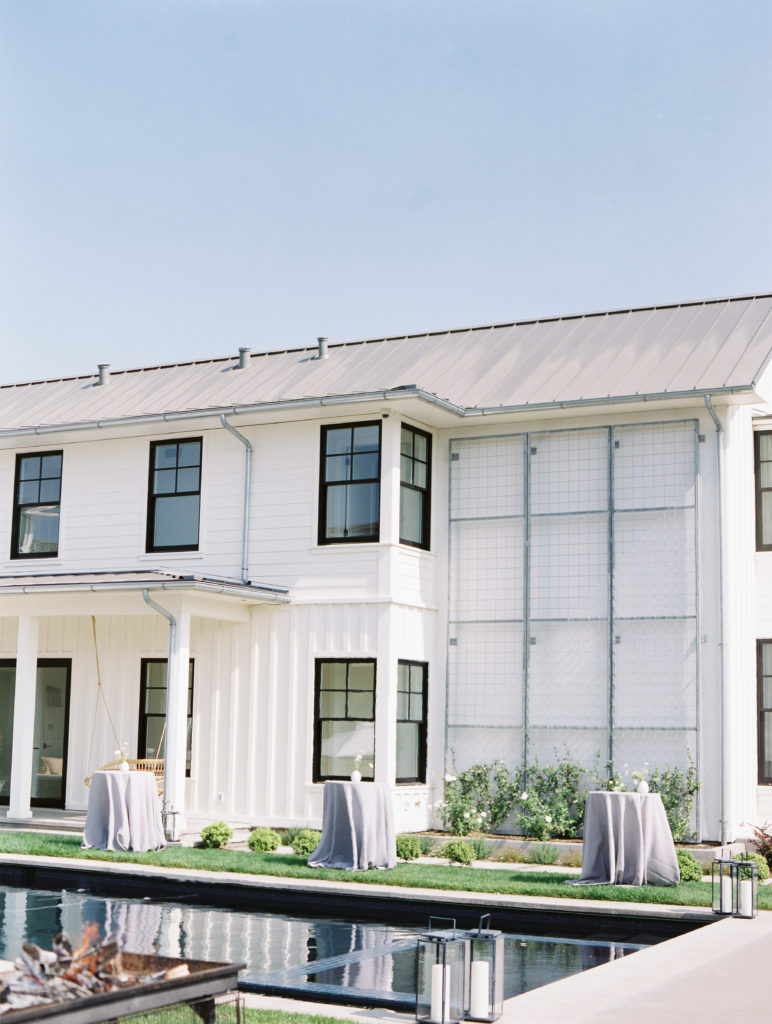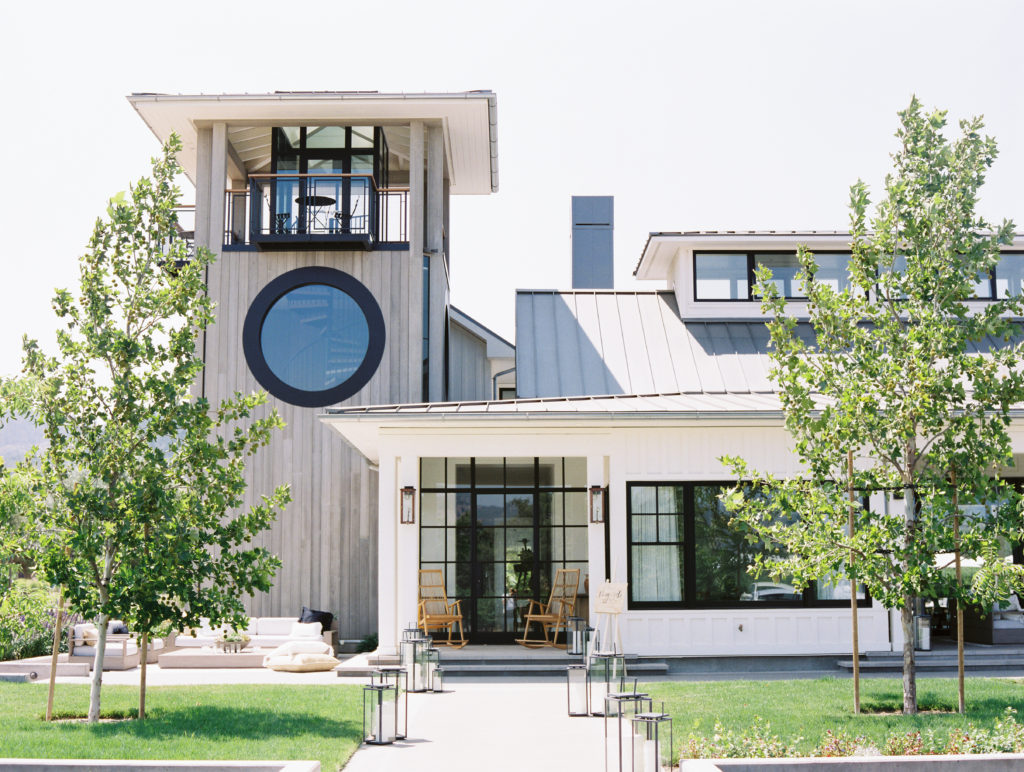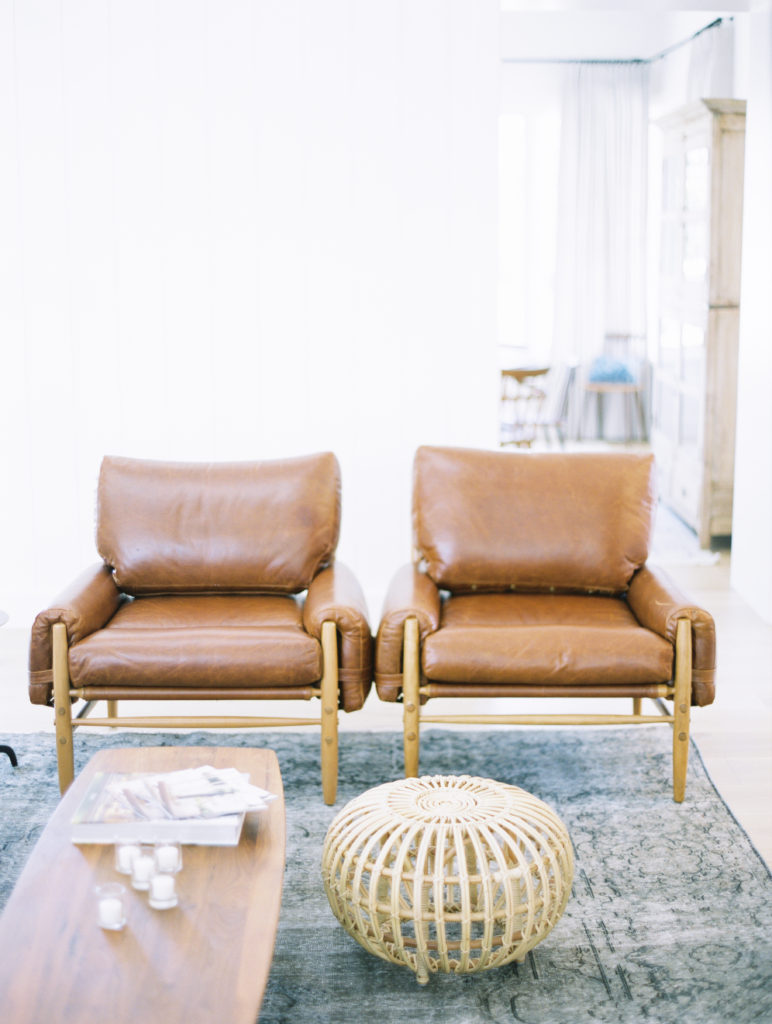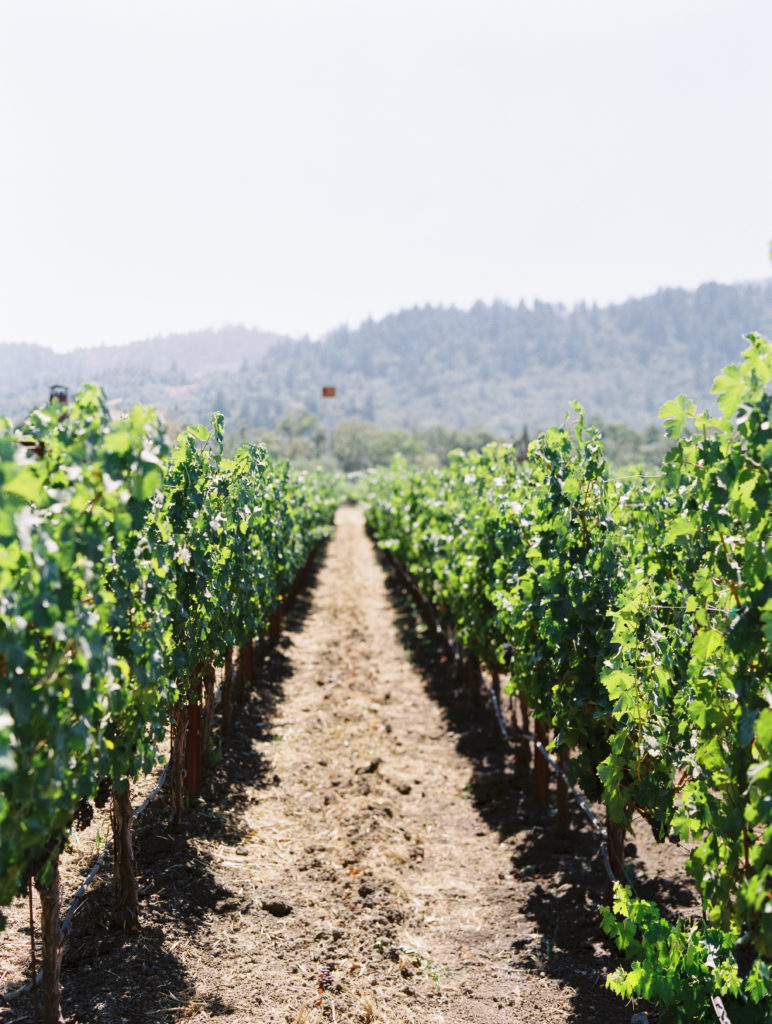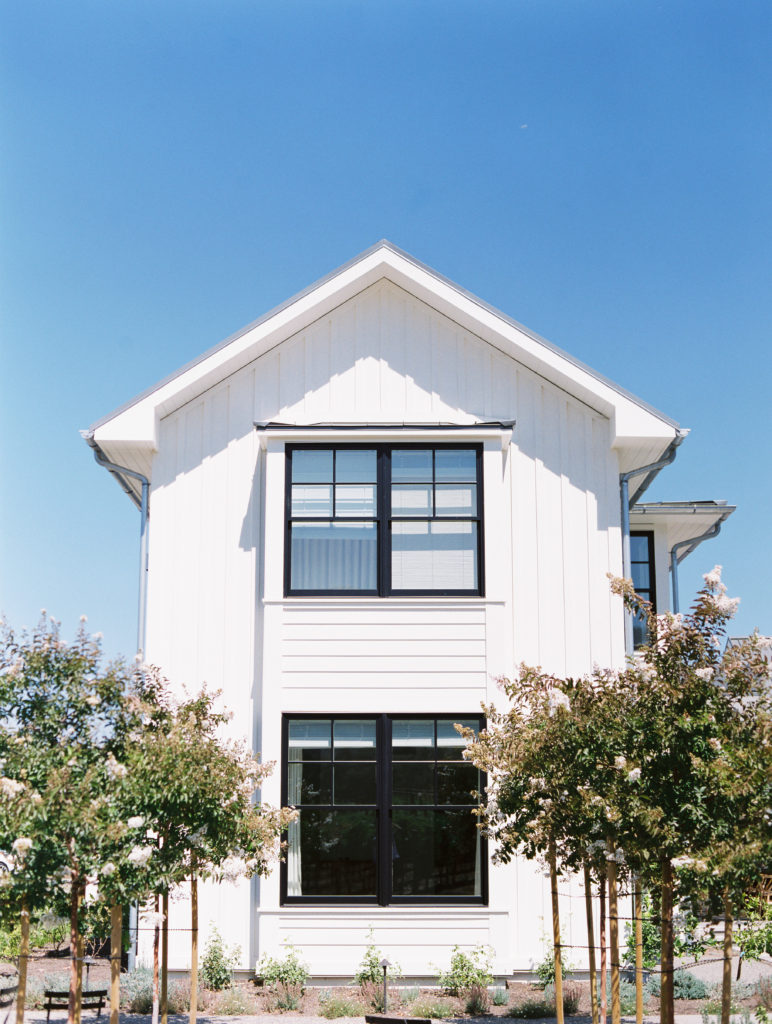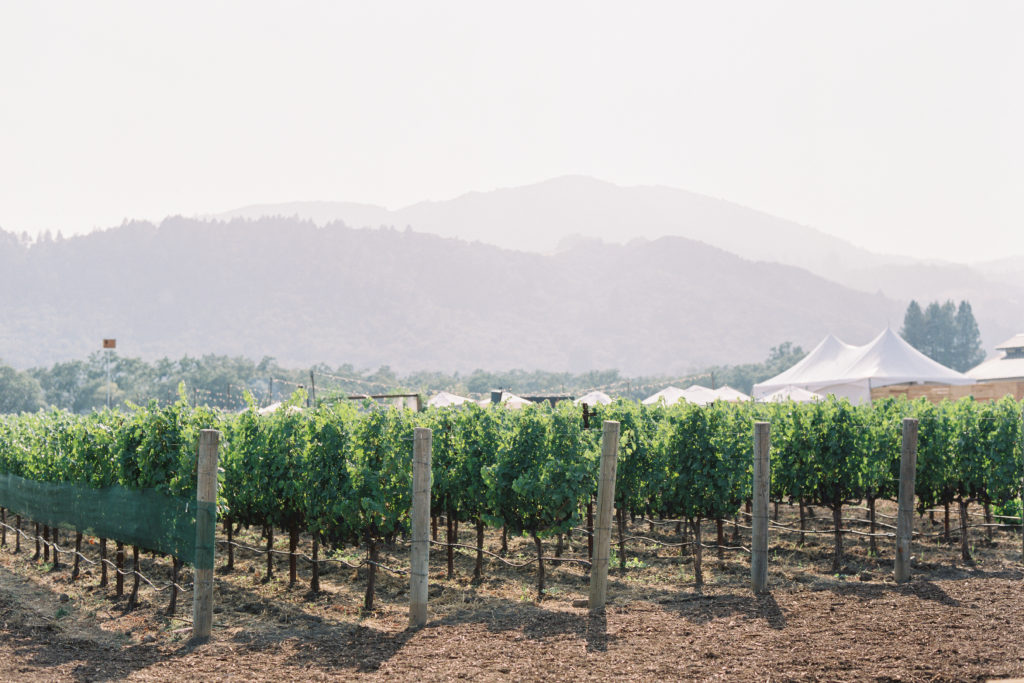 Now for the first look, always a magical time at any wedding!! It's always so heartwarming to see the bride and groom's reactions… Great job Matt Rice on this one, beautifully captured!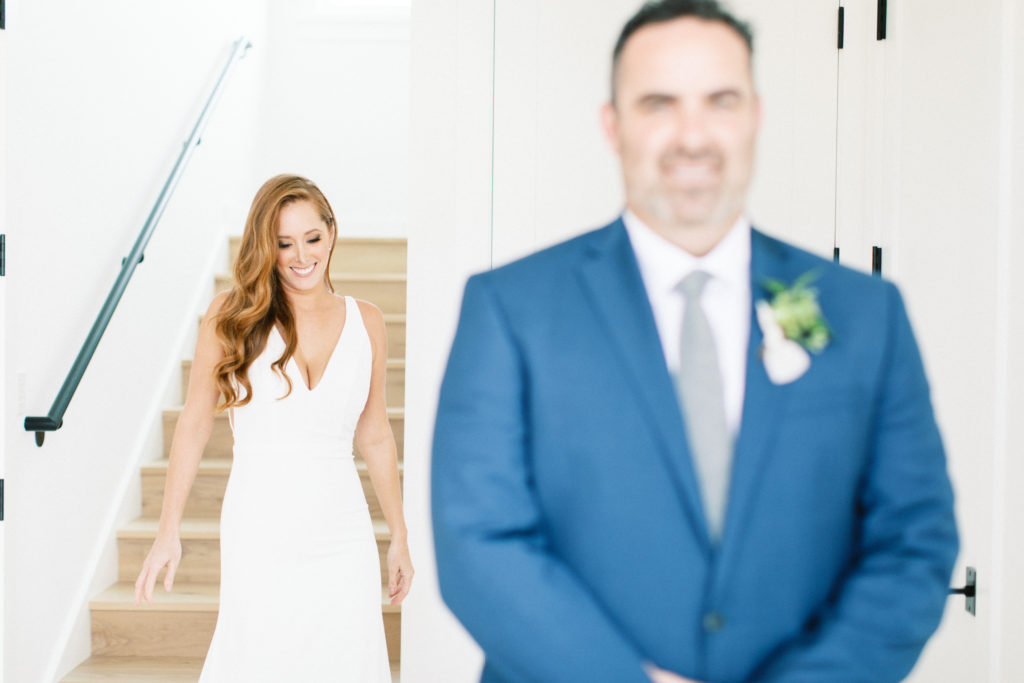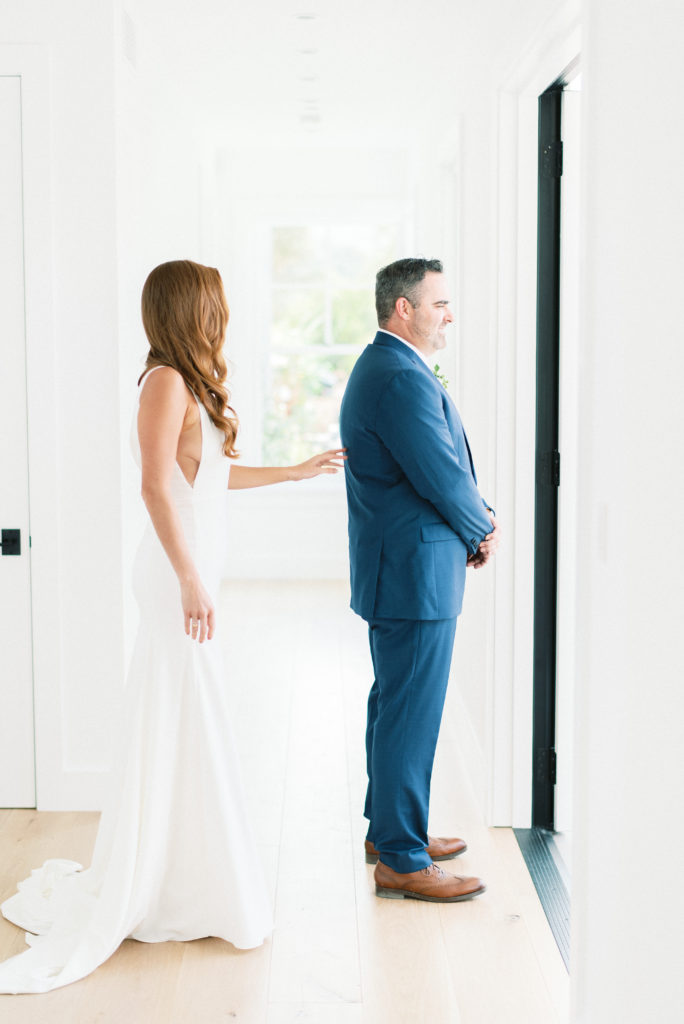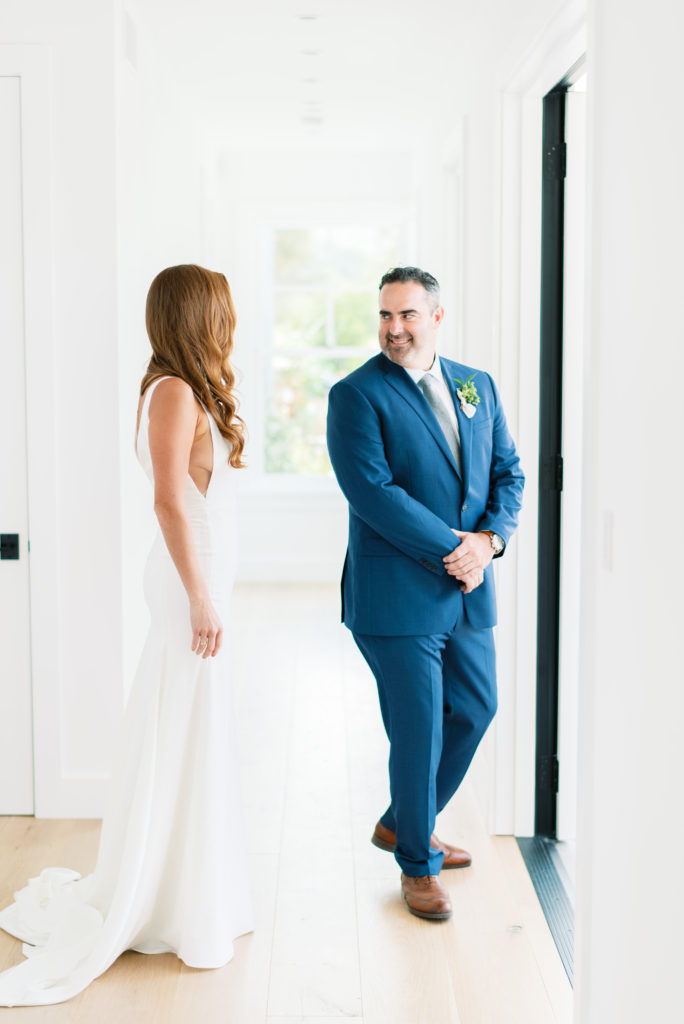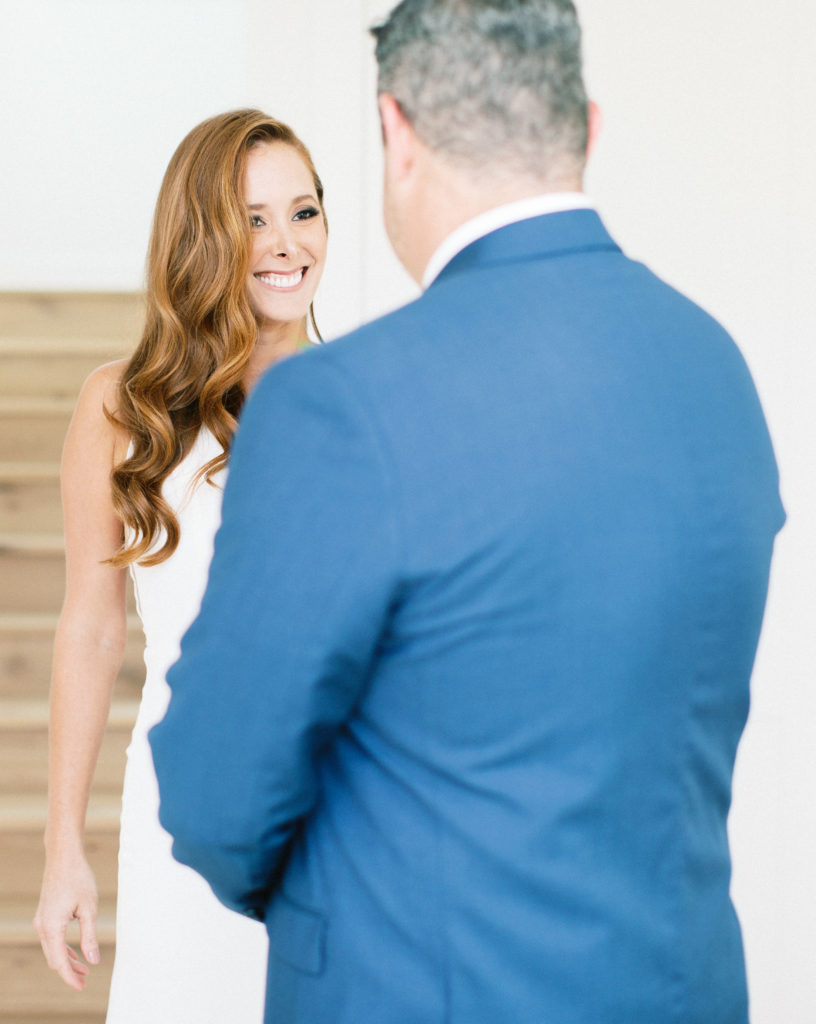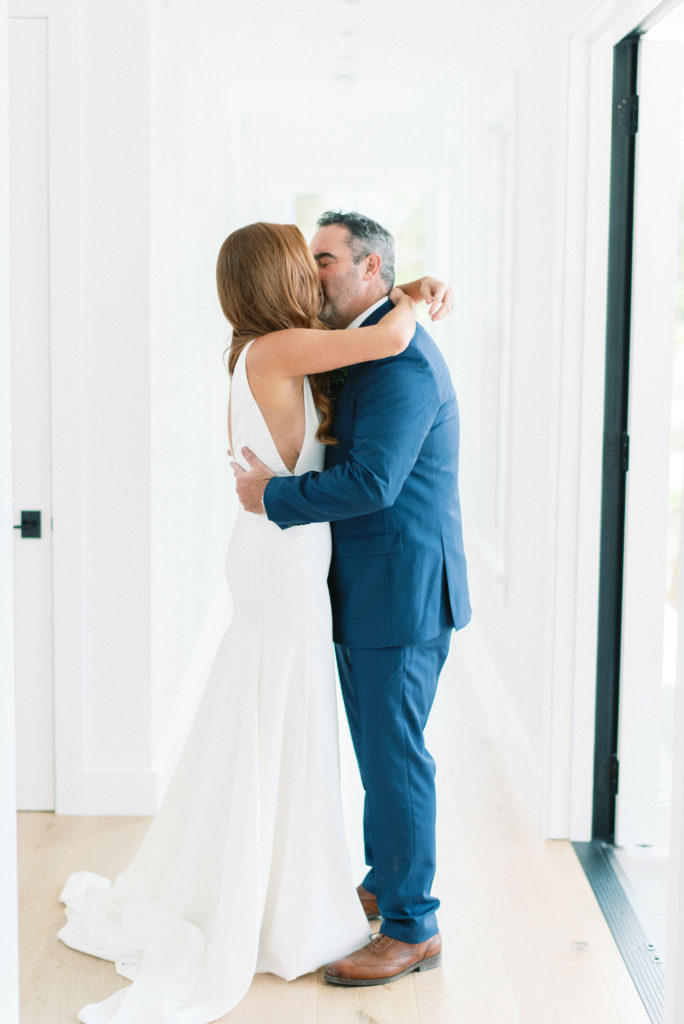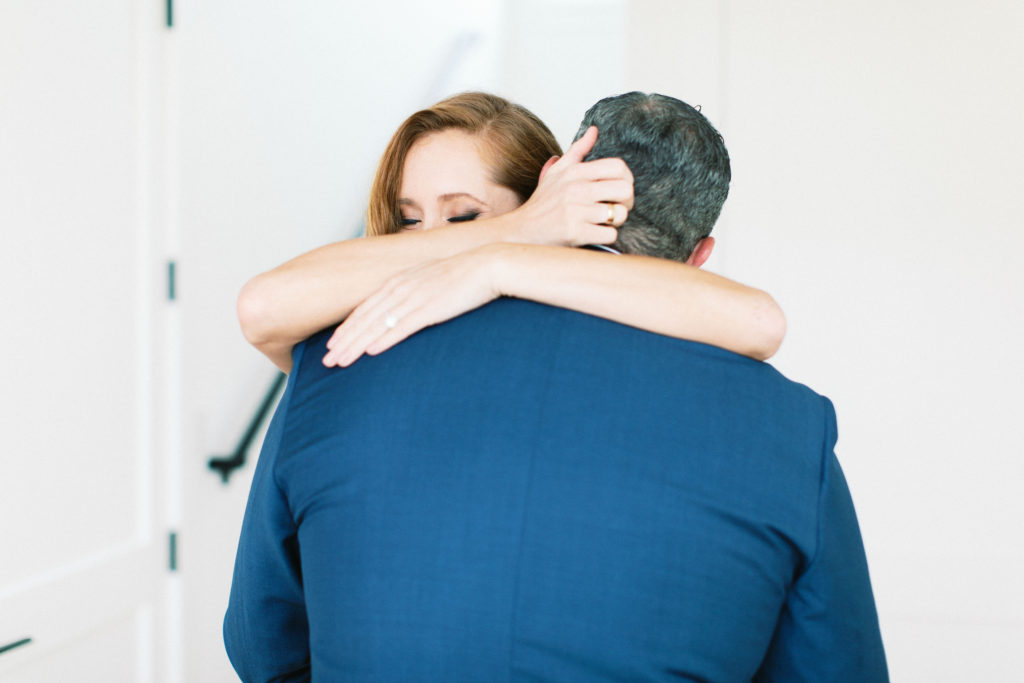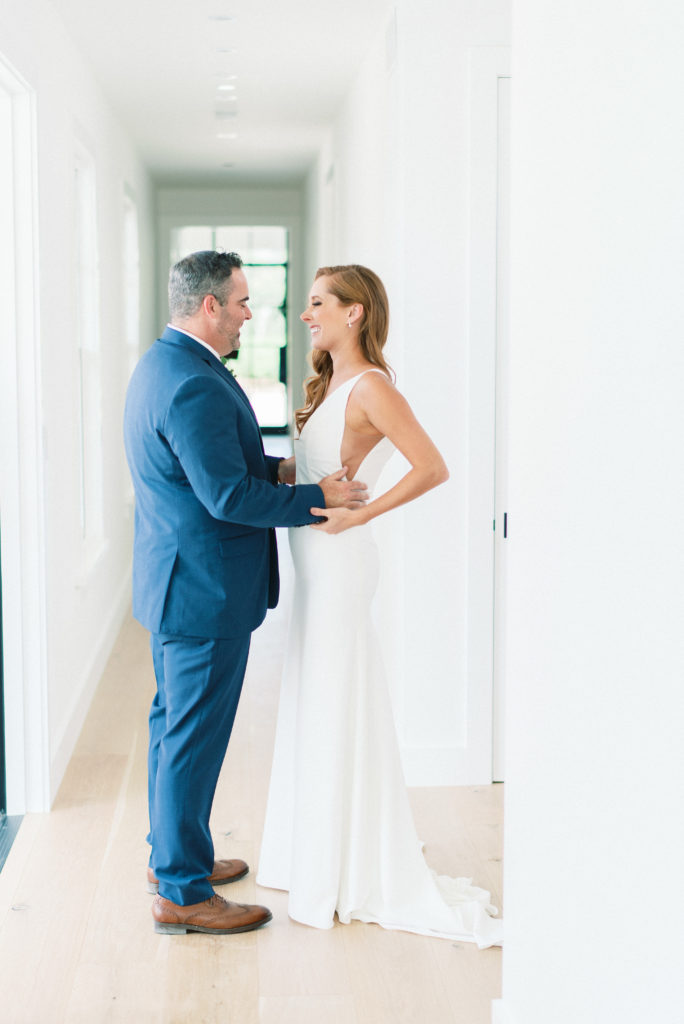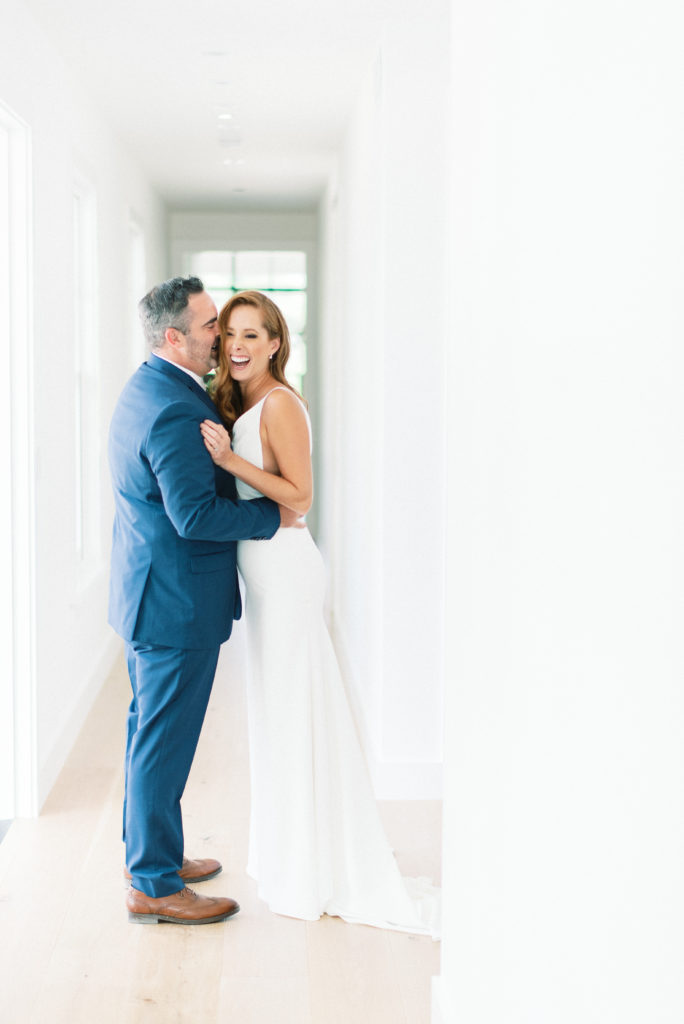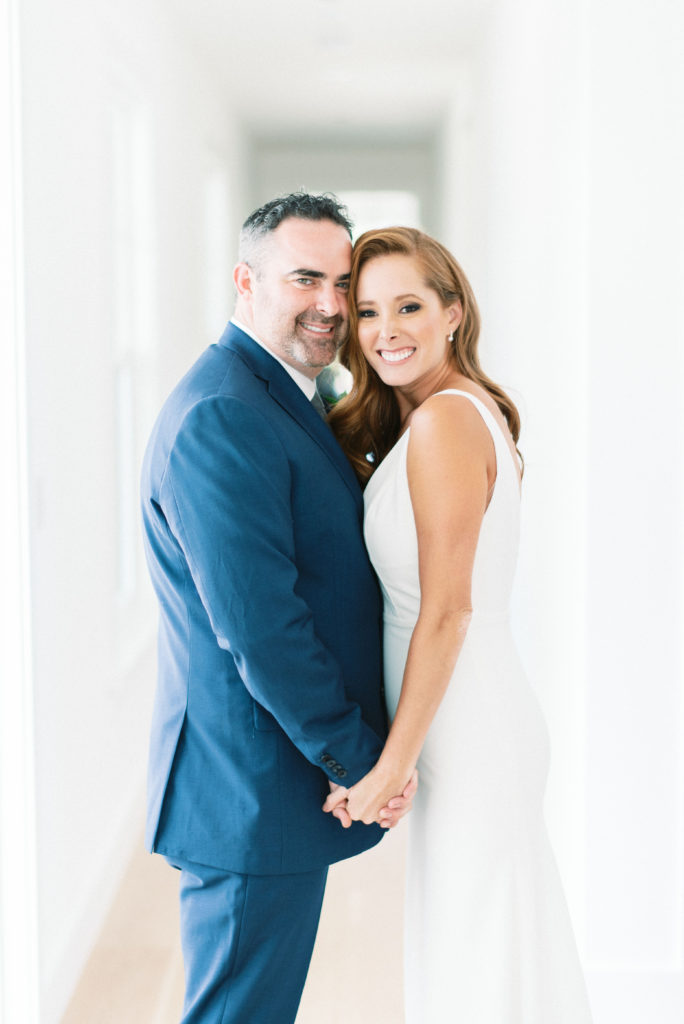 And now to get the party started – and by that I mean bridal party!! The bridesmaids wore different shades of nudes, blush and gold. And there are those stunning bouquets by Hawthorn Flower Studio.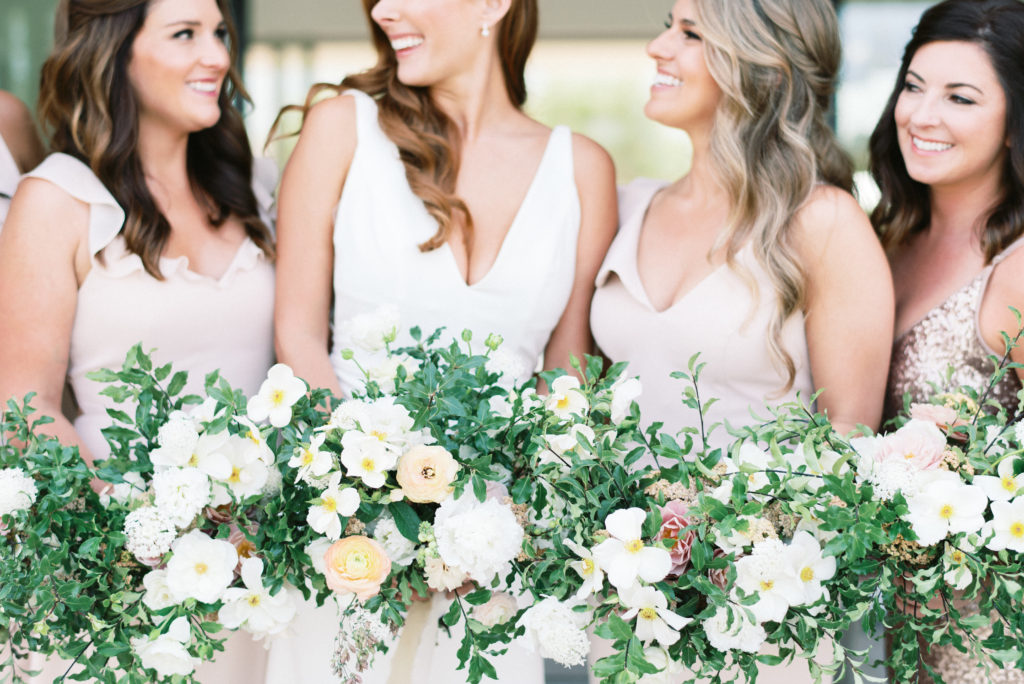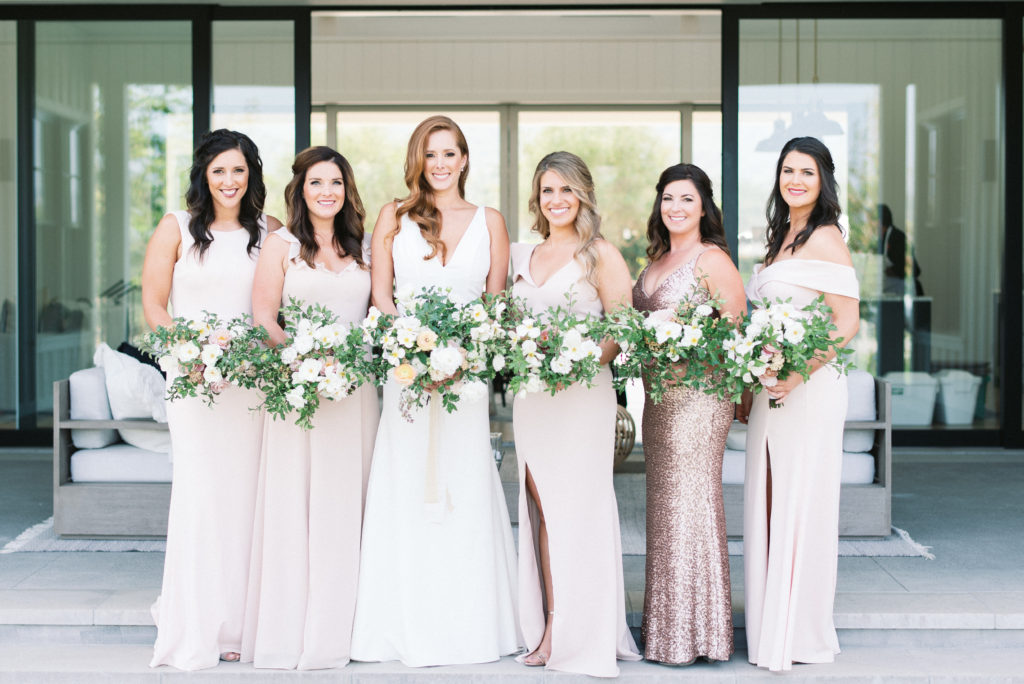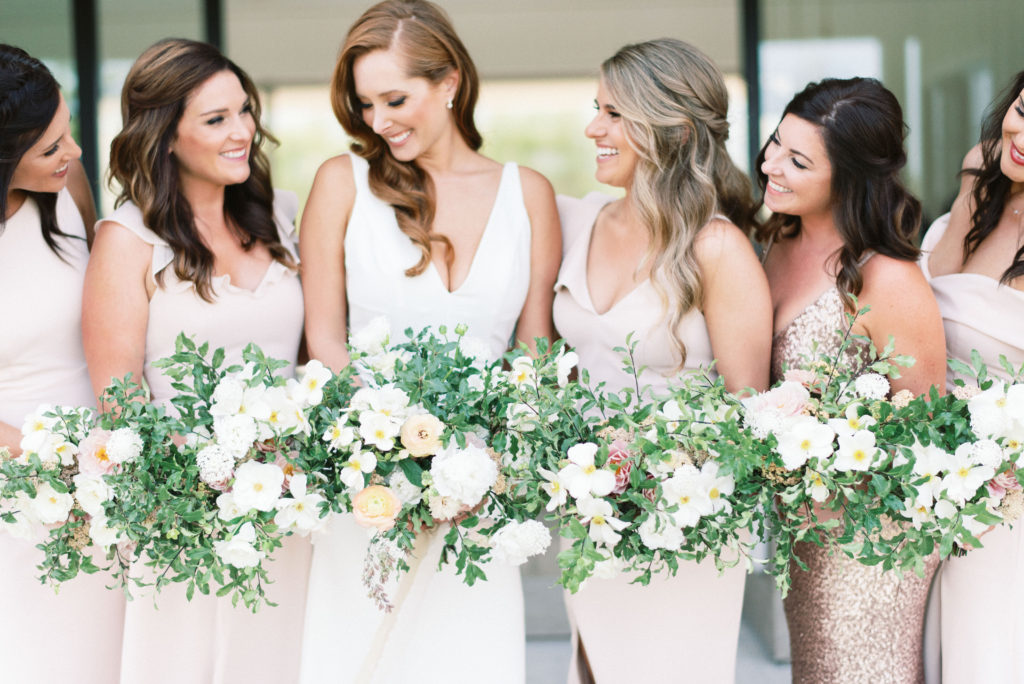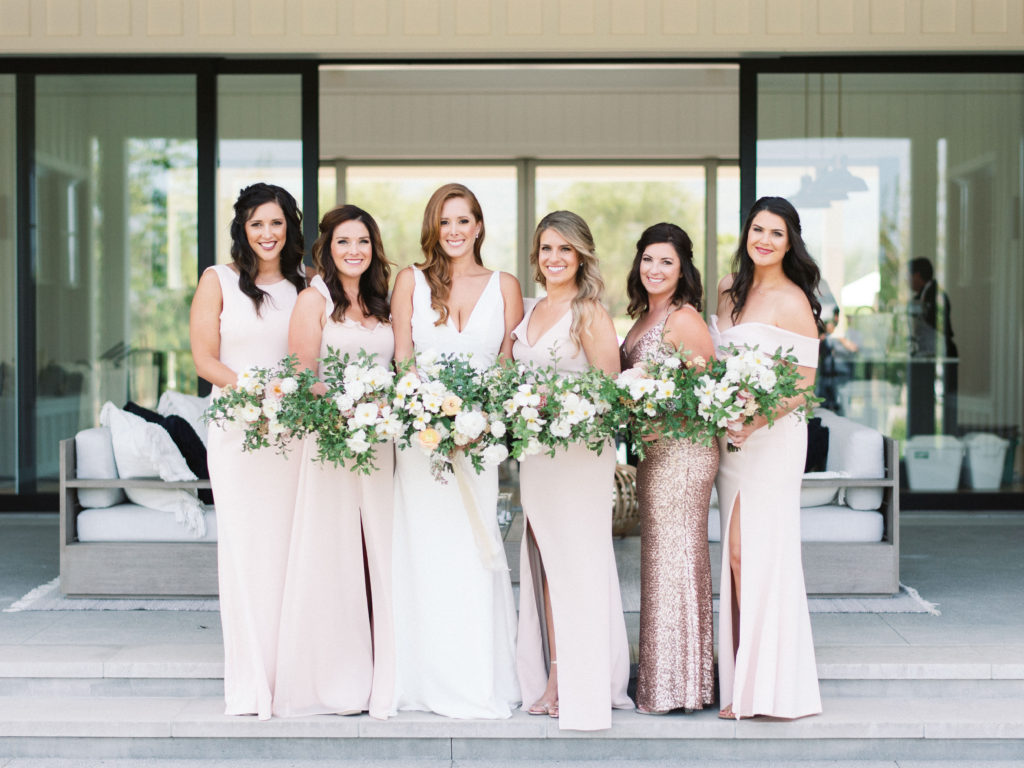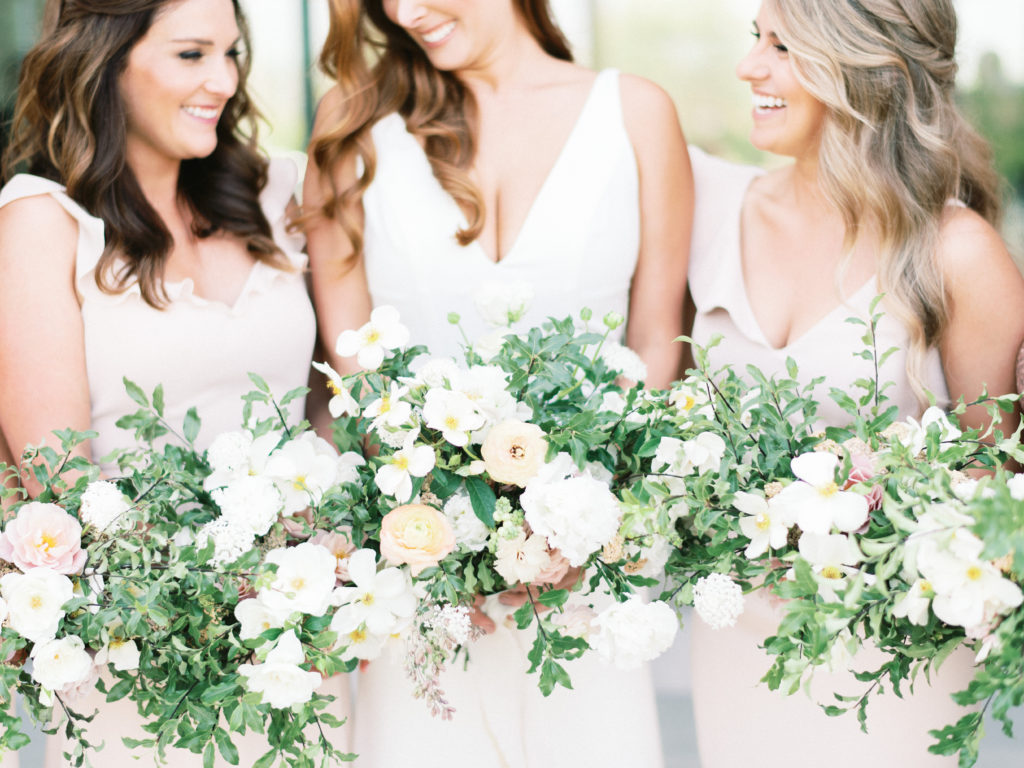 What a gorgeous bunch… I mean, these guys are just goals!!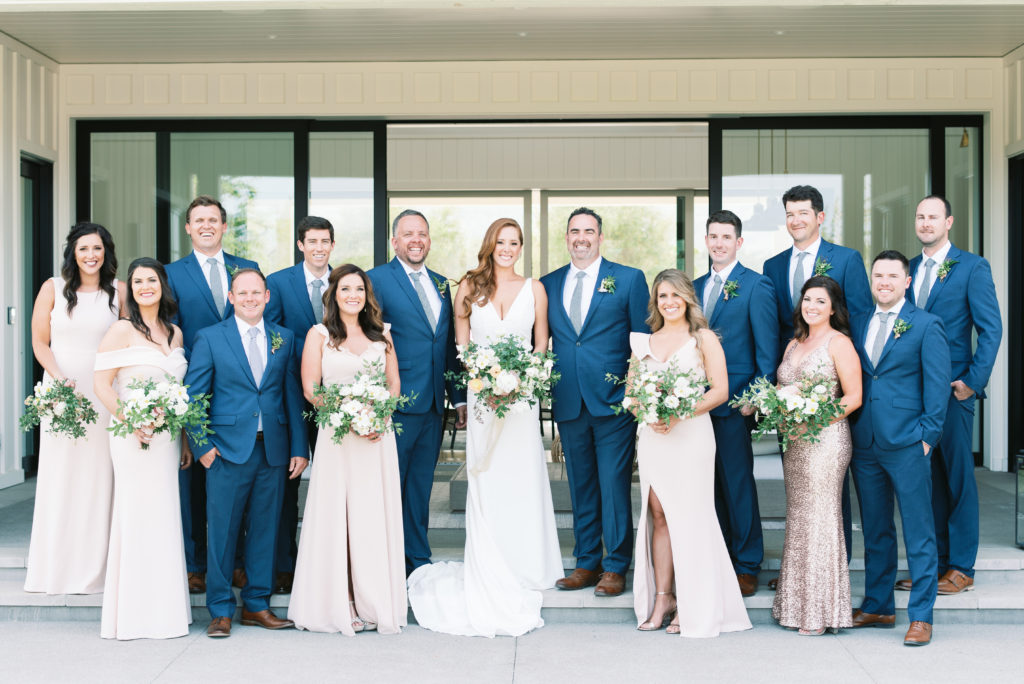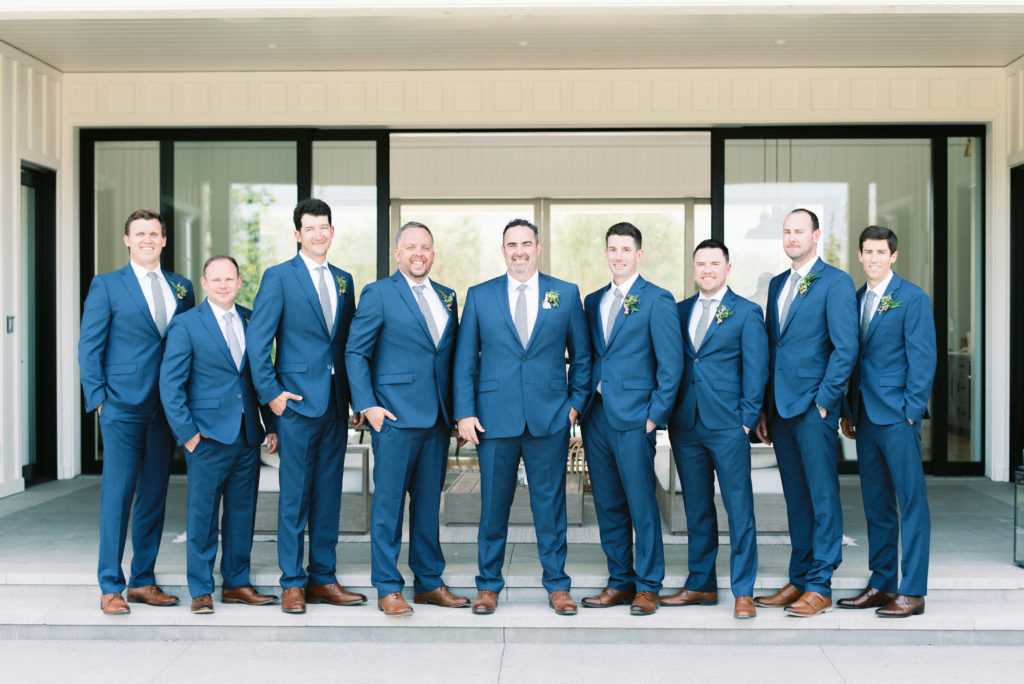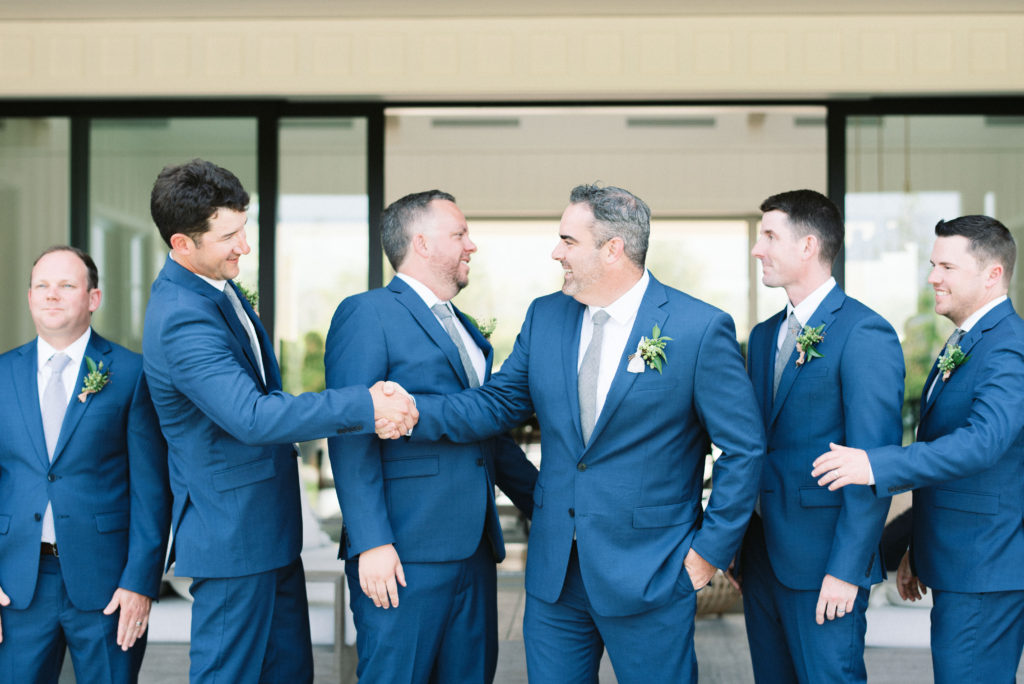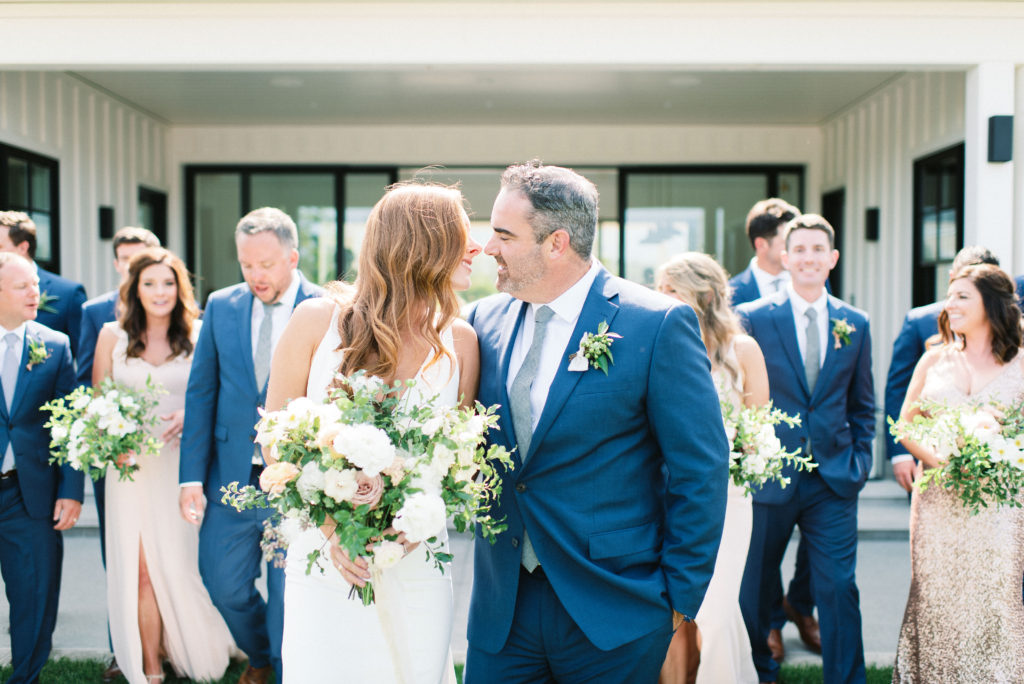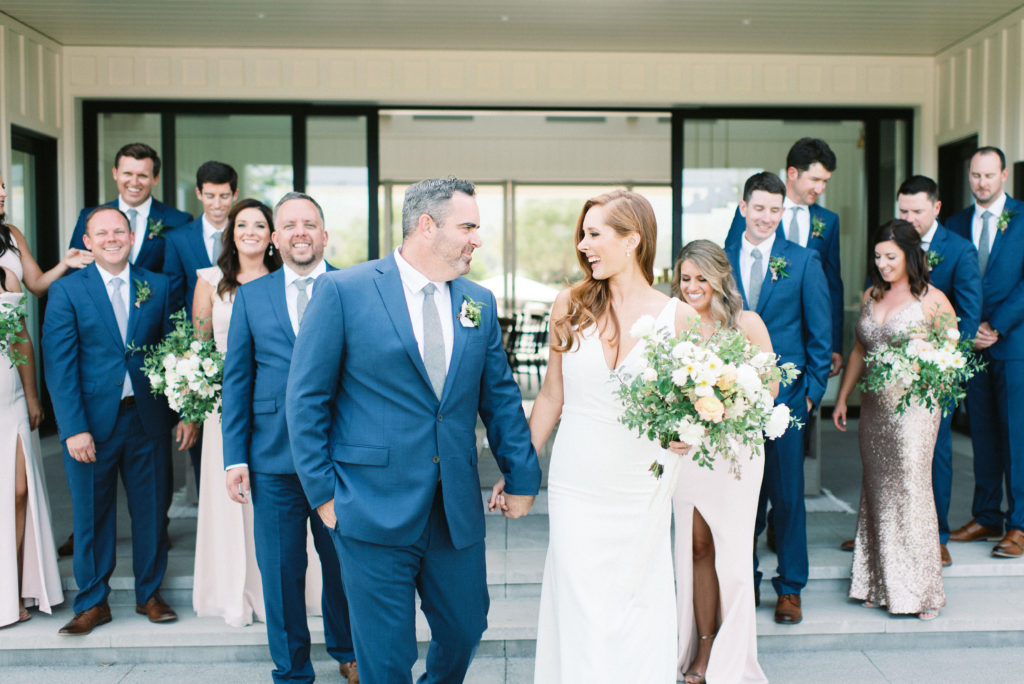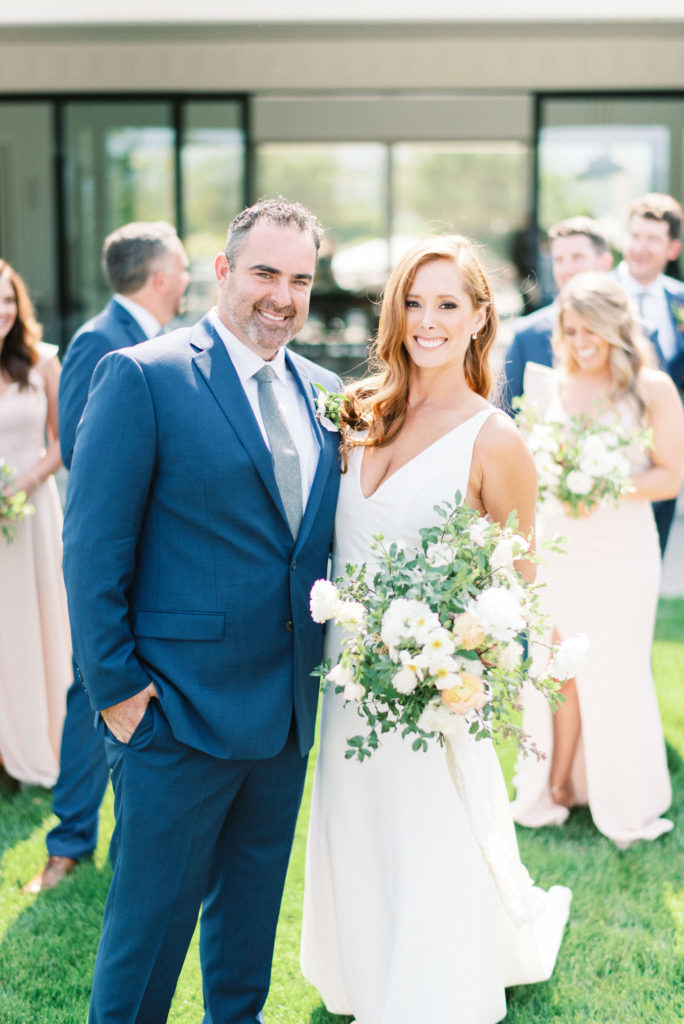 A few more shots of this gorgeous couple on the best day of their lives, you know, just THAT!! Love these two!!!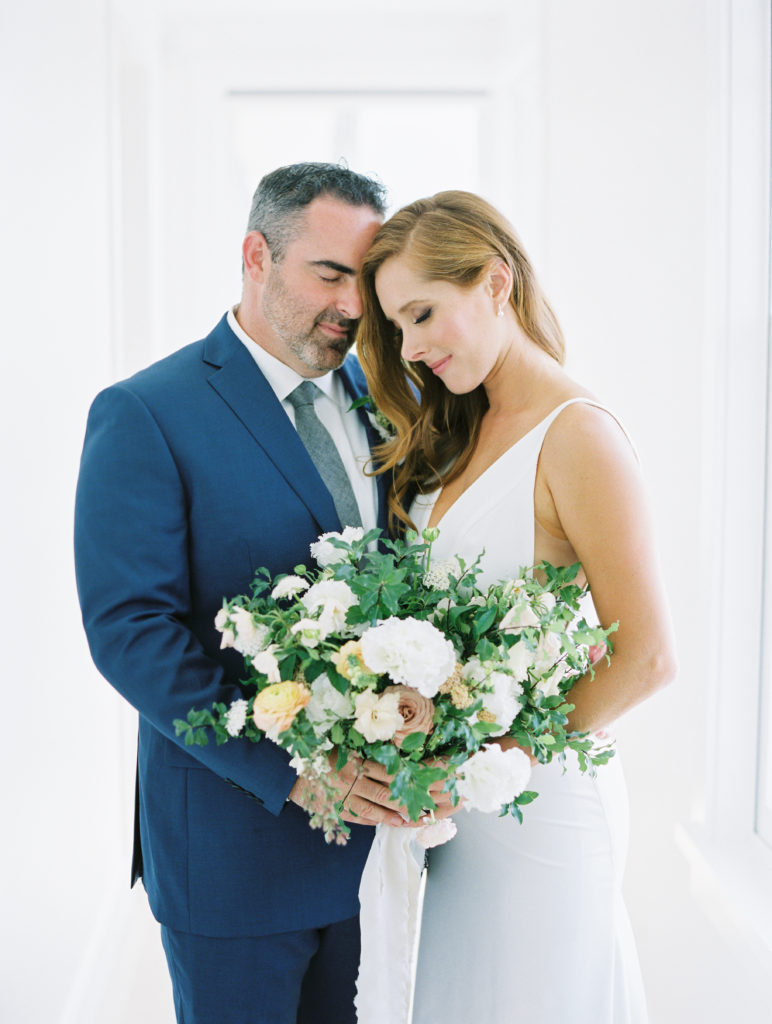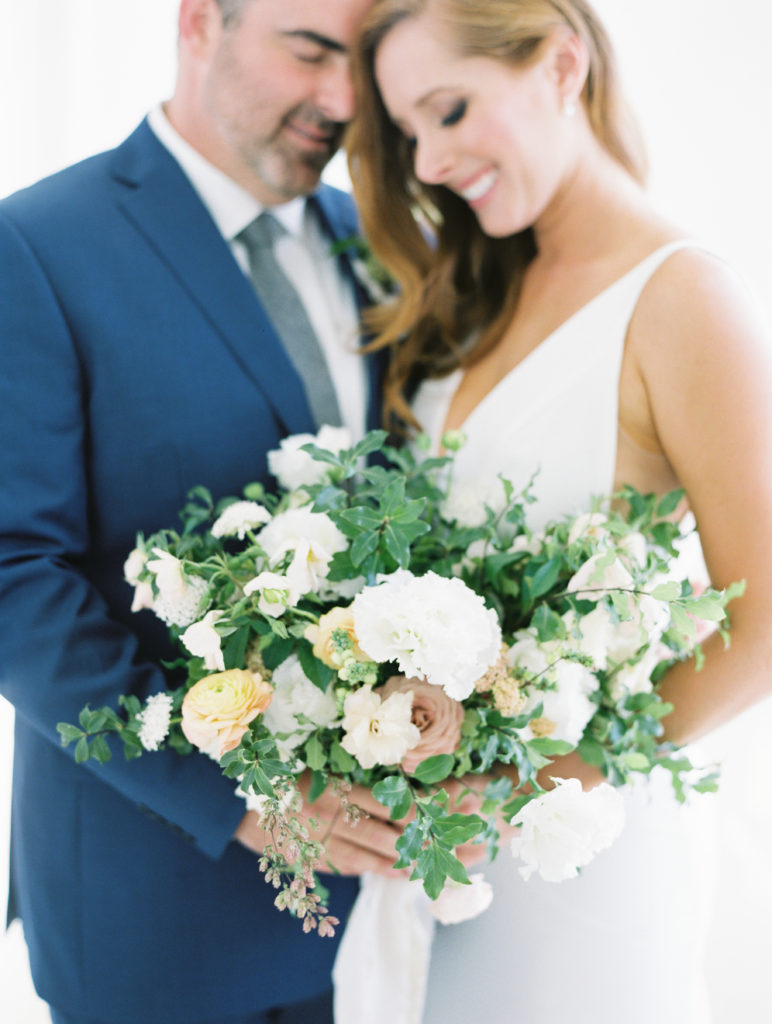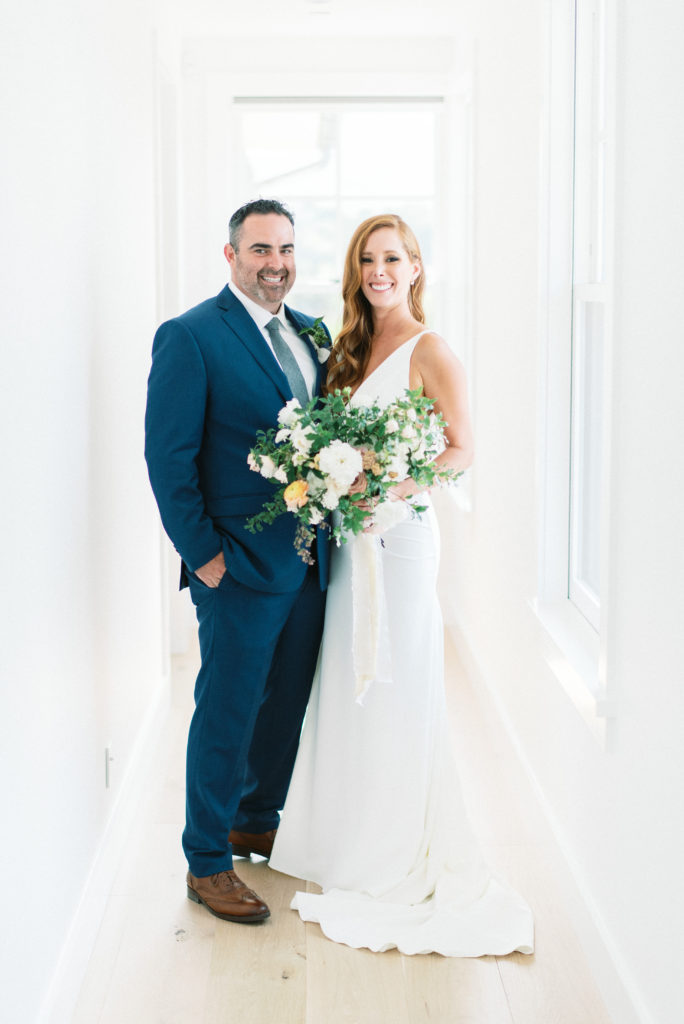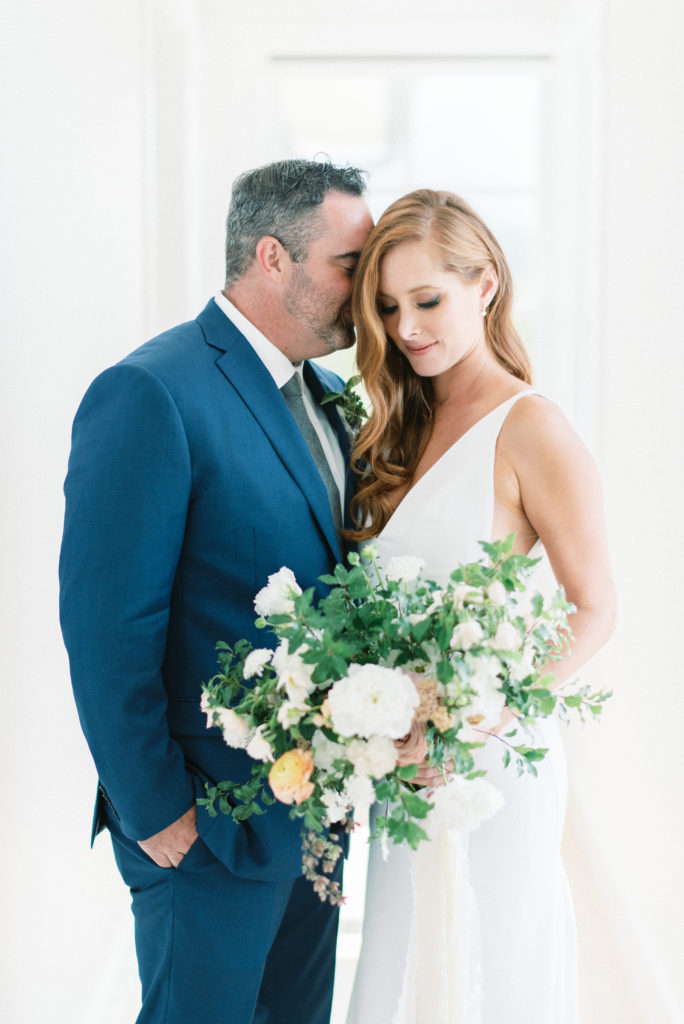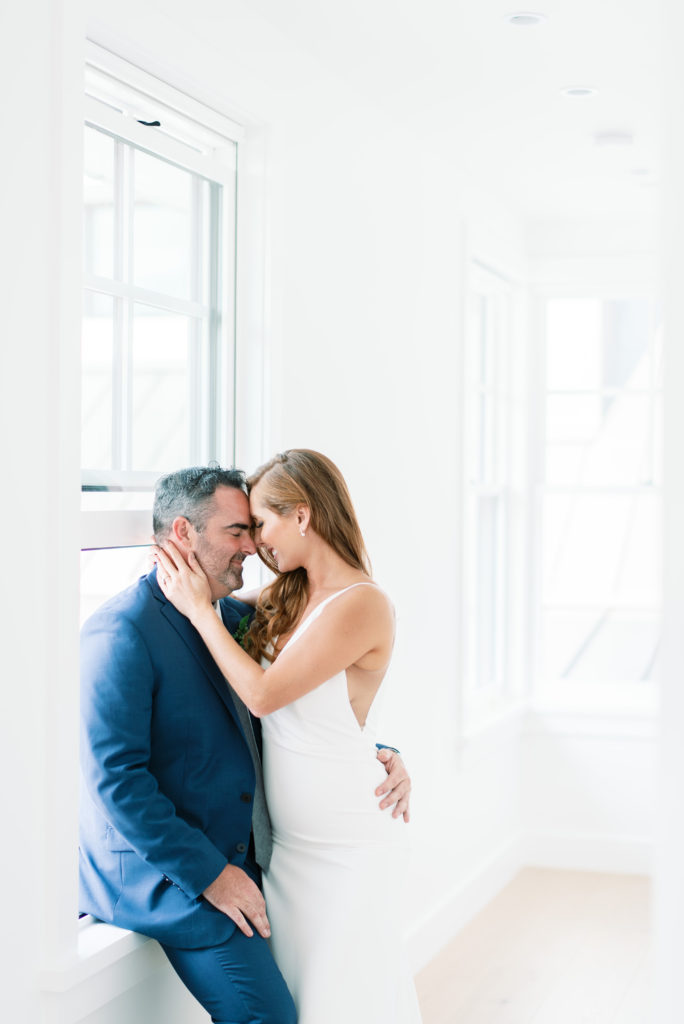 All of the signage for the wedding was done by A Fabulous Fete, and you know everything she touches is gold, so there's that… This was the welcome sign for our guests as they entered Estate 8. Wait till you see what they got to enjoy…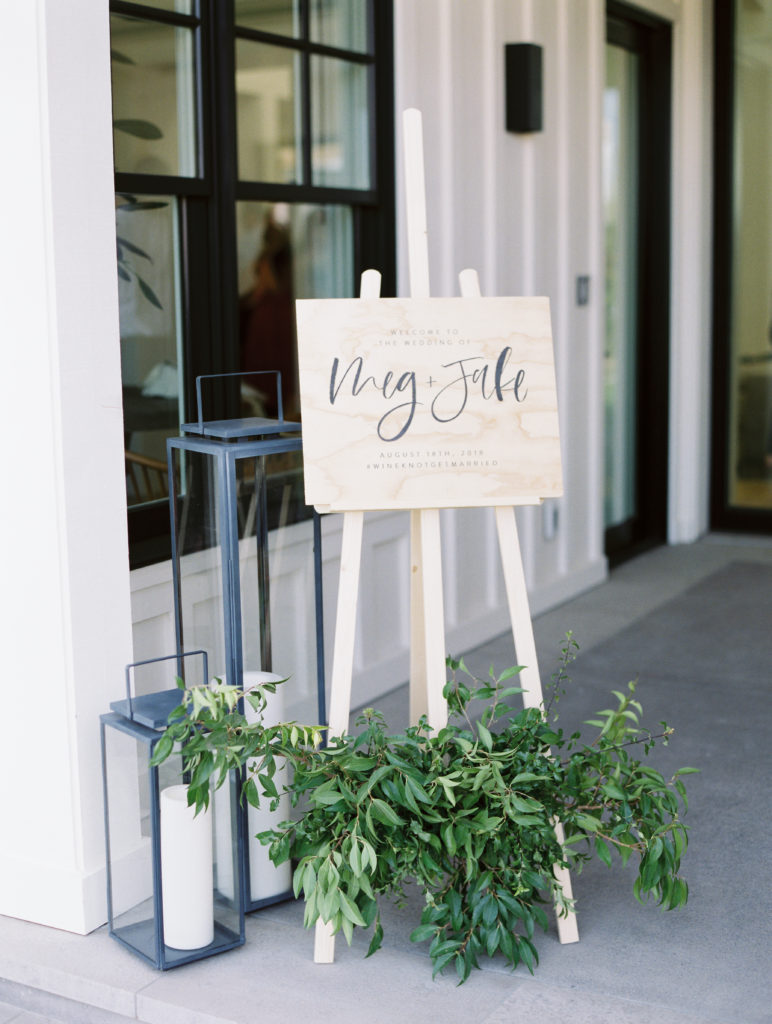 Love this outdoor space… It had some tasty appetizers for guests to nosh on from Contemporary Catering.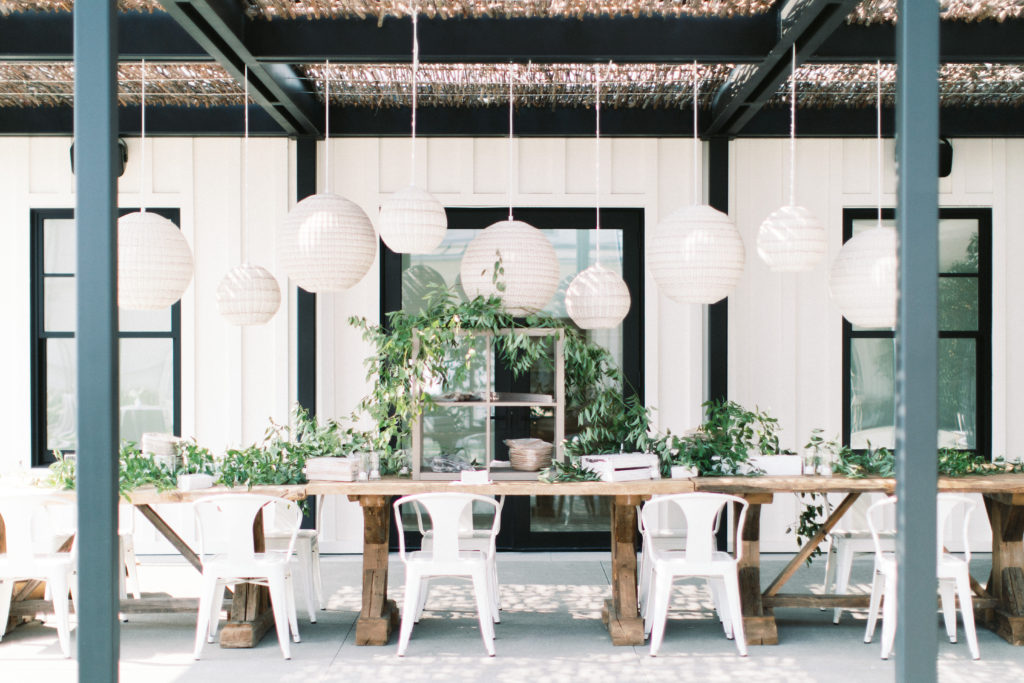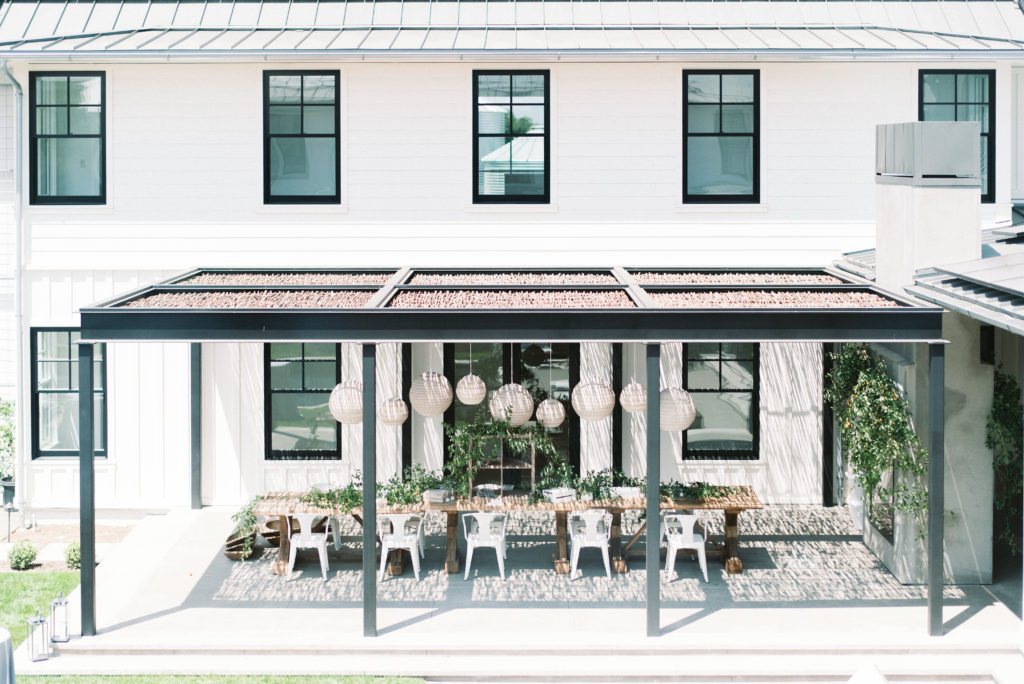 Hawthorn Flower Studio decked out the property with soft touches of greenery. The simplicity was stunning and I especially loved the organic look of it all.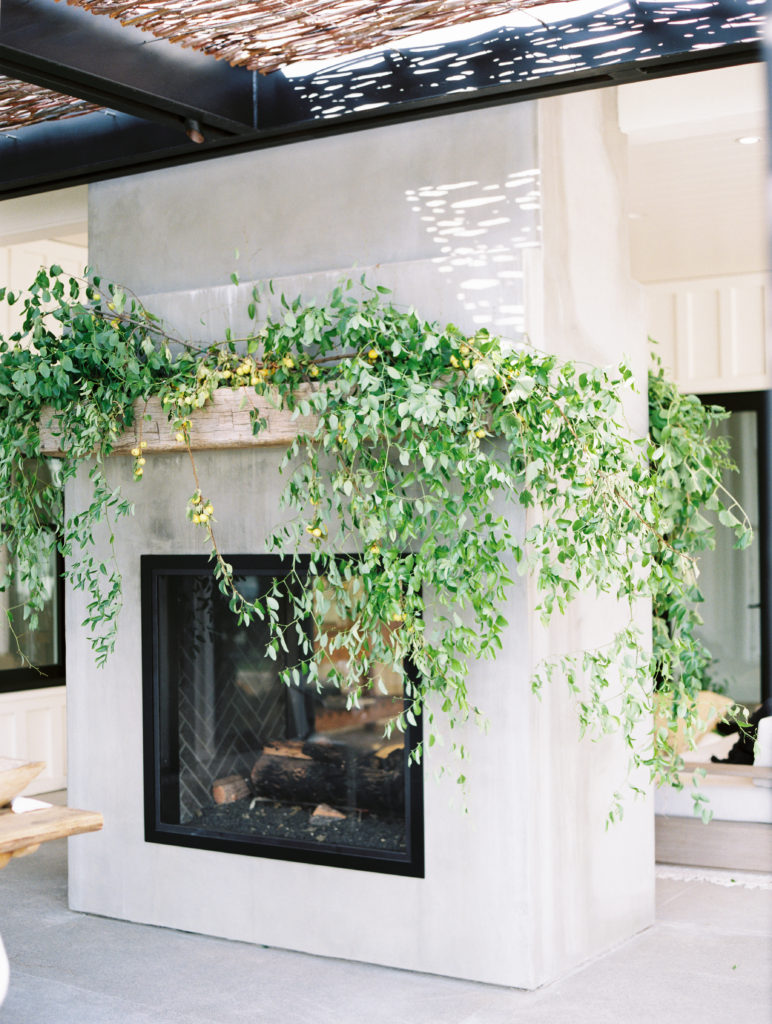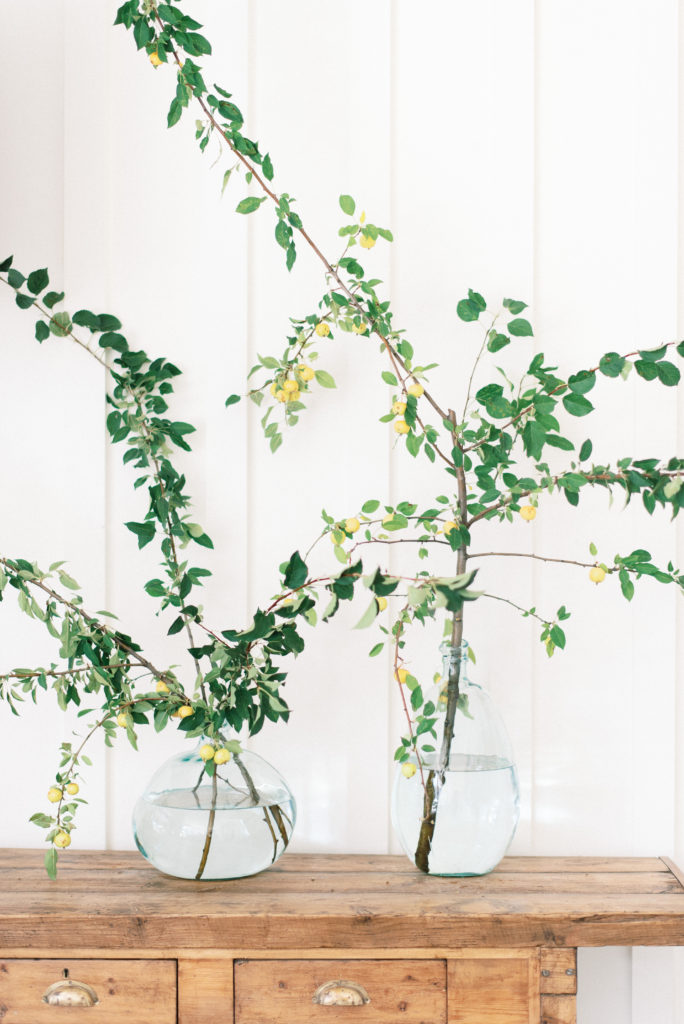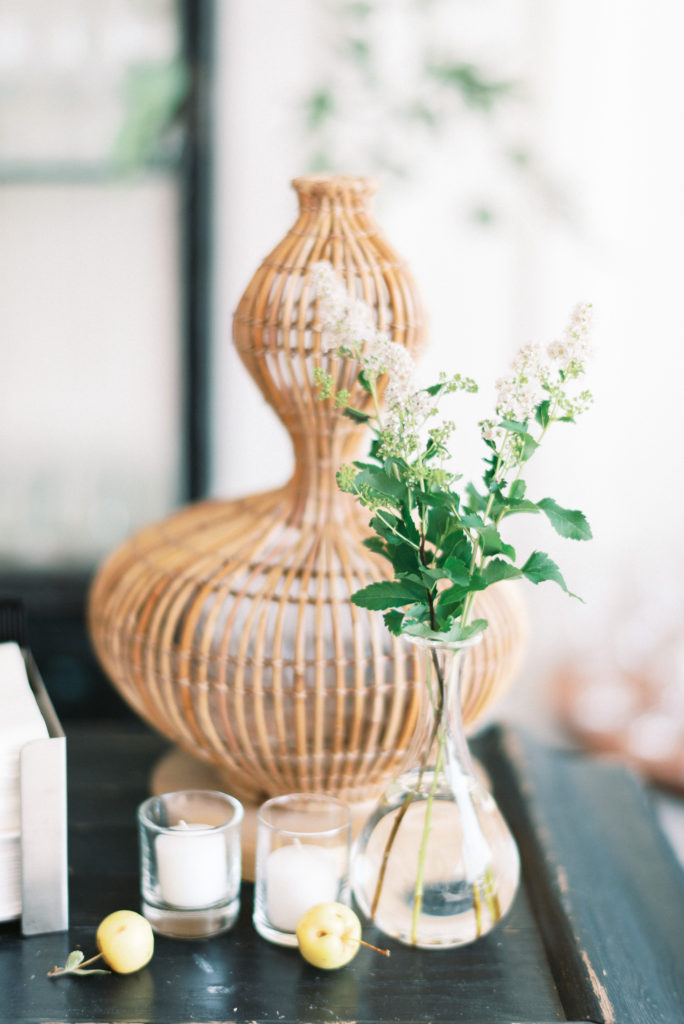 Lucky us got to play with all the pretty furniture from Found Rentals. Each piece they have is unique and interesting, they all look like they have a history and story behind them.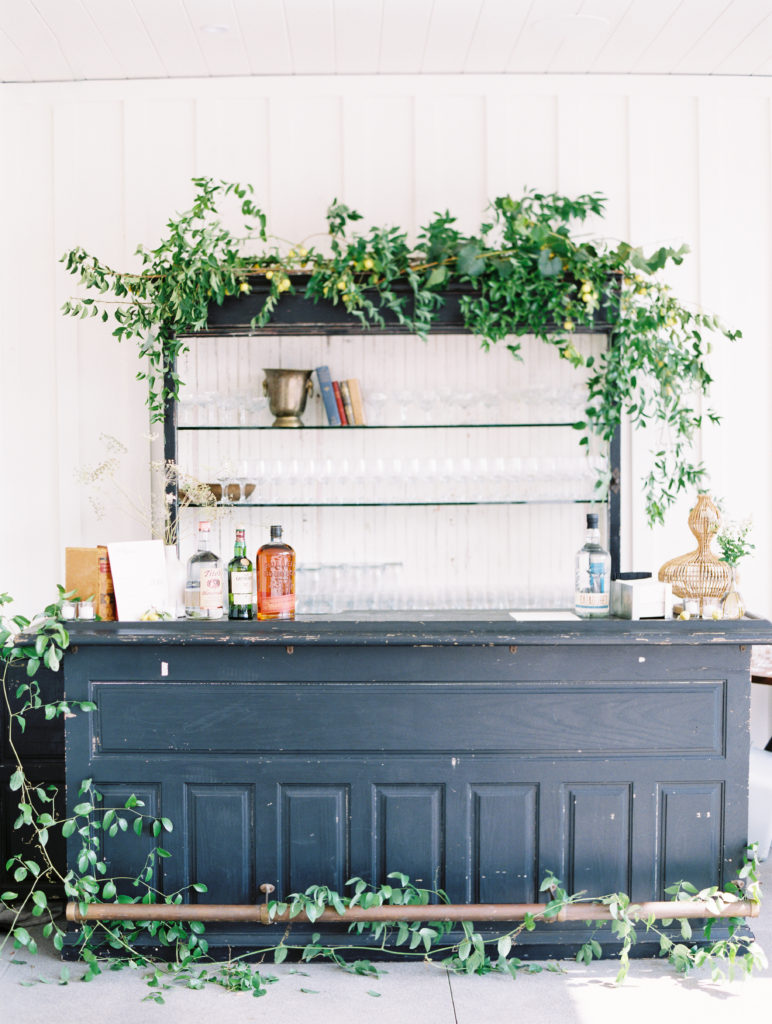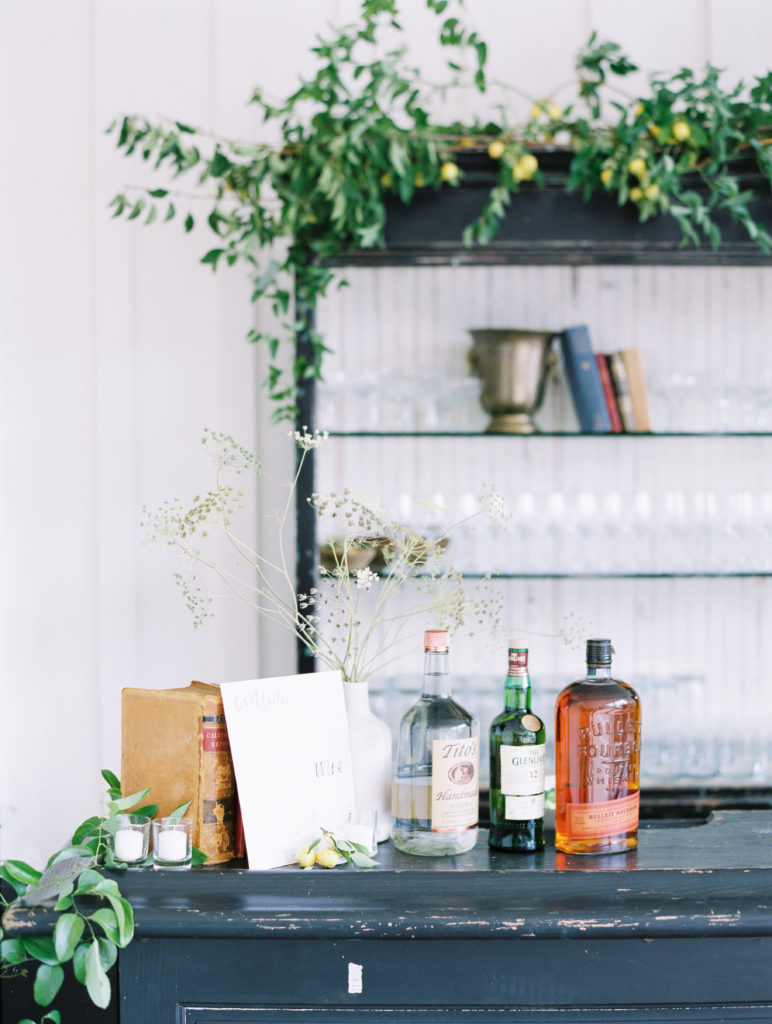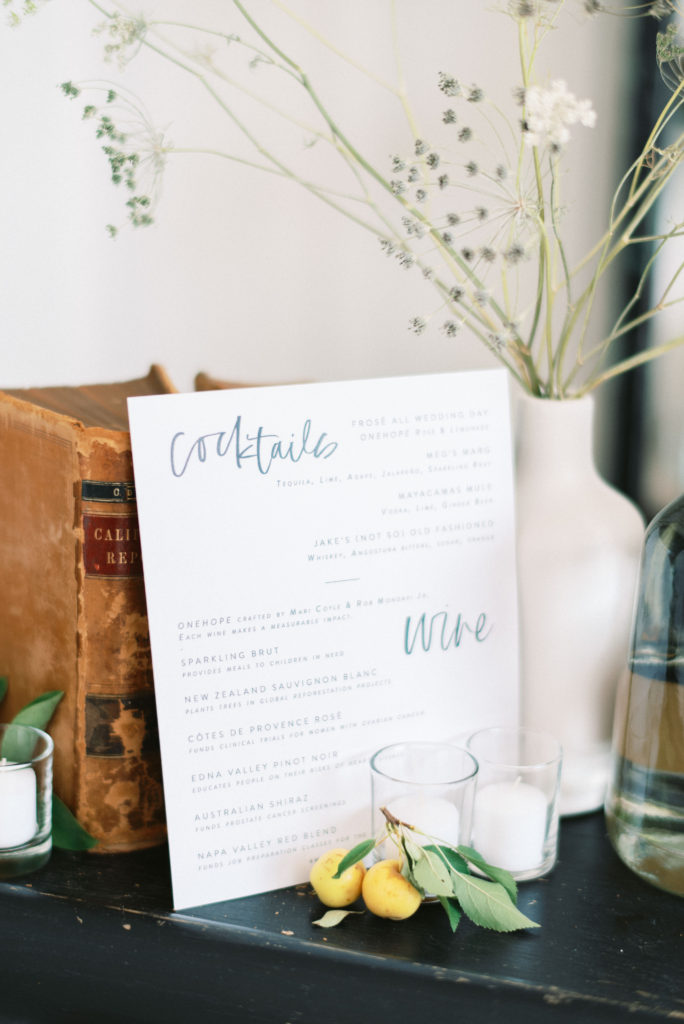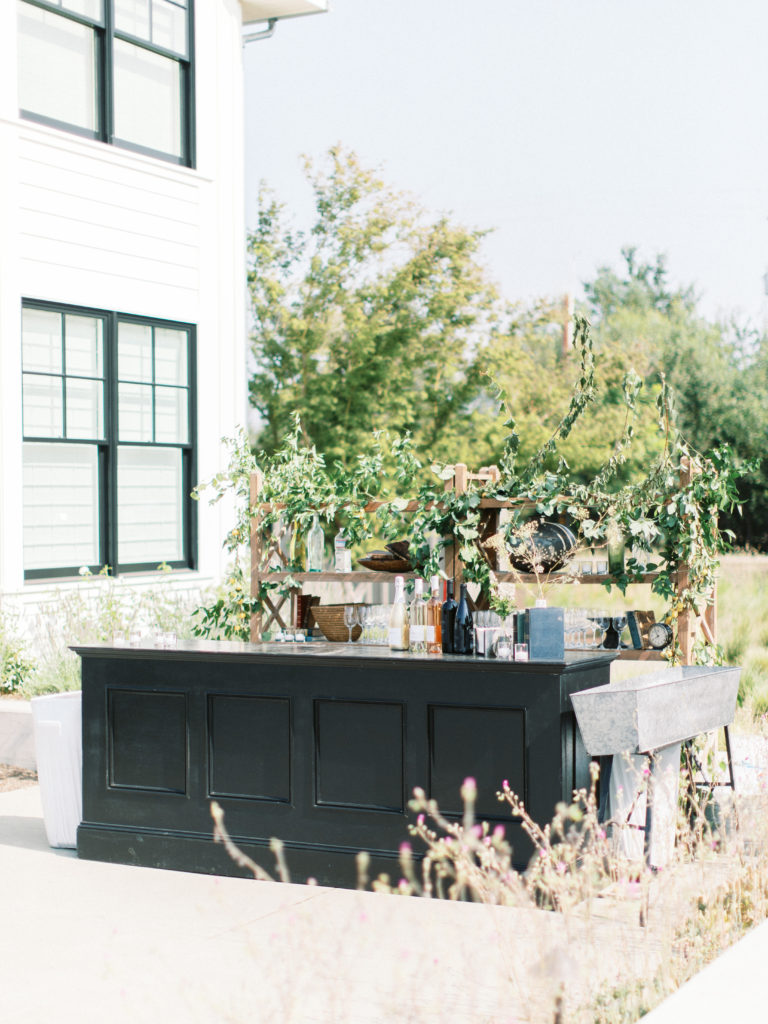 The ceremony space was out in the vineyards, why wouldn't it be right?! These two wine lovers couldn't get married anywhere else.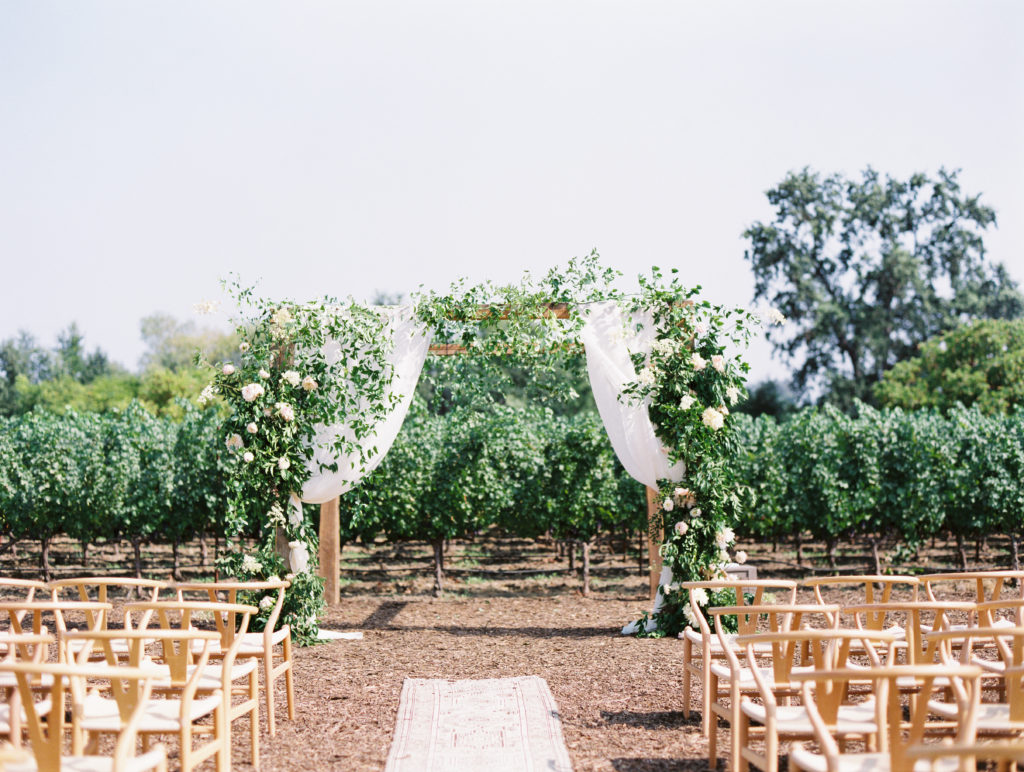 Loving this beautiful floral installation from Hawthorn Flower Studio and the amazing chairs from Theoni Collection.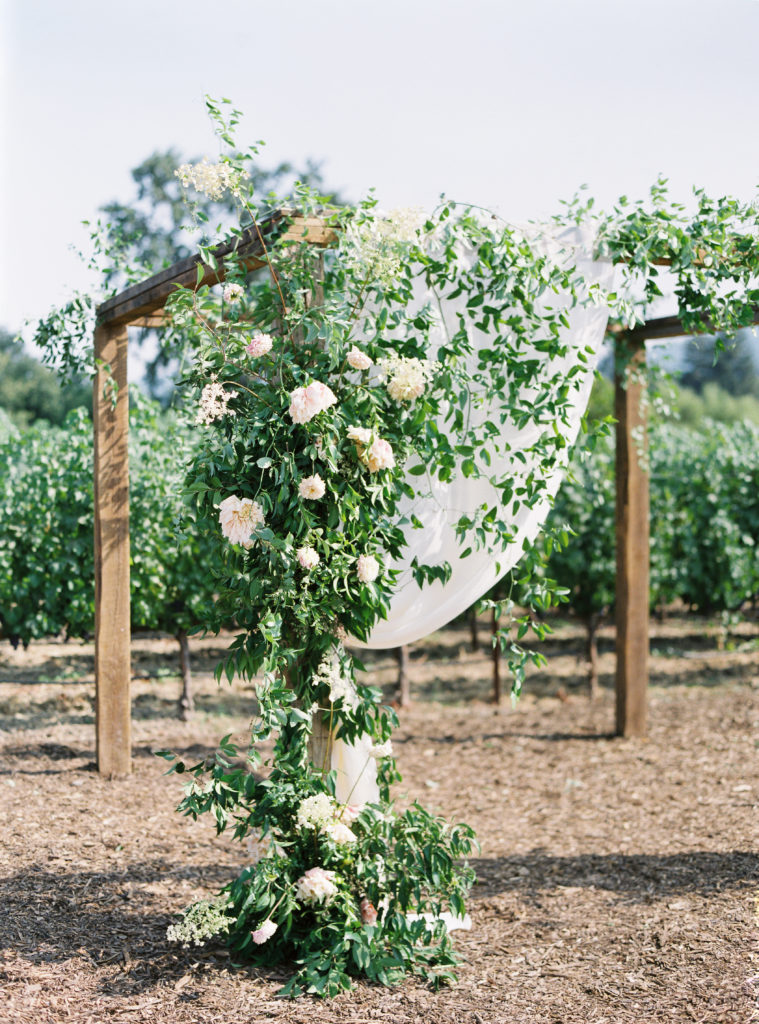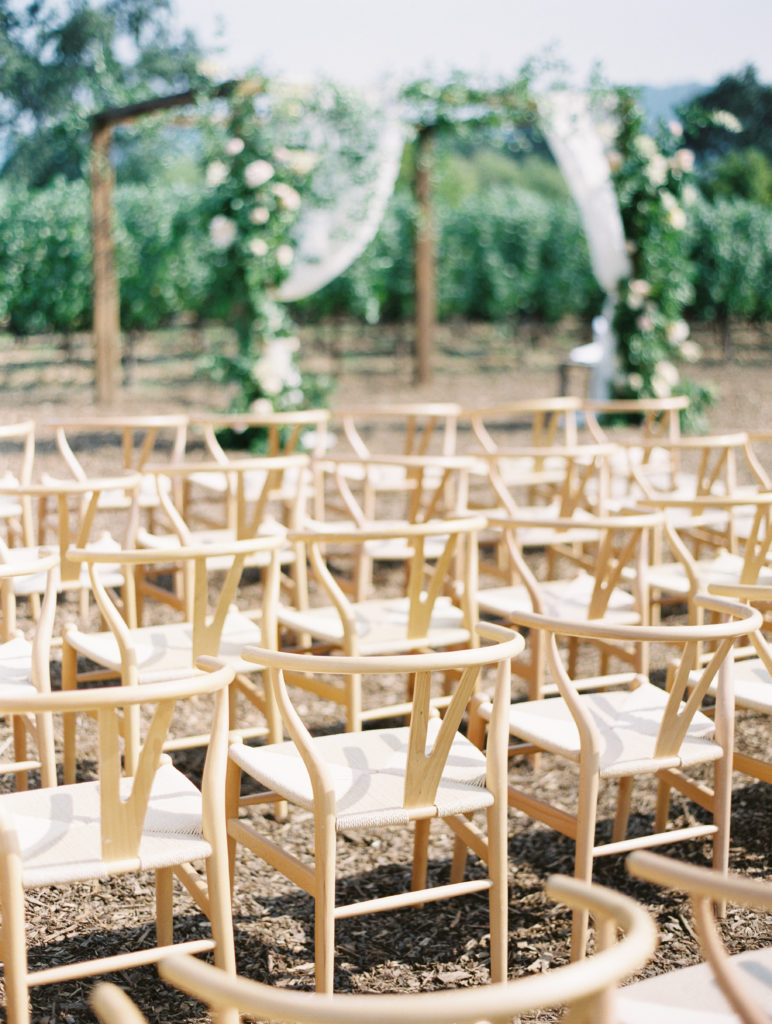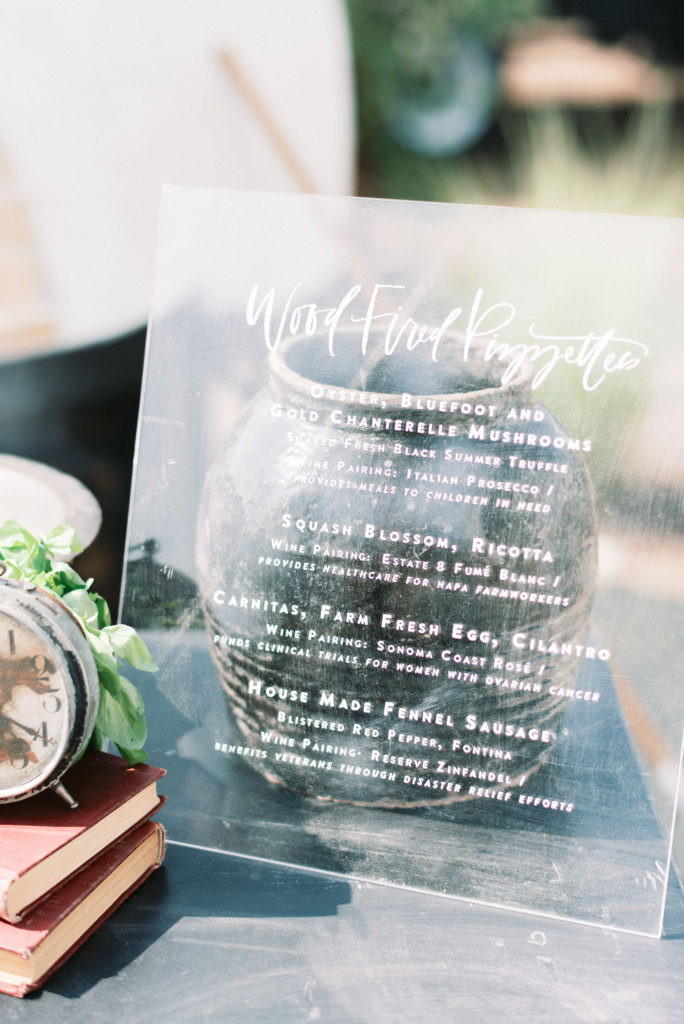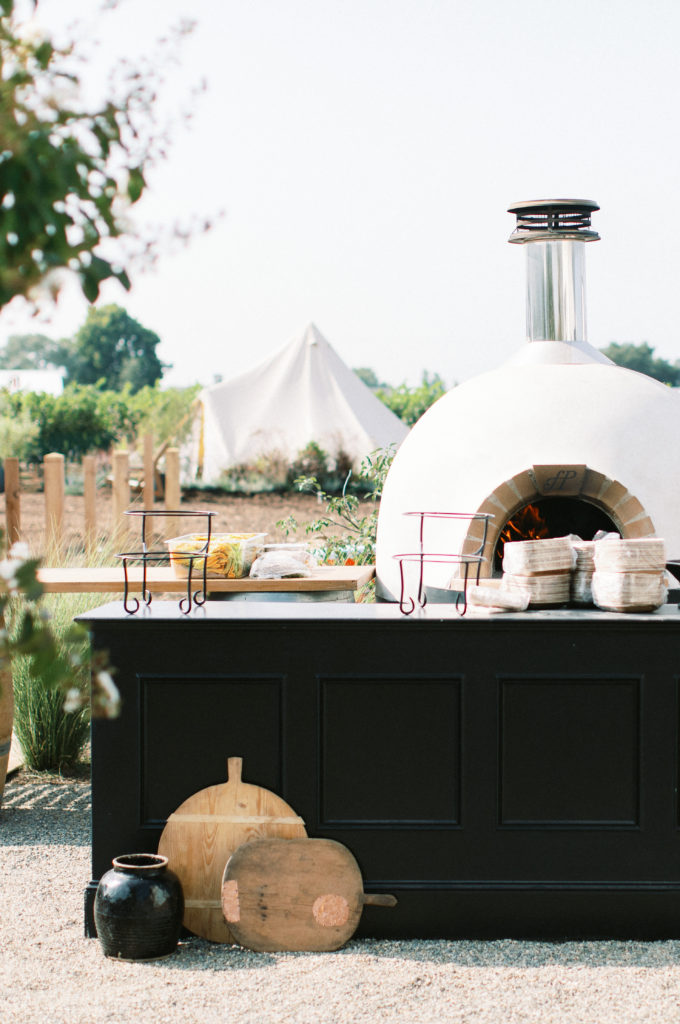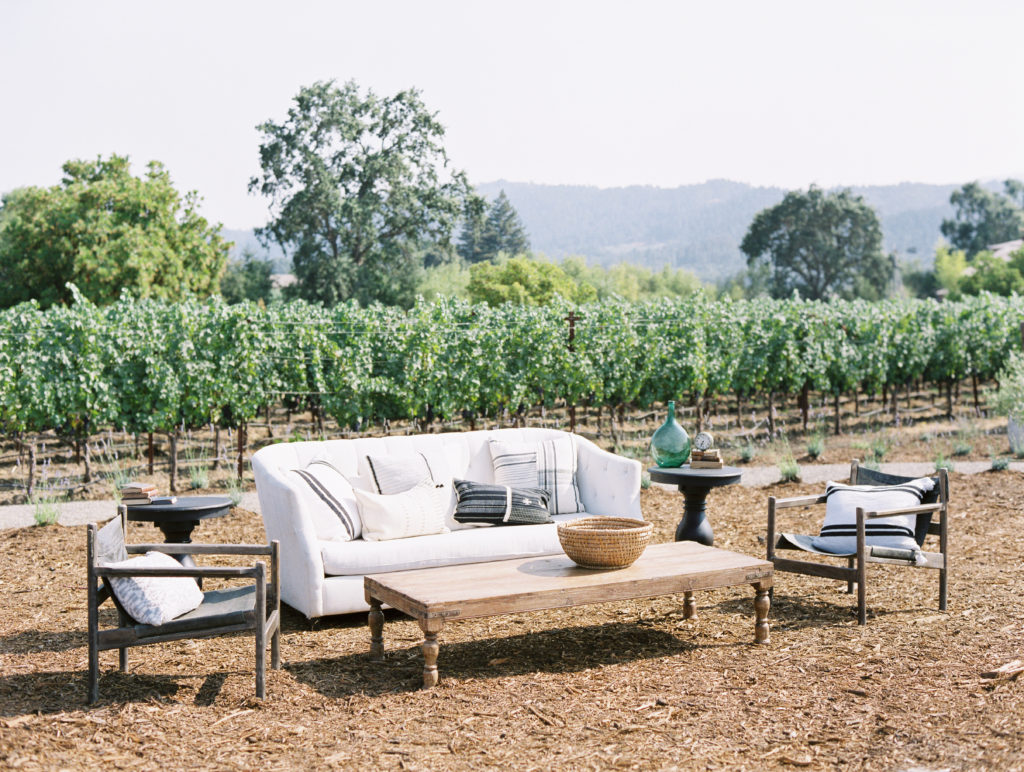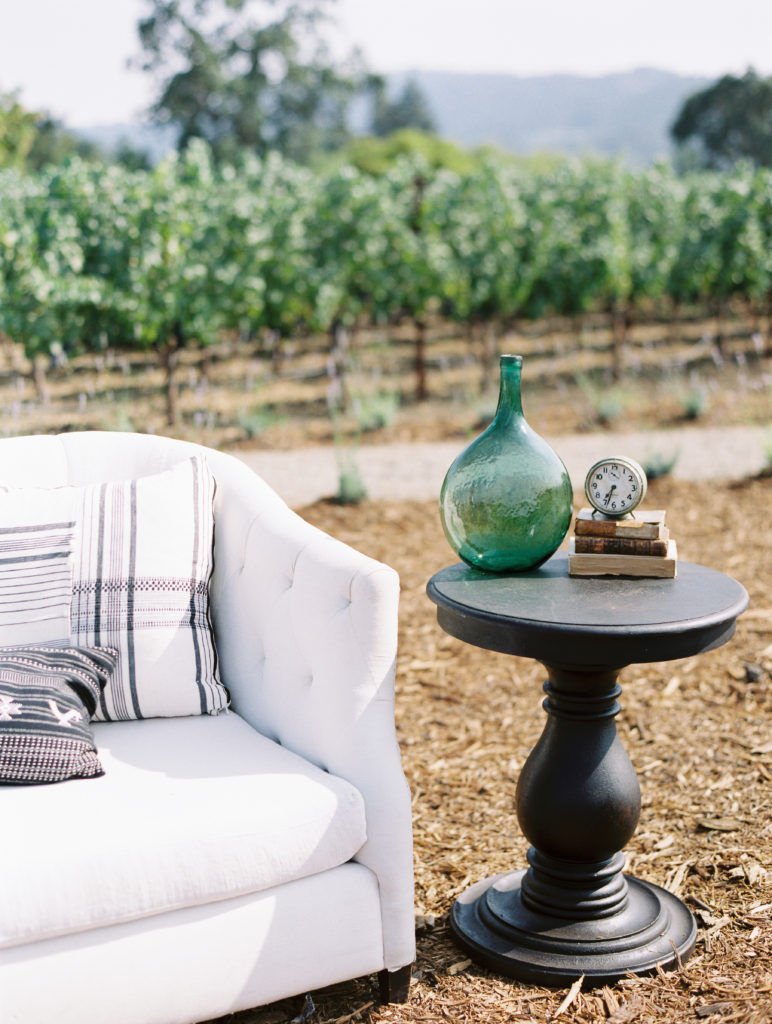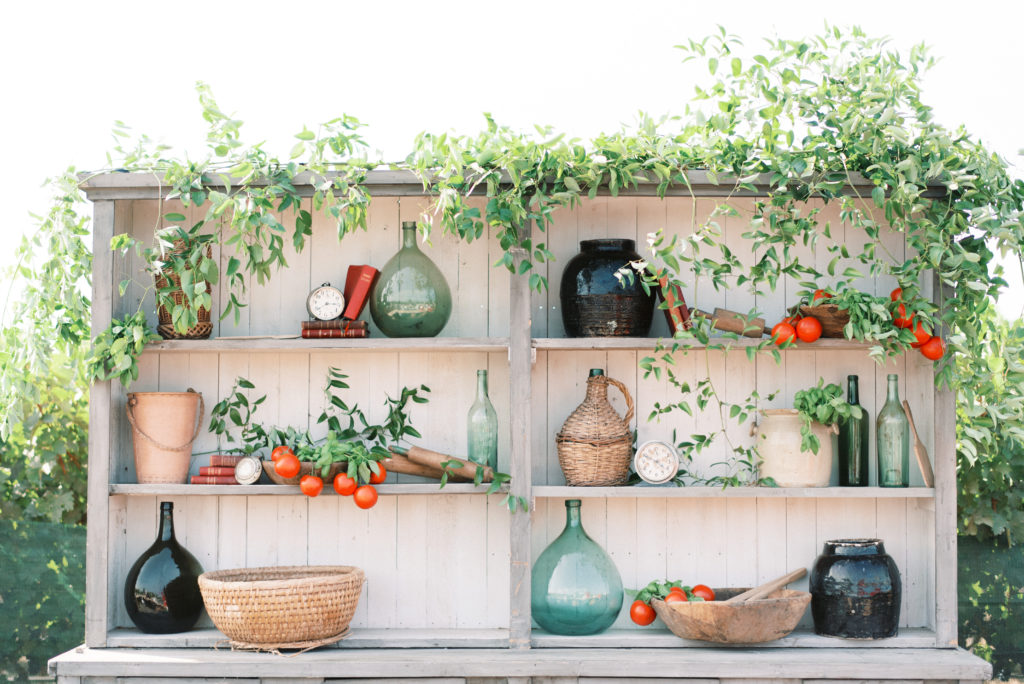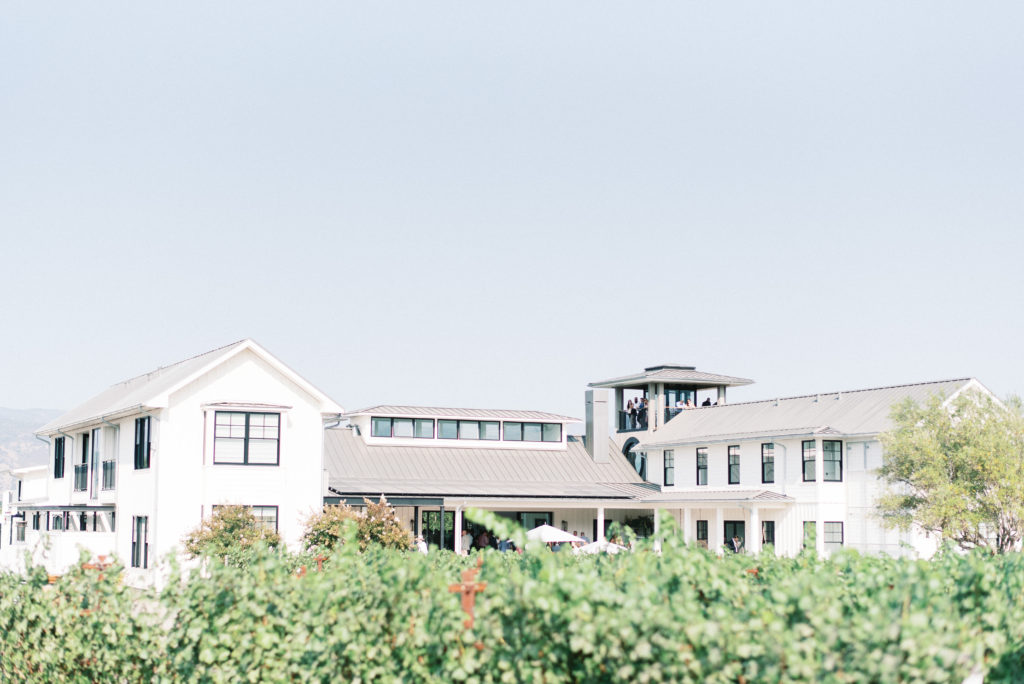 Time for the ceremony! And Jake's parents couldn't have been sweeter, they are so proud of their son…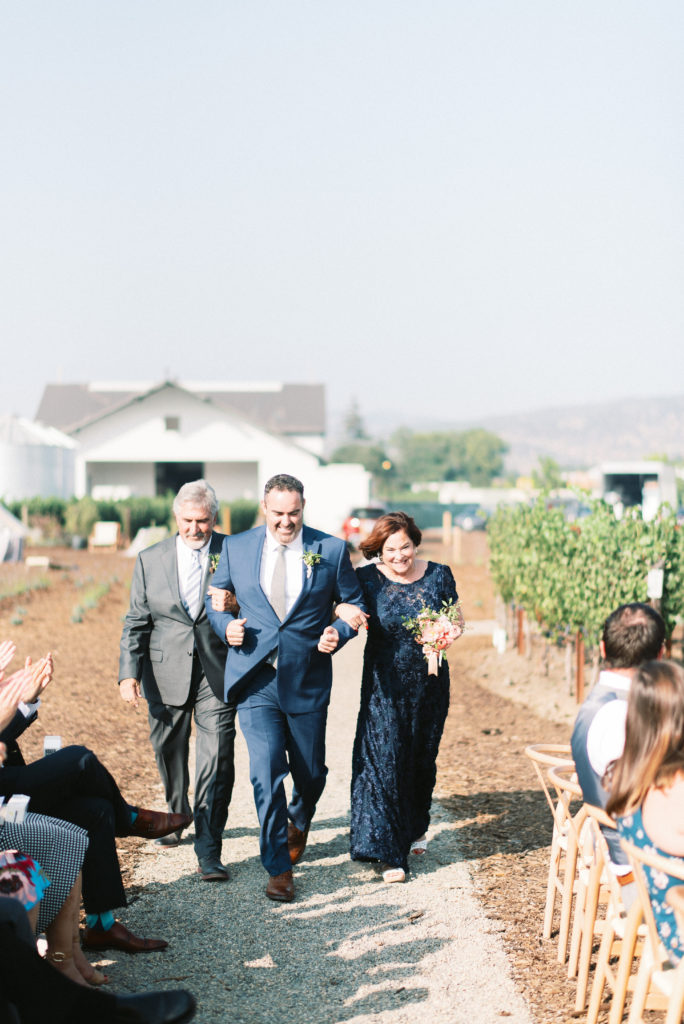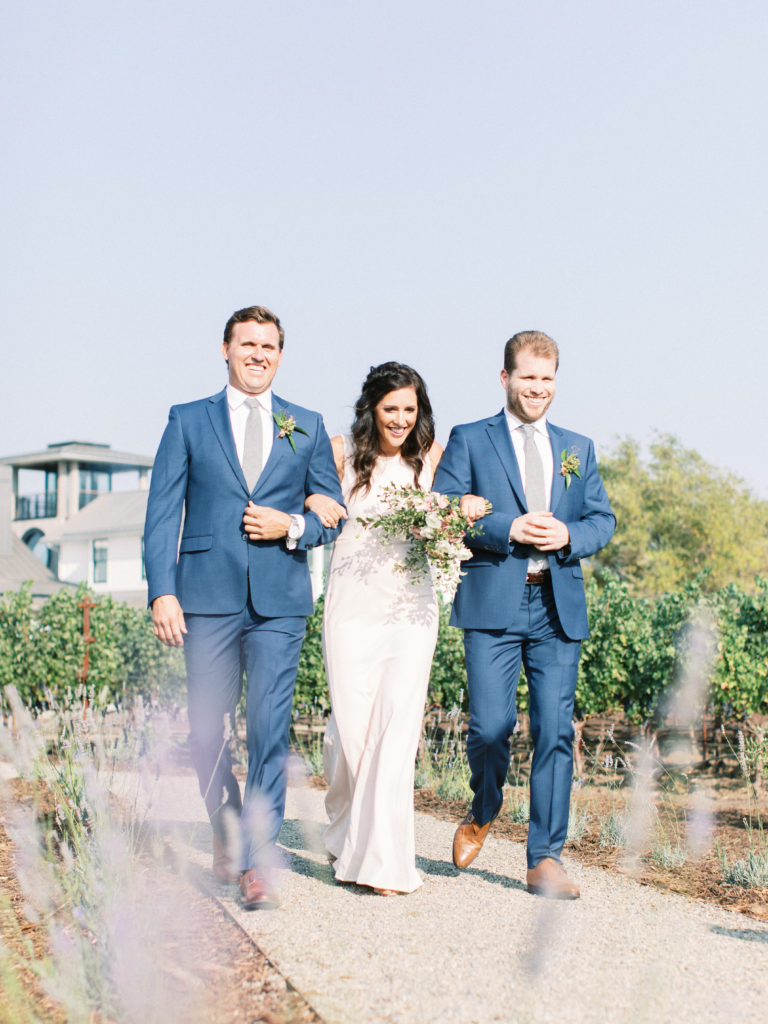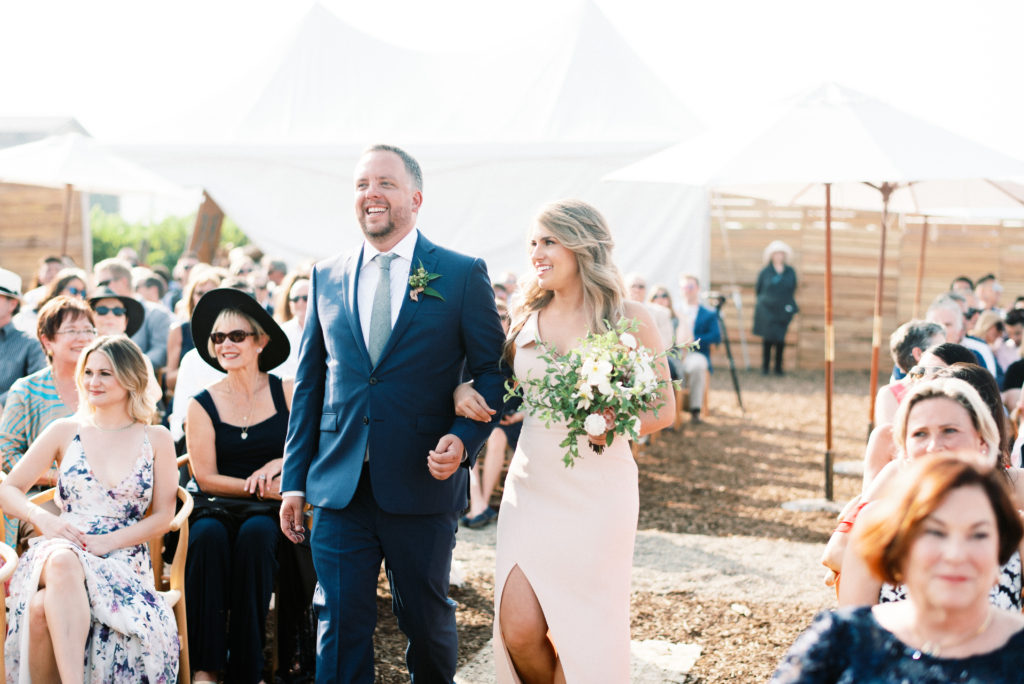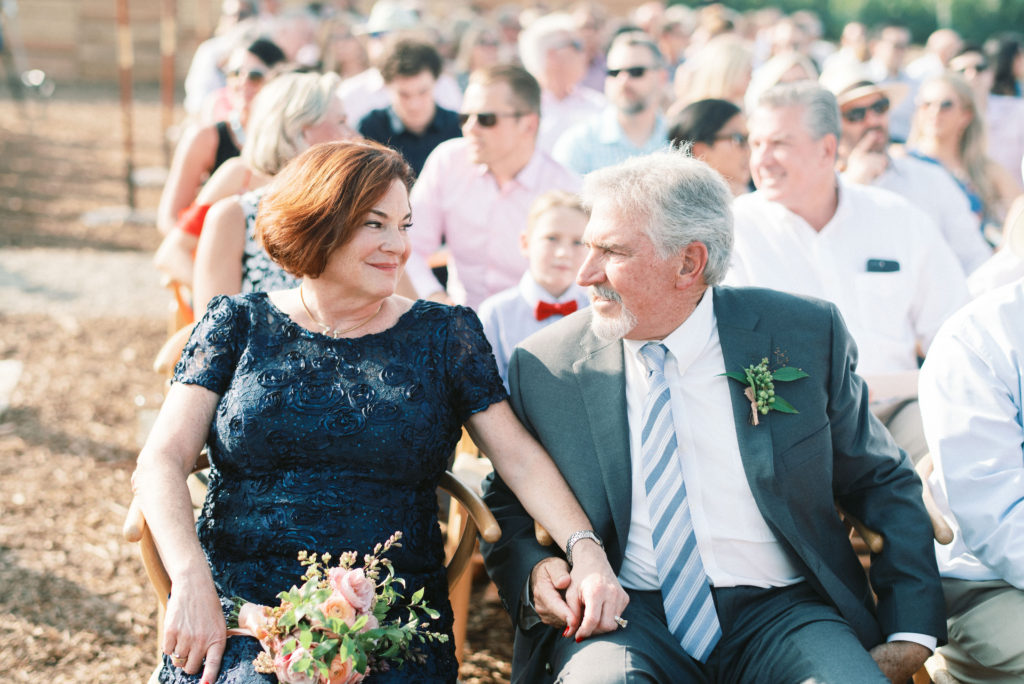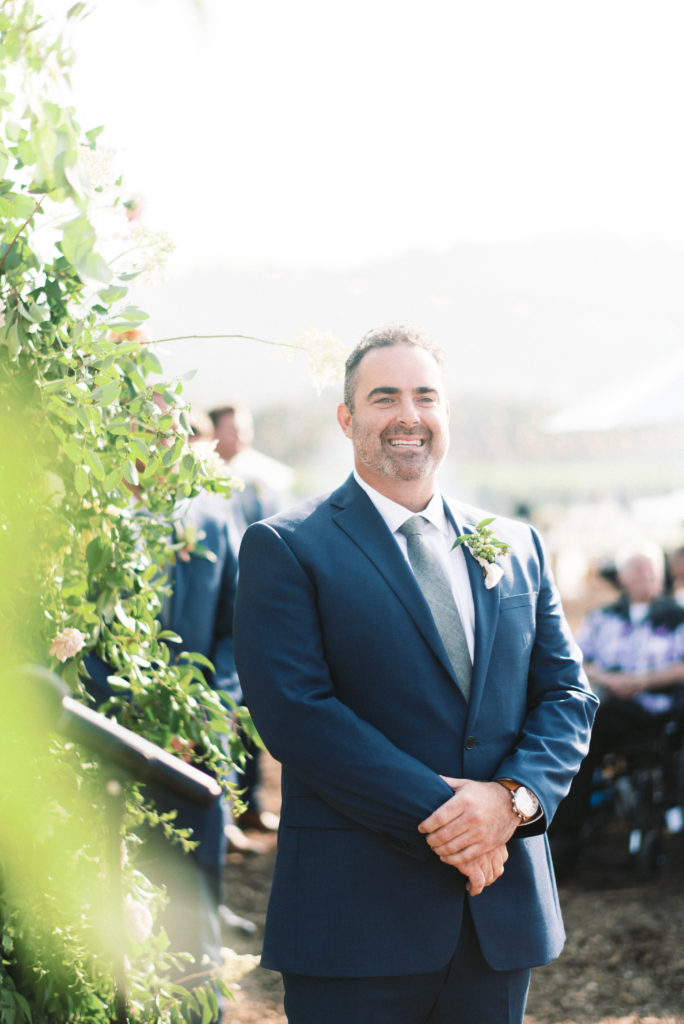 Meg's parents are amazing as well. They love Meg so much and you could see how proud they were as well. After doing so many weddings you'd think we would be ok, but we still get emotional!!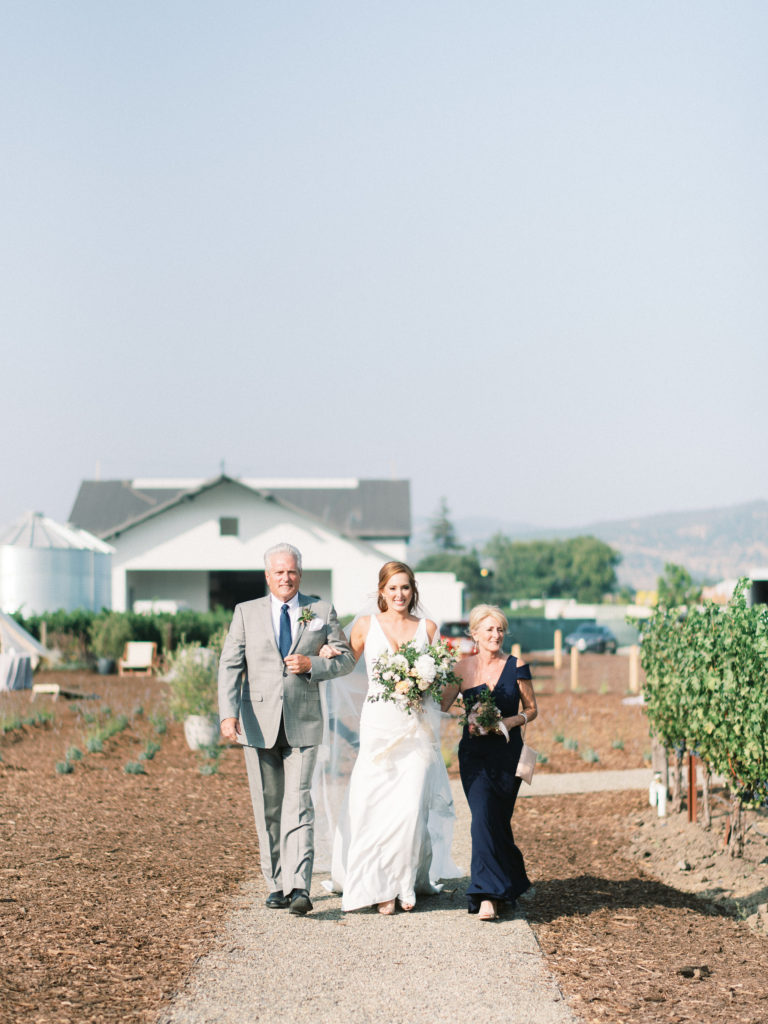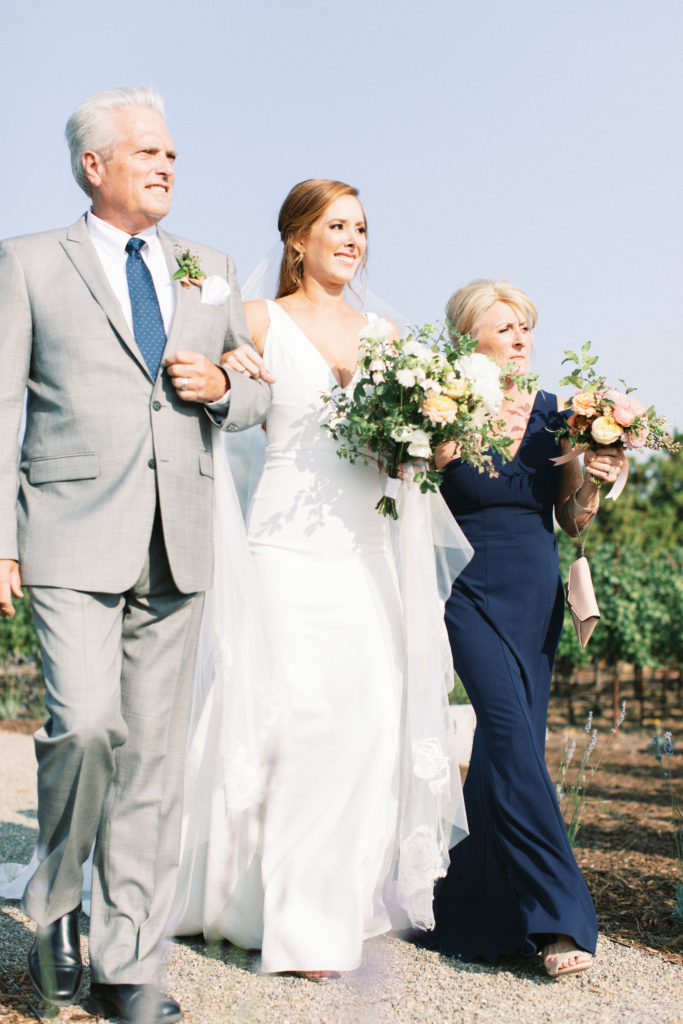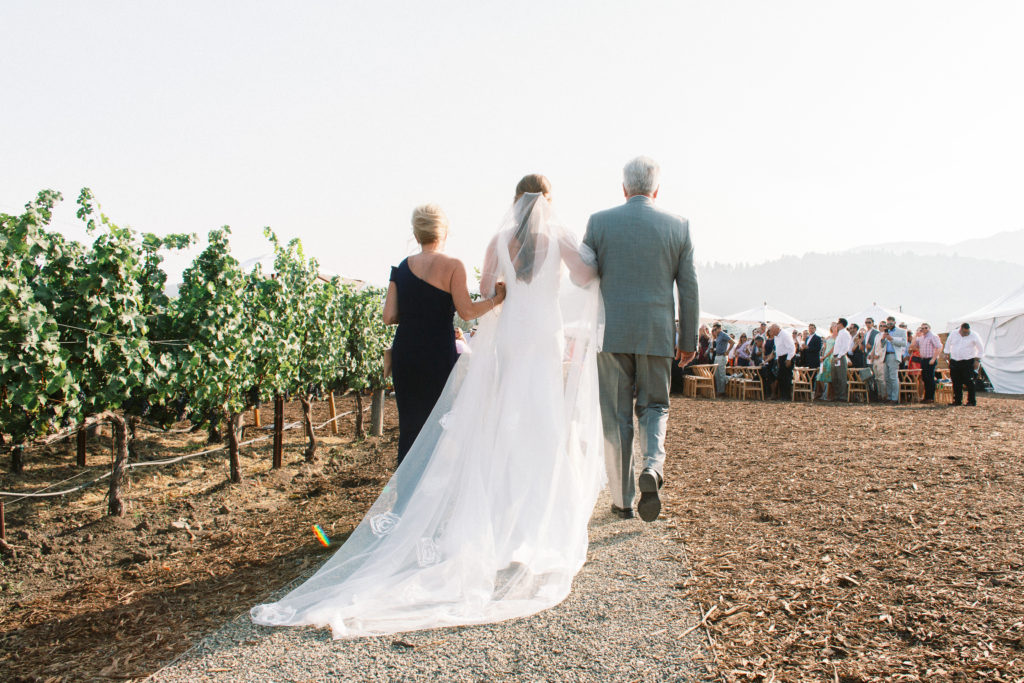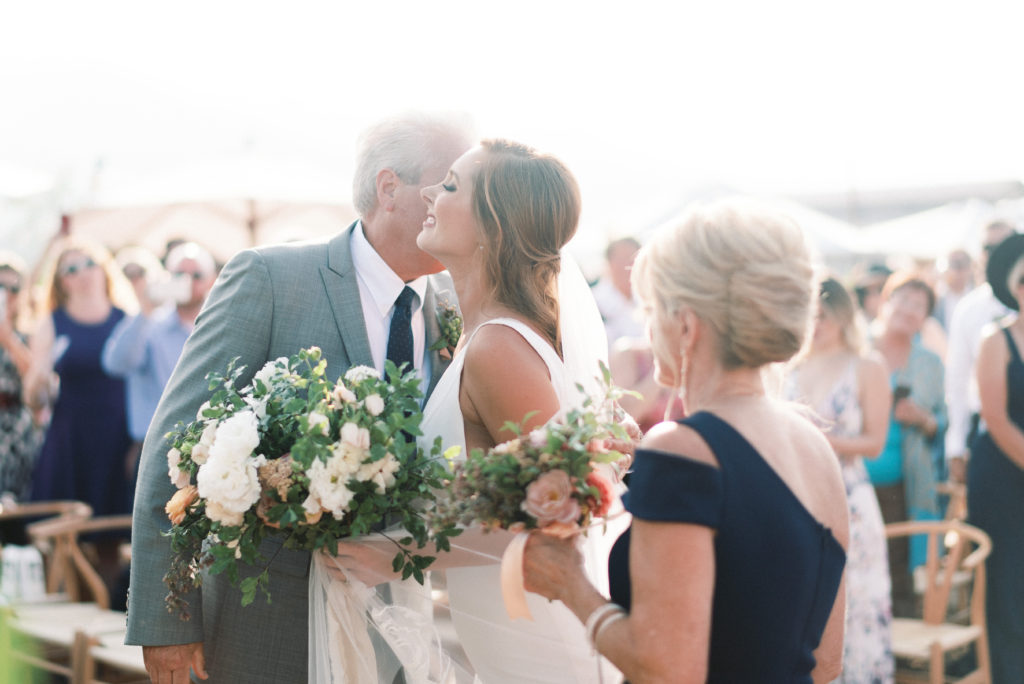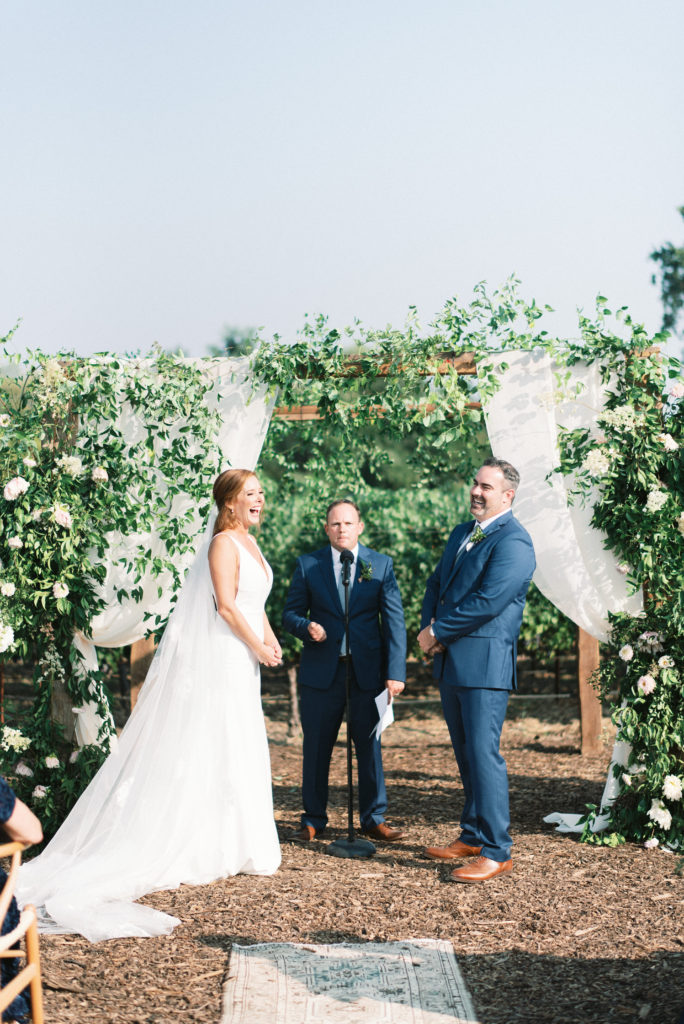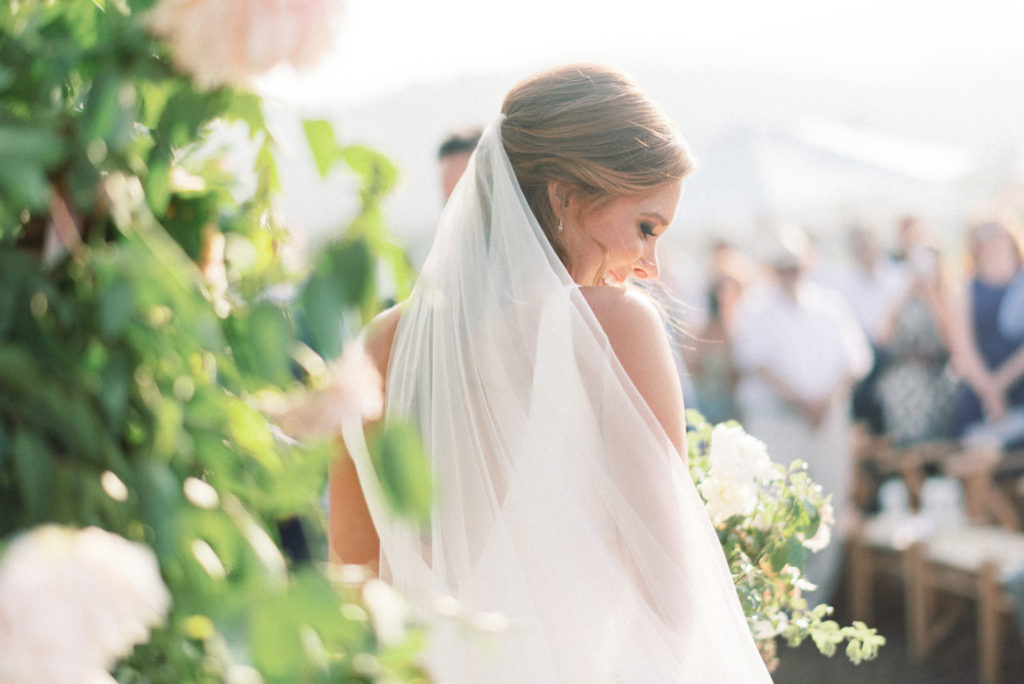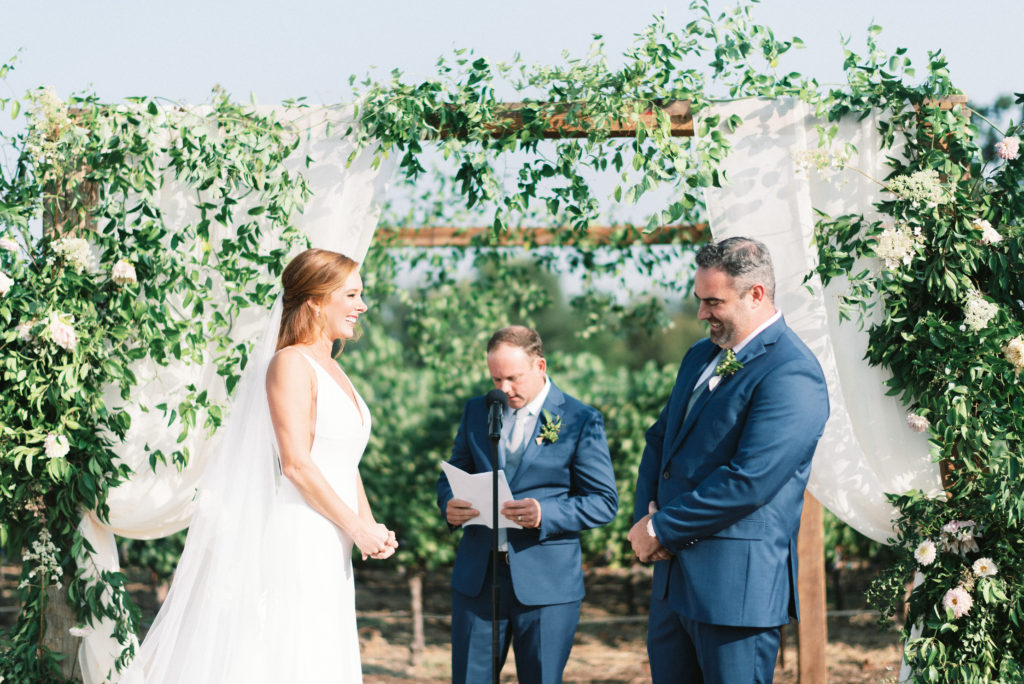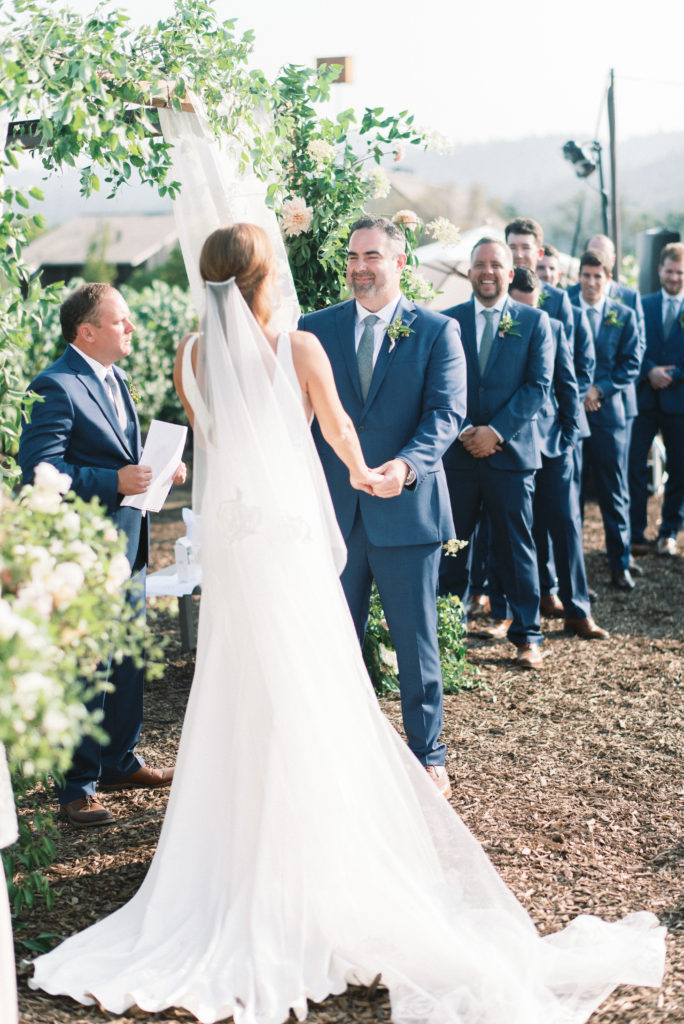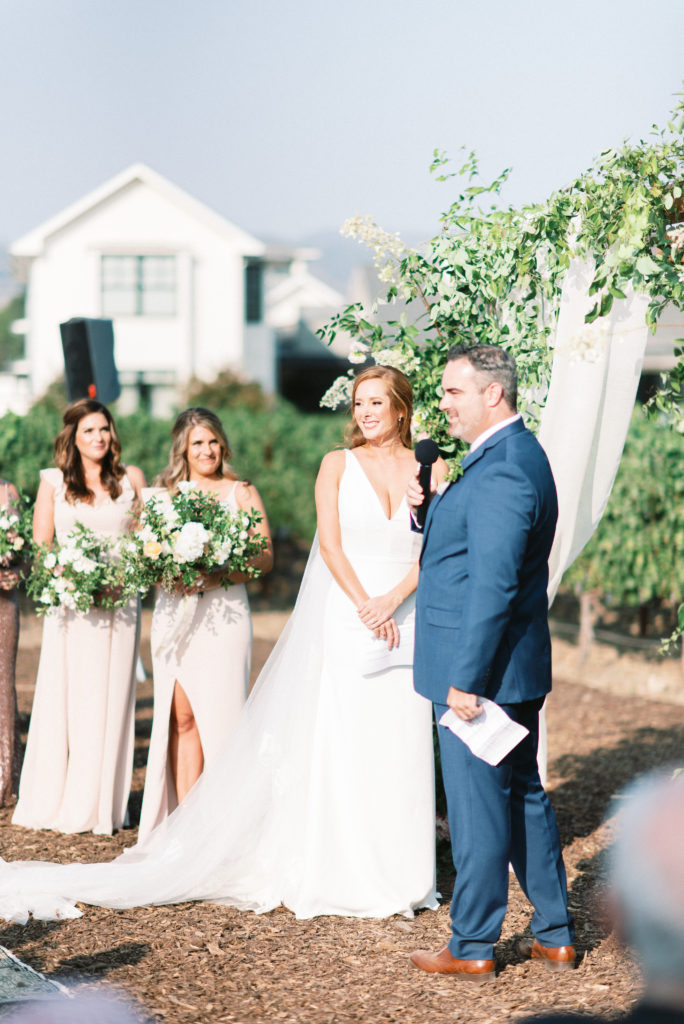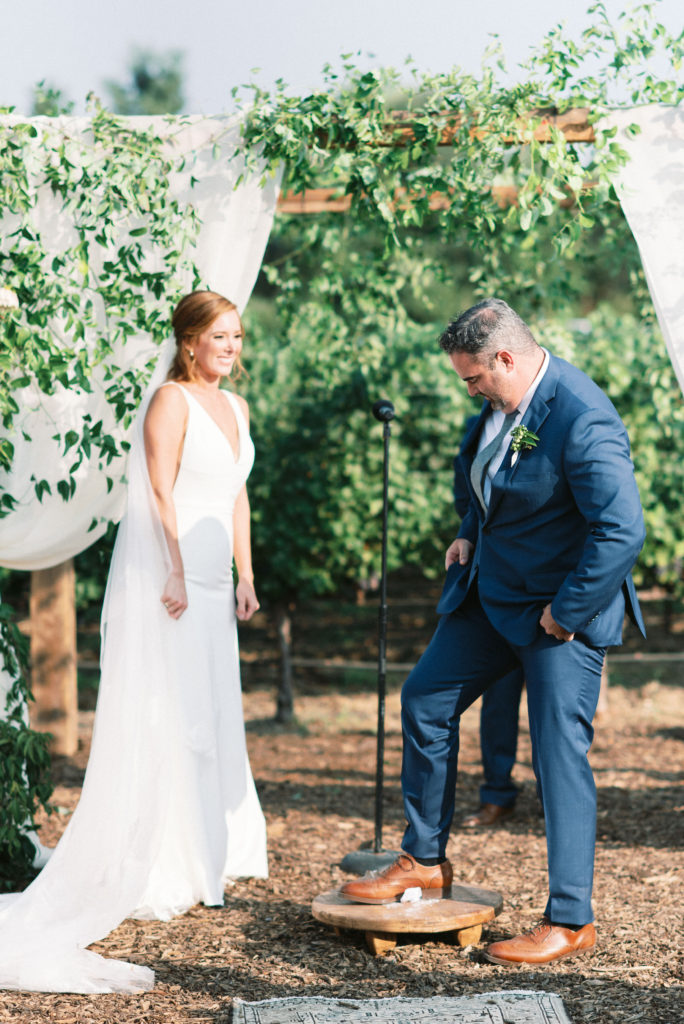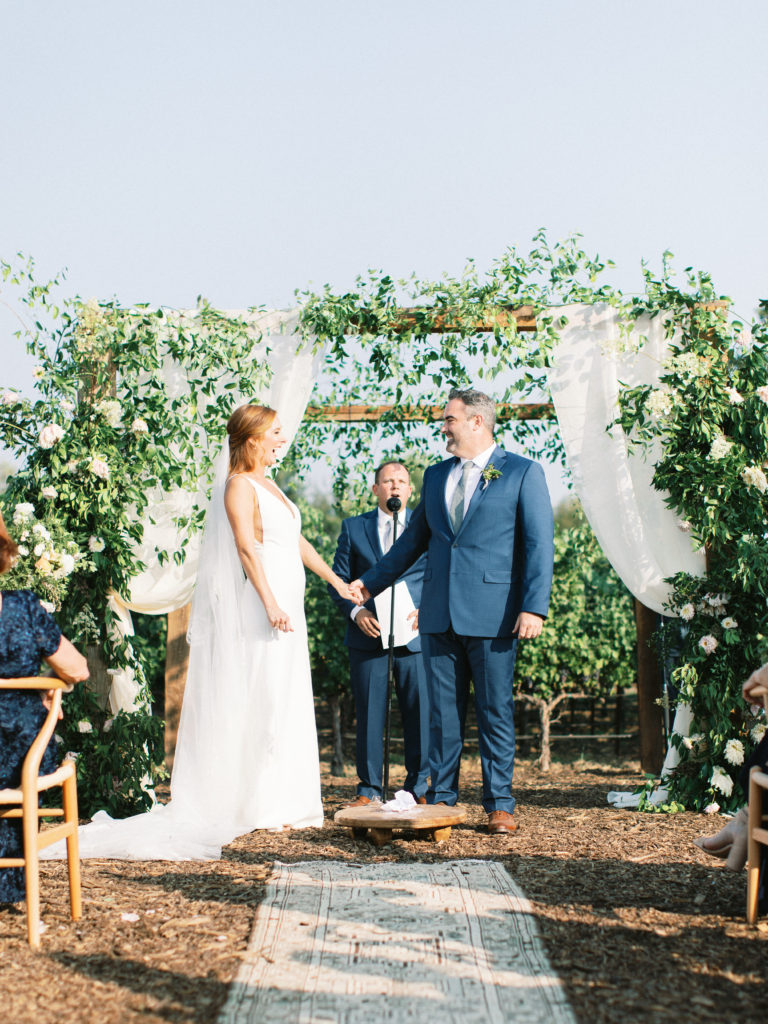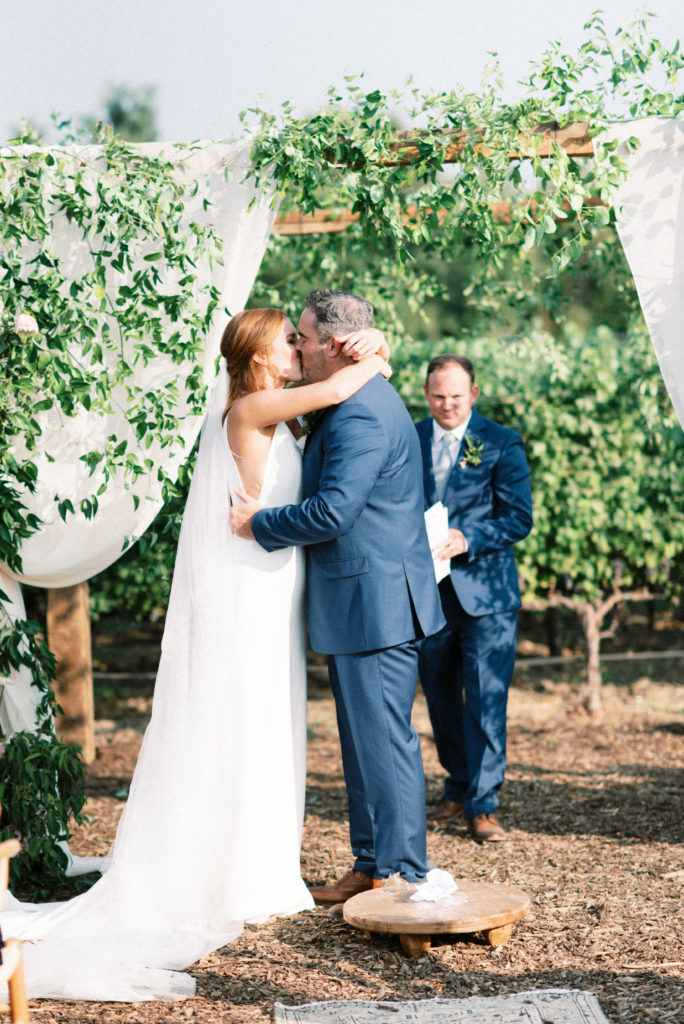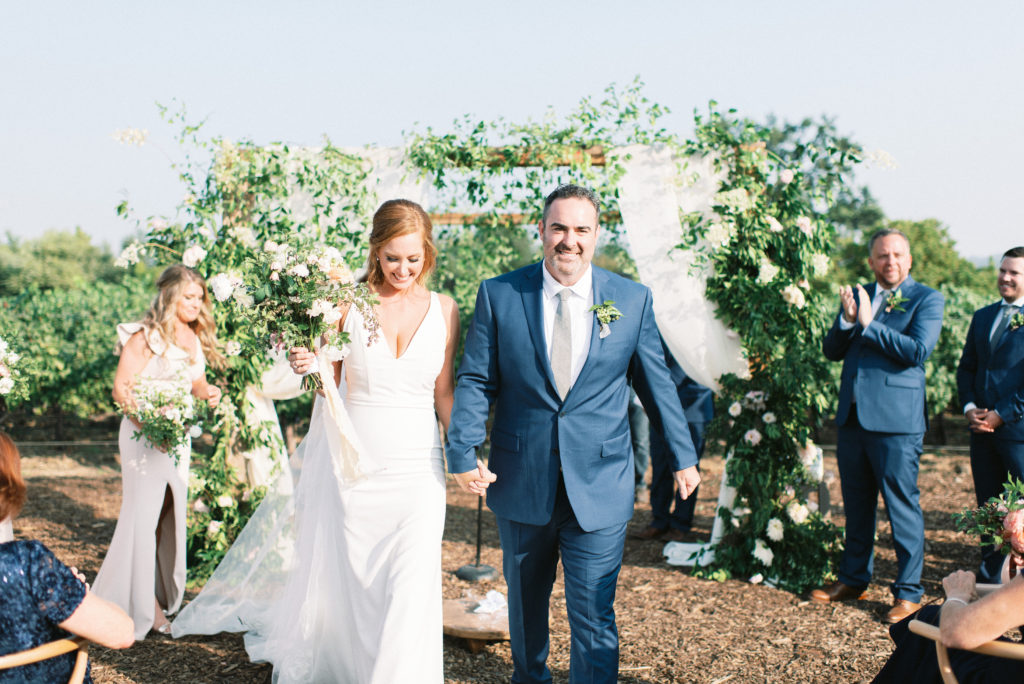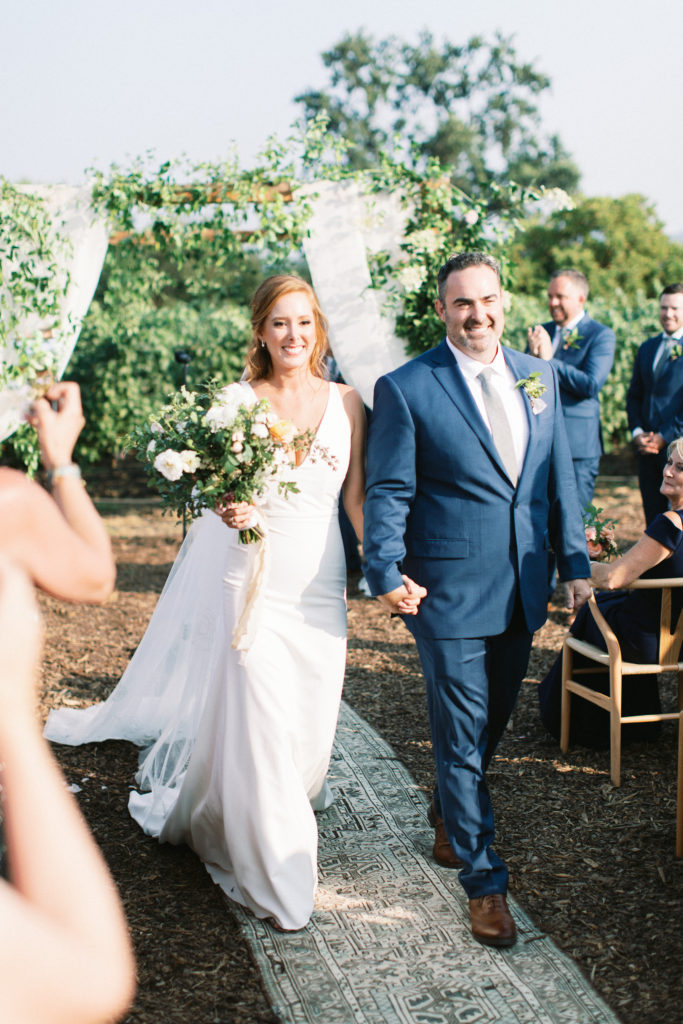 Married!!!!!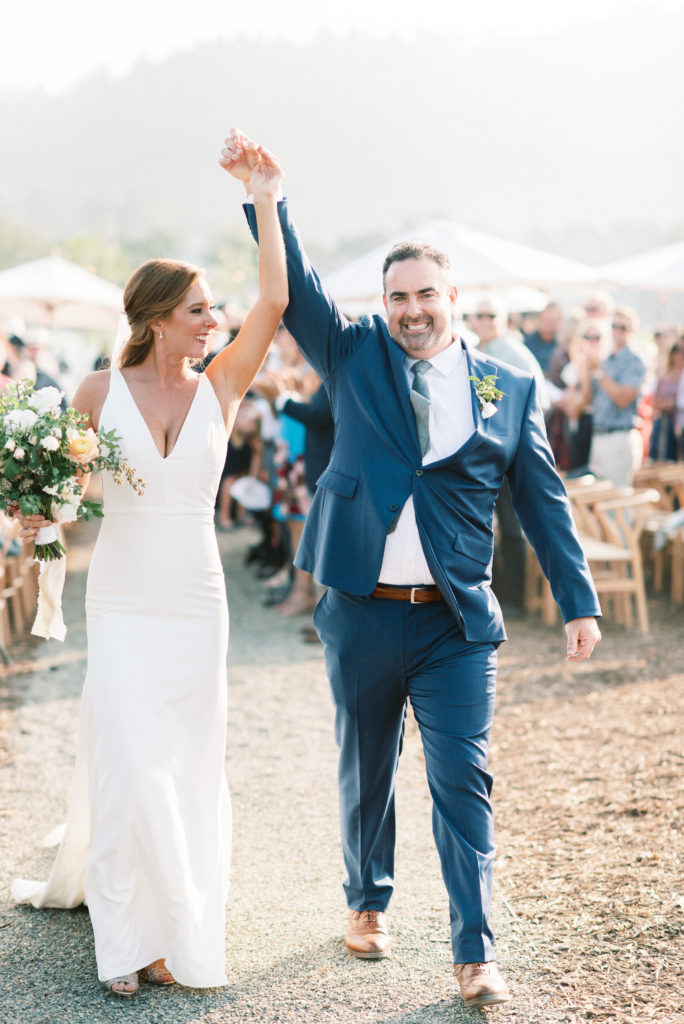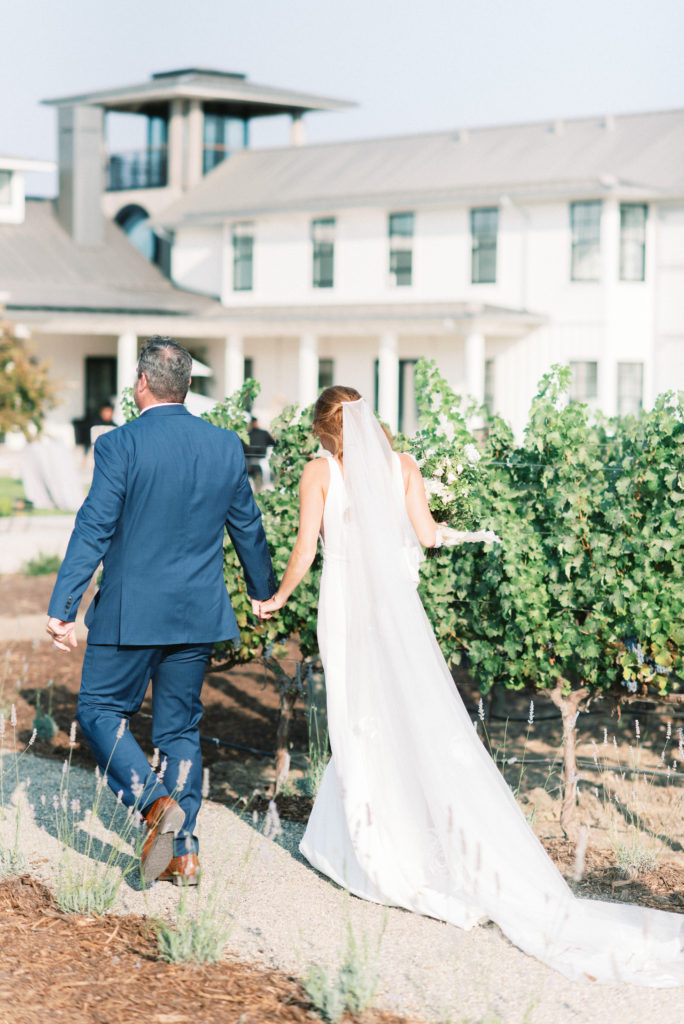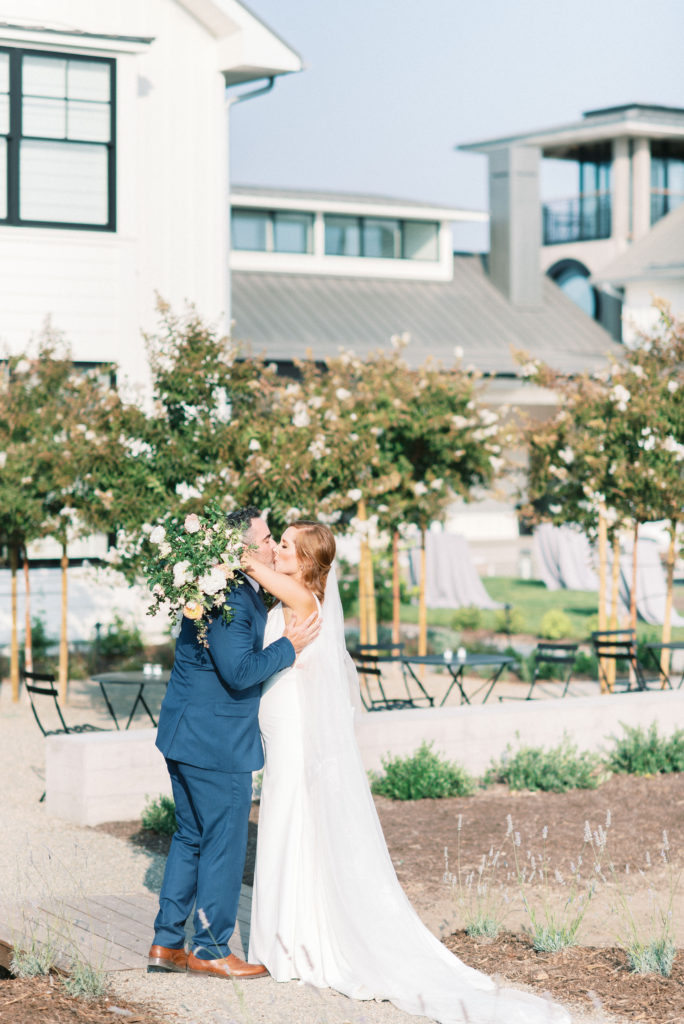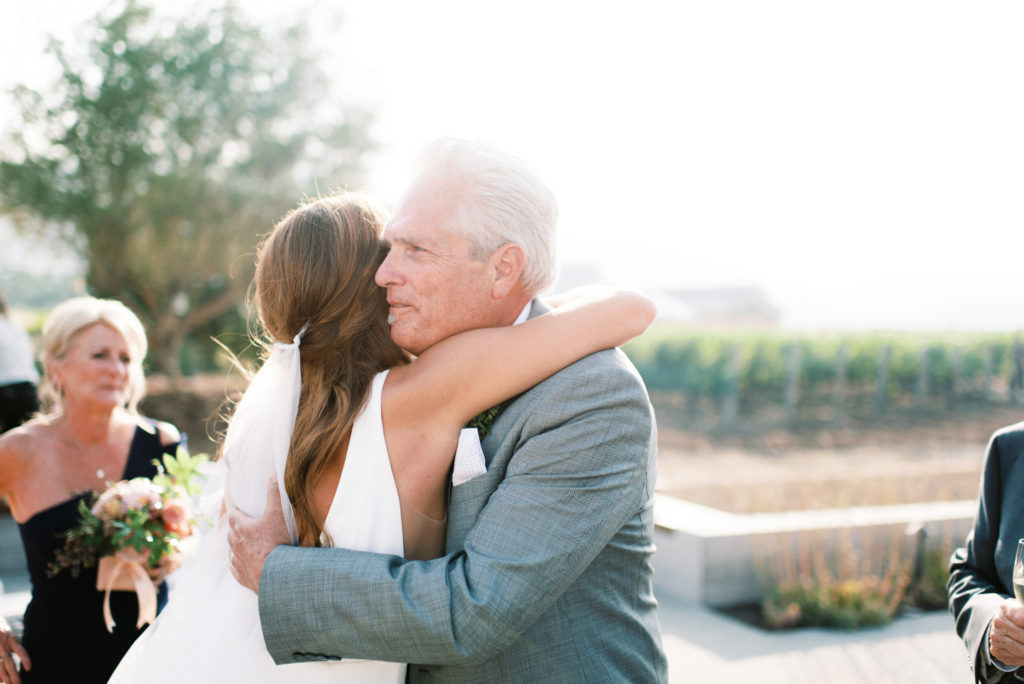 So proud!!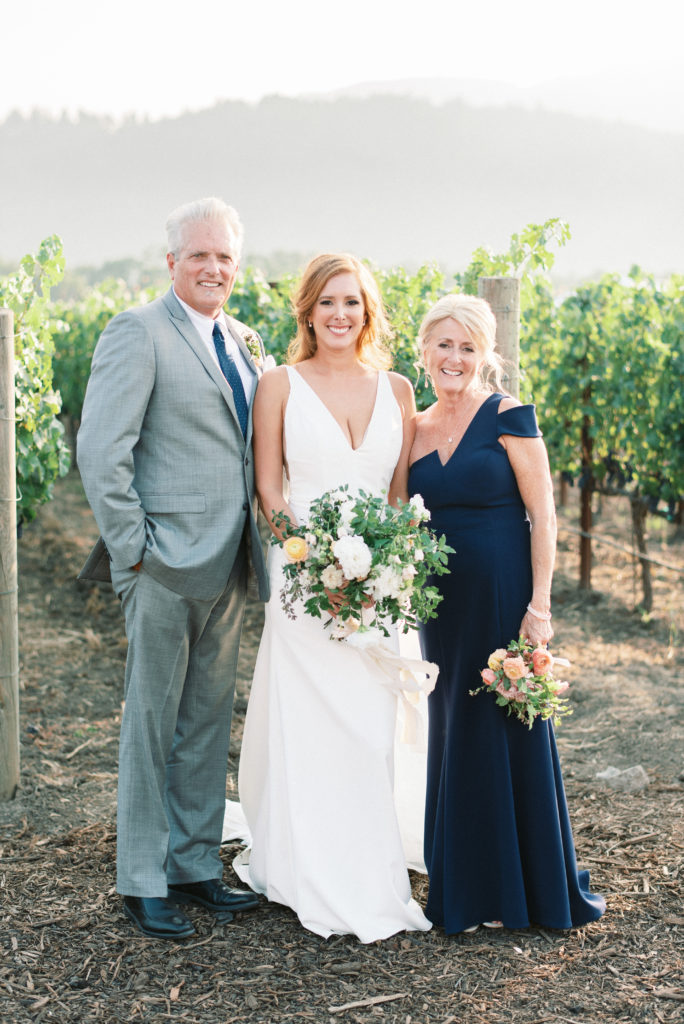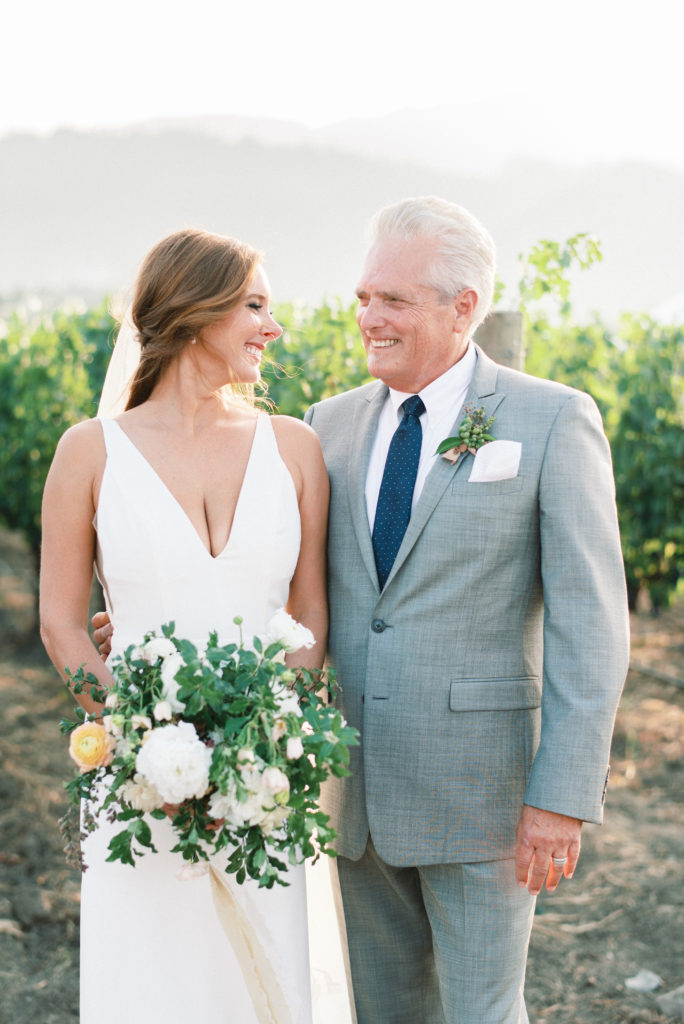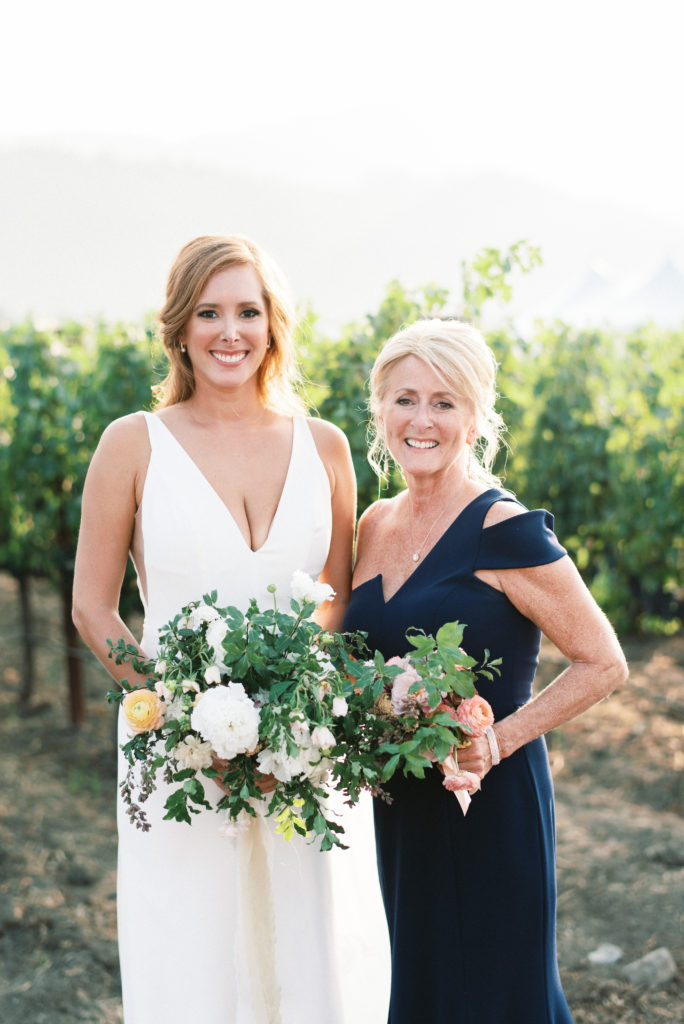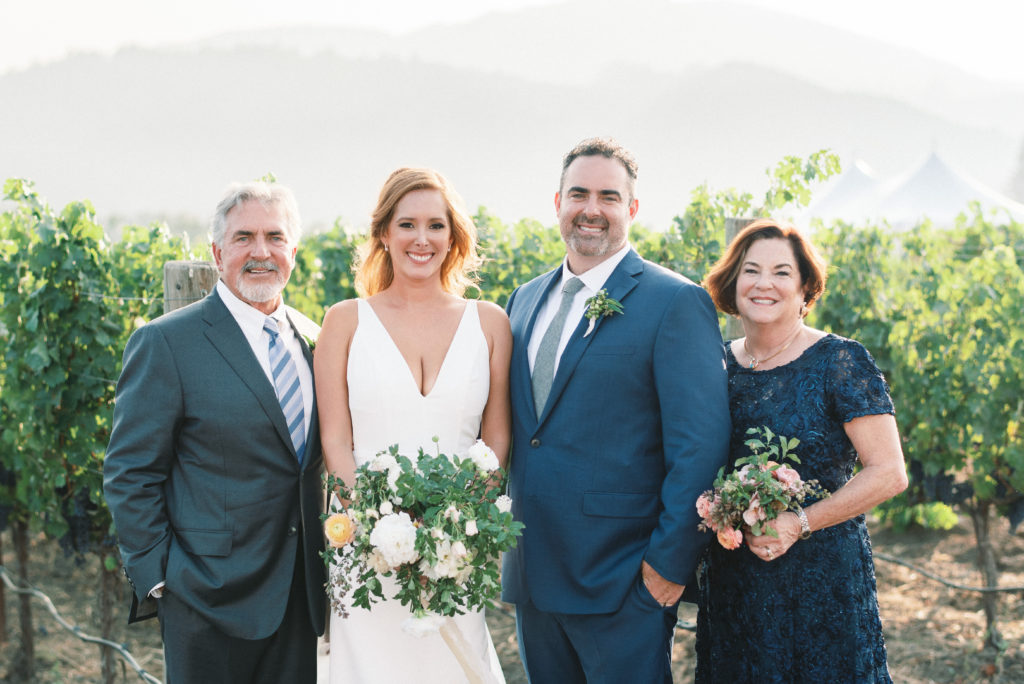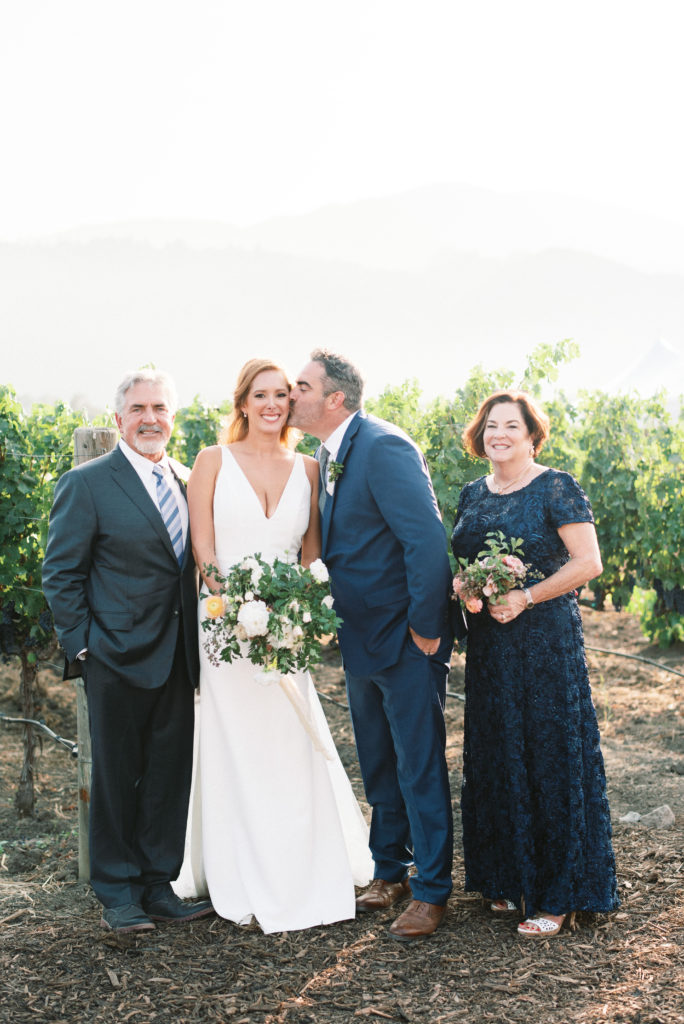 Guests made their way back to the estate for cocktail hour, and boy were they in for a treat!! Contemporary Catering was cooking up a feast!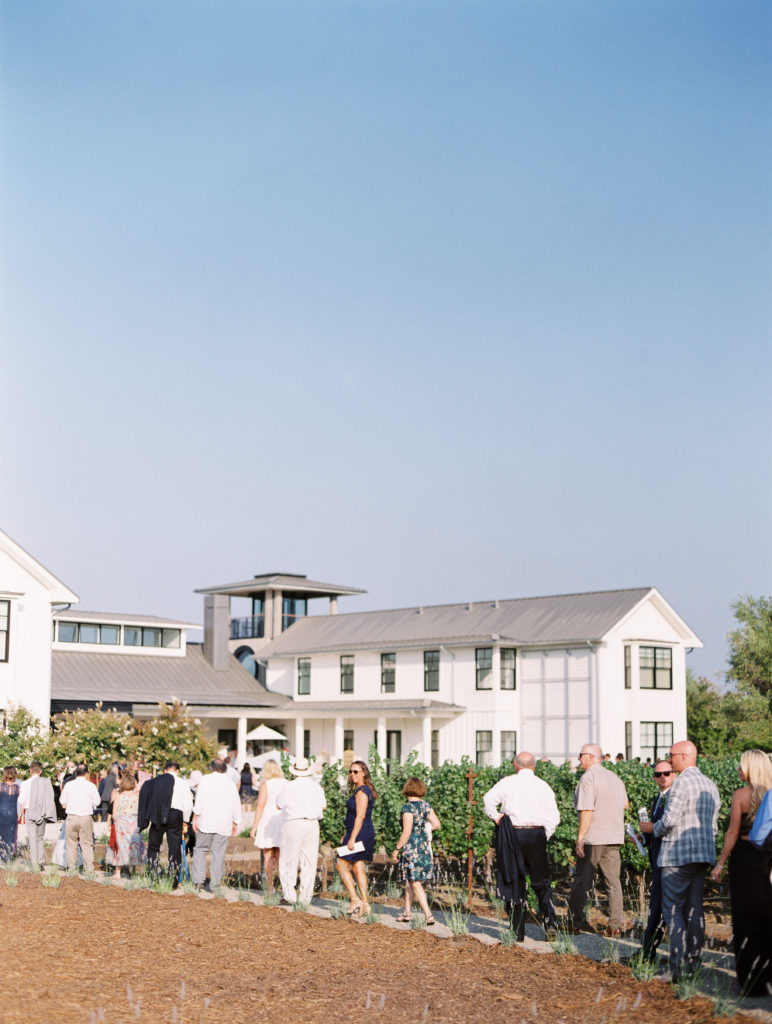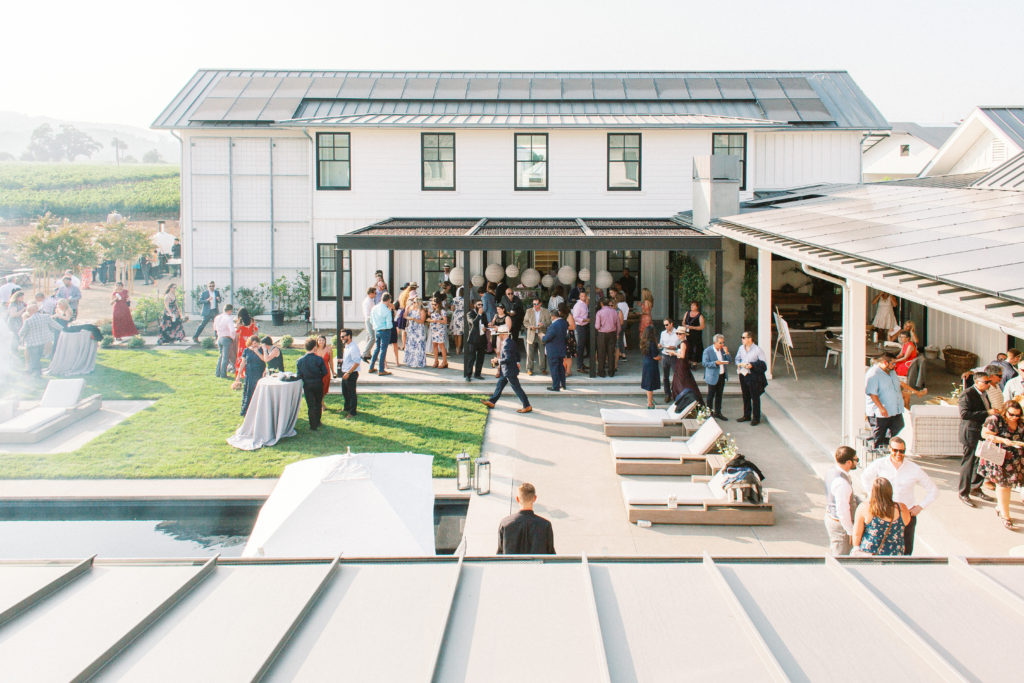 Wood fired pizzas were made to order, and so delicious, along with so many passed appetizers…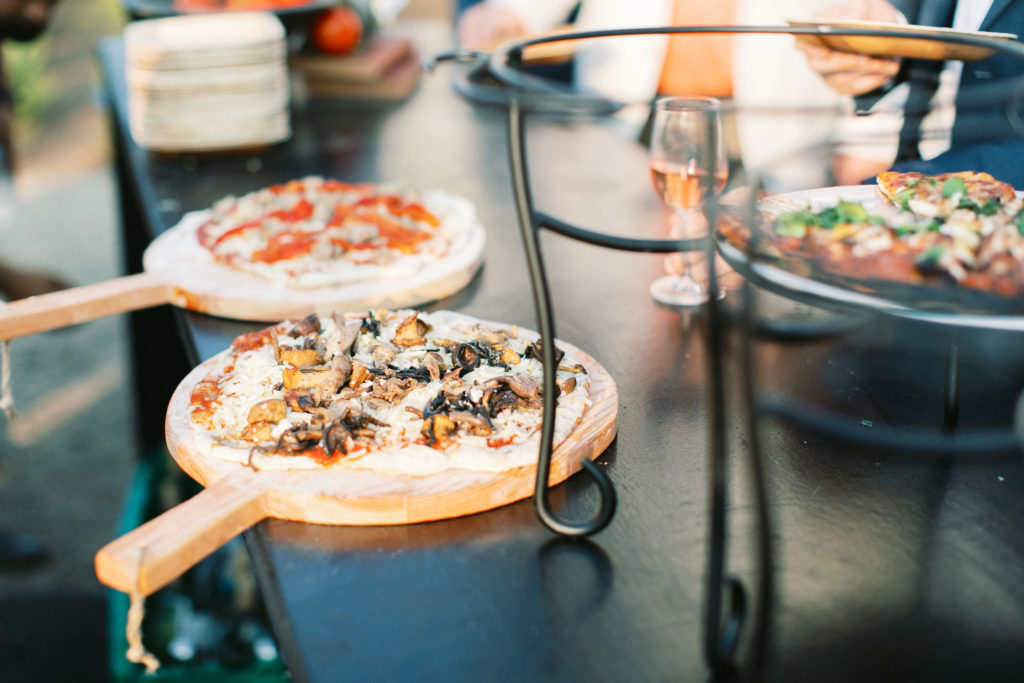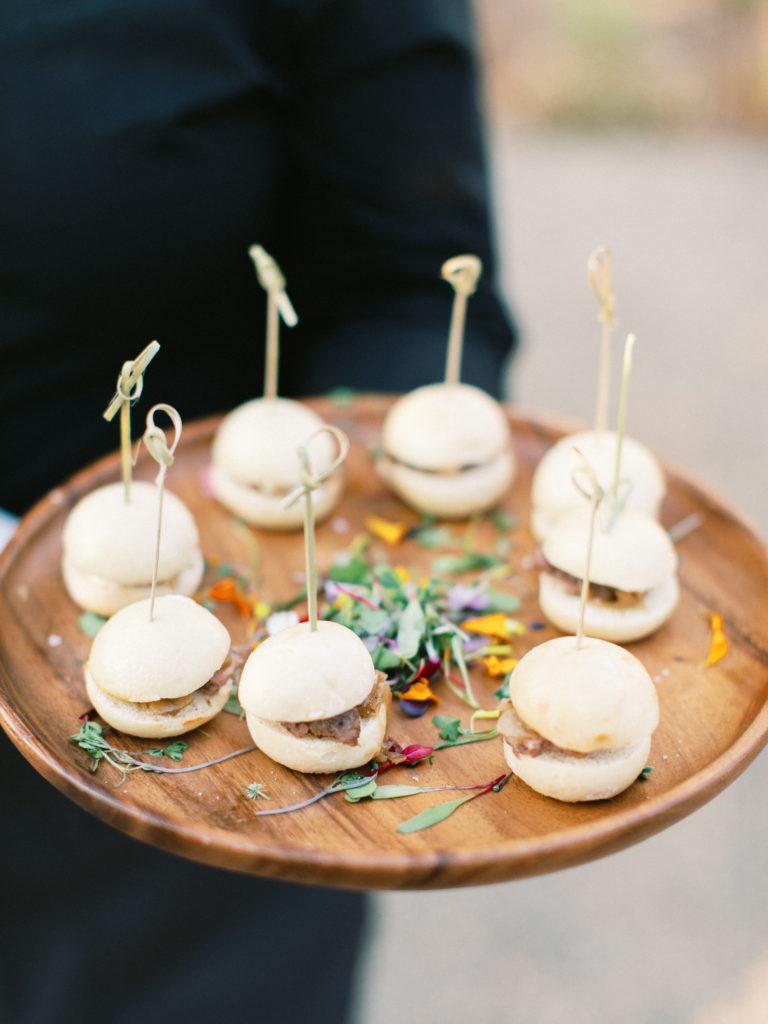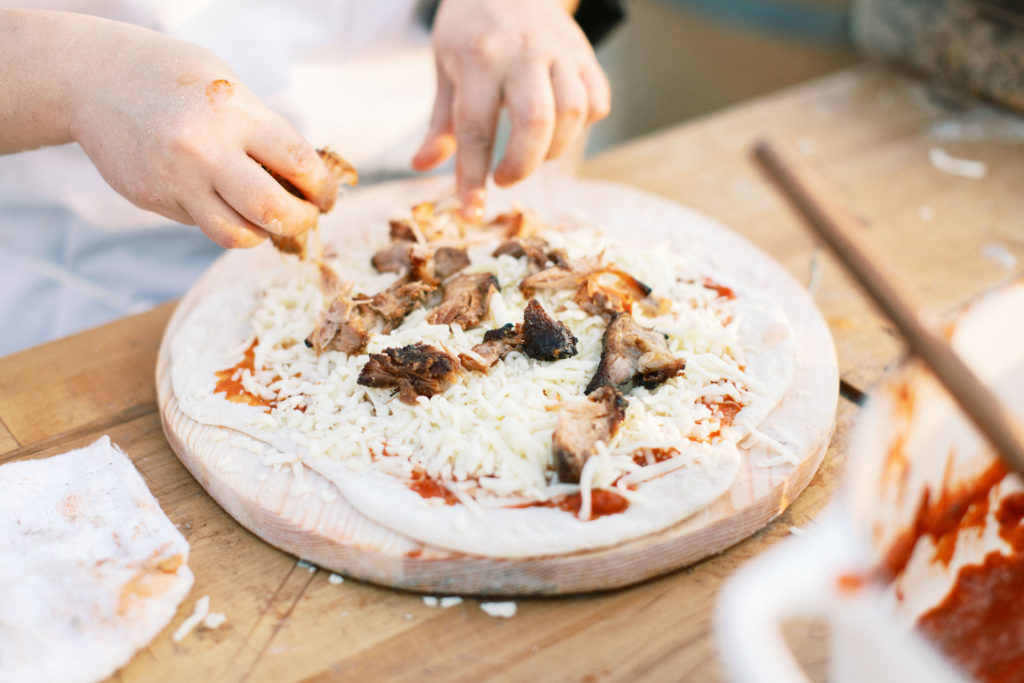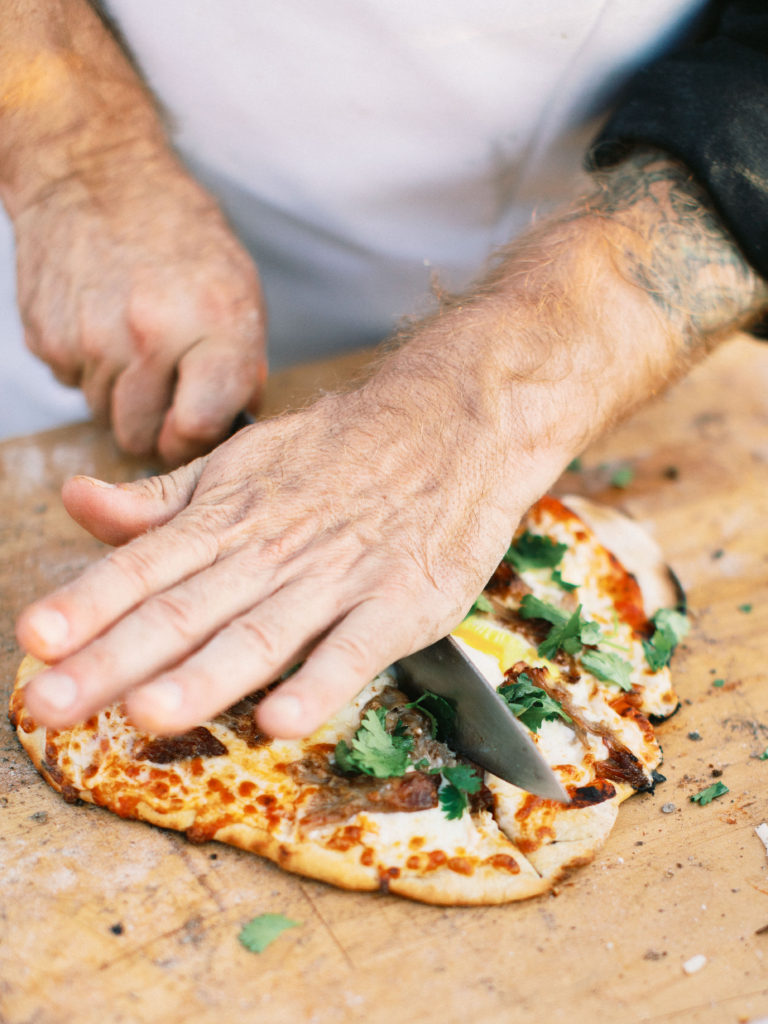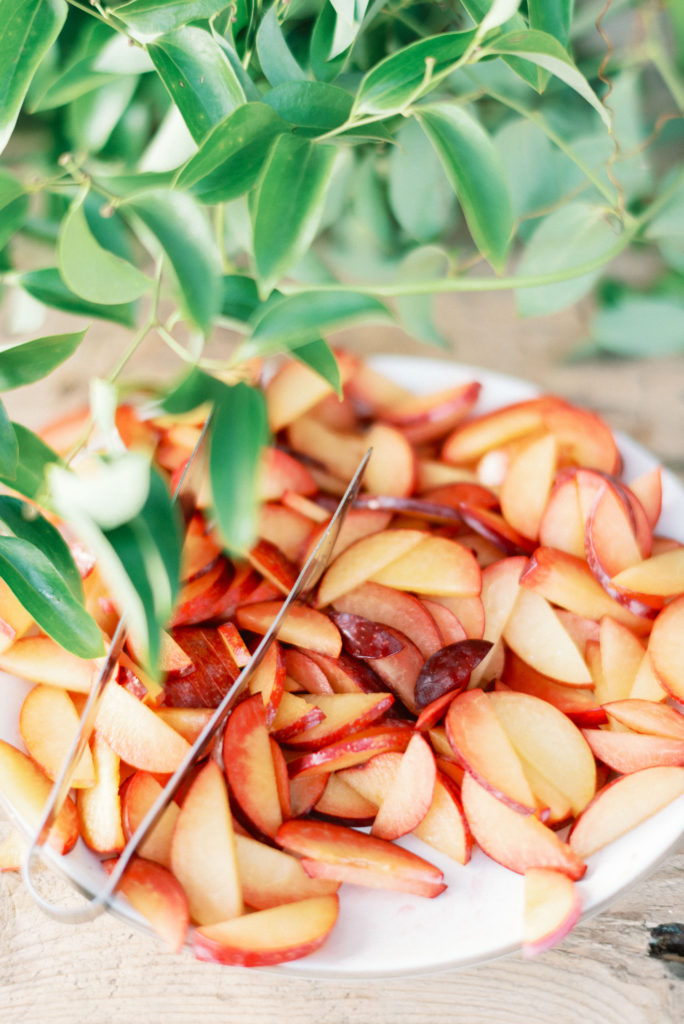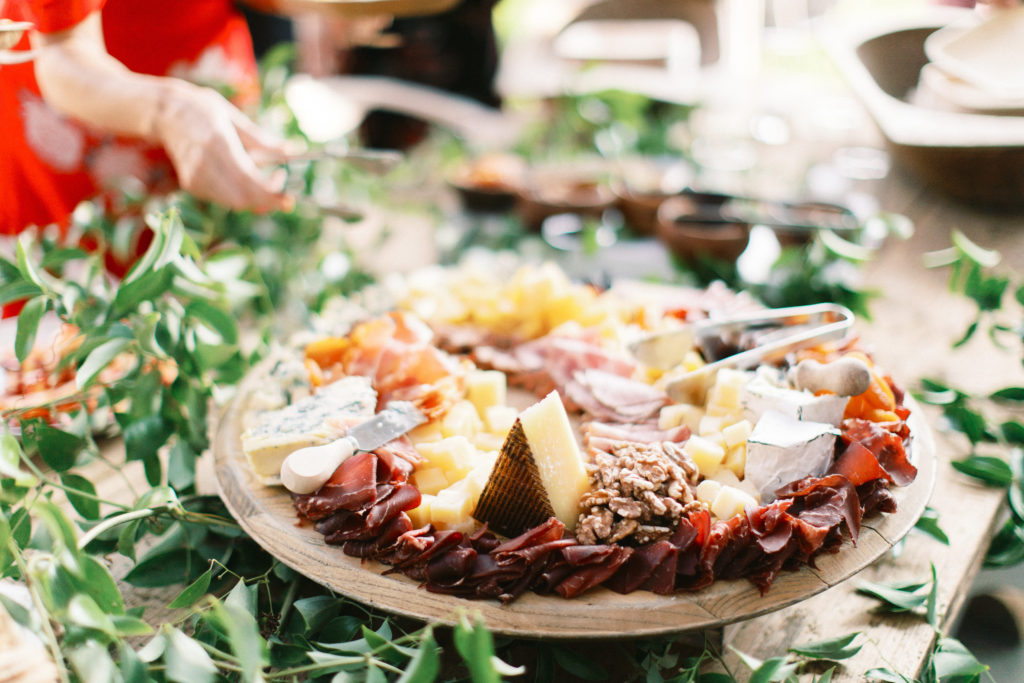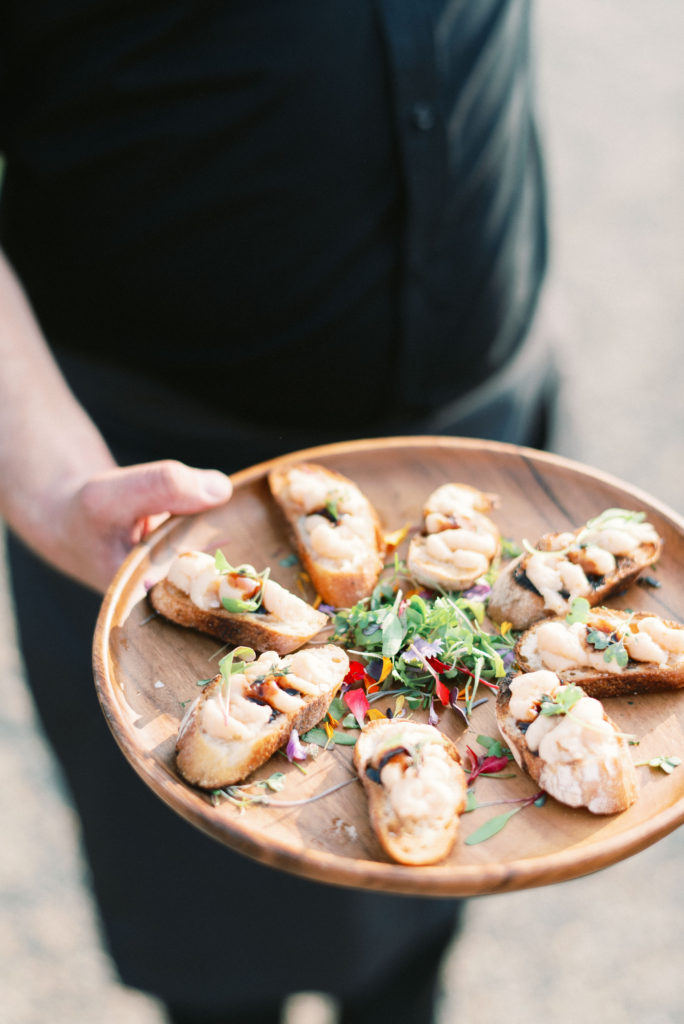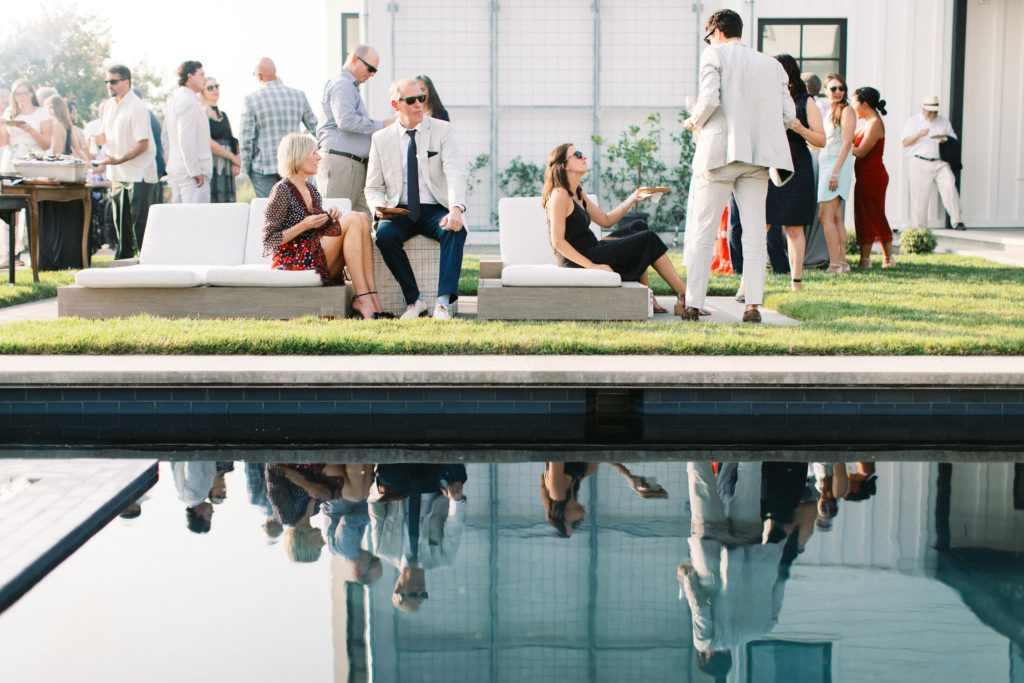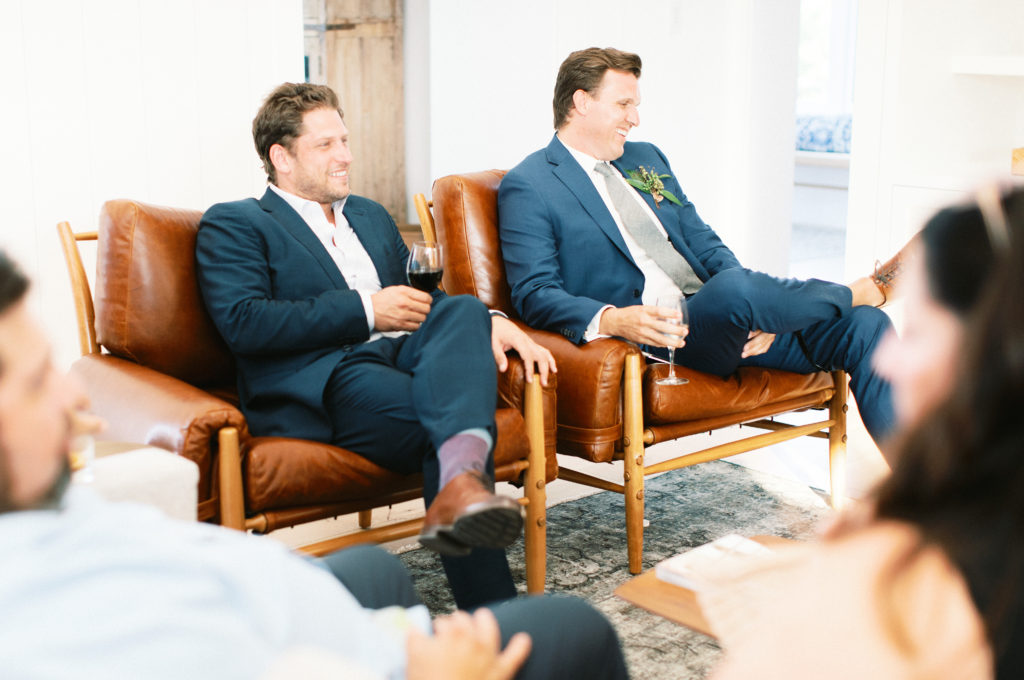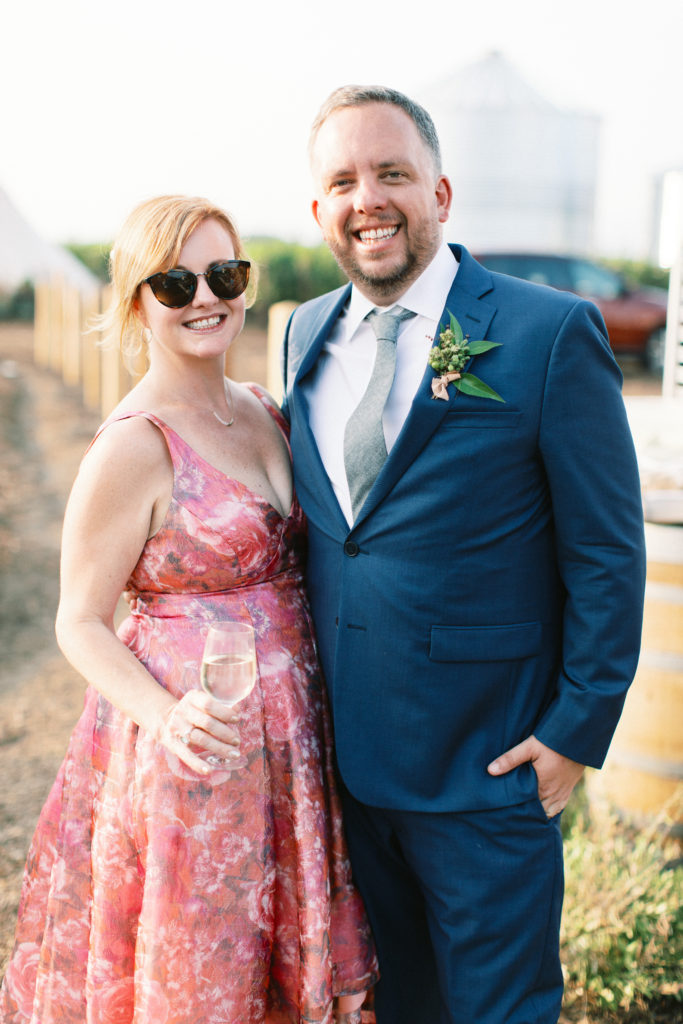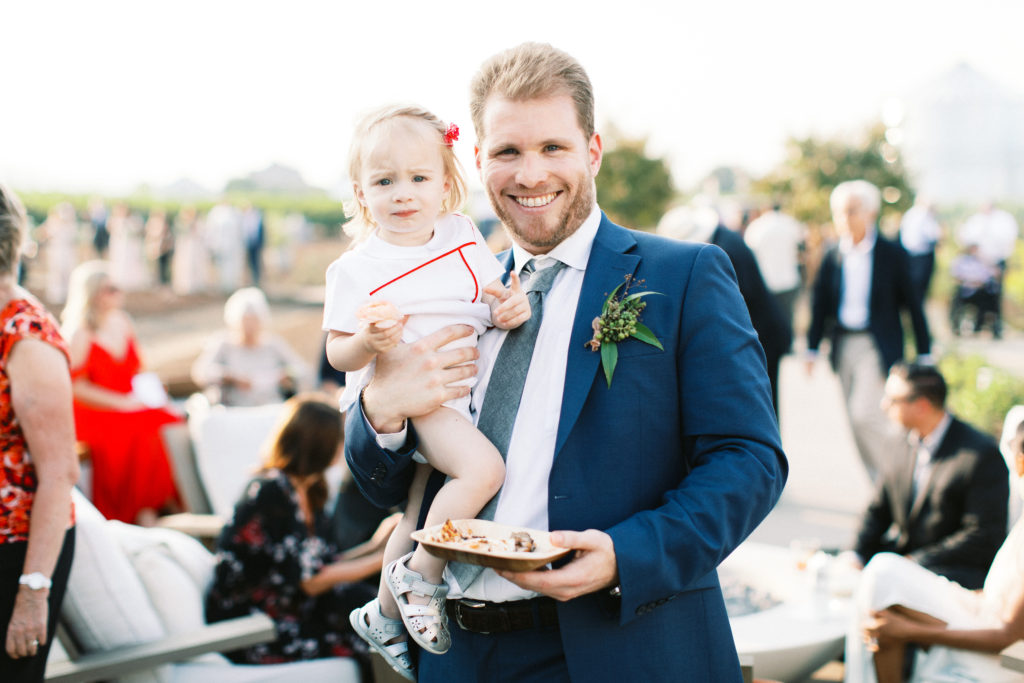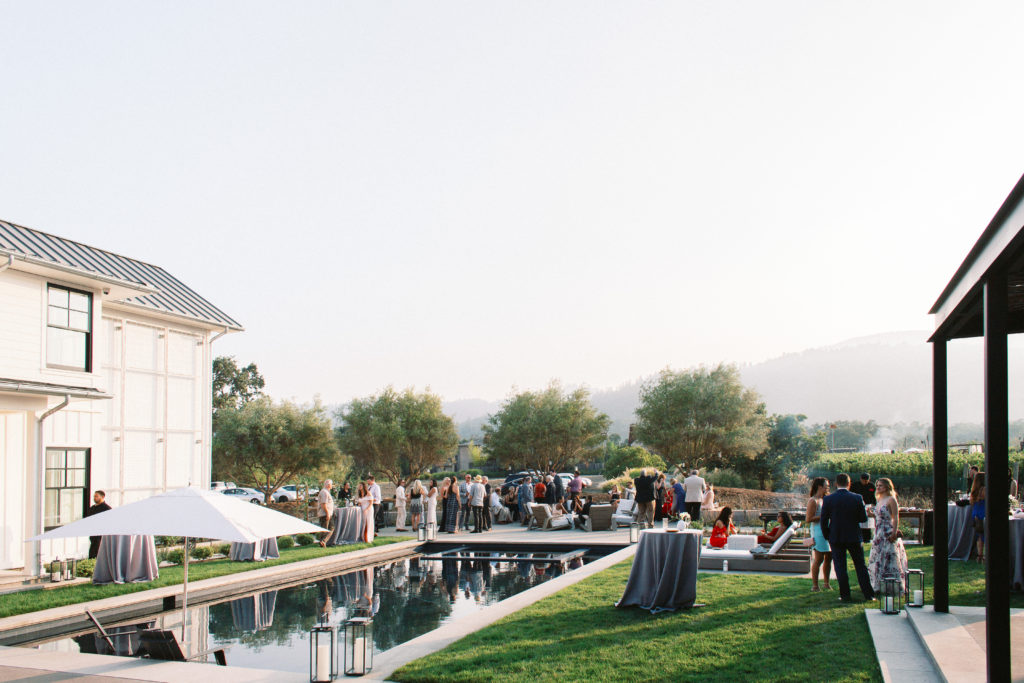 After a minute alone, the couple of the hour came out for some more portraits among the vines. Meg changed into her reception dress by Grace Loves Lace. She of course looked as stunning as ever!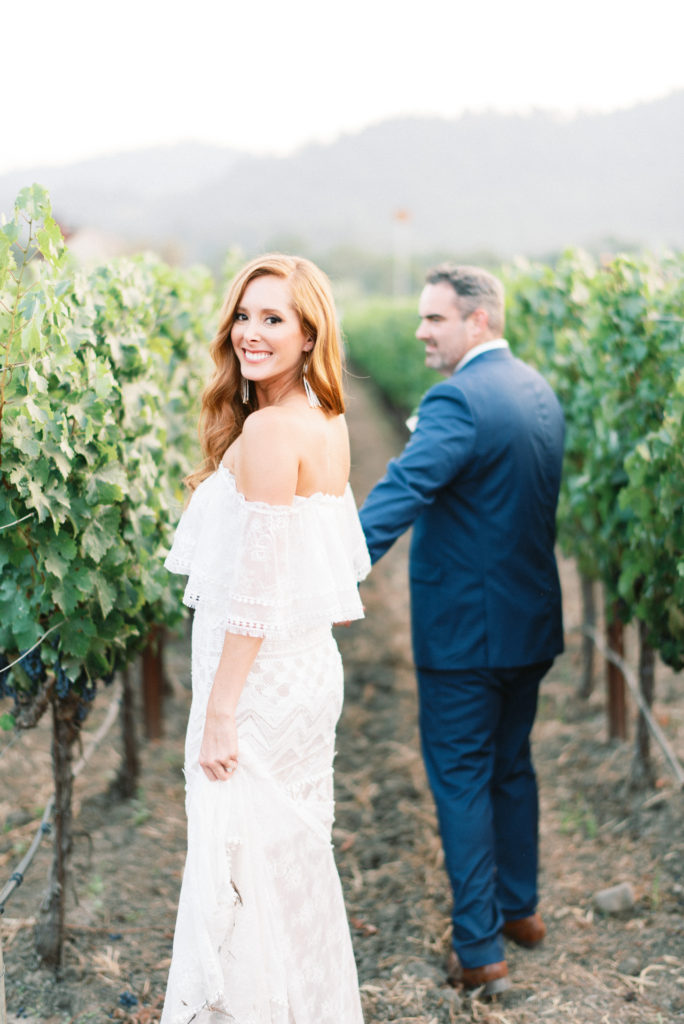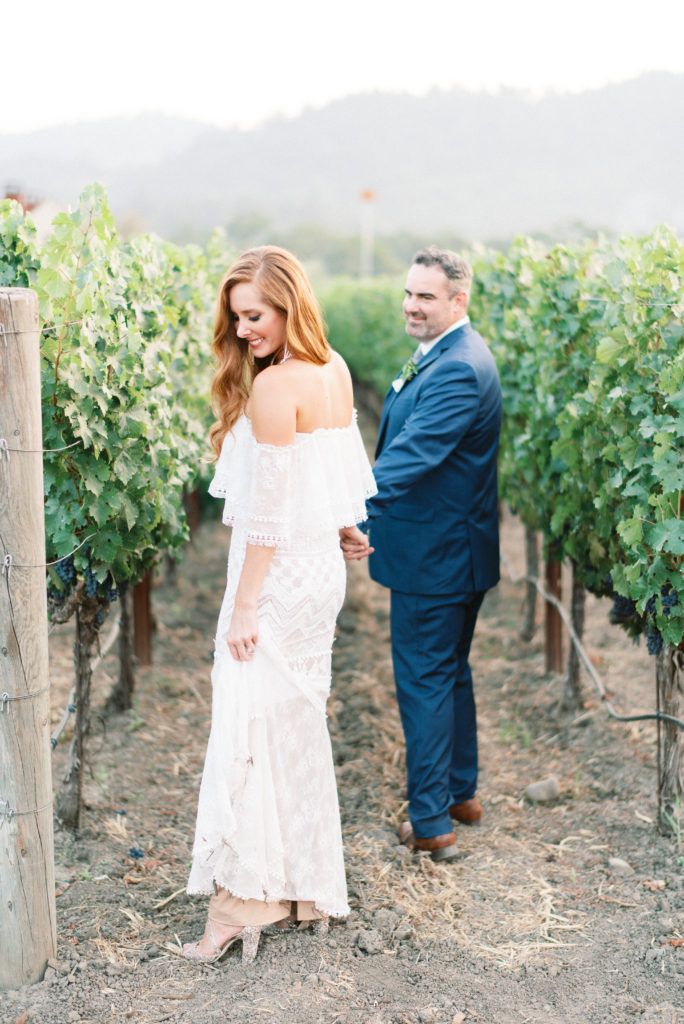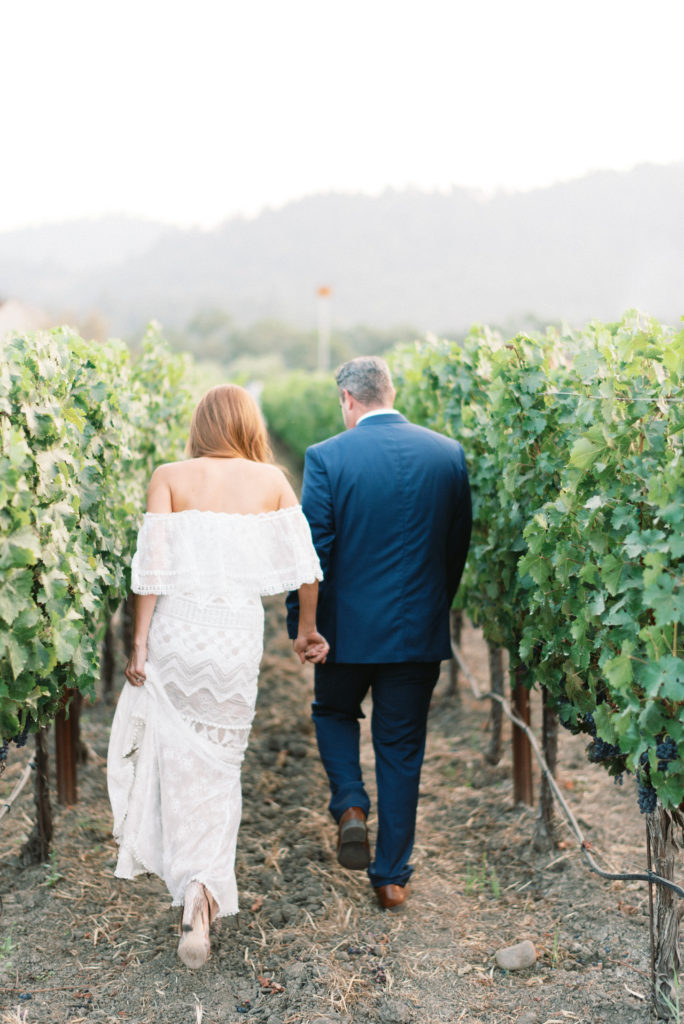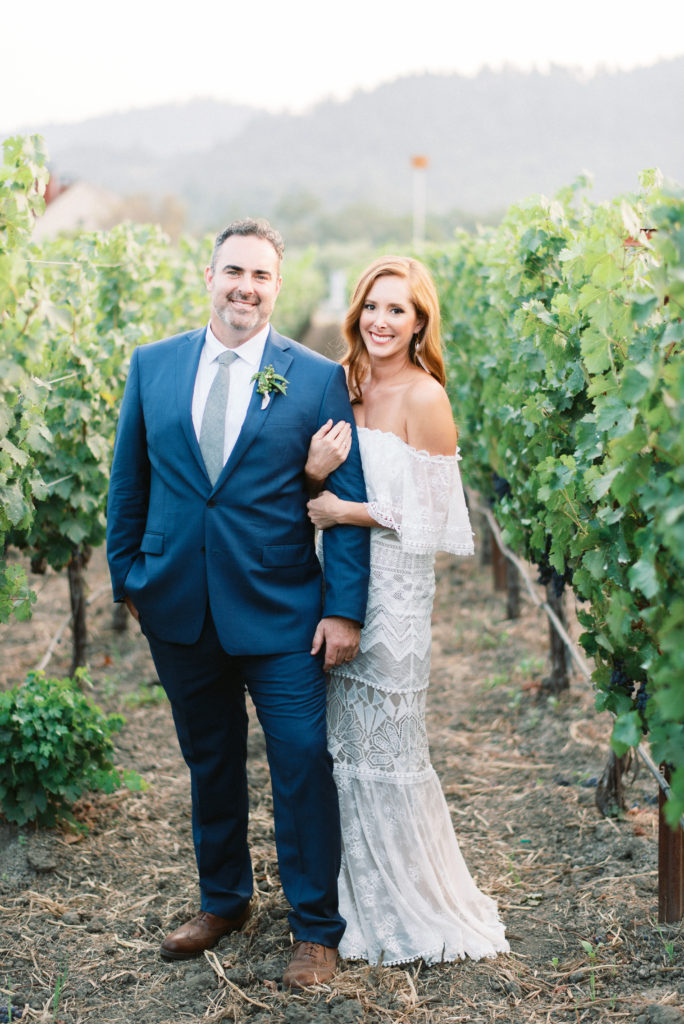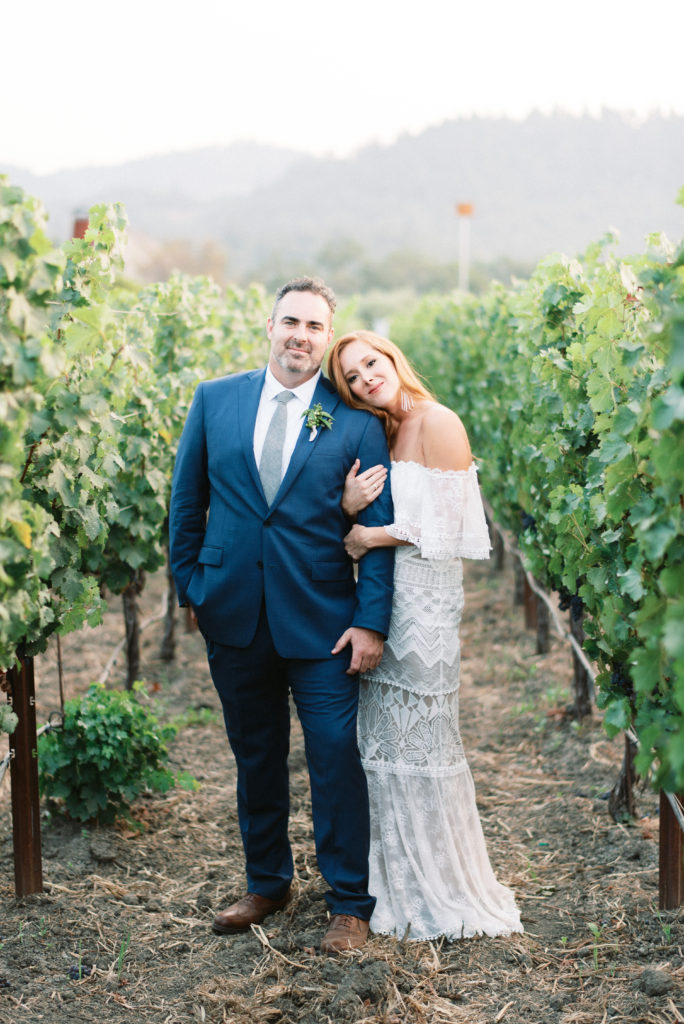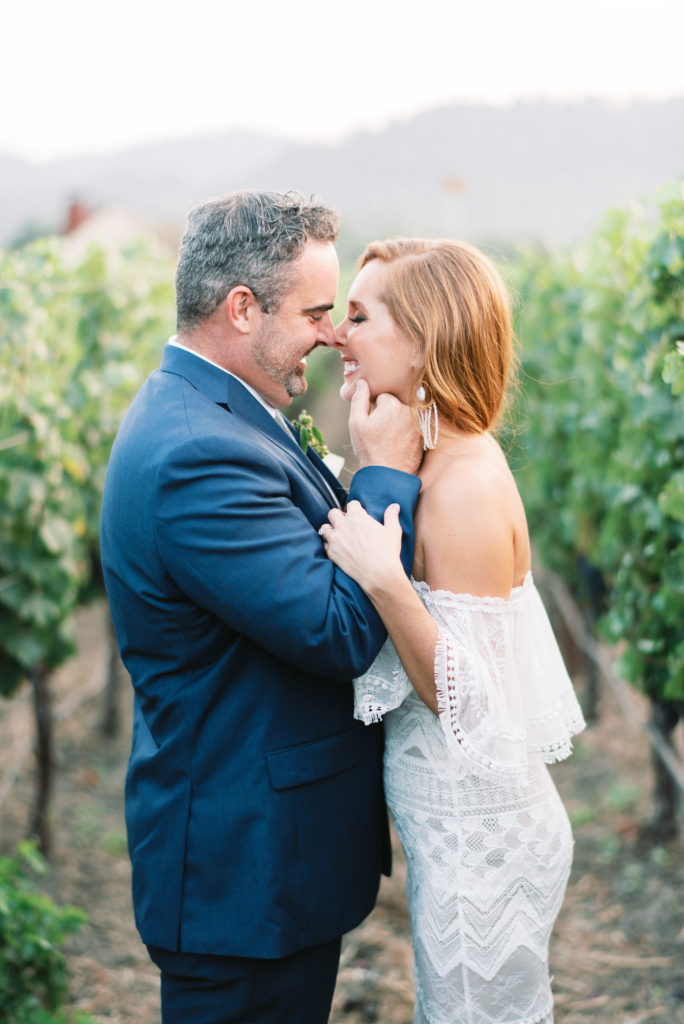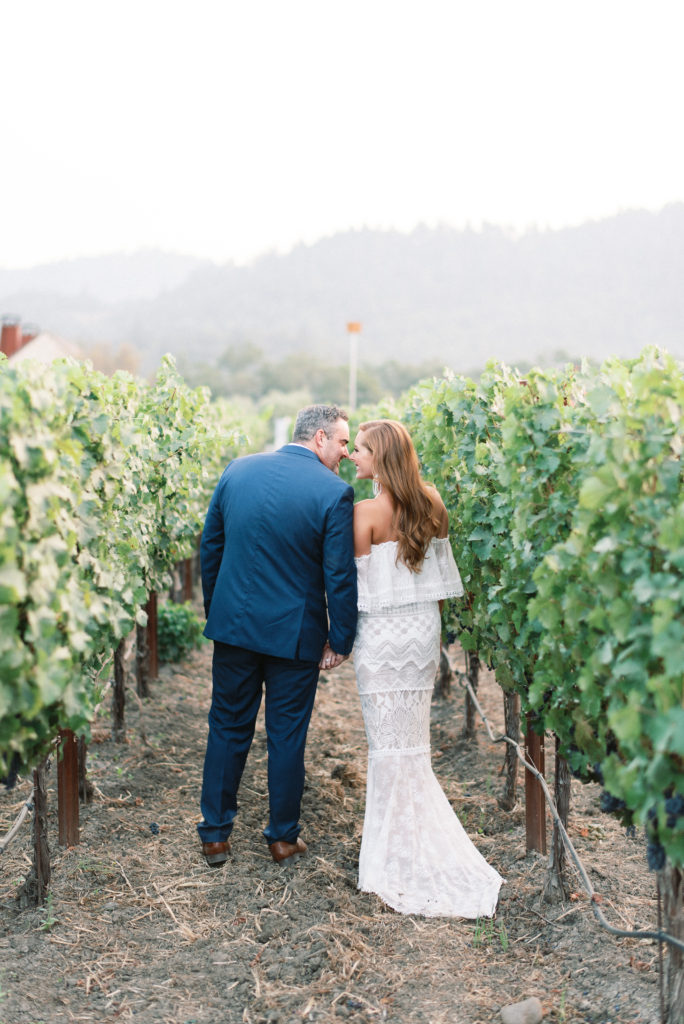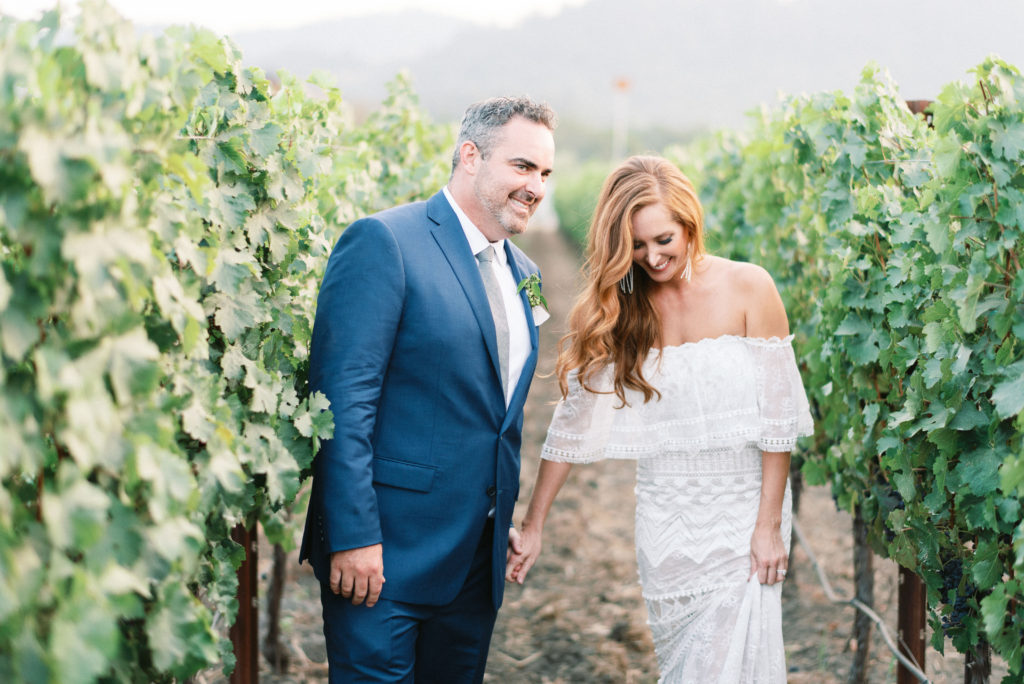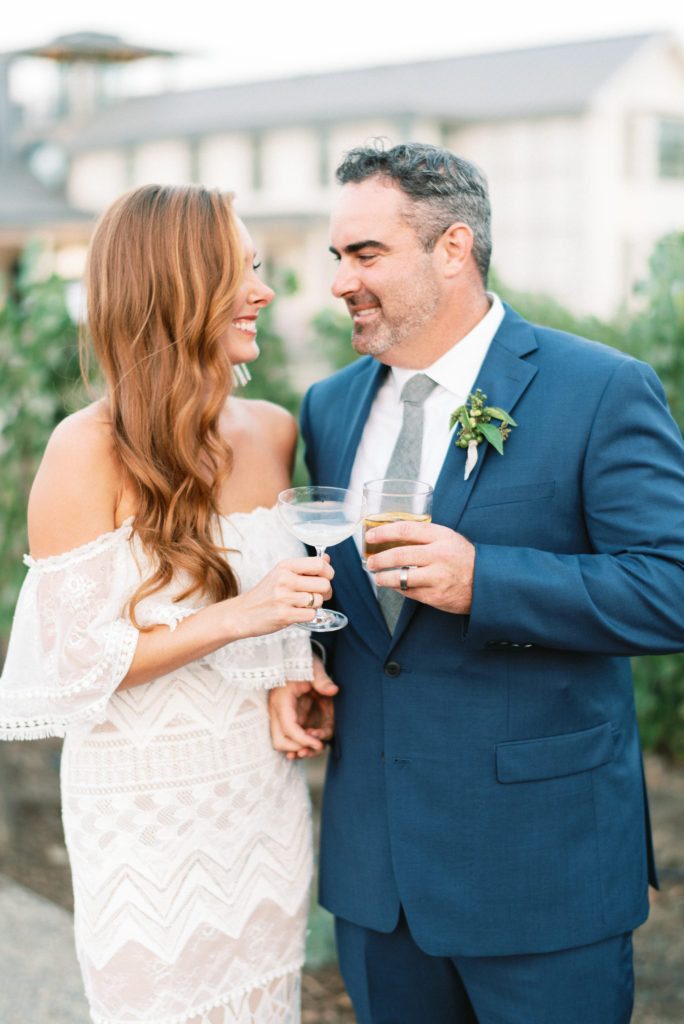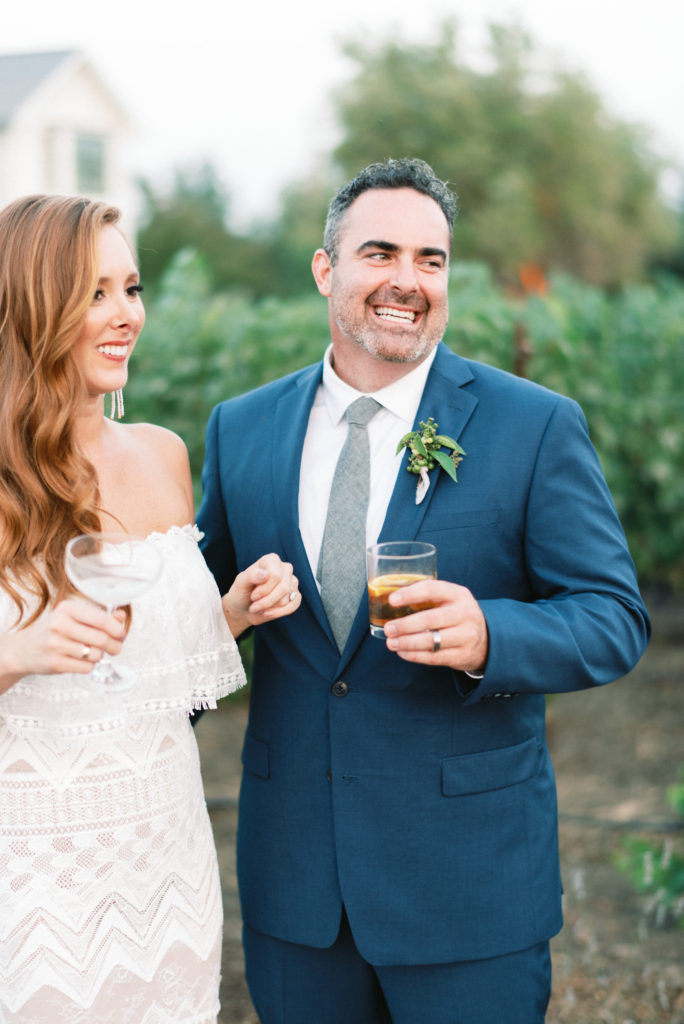 I mean, how could they not take this photo?! LOVE!!!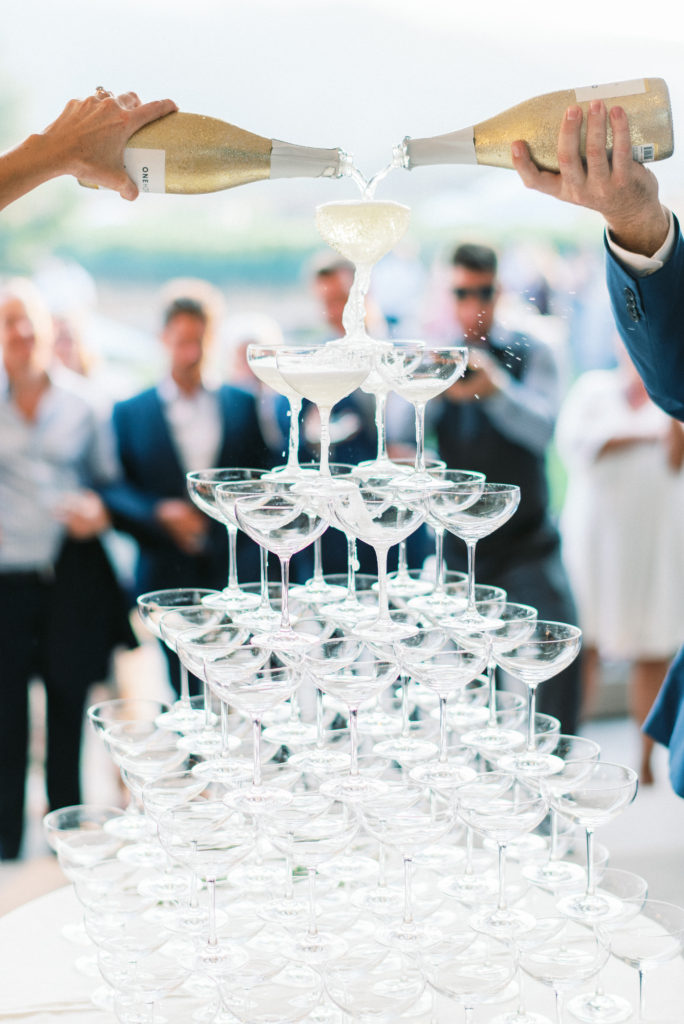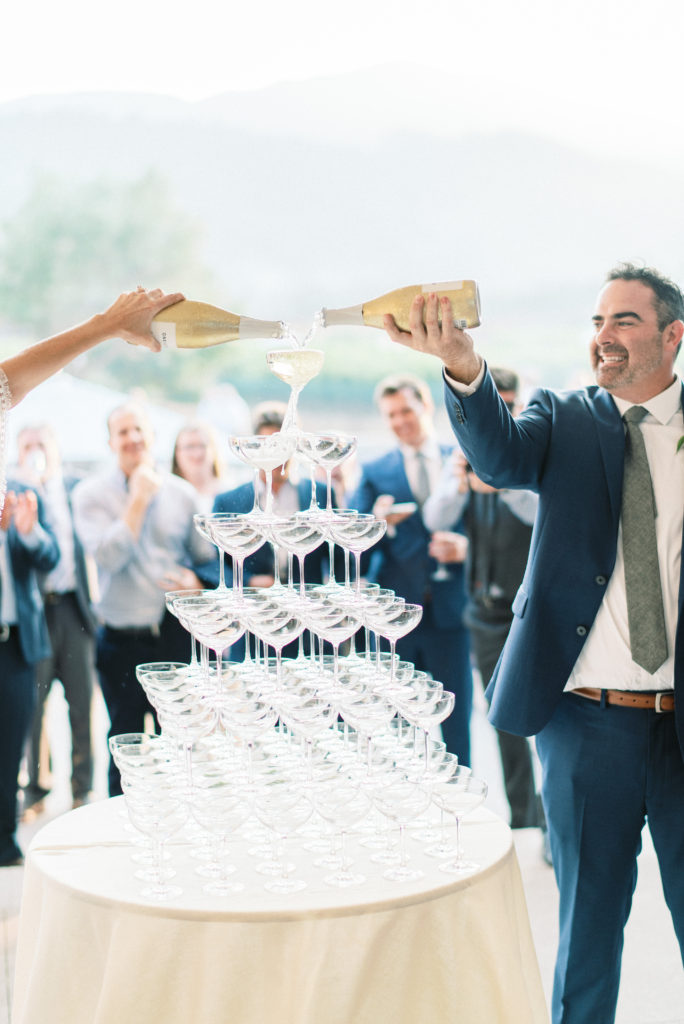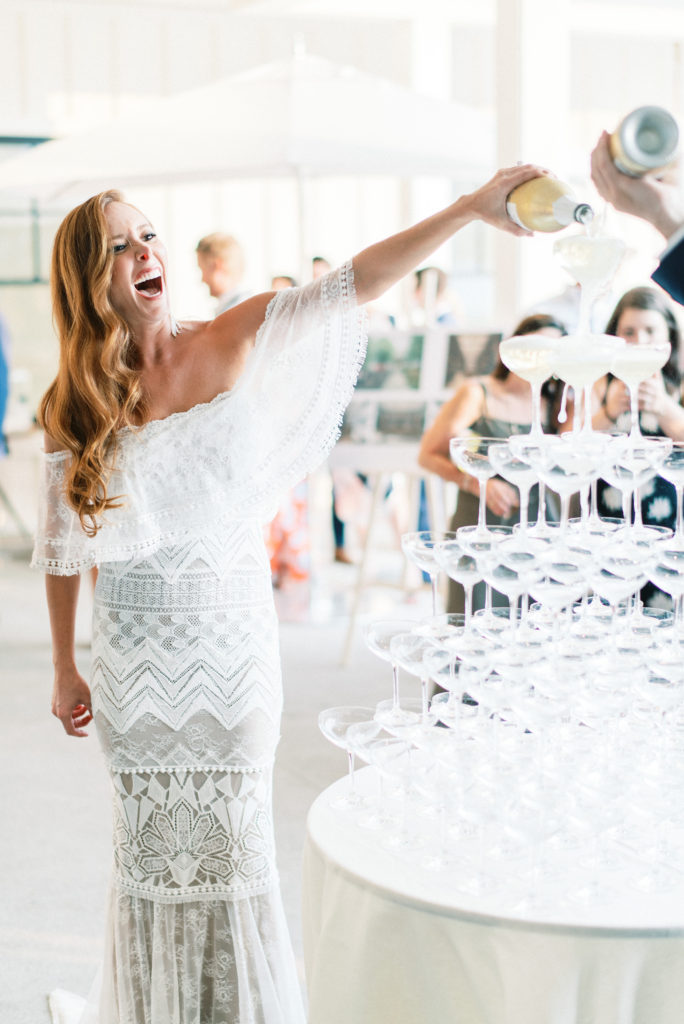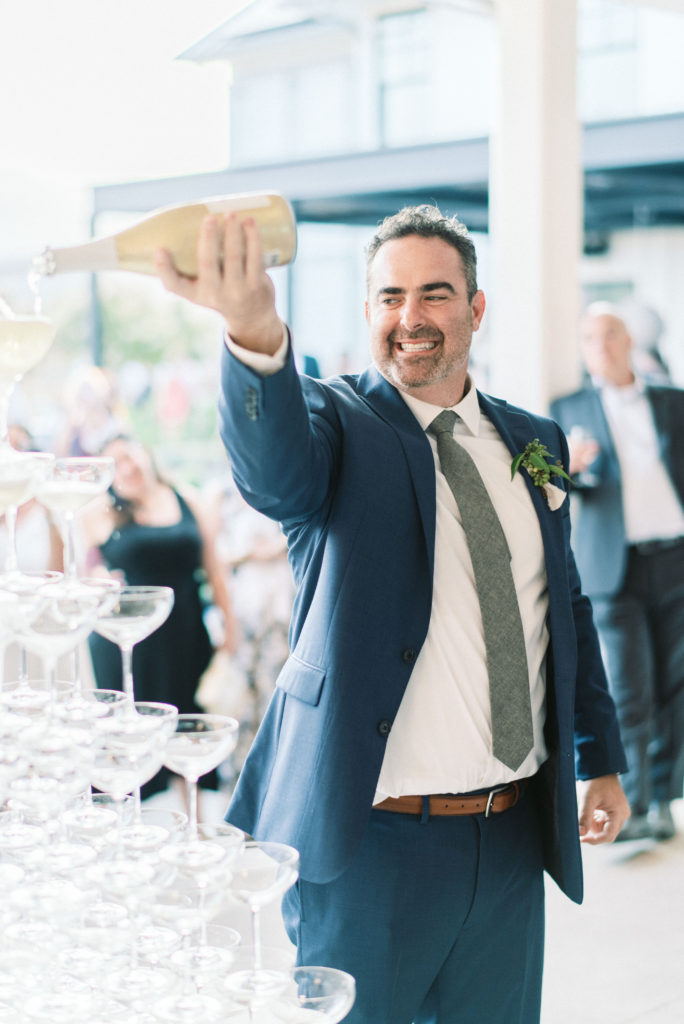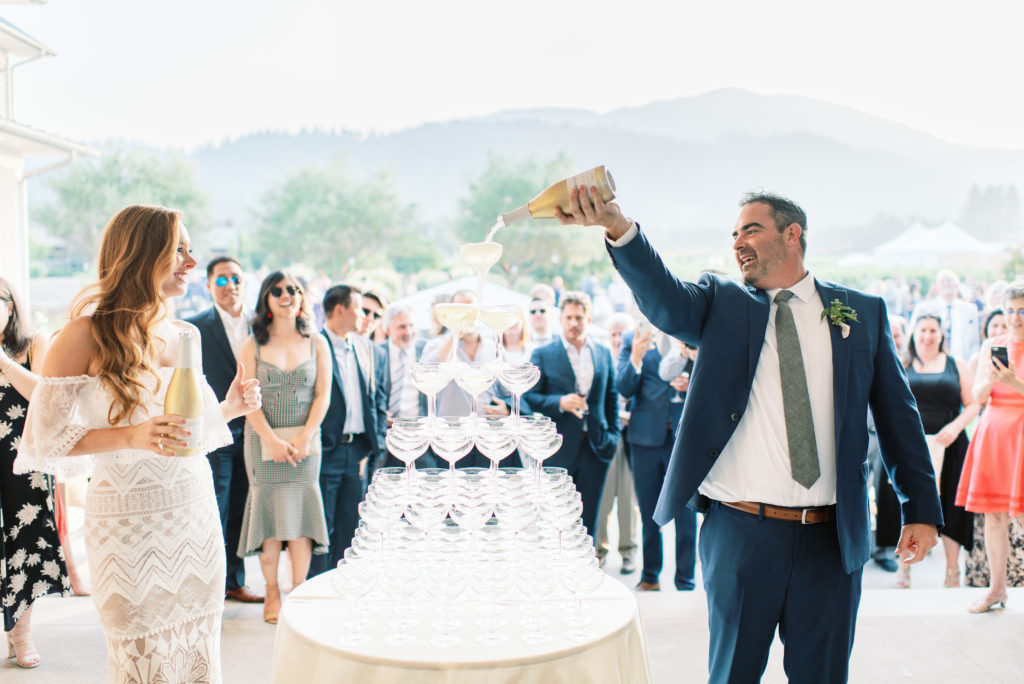 After cocktail hour guests headed back to the vineyards for the reception. It was such an amazing spot for dinner and dancing. To find your seat we had a wall built and added vintage wooden boards with table numbers and names by A Fabulous Fete. It looked so amazing and I'm so happy with how it came out!!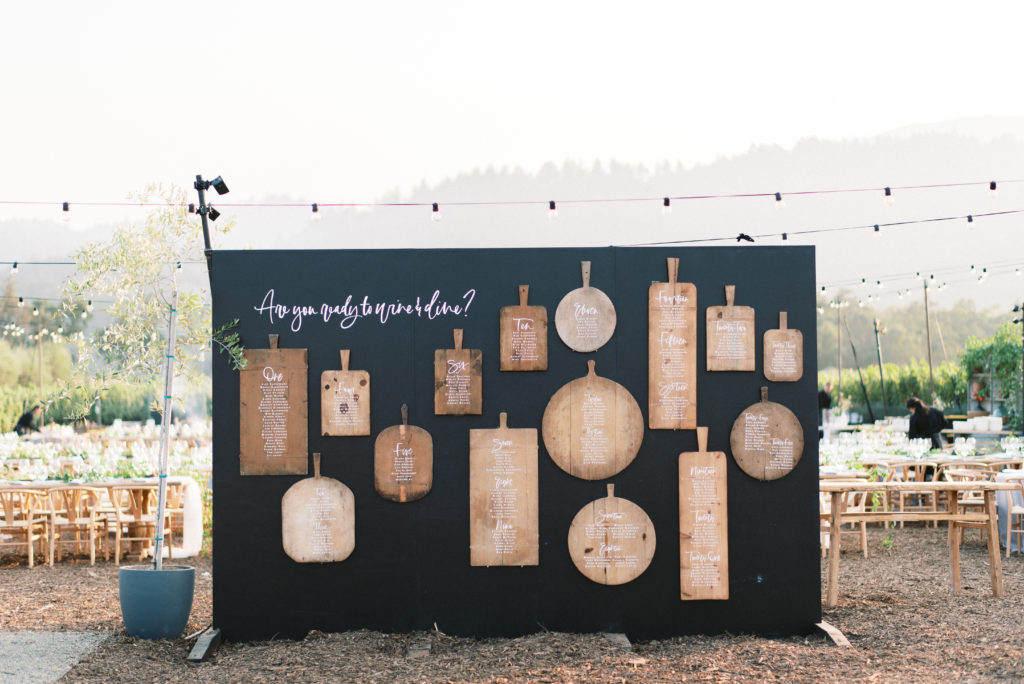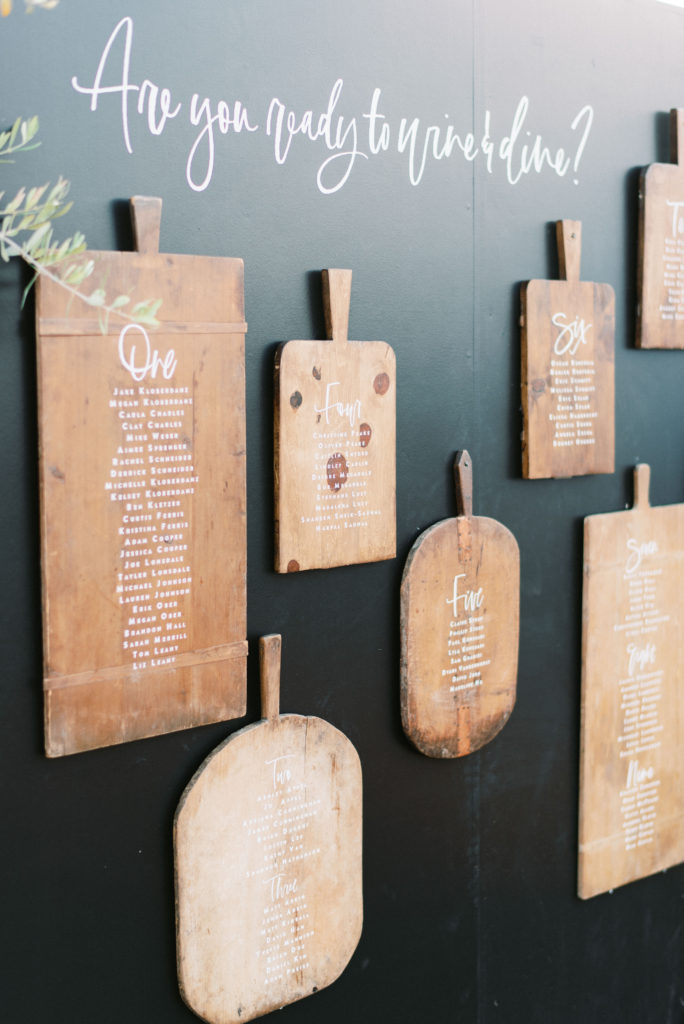 For the reception we did a mixture of round tables with linens from La Tavola and farm tables from Found Rentals. We reused those gorgeous Theoni chairs and also used their amazing tabletop collection. String lights strung over the guests and it was just magic all around.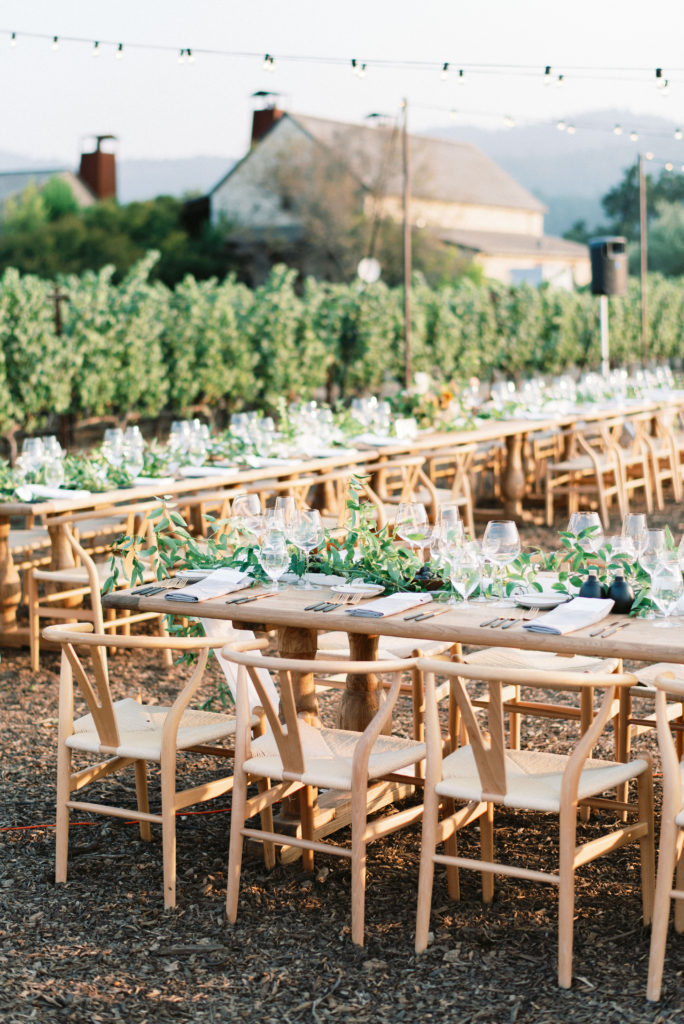 There were so many pretty details, from the floral arrangements by Hawthorn Flower Studio, to the table numbers and menus by A Fabulous Fete, everything was perfection!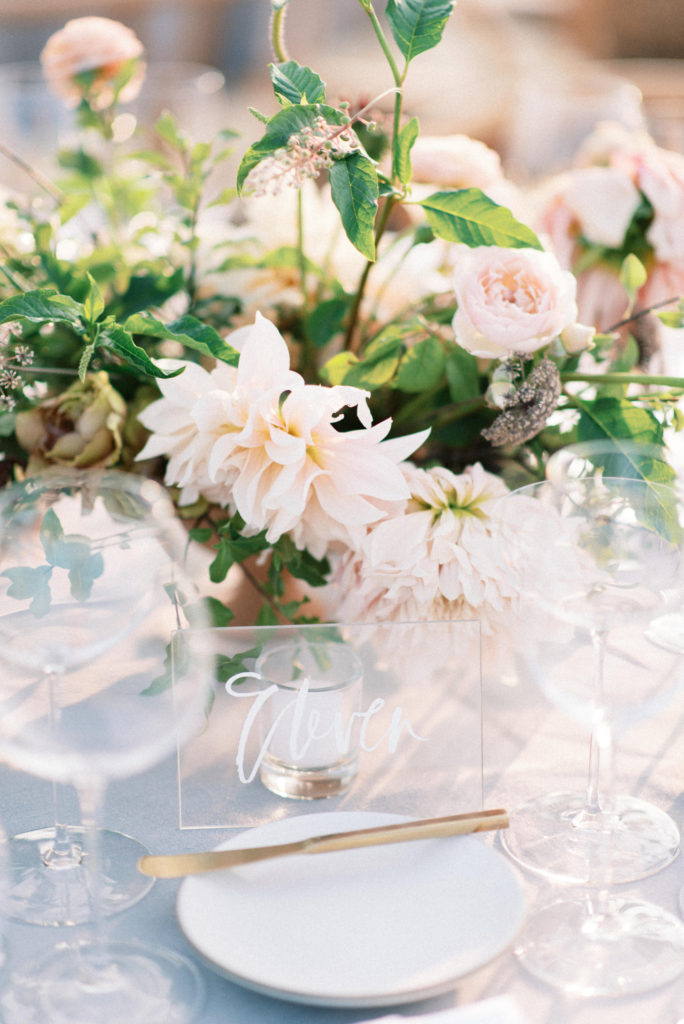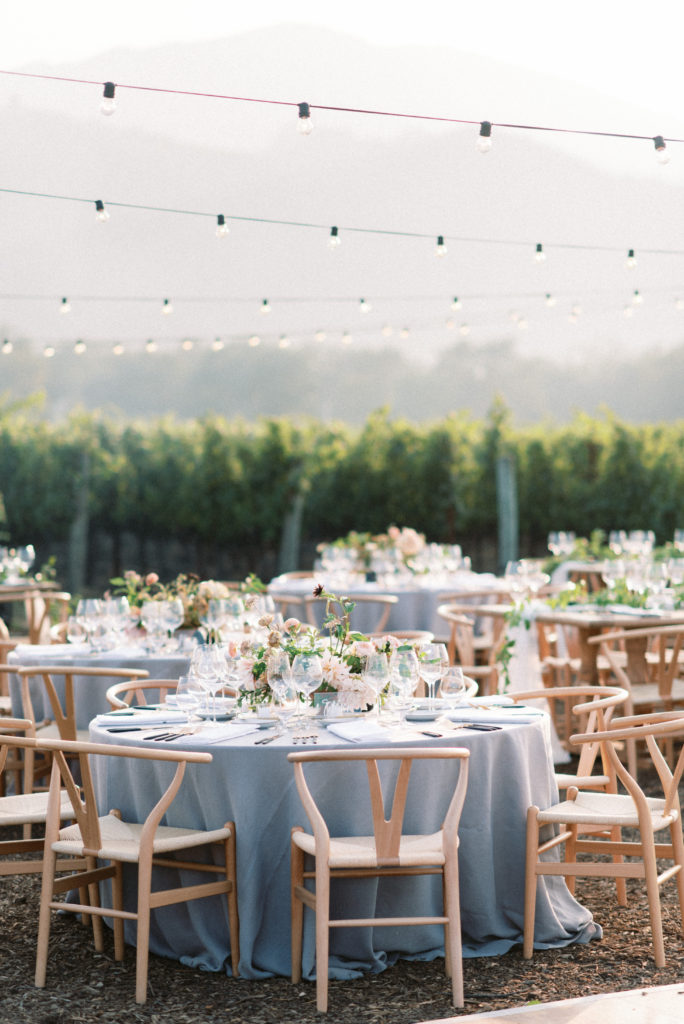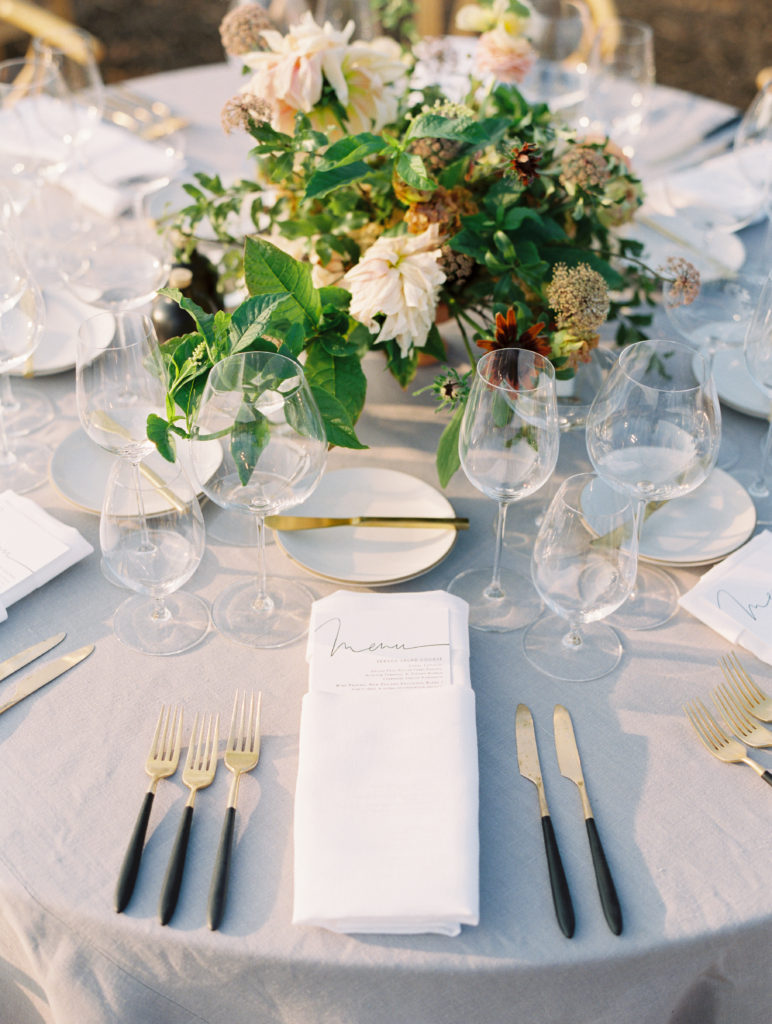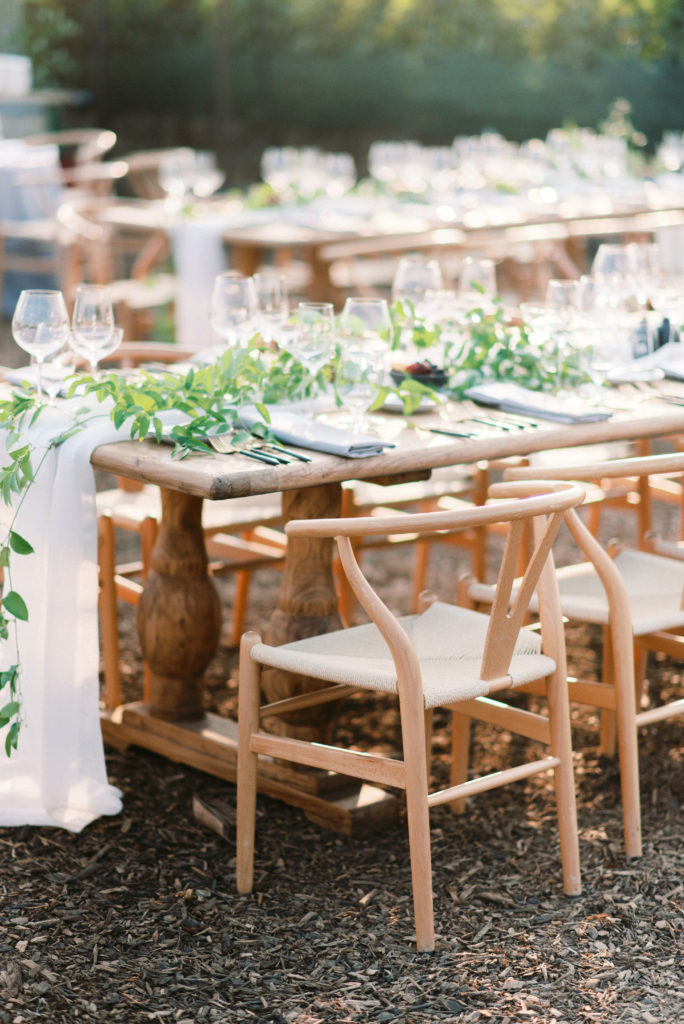 Melanie from Hawthorn Flower Studio added small bowls with seasonal fruits, and I loved that small yet eye catching detail.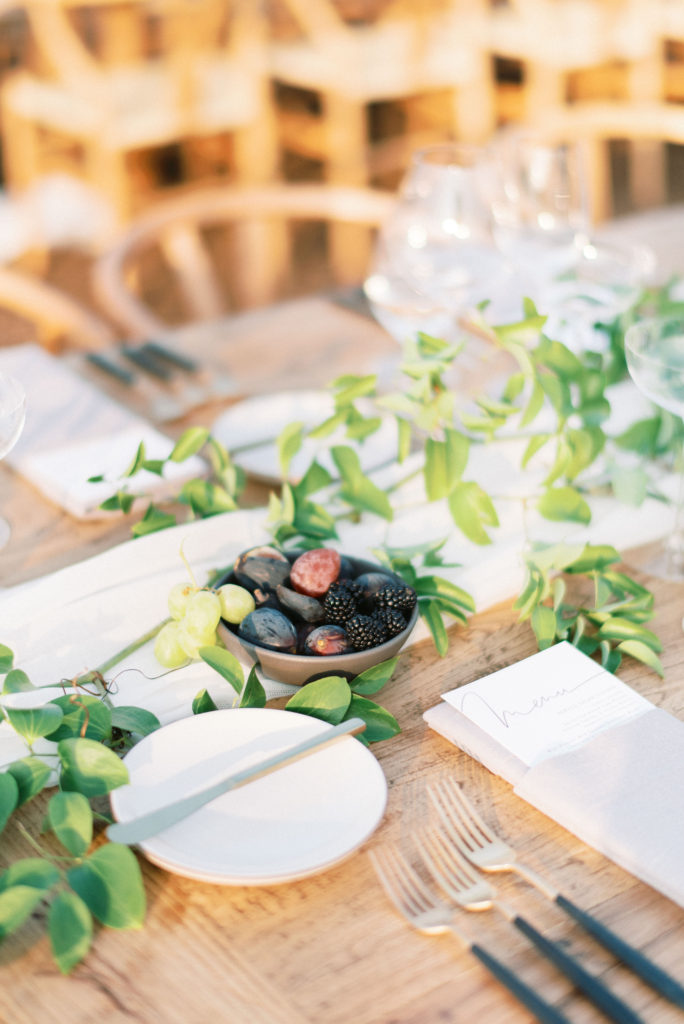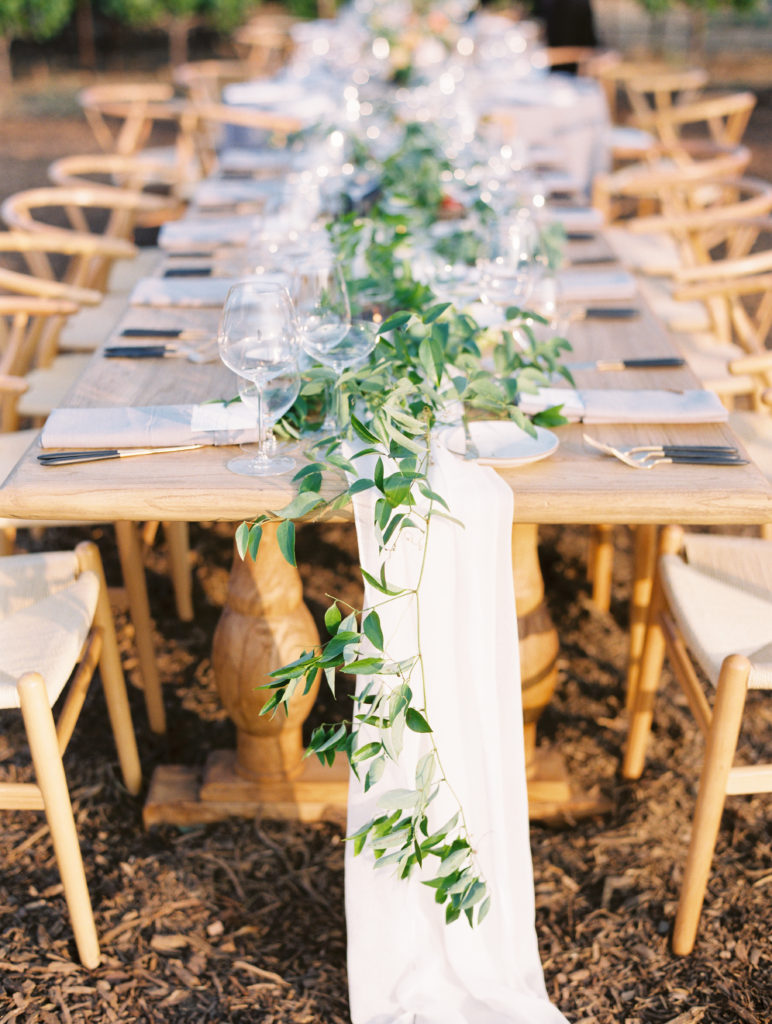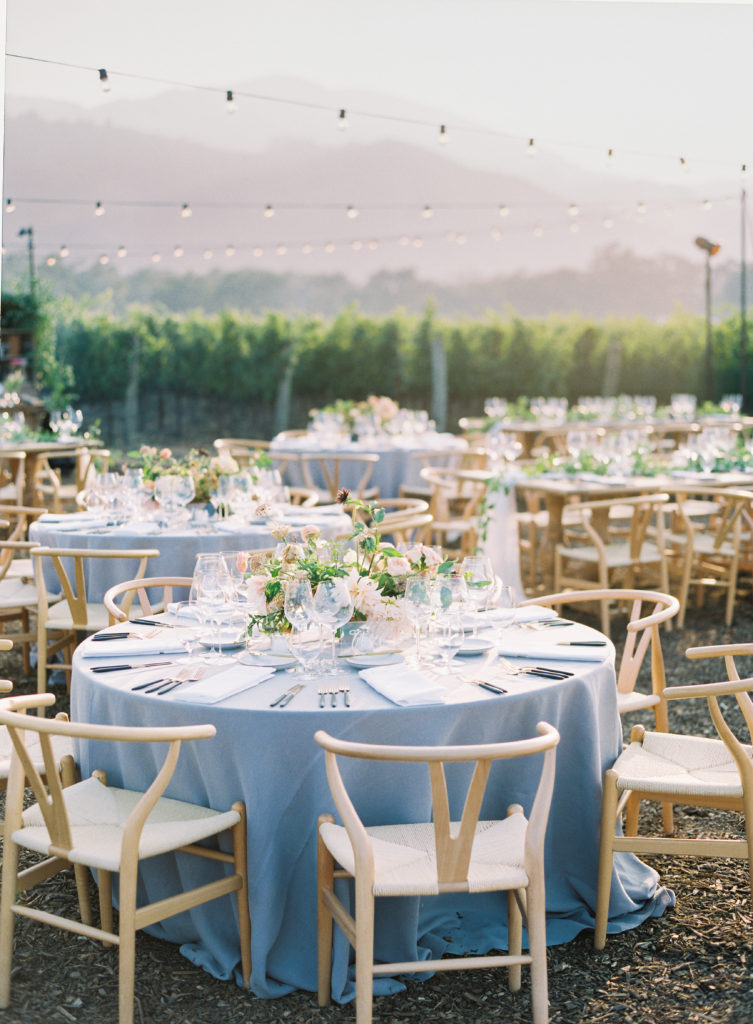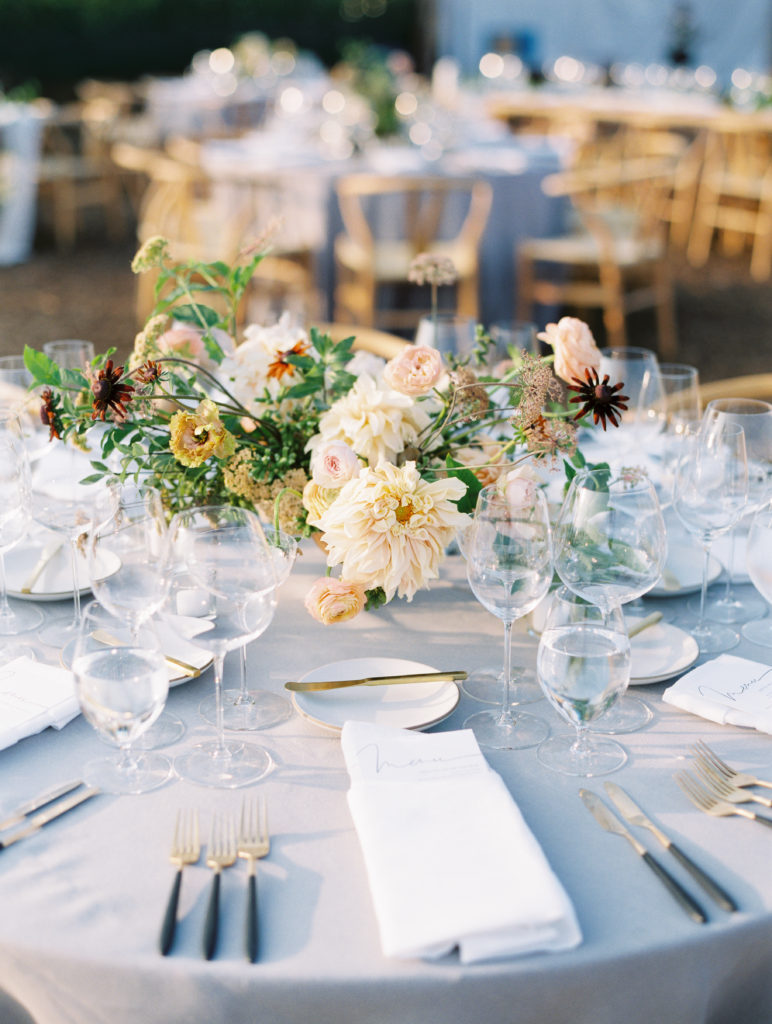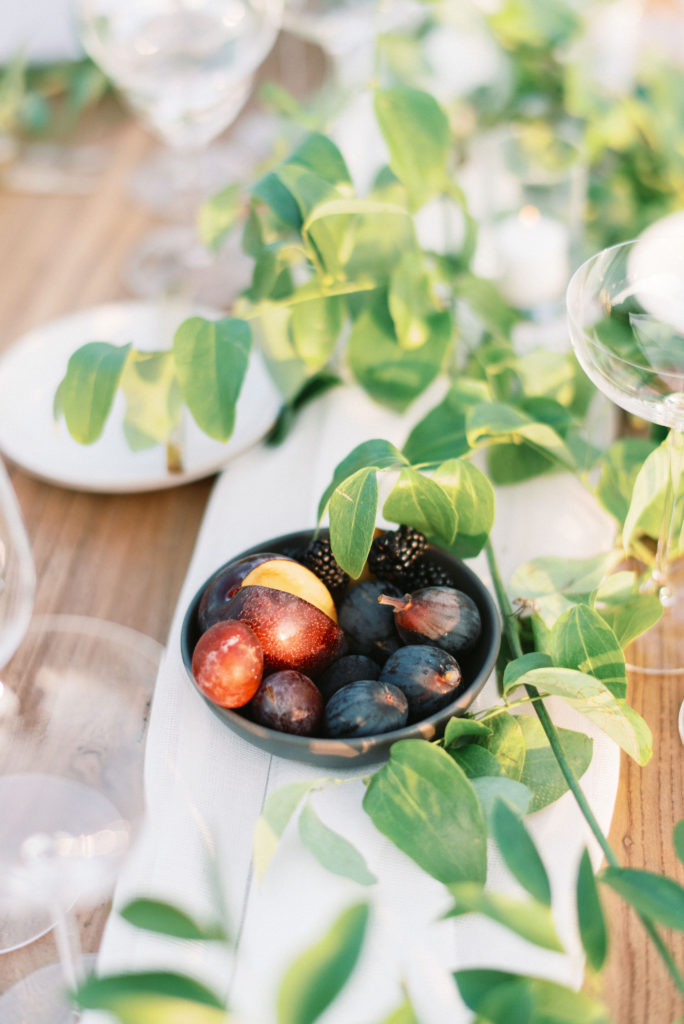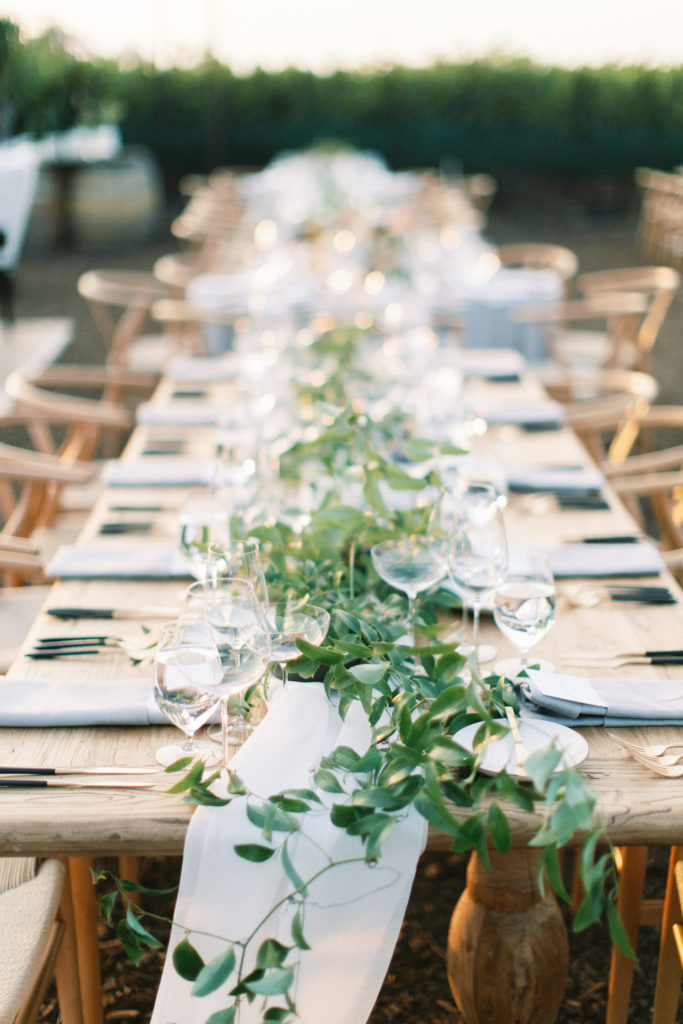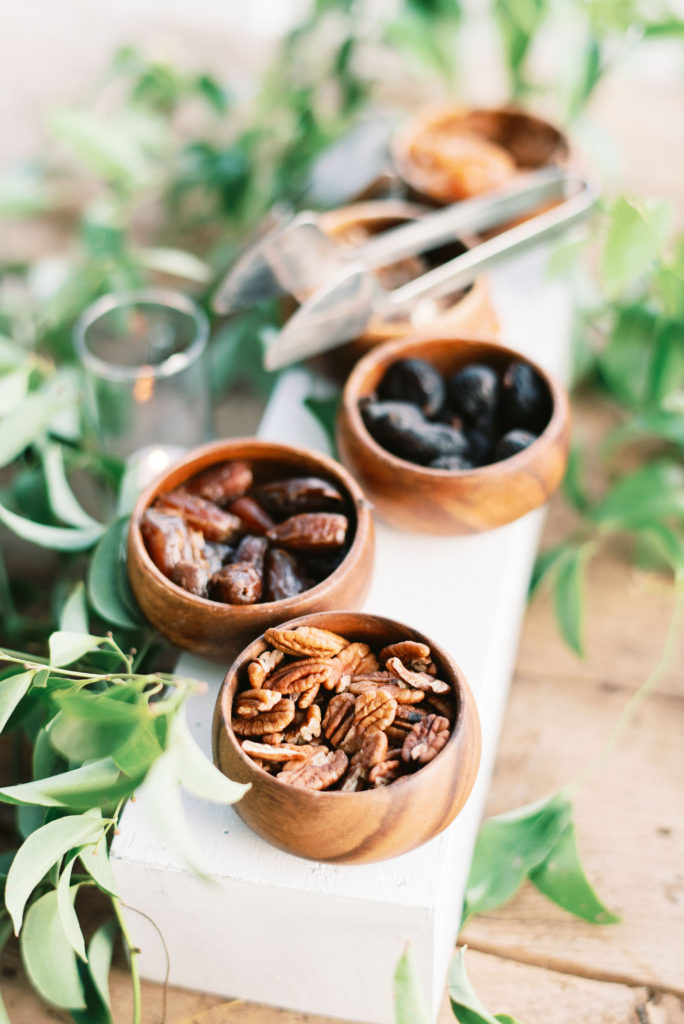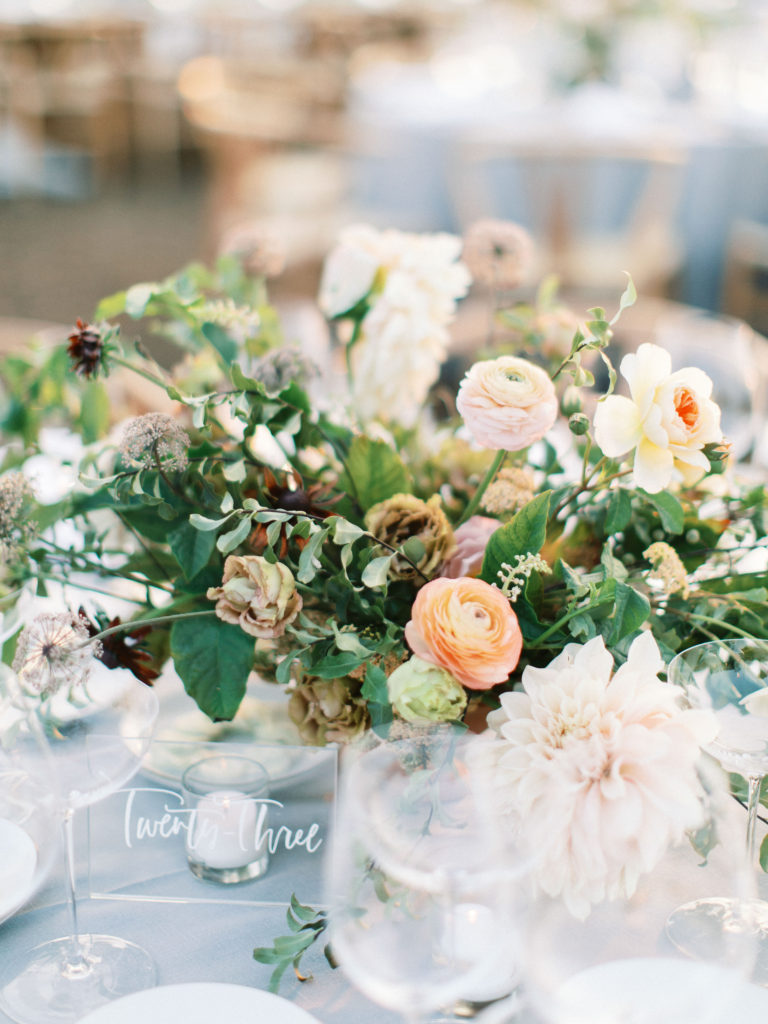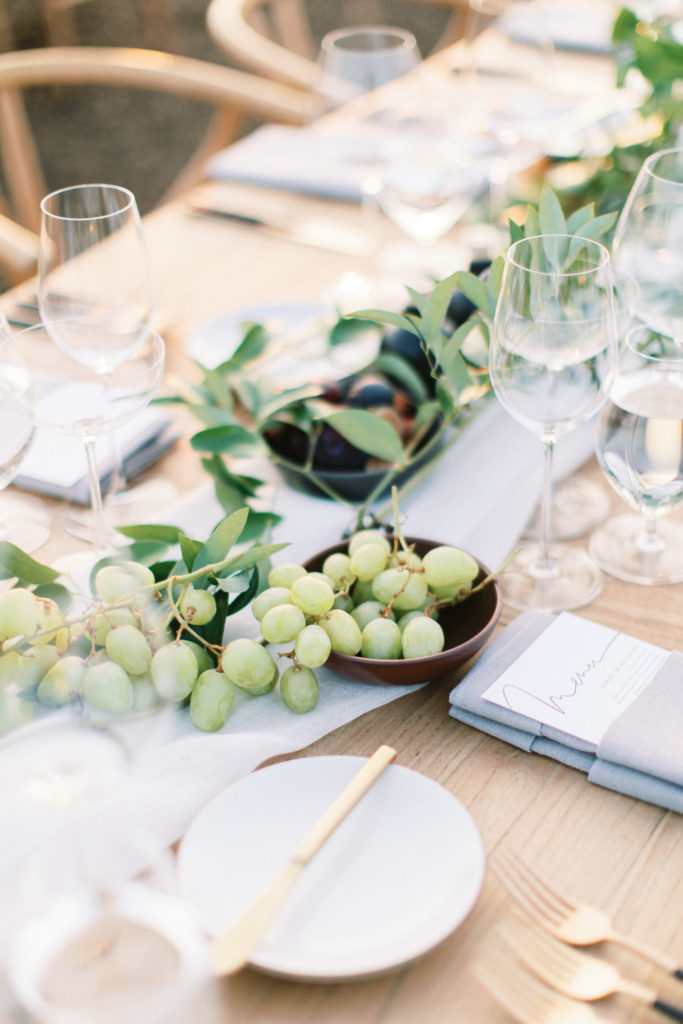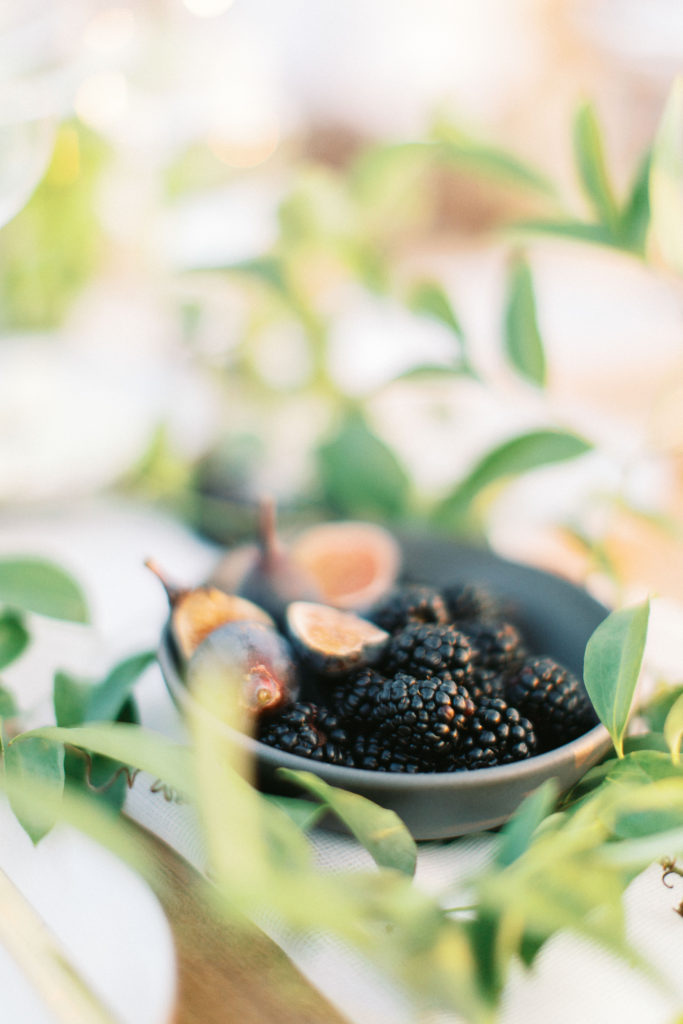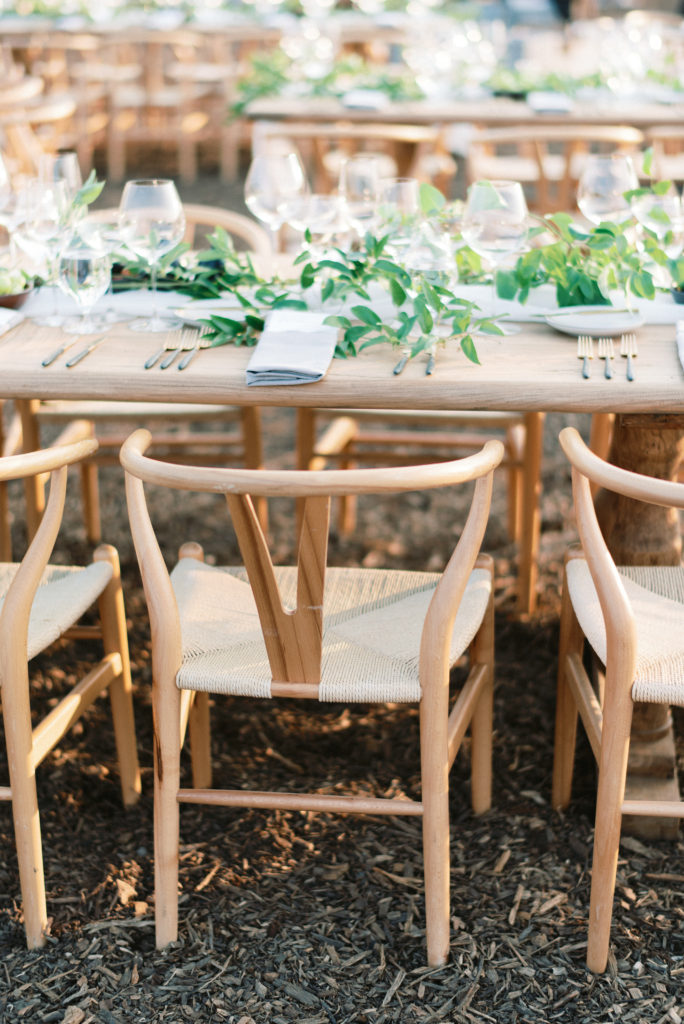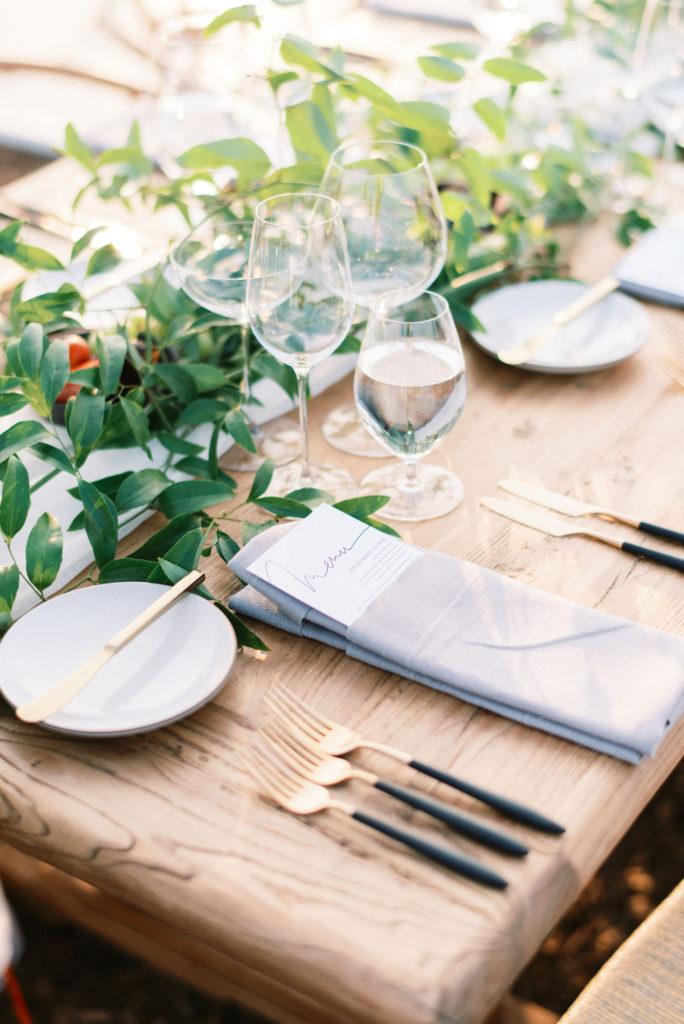 Our team decked out each bar or food station with goodies from Found Rentals. Meg loves a good "shelfie" and I think we did her proud.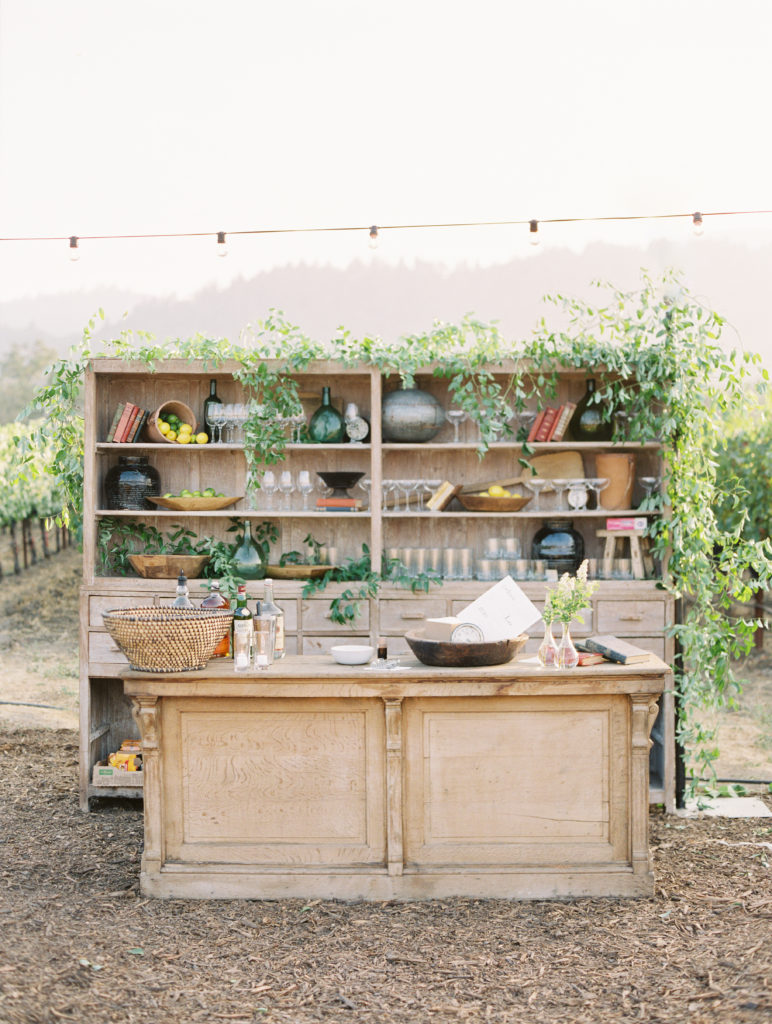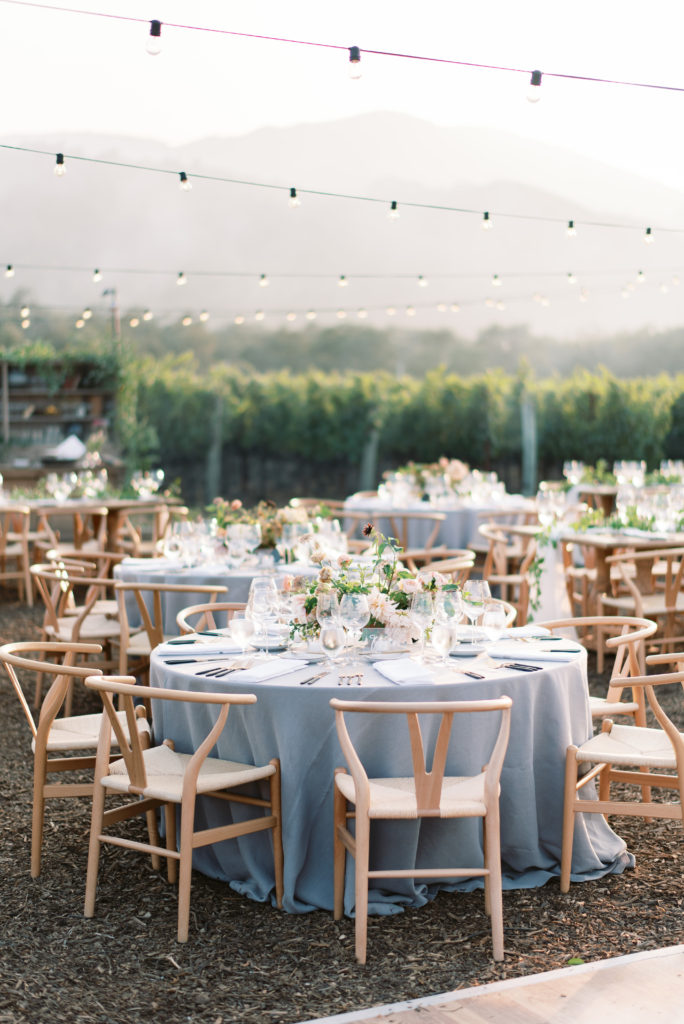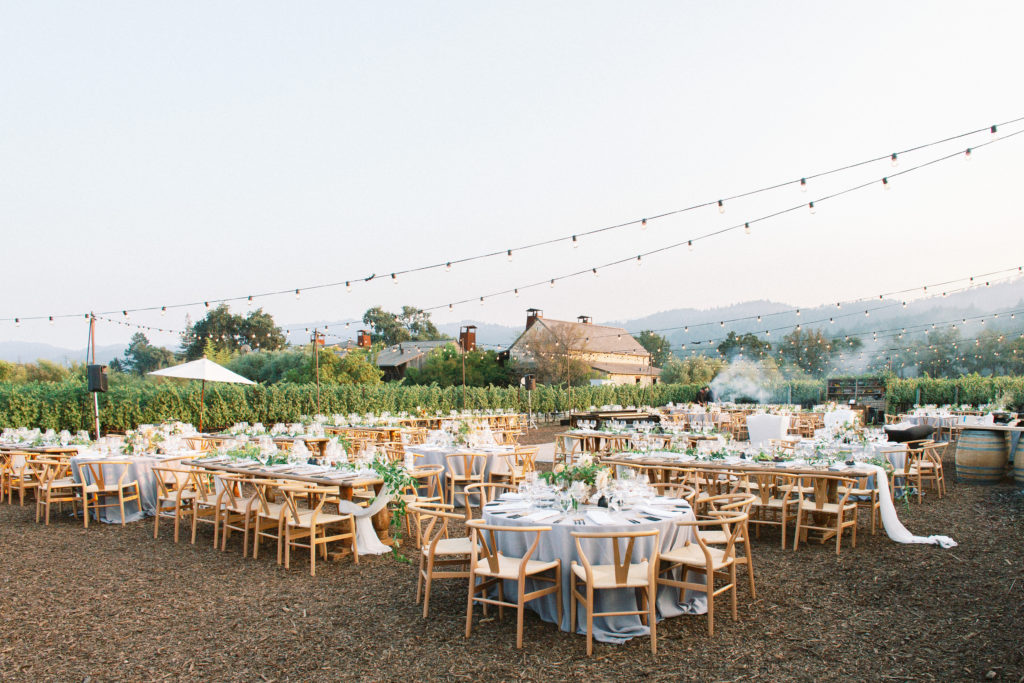 The newlyweds made their grand entrance as their friend Matt played the piano, and then went straight into their first dance. It was such a special moment!!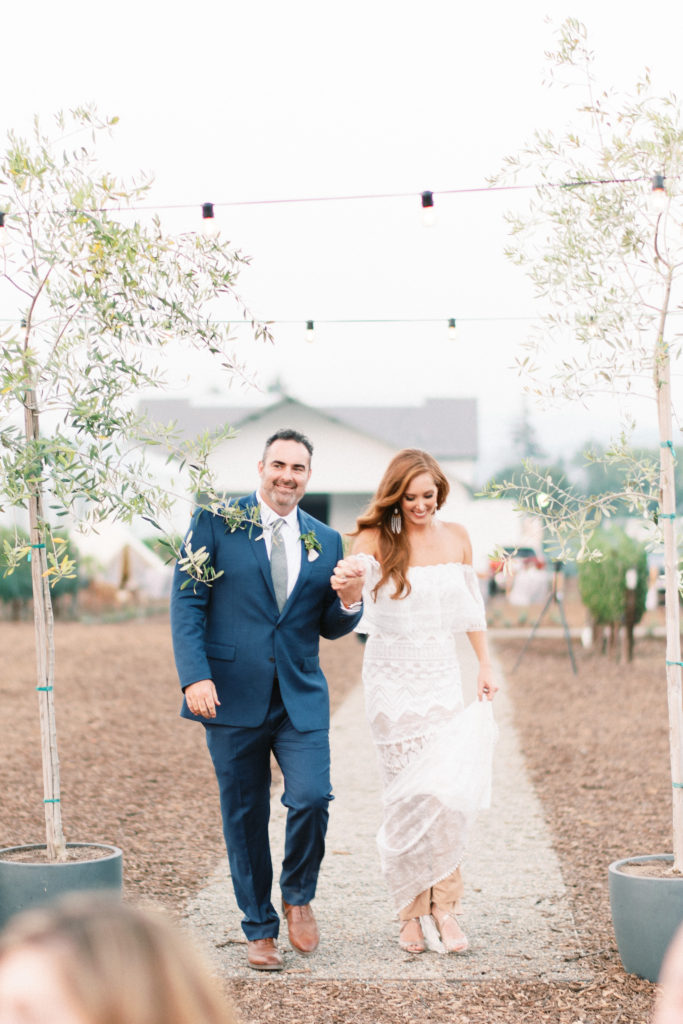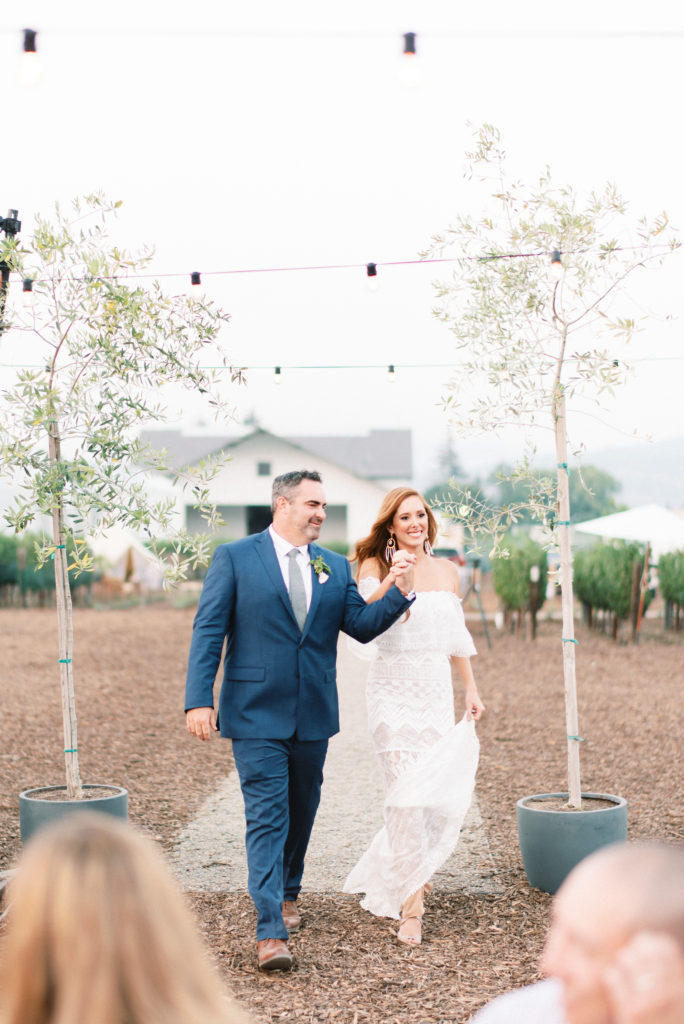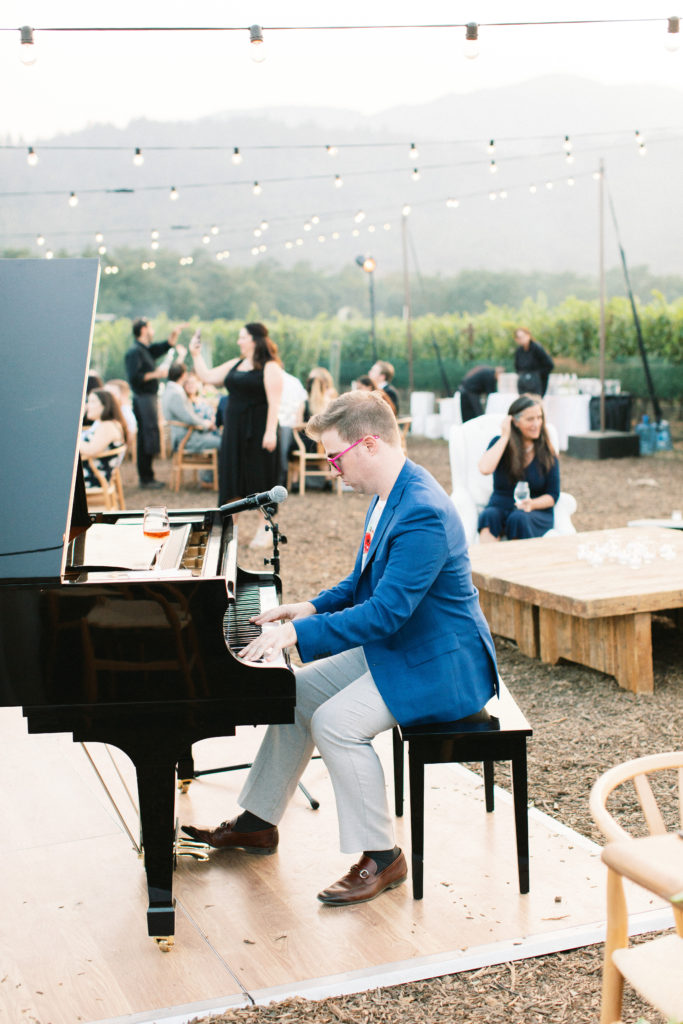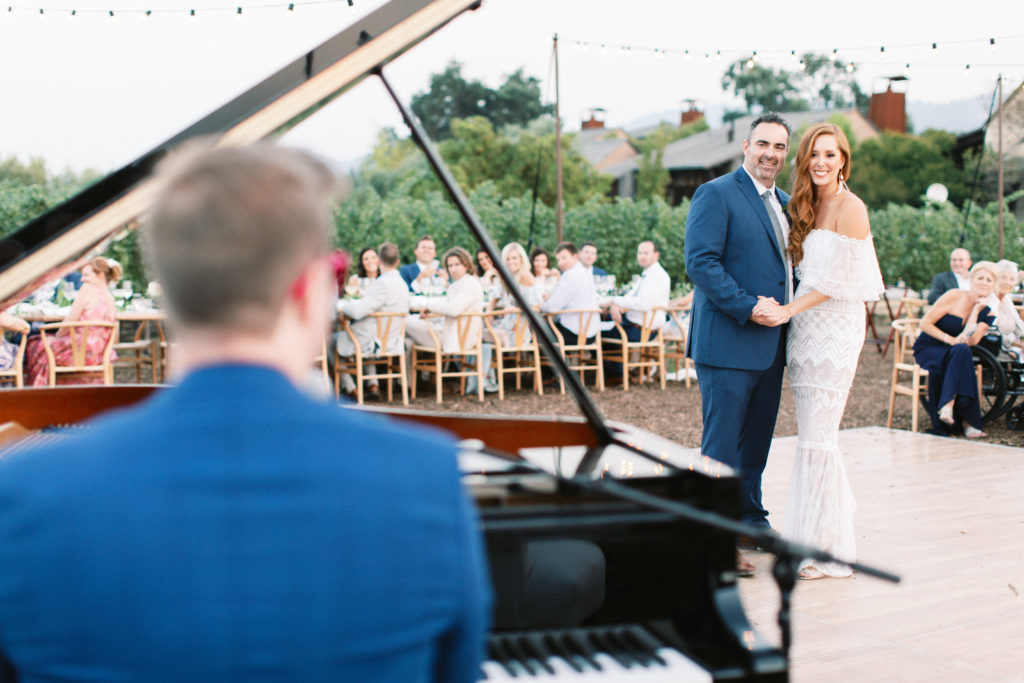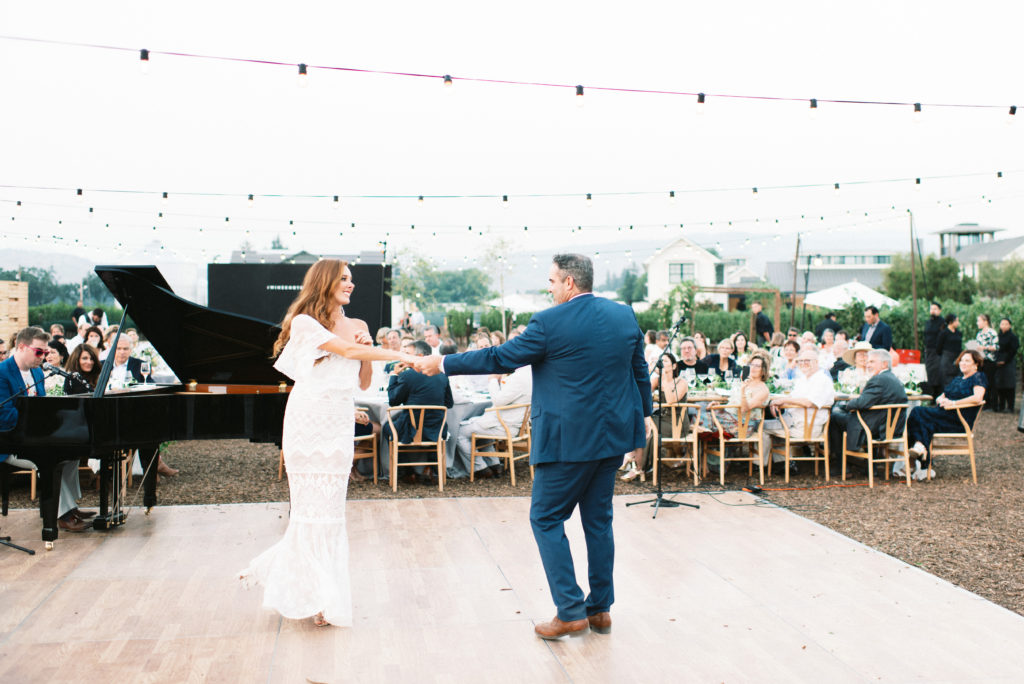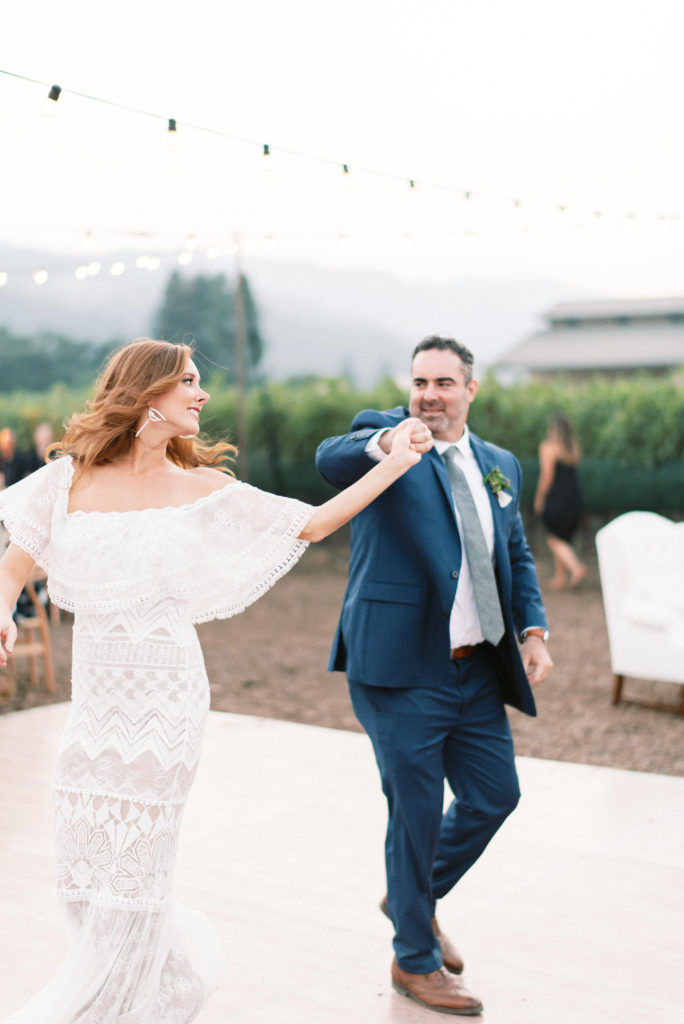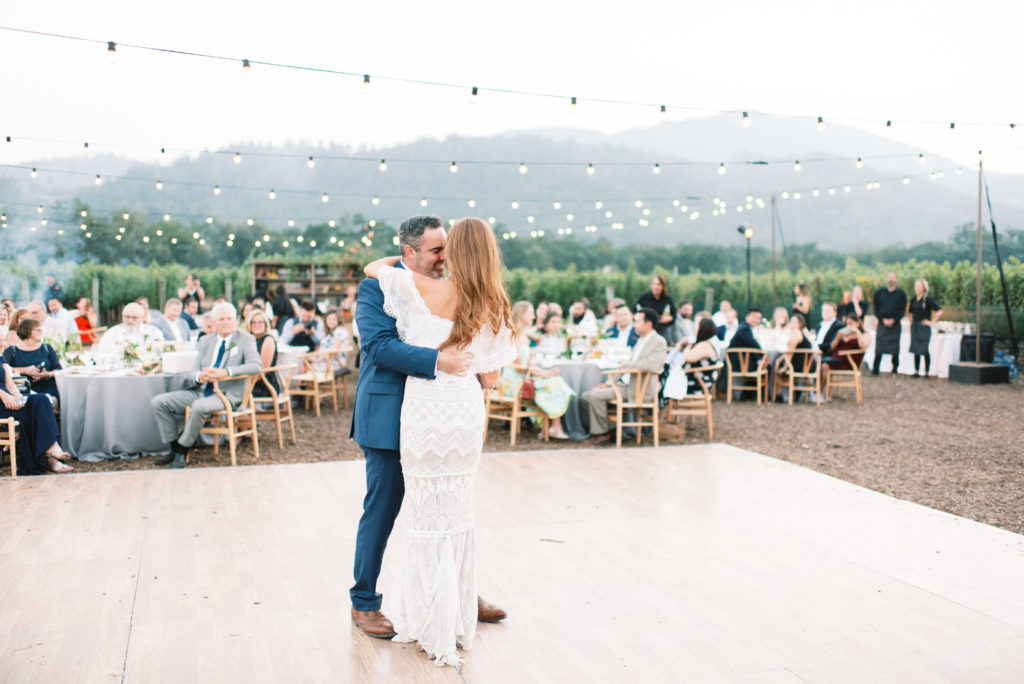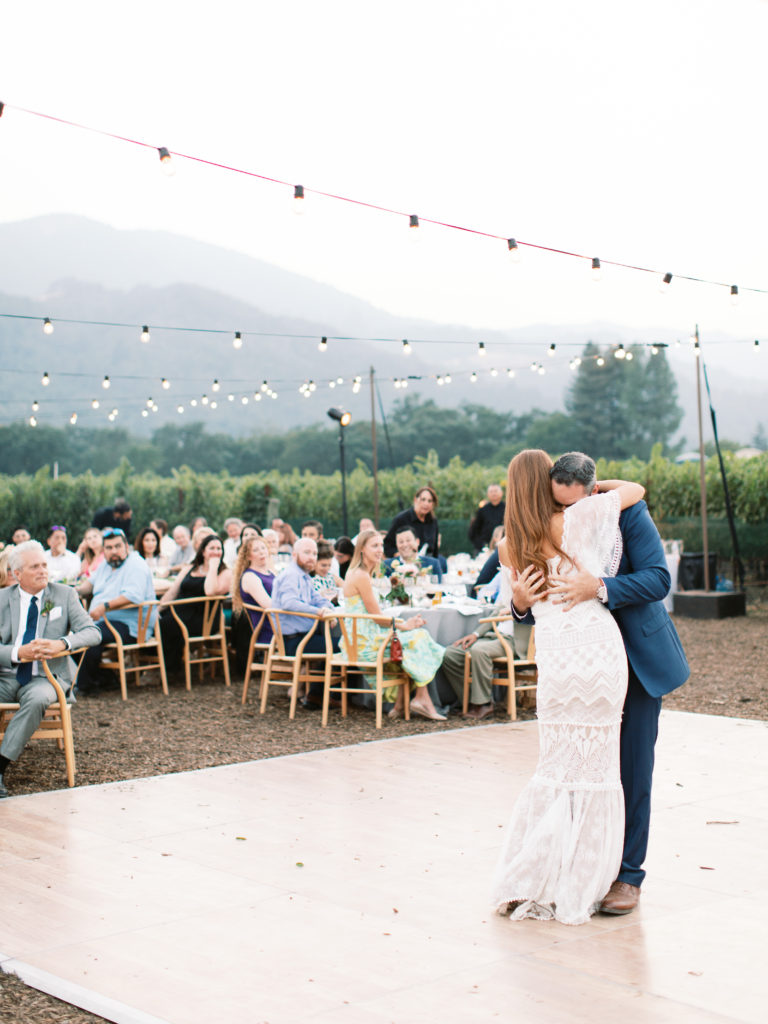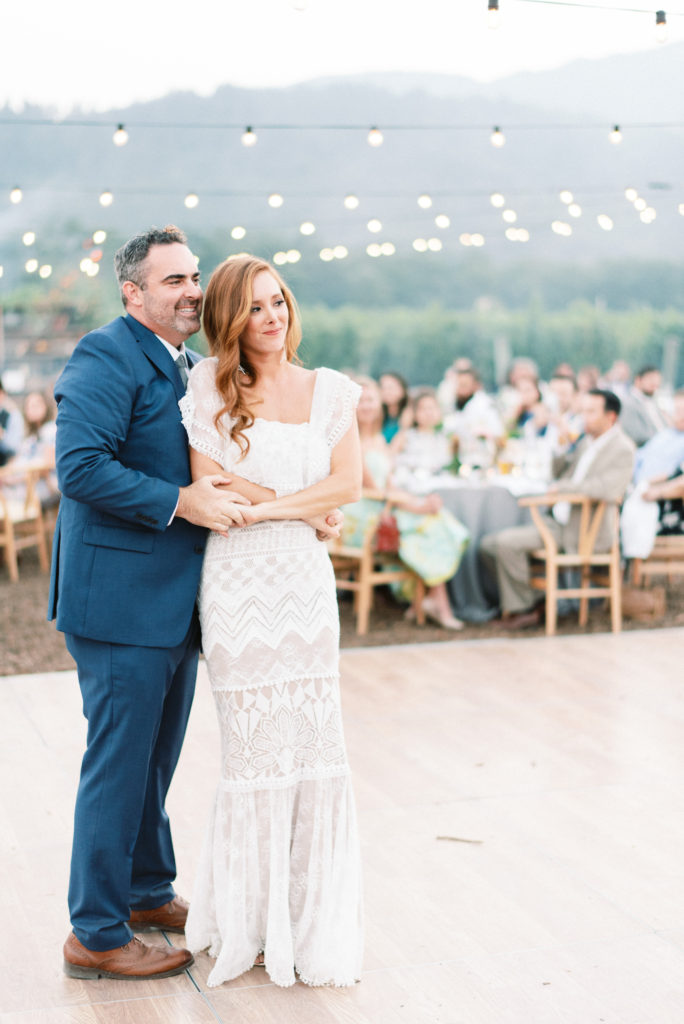 Cheers to the happy couple!!!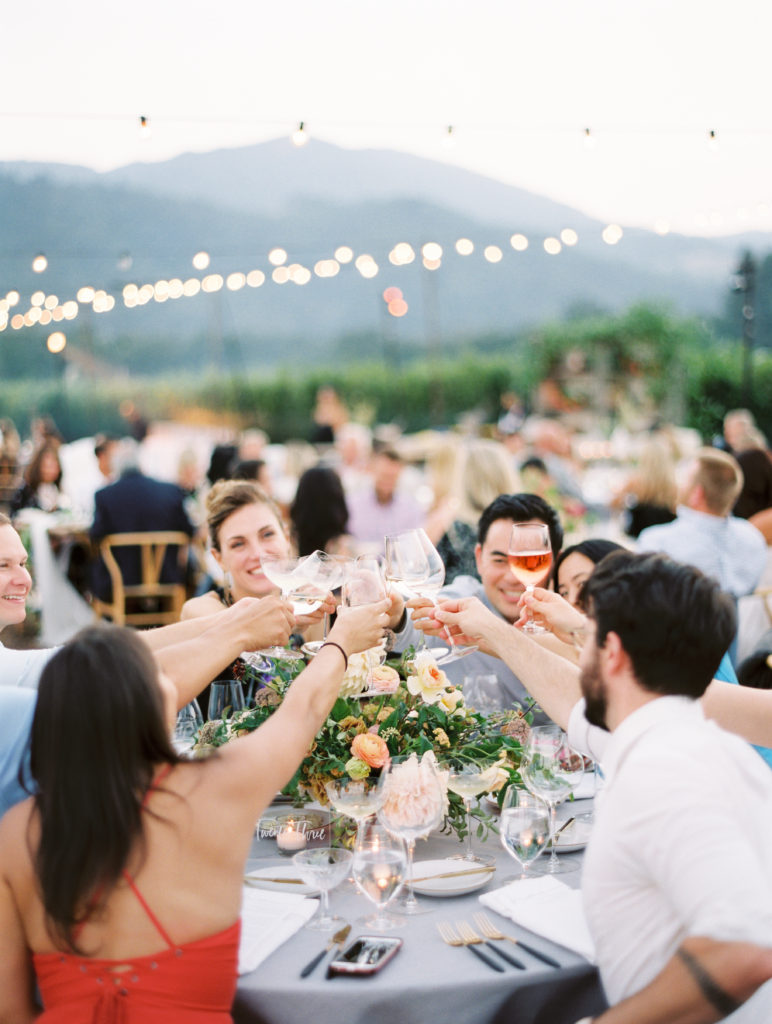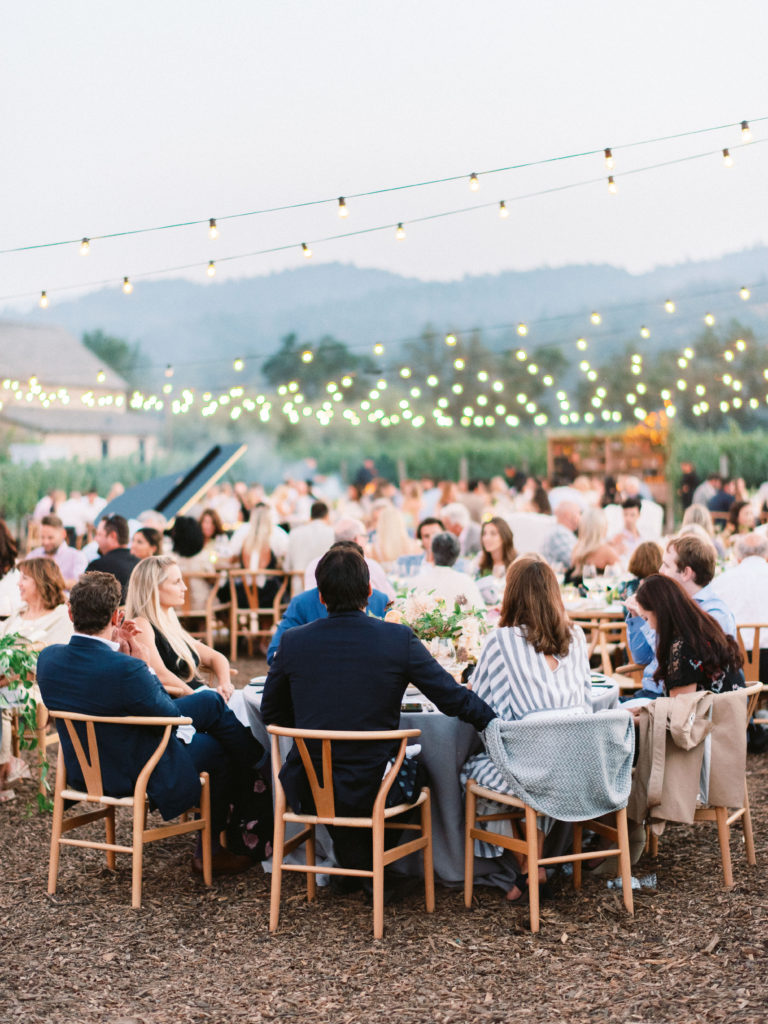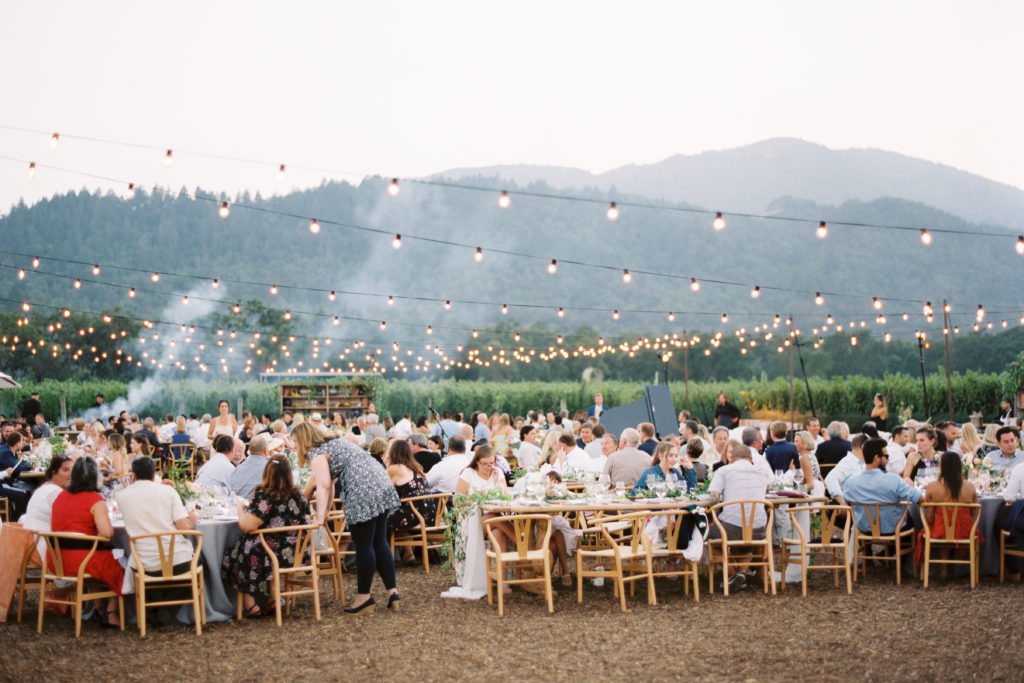 Did I mention there was a fresh pasta station?! Contemporary Catering made all of our dreams come true that night…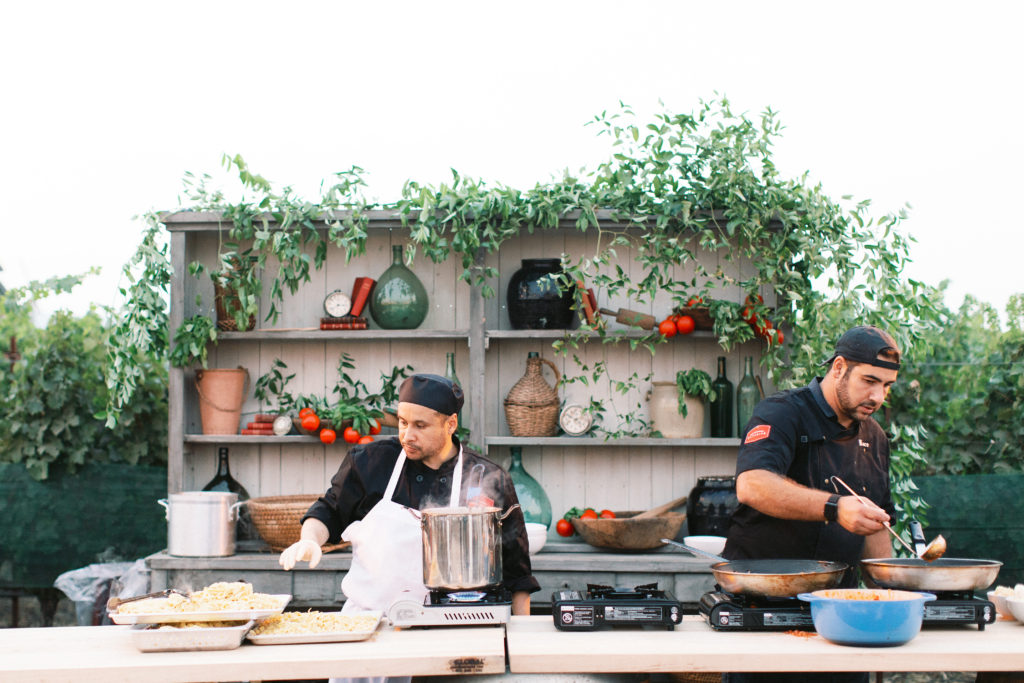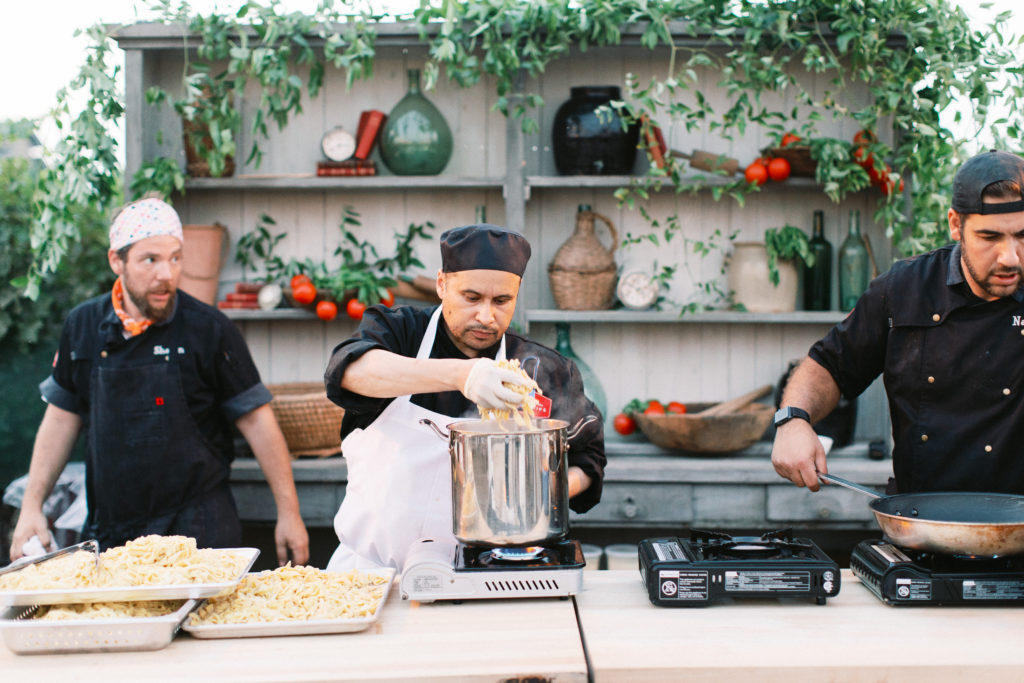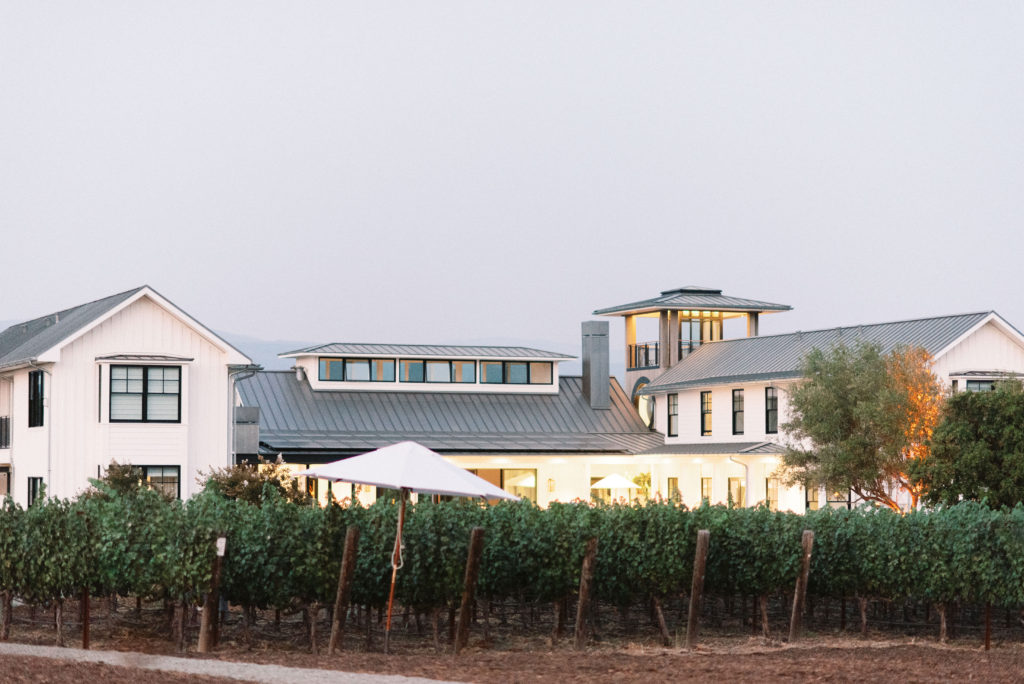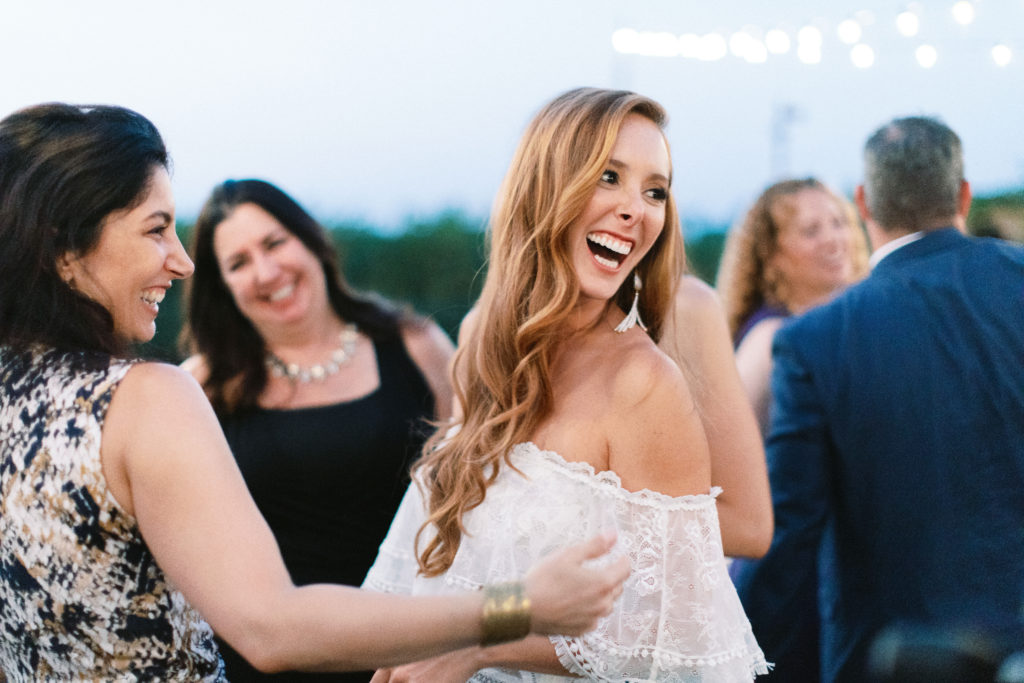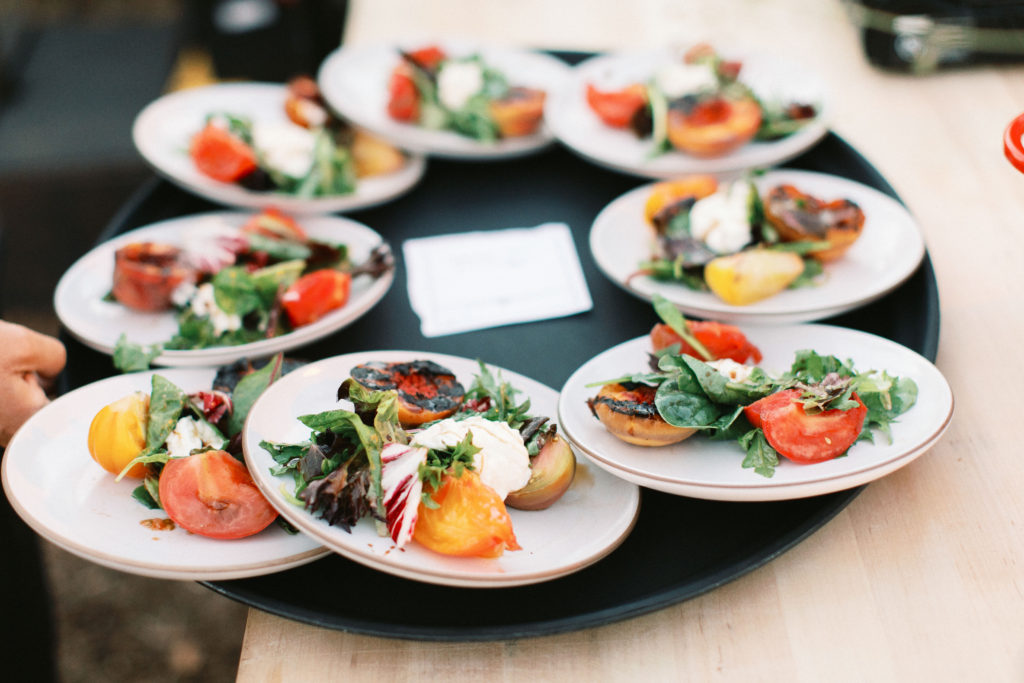 Time for the speeches! And there were some really amazing ones at this wedding. The most moving to us were Meg's father's and Jake's mother's, they were both so sentimental and thoughtful.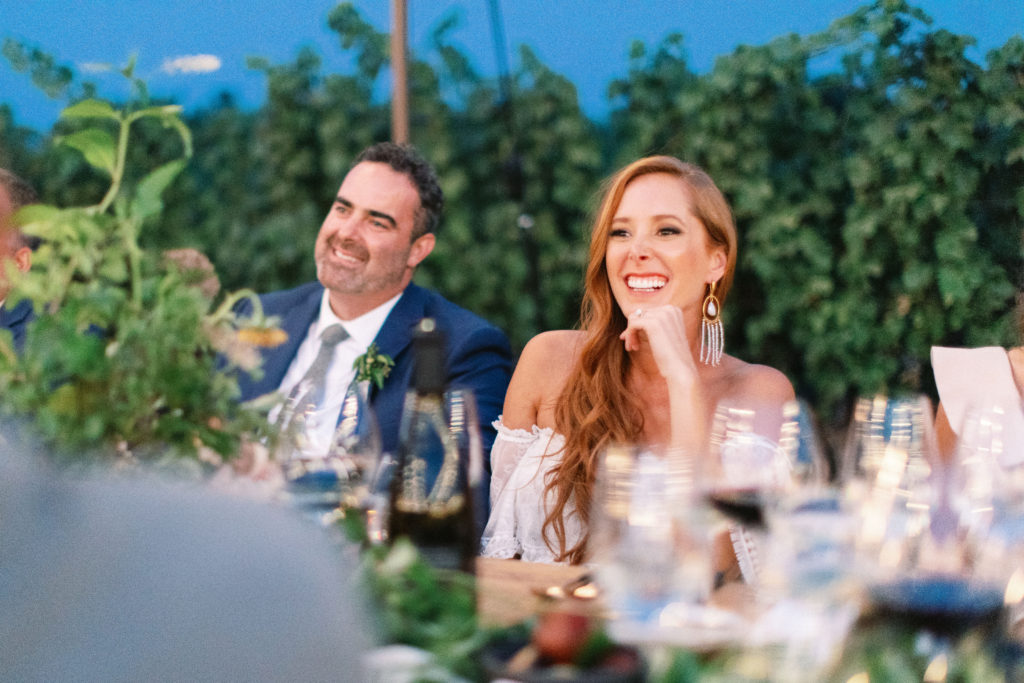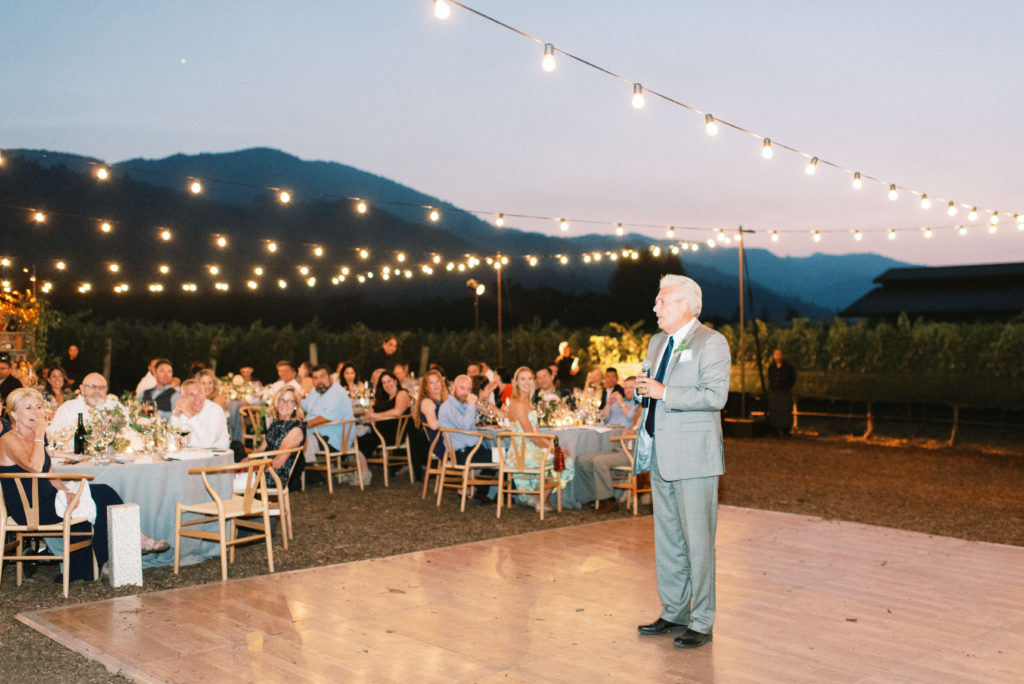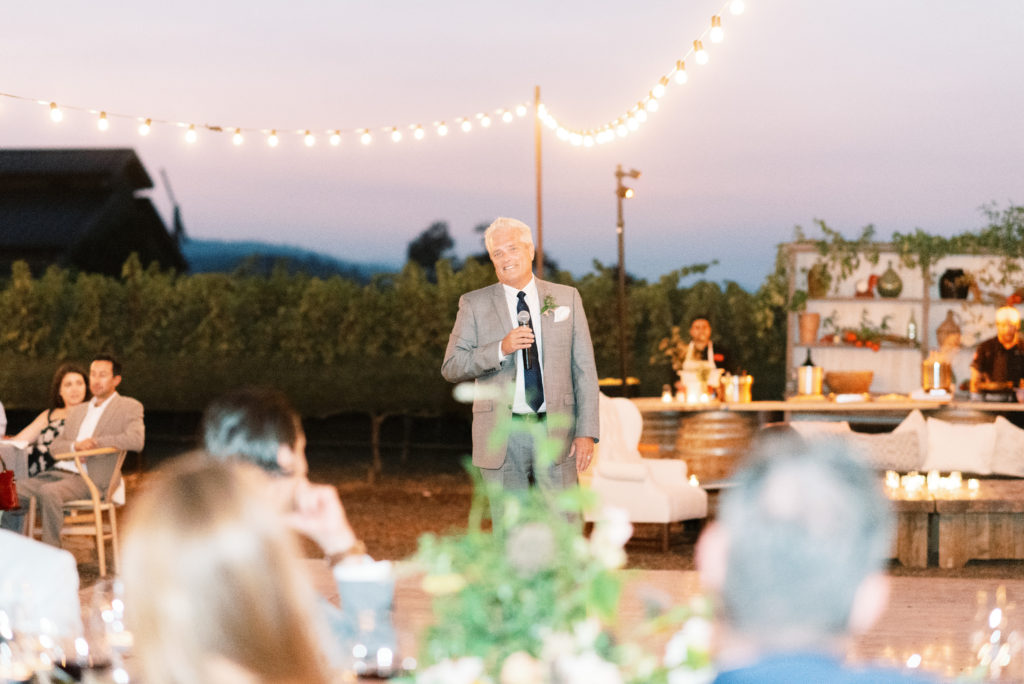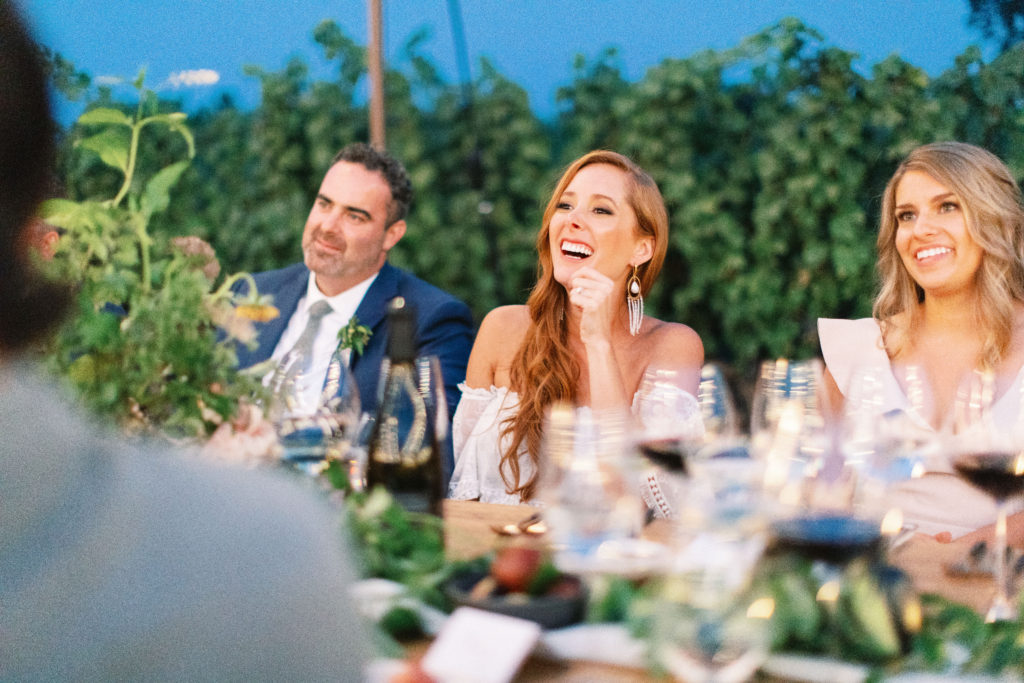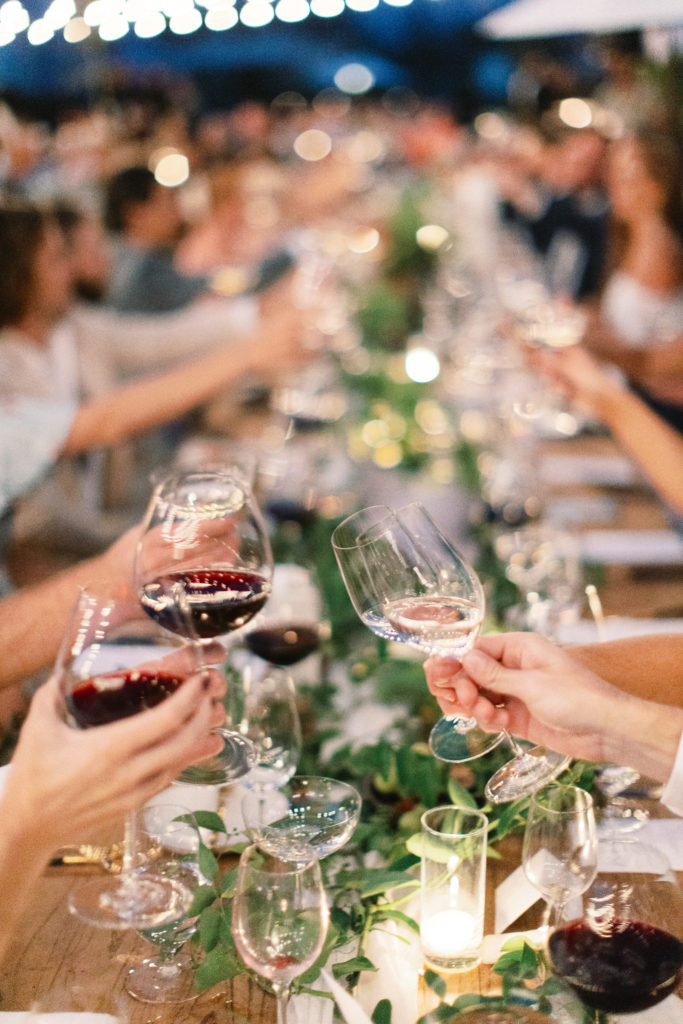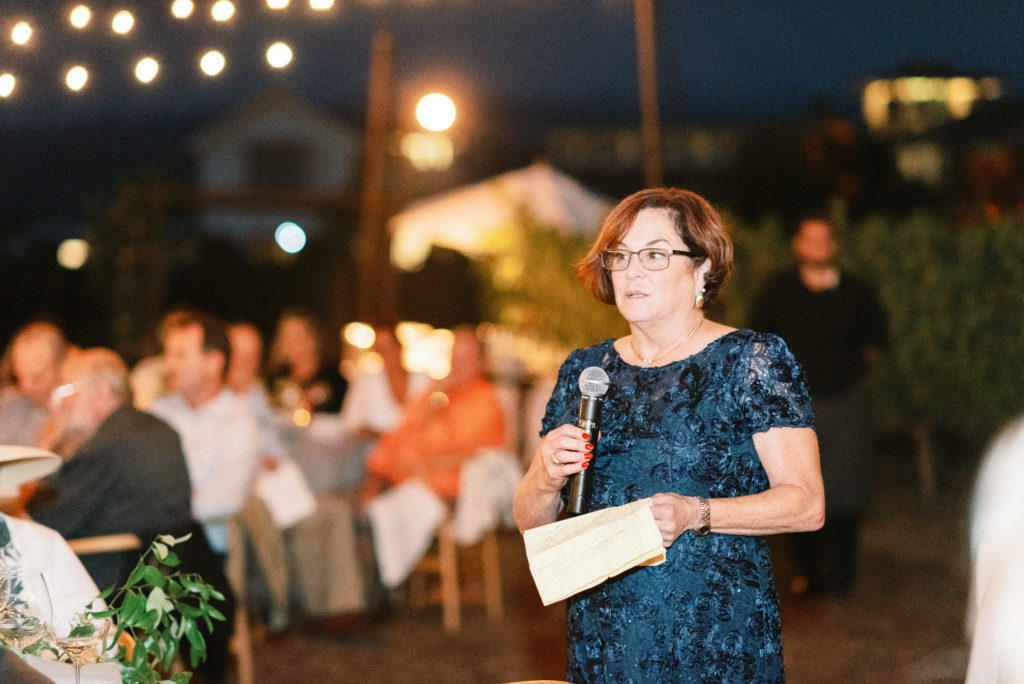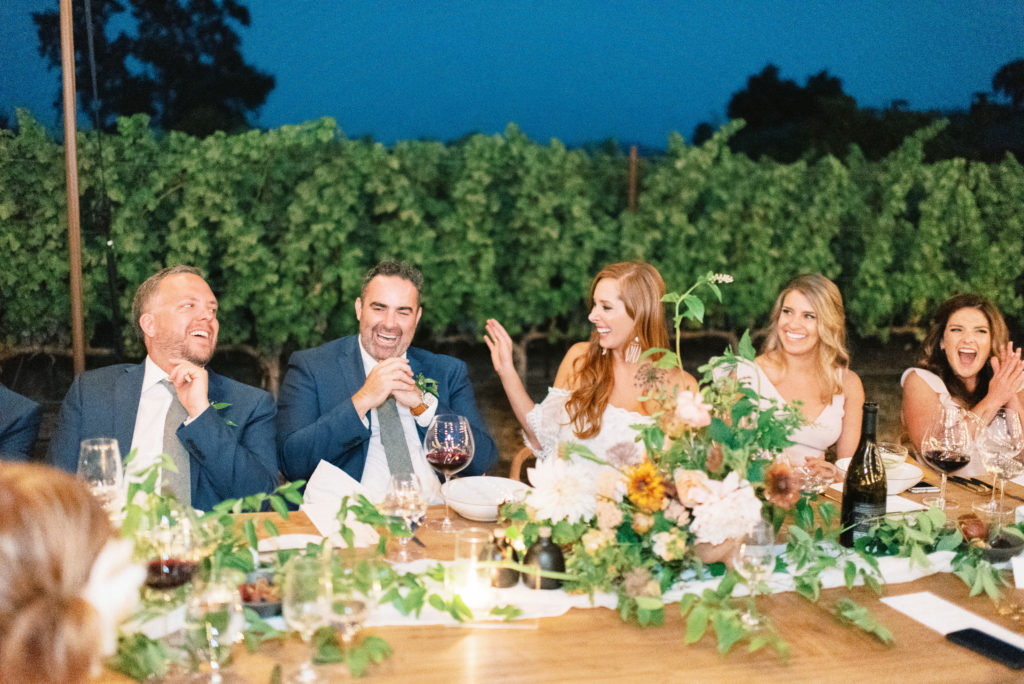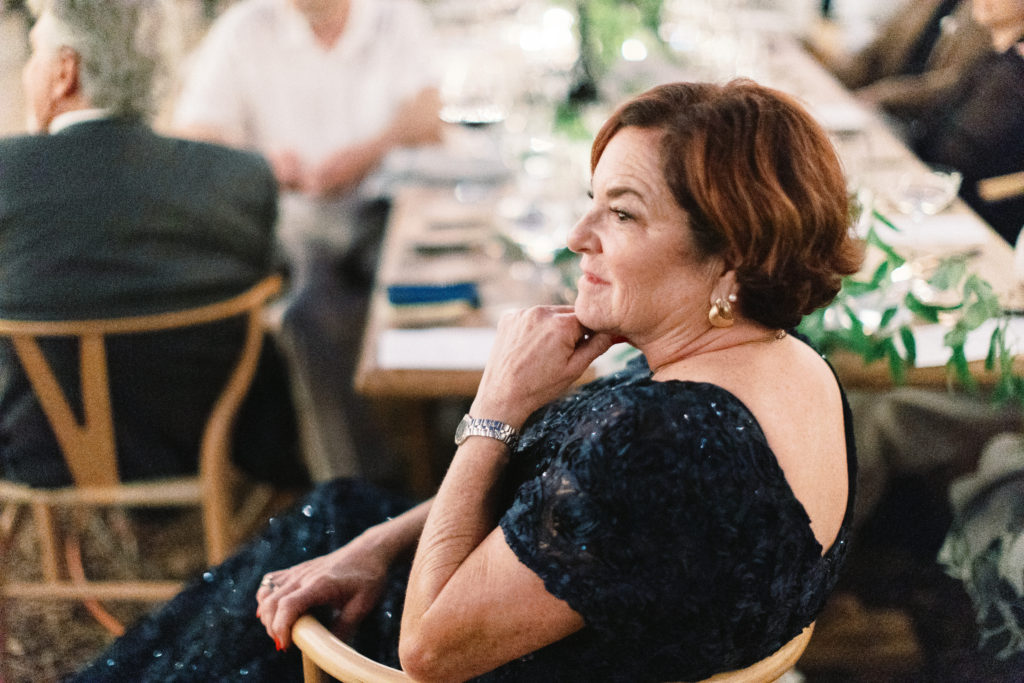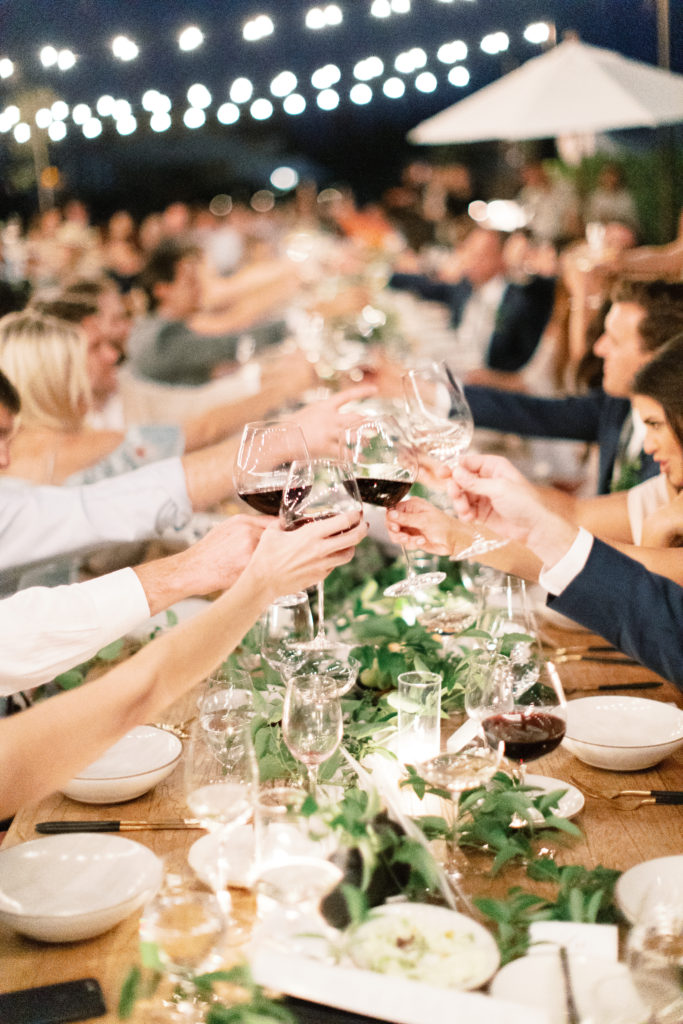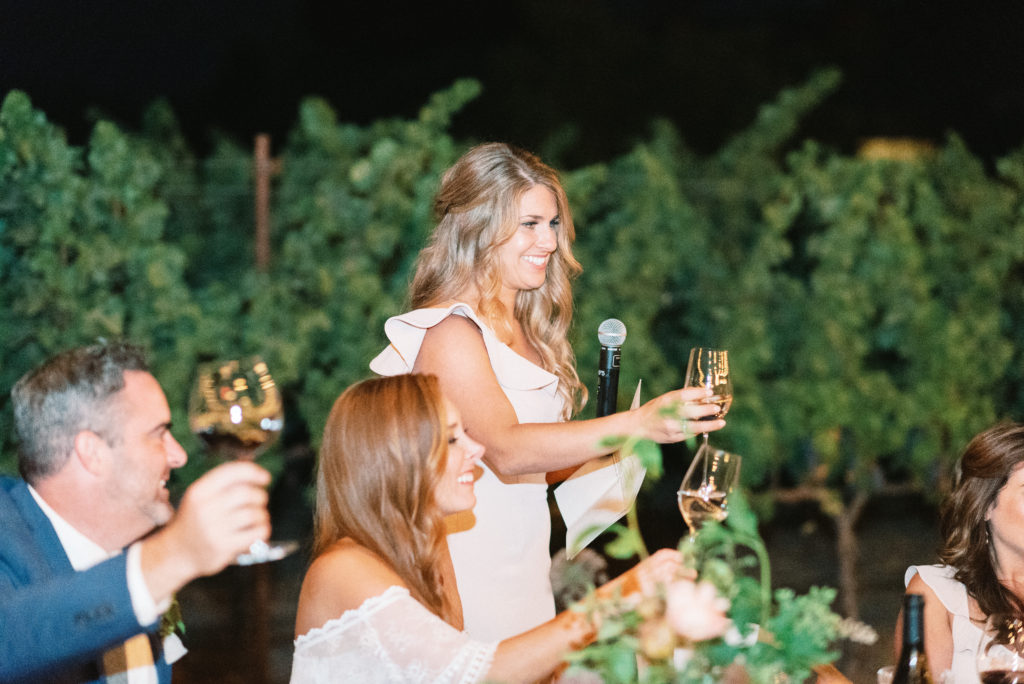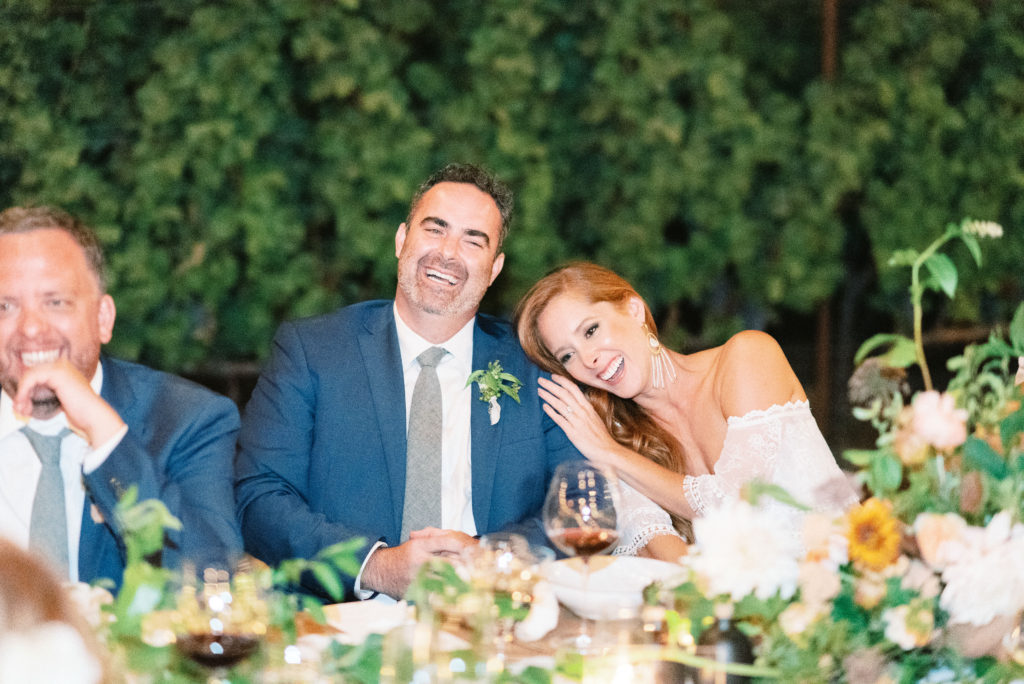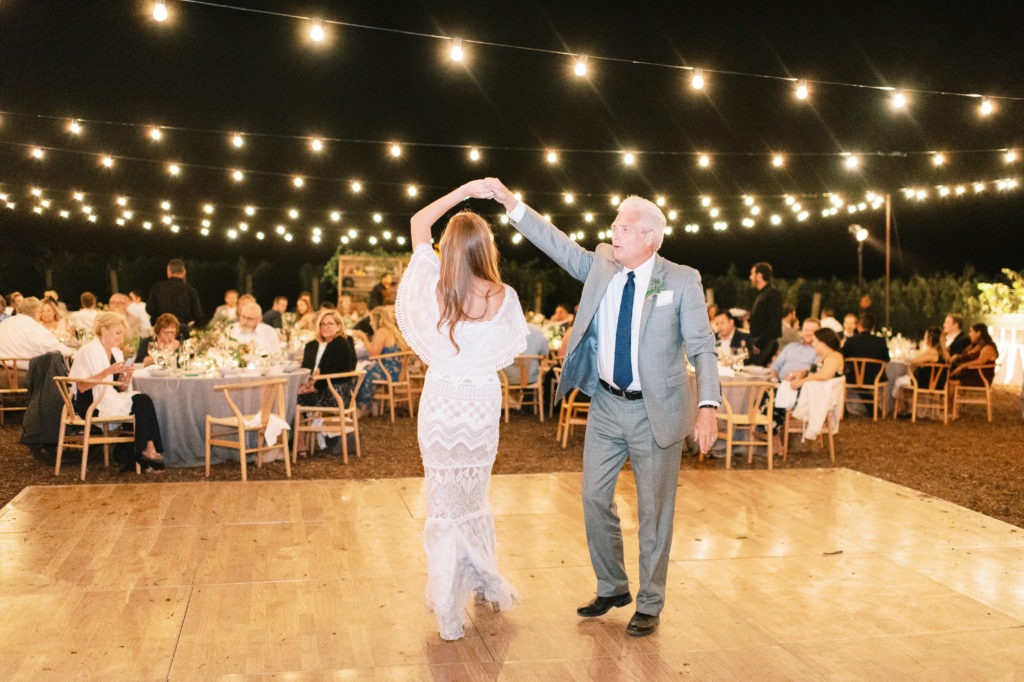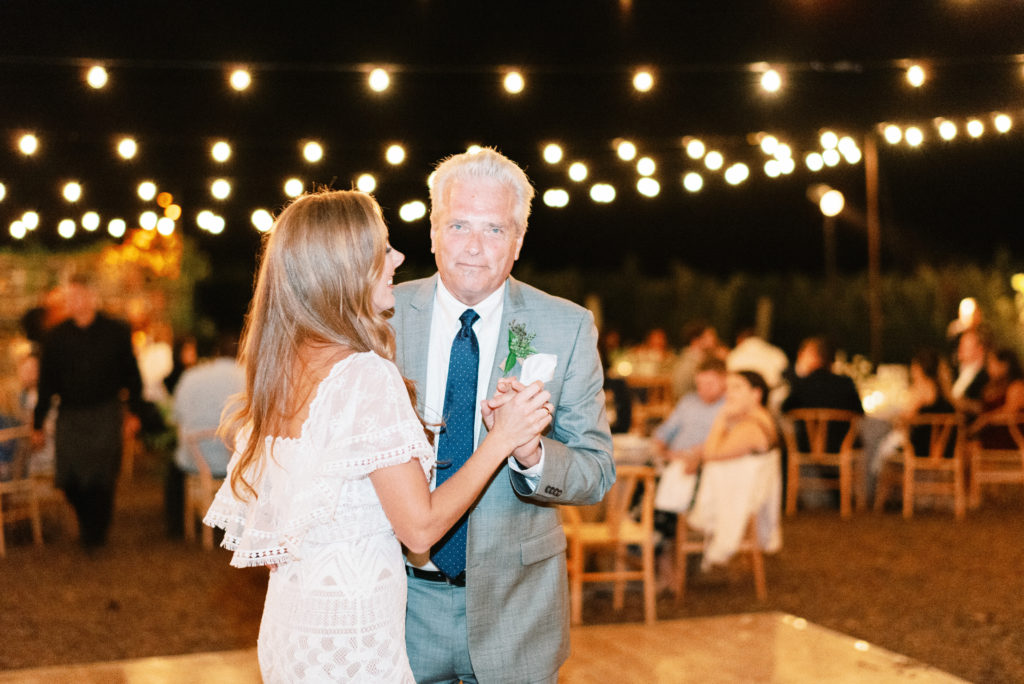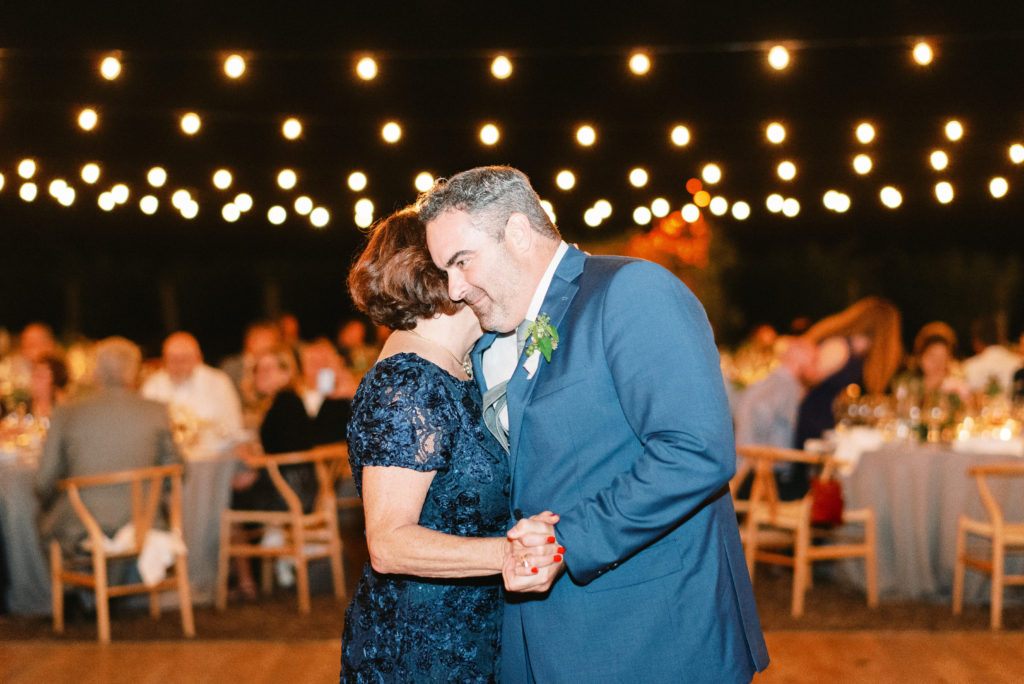 Elmer Abapo came out later in the evening and serenaded the crowd at the after party. Jake had seen him perform in Las Vegas and knew he had to have him at the wedding! He is a phenomenal performer, we highly recommend you checking him out!!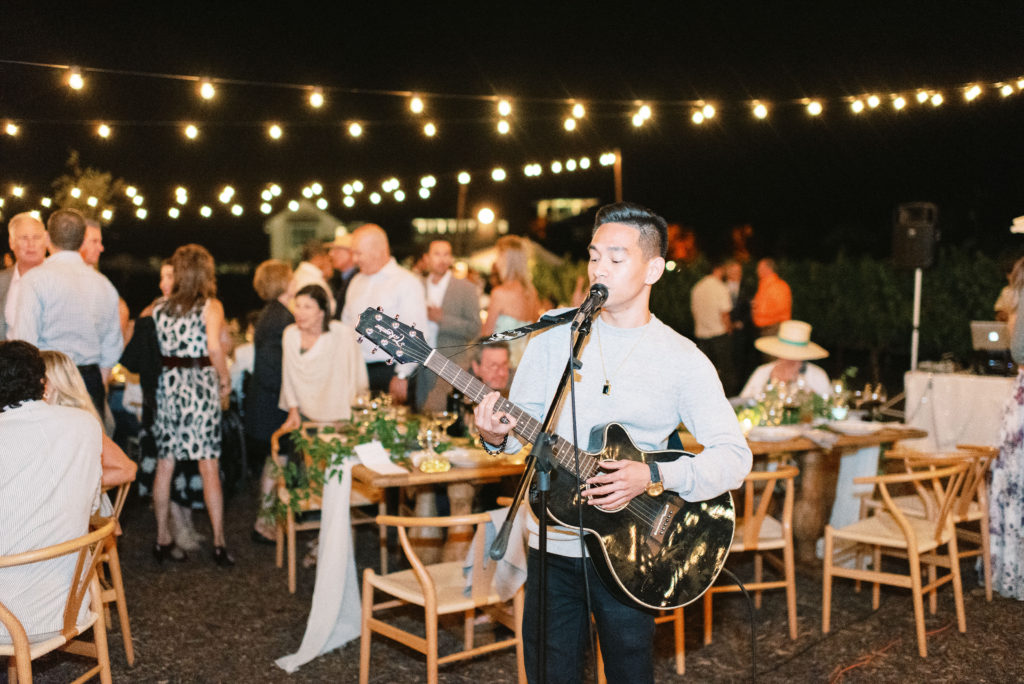 And the dessert display!! Love their hashtag too, #wineknotgetmarried – a nod to One Hope Wine's hashtag #winenot. All of the desserts are by Sweetie Pies, a local bakery to Napa Valley.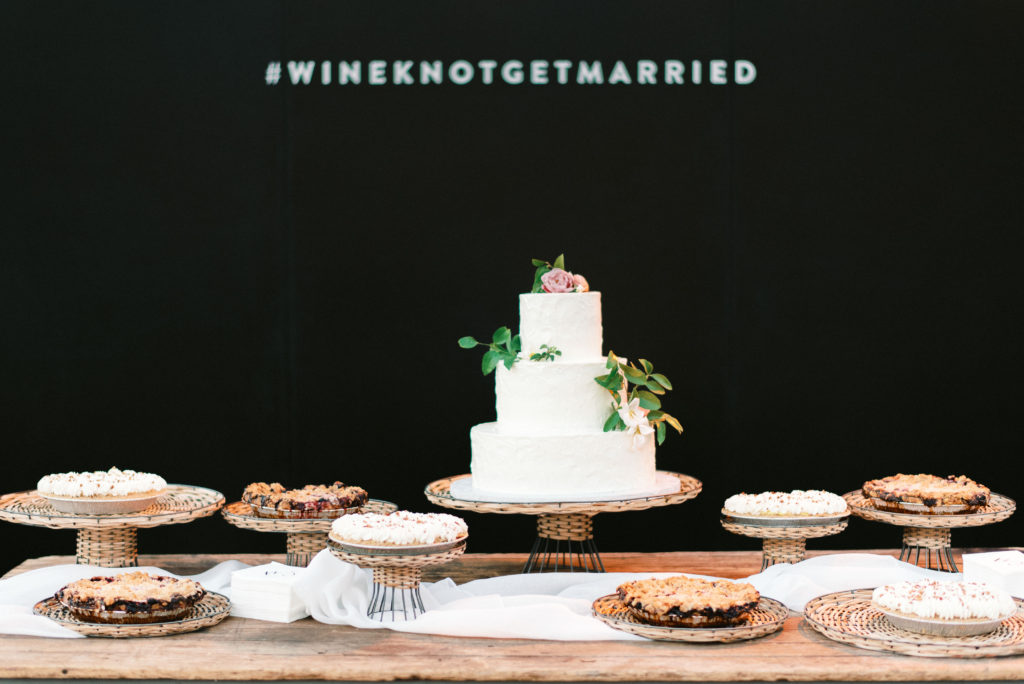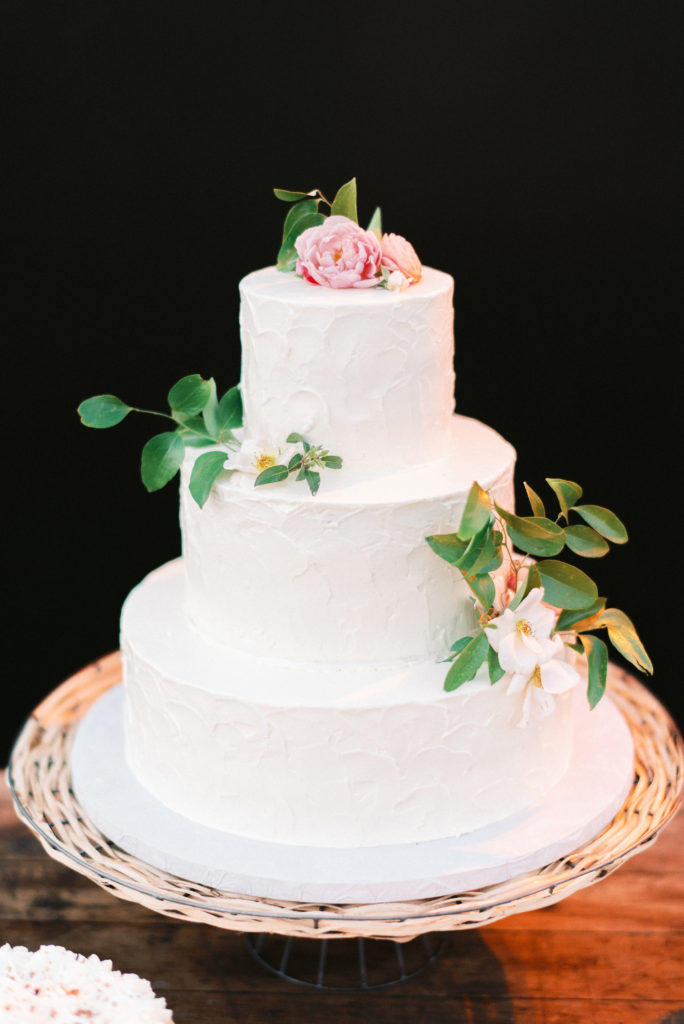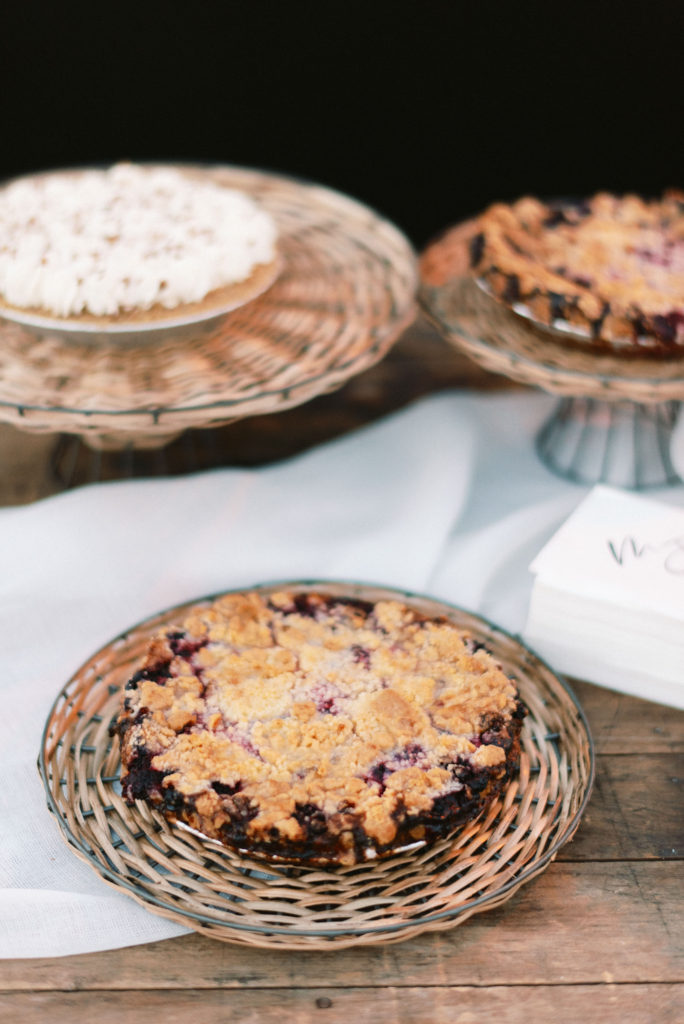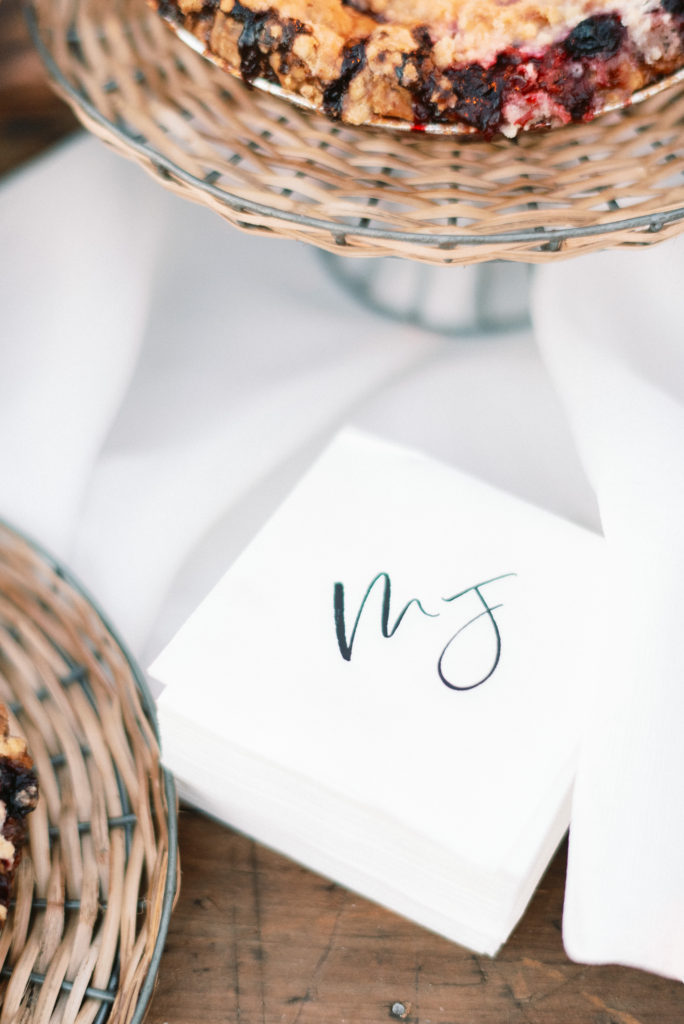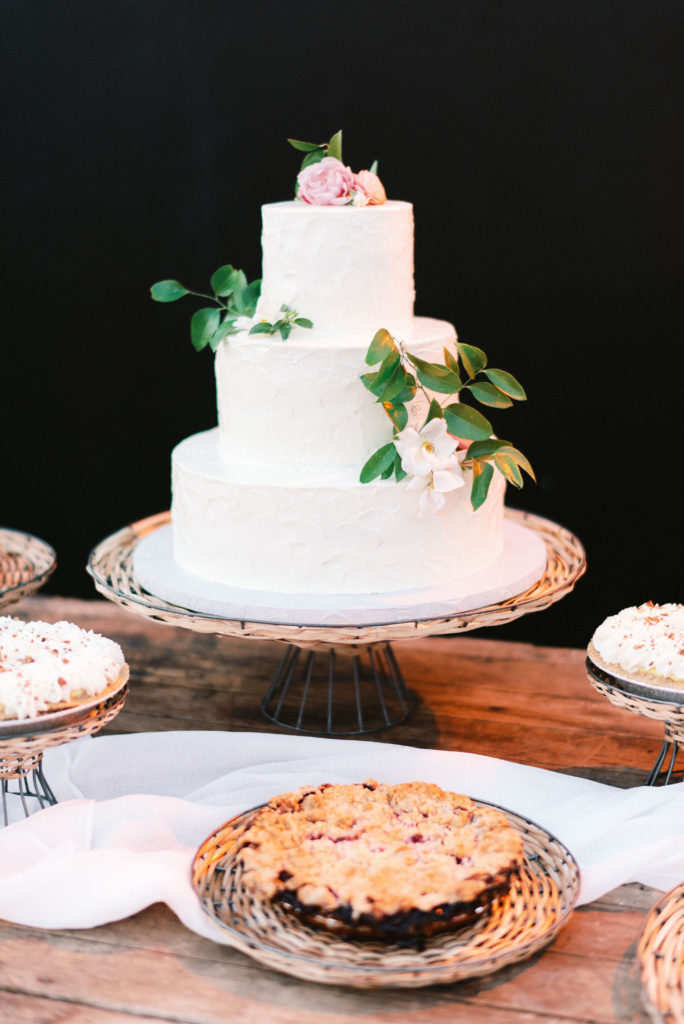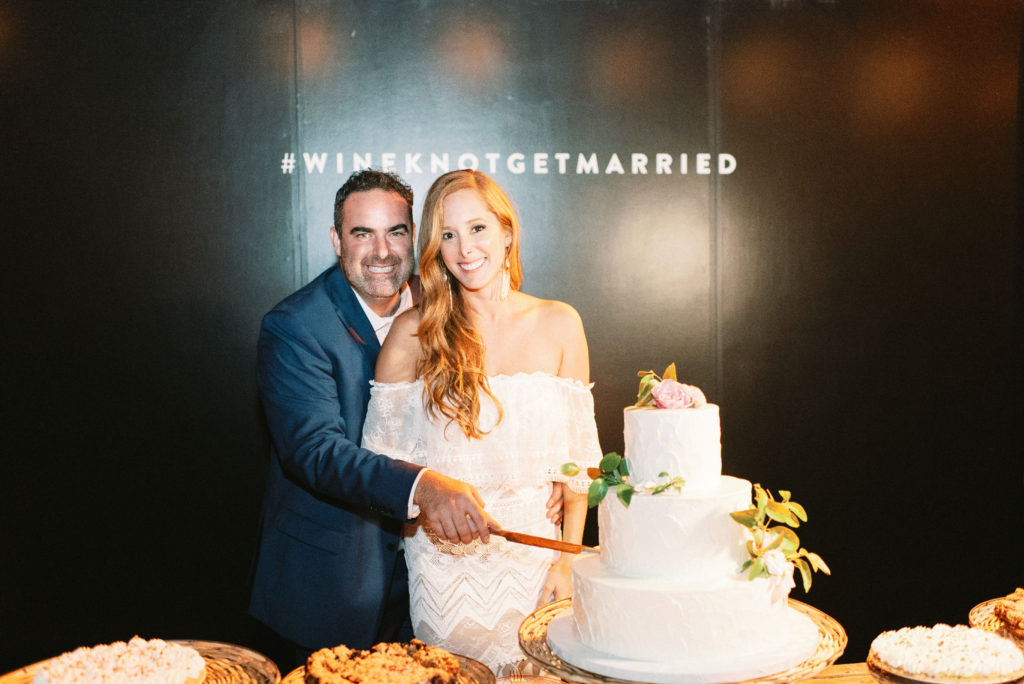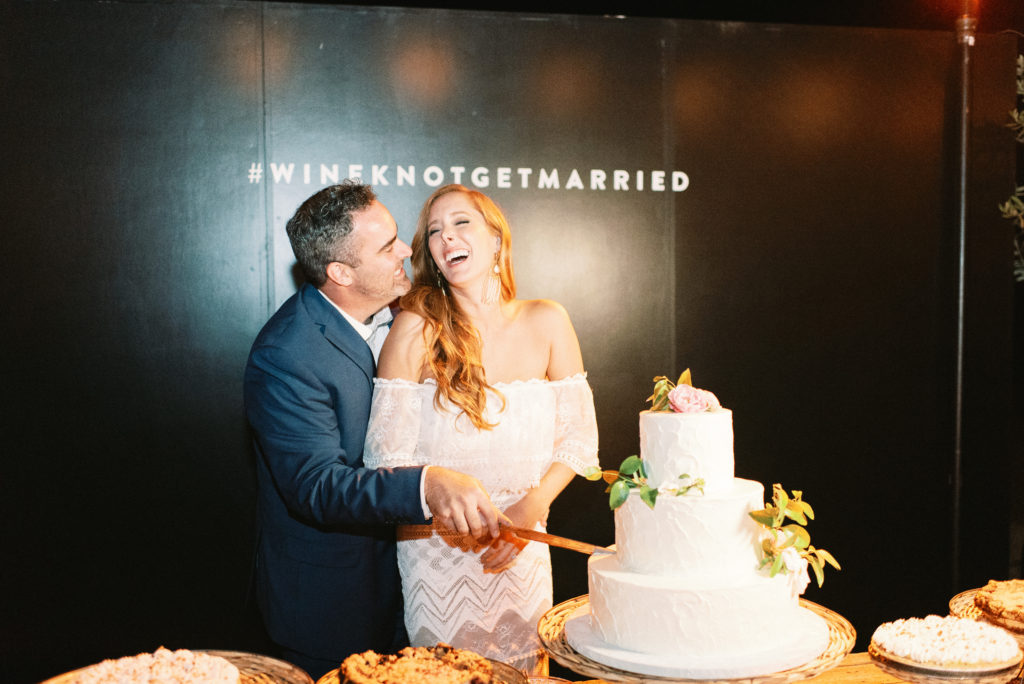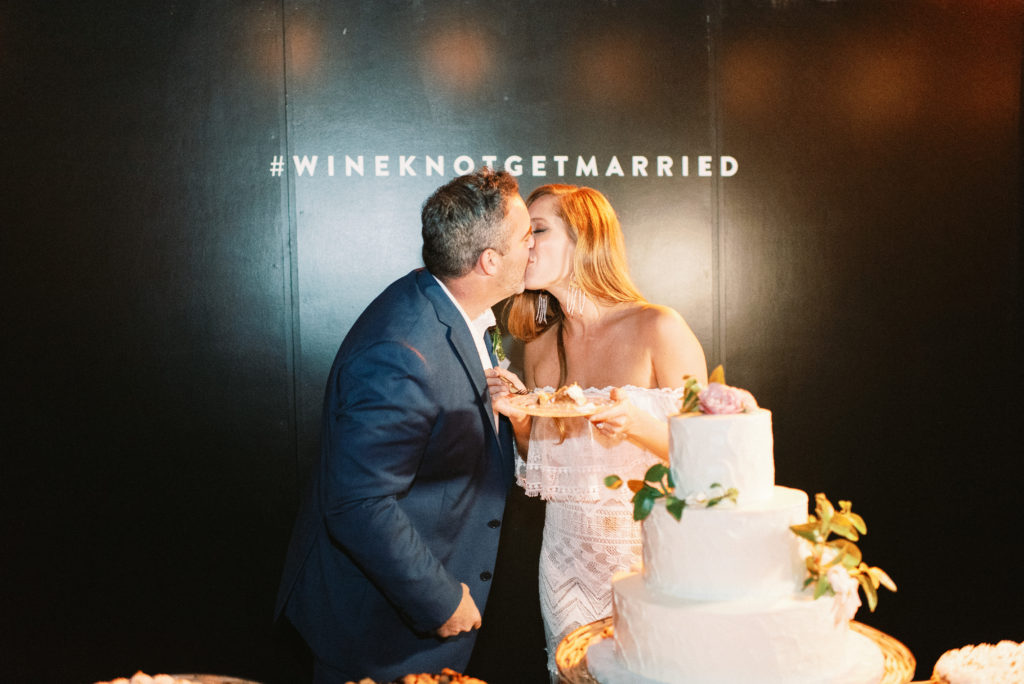 Lots of dancing ensued and ultimately a really amazing after party back at the house!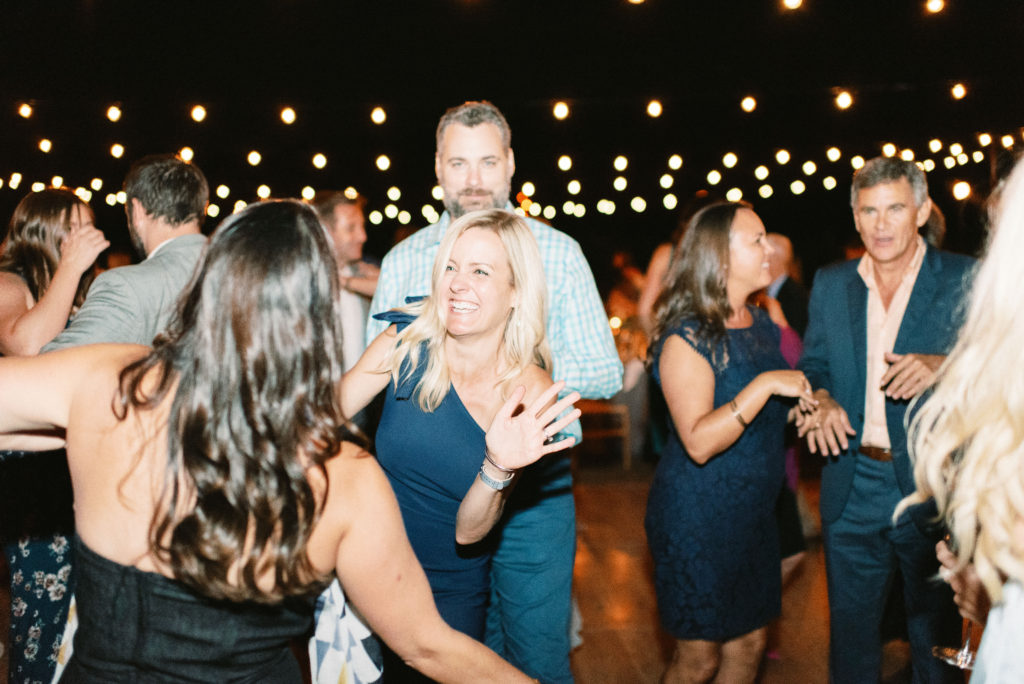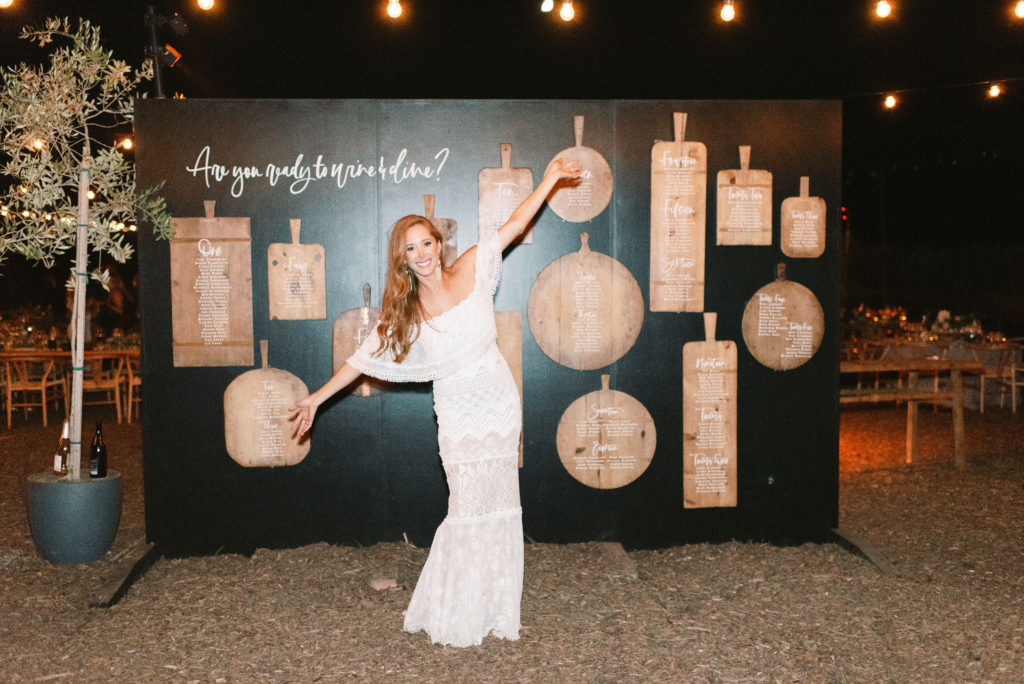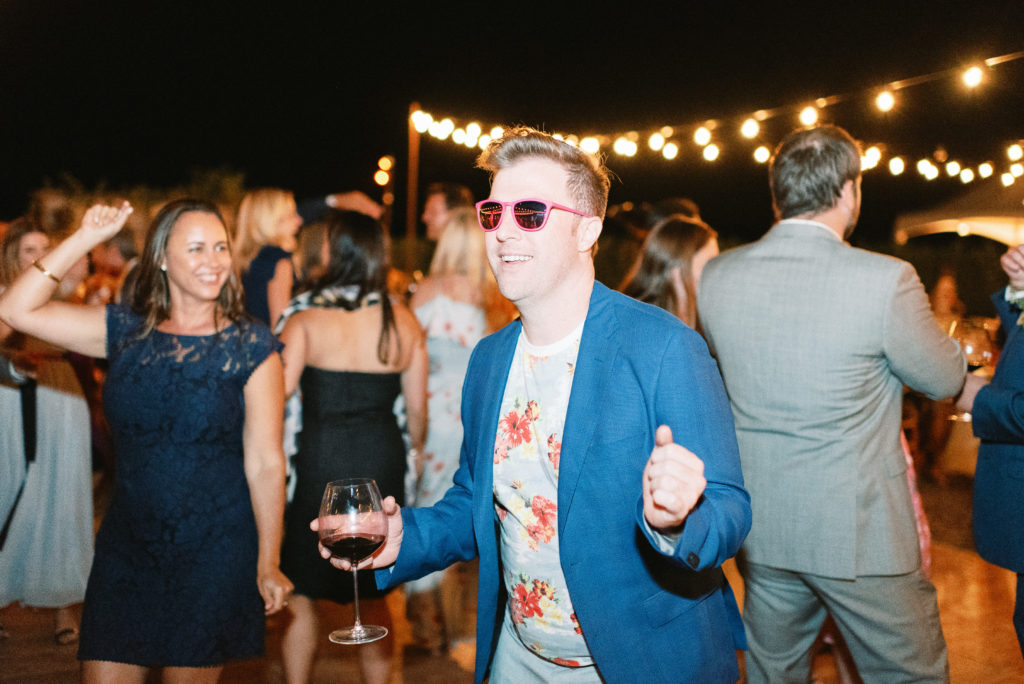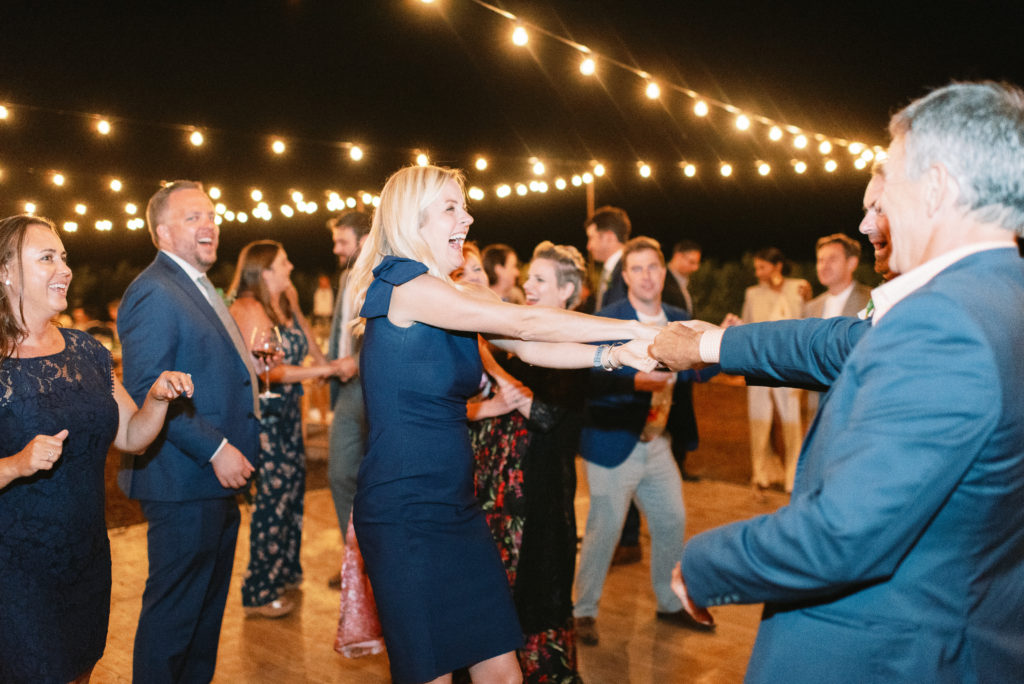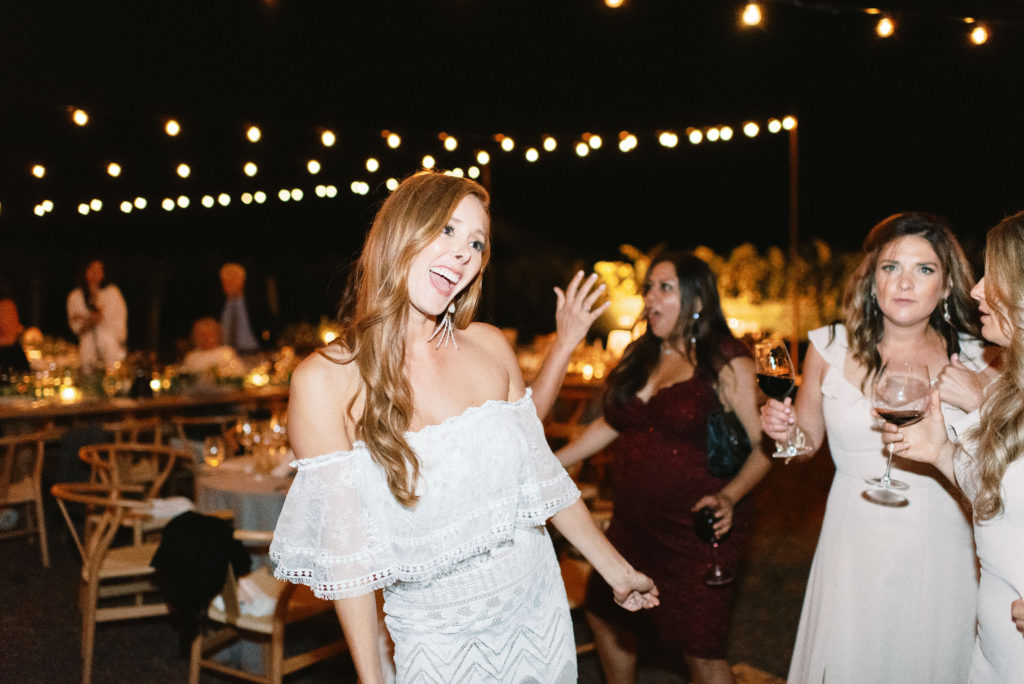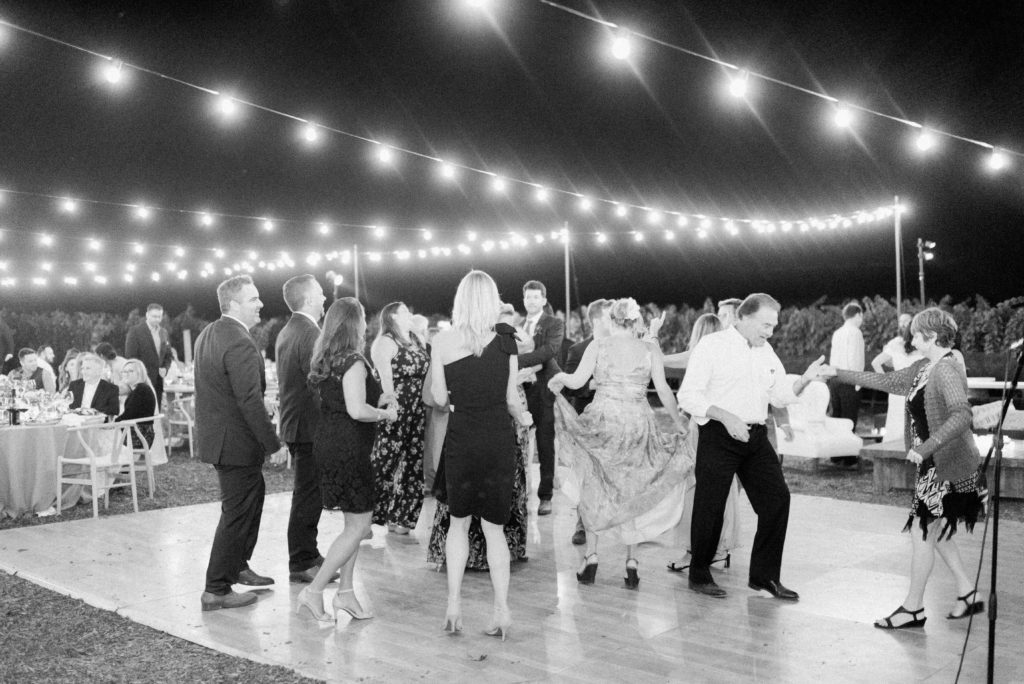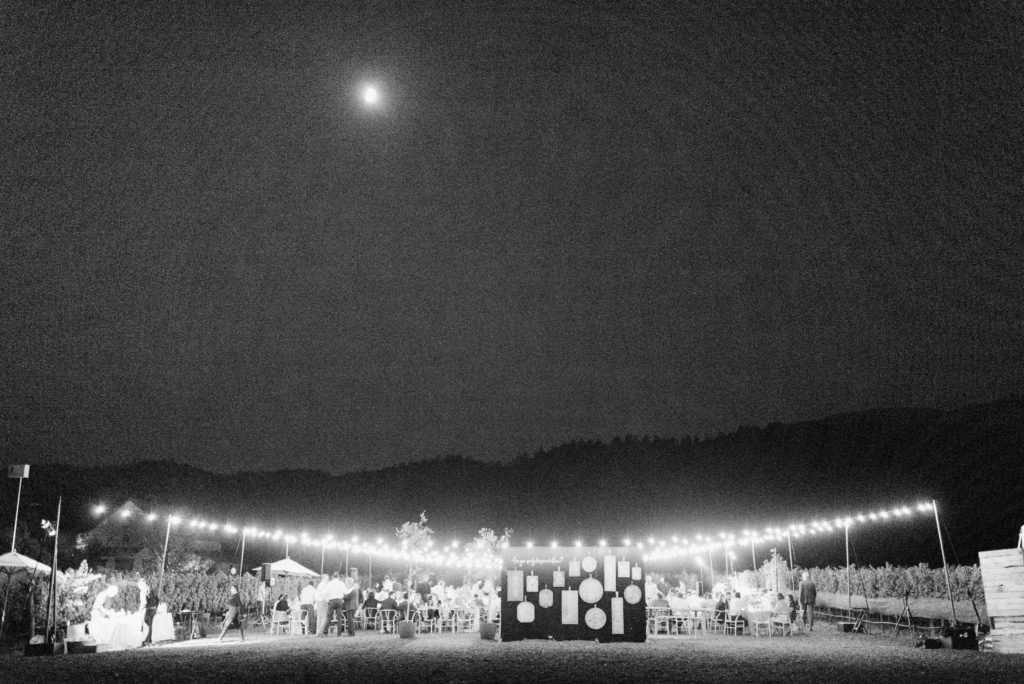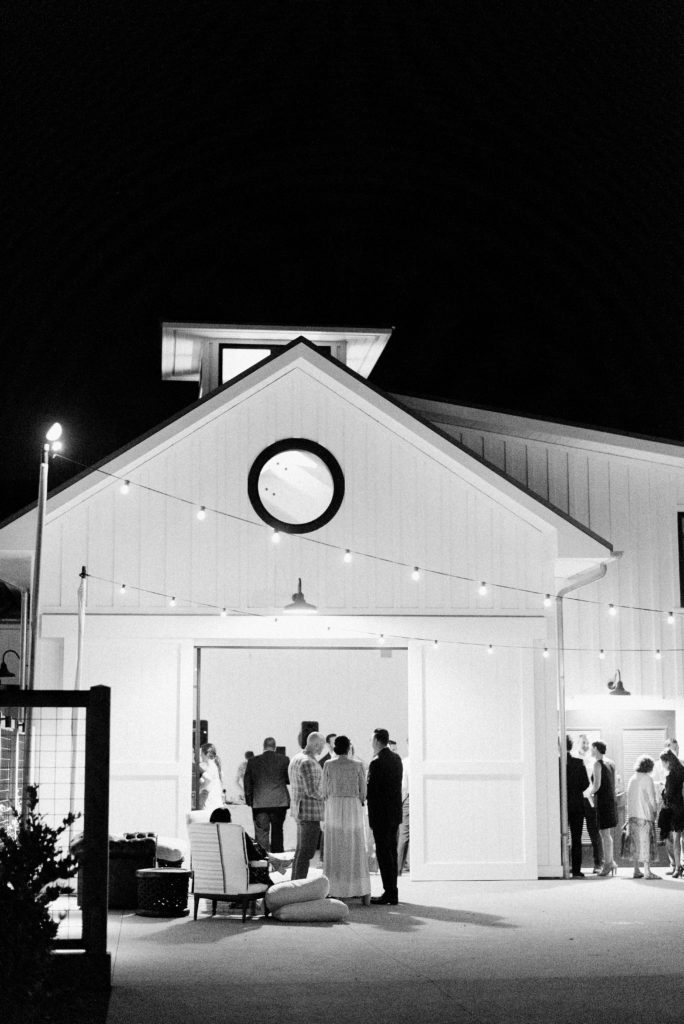 This truly was a magical day for a magical couple and we feel so happy to have been a part of it!! Hope you enjoyed this one as much as us, it definitely goes down in the books!!!
xx
Jacquelyn