The New Year is the perfect time to start fresh and rid yourself (or at least try) of bad habits.
One of our biggest resolutions for 2015 is to eat healthy and take care of ourselves.
We are 3 working moms who are always on the go, and sometimes that can be a lot harder than it seems!  As moms we tend to put everyone before ourselves, not leaving much "me time" for working out or eating healthy.
Insert Ritual Wellness, a healthy and delicious cold pressed juicing company based out of Orange County.  They use 100% USDA organic produce and use a cold pressed method that is proven to yield 3-5 times more nutrients than other juicing methods.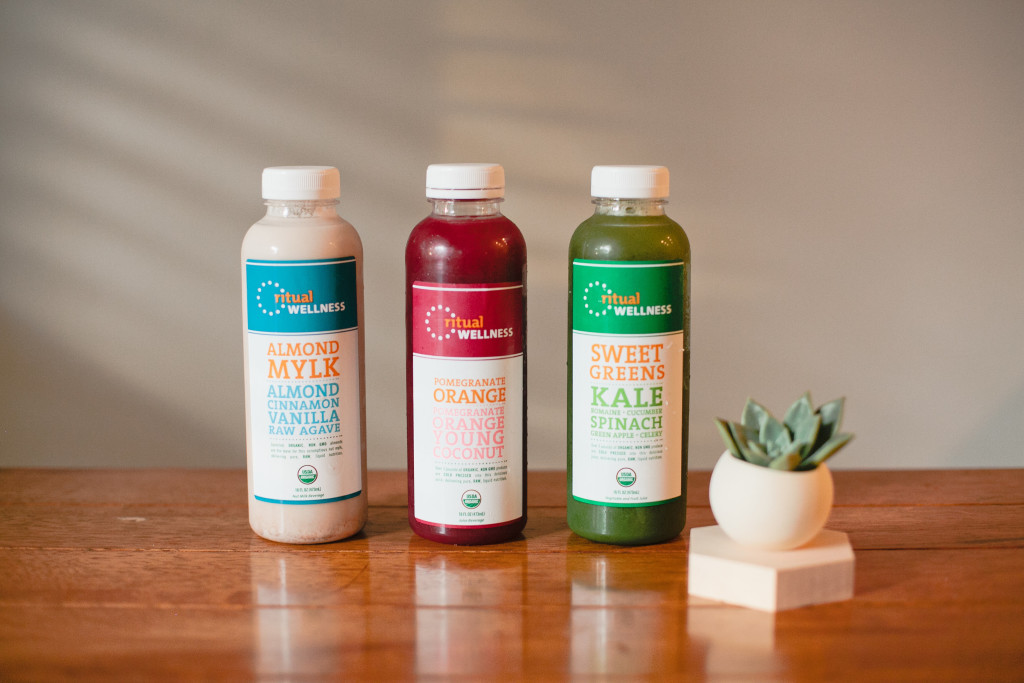 I decided to give Ritual Wellness a try this past week, and believe me I needed it after doing some crazy indulging over the holidays!  It wasn't something I wanted to do to lose weight, it was more an opportunity to re-set my body and clean it out so I could start fresh and feel cleaner.
Being a new mom I find it hard to make time during the day to always have something healthy, sometimes I have to just make something quick – can any other moms relate to having cereal for breakfast and lunch?!  It was nice having the juices because I had my whole day ready for me and didn't even have to think about what I would be eating, I could focus on my little guy and have the accessibility to my meal right at my finger tips.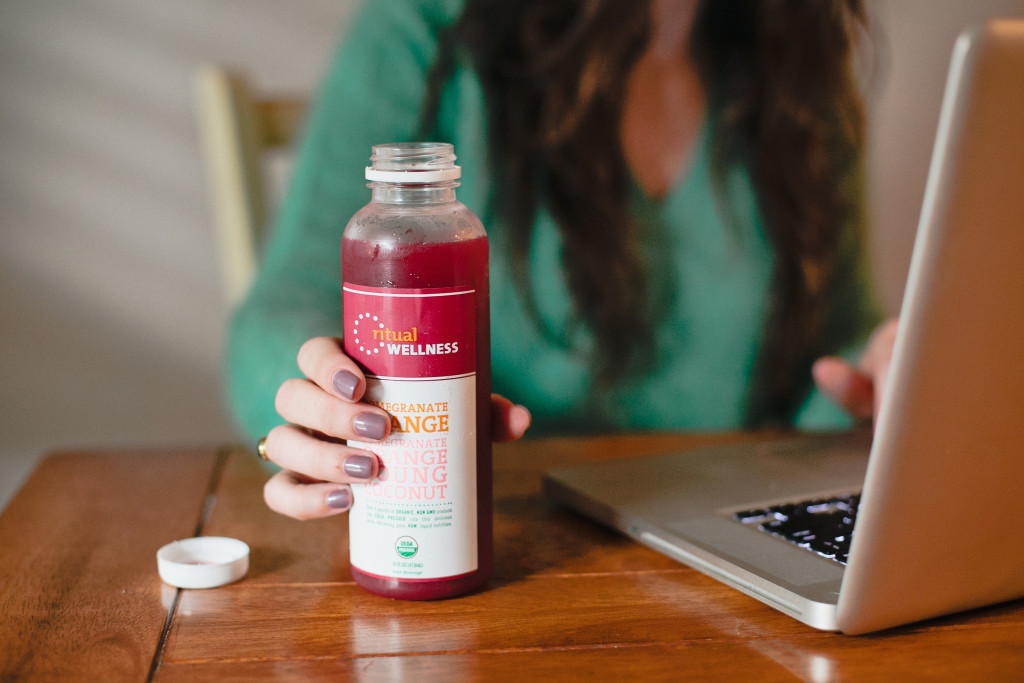 Ritual Wellness has "Juice Boxes" scattered around the Southern California area, but they also can deliver directly to your home, how great is that?!  So many people make their goals and resolutions at the beginning of the year but find them hard to keep when life gets busy, but Ritual Wellness makes it easy and that is perfect for me!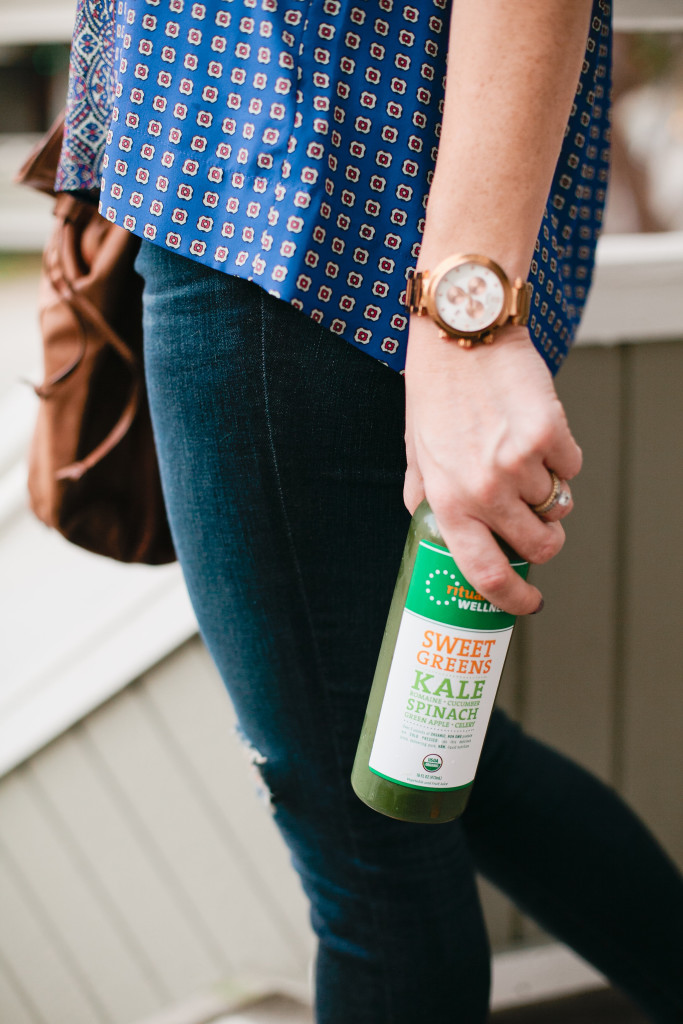 I never really felt hungry while I was doing the cleanse, they really kept me full and satisfied through-out the day and didn't have me craving any snacks.  I did the cleanse for 3 days and felt so amazing afterward!  My skin looked better and I even slept better, plus I lost a few lbs. and no-one is going to find anything wrong with that ;)  All in all, I felt refreshed!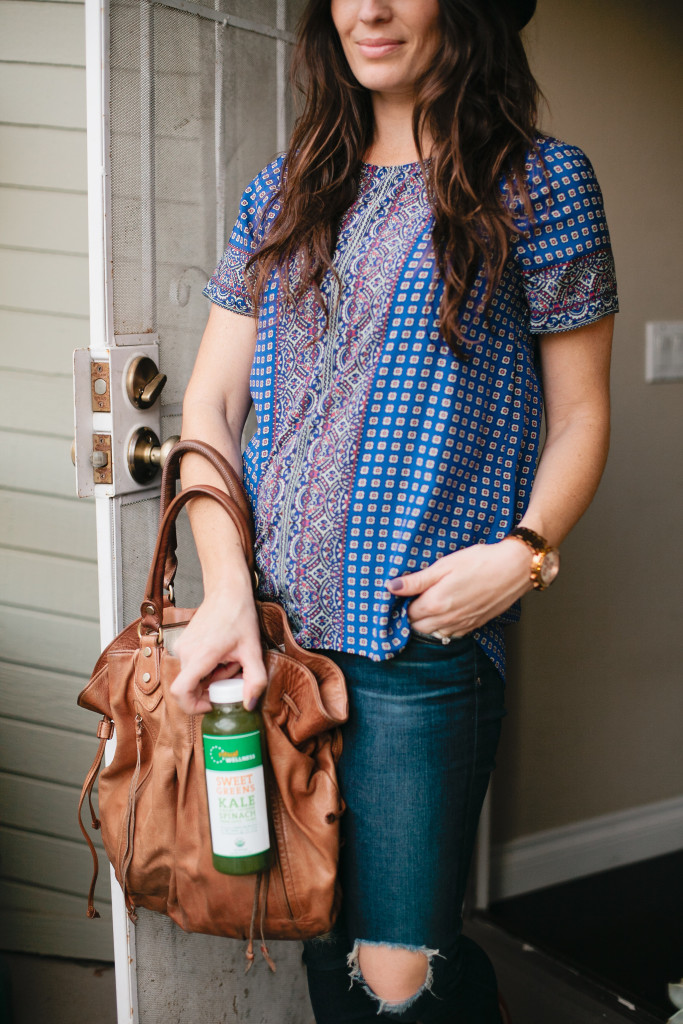 I can't say that I could cleanse every day… A girl has to have her chips and guacamole, right?!  But I definitely think there are times where we are feeling a little sluggish and worn down from the unhealthy habits we all can adhere to, and that is when a cleanse is perfect to clear your body and mind.
We are so excited to offer our readers an amazing giveaway and opportunity to feel just as great this New Year!!  We have teamed up with Ritual Wellness to give one of you a 1 Day Seasonal Reset Cleanse plus 1 Day of Shred – which helps you feel energized and maximizes your workout while cleansing.  This package is valued at $100!!
To enter please follow both @beijosevents and @ritualwellness on Instagram, repost our photo today tagging a friend and using the hashtag #beijoslovesritual.
We will announce the winner on Sunday afternoon and ship out the cleanse next week!!
Good luck and stay healthy!!!
To read more about Ritual Wellness, juicing and the benefits, click here
All photos by Megan Welker