There once was a day where we had full-time corporate jobs, and sweats and sandals were not in rotation for the work week. Since becoming stay at home working moms, many days we are just trying to sneak in a shower. There are even some mornings, where brushing your teeth, just doesn't happen. Real life, you know it. We still try to wear cute outfits, but of course, they have to be very practical for playing at the park, running errands, and for some of us Beijos ladies getting spit-up and food thrown at us. The most important thing here ladies is you can't fall down the rabbit hole and lose your sense of style. Keep it fresh with your style, makeup, and accessories. You don't' want to be that mom at school pick-up still wearing your PJ bottoms with no makeup. Plus, you never know when you will run into someone at the grocery store or the mall. Most importantly, we still gotta look good for our man when he comes home from work, right?!
Here are three styles that we Beijos ladies wear on an everyday basis.
Abby's Photos by Yasmin Sarai
Jacquelyn's Photos by Ariane Moshayedi
There is no secret that a good pair of black leggings is a mama's best friend. These bad boys aren't just for working out anymore. Versatile, comfortable, and can be worn all year long- they are a must. I have tried numerous brands, and just last week I finally found the perfect pair! FINALLY! The Align Pant II from Lululemon Athletica is the real deal. A no-dig high waistband and the lightweight barely-there second skin fabric will have you wanting to get five pairs. I have multiple pairs of Lululemon leggings, and the Align Pant blows the other pairs out of the water. Along with the leggings, I like to go simple with a white shirt on most days. I'm a sucker for the monochromatic mama uniform. The We The Free Pacific Thermal from Free People adds a twist with its cropped look. Paired with Birkenstocks now that the sun is peaking out these days. When it's just me and I'm out running errands, I like to use my double zipped crossbody bag. Leave the mom purse at home. Of course, always with me is my Wyeth Sunnies. Never leave the house without them.

If I'm being 100% honest, there are lots of days where I don't have time to shower! Haha! This is my reality right now with a 2-year-old and a 6-month-old. But most days I do try my best to look somewhat put together, mainly for my own sanity, ha! Somedays I miss the days of getting ready without the kiddos and getting all dolled up, but wouldn't change anything if I could. For me, comfort is key, so you better believe I'm all about those leggings. Very typical mom style, I know. My go-to favorite pair of leggings are by David Lerner. I've been a big fan of David Lerner for quite sometime and love how thick the fabric is, they are such amazing quality. I wore their maternity leggings throughout both of my pregnancies. Now for what goes on top, this ranges all the time. I do lots of t-shirts, sweatshirts, sweaters, you name it. But most of the time it's something simple and easy to breastfeed in, bc let's be real, that's my life! I found this cute short sleeve sweatshirt by Sincerely Jules at Nordstrom and had to pick it up. Love the color and that it would really go with everything. Next up, my favorite checkered Vans, my husband makes fun of me for how I live in these suckers! Another must have for me with my mom style is a backpack! I never realized the convenience of a backpack till I had Court and now I can't get enough. It's so amazing to have two arms/hands-free while chasing after a toddler and tending to a baby. The Hendrix bag from Cleobella is my favorite, it has a boho vibe and fits everything I need in it. Most of the time it's my diaper bag too! Us moms even make our purses multi-task!! The last thing are my Wyeth sunnies, and then I am good to go!

Sunday's in our house are all about slow mornings followed by some park time and then a trip to the grocery store to stock up the week's school lunches. My Sunday morning routine usually includes these Amuse Society Asher Pant and a cami or my favorite v-neck tee from Free People. These aren't any ordinary pair of sweats, the Asher Pant comes in a cool tobacco color and are beyond soft, plus the fringe detail just seals the deal. Another pair of sweats that are on the Sunday morning rotation is these Free People Everyone Loves This Jogger. I sometimes sleep in these if it's a cold night, super soft and cozy. When it's time to hit the park, I throw on my favorite vans and denim jacket. Grab those sunnies and my Cleobella clutch and off to start Sunday Funday !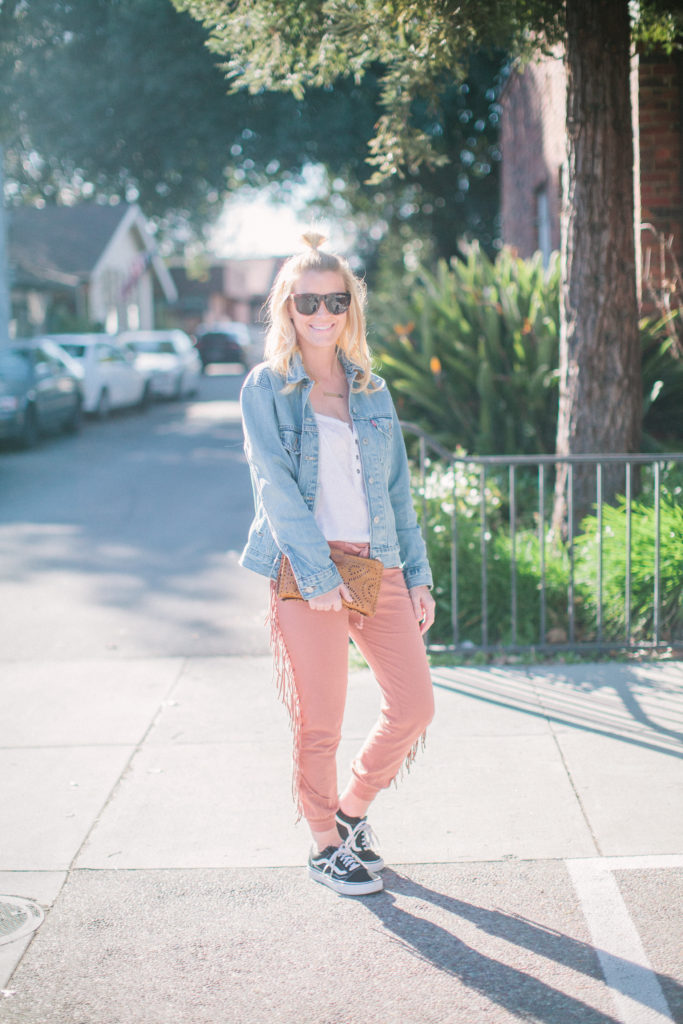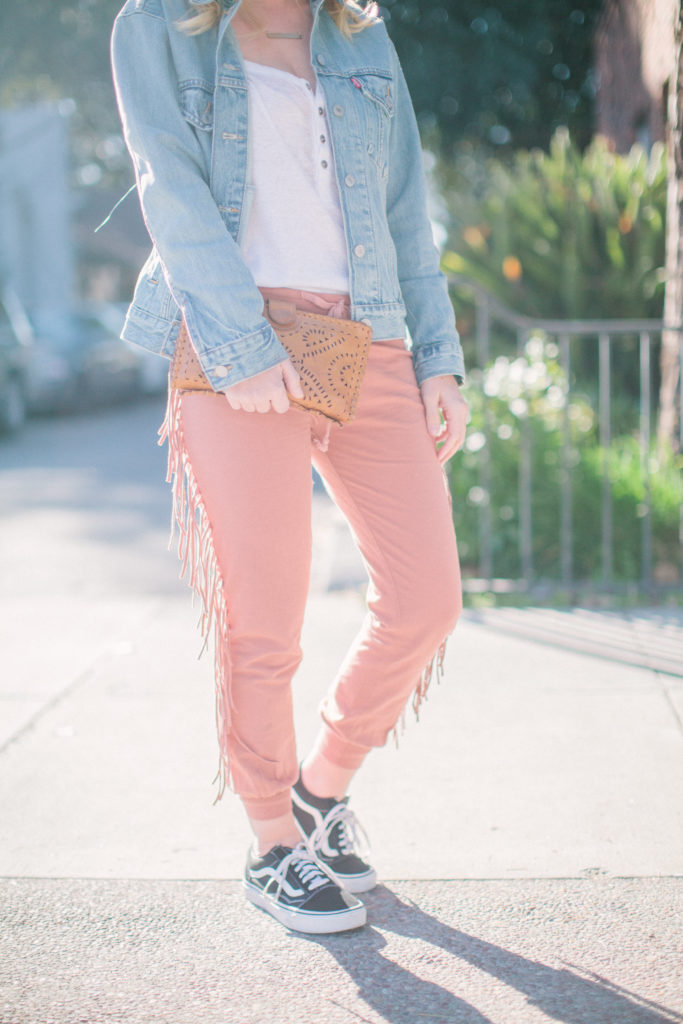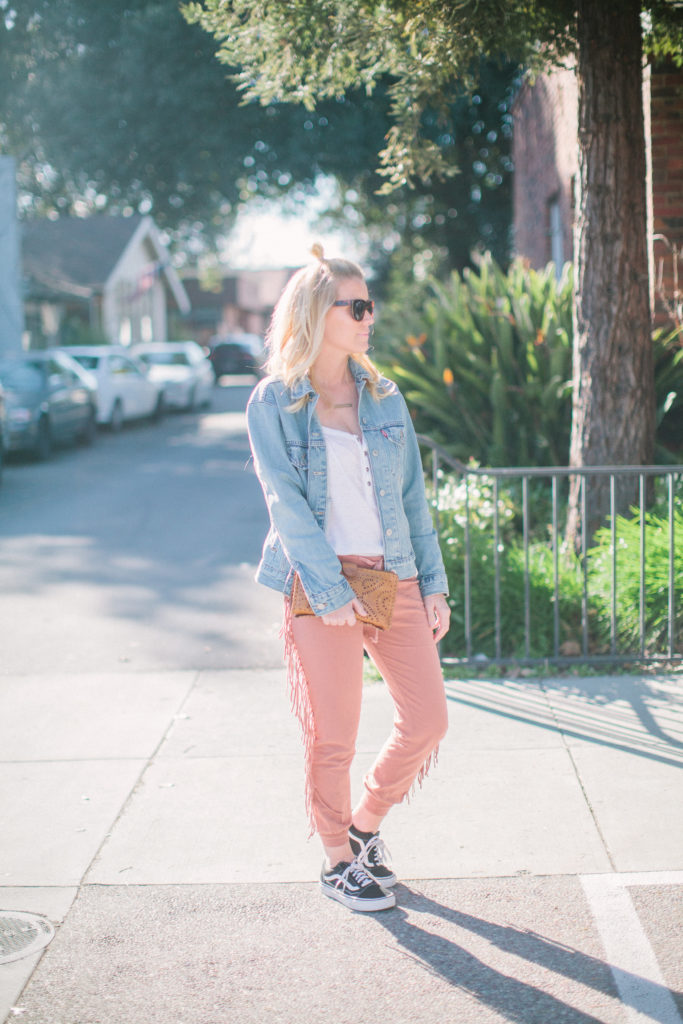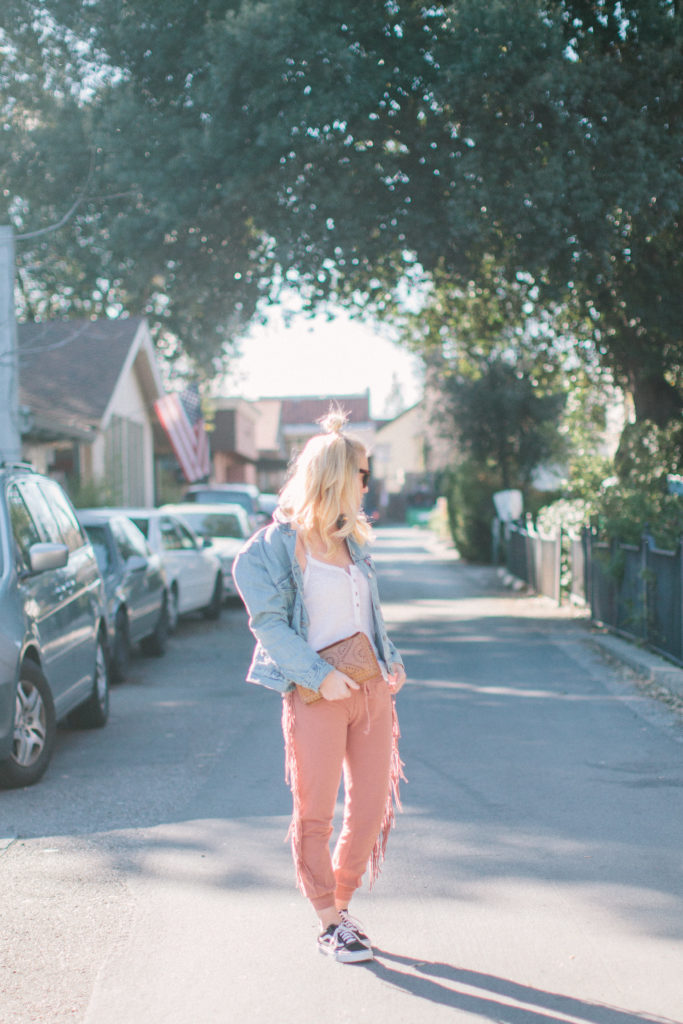 Shop Abby's Look #2

xx
Abby