I'm so excited to gush about Nikki today. She is my new girl crush of the month. As you know, I recently made a move up to the Sacramento area. Moving means not only new friends for the kids but also us parents. Along with new pals, new relationships with industry folks are being made. Nikki is the owner of Lamplight Lettering, and she is a major babe. I reached out to her online to collaborate with me on a fun project that we have coming up. I had learned that she had a fun calligraphy class at our local West Elm in Roseville, and I had to go! Brush calligraphy was something I always wanted to try. It looks so easy, right? Not at all! She is a major bad ass and what she does.
Photos by Susannah Gill
This was a beginners course for the basics of brush calligraphy. The course covered how to hold the brush pen, applying pressure, and the foundational strokes. We used those techniques to creating lower case letters as well as how to connect our letters into words. Included there were her worksheets, 3 hours of hands on instruction, as well as tracing paper and several types of small style brush pens to take home to practice with after.
I always try to continue my passion for drawing any chance I can get. I have been like that since I was little. There always needed to be a pencil, crayon, or marker in my hand. For as long as I can remember, I was always doodling something. When I heard about this brush calligraphy class, I had to be a part of it. I couldn't say how fun it was to get a pen back in my hand, and how to learn brush calligraphy… which for me is so different than with a hard tip calligraphy pen. I highly recommend all of you to try out one of these classes. Get your creative juices going, and see how you do!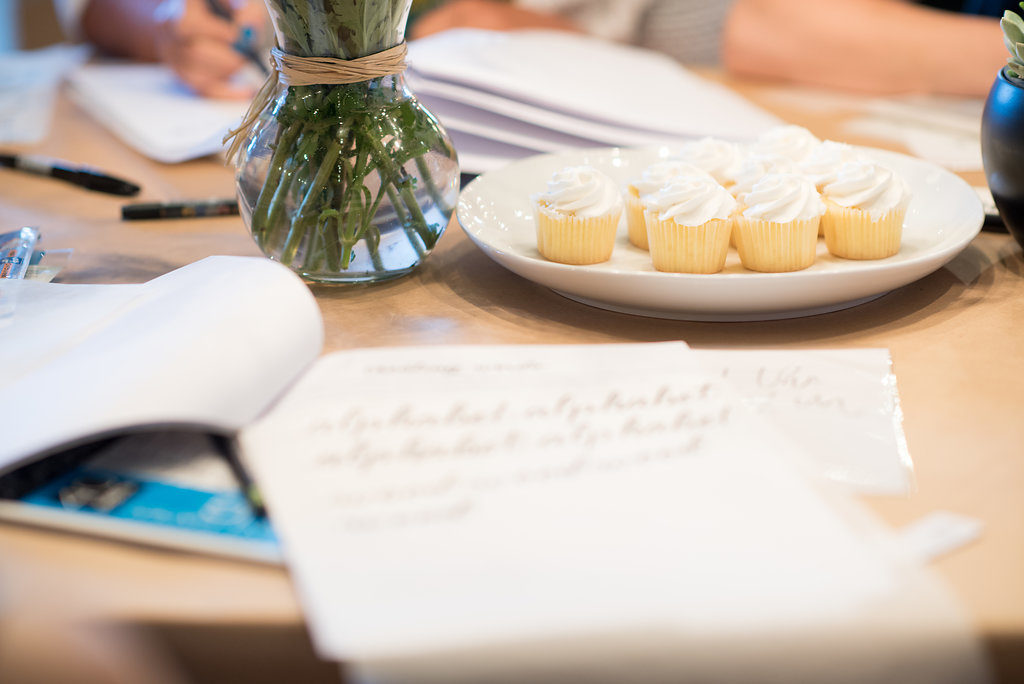 Let's learn how Nikki started herself!
Growing up, I was enamored by my late father's artisanal magic as he painted perfect letters stroke by stroke. I remember the smell of ink and paint coming from his garage studio. He ran a small business doing custom painted signs, airbrushing, gold leaf, murals, pin striping motorcycles, airplanes, race cars, boats…you name it, for a variety of different commercial clients. From a young age, I was inspired to hone my own hand-lettering skills just like him.

In January 2016 I decided to become more intentional in my learning endeavors of the art of calligraphy and lettering. As a mom of four children, I found myself in need of a creative outlet. I revisited my love of lettering. With the encouragement of close friends and family, I dove in and started an Instagram account to document my journey. I am blown away by the positive support in the lettering community. Although I have grown up familiar to lettering and sign painting through my dads work, it took on a whole new life to me when I decided to make it my own passion.
Nikki, your class, was so much fun, and I can't wait to be in the front row at your next one.
If you have a project coming up or want to sign up for her next class, contact her here. You will see me there!
xx
Abby