Not much has happened in the Carriger household since we welcomed our little Isla Jean last May.  We've been living our lives and enjoying our new little bundle of fun.  Edie has enjoyed being a big sister, although she hasn't gotten the art of sharing down just yet.  And Damon and I have become accustomed to juggling these two little miracles we have in tow everyday.  We thought we would throw some real fun into our family picture by the ultimate surprise!!  We found out we were pregnant again last December…AHHHH!  We had been going back and forth about the idea of having another baby, although, this was a little too soon…haha.  Damon came from a big family and has never wavered on the idea at all, he definitely wanted three.  For me I was ok just having two, but liked the idea of throwing another little one into the mix.  I thought about Edie and Isla having another life long playmate and partner and that made everything ok in my mind.  Not going to lie, I was stressed!!  I would have liked to put another year in between Isla and this new little one, but hey that's life right, full of surprises and we got behind this one with joy and ran with it.
Since we were on the subject of surprises, I thought it would be fun to have a little intimate gender reveal with this one.  With Edie and Isla we found out their gender at about 16 weeks via ultrasound, which is fun and exciting, but this time I wanted to get our whole little family involved and capture our surprised faces when we found out the gender.  After it was all said and done, I was really glad we had this experience. I think everyone should go through this amazing surprise, whether you have a gender reveal during your pregnancy or wait until the end of the prego road to find out what you have (by the way I really admire the people who can do that…I never could).
In the days leading up to the reveal, Damon and I would talk about what we thought we were having and we were both just convinced it would be another little lady.  That is just what was in the plan for us and we were both ok with that….Damon and Leah and their 3 little girls.  All I could think about was the drama that I was about to endure with a house full of estrogen…eekk!
Just a little background before these pictures…Damon wanted to kill me through this whole process…apparently he hates surprises, haha, and he didn't like that I was making him wait a couple extra days on top of the fact that I wanted it documented.  He was a good sport though and it's his priceless reaction you will soon see.
I wanted to do our intimate little reveal at the cutest and best little bakery in Newport Beach, Sweet and Saucy Shop.  We've worked with co owner Melody Brandon a ton with Beijos and she was happy to house our little party.  She helped me come up with the cake concept, with the light blue and pink watercolor streaks and of course the HOORAY cake topper from Little Cat Design Co.   Melody has tons of cute toppers from them for any occassion!!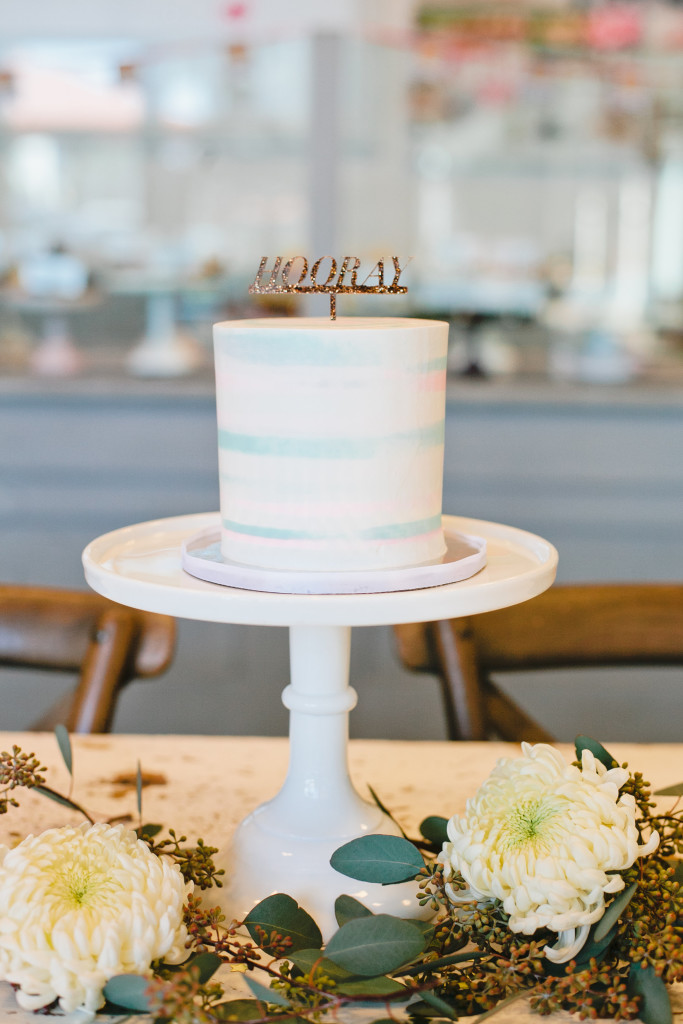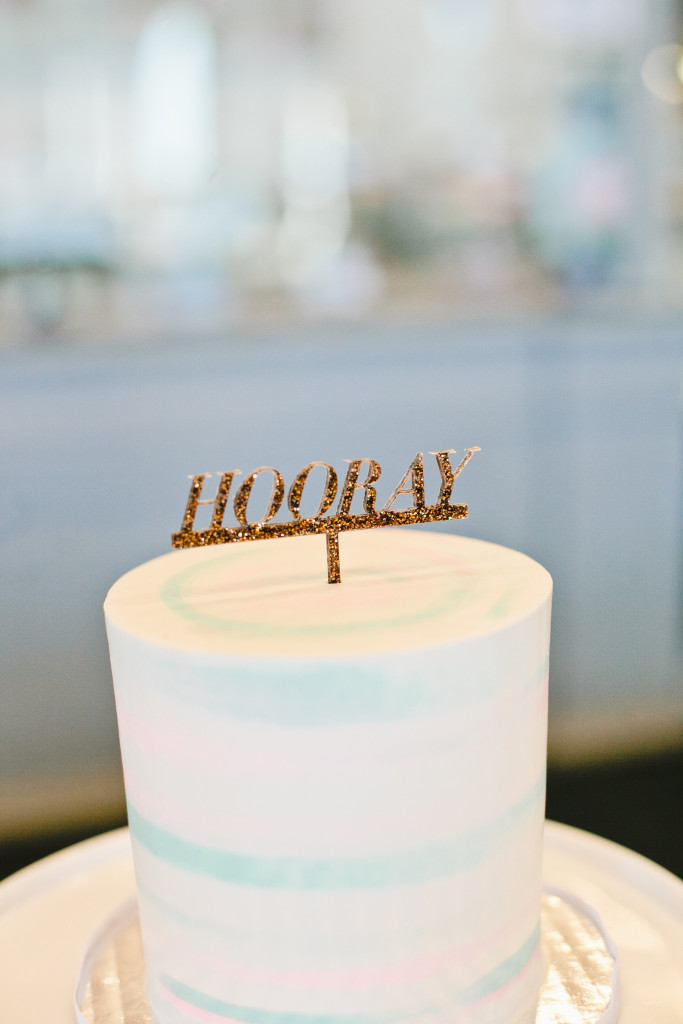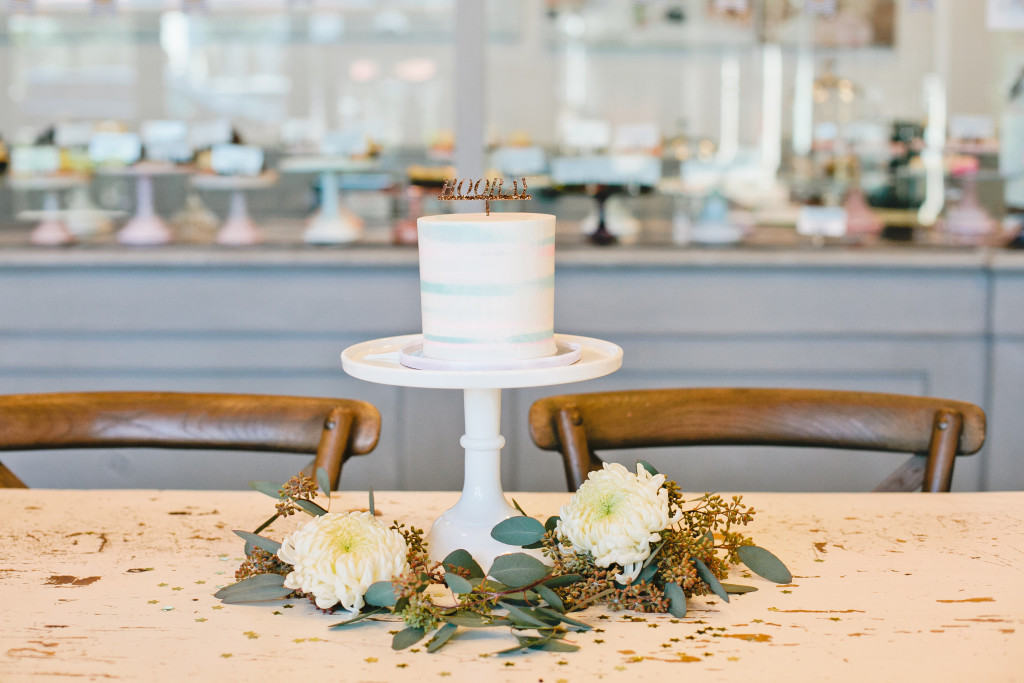 And now onto the good part…we let Edie do the honor of cutting the cake and she was so excited!! She couldn't wait to find out if she was going to get another sister or a brother.  Her prediction was a boy!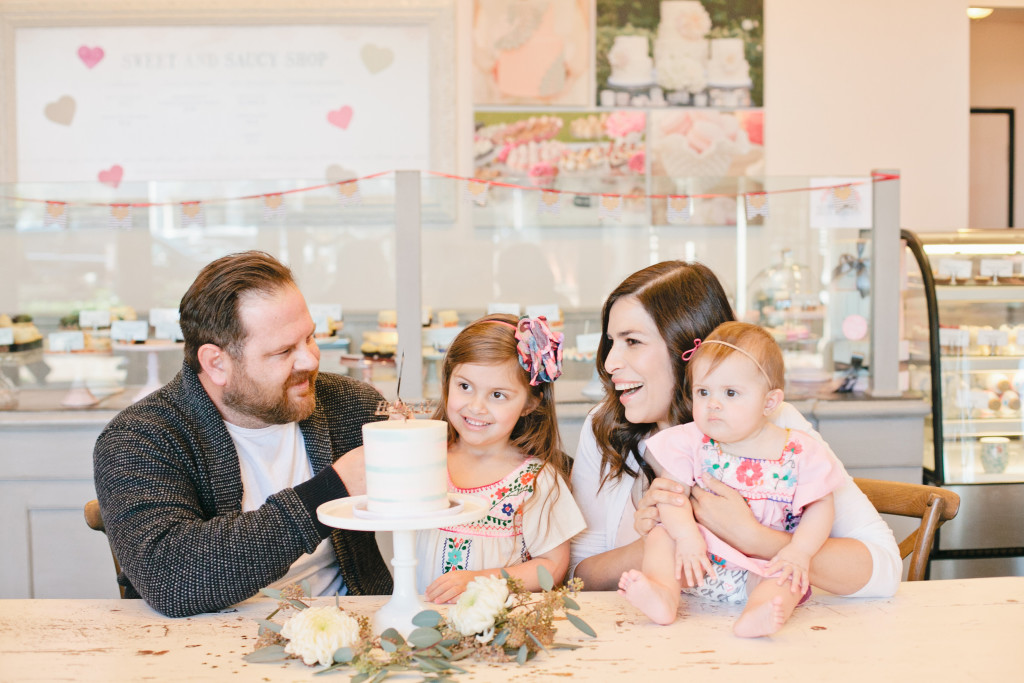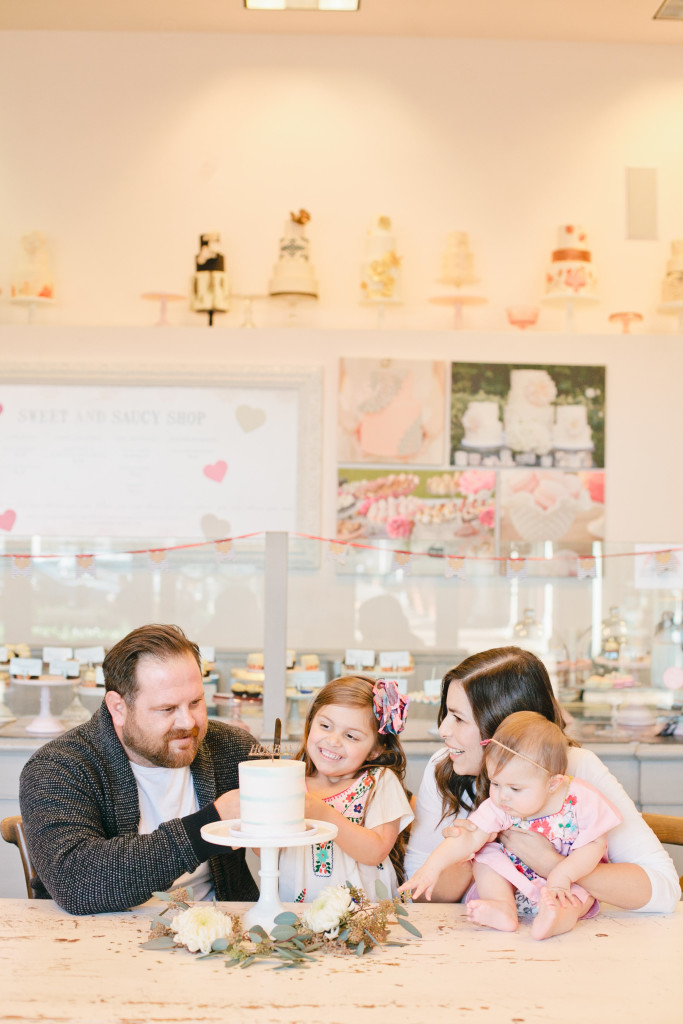 Damon closing his eyes, and turning away because he couldn't deal with the suspense…haha.
It turned out Edie needed a little help, so Damon helped her and took over…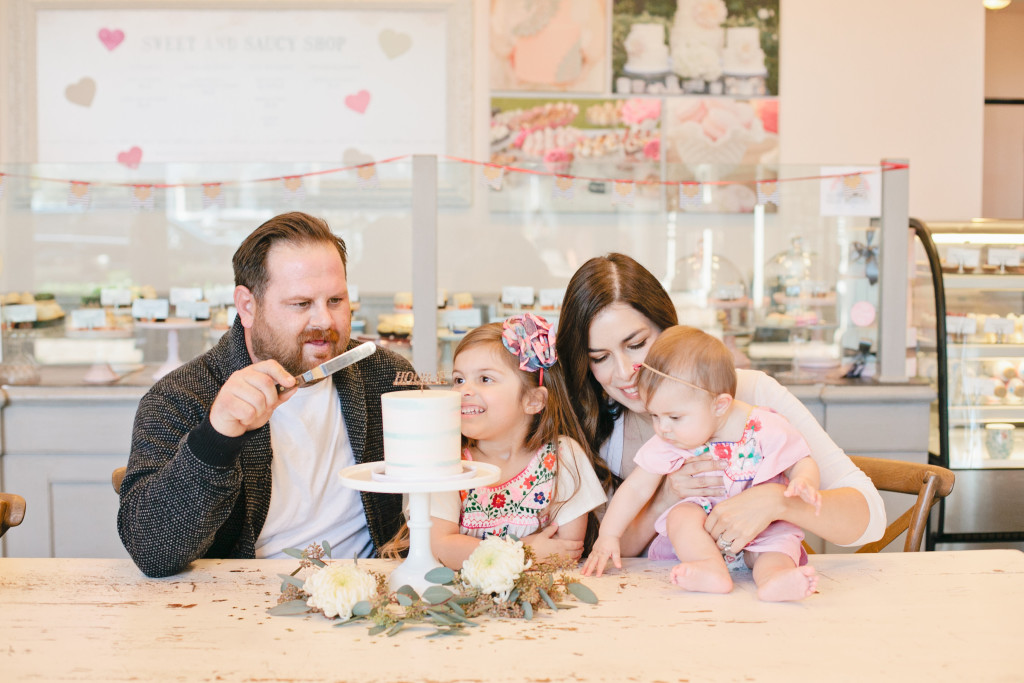 And then we saw it…BLUE!!
We couldn't believe it…we were shocked!!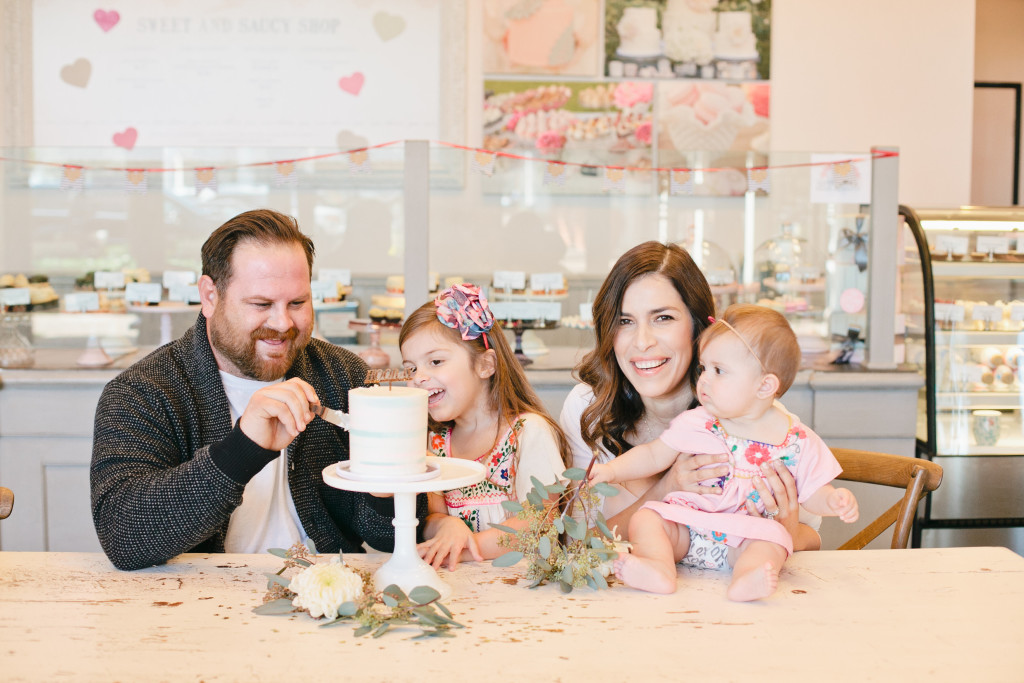 And then I realized how much Damon wanted a son, haha.  He never said how bad he wanted one, just in case we were going to have another girl, but these pictures revealed his genuine joy.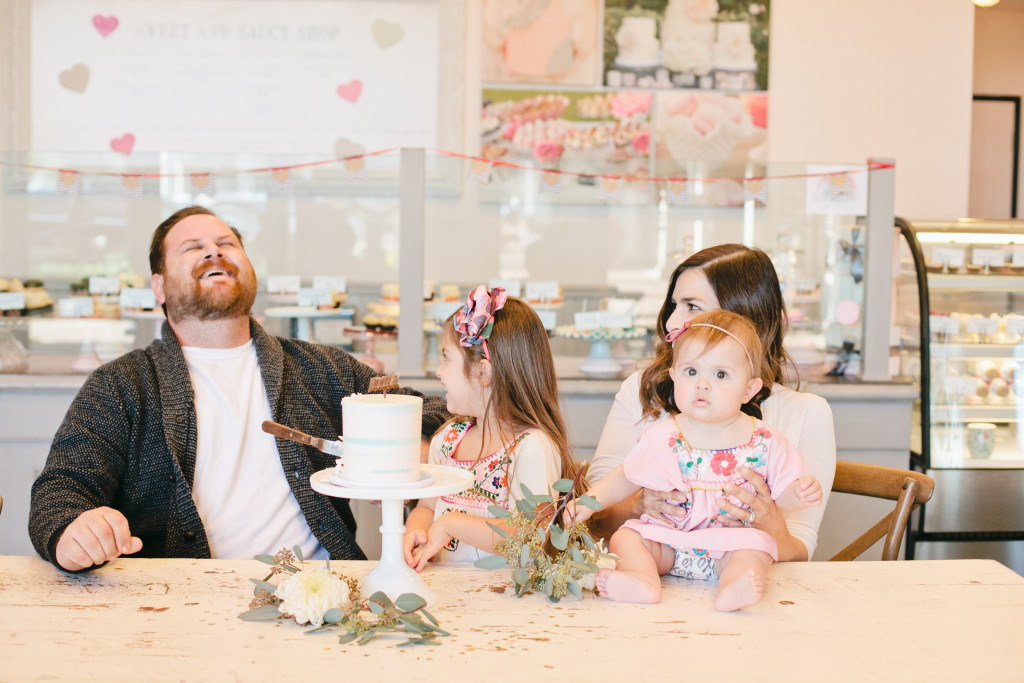 And there you have it, we were shocked and so happy to be adding a little boy into our crazy little family.
Special thanks to Megan Welker for documenting our sweet little moment, and to Sweet and Saucy Shop for letting us party in your pretty and yummy bakery!
With more baby posts to come…
Xx Leah