Want to do something fun and different this Halloween for your costume, well we have the perfect solution!  For this years Halloween playdate we reached out to Lovelane Designs who creates the cutest handmade costumes for kids.  The best part about these costumes is it encourages our kids to use their imaginations and play, and of course look adorable doing it!  The kids had so much fun pretending and playing together, it's really the best to see them get creative!!  We teamed up with Style Me Pretty Living  to showcase Lovelane Designs and their adorable costumes along with a fun giveaway, head over there to try and win one for your own kiddo!  And keep reading to learn more about this amazing brand and owner Lane Huerta.
Photos by Megan Welker
Backdrop by Drop it Modern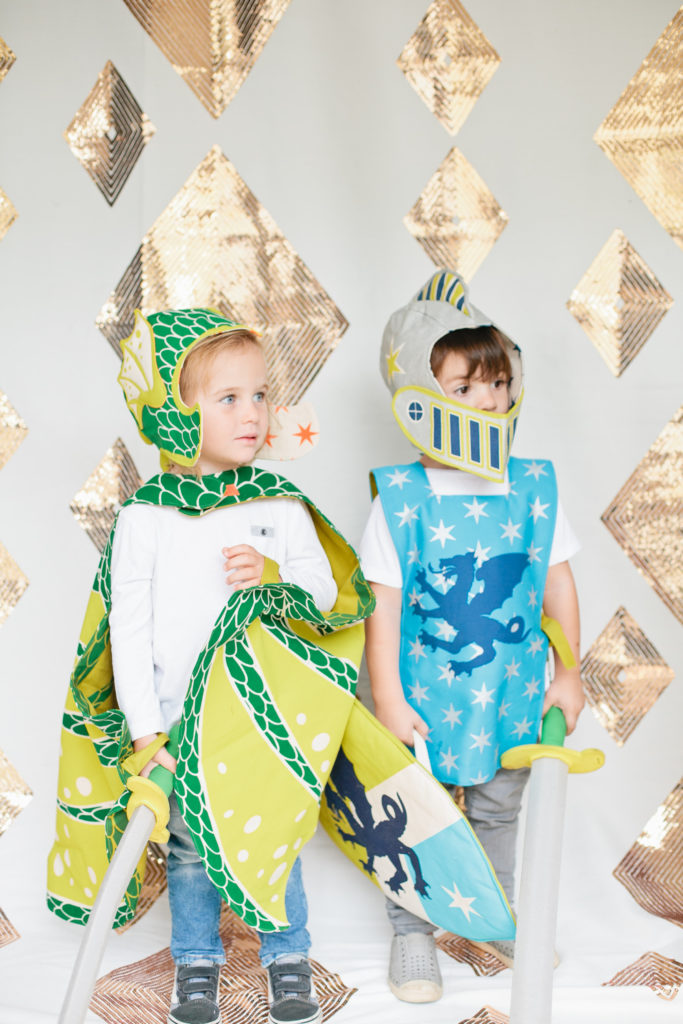 Lane Huerta began dreaming and designing in rural North Carolina, where as an only child, entertaining herself was the only option. Imagining adventures in the woods behind her house, she counts Pippi Longstocking and Punky Brewster as her earliest inspirations.  She spent her entire adult life as an artist, but she's the first to admit that it took years to find her distinct voice. "I struggled for a while, as you do when you're young and questioning the world," Lane recalls. Her personal moment of truth arrived in 2013, after her daughter Clementine discovered a fondness for playing dress-up; inspired, Lane began sketching and screen printing crowns and capes. The result was Lovelane Designs, a colorful and quirky line of handmade children's costumes that now includes dragon wings, unicorn princess tunics, wizard cloaks, and knight shields. "As the first children's products came about, I felt like everything I had learned up until that point was part of the process, and it finally clicked," Lane says.
The rest is from Lane's interview with Etsy where she was a "featured brand" this month.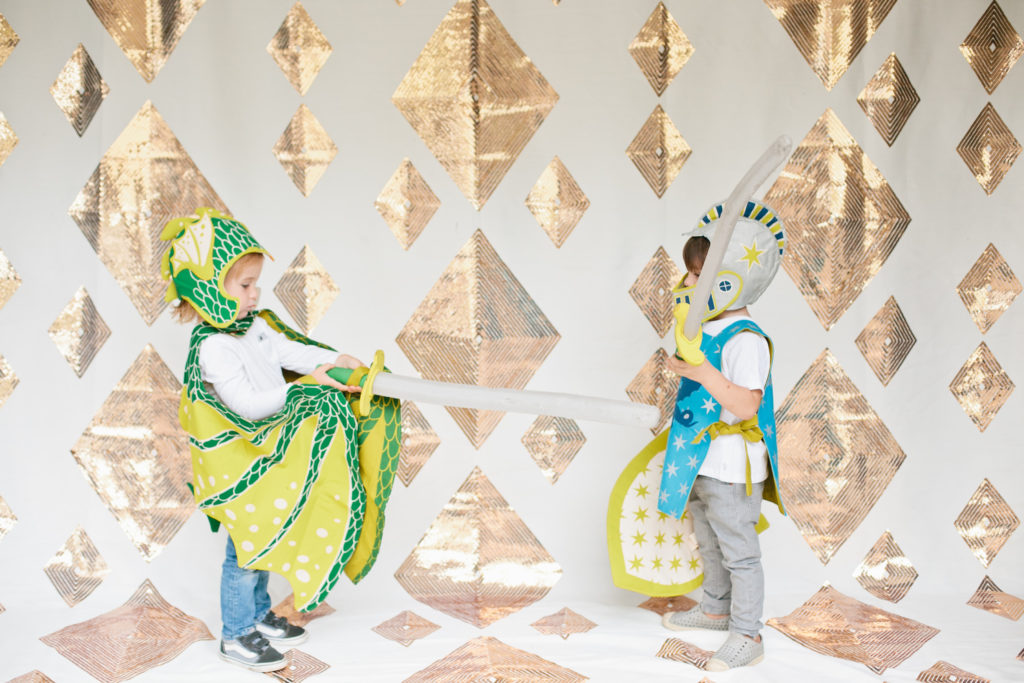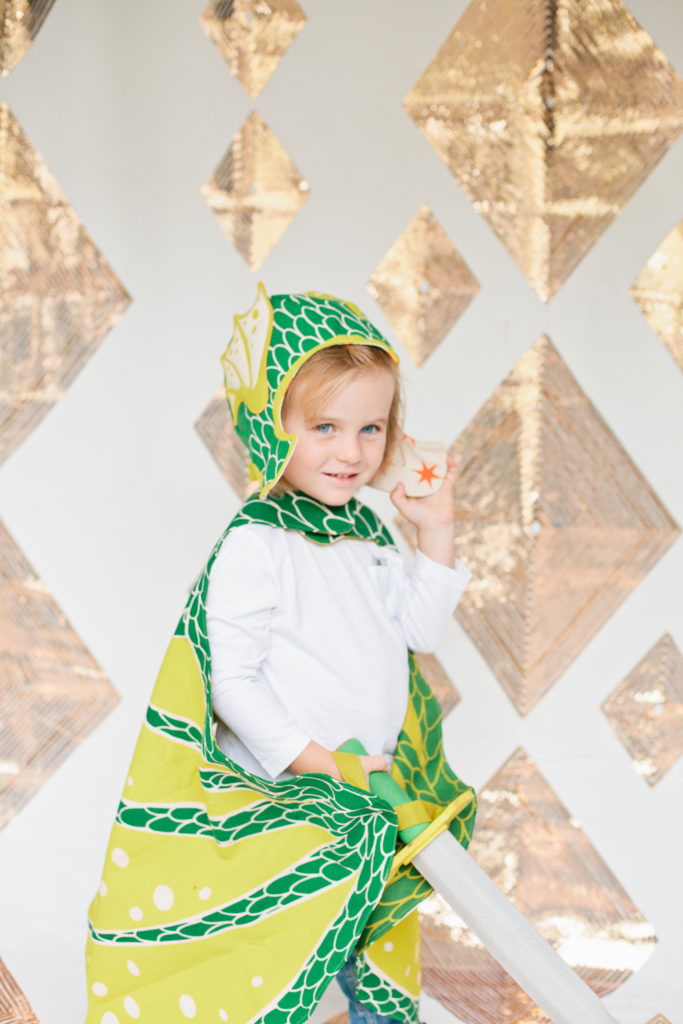 Designing for children is an interesting pursuit, because the parents are buying, but it's the children whose imaginations and creativity you want to spark.  How do you find the right balance?
That's so true. I do feel like some of this was a happy accident, because when Lovelane started, I was designing something that I envisioned buying myself. As a parent, I wanted it to look good hanging in my kid's room or as a part of what my child is wearing. I wanted it to be made of natural fabrics, so our inks are compliant and safe for the environment as well as the child. Our capes aren't nineteen dollars, because I'm paying people a living wage to make these with their hands, with care and love. We make sure everything is double stitched, so it's not going to fall apart at the seams. That's what parents appreciate: that a kid can use this heirloom-quality costume for years and it will last.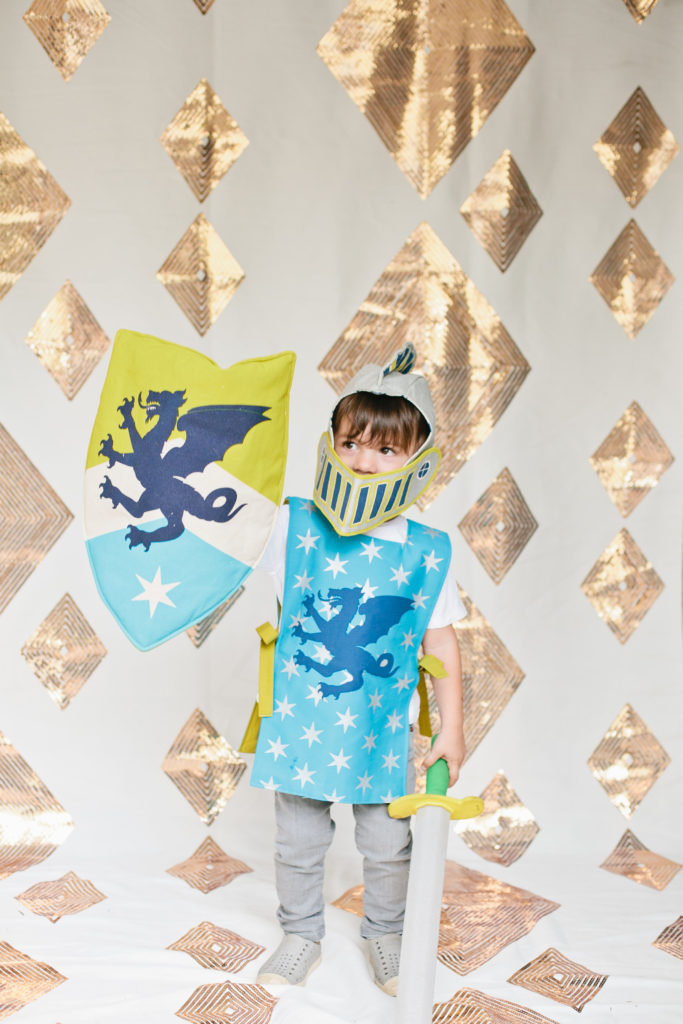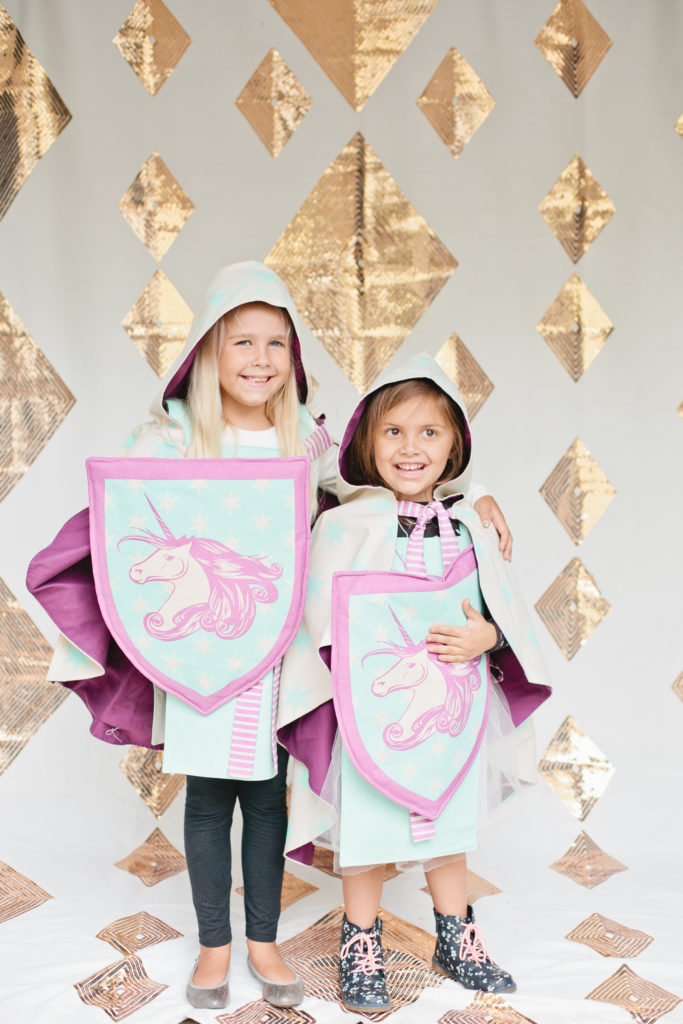 Your shop's aesthetic is so distinctive: bright colors and a graphic, blocky style. Have you always gravitated toward this particular look?
Even though I wore black in art school, I've always loved color. Developing the style for Lovelane was a gradual process; I'm always trying to push myself to work with new materials and fabrics, and I think teaching myself to do things like screen printing allowed me the opportunity to break rules that I didn't know I might be breaking. It was easy for me to not live within any confines of how things were "supposed" to be.
How does your daughter inspire your designs and respond to the costumes you create?
Clementine is my muse and my biggest critic. I love the idea of self-empowerment, and self-empowerment truly begins with kids playing and being open and free. I'm always trying to think of costumes I can make that won't pigeonhole a child in terms of a specific character that's already out there in the world. I want them to create their own superhero and their own stories. When I choose a color, like a certain blue, that's the only one I use. That way, the kids can mix and match our pieces. They can make them their own and unplug their imaginations.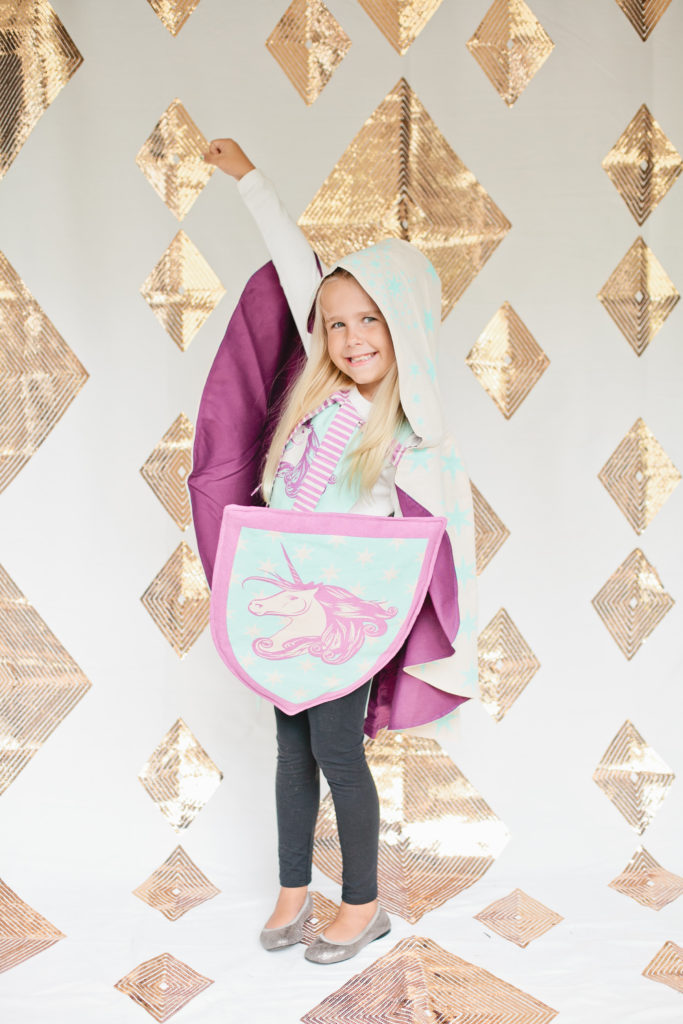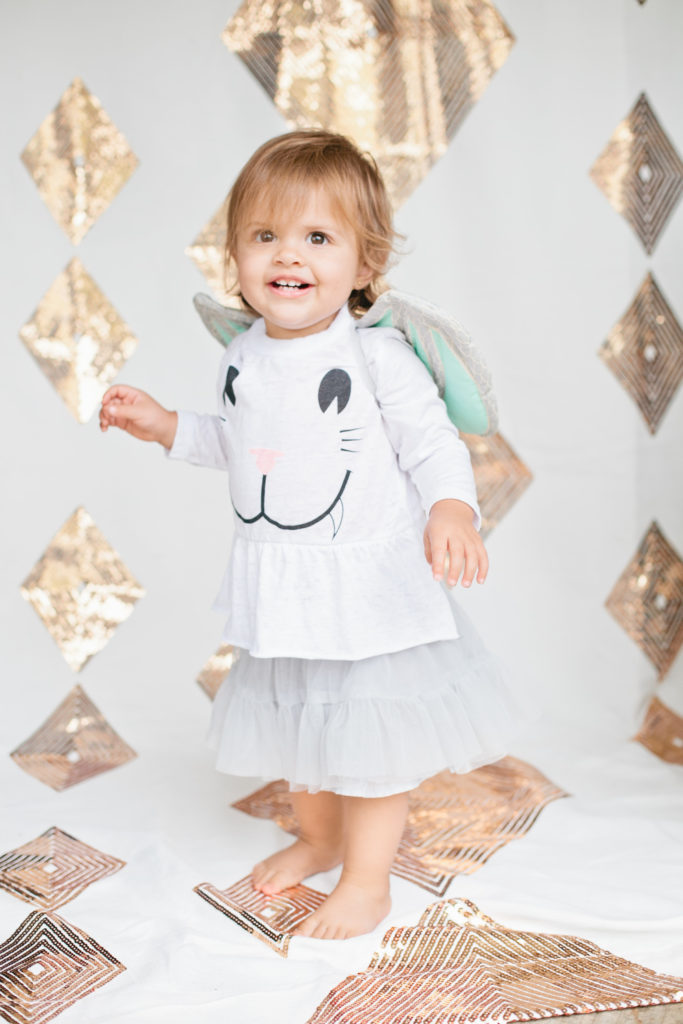 Where and when do you feel most inspired to dream up new ideas?
During book time, which is our family's nighttime ritual. Clementine needs her four books a night, so the three of us prop up in the bed, and I close my eyes and listen to the story while my husband reads. I just daydream and hear about these characters. And when the kids get together at playtime, I listen to them and watch them and hear what they're talking about. I eavesdrop a lot! They're such funny little people.
Do any of your designs have a special personal meaning for you?
The superhero wings that went viral are still one of our best sellers. That picture of the flying girl makes me teary, because Clem is so much bigger now! But that is the quintessential costume and one of the first ones that I designed. That photo speaks to our mission and who we are.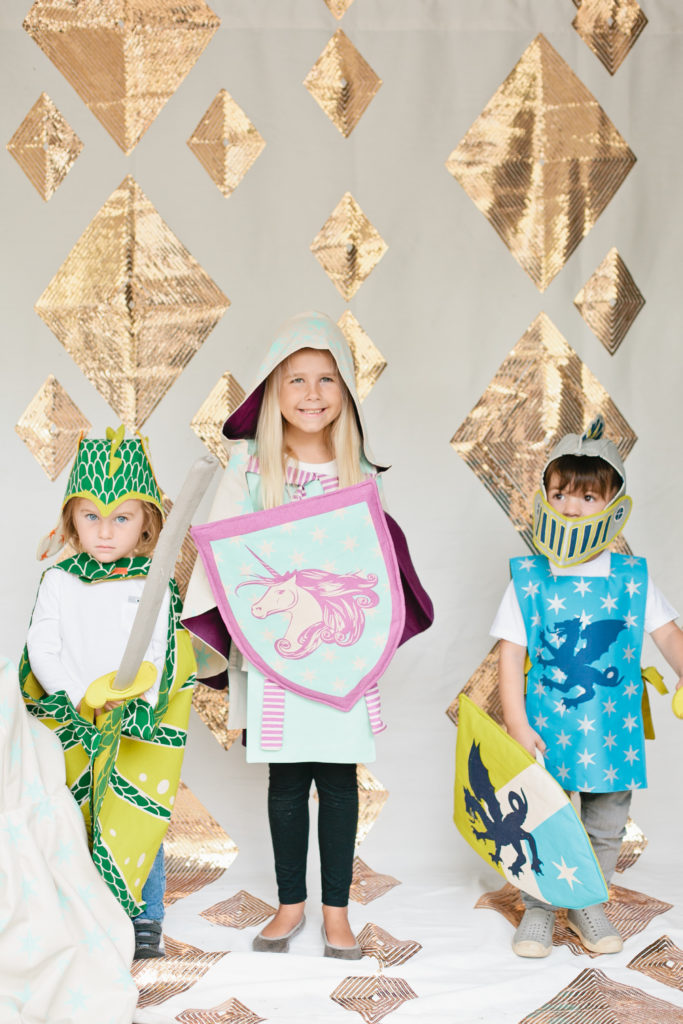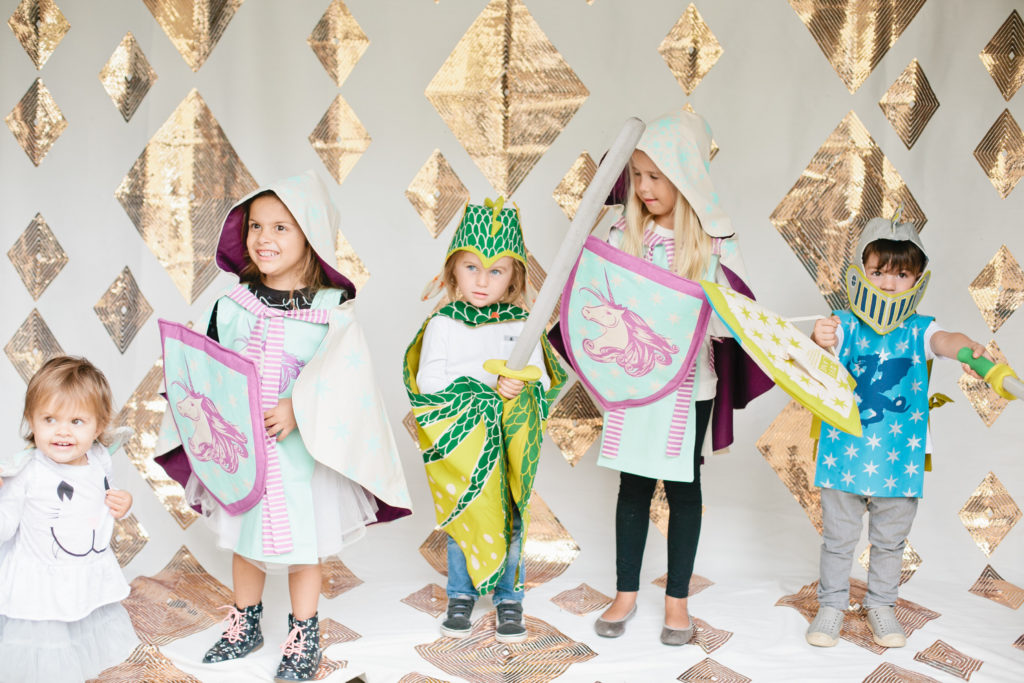 What's next on the horizon for Lovelane Designs?
We're doing a "paint-your-own" series for the holidays, so we're screen printing some simple tiaras, crowns, and cuffs, and packaging them with fabric paint and paint brushes. The concept is: we sew it, you paint it. I'm also very excited to be writing a book with Quarto Publishing called Superhero Sewing. It explains how to sew things yourself with a Lovelane aesthetic.
Looking back on the last two years with Lovelane Designs, what are some milestones that you're especially proud of? 
I was able to quit my bartending job a few months before my fortieth birthday, which was a north star for me, personally. Things took me a little bit longer, but everything has fallen into place. I'm living my dream. It's not all roses and bonbons, but I get to do what I love every day, and that's huge.
Hope you liked taking a look inside this amazing and inspiring brand!  Don't forget to head on over to SMP Living to check out the giveaway, you don't want to miss it!
xx
Jacquelyn