When our gal pal, Carlie Statsky asked yours truly to participate in Reach the Workshop we had no hesitation to work closely with some amazing industry people. This amazing workshop was the collaboration between two very very talented women in the wedding industry, Carlie Statsky and Allison Silber. We have worked with Carlie in the past with our girls day out series and our very 1st styled shoot, and we can not stop obsessing over her beautiful work. Such an honor to work with this lady any chance we get. We got the pleasure to meet Allison this year, and she is such a sweetheart! This talented lady is the magic behind Engaged and Inspired, a wedding planning and design company based out Northern California.
Reach the Workshop this year took place this past November at Holman Ranch in the beautiful jaw dropping landscape of Carmel Valley. A two day experience filled with inspiration shoots full of beautiful details, a panel of talented guest speakers, group activities and challenges as well as one-on-one mentoring sessions, all designed to help you elevate your business while building new skills, new relationships and new found confidence in yourself and your brand. Such a cool opportunity right?!
Catch more details today on Green Wedding Shoes!
All photos by the talented Carlie Statsky
Day #2 of the Reach workshop was where we came in to sprinkle a little Beijos into the mix. Along side the crazy talented and hilarious we might add, Christine Cater and her sweet team, we created a full styled shoot that included ceremony space, tablescape, and some really pretty looking models!
Lets start with this JAW DROPPING ceremony installation that Statsky Design created for this space. Carlie's hubby, Gabe created this killer installation that was then sprinkled with Christine's magic.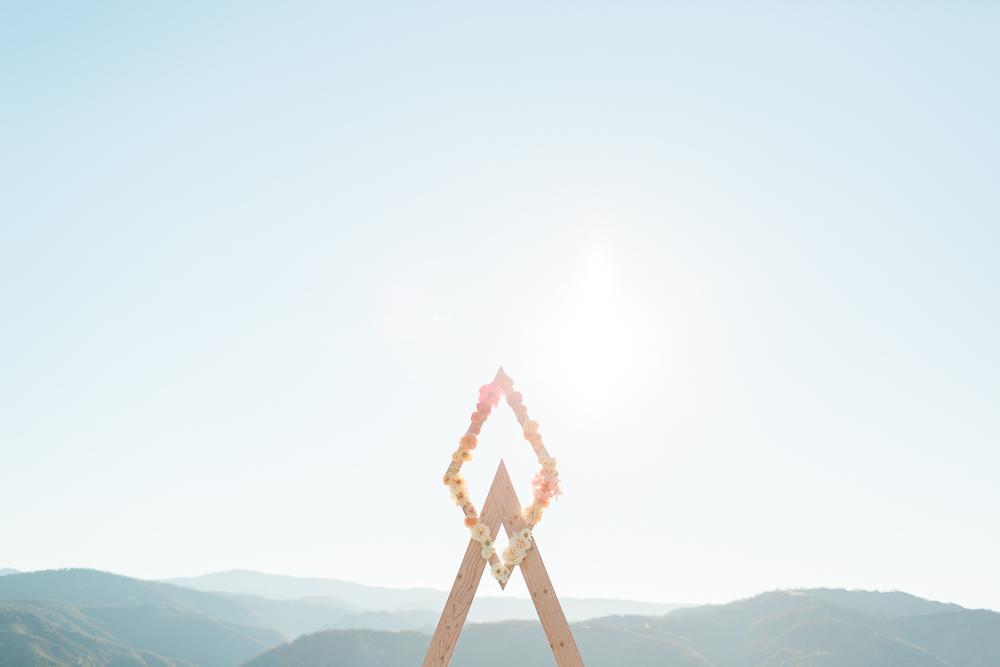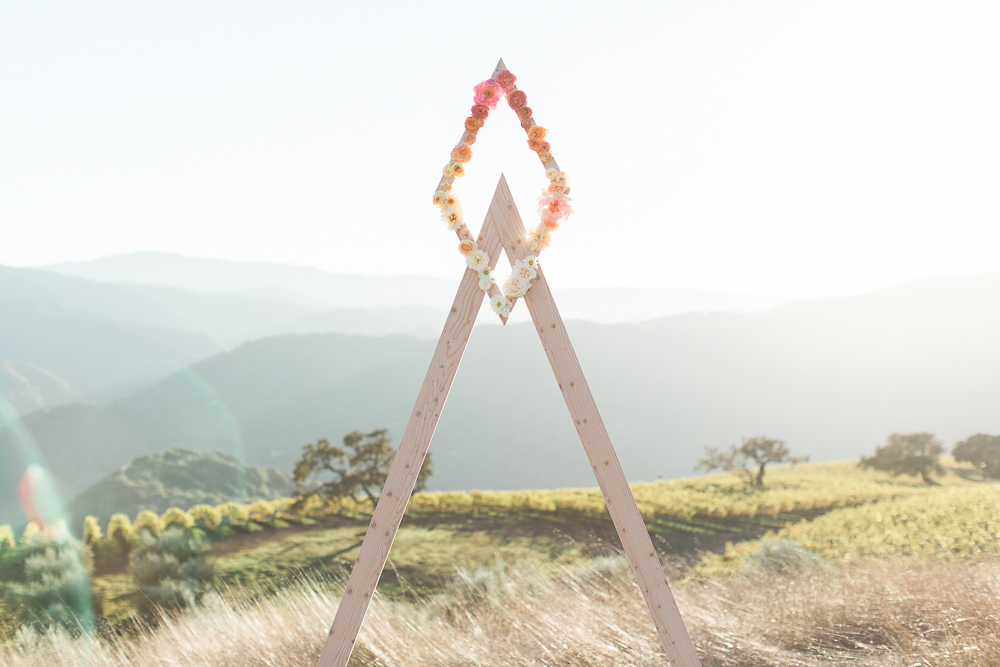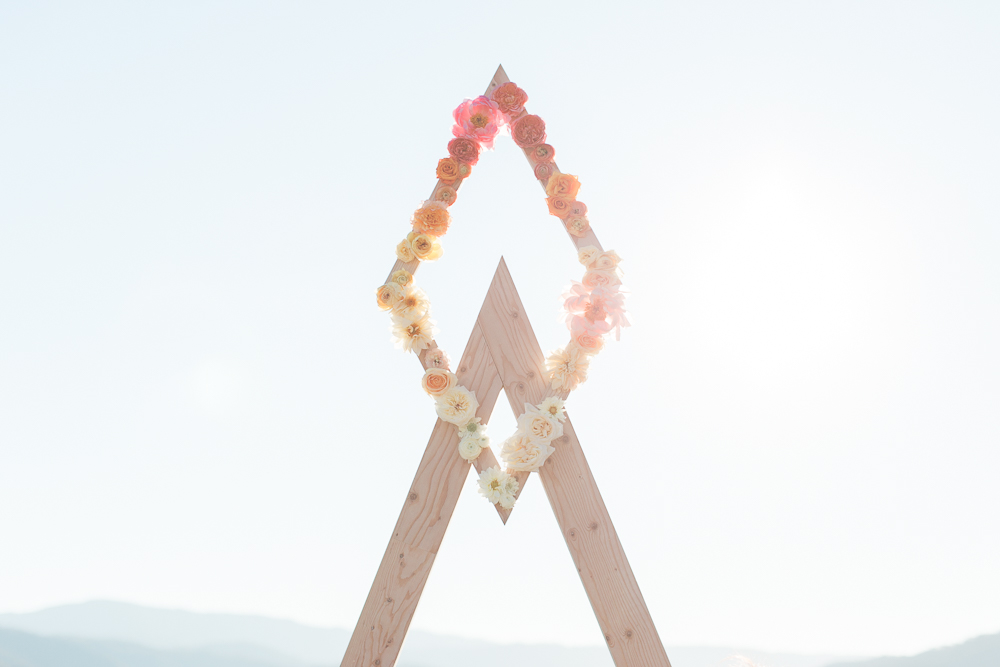 We were so in love with the natural light colored wood mixed with the ombre pastel flowers. So good right! We wish we could just live under this design everyday. Gabe, can you do that for us? Thanks!!
and how hot are these models? Man bun please! The two piece wedding skirt and top… perfection!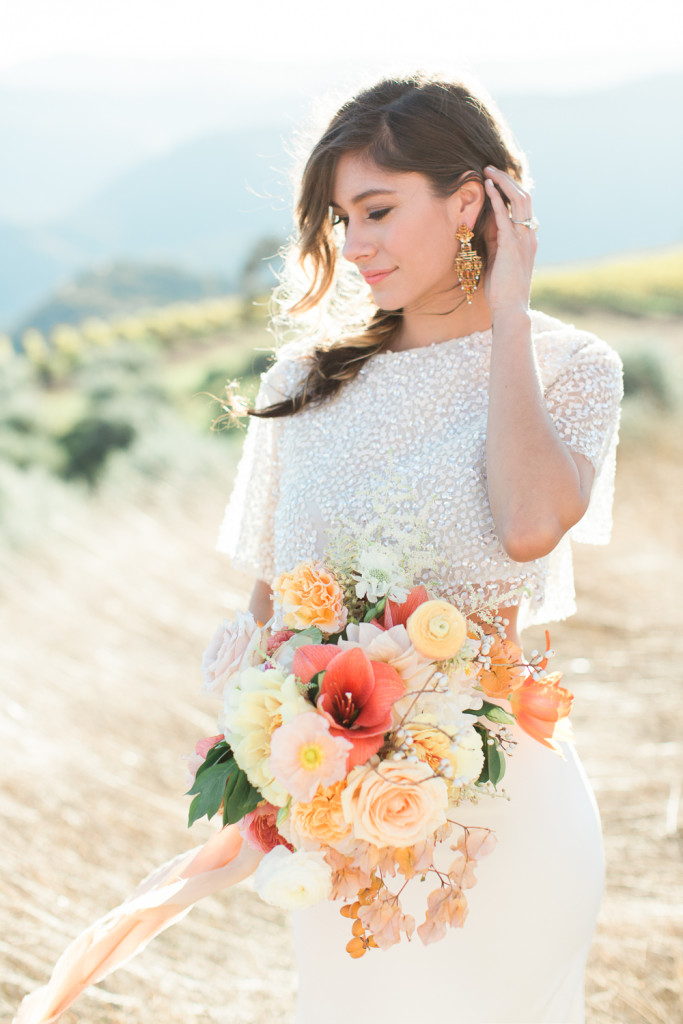 Color combinations of light pinks, blush, coral, and what I would like to call a sunrise yellow filled this bridal bouquet, and for that perfect detail… blush colored ribbon that perfectly blew in the wind.
What I loved about this workshop is that they treated this styled shoot as if it was a real wedding. Giving photographers a chance to catch all the details they would normally do on the special day of.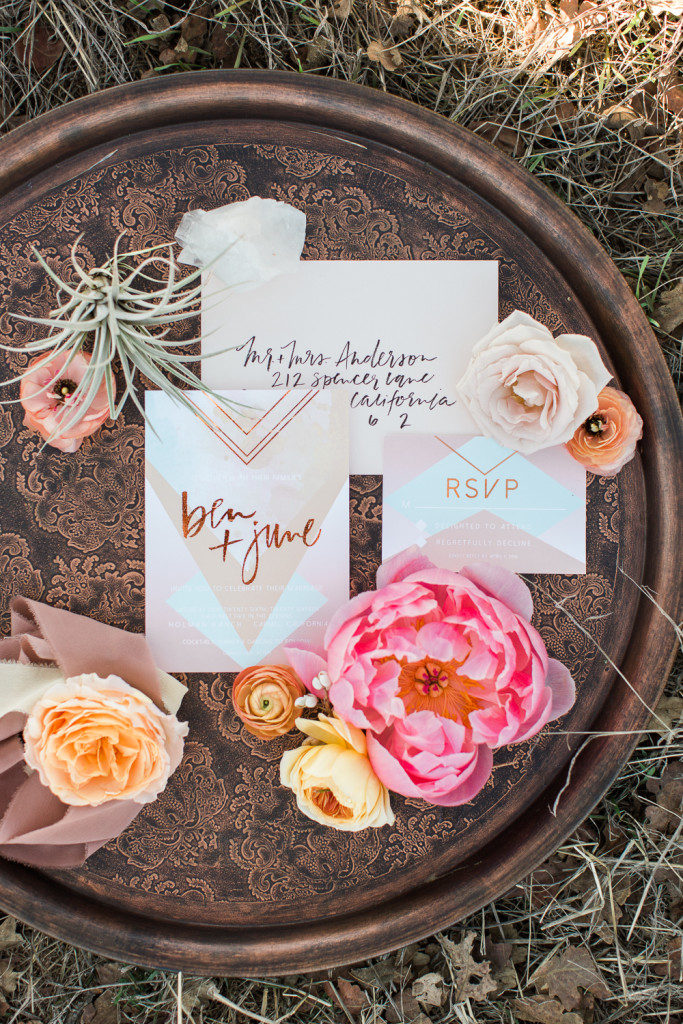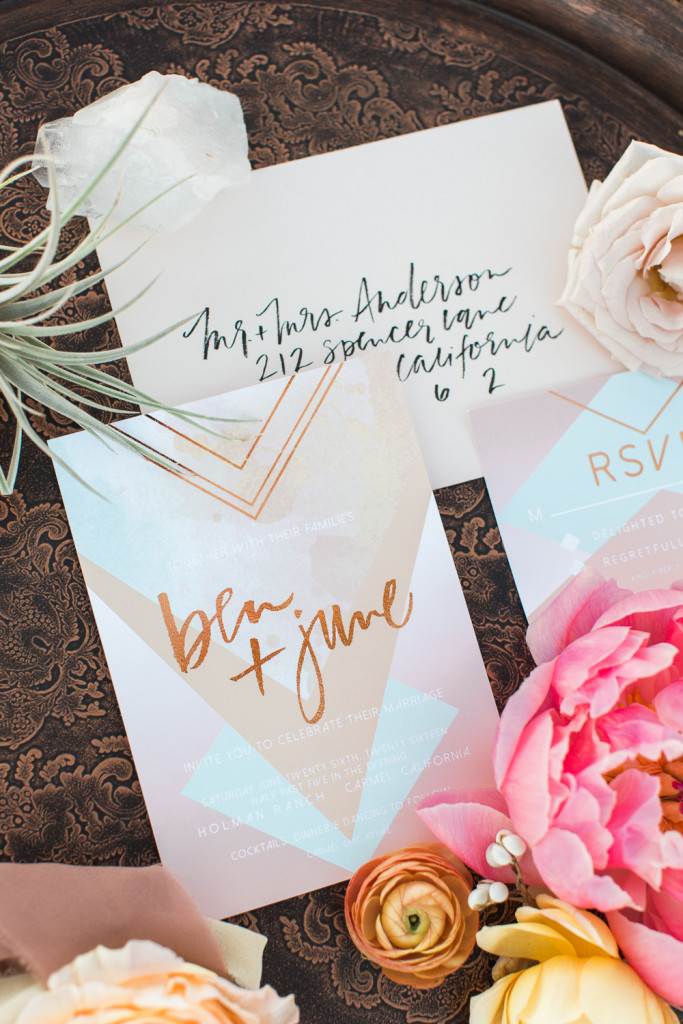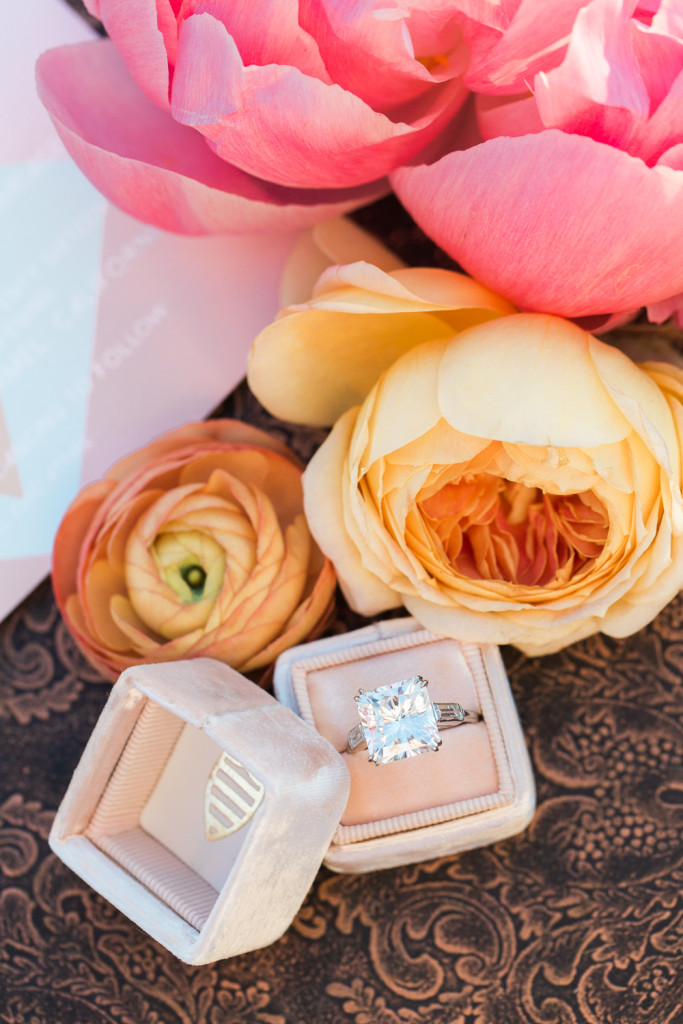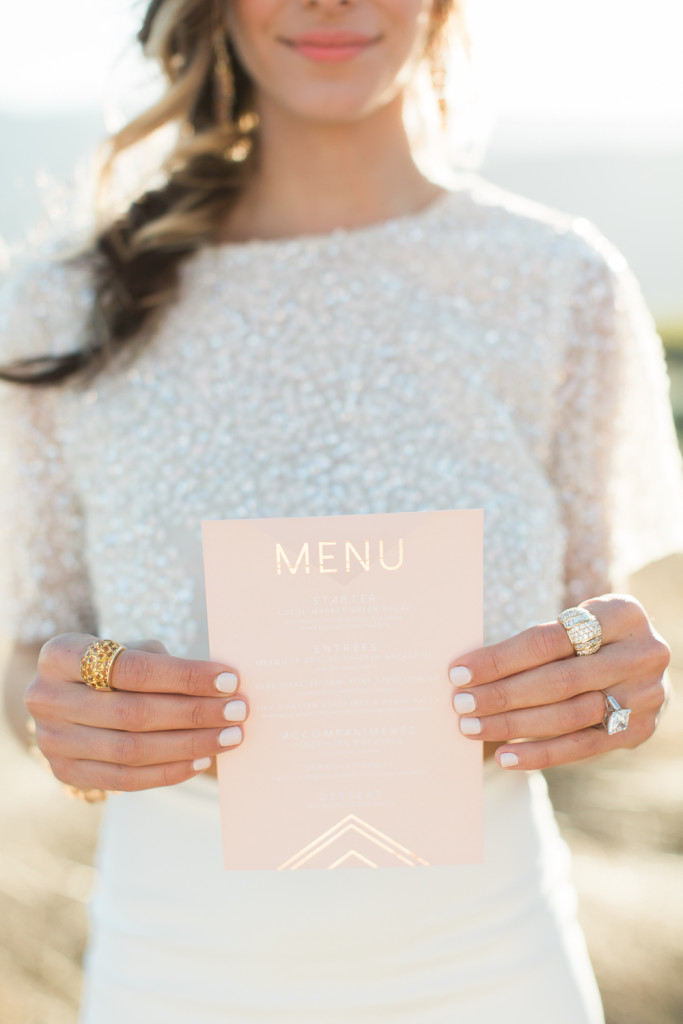 Of course one of the details that you must capture are the paper goods. This blushing beauty suite was created by our gal Meghann Miniello. This girl knows what she is doing! We can't wait to show you more of her stuff later this month. We wanted to do a eye catching geometric look that would tie in color wise with the flowers and design wise with the ceremony installation.
Do you agree it all just makes it all flow and come together? When designing a wedding, having your design flow thru the whole day is key in creating the perfect look.
Before we get to the table, lets take a closer look into these two beautiful models that made this shoot one jaw dropping experience. I have to admit, I'm a sucker for a really good man bun and beard.
Again, just like the special day of, Reach the Workshop had their guests practice capturing that special moments with the bride and groom.
Capturing details like jewelry always makes for a pretty picture.
 Among the rugged look, a delicate blush detail is added.
Finally, the sweetheart table! Our favorite part we might add!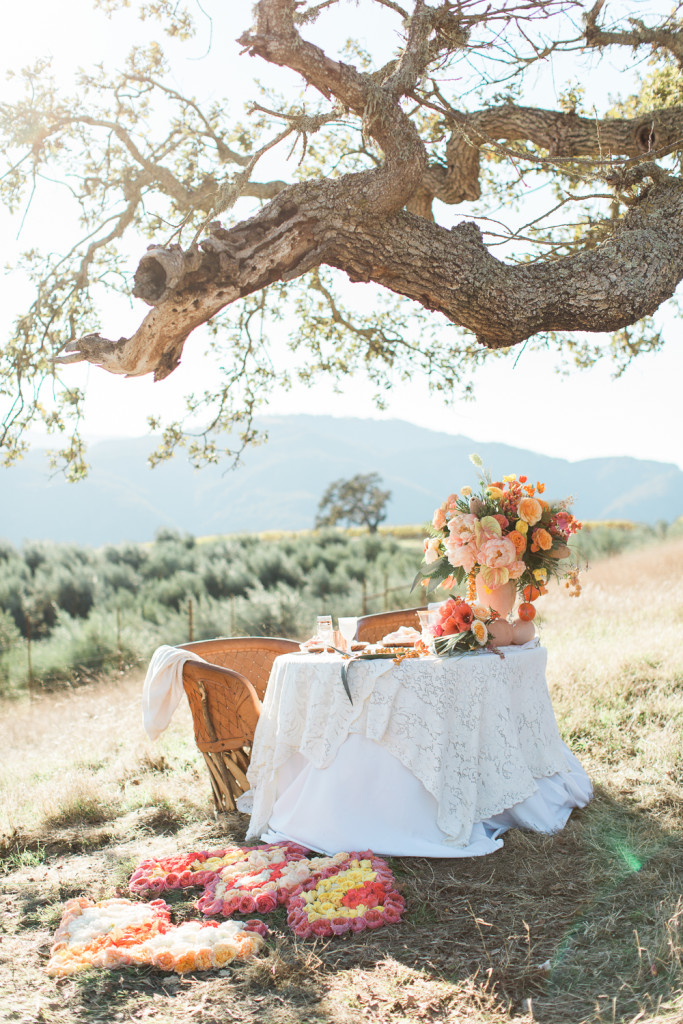 We wanted the look of this table to look like it was meant to fit right in with the beautiful breath taking valleys of Carmel. Spanish chairs, lace, terra cotta pots, wooden elements, cooper accents made up this sweet heart table.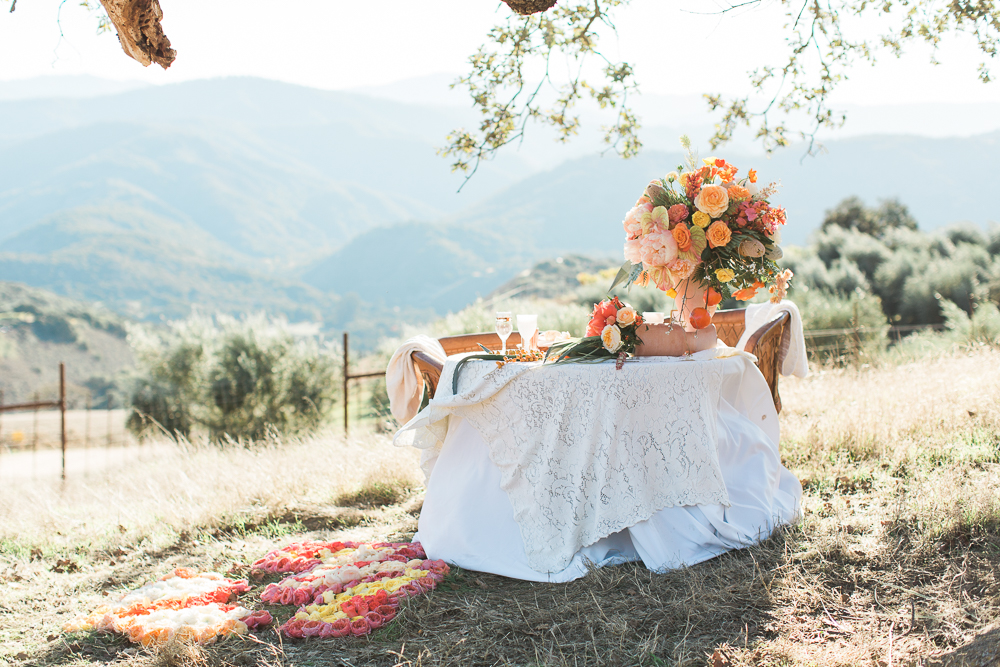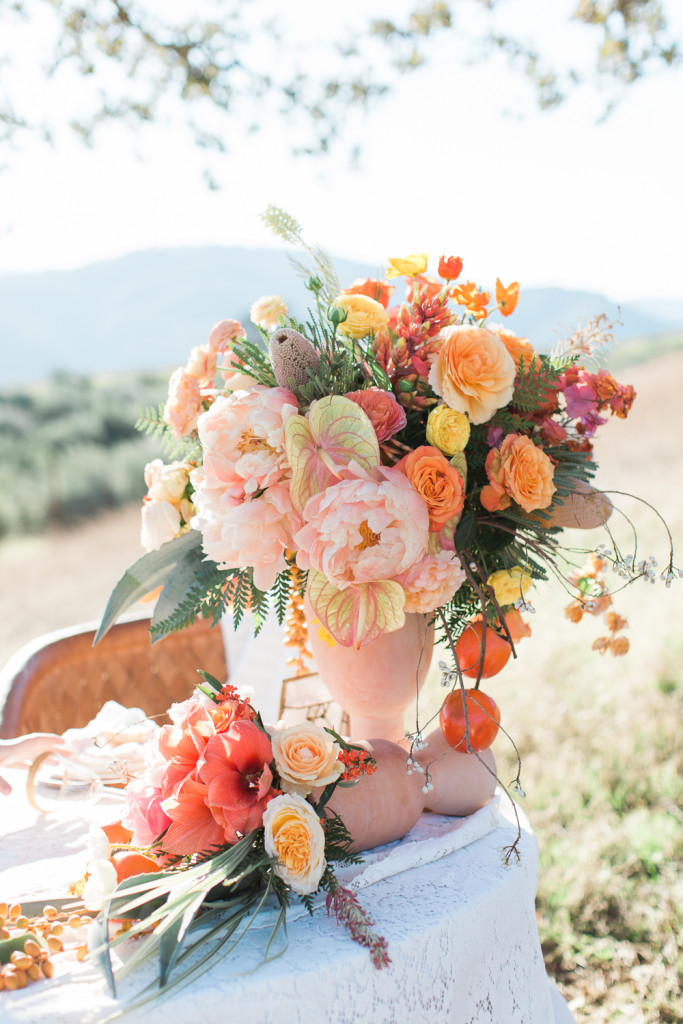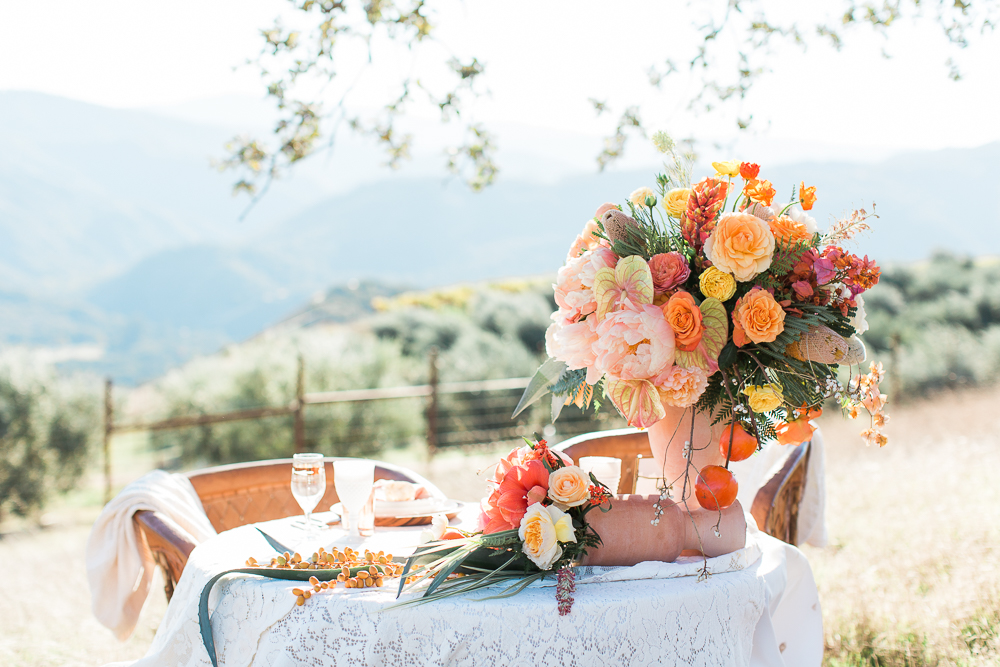 You notice the placement of the florals were done so that not only you can still capture the table, but guests would be able to see the bride and groom, and still be able to have a big floral arrangement on the table. We love how Christine and her team had another smaller arrangement laying on its side to create a cascading look down the table. Pretty incredible! That lady amazes us with her big beautiful bouquets! True pieces of artwork each one she does.
So pretty right!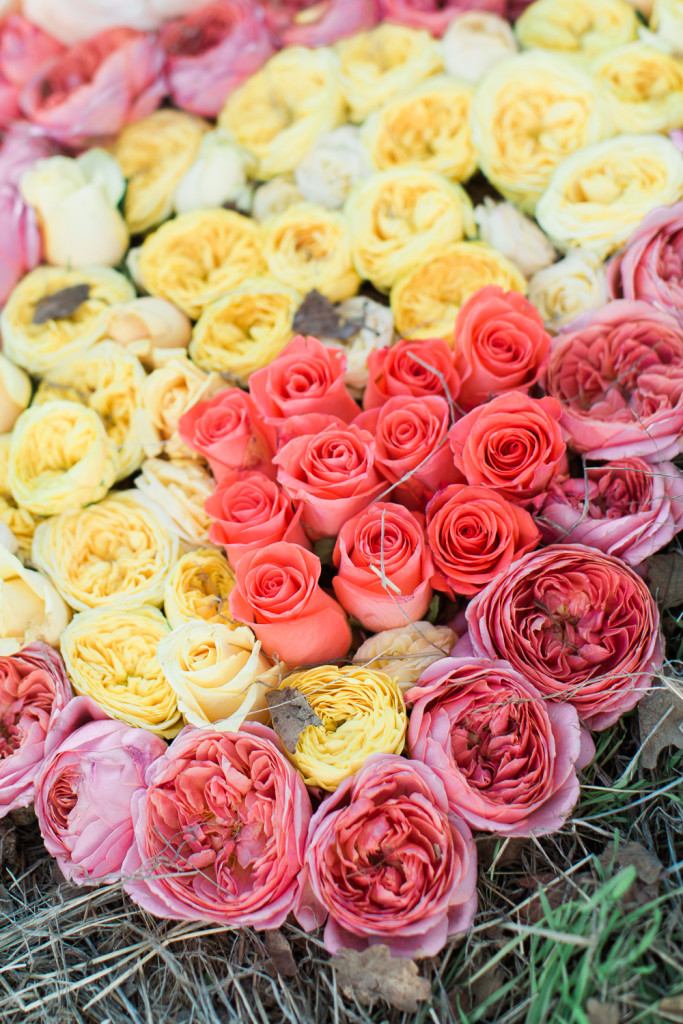 A rose installation on the ground of the sweetheart table?! Yes Please! Another great way to add floral detail to any wedding.
Borrowed Blu's milk glass, copper tumblers, and an elegant gold floral wine glass made up our mix of glassware for the table.
Pop of pink color from the ombre napkins from Borrowed Blu. A geode crystal to give that texture detail, and also to keep the napkin on the plate with those Carmel winds.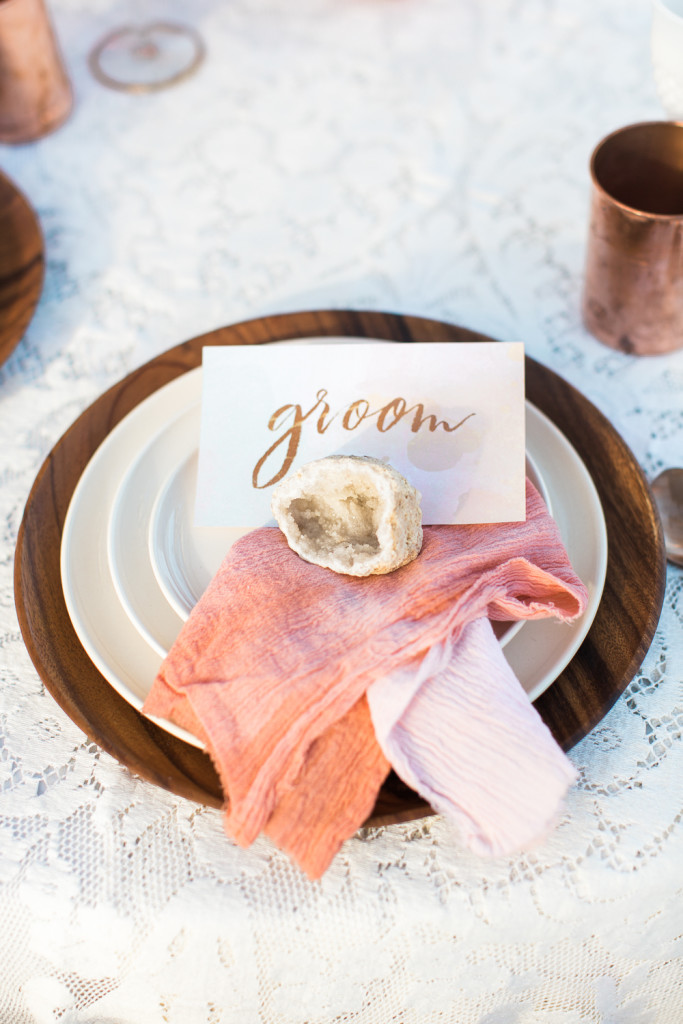 Meghann Miniello's cooper foiled detail made up these groom and bride name cards.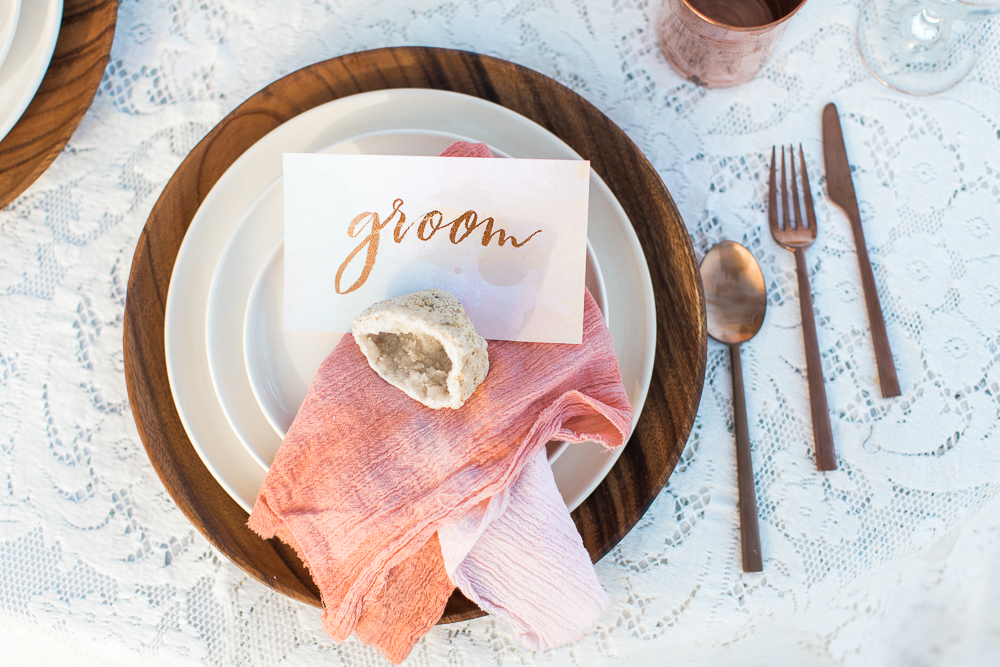 When choosing the theme for this table, I knew I wanted to go more on the natural element side vs. more of bright colors. With those stunning views, I wanted to create a table that looked like it was meant to be right under that tree and all the colors that Carmel has. With the pops of color from the florals, its fits right in perfectly. We also aligned the flatware to give that structural look just like the invite and wooden ceremony installation. Again, carrying on details thru out the shoot.
Such an honor to be a part of this workshop, and meeting new creative friends! Looking forward to many more!
Thanks Carlie and Alison for allowing us to be a part of this.
xx
Abby