We all know 2020 has been a doozy of a year! And we all know that it's making some of our favorite traditions look different. But we're here to say, you can still have those big celebrations, even on Halloween! Halloween doesn't have to be canceled, you can still make it special for your kiddos. And since it is one of my favorite holidays, I'm determined to do so!
I teamed up with Pottery Barn Kids to showcase a front yard Halloween movie night for the kiddos. It turned out to be such a fun day/night for my sons and their little friends! I'm so excited to share it with you today along with 5 tips to throw a party like this on your own! Keep scrolling to see the adorable photos captured by Jessica Lynn Photo.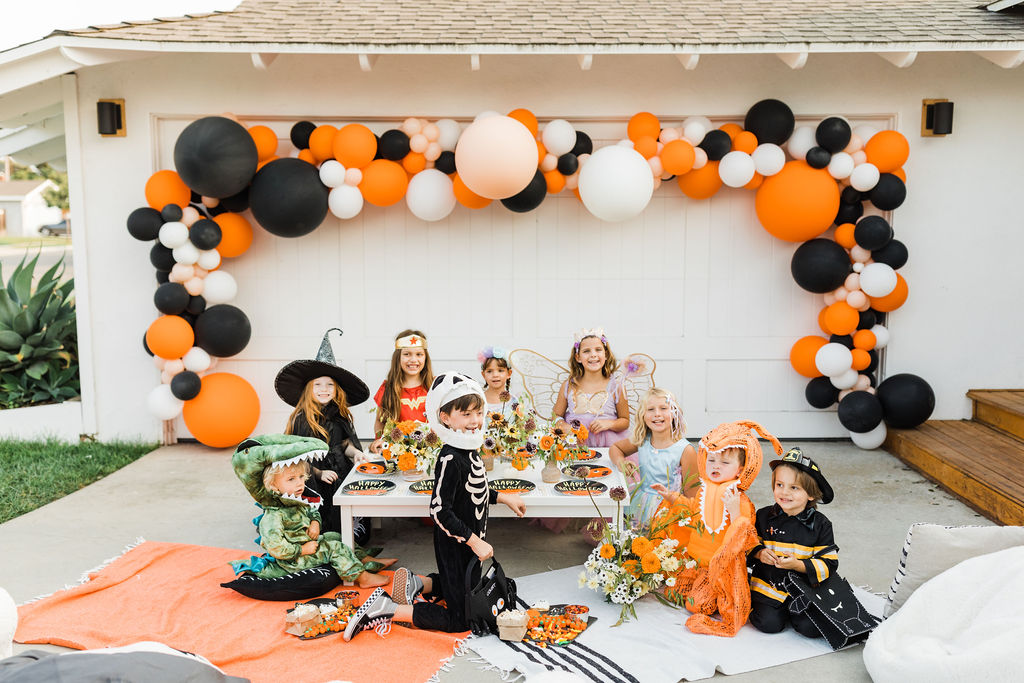 Step 1
Set the scene & set the table!
I love decorating for Halloween, you may have seen this post where I showcased how I decked out my front porch this year with Pottery Barn. Well, we added a few fun details for this party, like those amazing balloons by The Pop Shop. It's always fun to get festive, but when it comes to Halloween it's especially fun to get spooky!!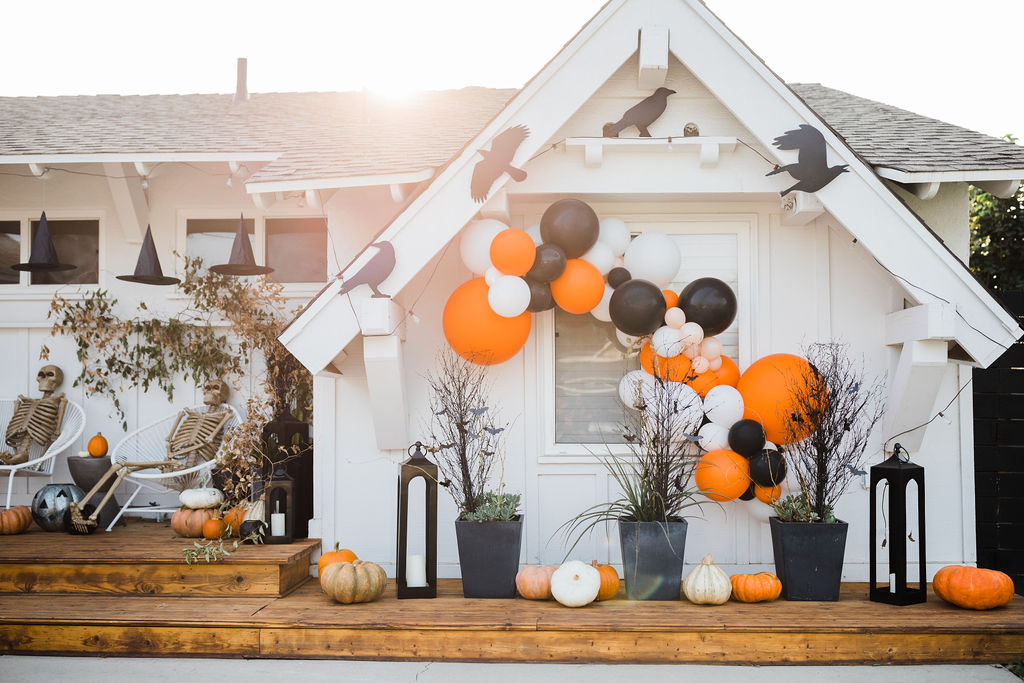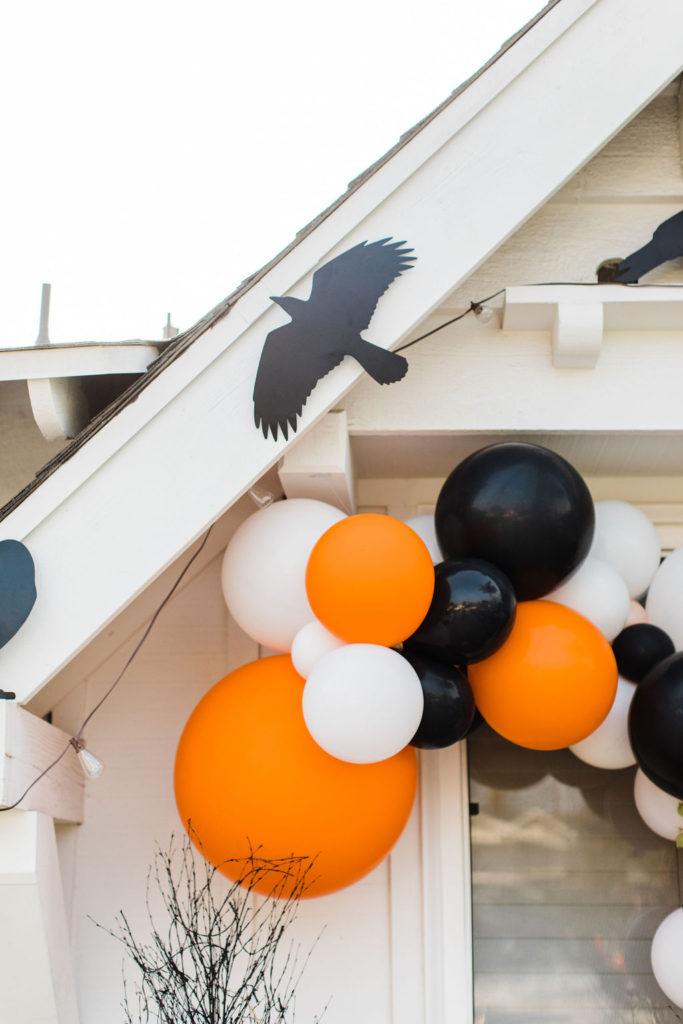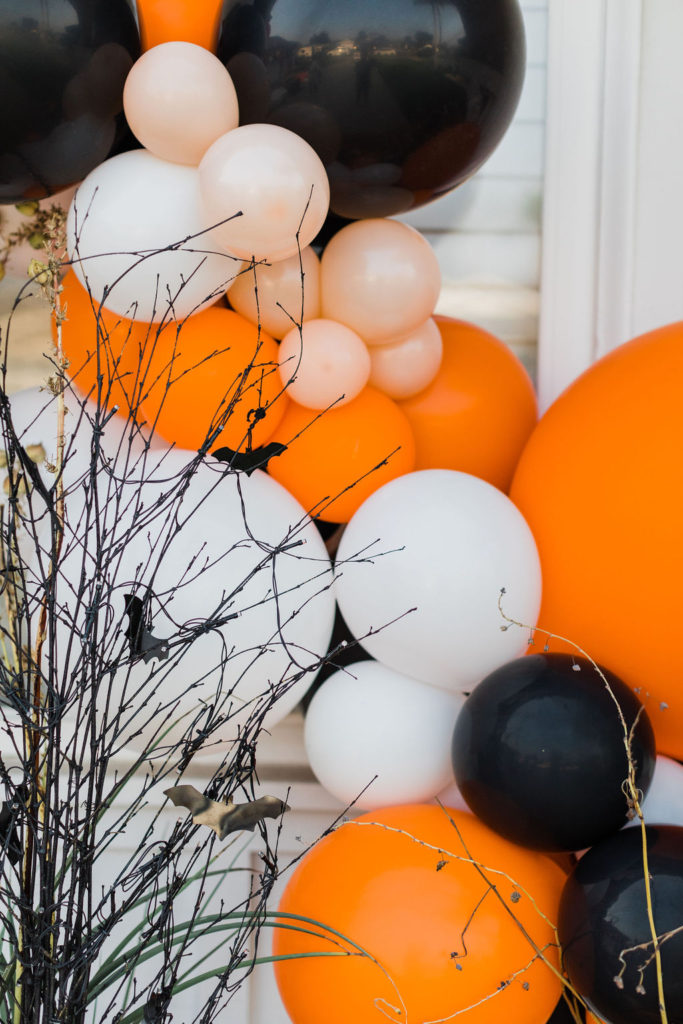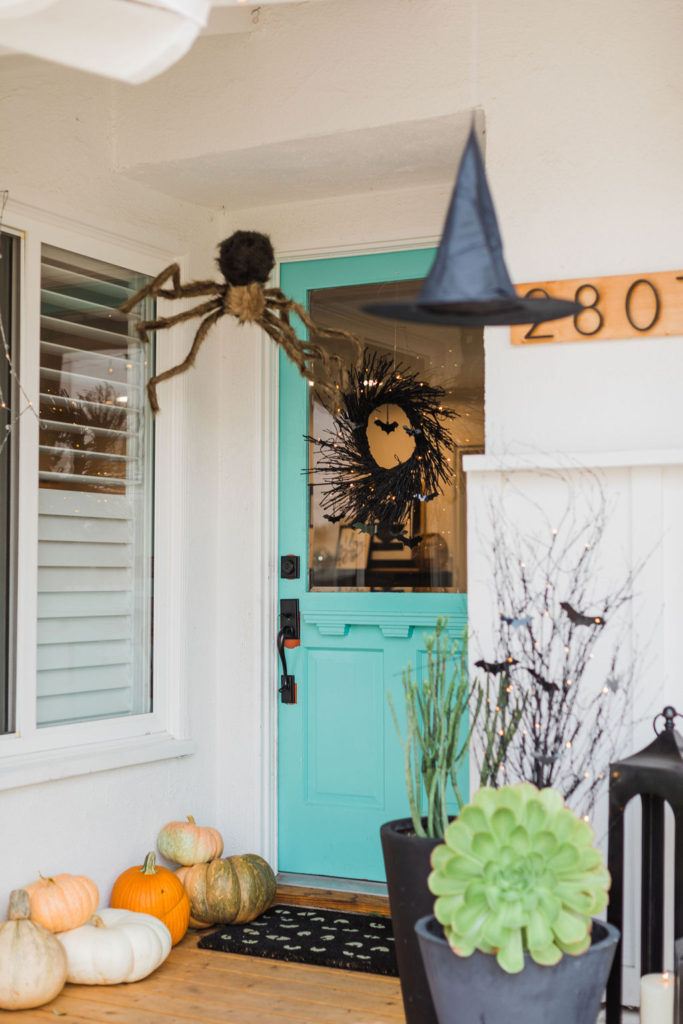 I linked all of my favorites from Pottery Barn at the end of this post, along with what I used to create the floating witch hats!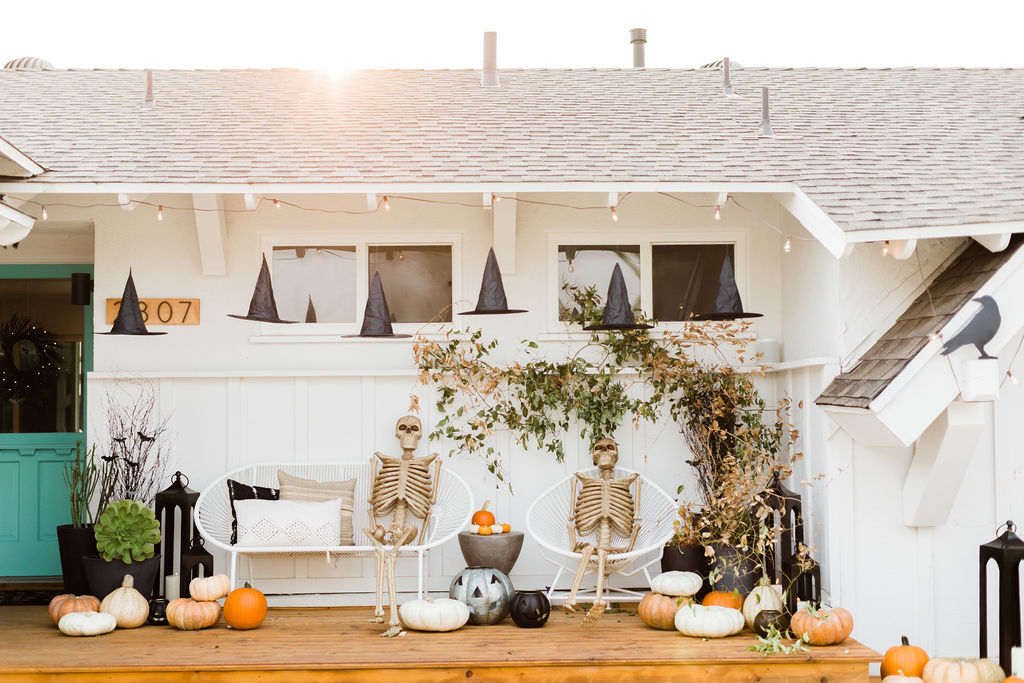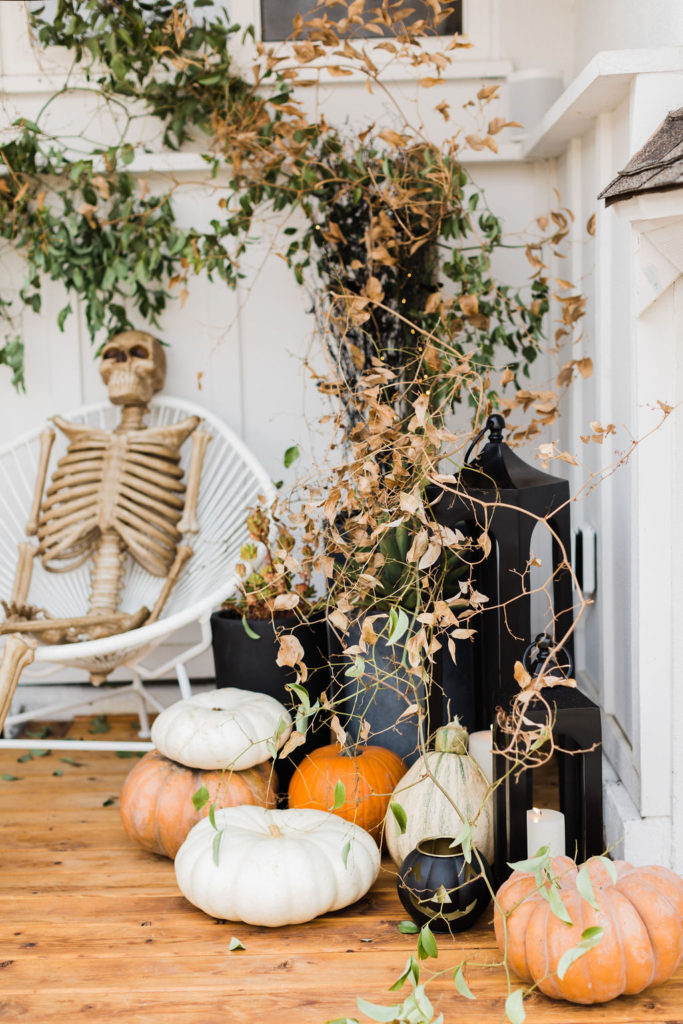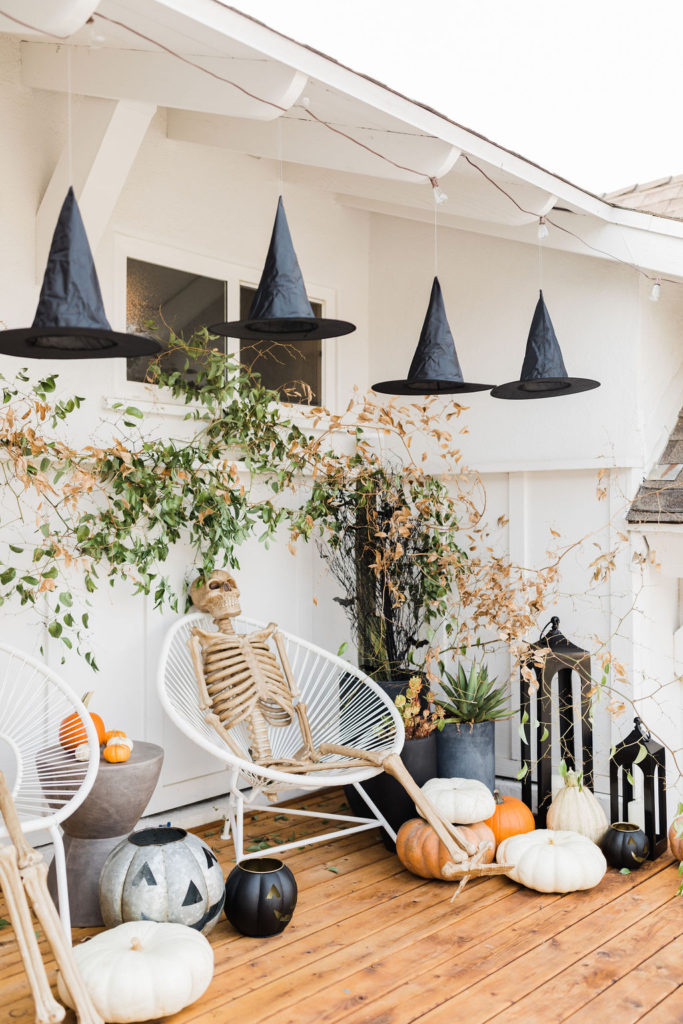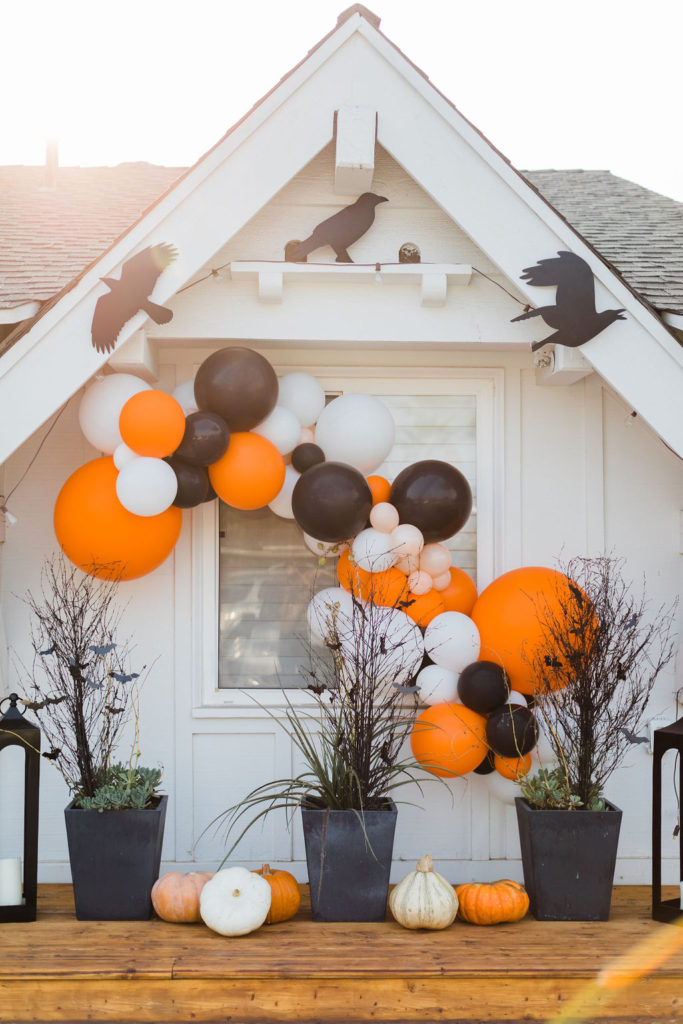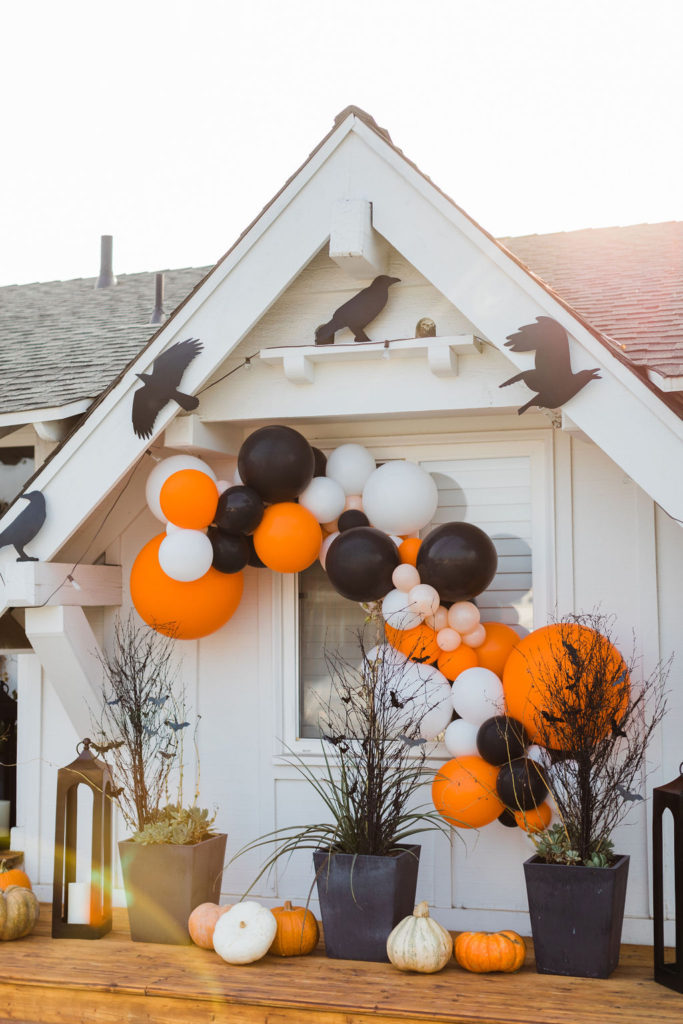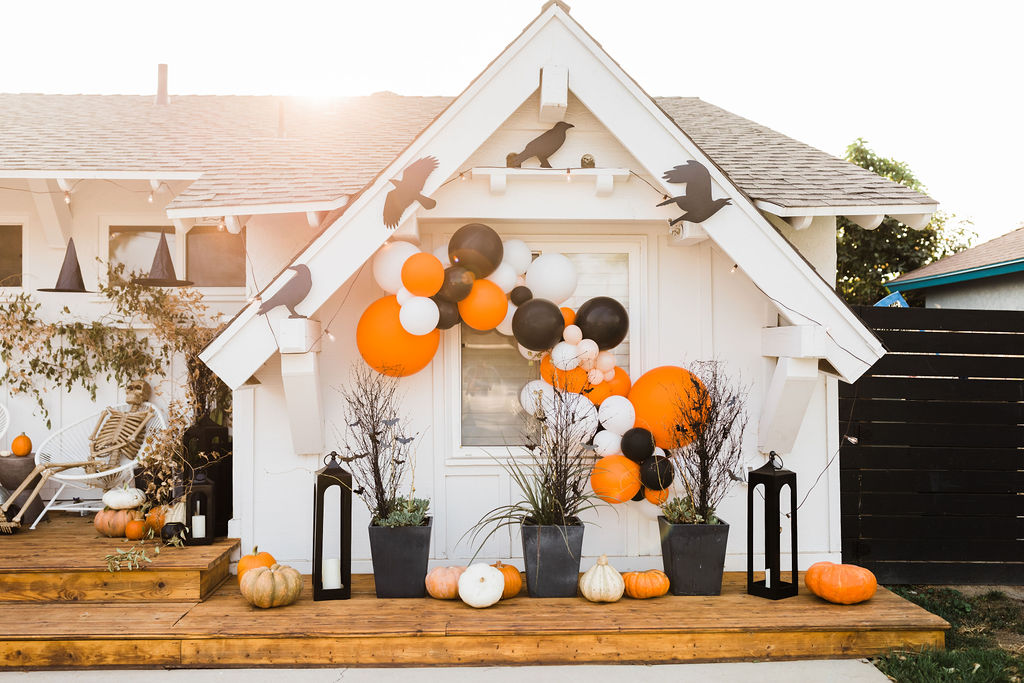 Now, lets set the table! Pottery Barn Kids has the cutest Halloween plates, complete with a happy jack-o-lantern! PS – they glow in the dark!!
I love using their low Carolina low activity table for kid's parties. The kiddos can just sit on the ground and go wild! I usually lay out a few blankets and pillows as well.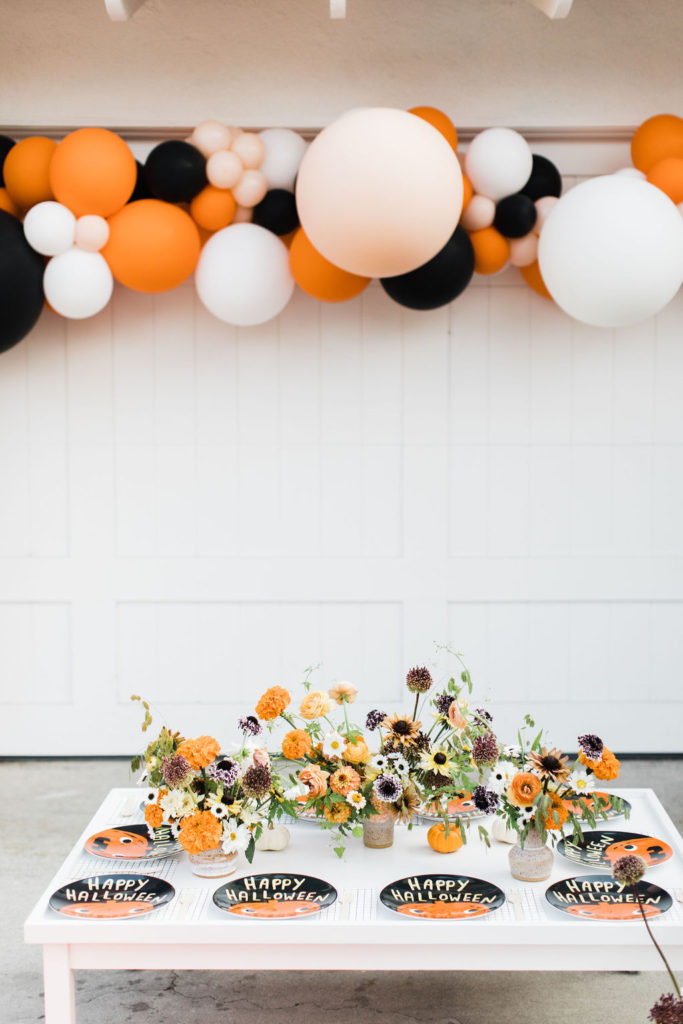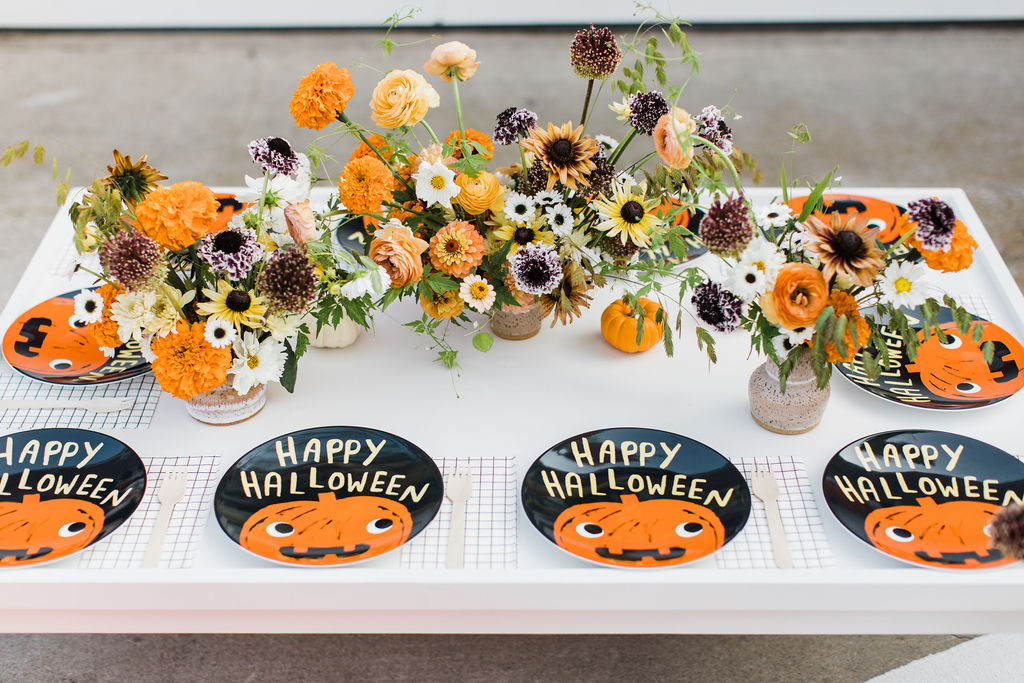 I added beautiful Fall florals by Not Just in Novels to the table, along with mini pumpkins, simple napkins and forks. An easy but pretty set up anyone can do!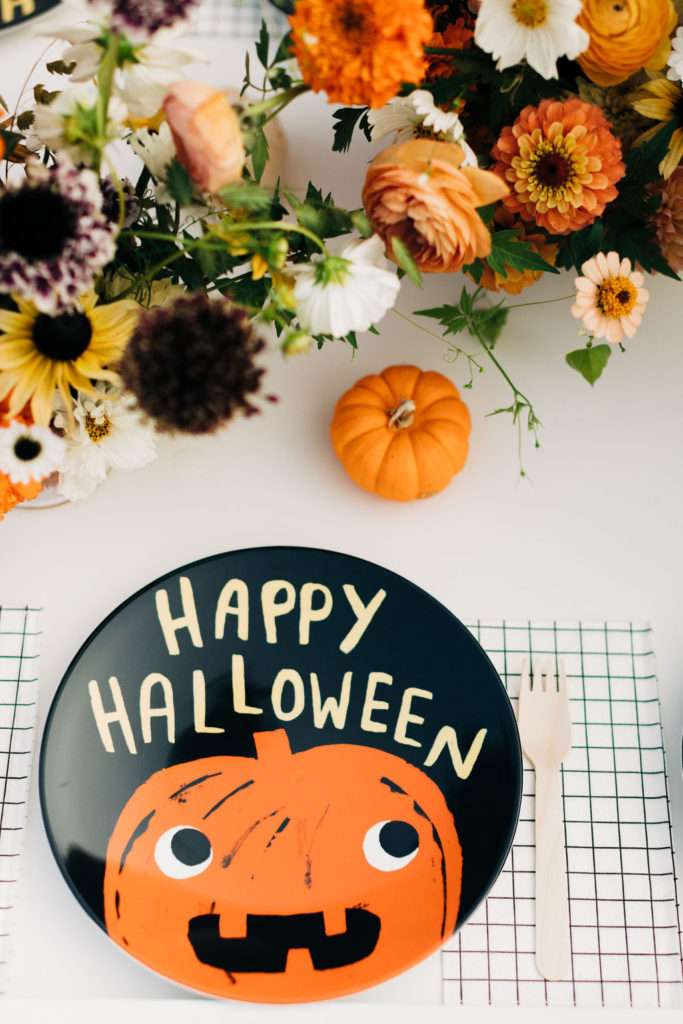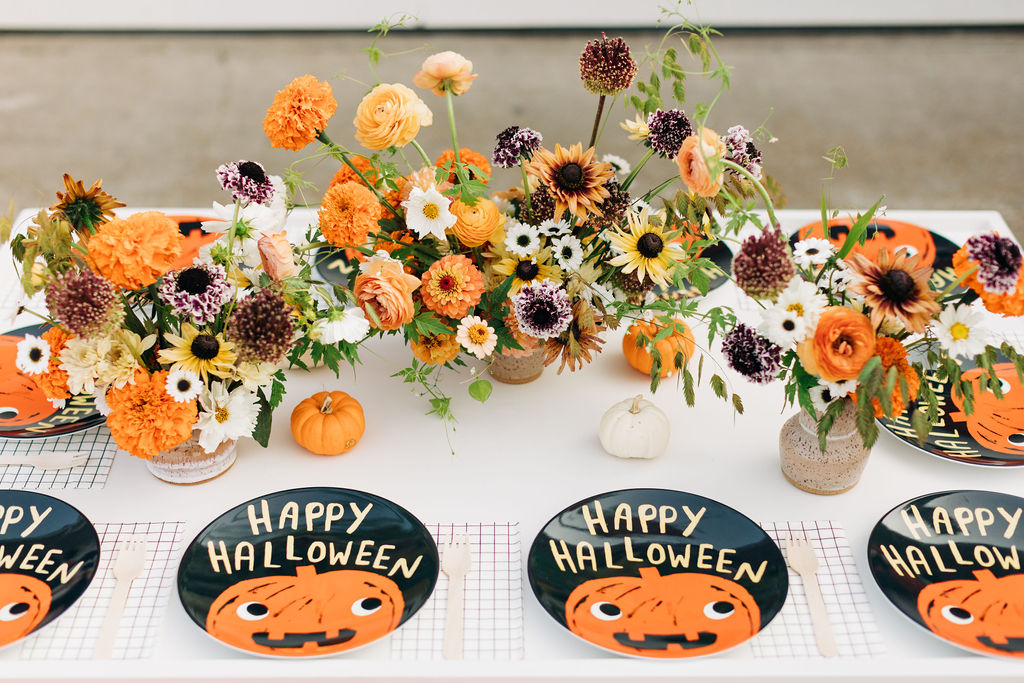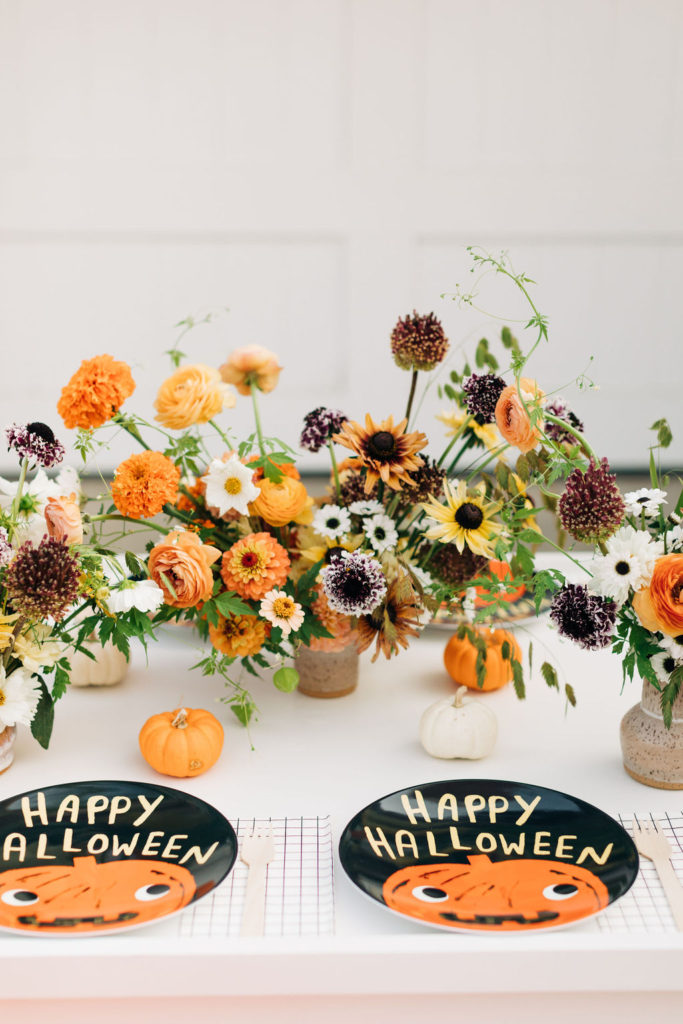 Can we just take a moment for these flowers?! Do I say that for every party? Not Just in Novels is so talented and I am in love with these beautiful Fall colors!!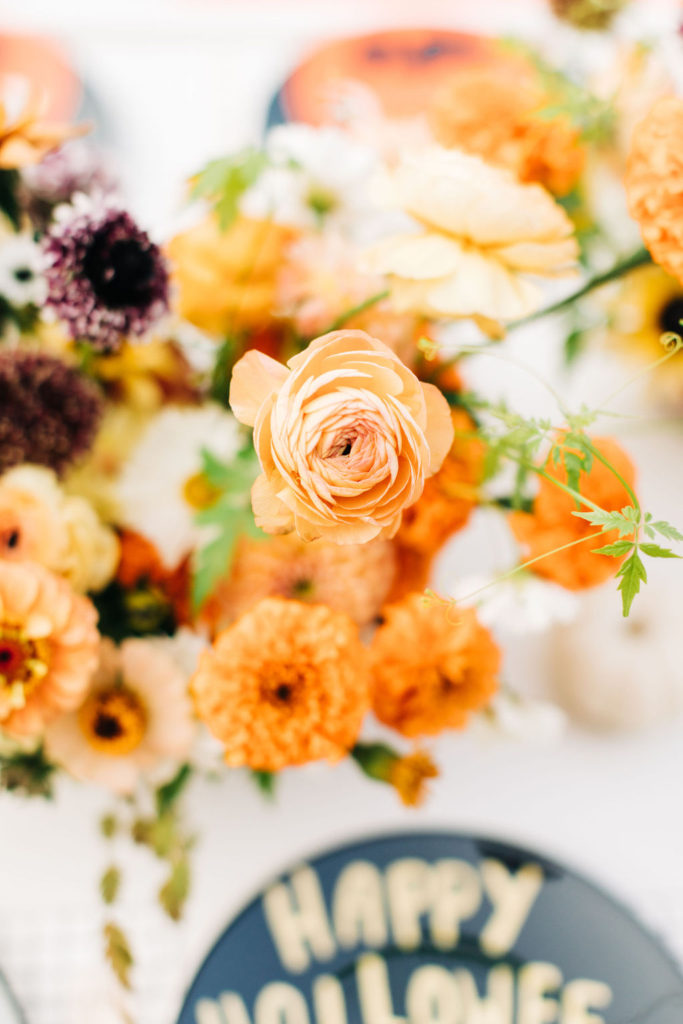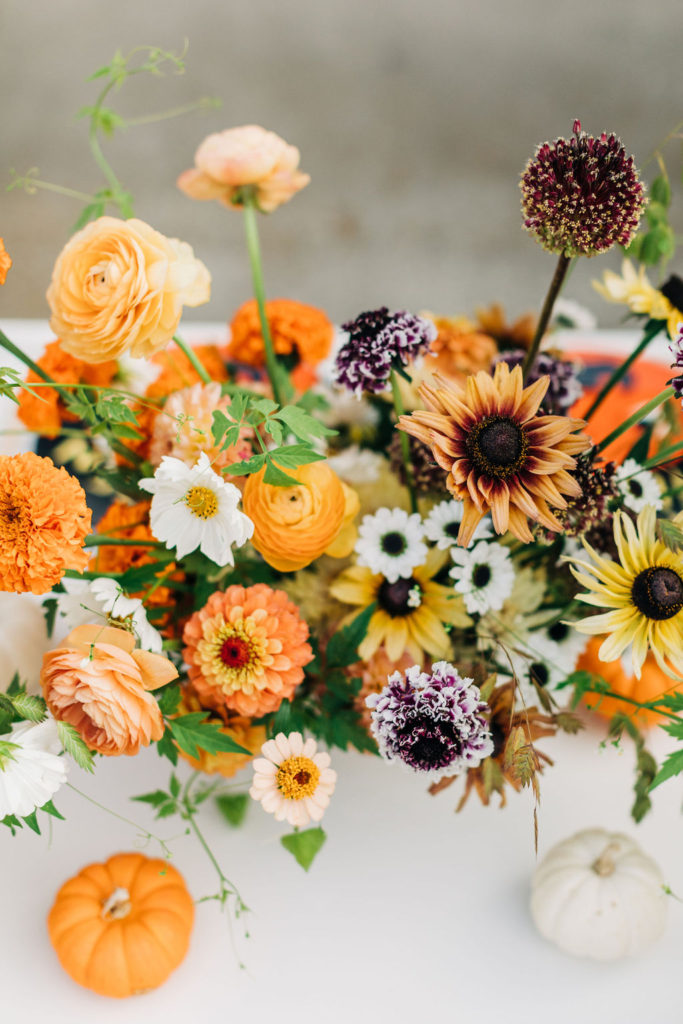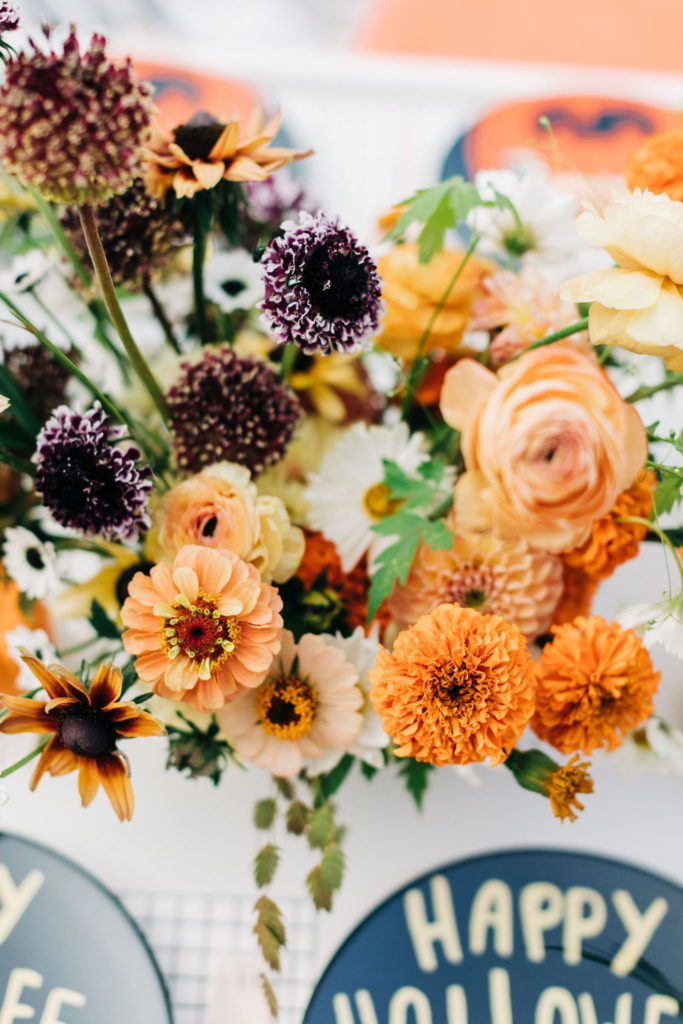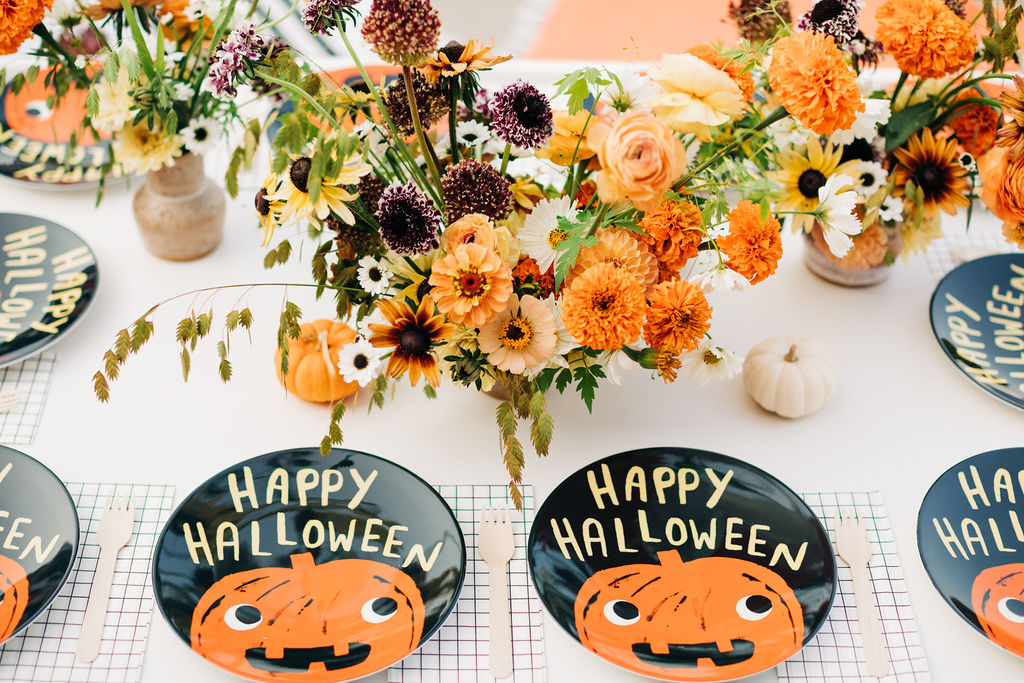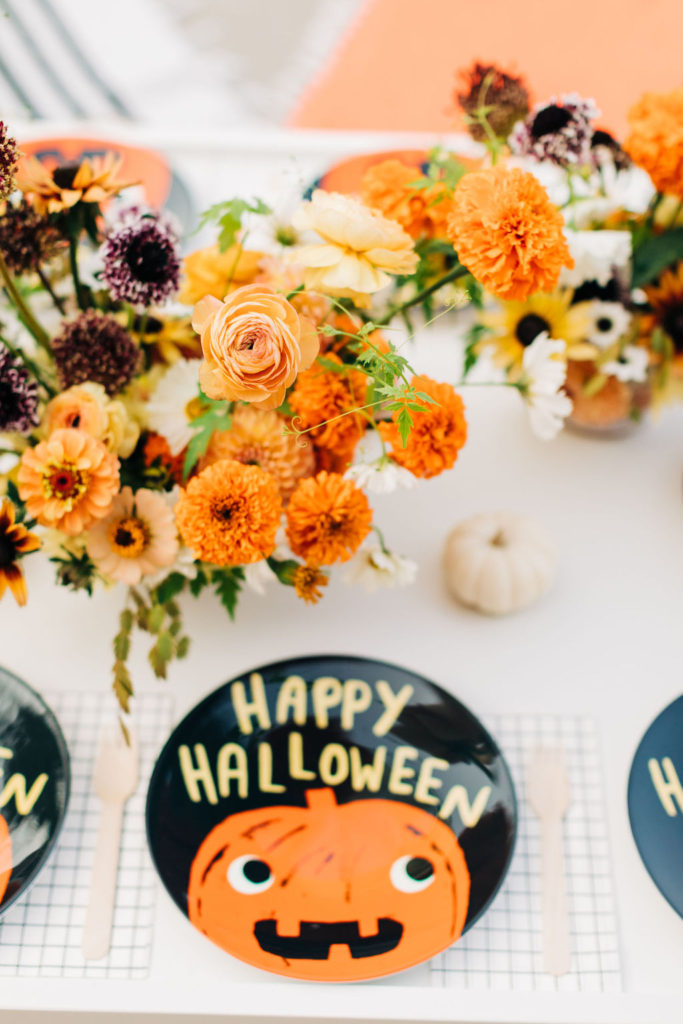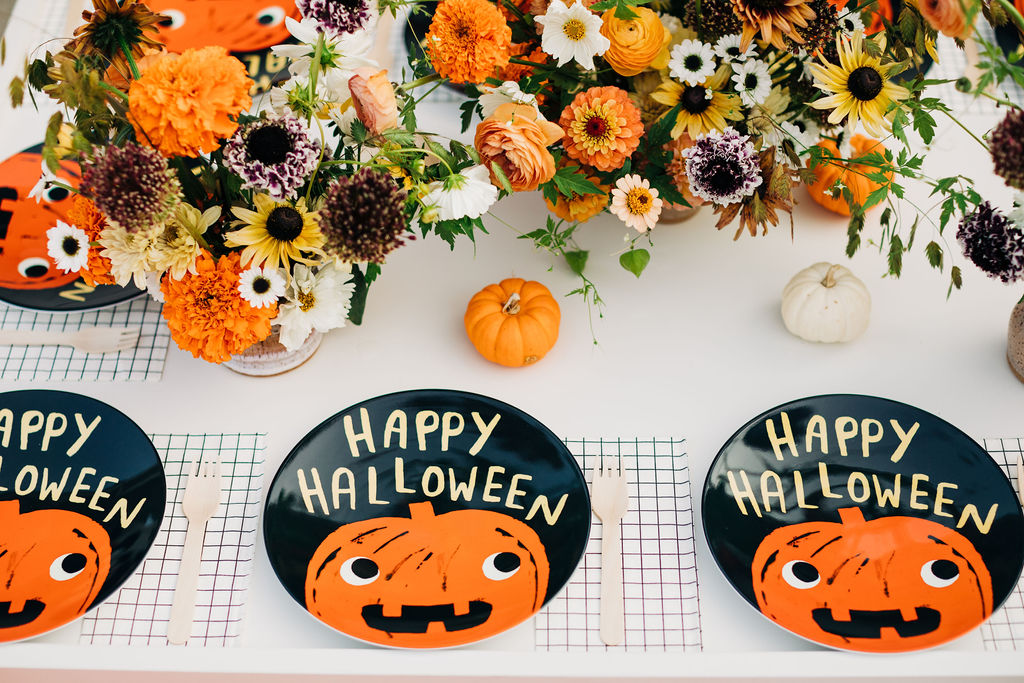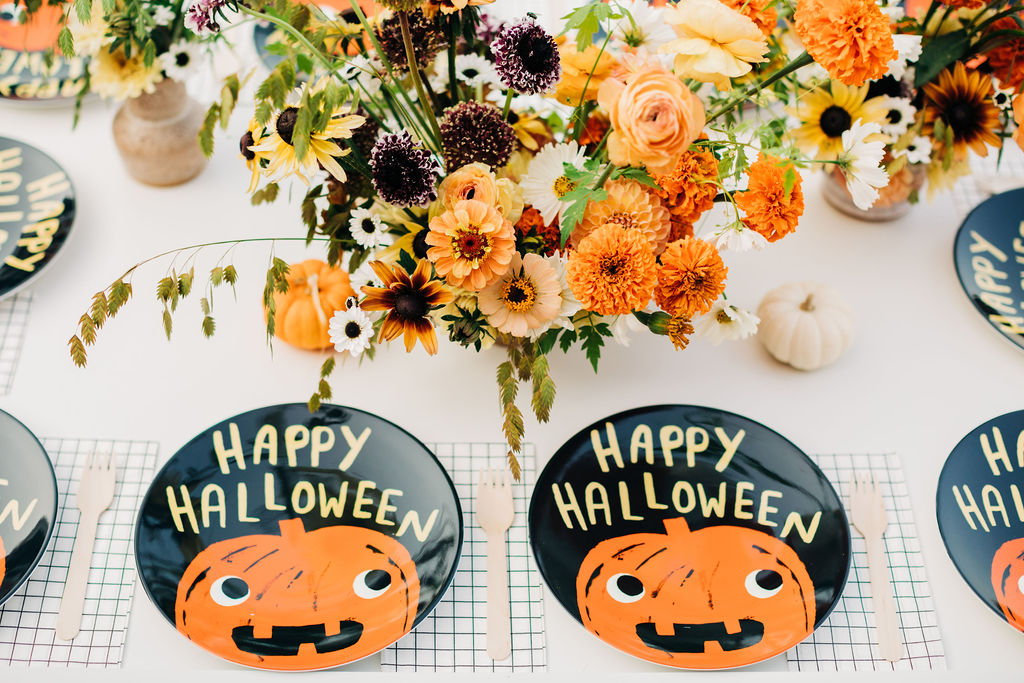 Such a fun and festive set up!!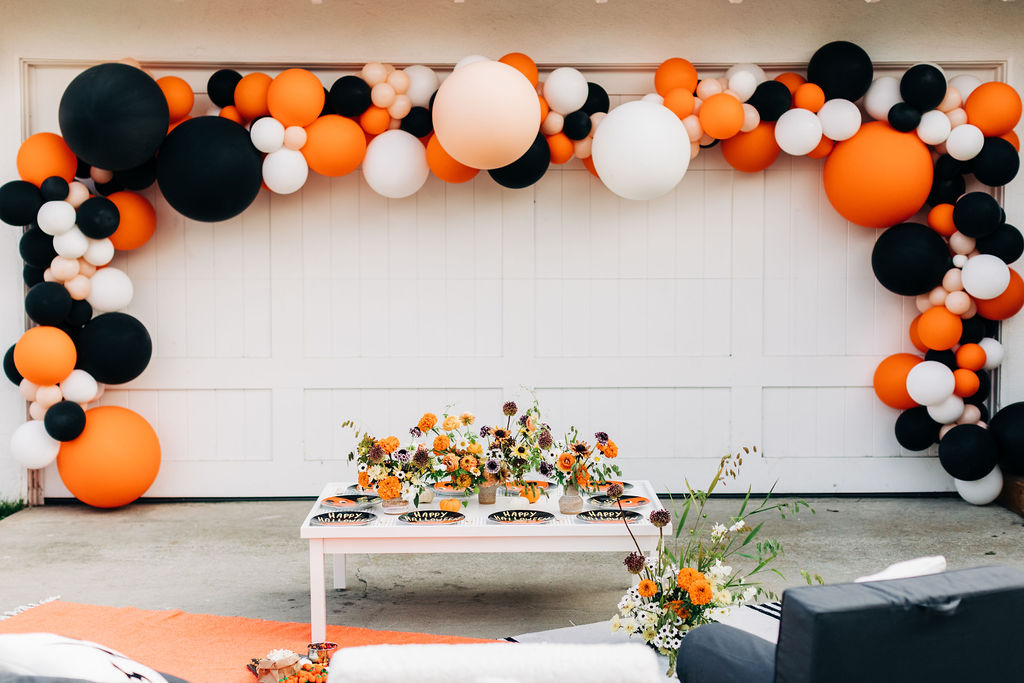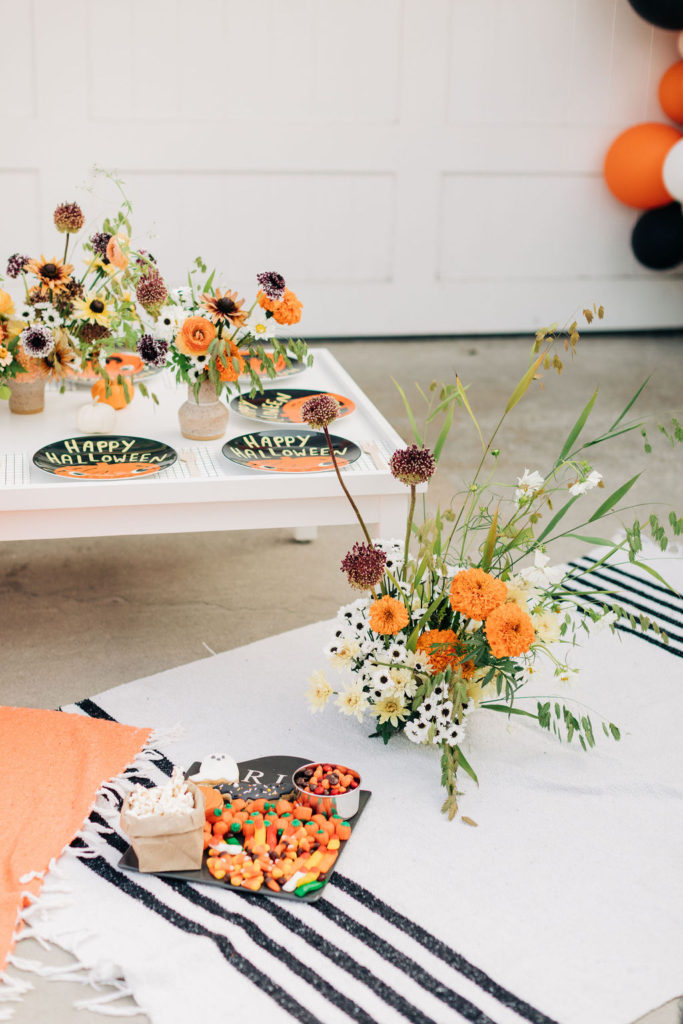 Step 2
Get yo' Costumes on!
How cute is this boo crew?! They are ready for a fun Halloween party with Pottery Barn Kid's costumes. They have the best variety of costumes if you ask me! Let's take a look at what our friends picked out this year…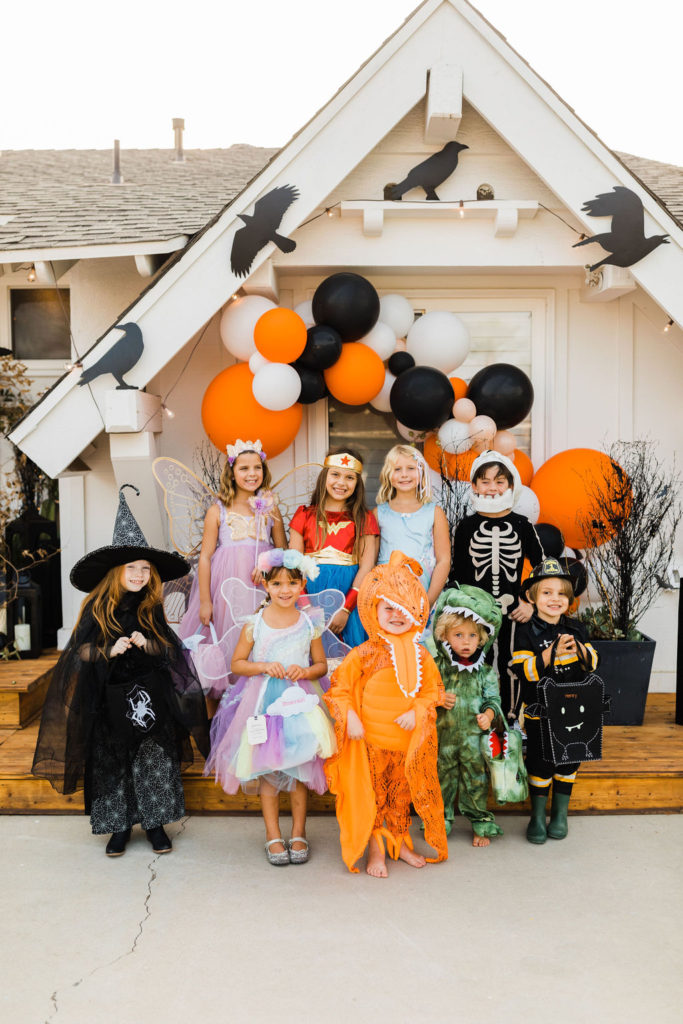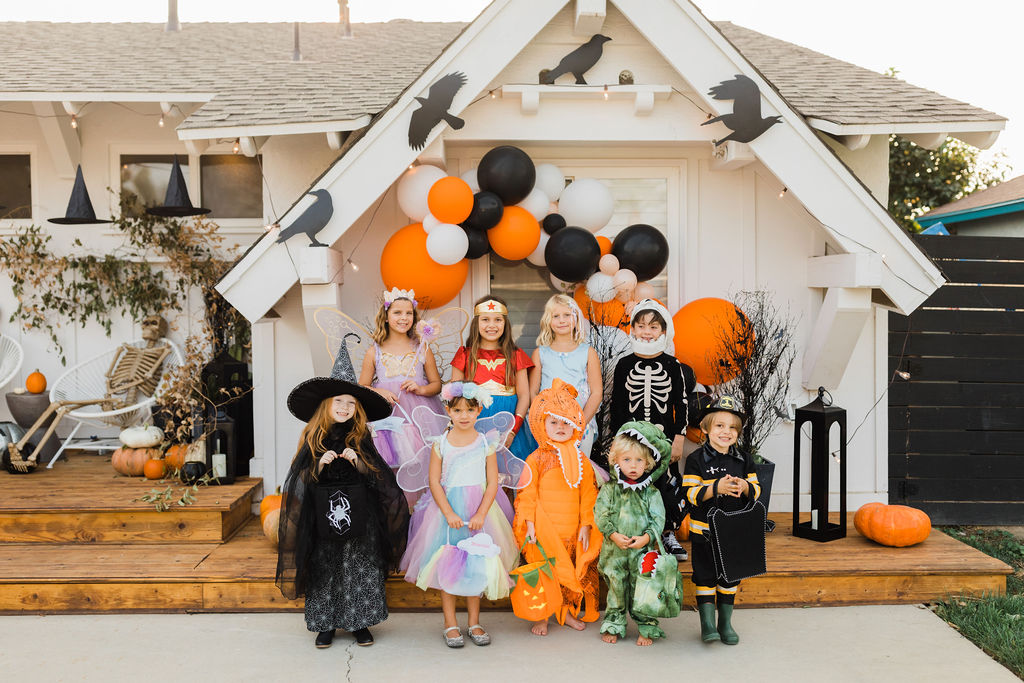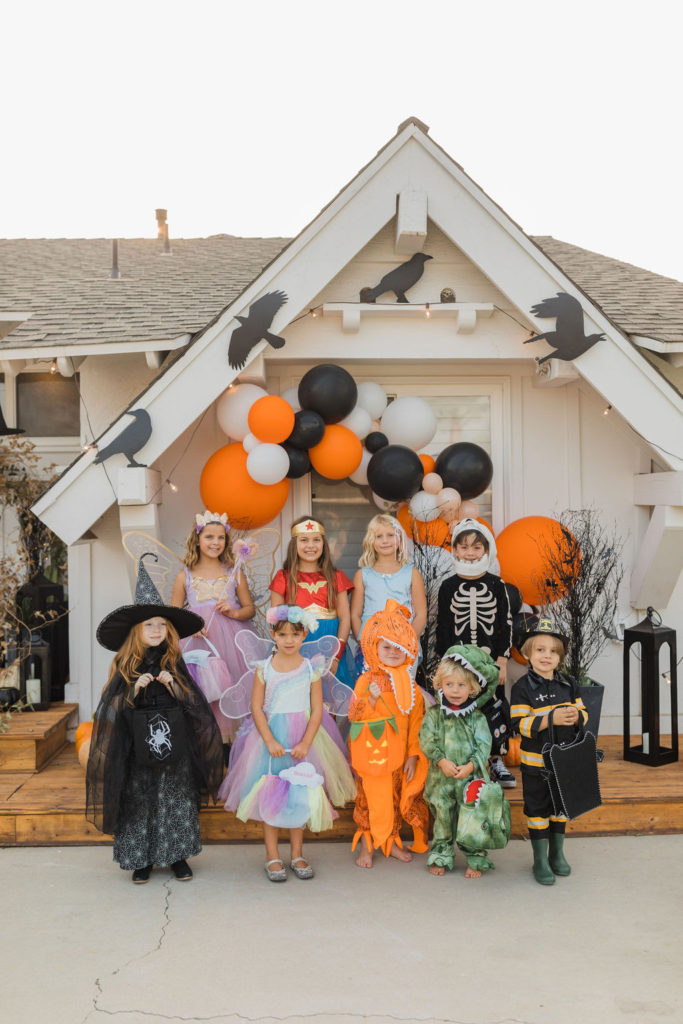 Starting with the cutest and scariest dinosaurs!! My son Cruz is still loving dinosaurs, you may remember last year he was that sweet little t-rex. Well, this year he let his friend Owen be a t-rex (an an adorable one at that) and he chose the orange pterodactyl! I can't get enough of these two!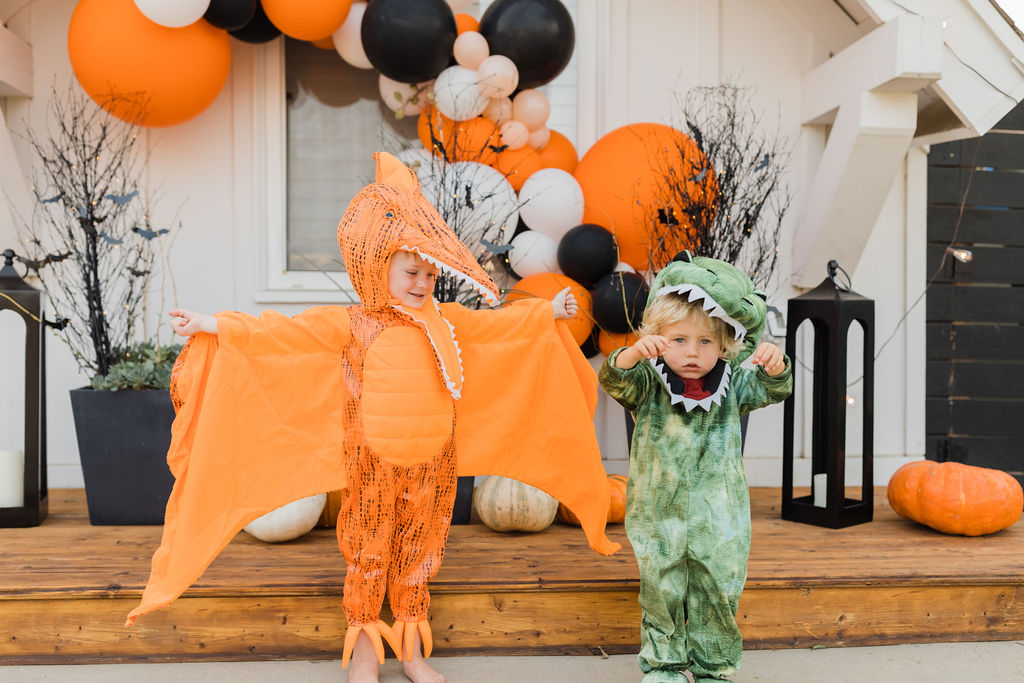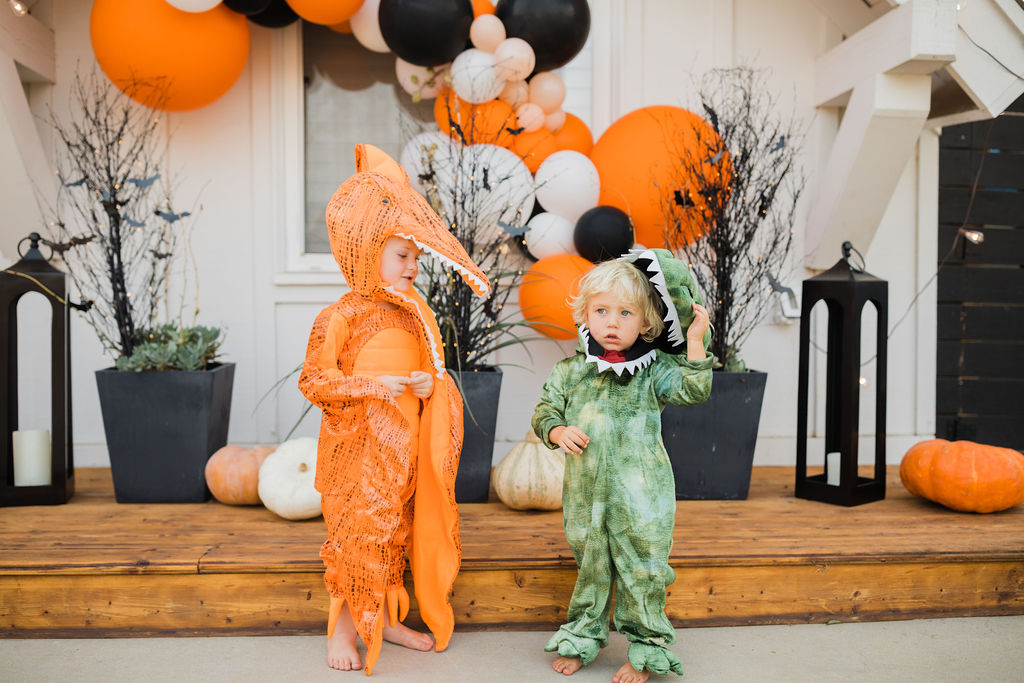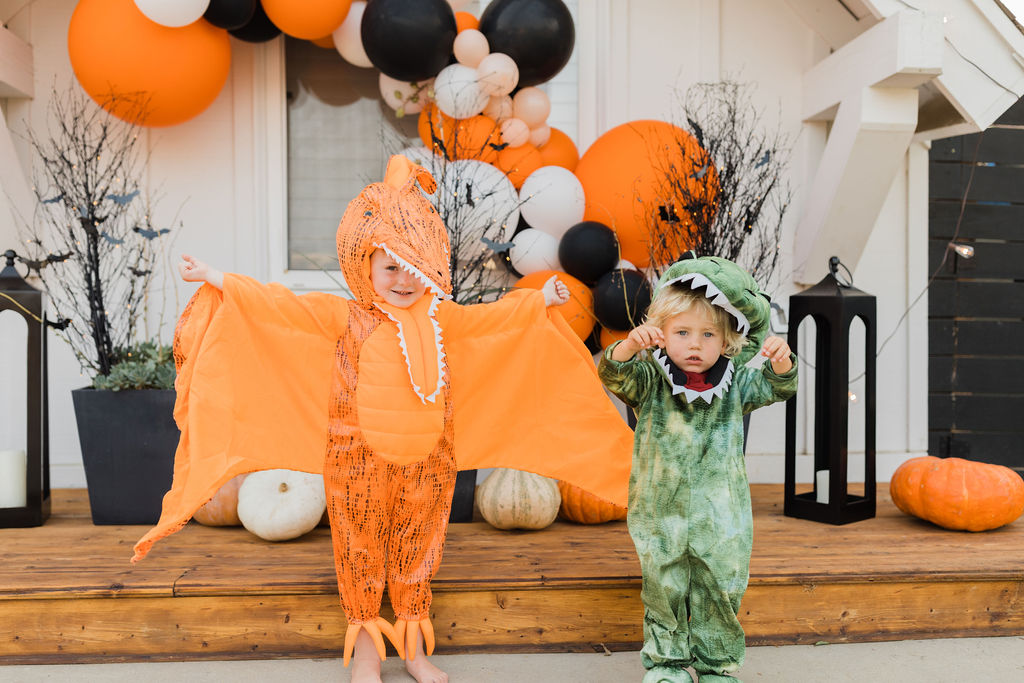 These pretty girls decided to be fairy princesses and a mermaid! I am really loving how PBK has those cute hair accessories! It really adds to the costume, don't you think?! The little fairy princess on the left's costume lights up too! I do have to say though, that mermaid costume is pretty darn cute!!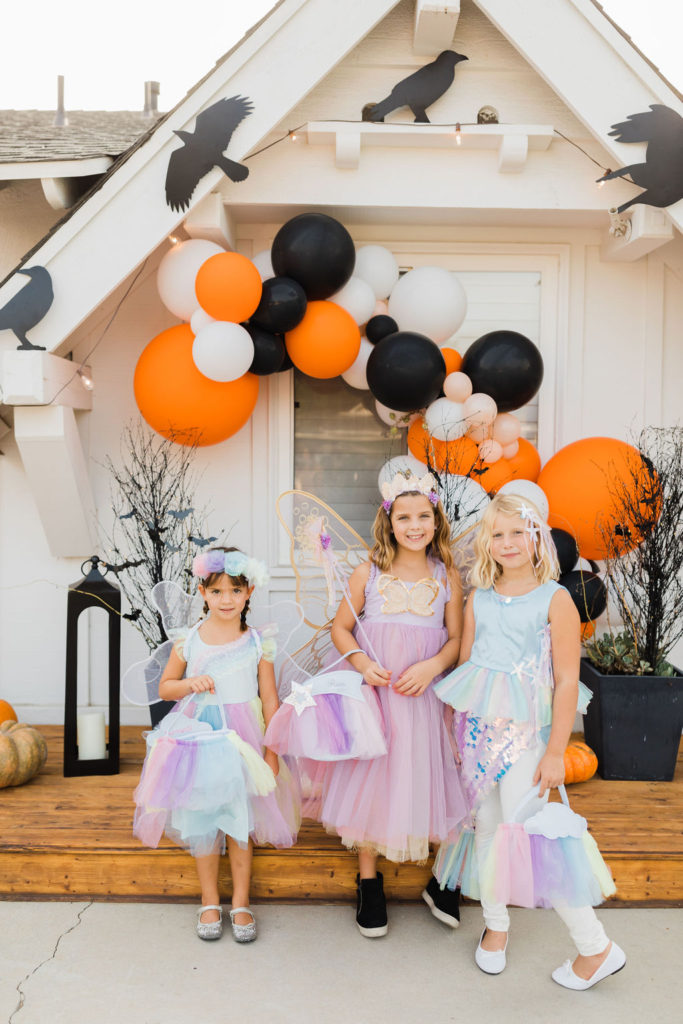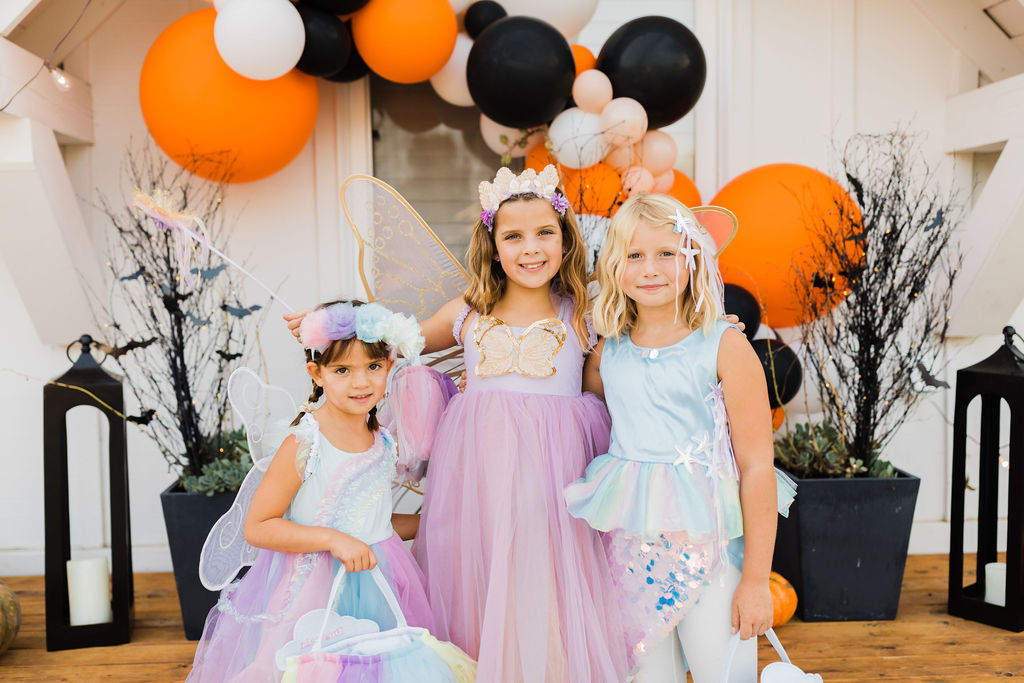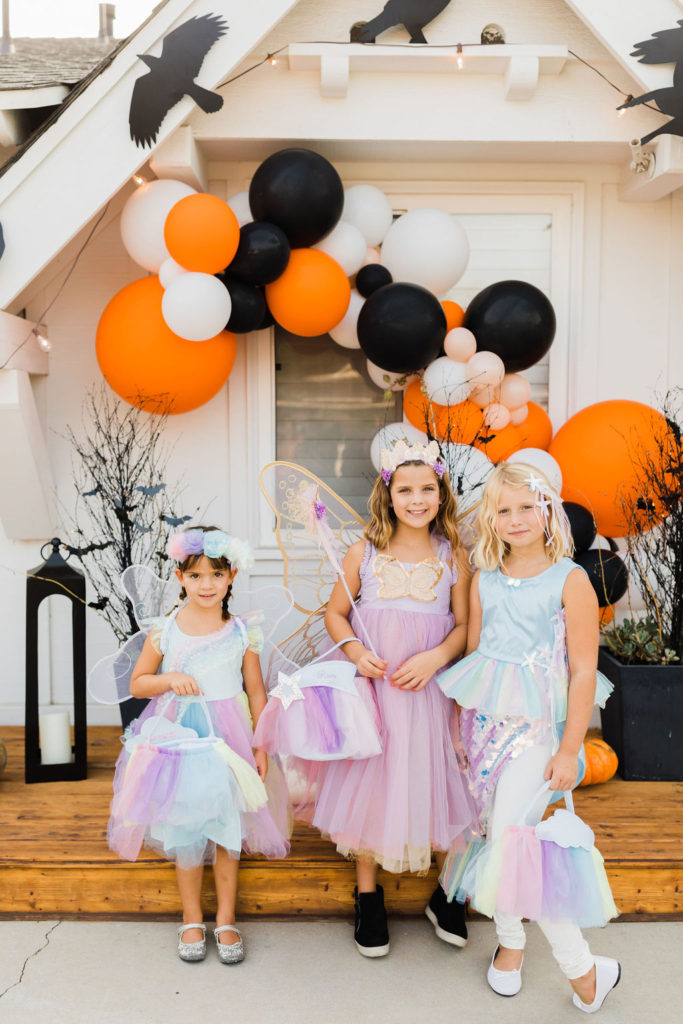 Now for our heroes!!! Edie and Henry were dressed as heroes to save the day. A firefighter and Wonder Woman! This is one dynamic brother and sister duo – and don't you love all of the matching treat baskets?!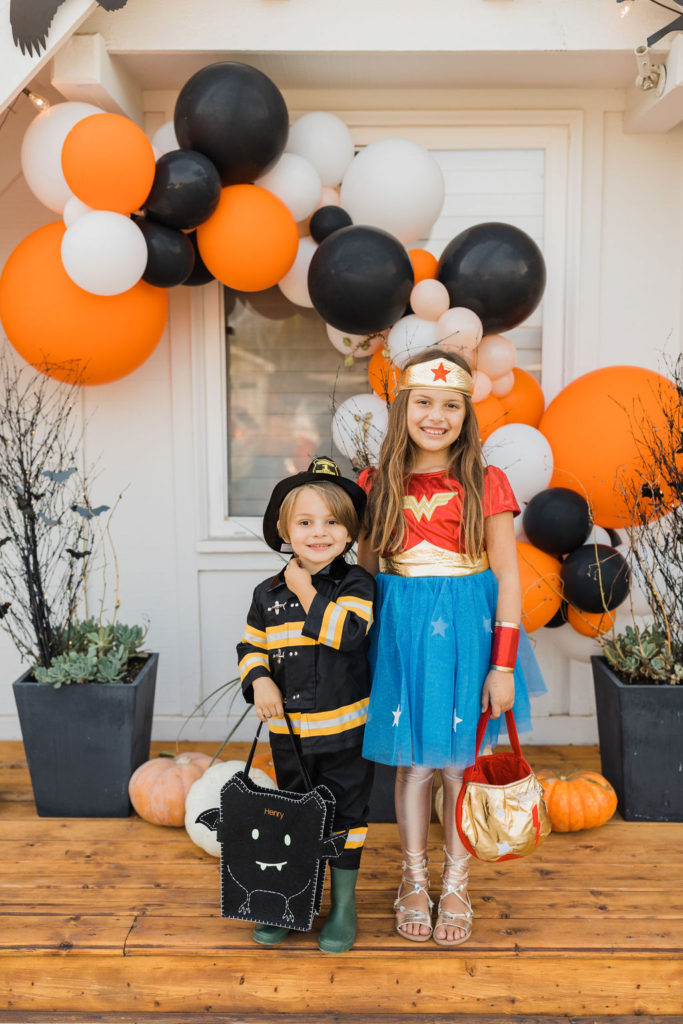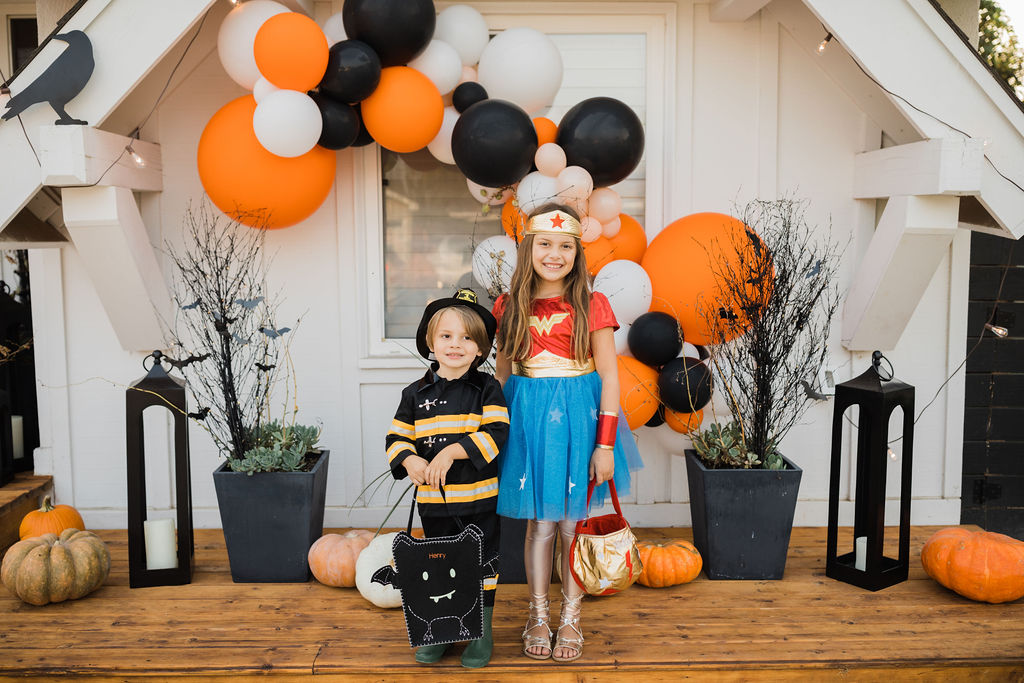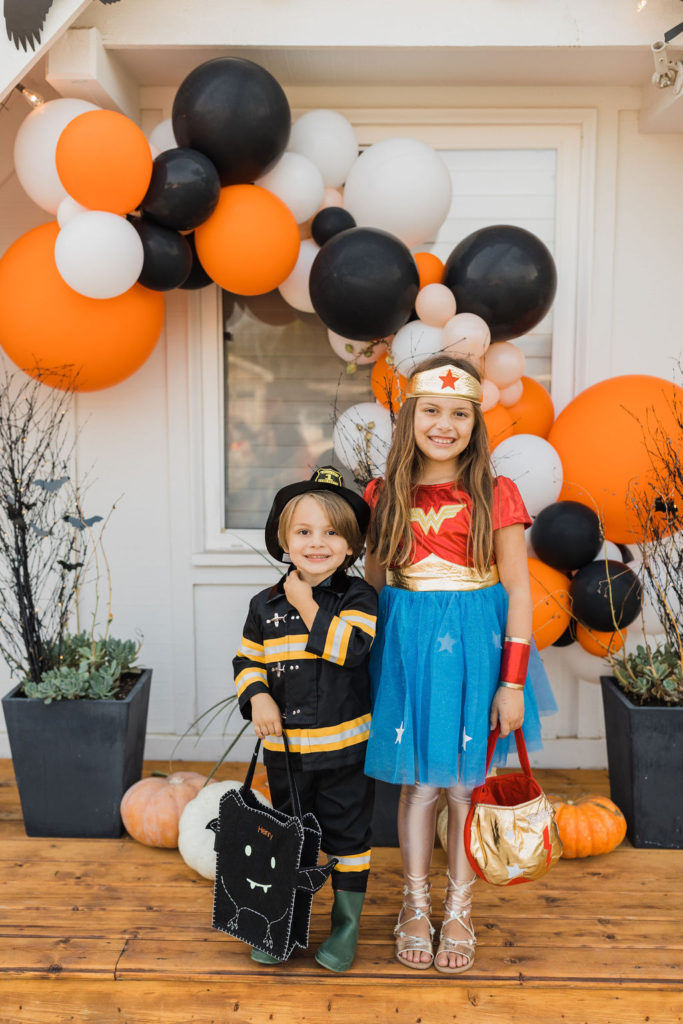 Last but not least, our spooky two!! June the witch and Court the skeleton. Court chose this same costume two years ago, I guess you can't quite a good thing! And how spooky and amazing is June's witch costume? It looks so amazing with her beautiful red hair!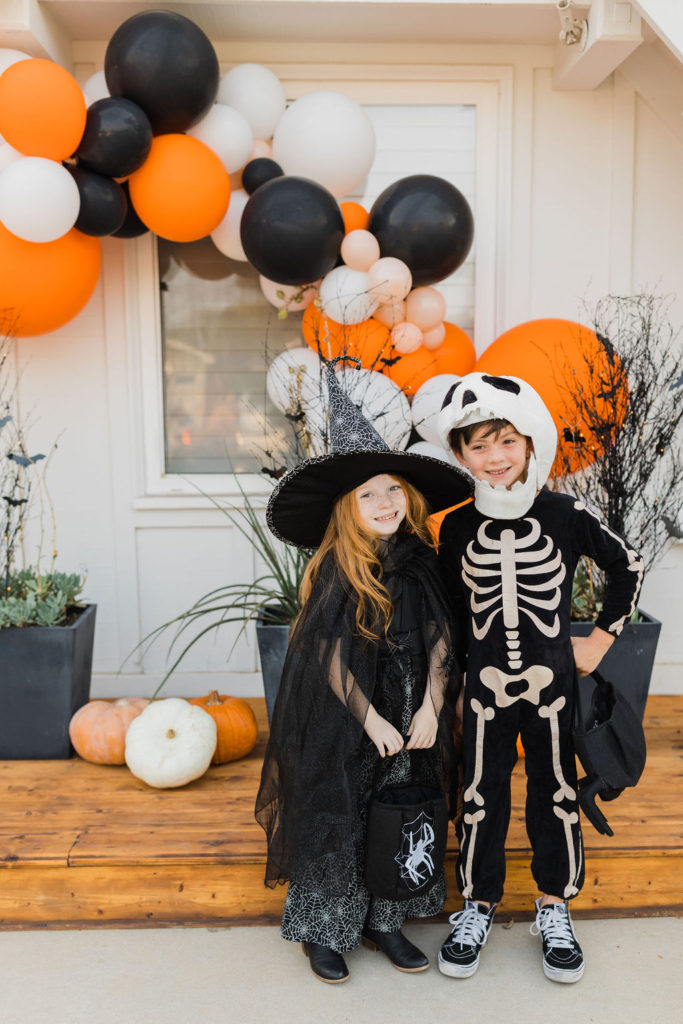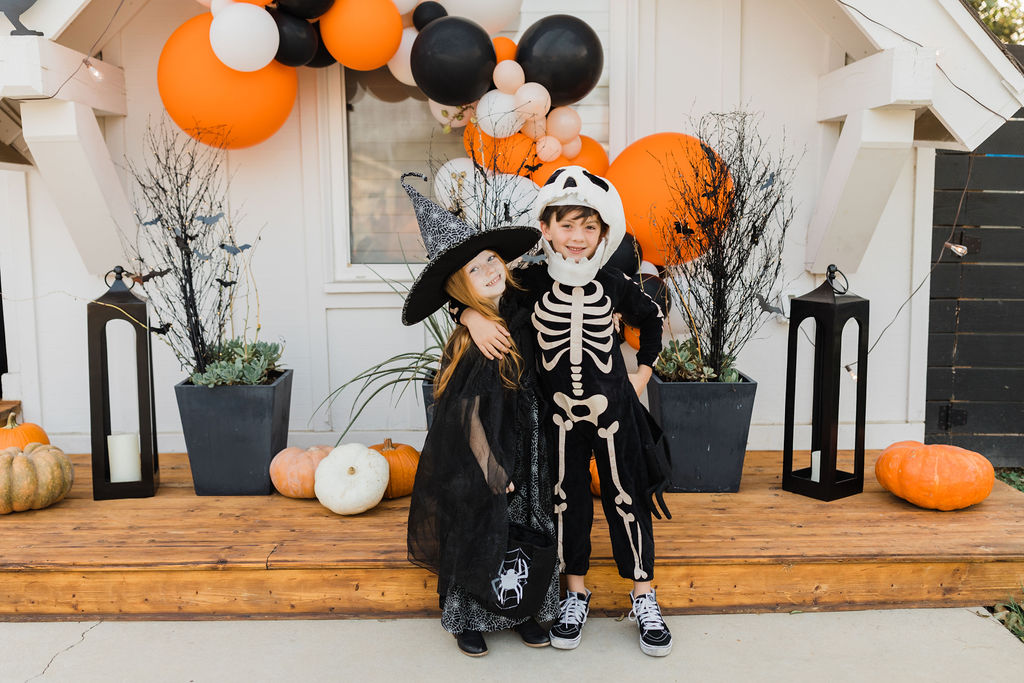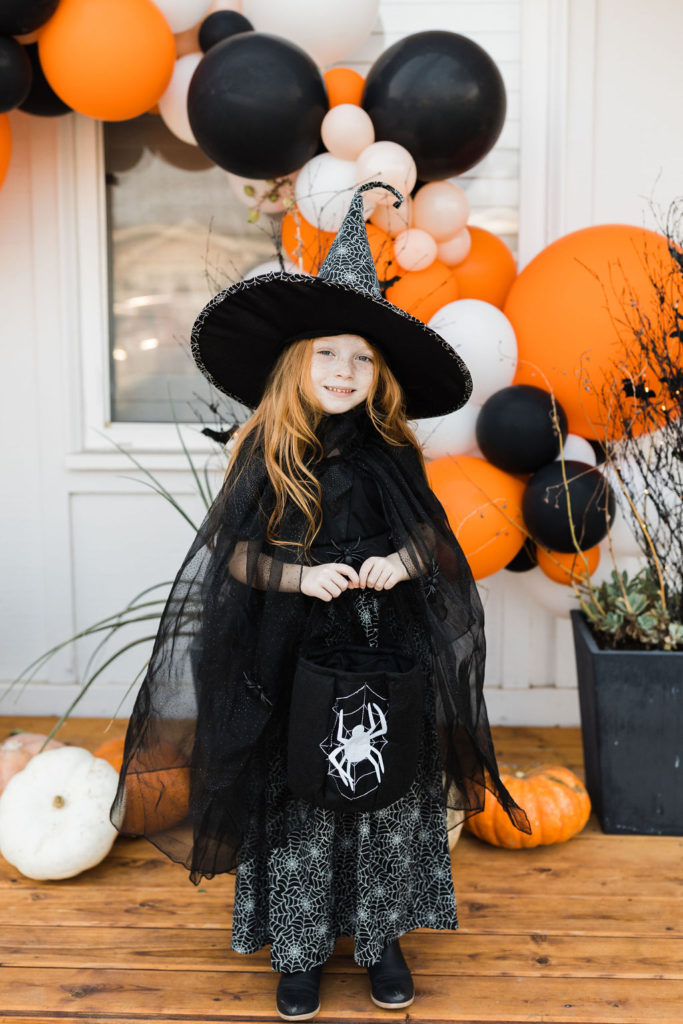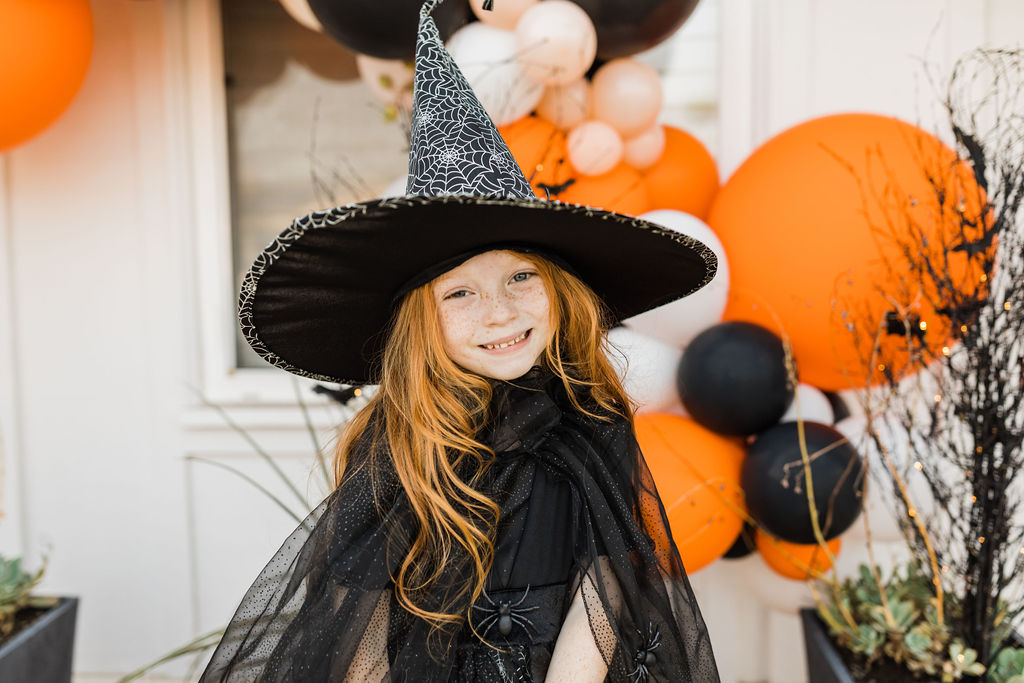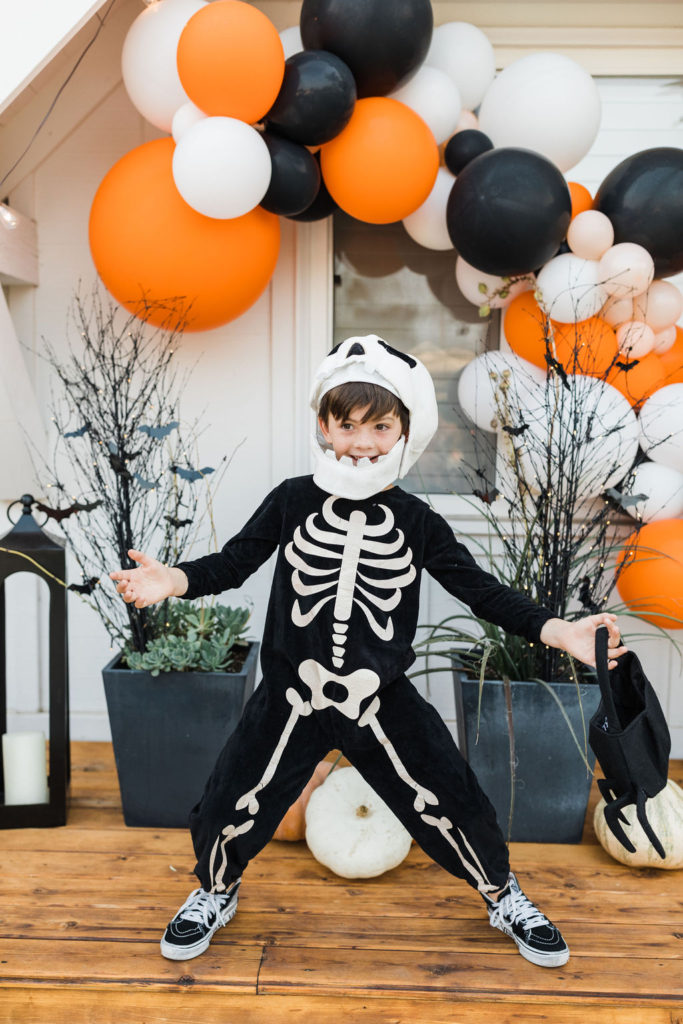 My cute boys, I love them so much! I've definitely passed on all my Halloween love to these two. They are just as crazy about all things festive just like me!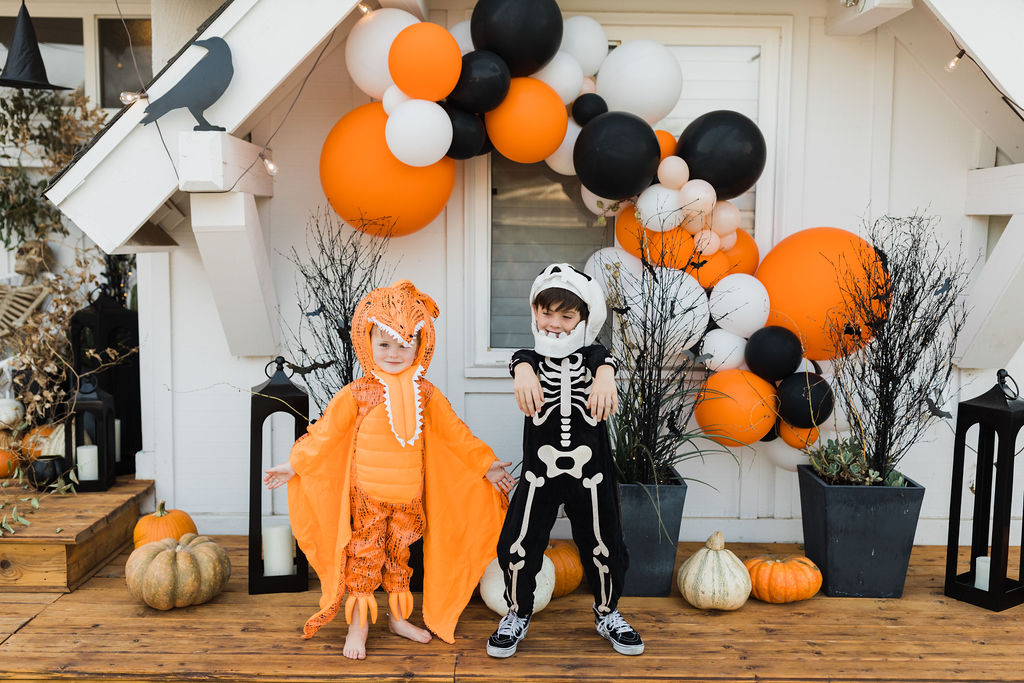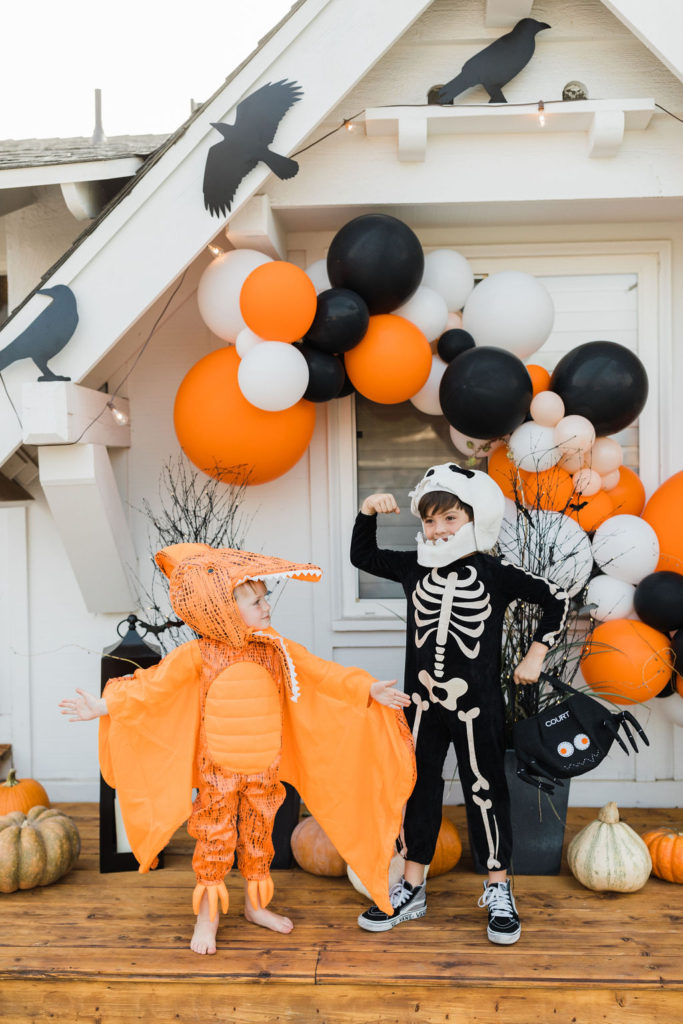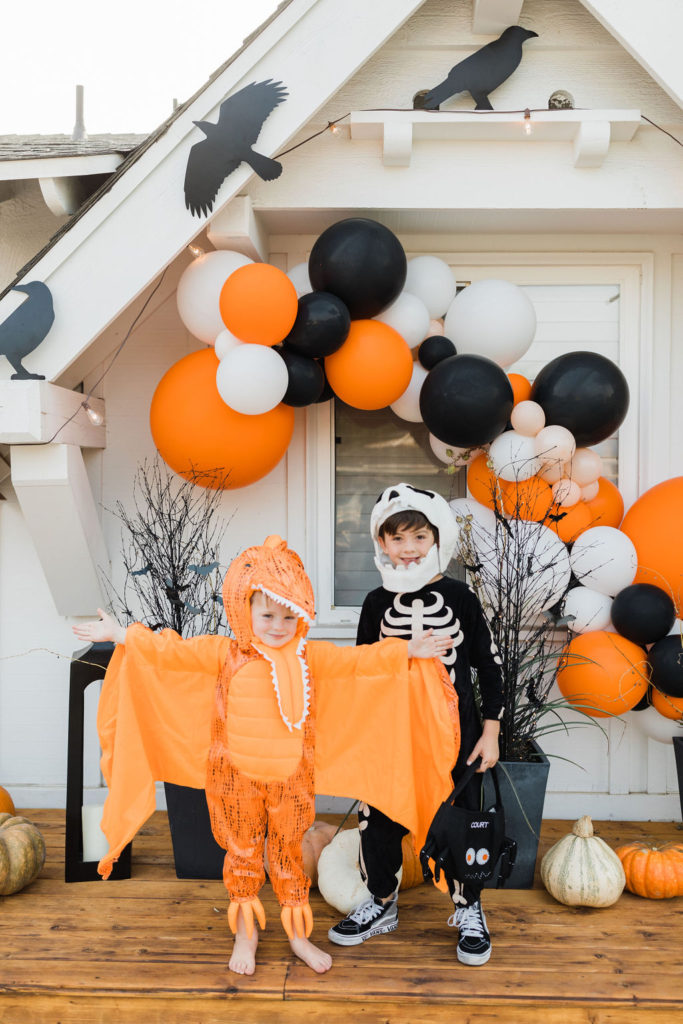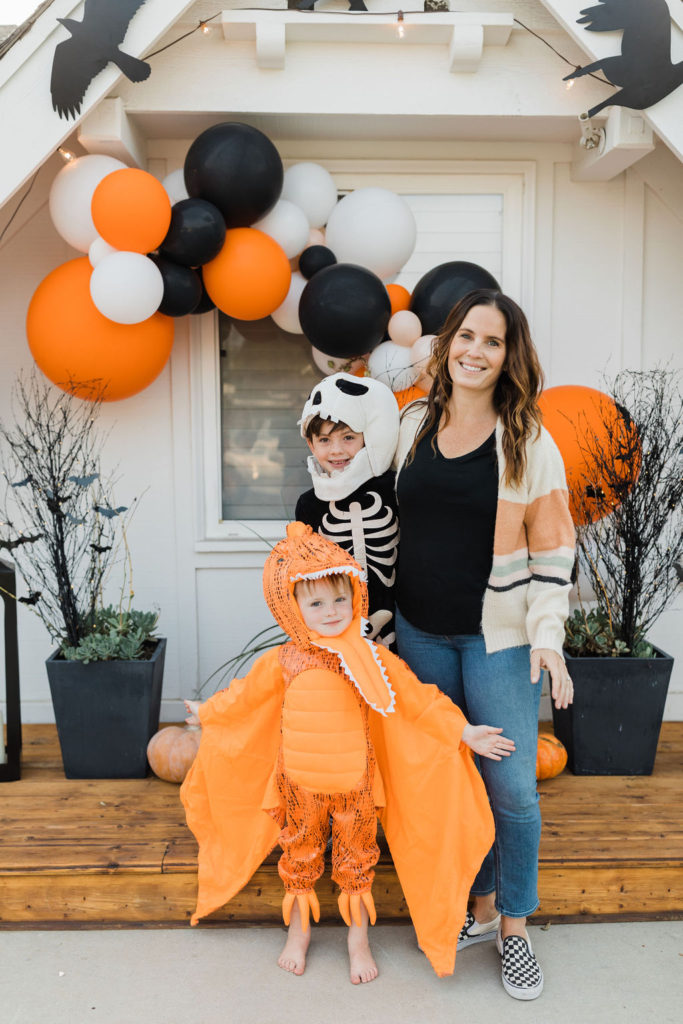 Let's take a closer look at all this cuteness! These costumes are amazing, Pottery Barn Kids always has the best selection!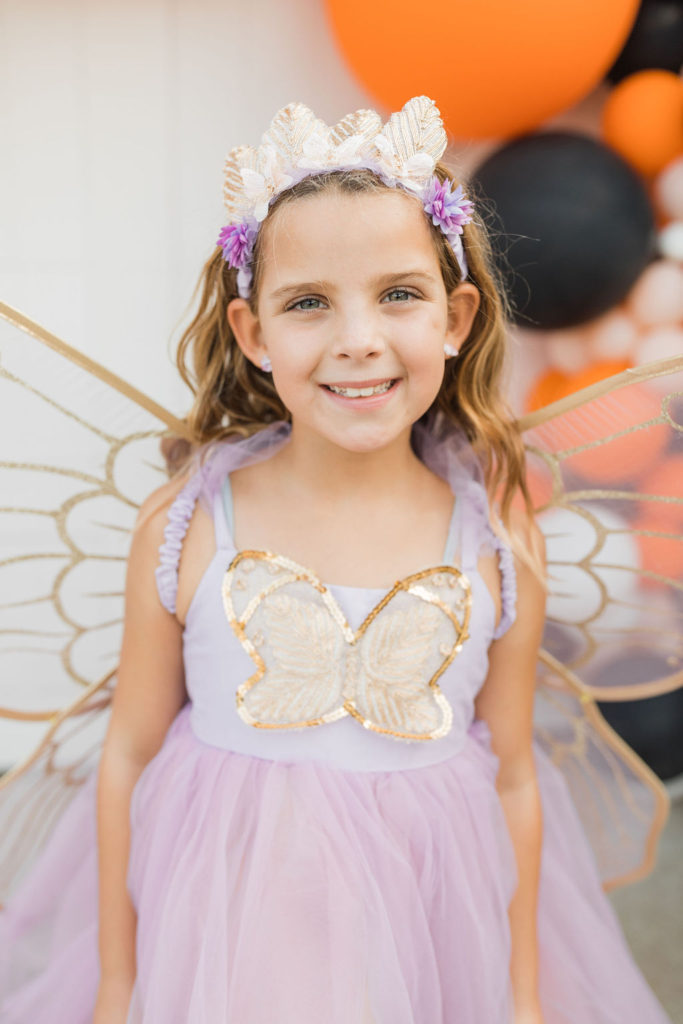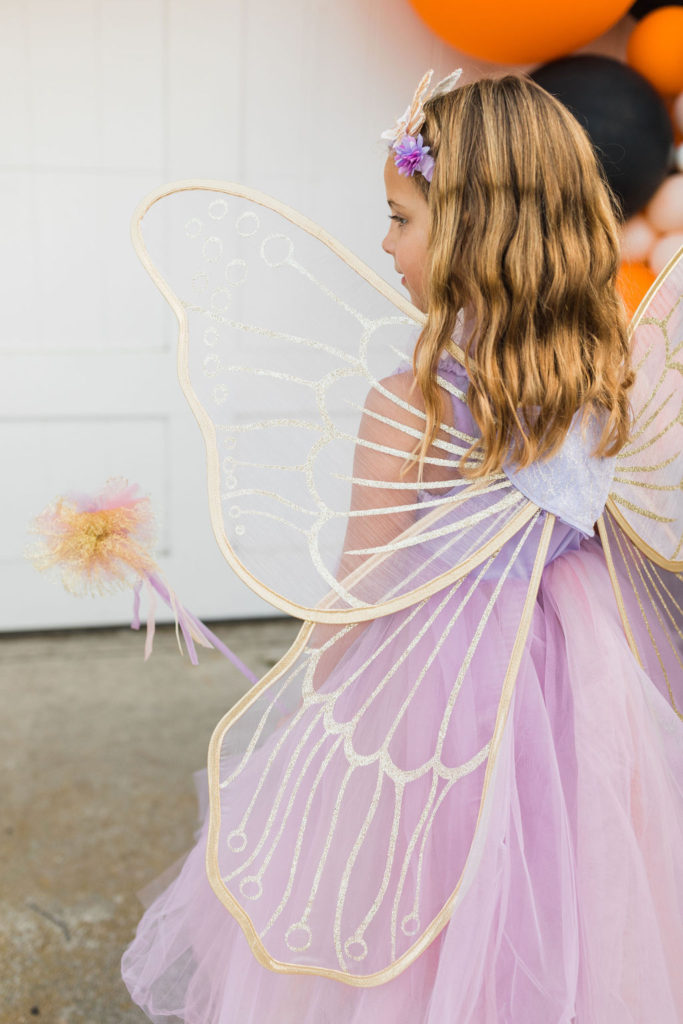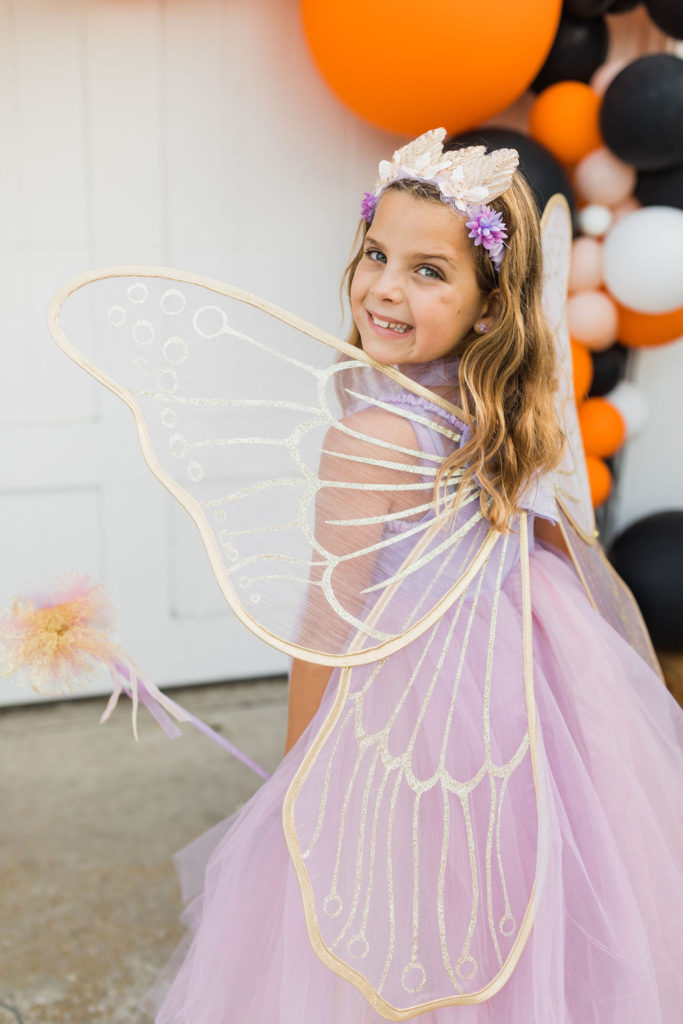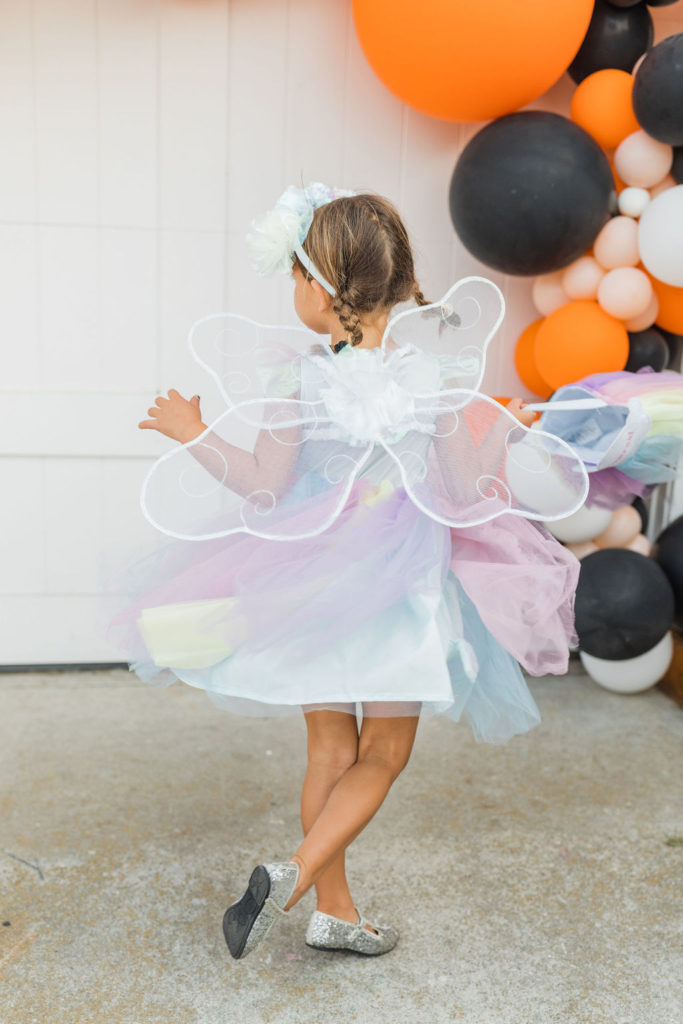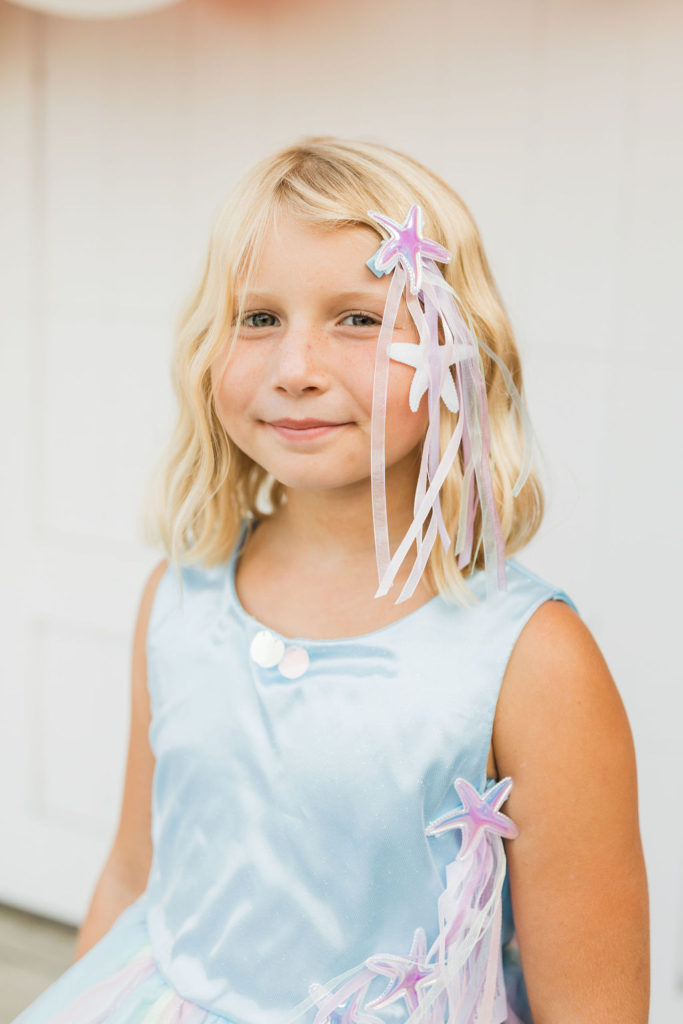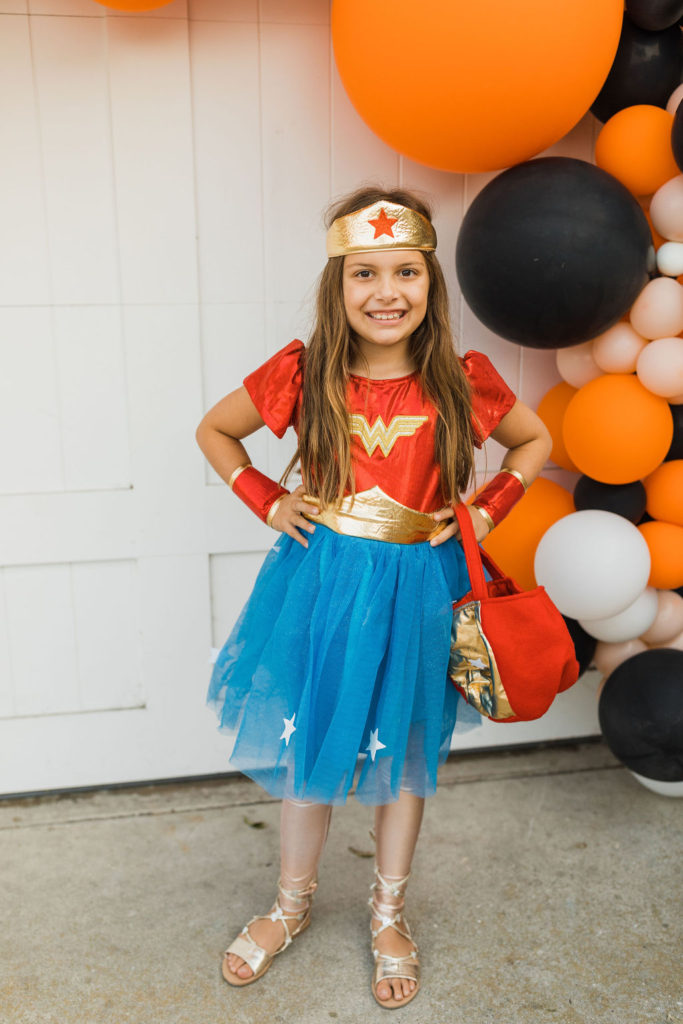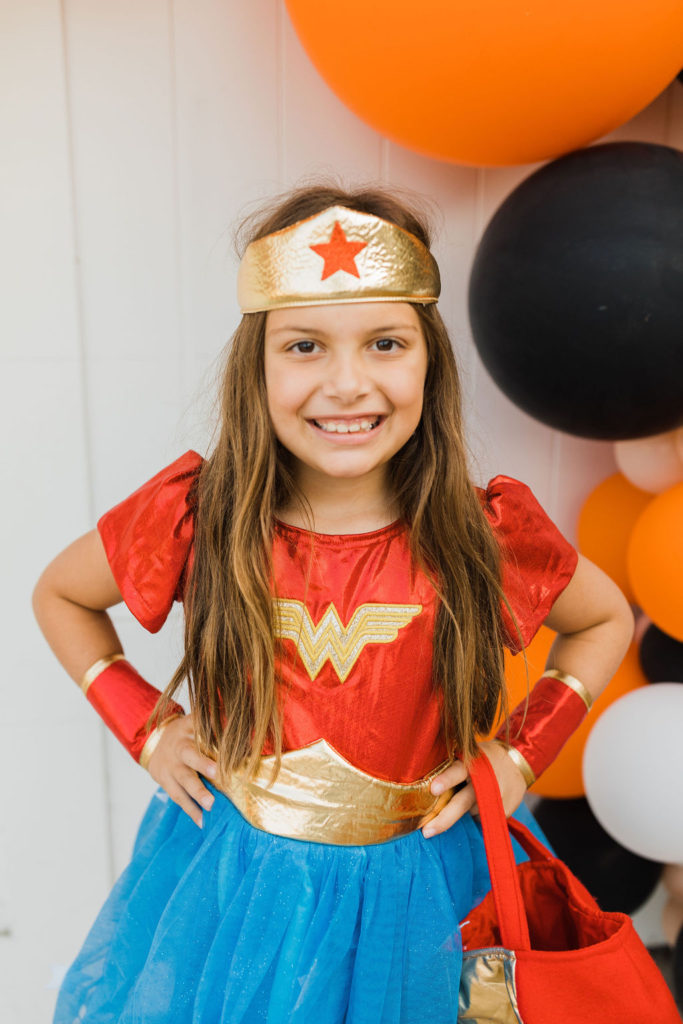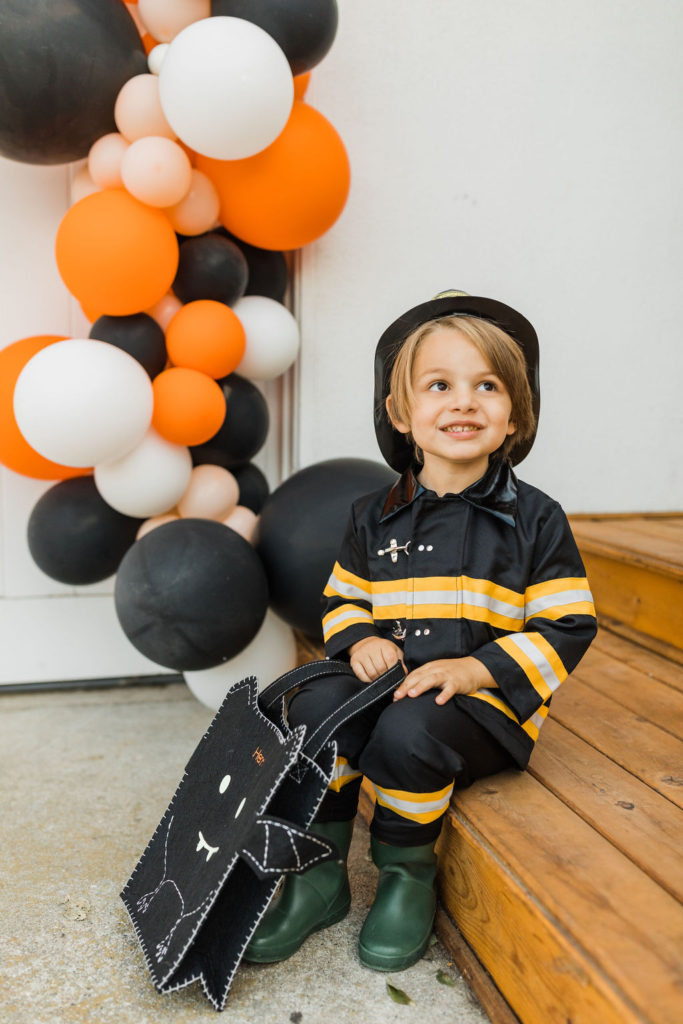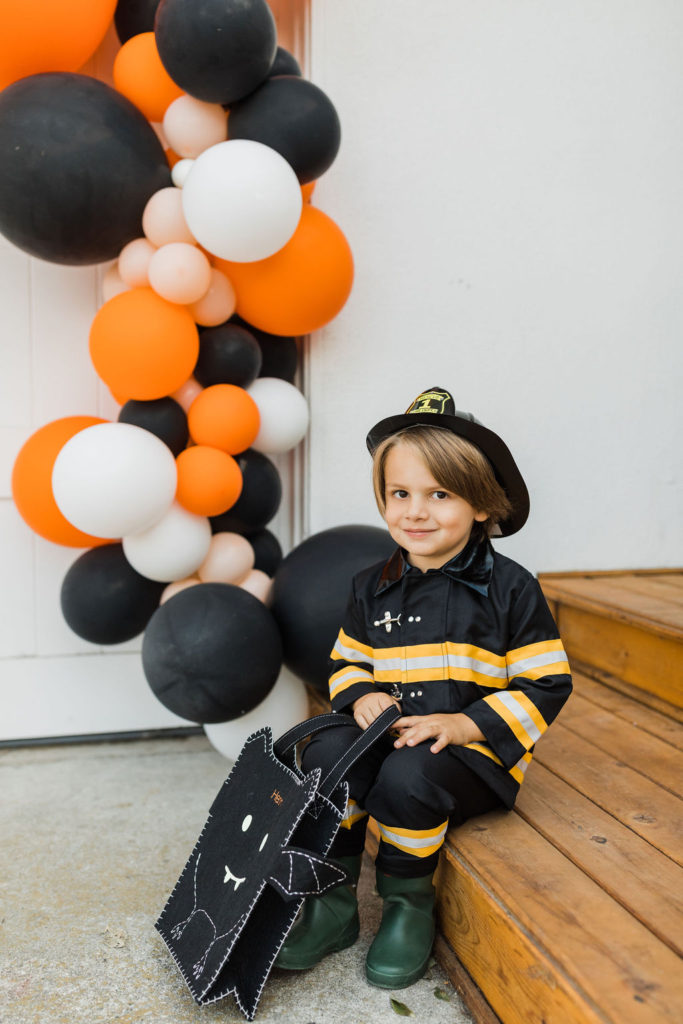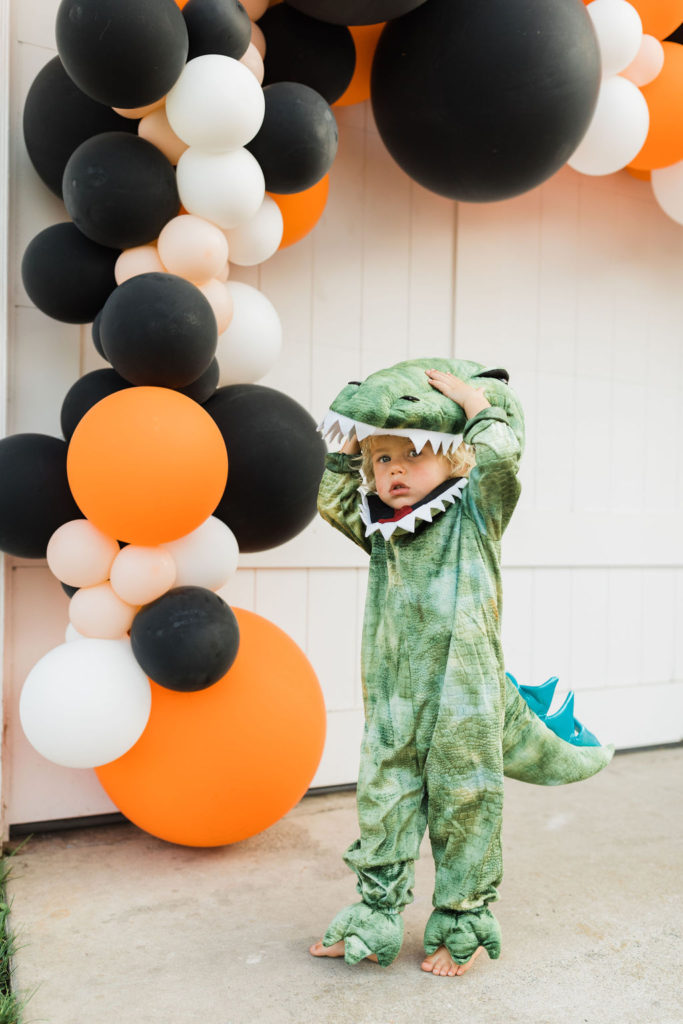 Love this gang!! They are ready for Halloween!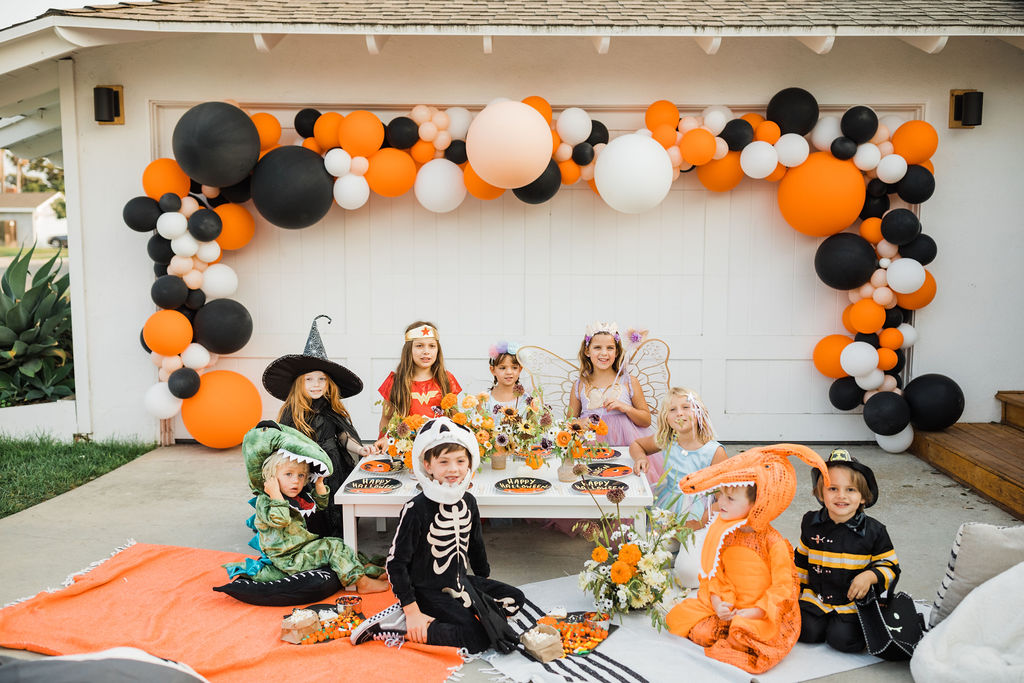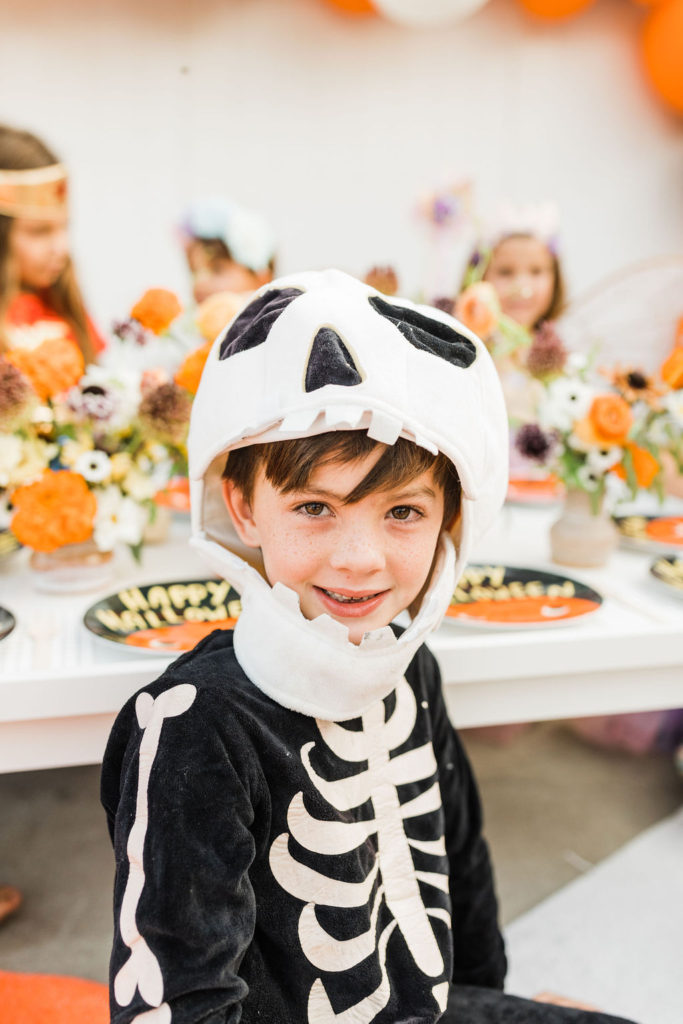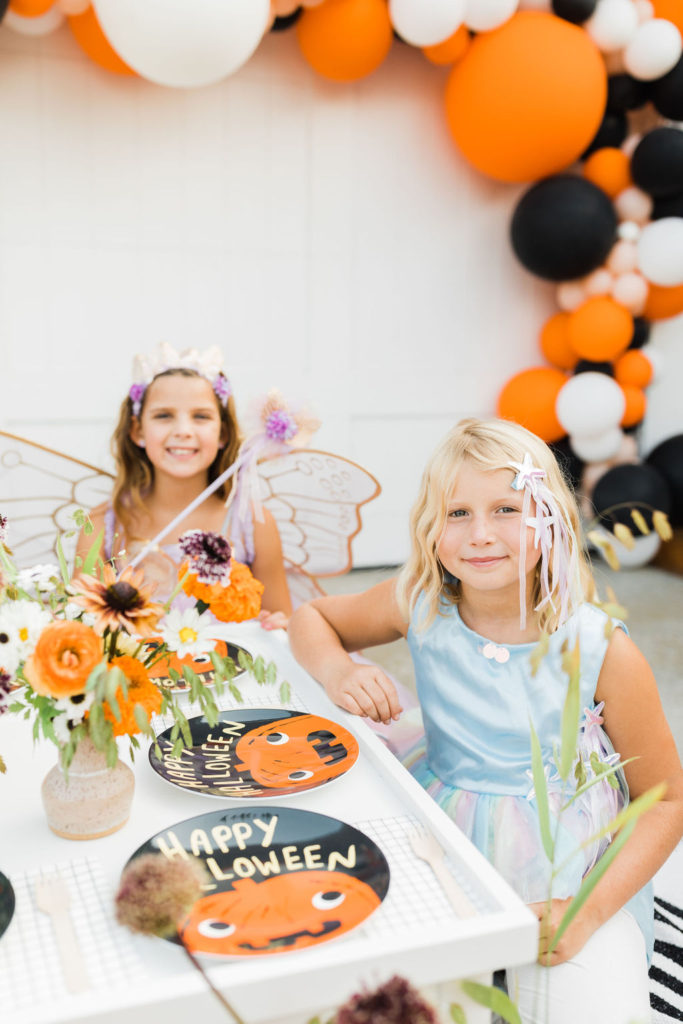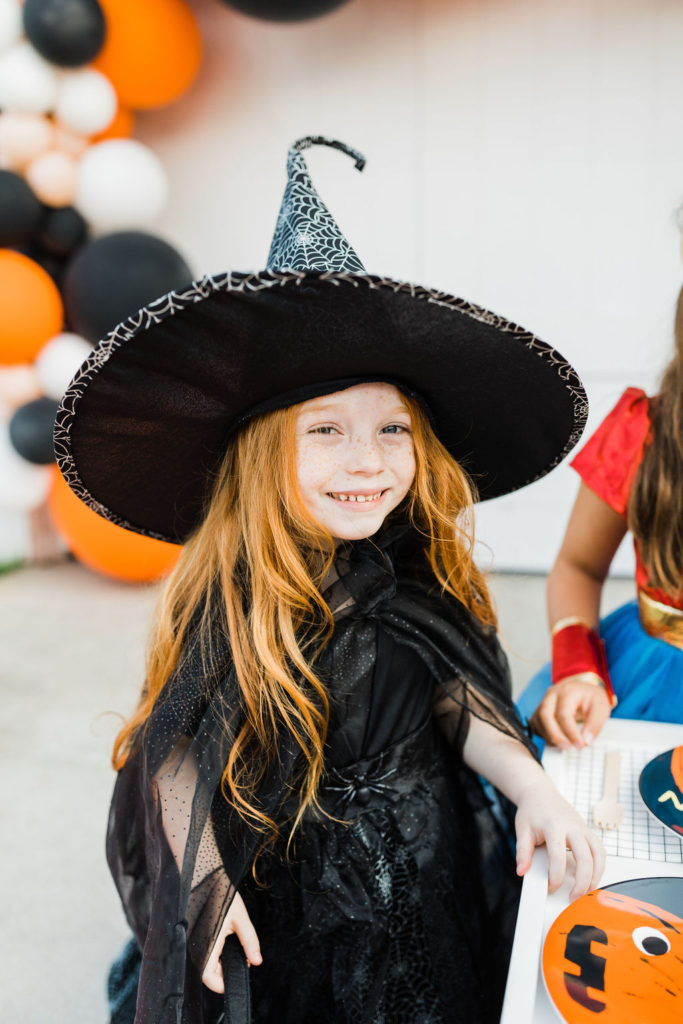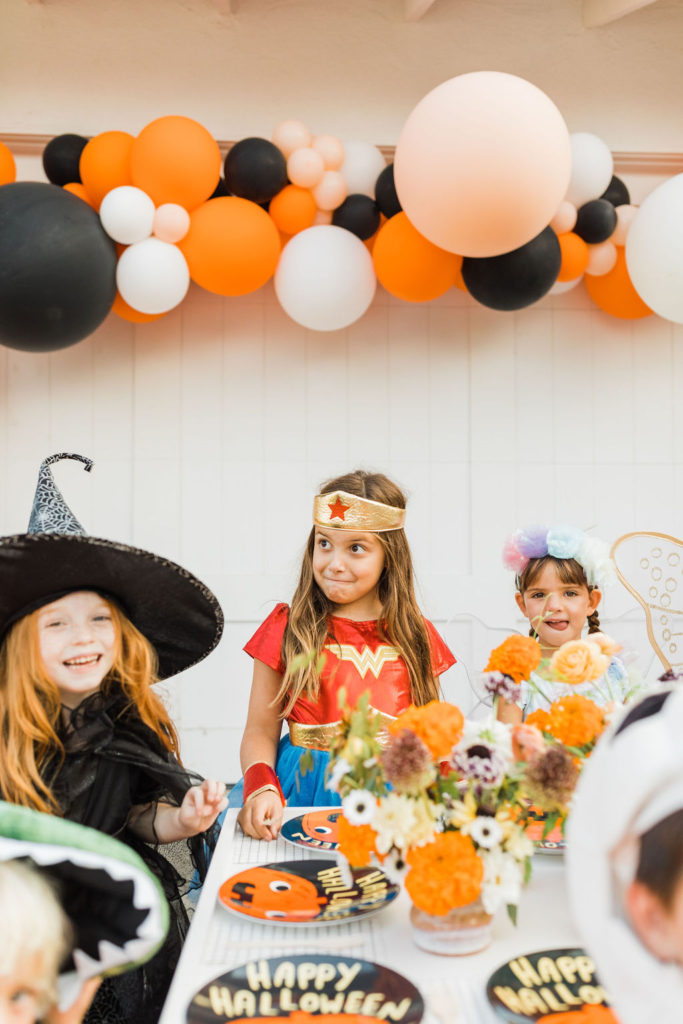 Step 3
Deck out your movie screen!
We know how to make that movie pop! Instead of using a screen, we used my garage door. We've done it a couple of times with neighbors since Covid. A front yard movie night for the kiddos. They love it so much! If you didn't see our adult version, it's a must-see as well!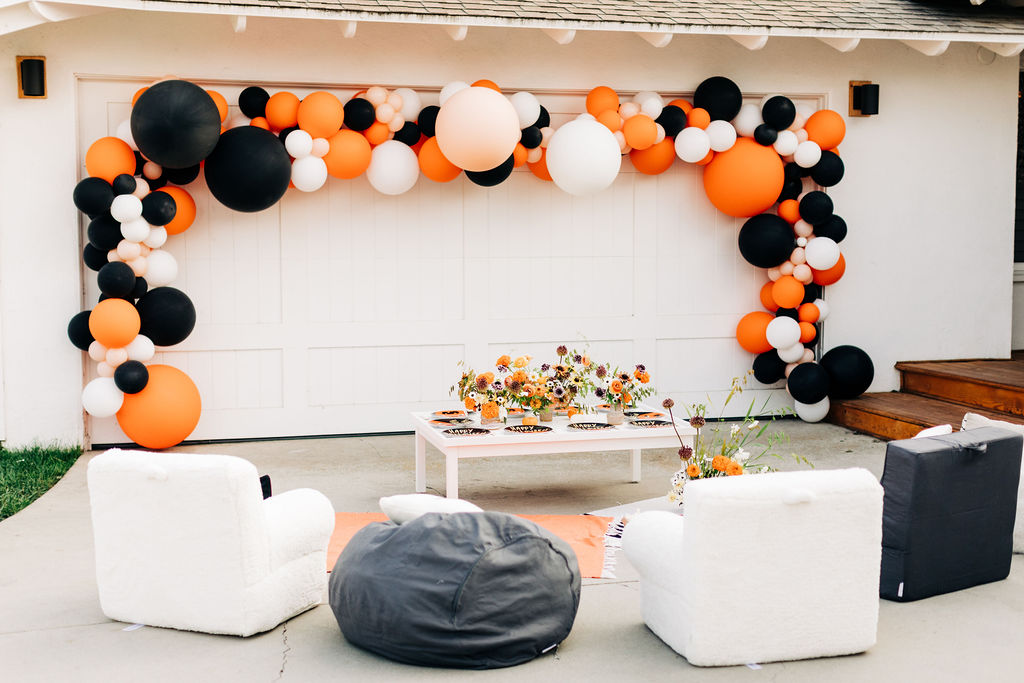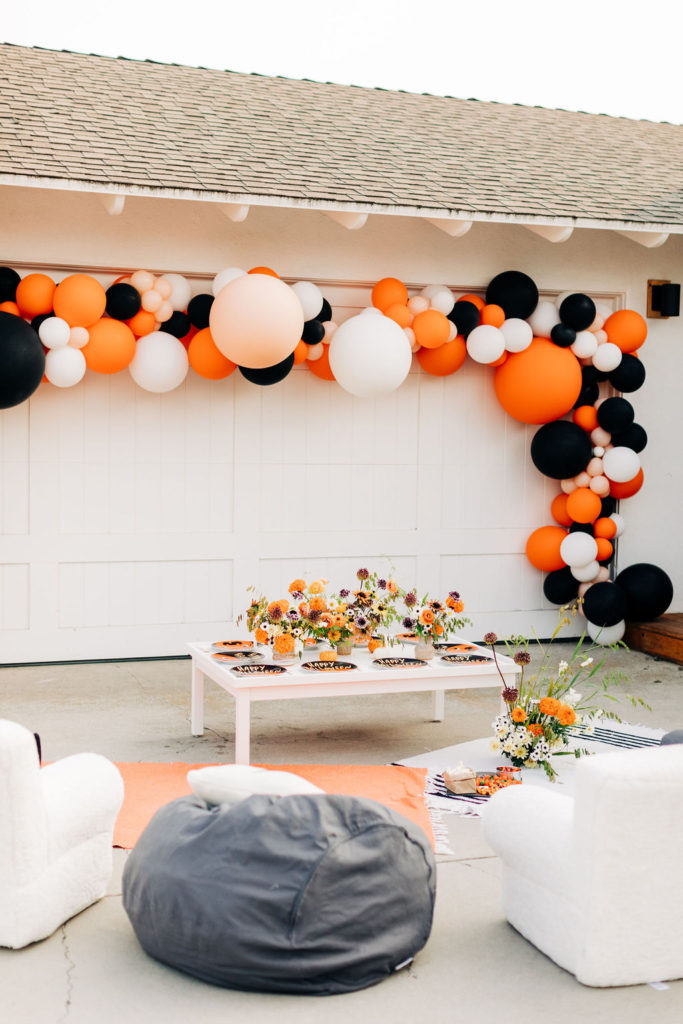 Not a bad place to watch a movie with your friends! What would be your movie of choice? My kids chose The Addams Family. There are so many good ones to choose from!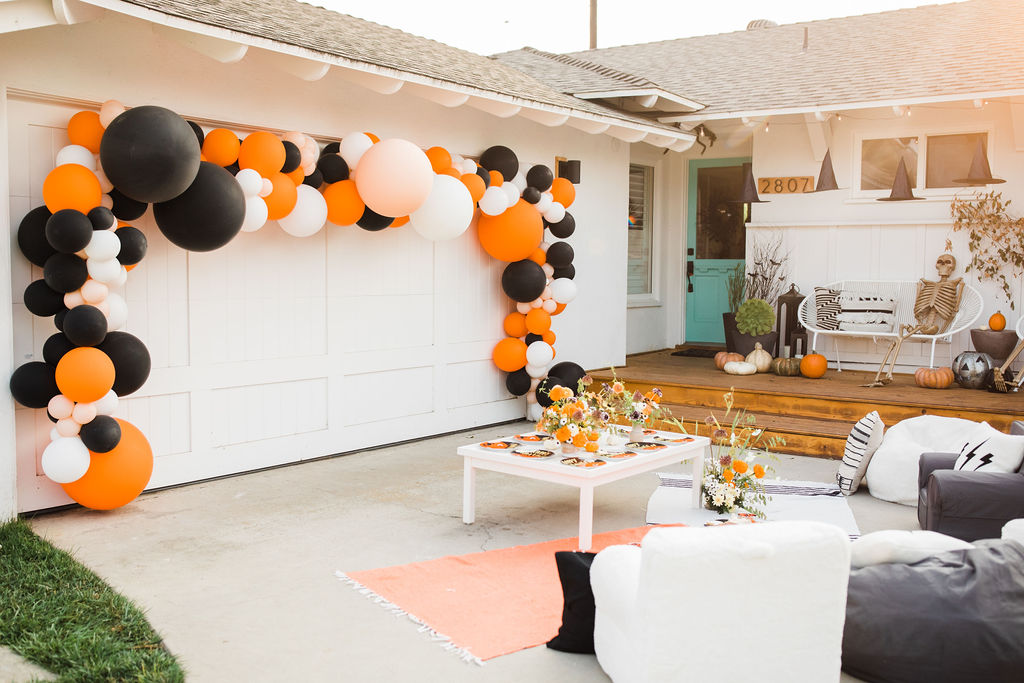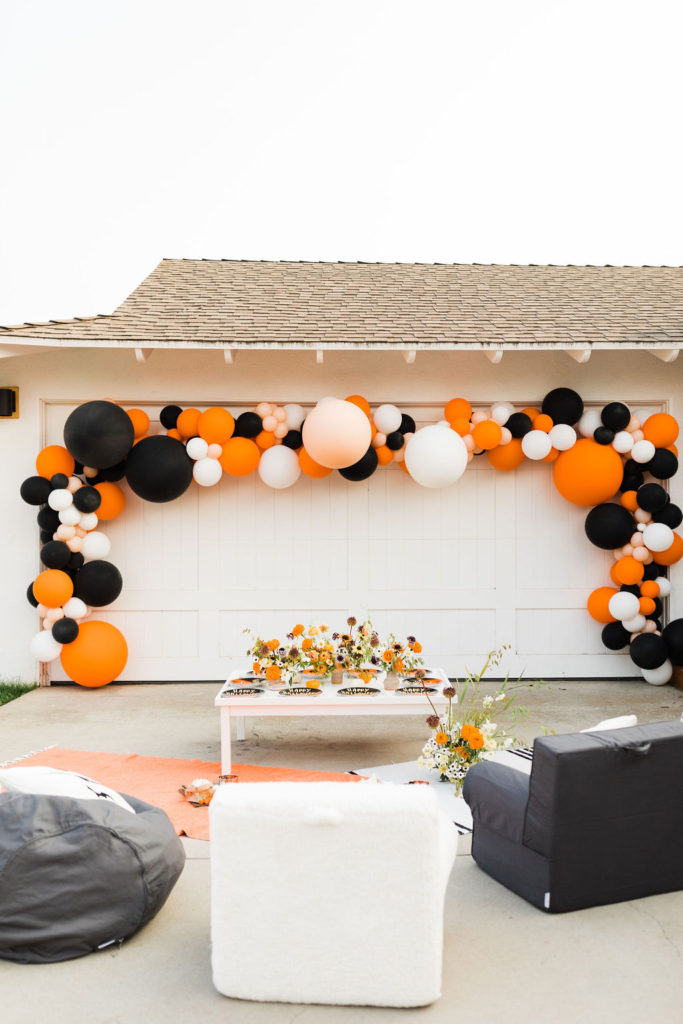 We added cozy chairs and bean bags from Pottery Barn Kids for everyone to snuggle up on. Not too shabby, I mean they look pretty darn comfortable compared to some of the movie theaters I go to! I also through in some pillows from Pottery Barn Kids and blankets from Gunn & Swain.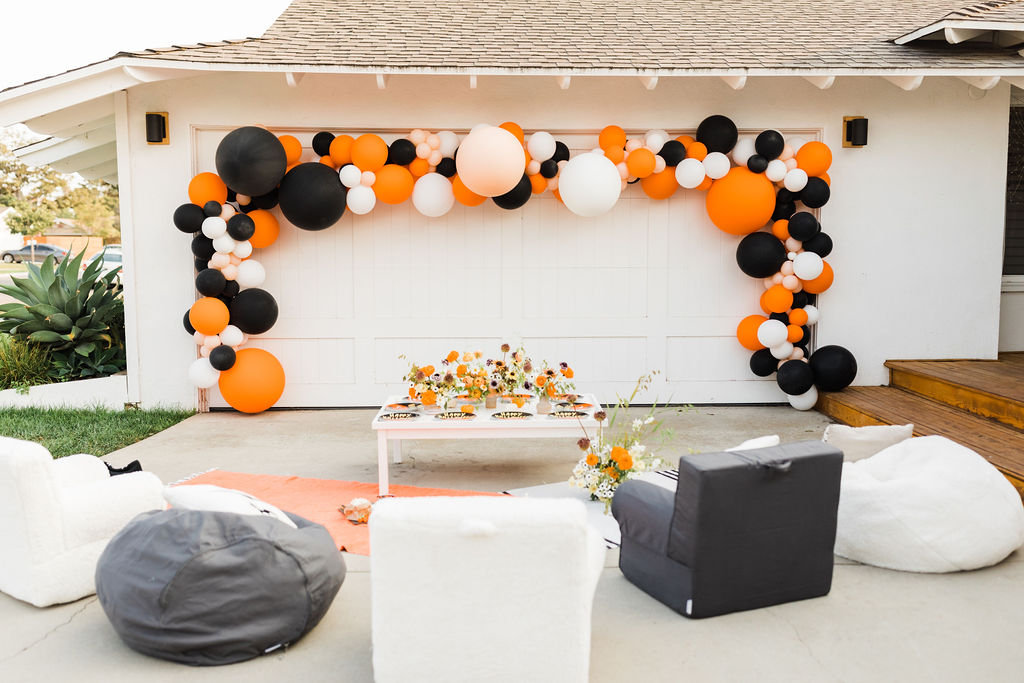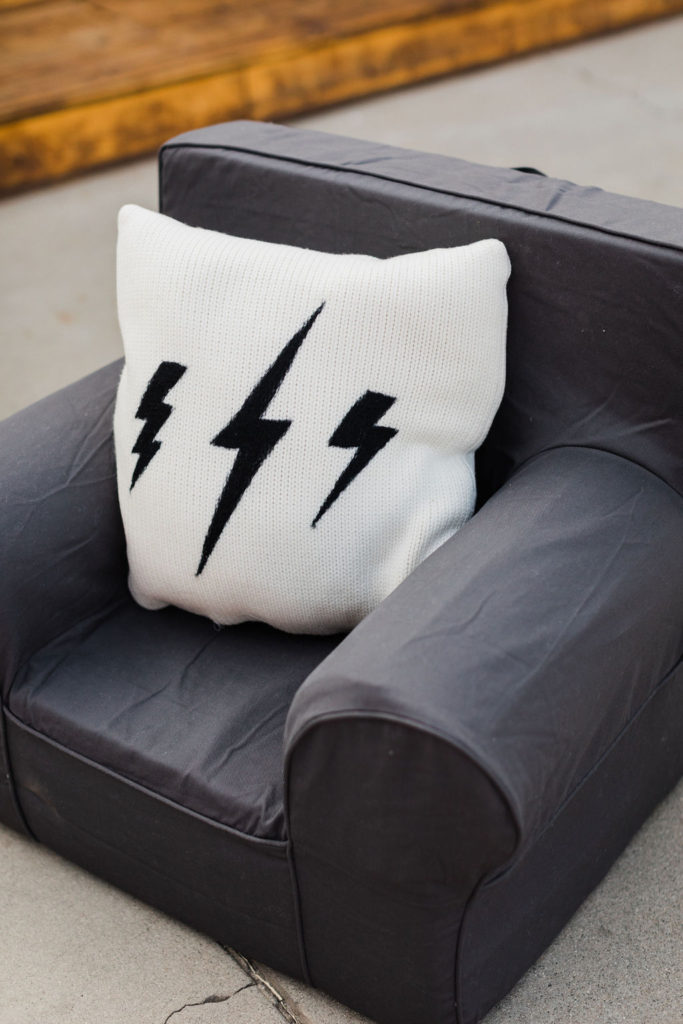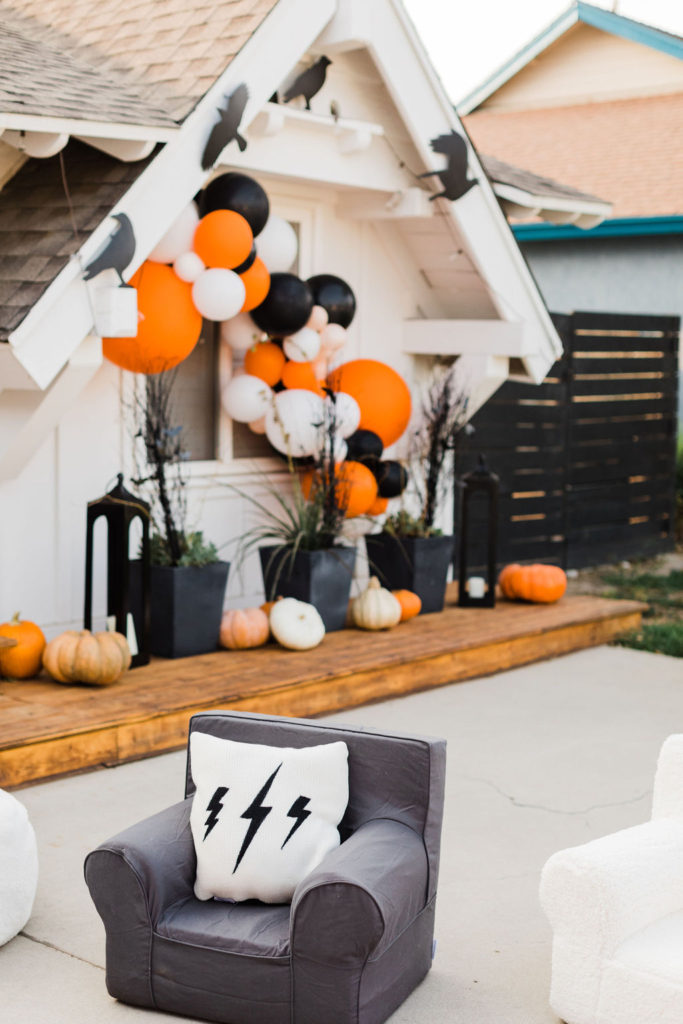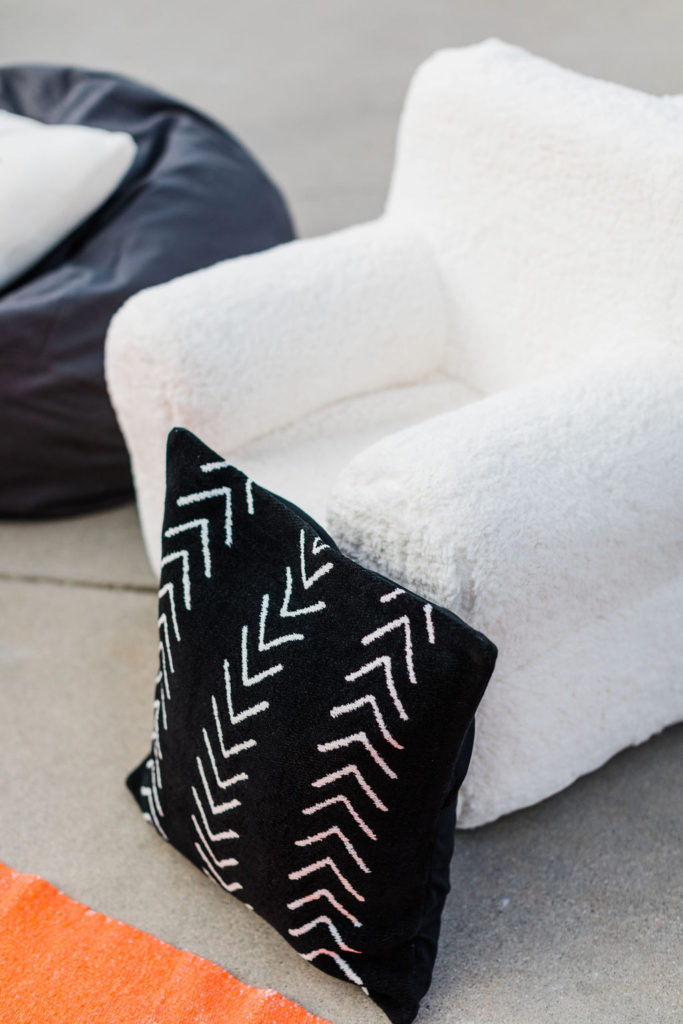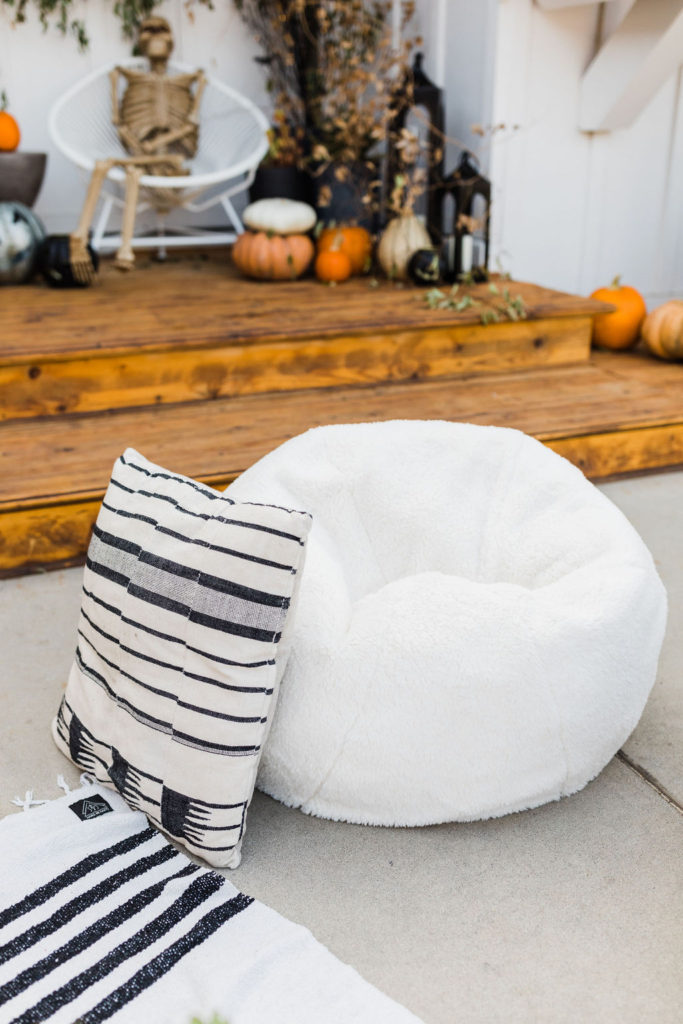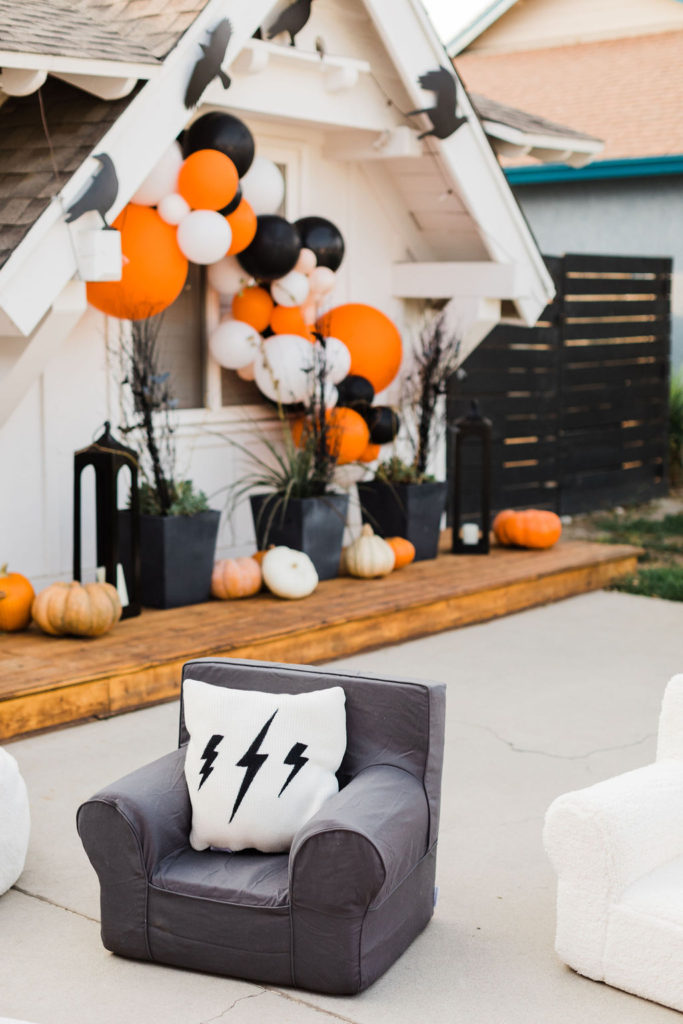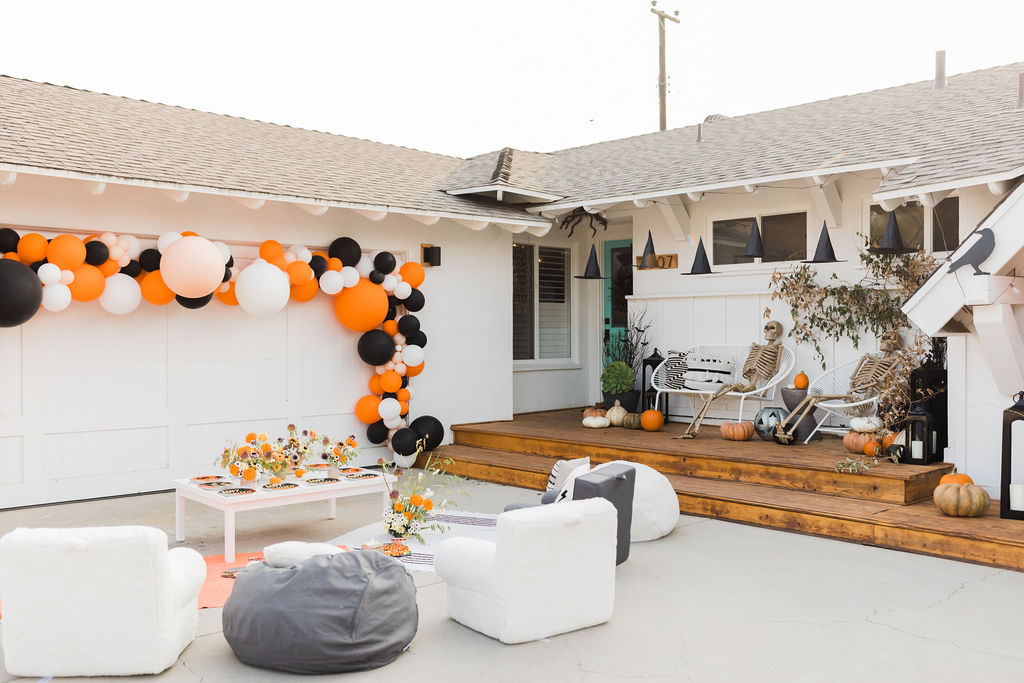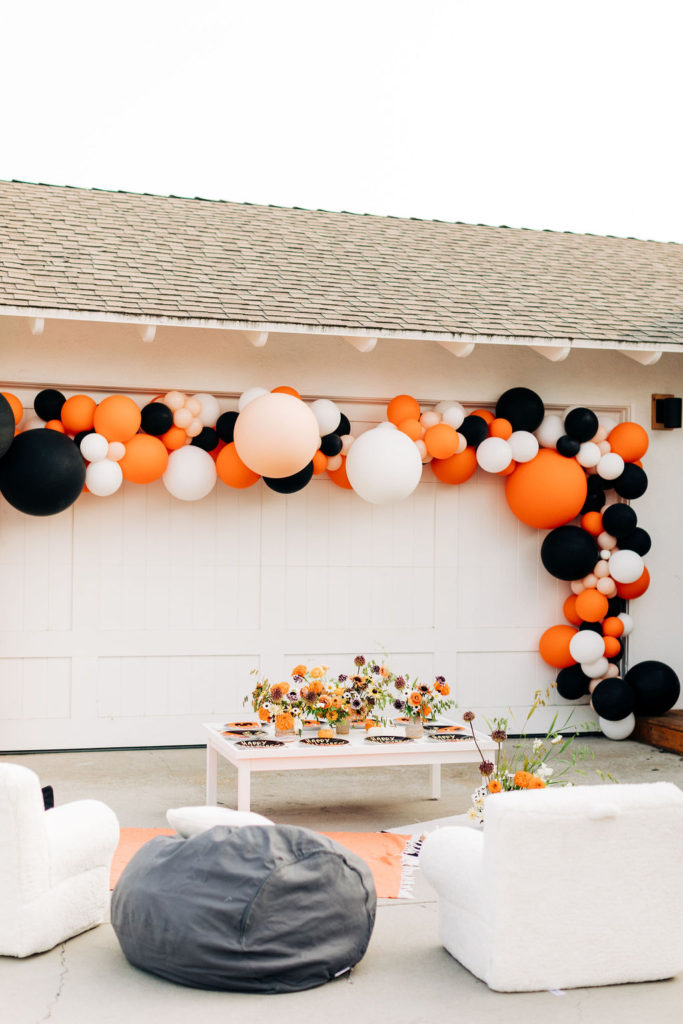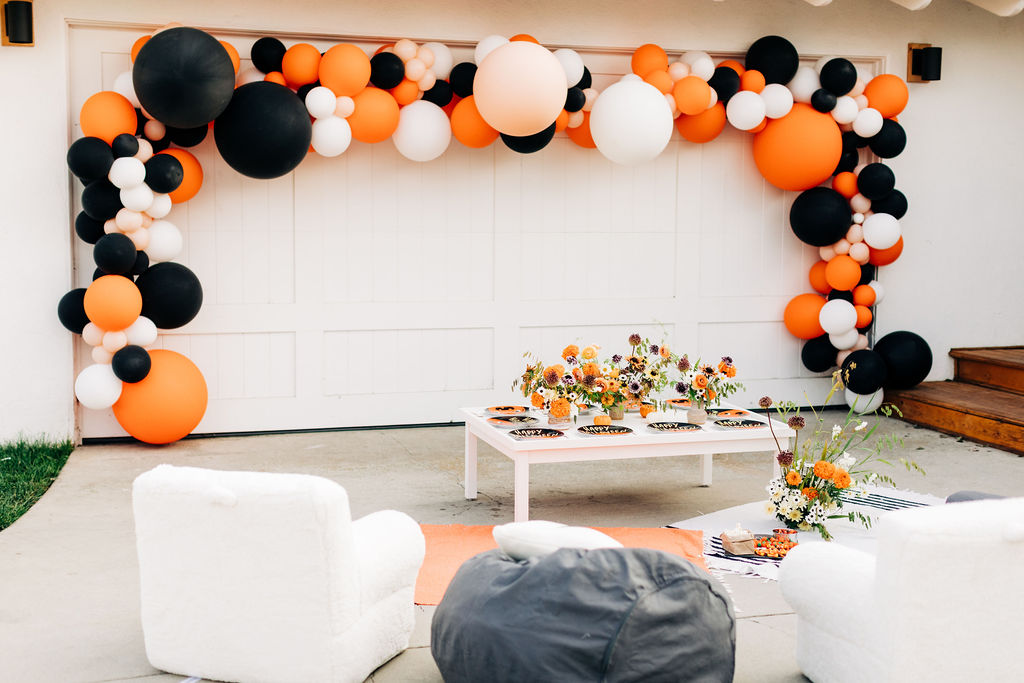 Step 4
Treats are a MUST!!!
We brought the movie concessions stand home! Going to the movies and having treats goes hand in hand, so why wouldn't we do that for our party? Pottery Barn has this amazing RIP platter, and I had to dress them up with all these yummy goodies. Frost Your Cookie did the adorable cookies, and the rest I grabbed at the grocery store.
I'm known to do a popcorn and m&m mix for my kids for movie time, and we had to share that with our friends!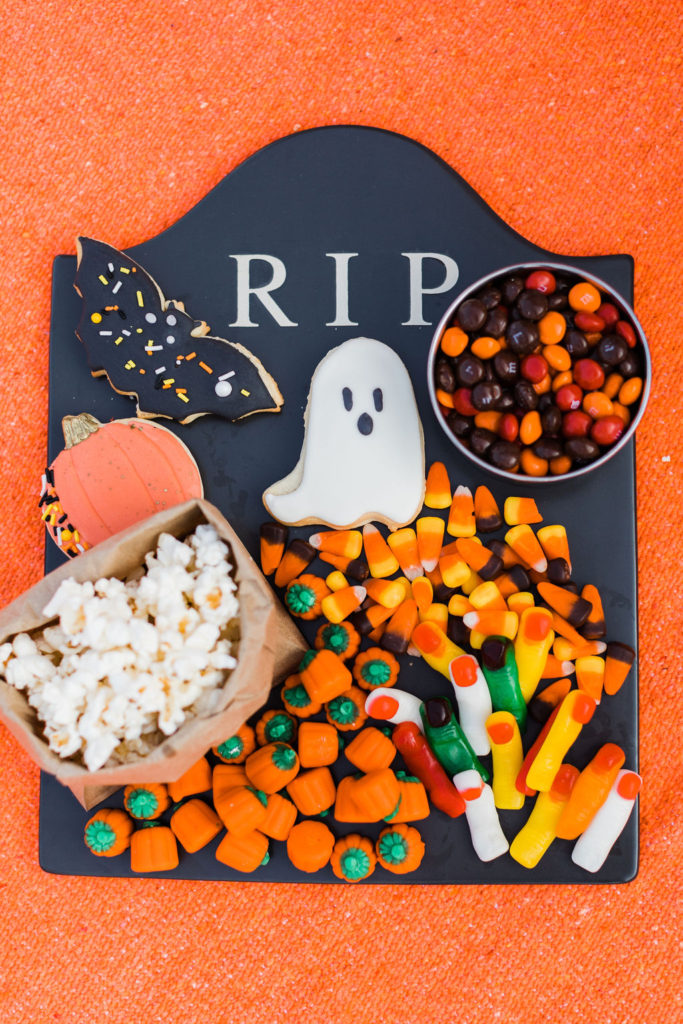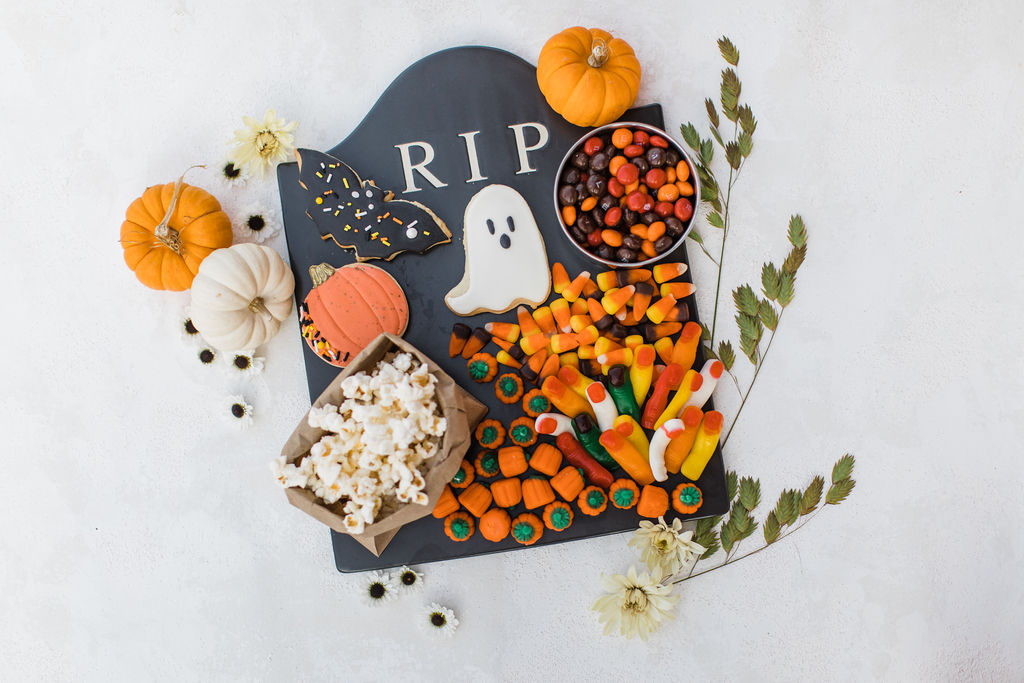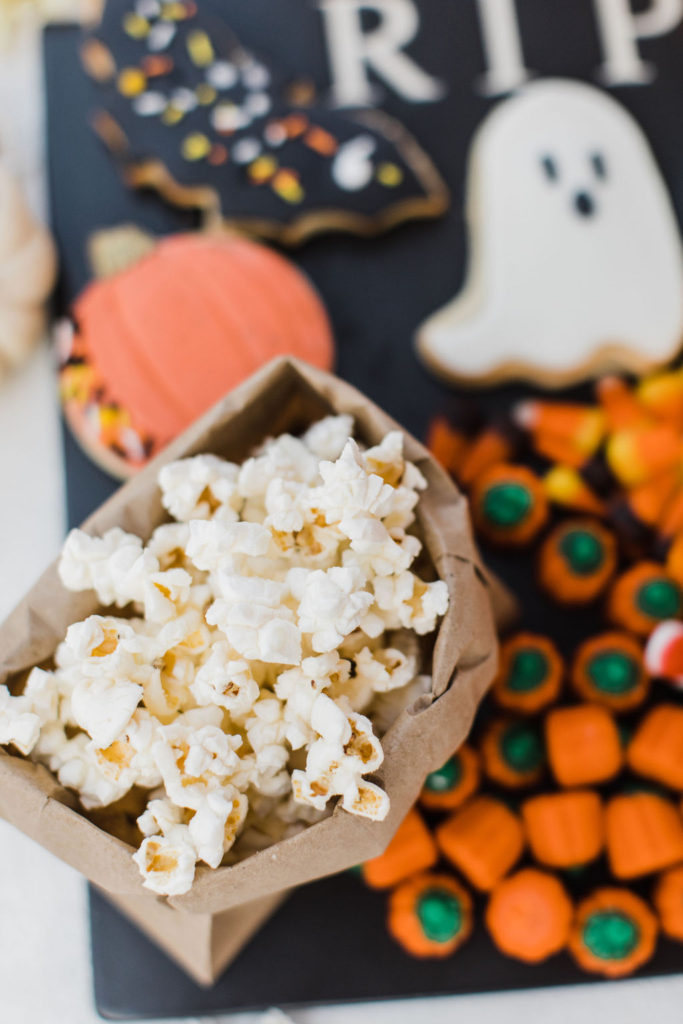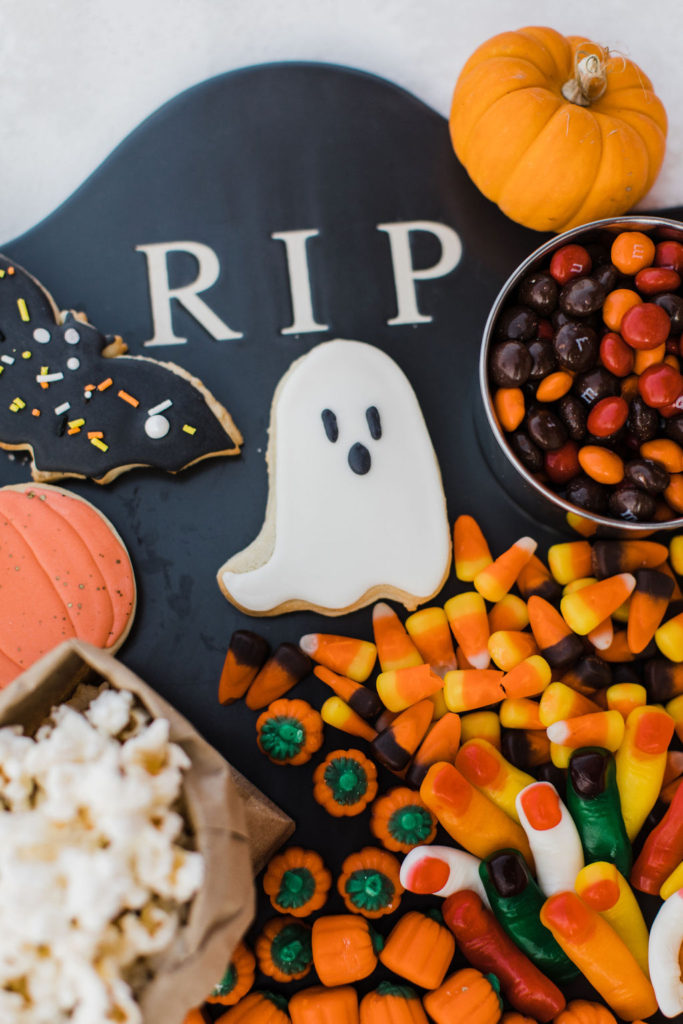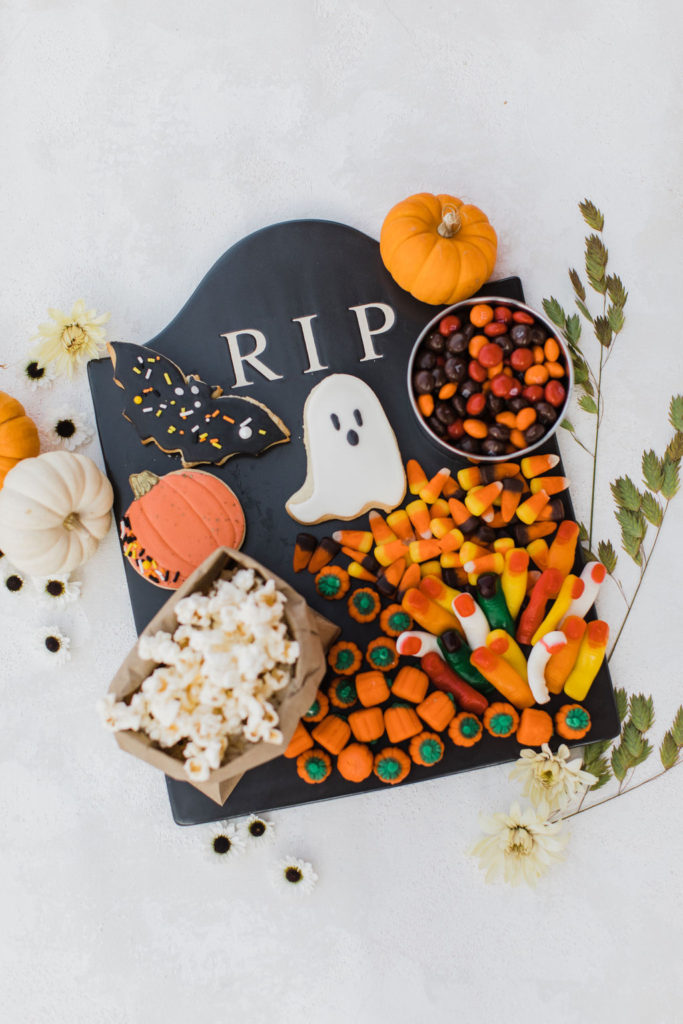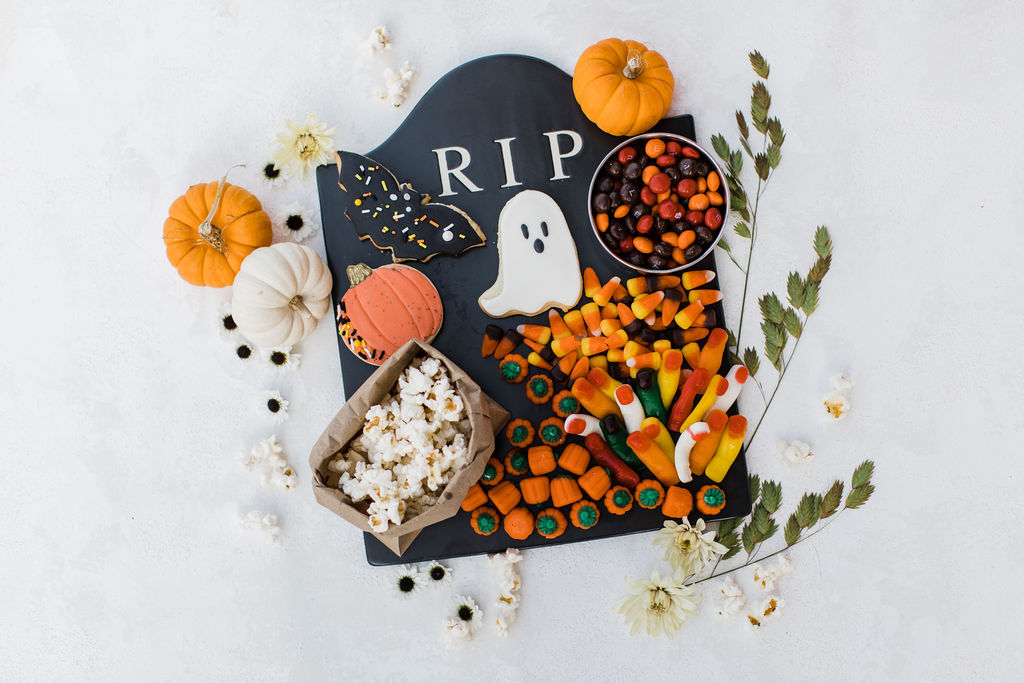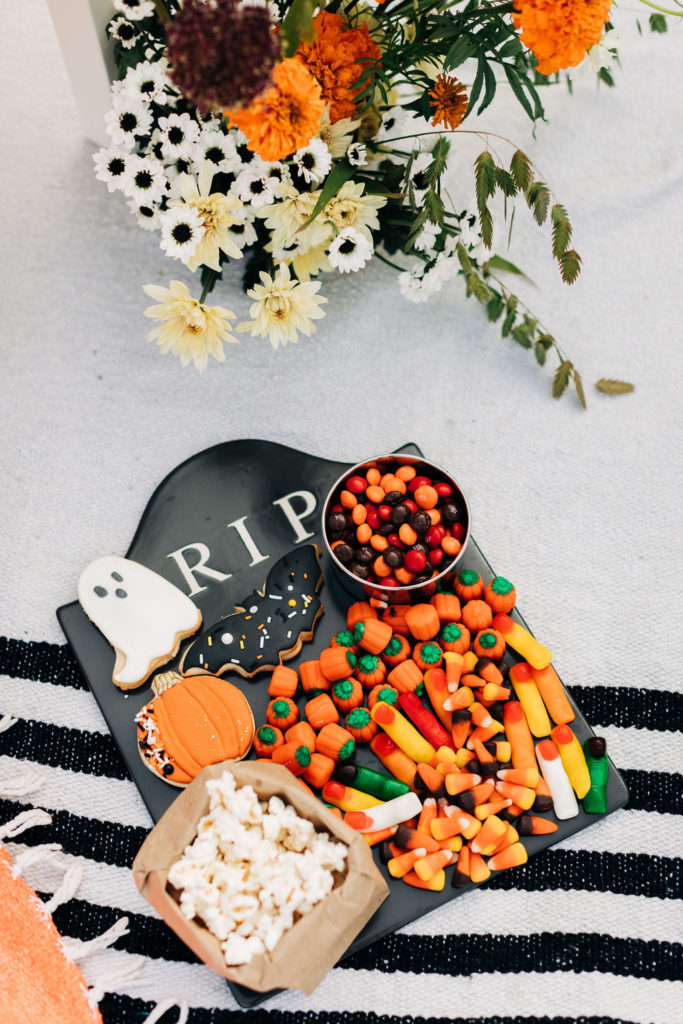 You know they couldn't keep their little hands off of it… Not sure if this was a good idea or not, but hey, they were happy, haha!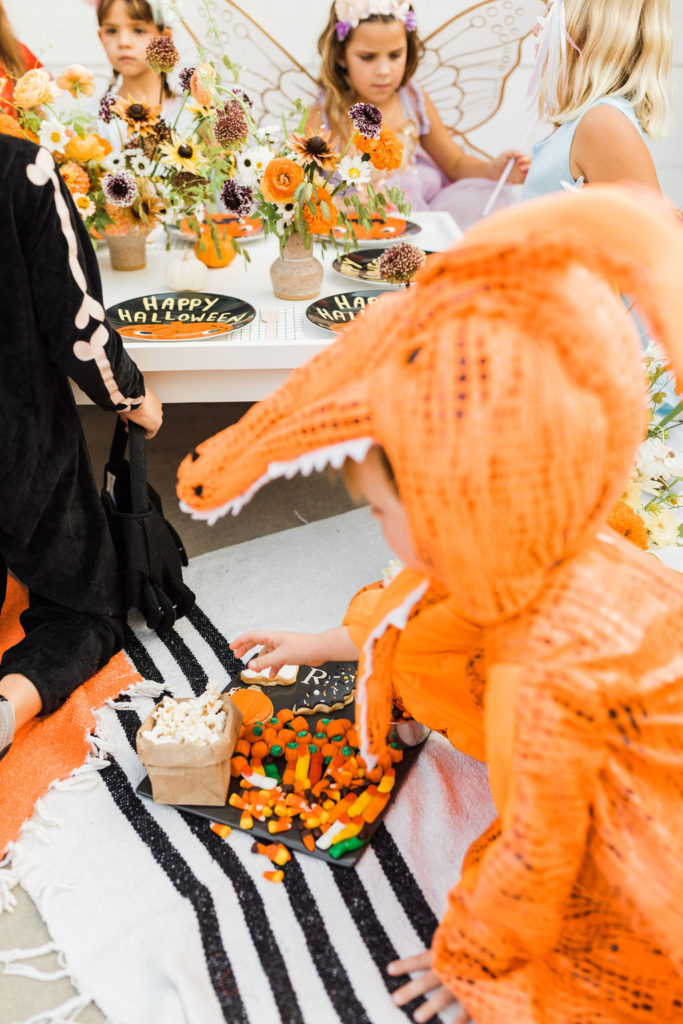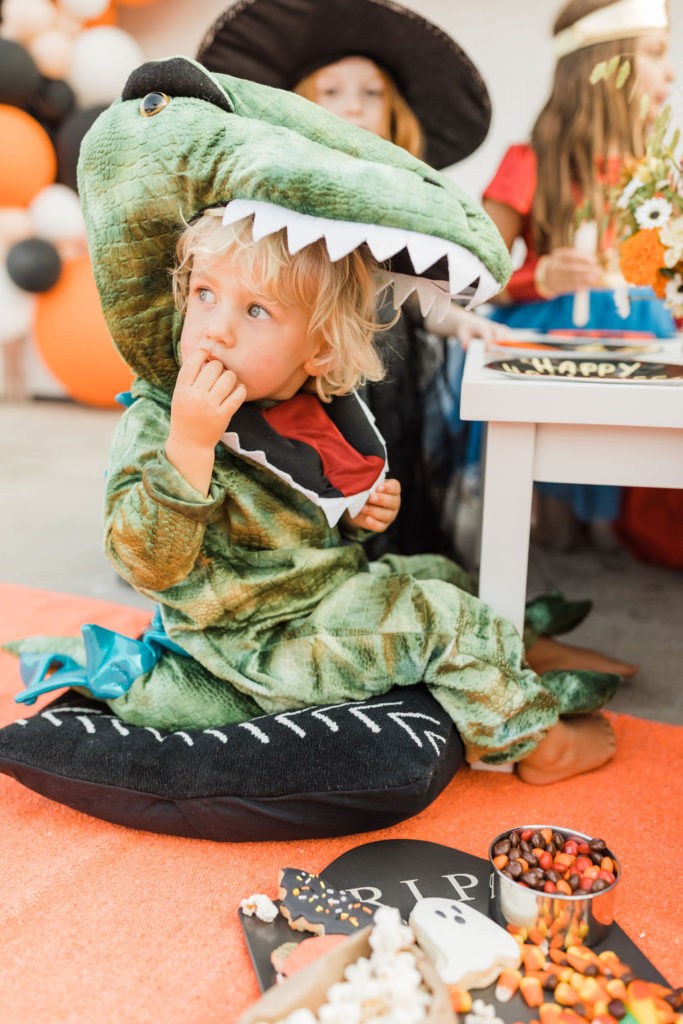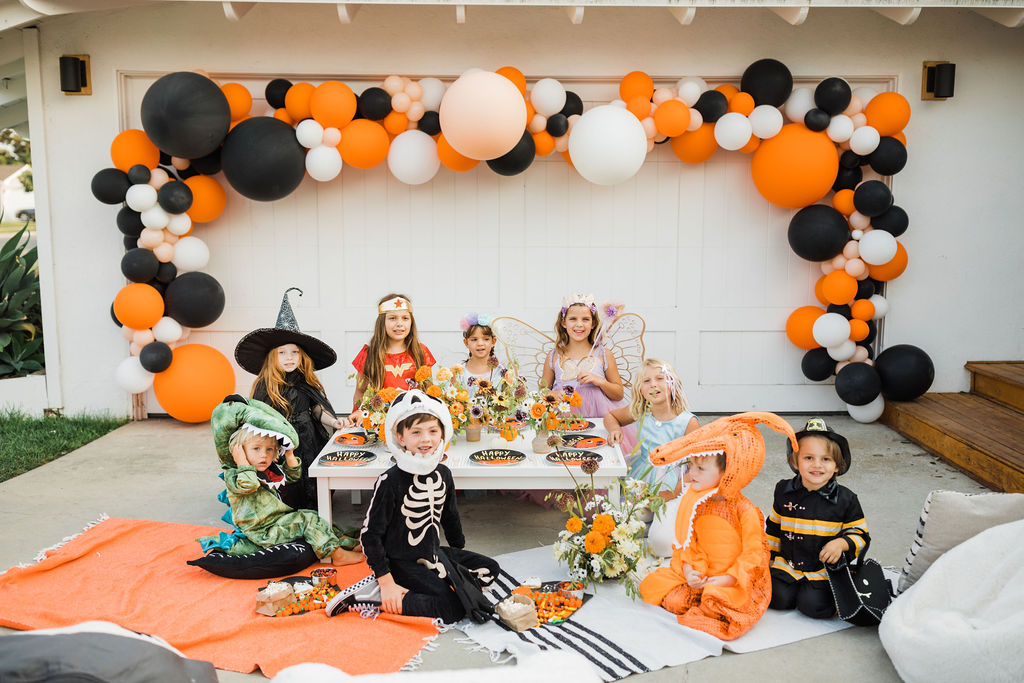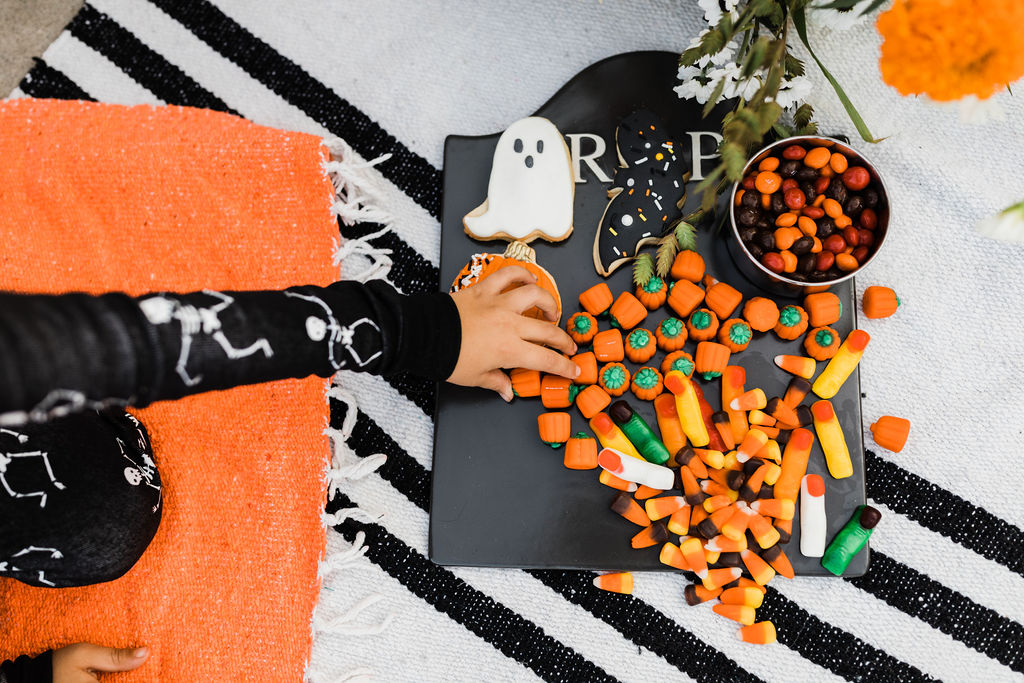 Step 5
Put on pajamas and get cozy!
We are loving these glow in the dark skeleton pajamas from PBK. They are the super cozy and the seeing kids in matching pajamas is basically my favorite. What a fun way to end the night – getting in your jammies, eating all the treats and watching a movie with your friends. These kids are living their best lives!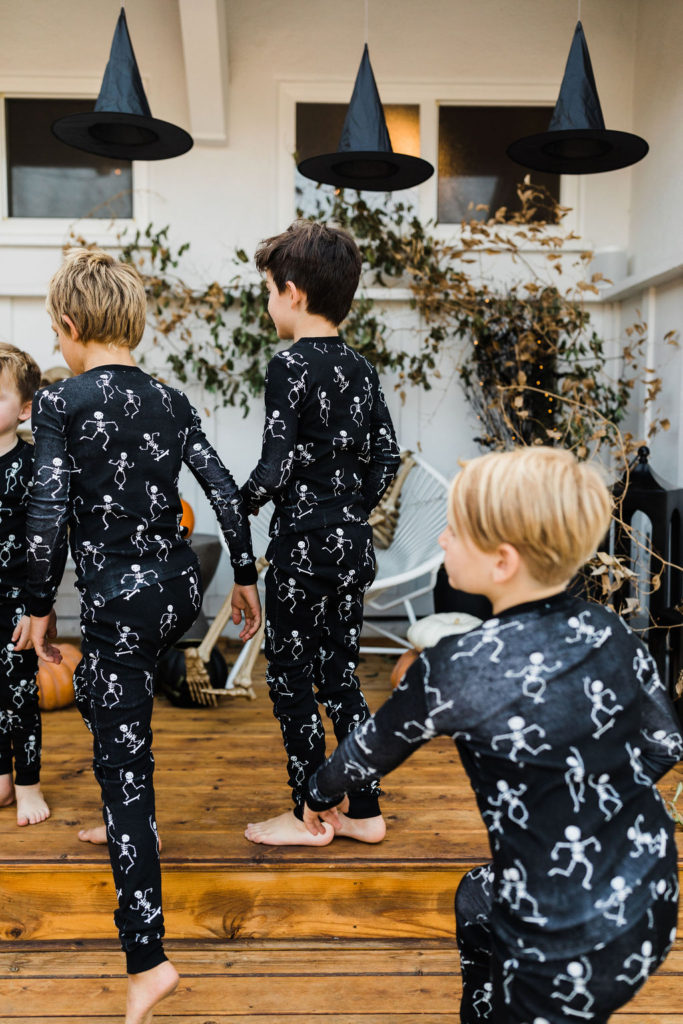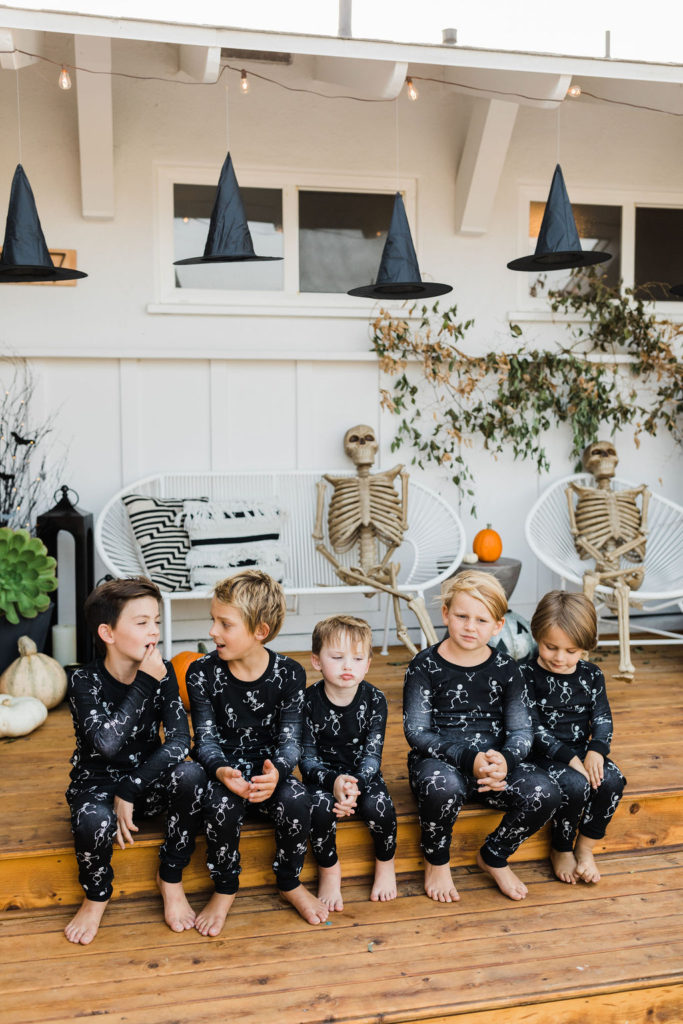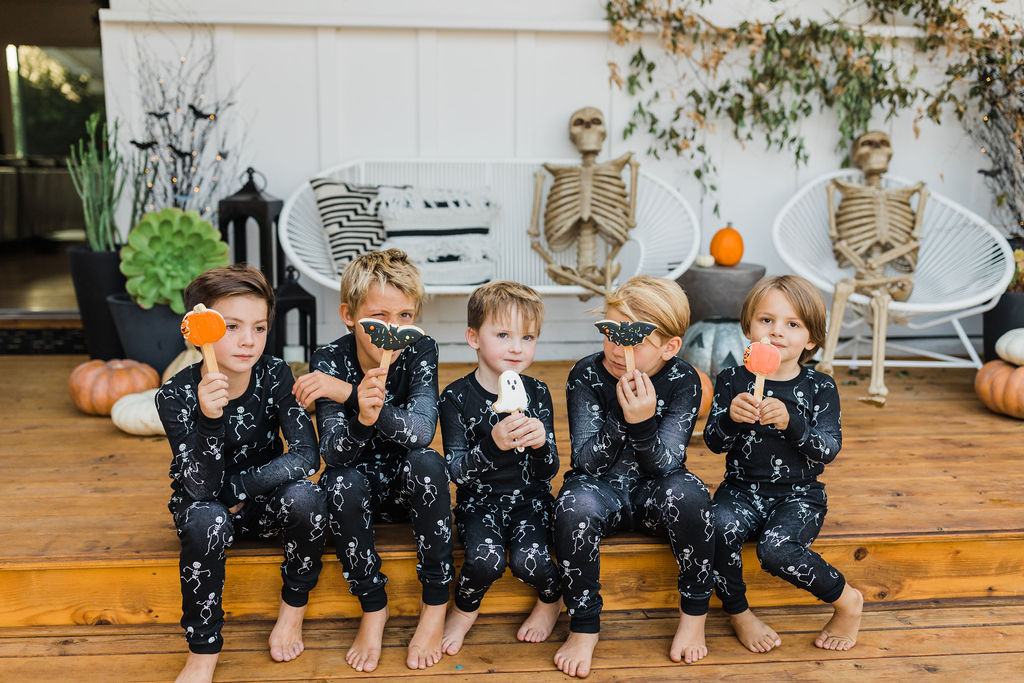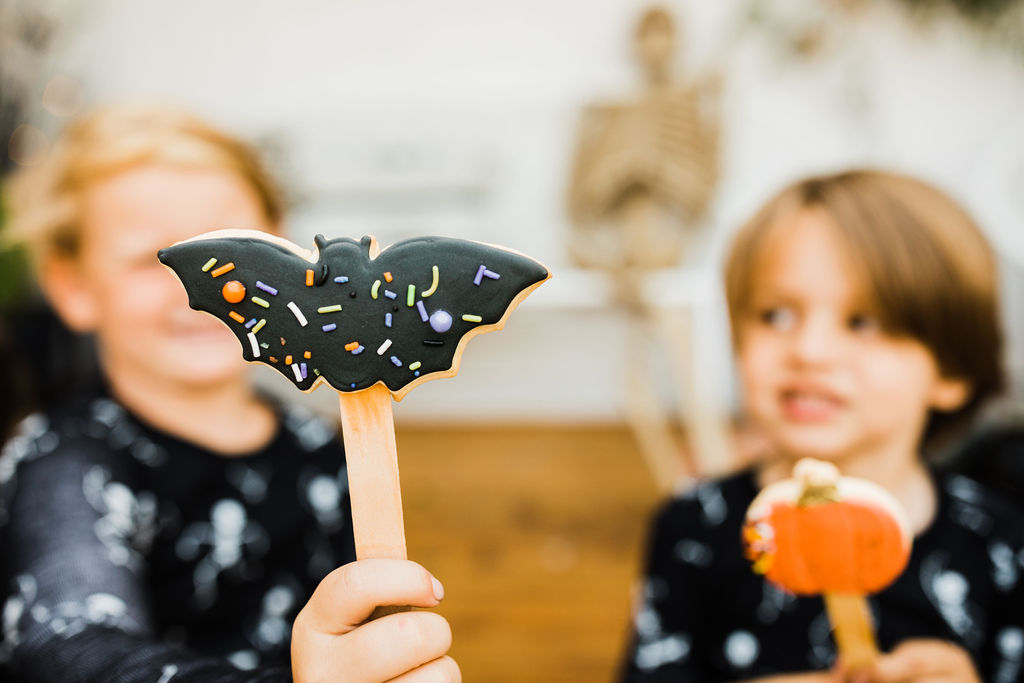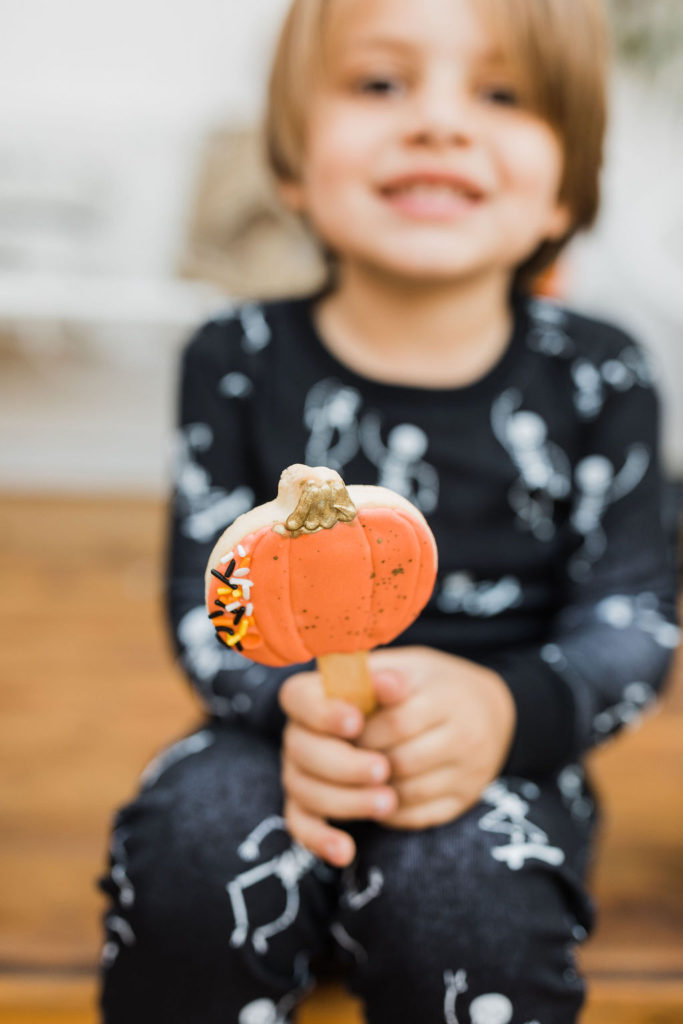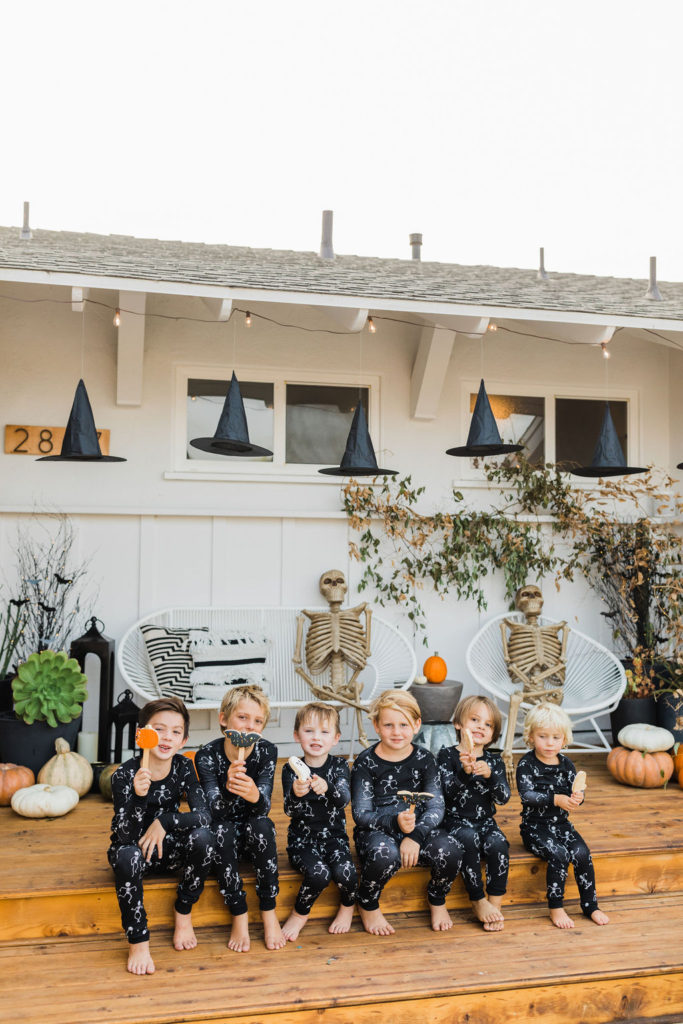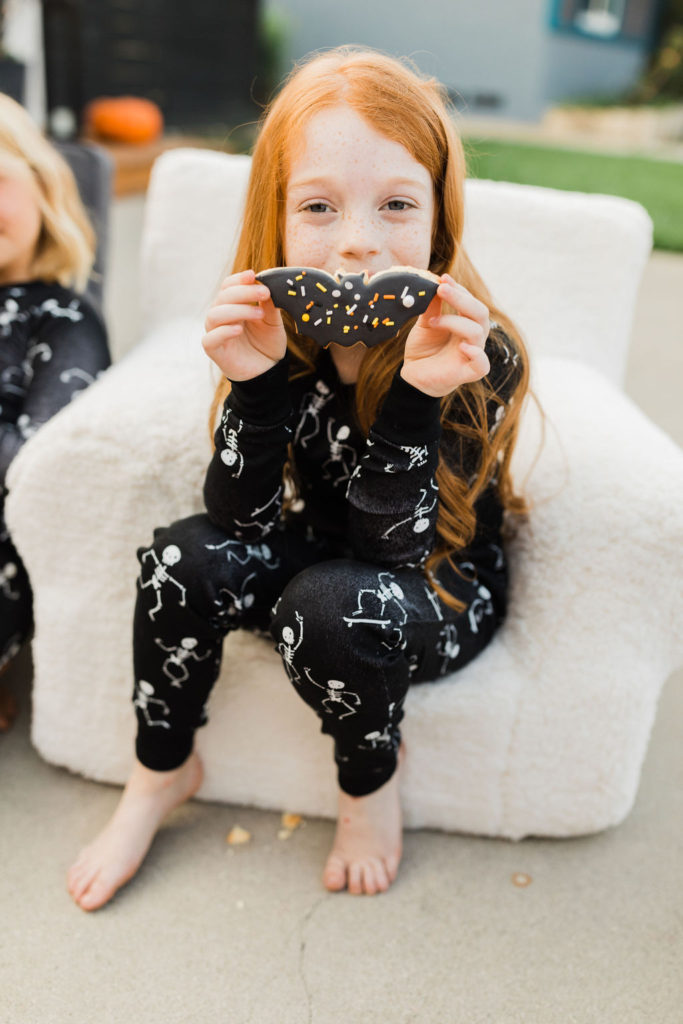 Seriously, they have so much fun and I want to be them in my next life!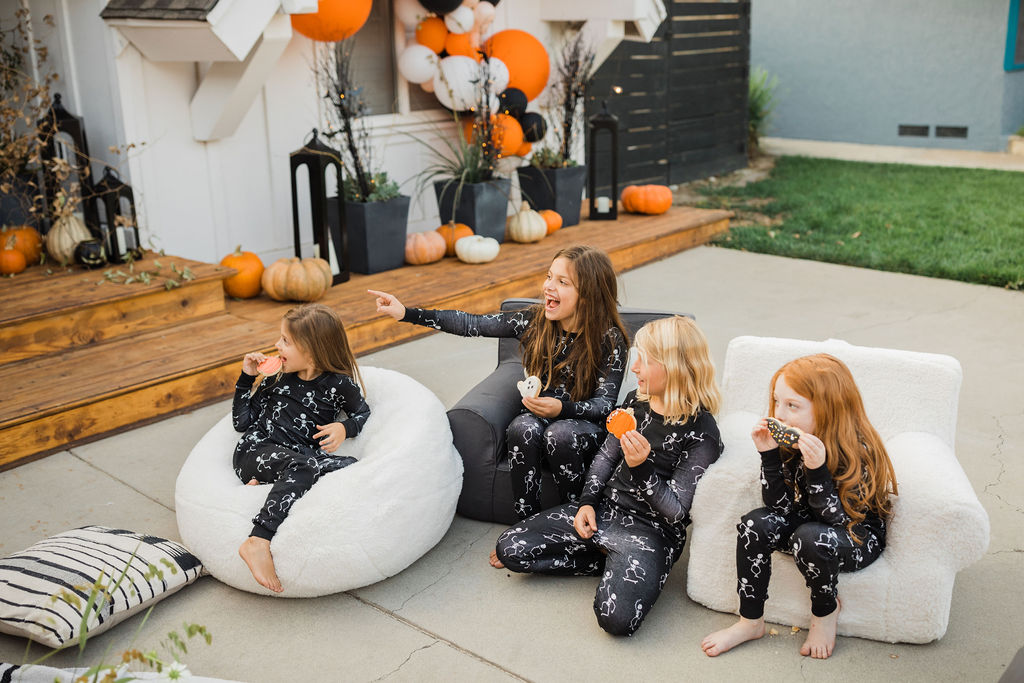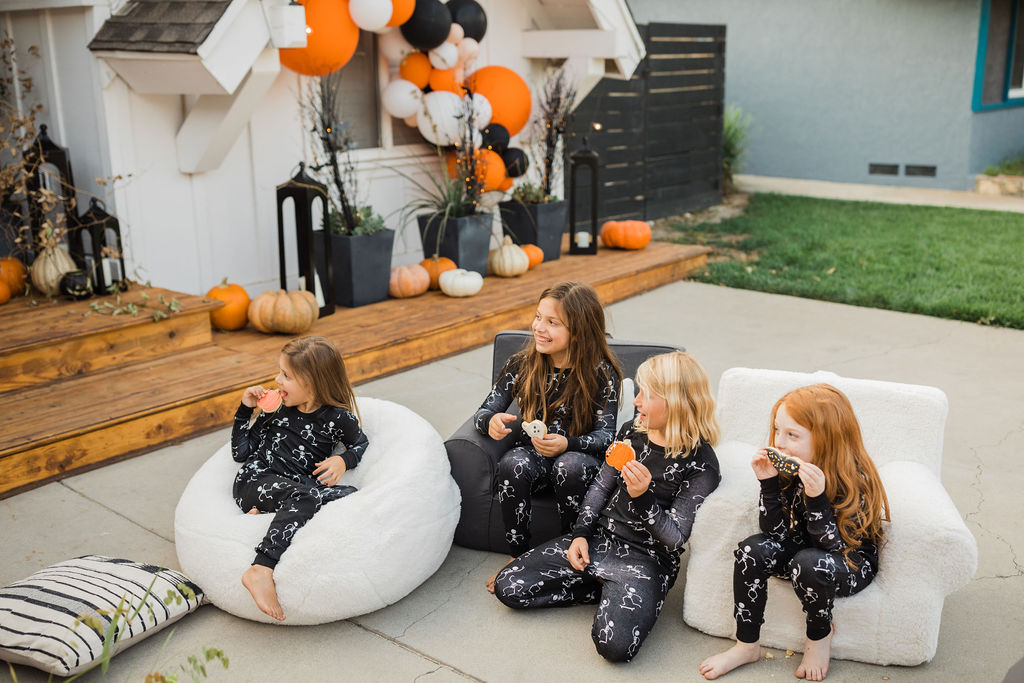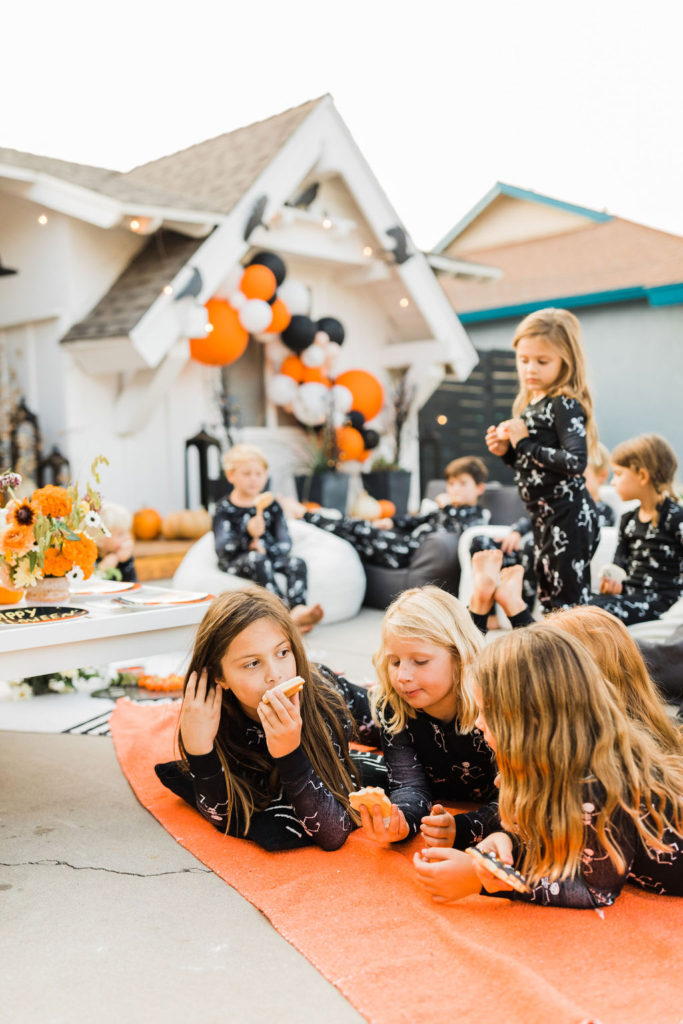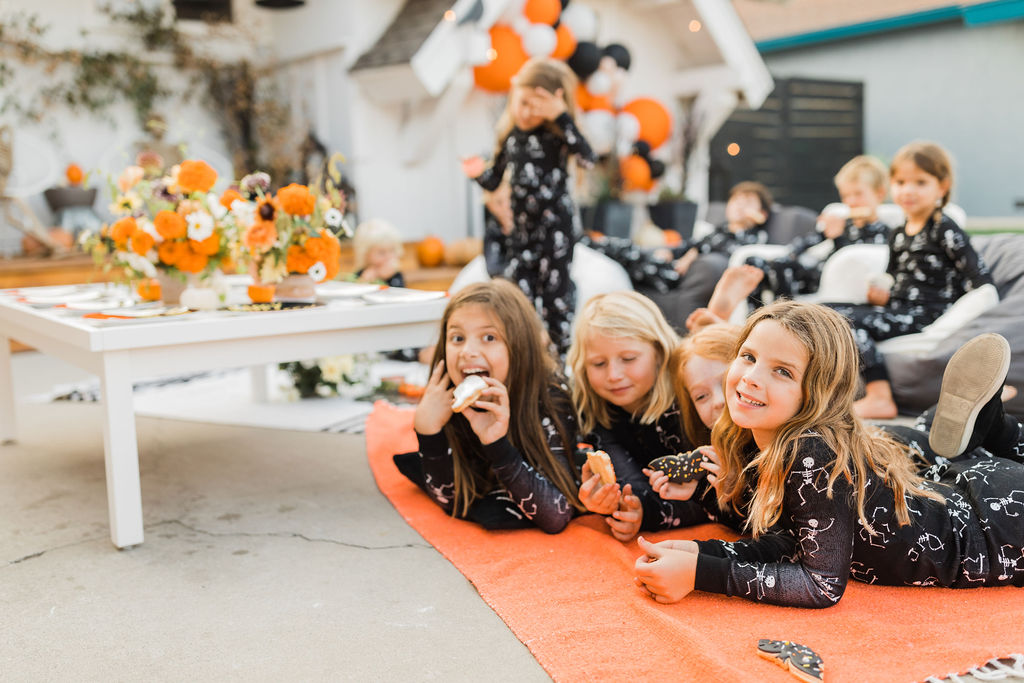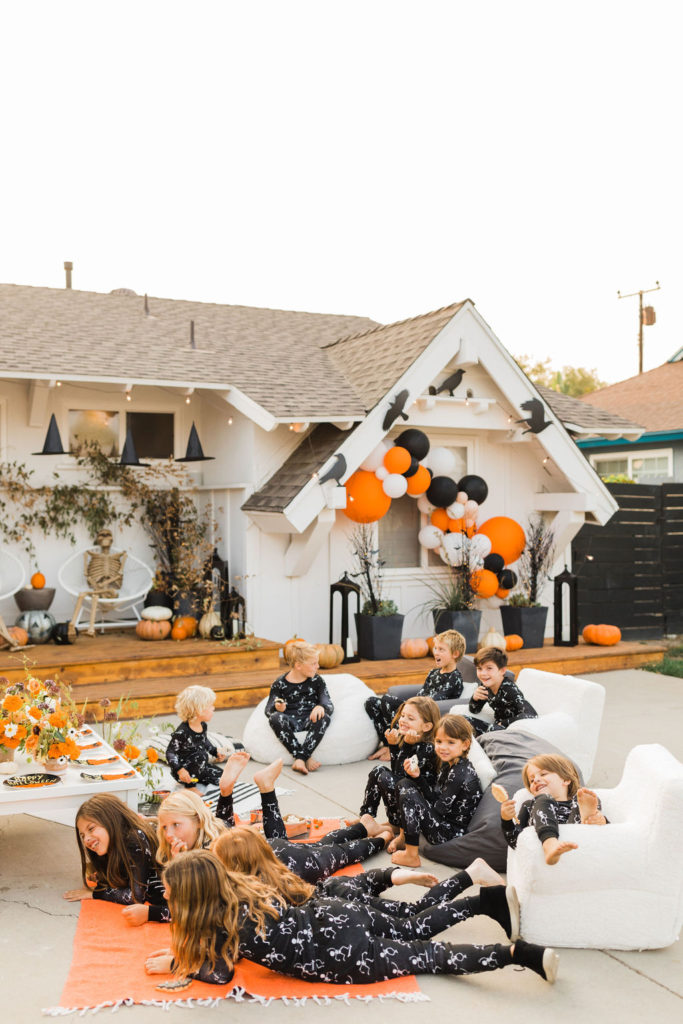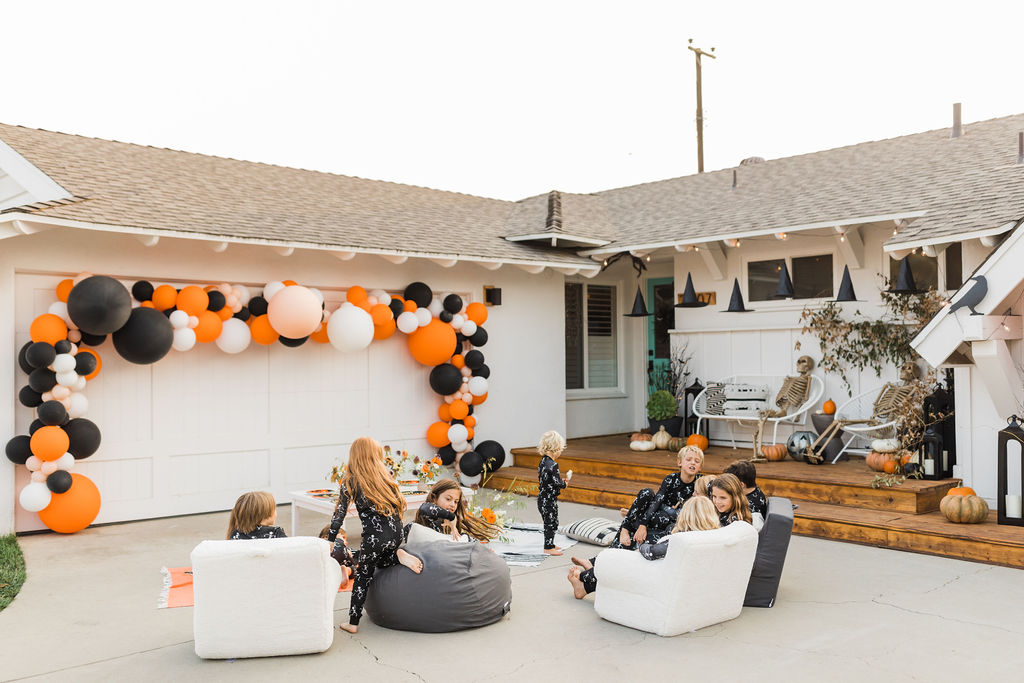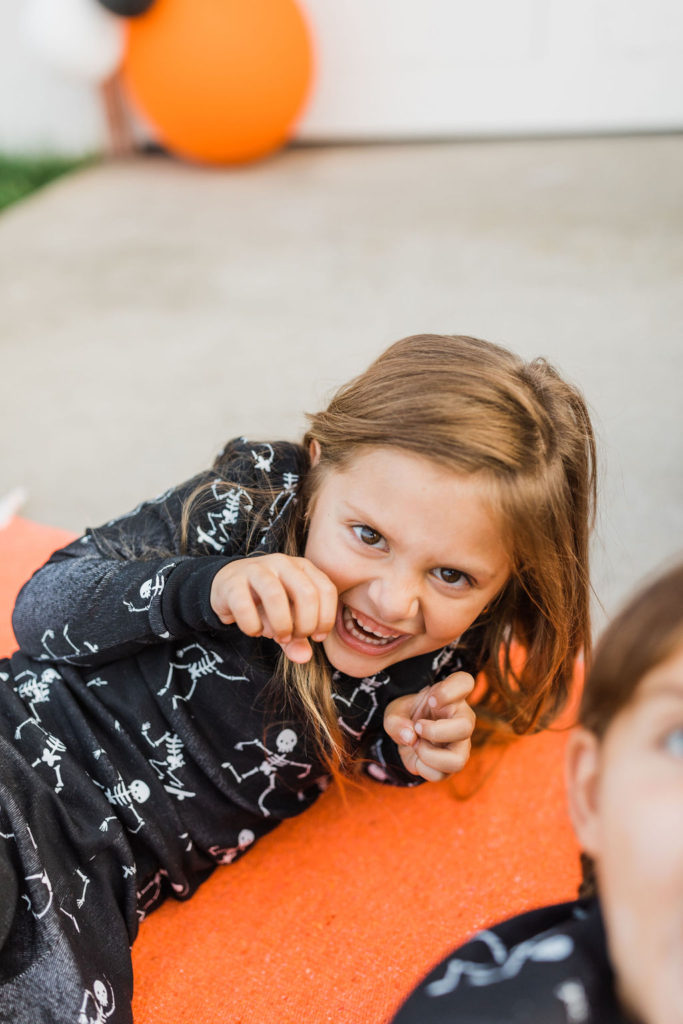 OMG! The best Halloween ever!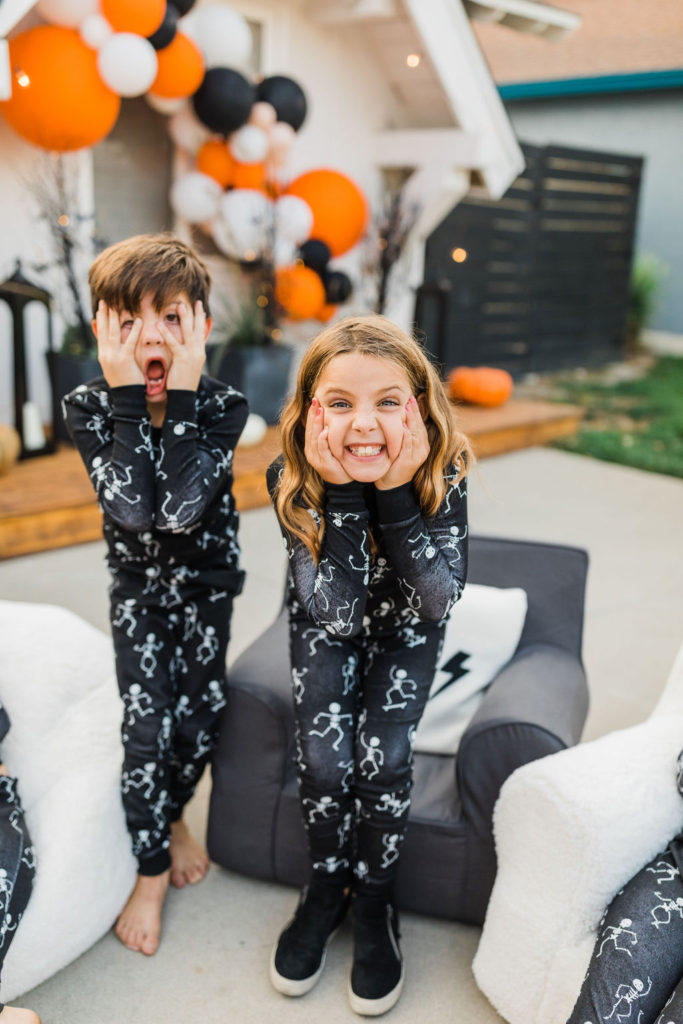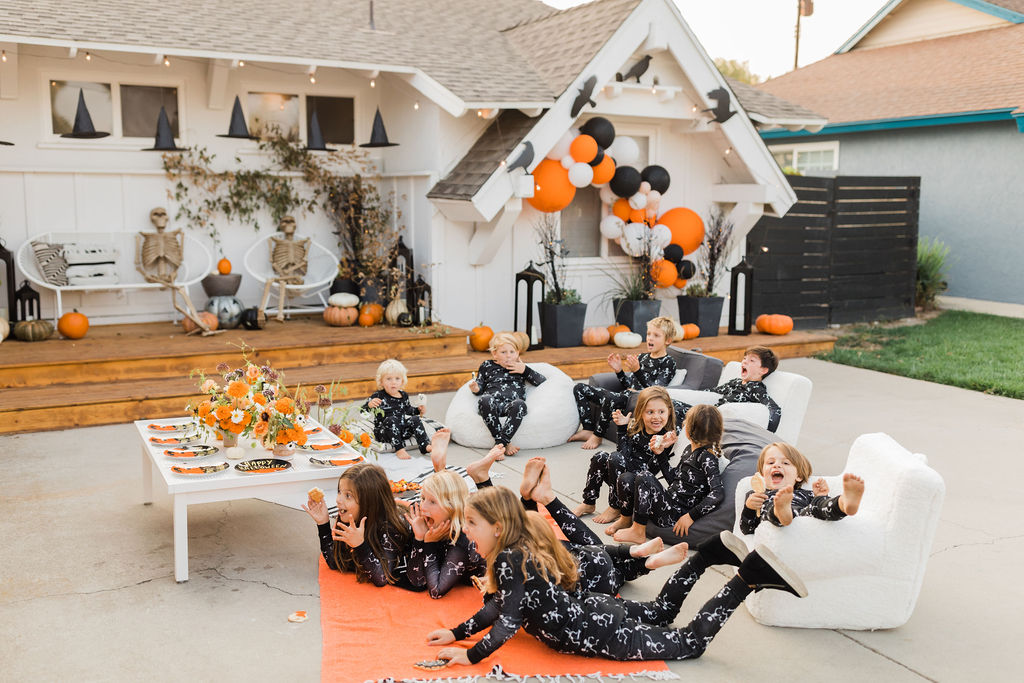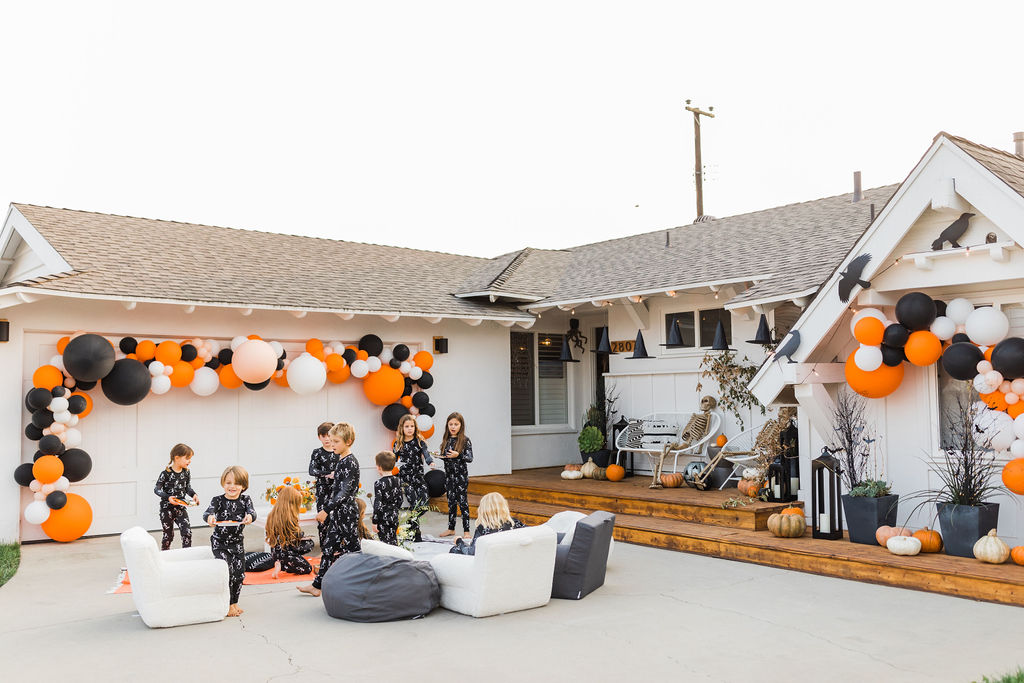 Shop this fun party below! Who says we can't have Halloween this year, lets make this year the best one yet!

xx
Jacquelyn