This wedding holds a very special place in my heart, that's because it's my younger and only sister Janna's wedding!  You may have followed along this past year on her journey to her wedding day with a few of her blog posts here and here, or maybe you saw the showers I threw for her here and here, it was a whirlwind of a year and her wedding was just the cherry on top…
Planning a wedding with your sister is extremely fun and exciting, but it's also really tough!  The day of and the weeks leading up to the big day I was a bit more stressed out then I would have liked to be, but I wouldn't have had it any other way.  The final product was so so beautiful and I'm very proud of how it turned out. Nothing made me happier than seeing my beautiful sister so happy!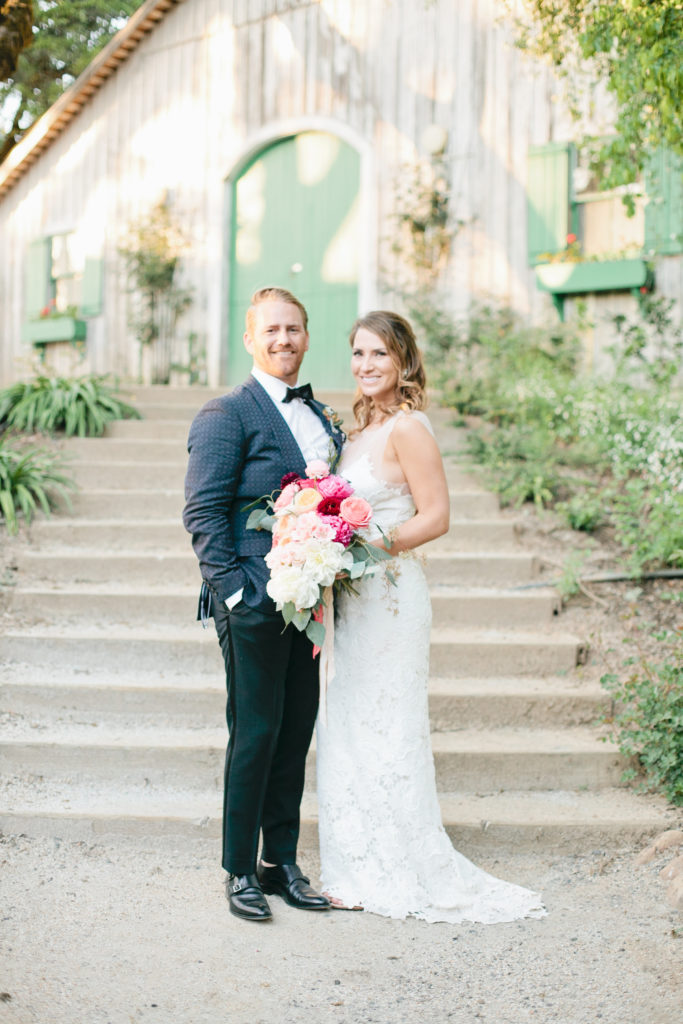 Janna & Sean's wedding is also featured on Green Wedding Shoes today, scroll down to see all of the pretty and all of the happiness this special day created!  Get ready for an extra sappy and long post with a whole lot of pretty photos by, who else?!  Megan Welker…
Janna & Sean grew up in Northern California but currently live in Los Angeles. They knew they wanted to go back to their roots to say "I do", and fell in love with the idea of a wine country wedding.  For their invite they wanted to keep it simple, but evoke some of the spirit and beauty of this beautiful part of California. Meghann Miniello did just that with these pretty invites – we love the touch of copper with the greenery!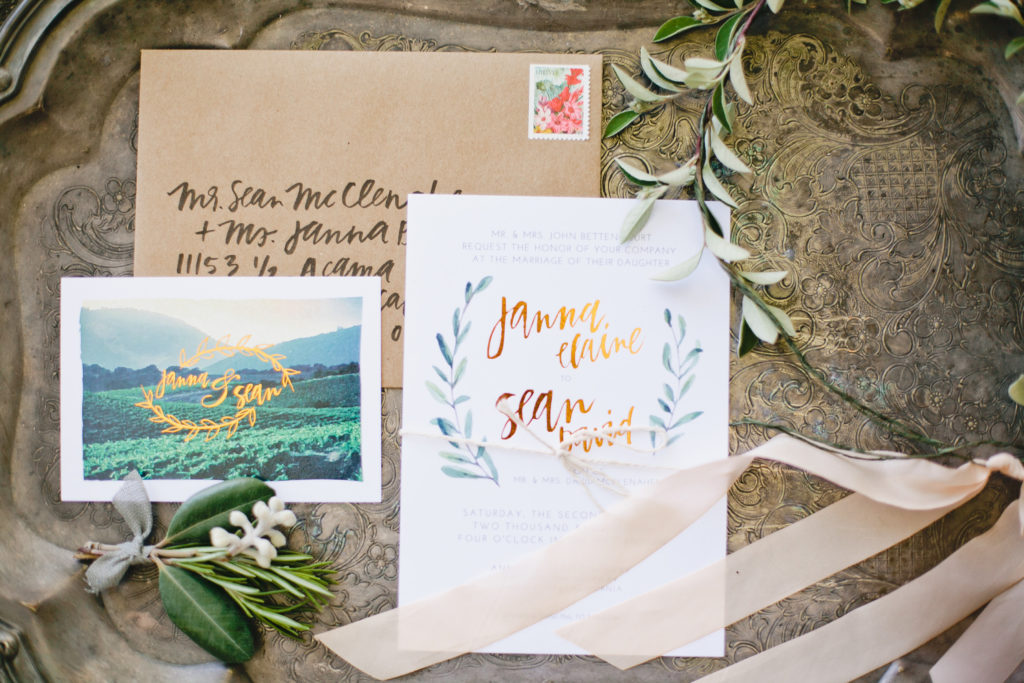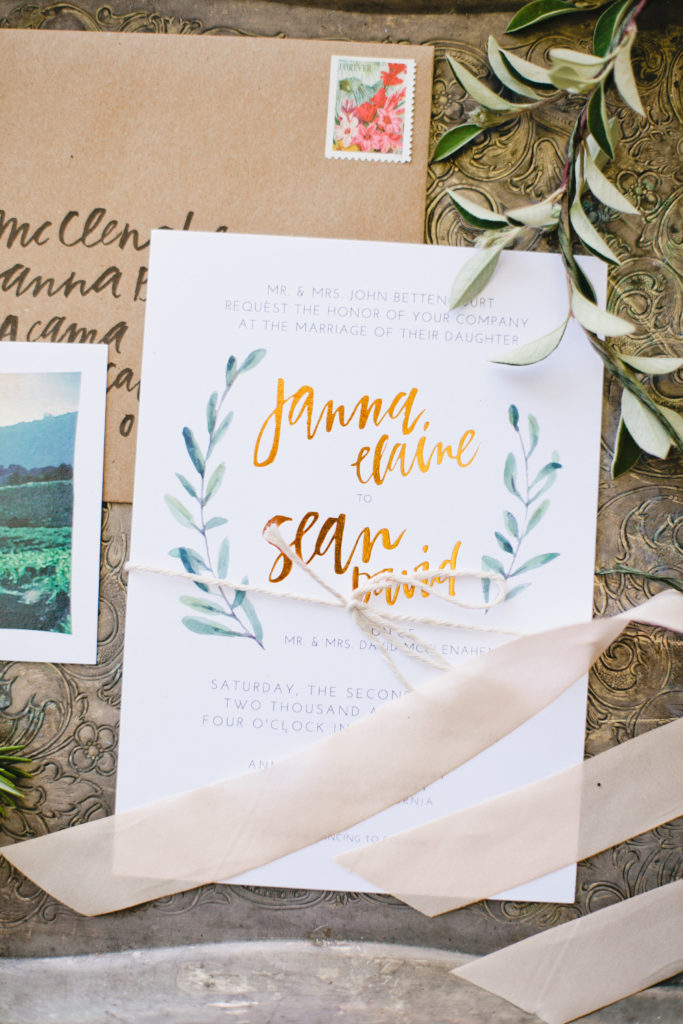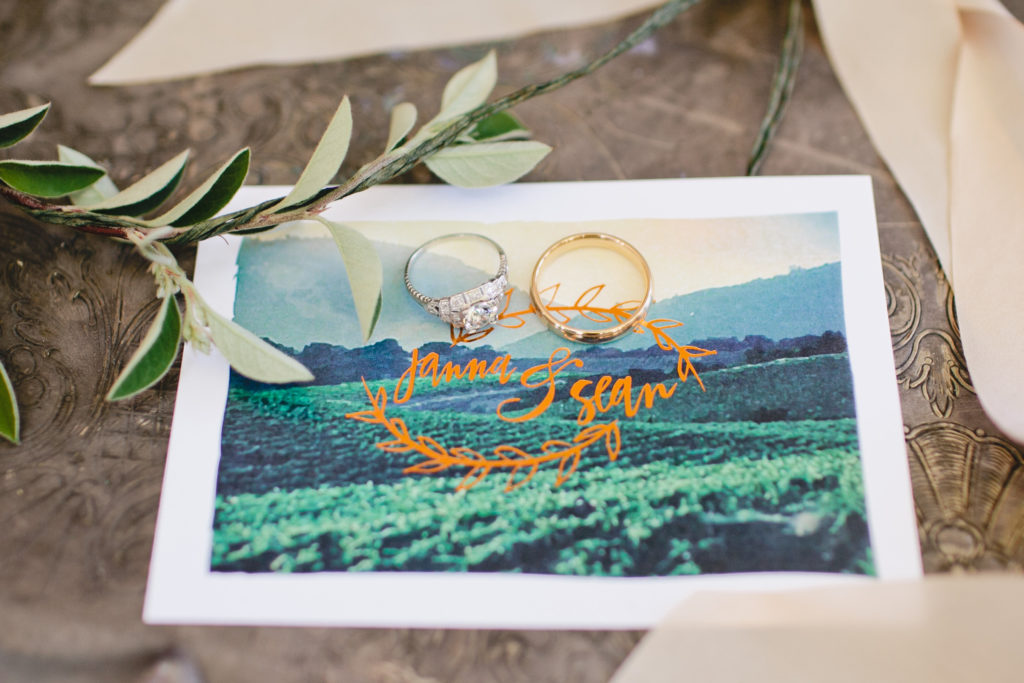 The couple did a first look, which we highly recommend!  It saves time later so you don't have to do so many portraits during cocktail hour, and you actually get to enjoy your time with your guests!  This first look is just too much, I mean I know I'm biased, but Sean was so sweet! When he saw my sister he was brought to tears… Almost makes me a little teary eyed just looking at these photos.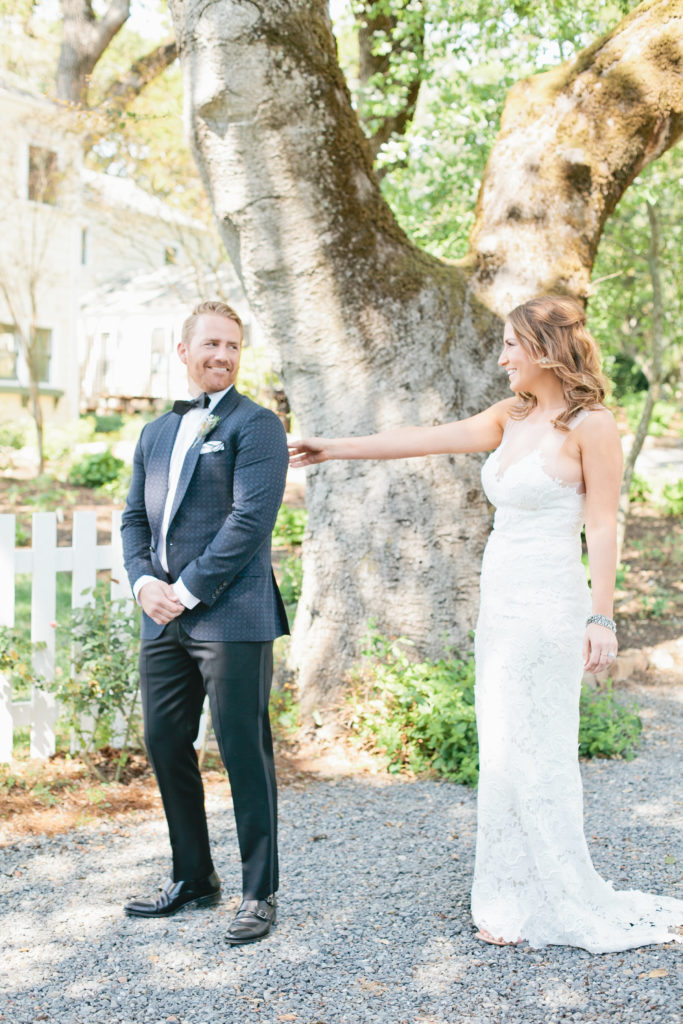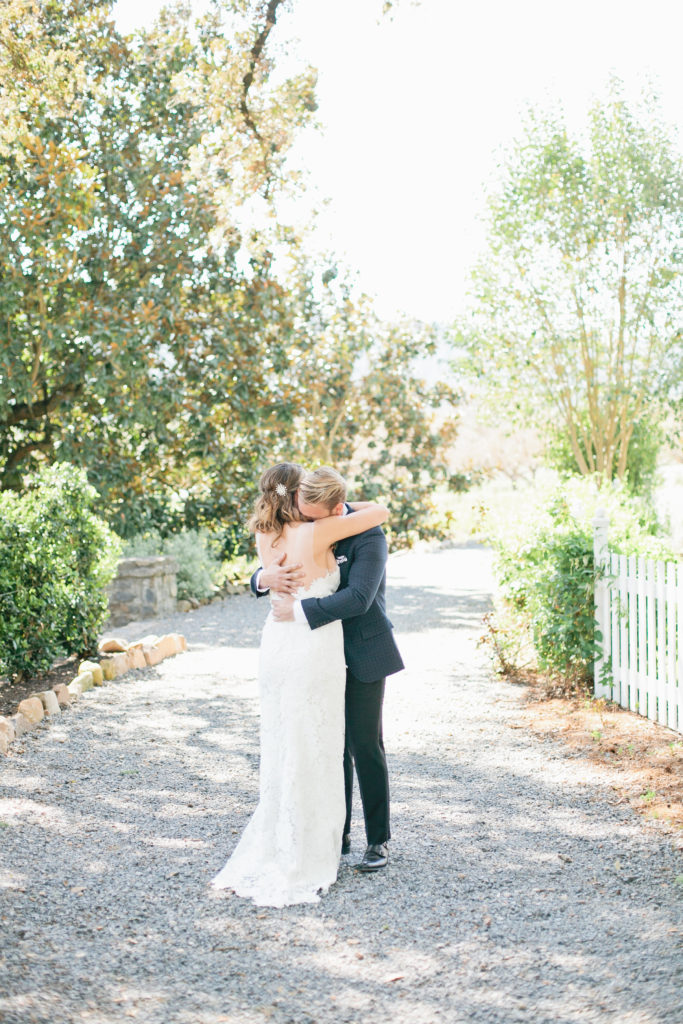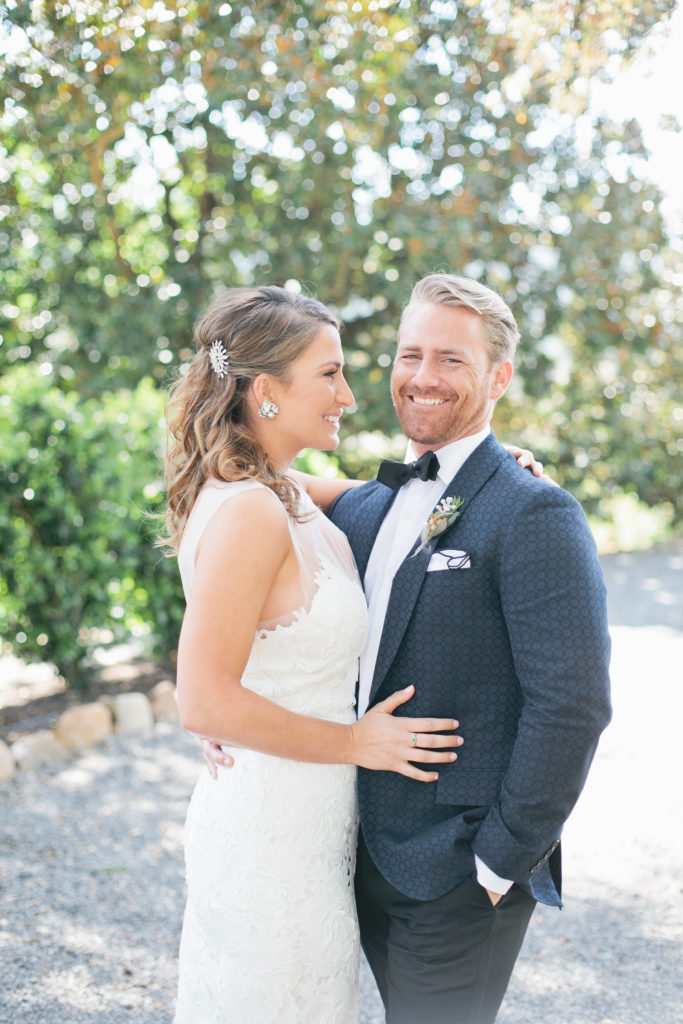 Aren't they the cutest?!  How about a couple more photos… Janna's dress is from BHLDN and Sean's get up is all J Crew…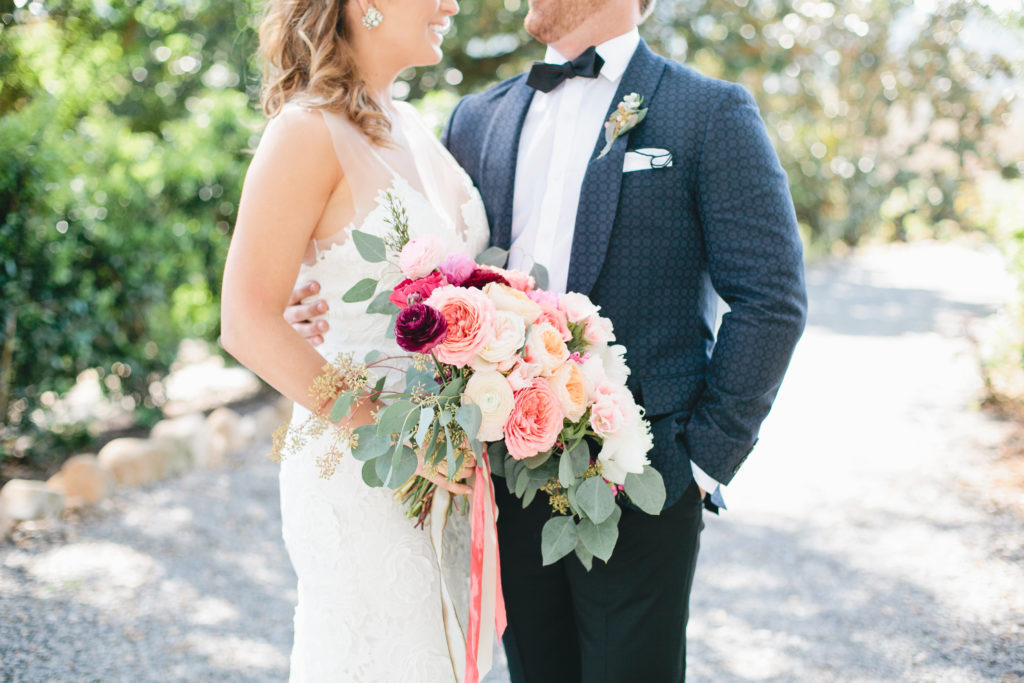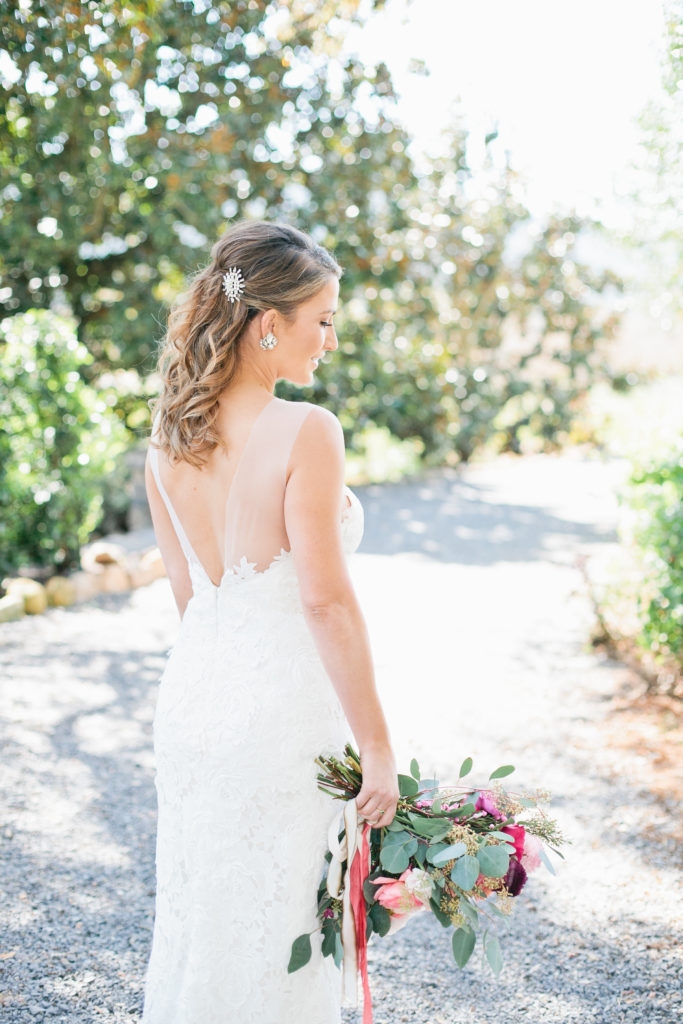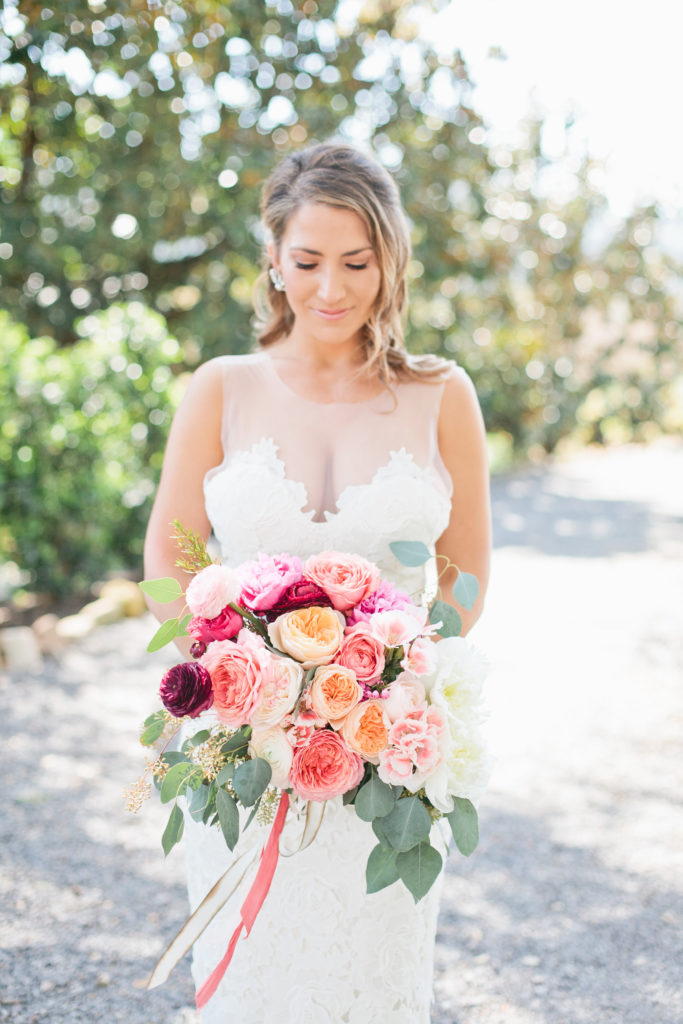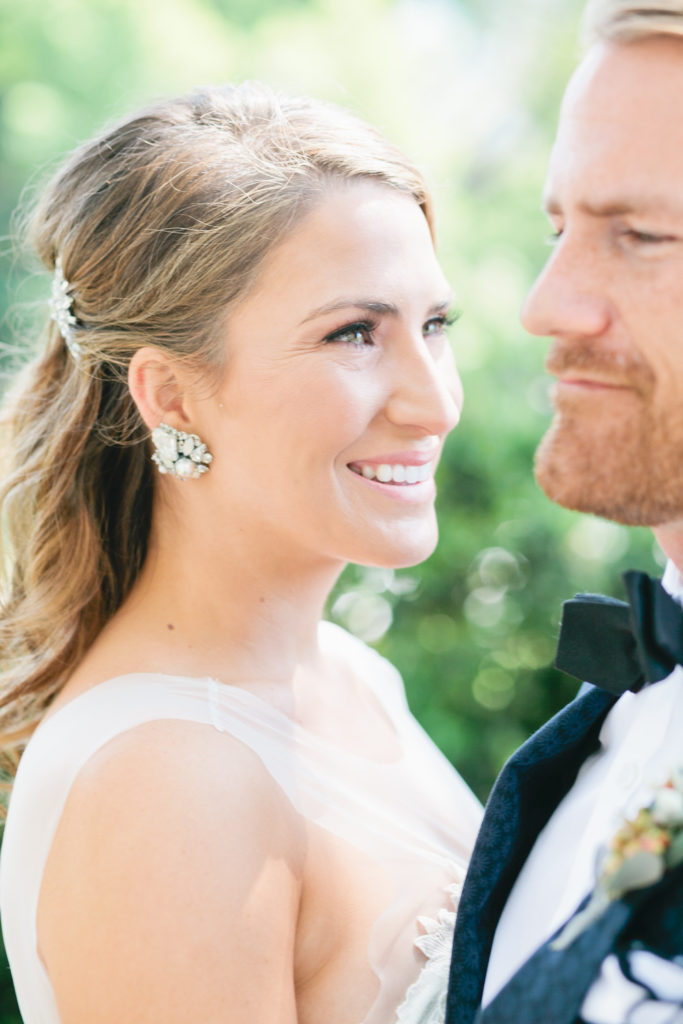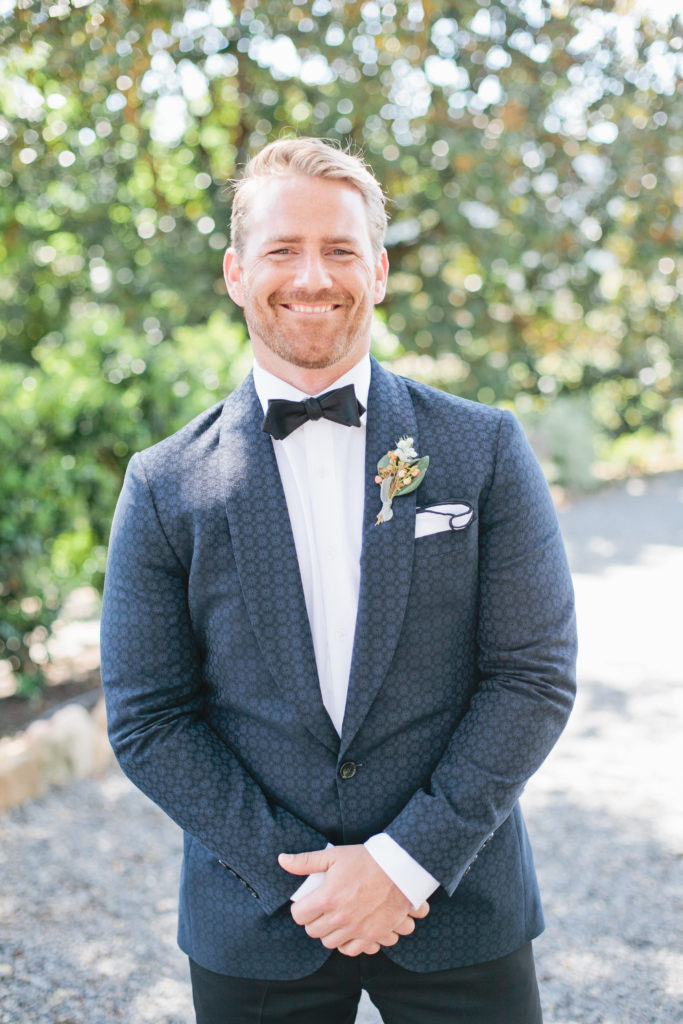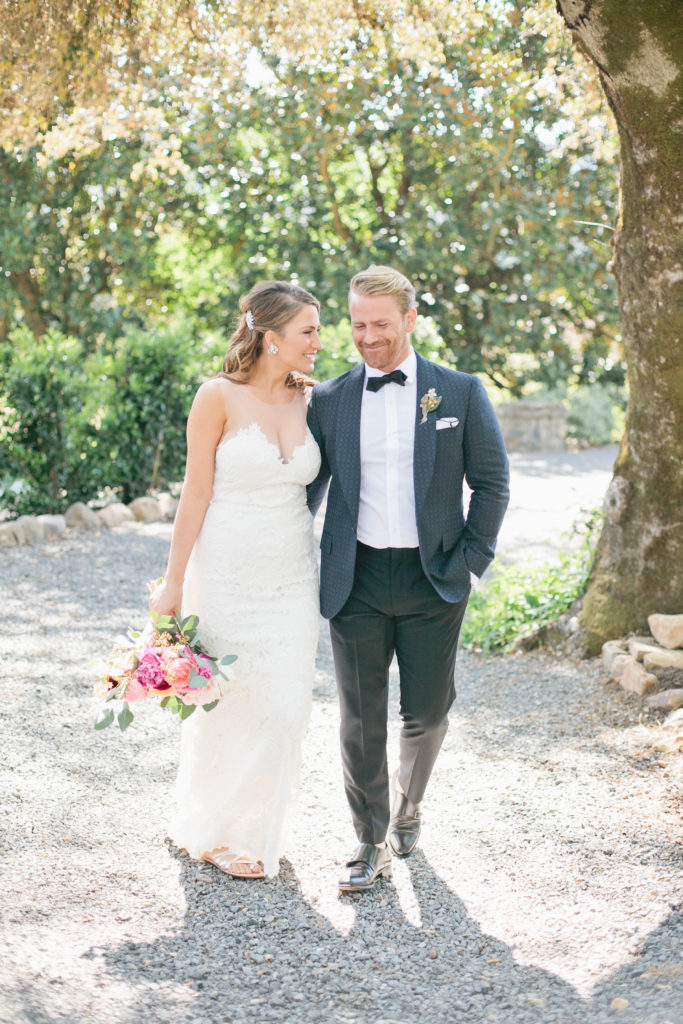 Like we said, they fell in love with the wine country and that's how they come across this gorgeous venue. Janna & Sean got married at Annadel Estate, a beautiful property in the Sonoma Valley. It was perfect for this very special day.  The property boasts ruins of a former winery where Janna and Sean said their vows, a gorgeous farmhouse and lush greens that are picture perfect along with delicious wines. I mean that's really all you had to say, ha!
The ruins are the area that really sealed the deal when these two chose a venue.  How pretty and romantic is this setting?  We let most of the beauty come from this space, but we added simple touches like vintage wooden baskets at the entrance of the aisle with florals, and macrame planters in the space right behind the couple.  Florist Natasha Kolenko just killed it with her floral game on this one, and those macrame planters?  Her mom made them!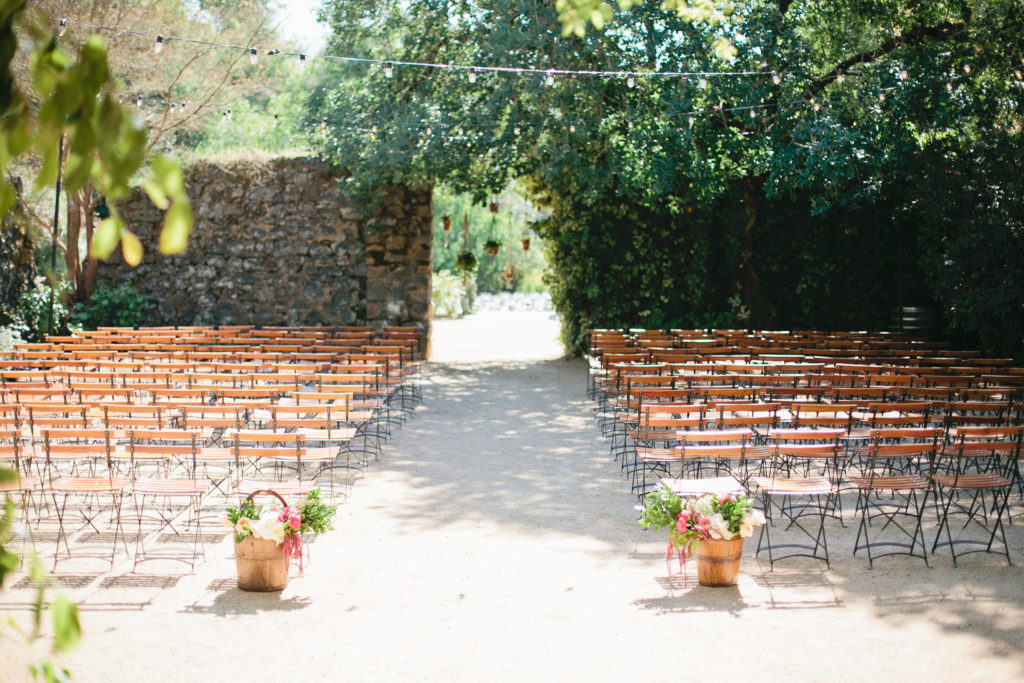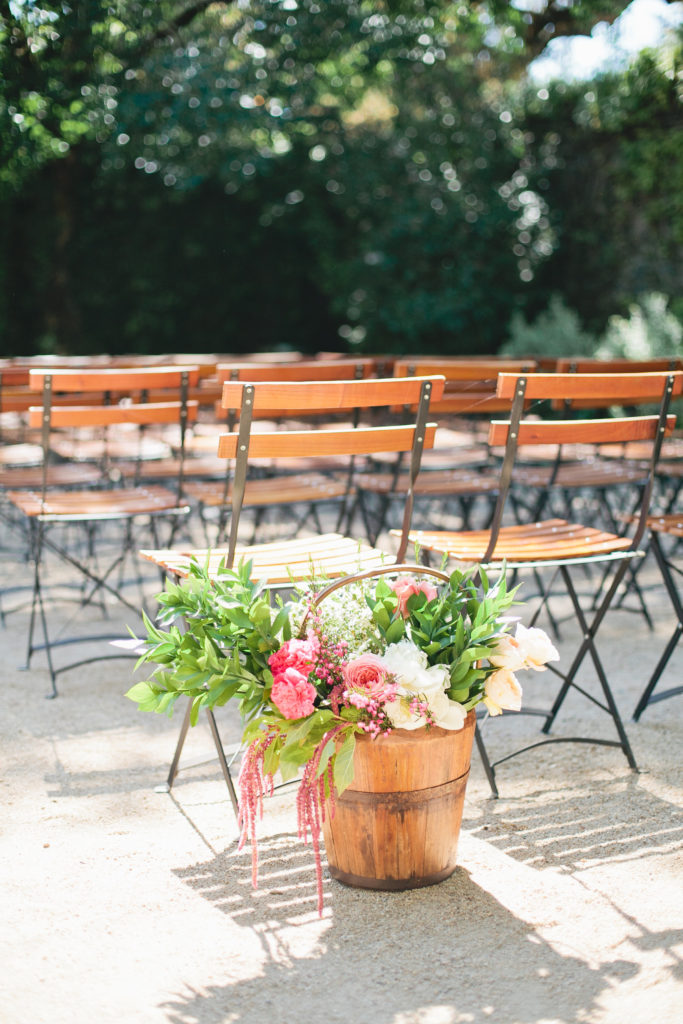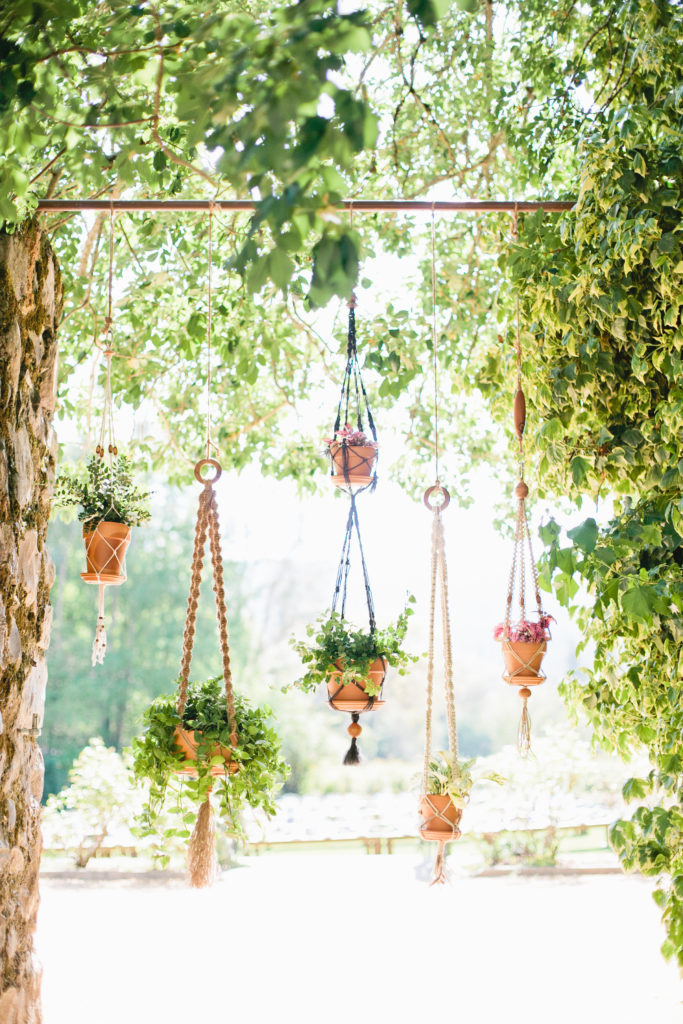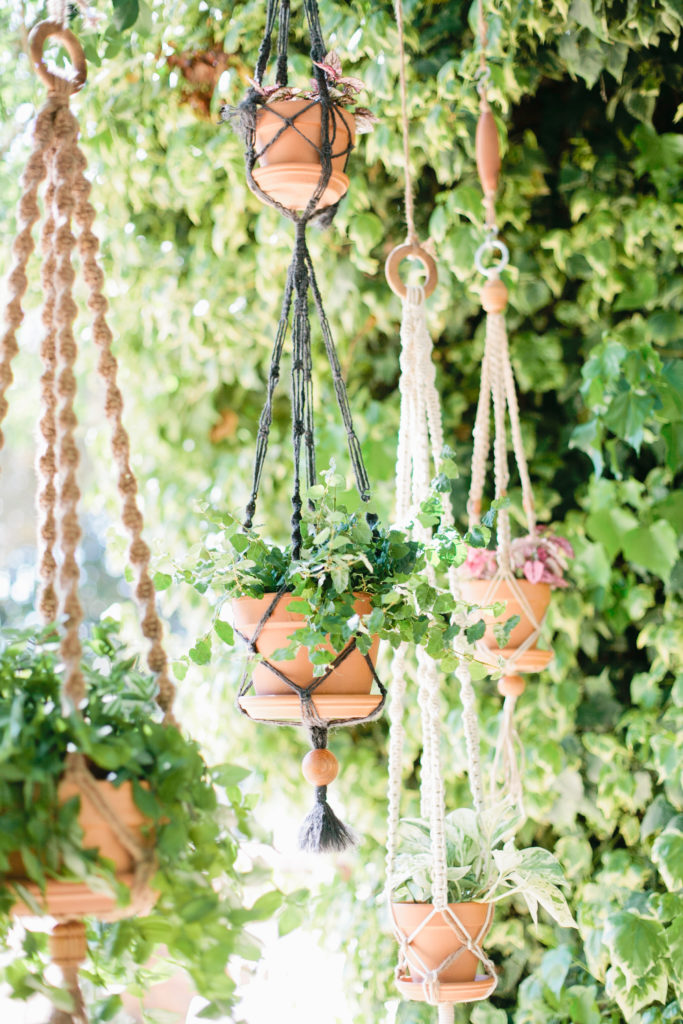 Here are some more florals from Natasha… Details of Janna's bouquet, corsages and head pieces for the flower girls and Mothers and Grandmothers of the bride and groom… We also shot some pretty styled photos of the couples wedding rings…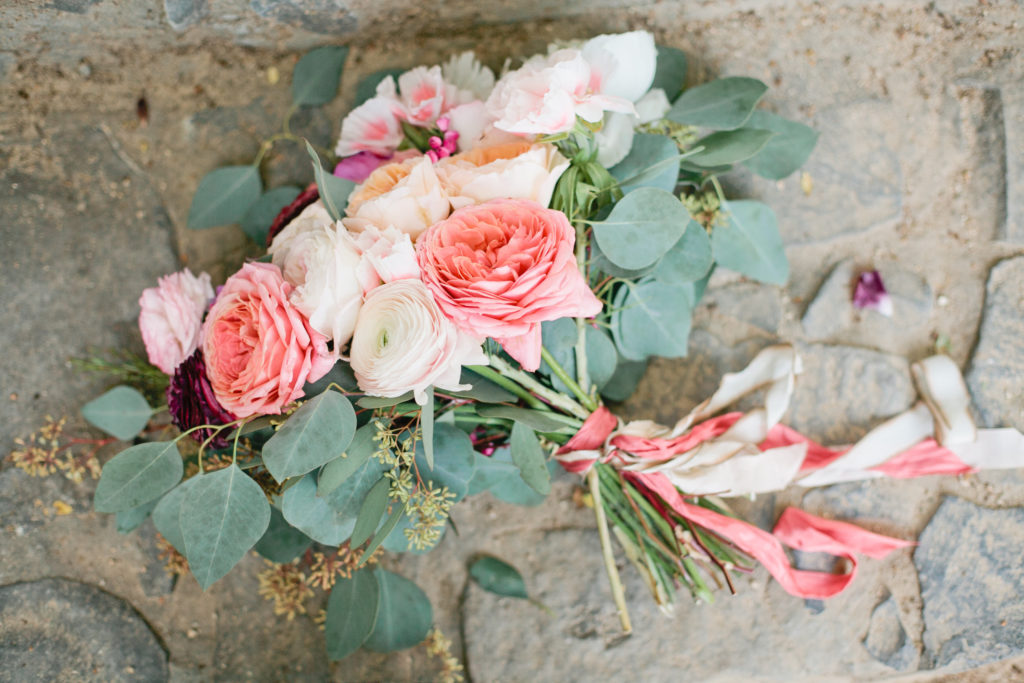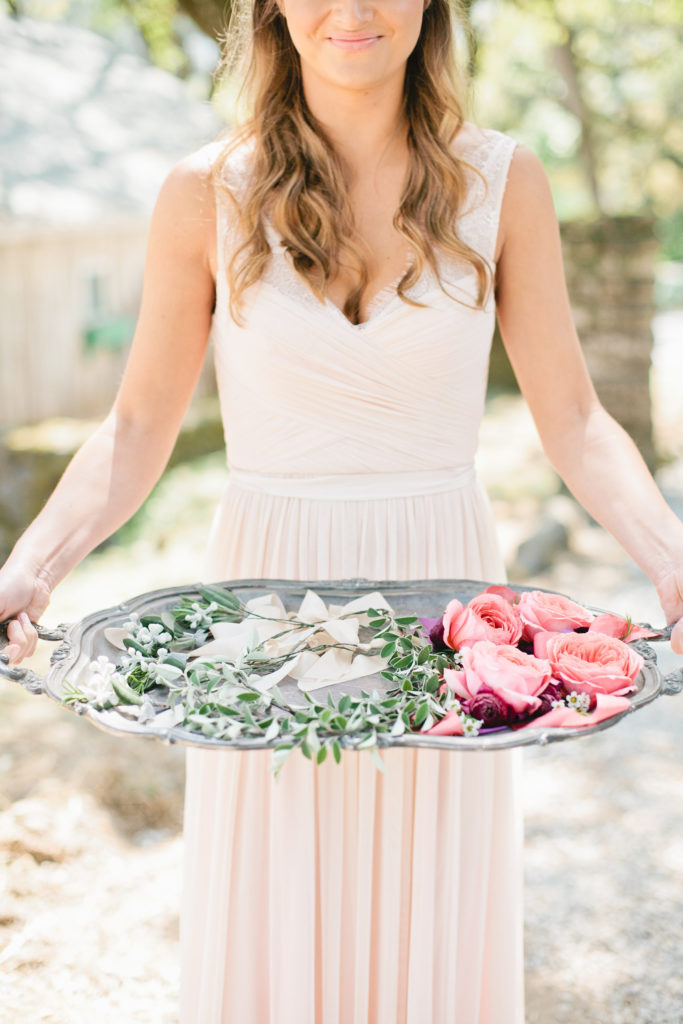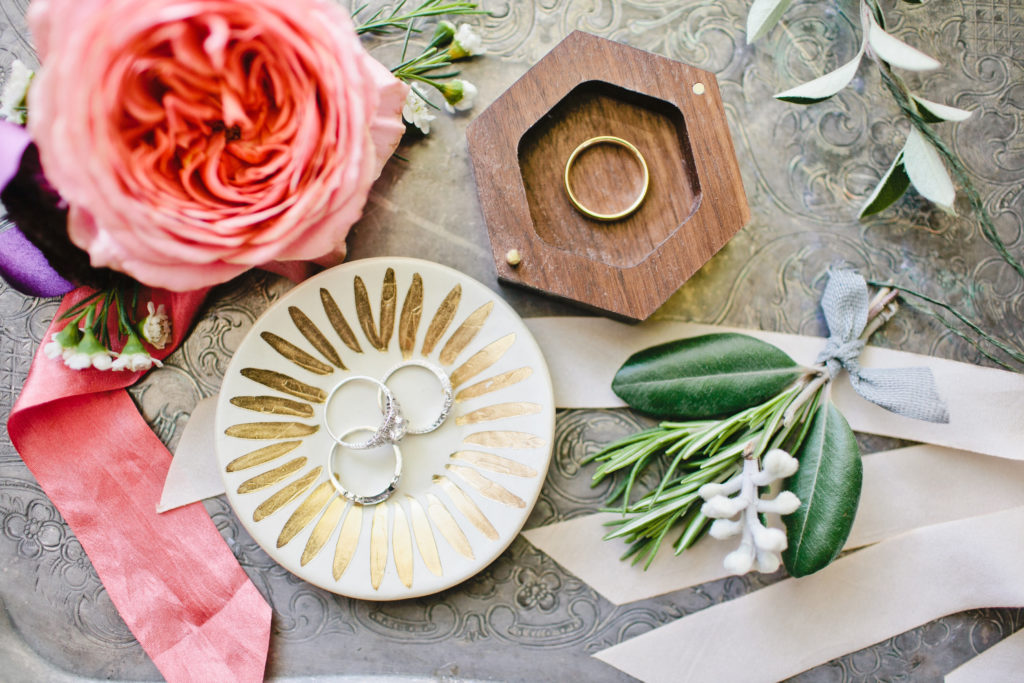 Next, how about the bridal party?!  Janna let each bridesmaid choose their own dress, the conditions were that they had to be long, and be in a soft pink palette.  We loved the way they turned out!  The groomsmen all wore suits from The Black Tux.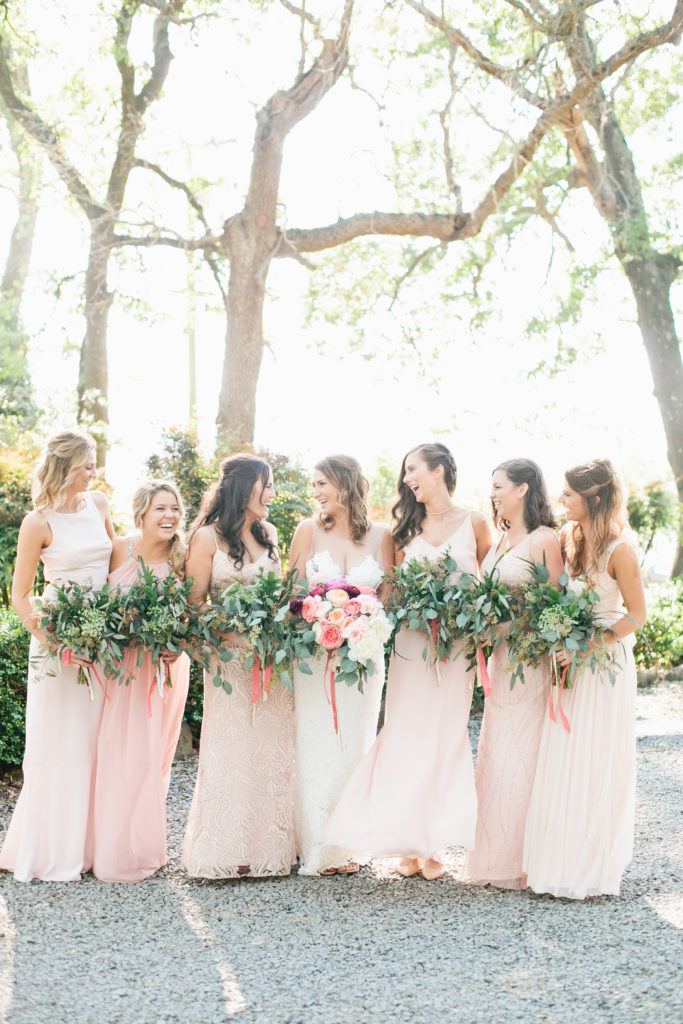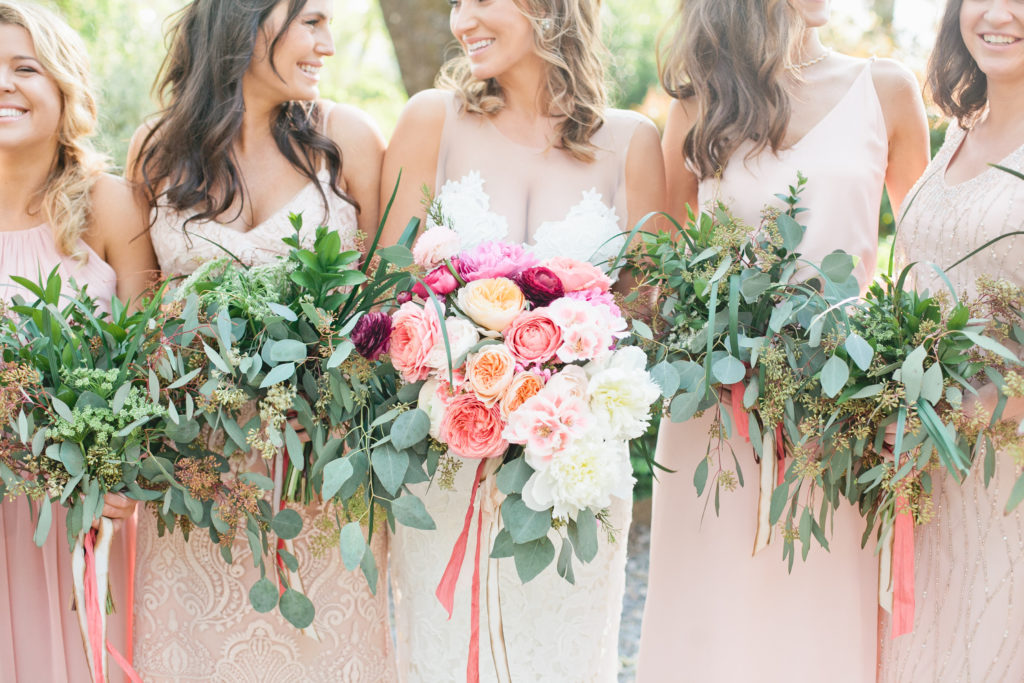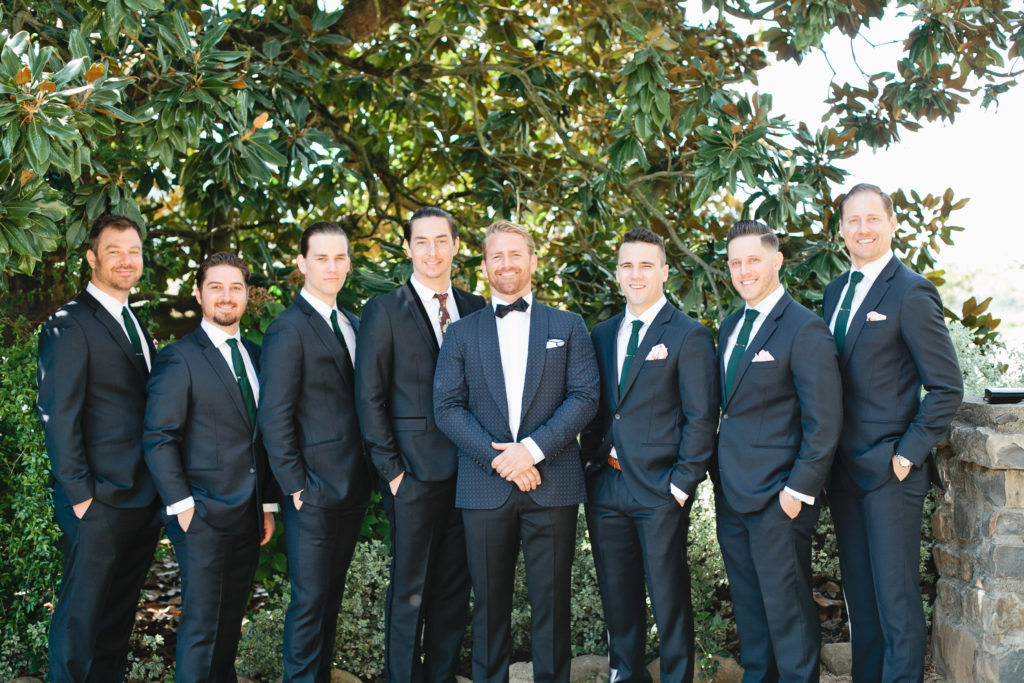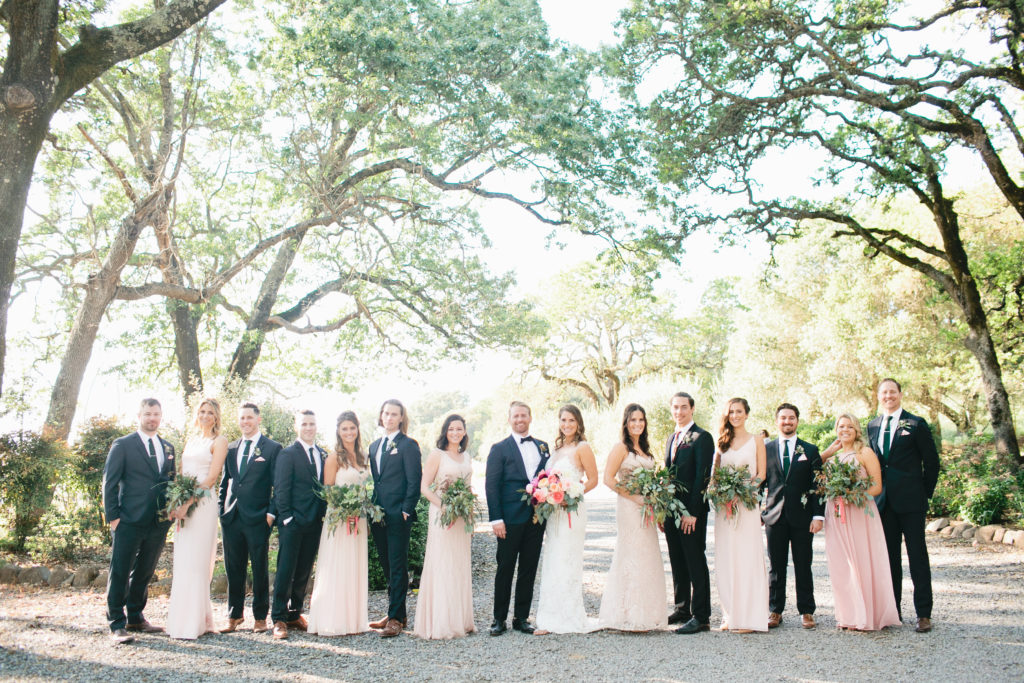 Their I am with my gorgeous sister!  I also love the shot of her and one of her besties, Amber…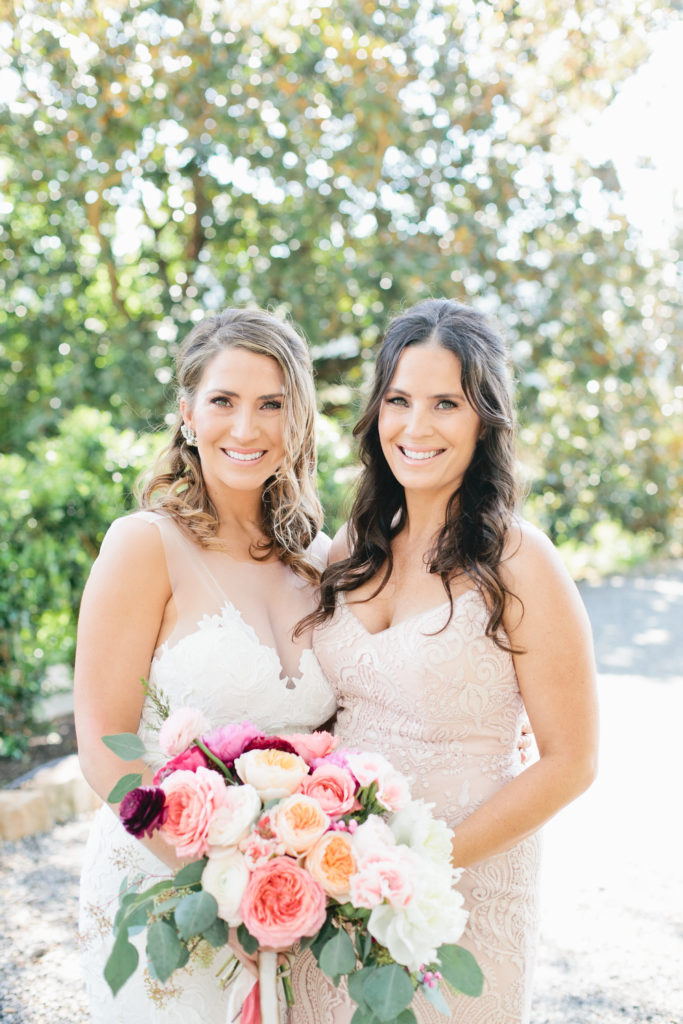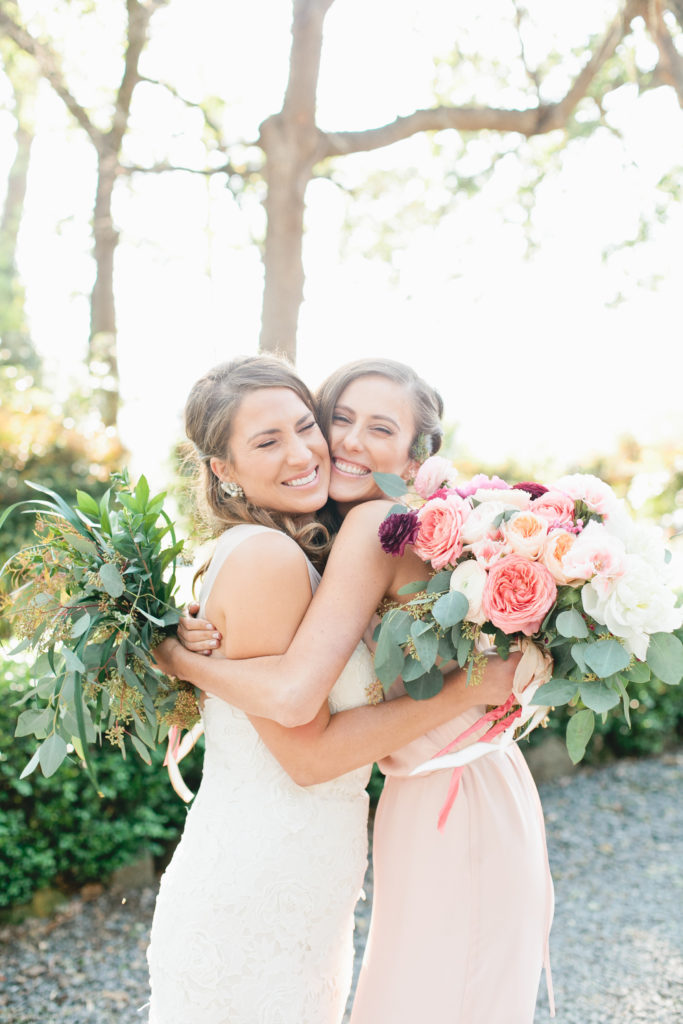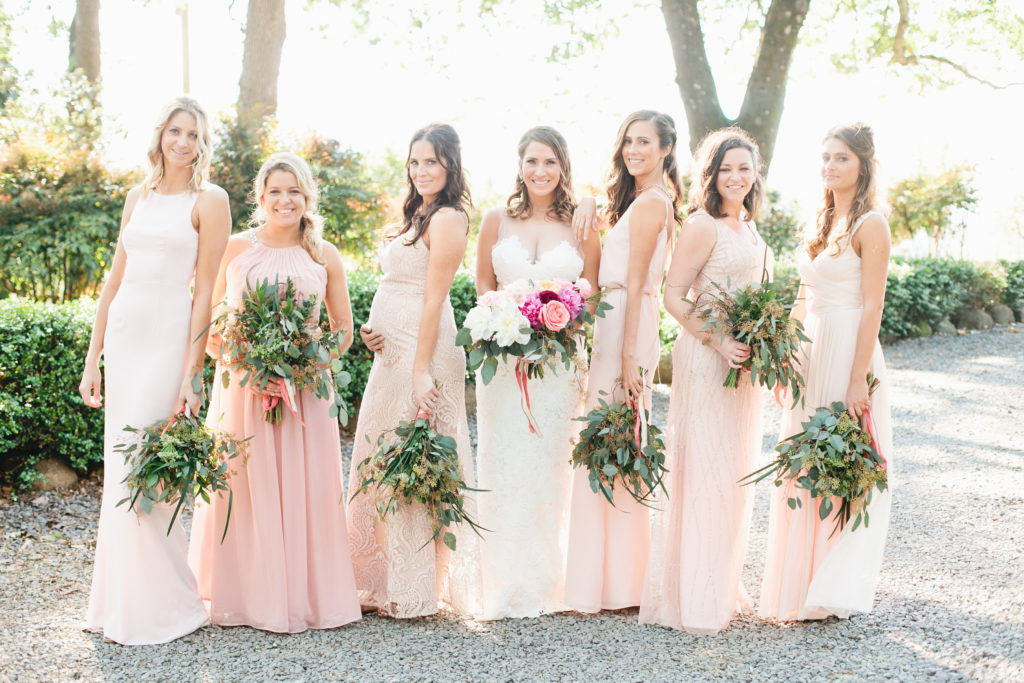 Can't forget about the little people in the wedding!!  Their adorable flower girls – Edie, Leila and Camilla.  And of course, the cutest ring bearer to ever walk this earth, my little Court…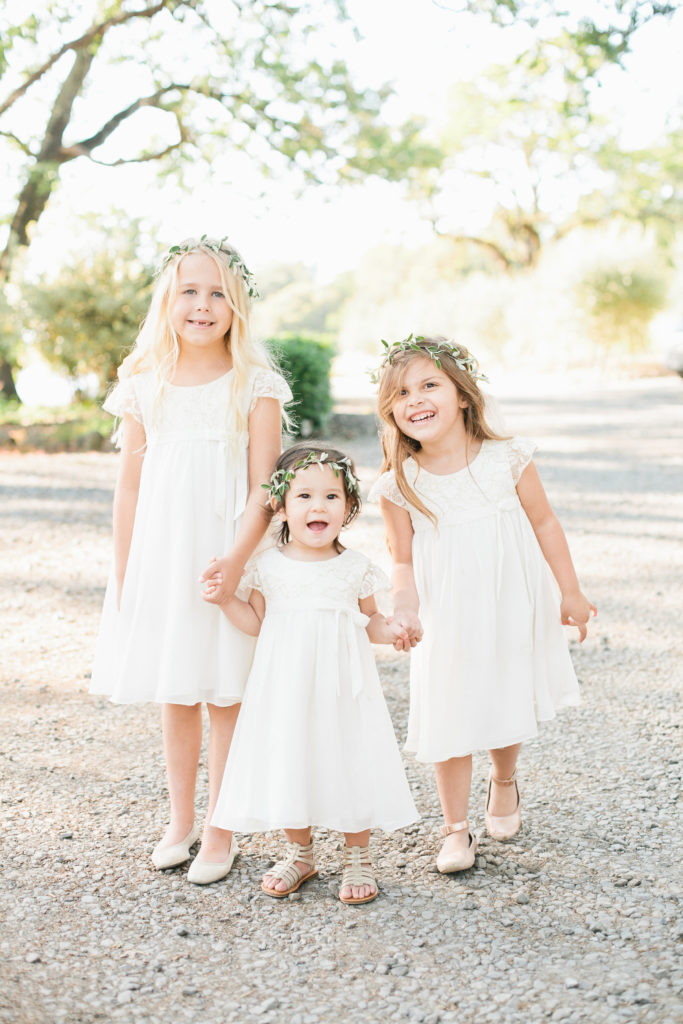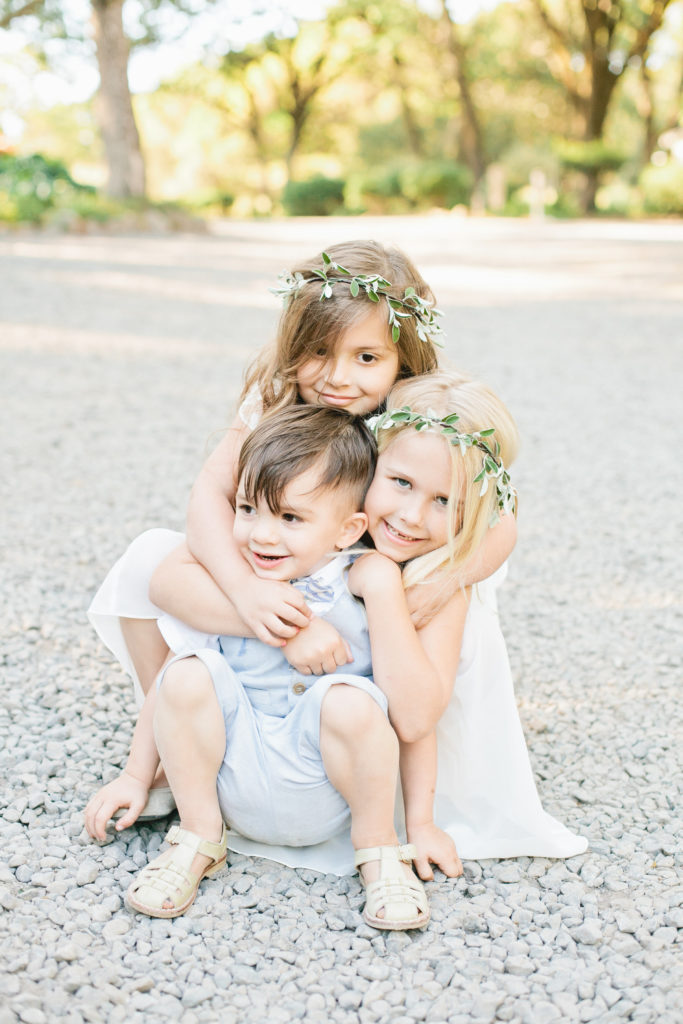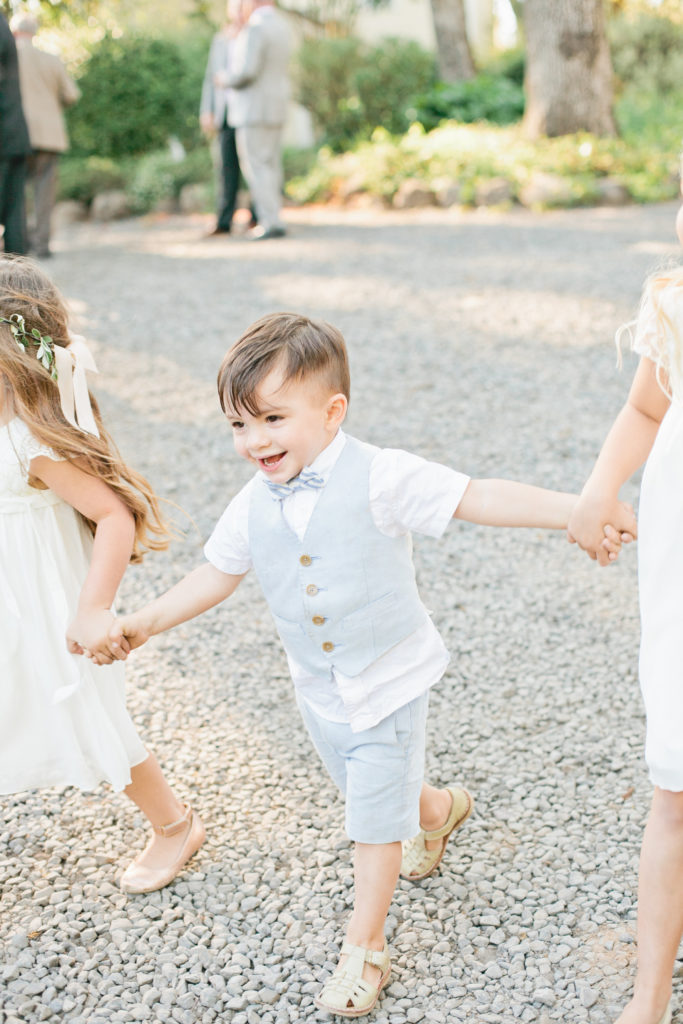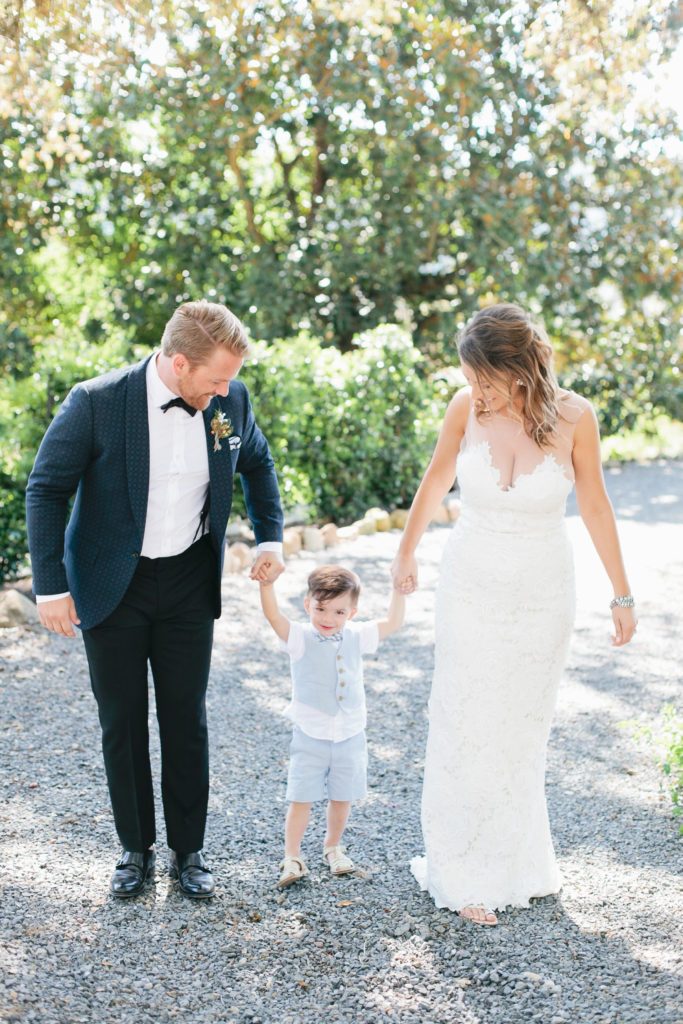 I have to share a photo of my family, because I love them :)  This is the best we could get with Court, ha!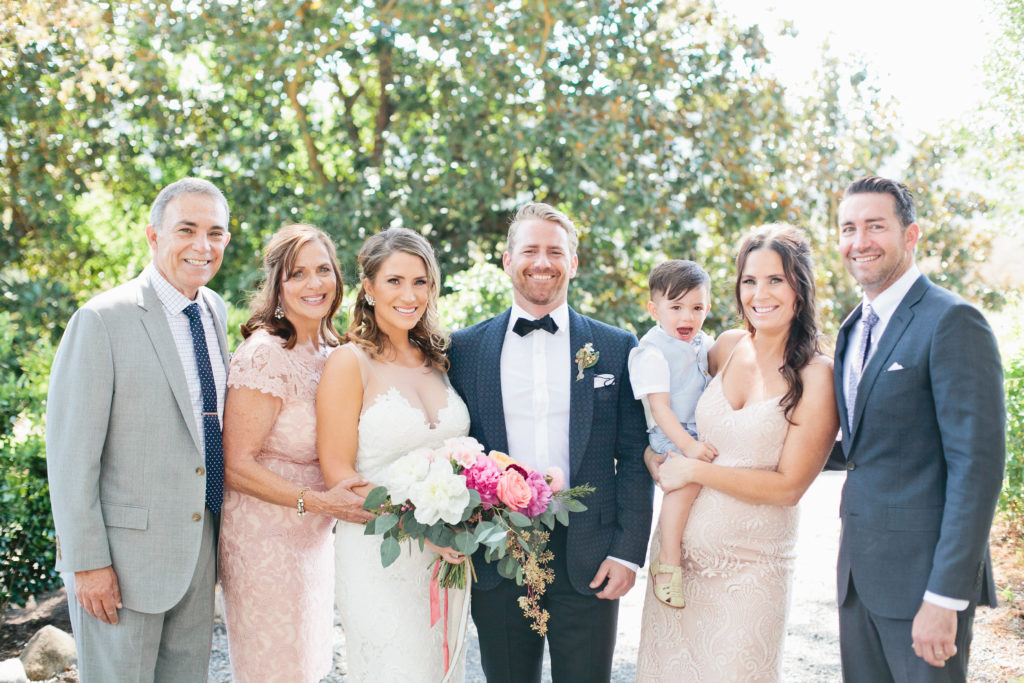 Now, on to the ceremony!!!  I'll never forget how beautiful my sister looked, and how proud my dad was!  Janna & Sean chose to have their close friend Ryan marry them and it was perfect… He was sort of the one that set them up, and knows them both separately and as a couple. He shared the best stories and anecdotes of them – he did such a great job!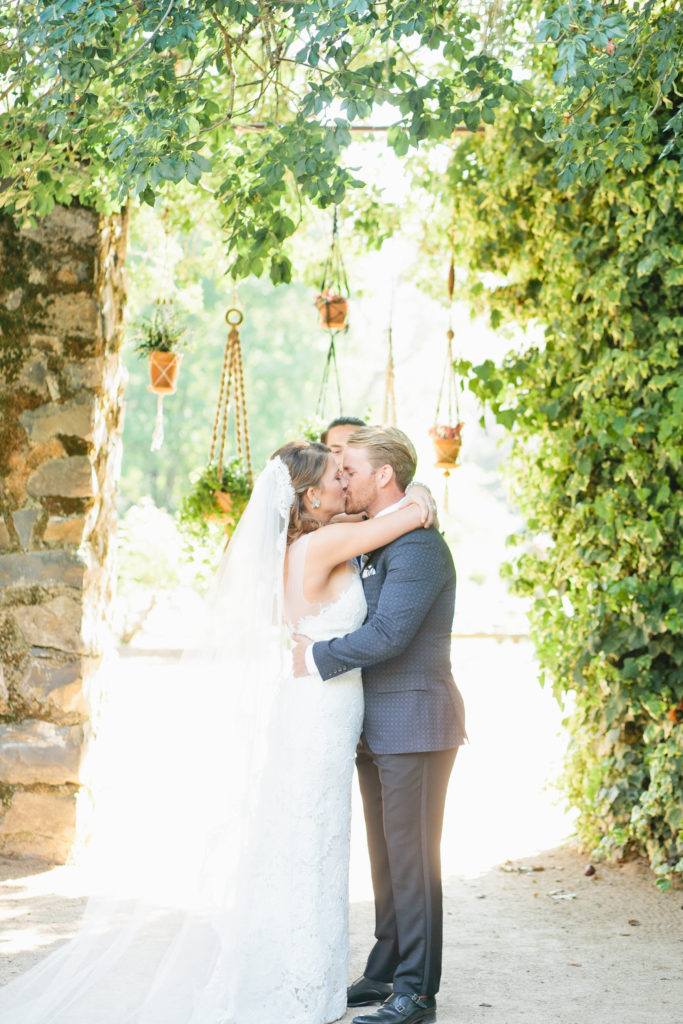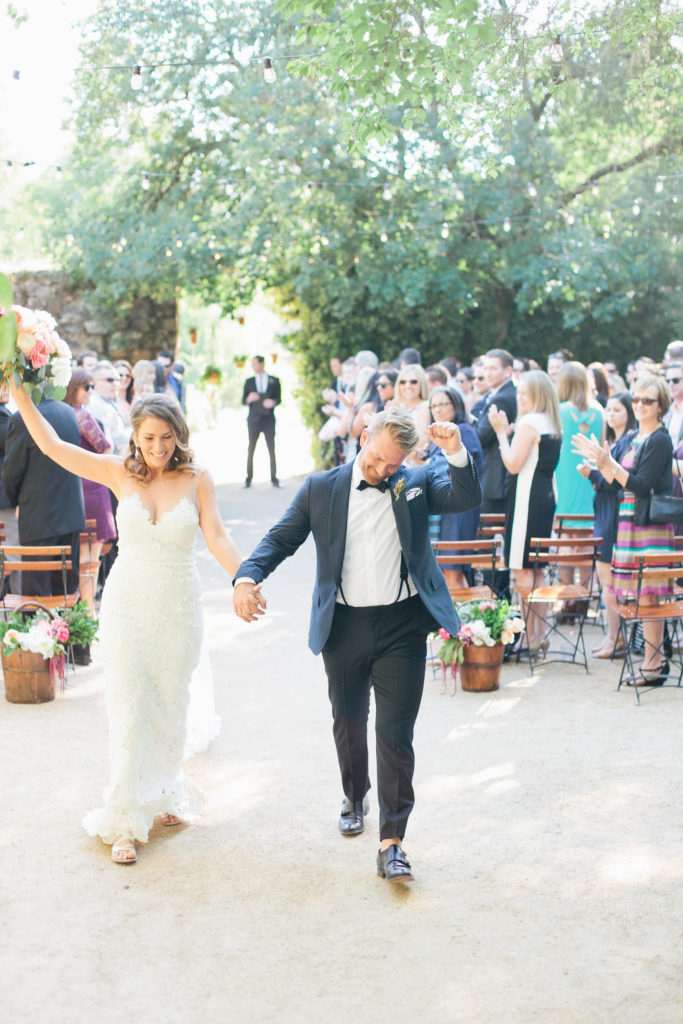 Another kiss to seal the deal!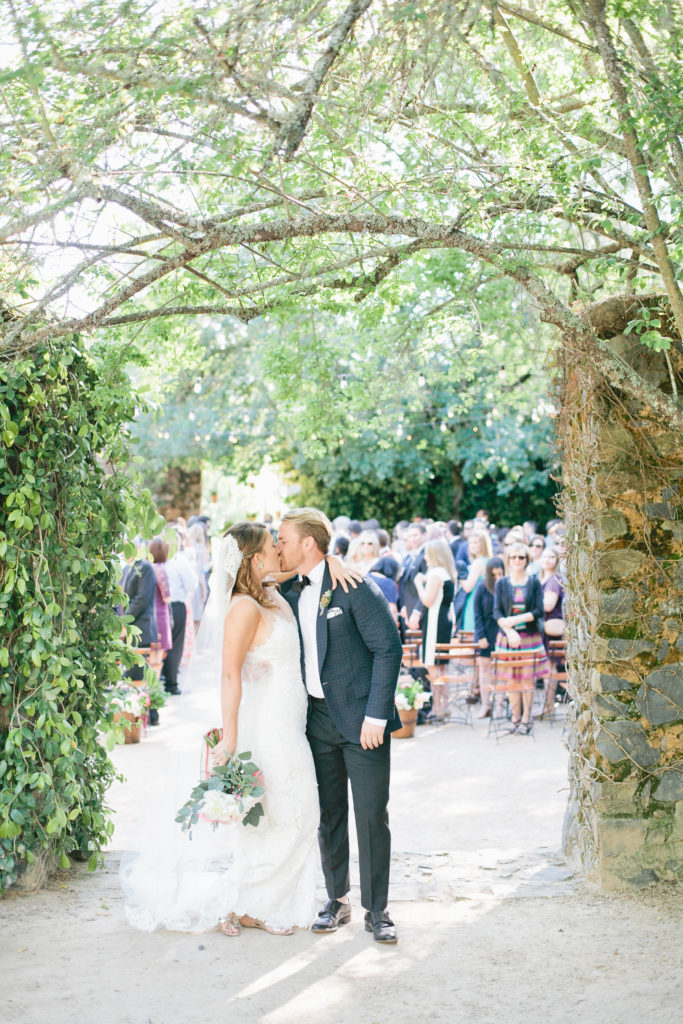 Cocktail hour was fun and festive!  There were Portuguese guitarists playing in the background as a nod to our family's heritage, while wine, beer and signature cocktails were flowing!  All of the pretty signage is by Meghann Miniello…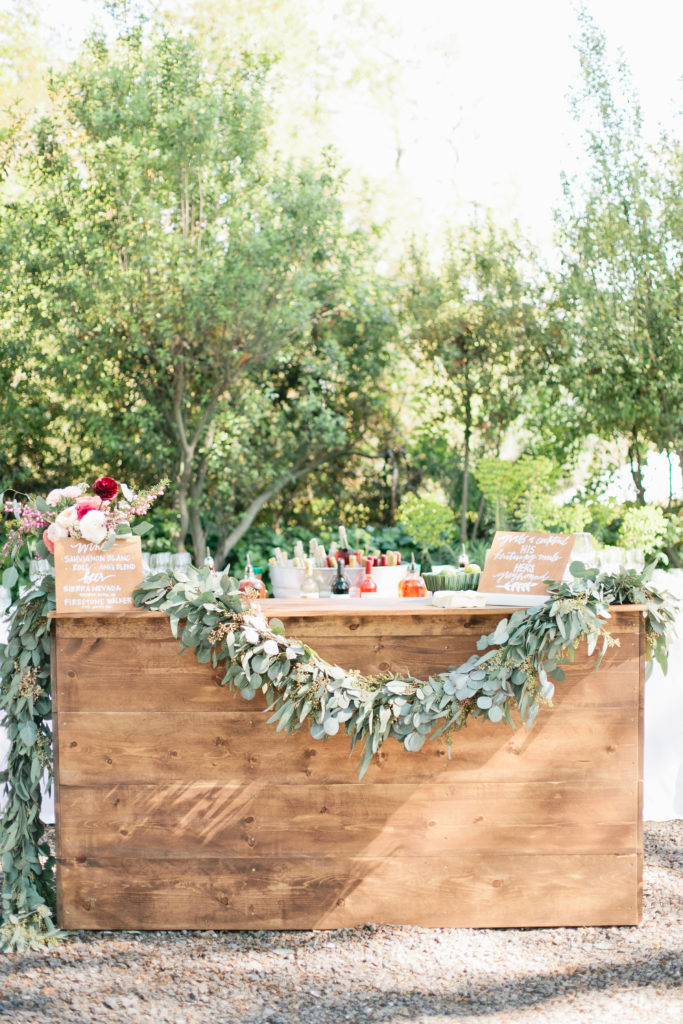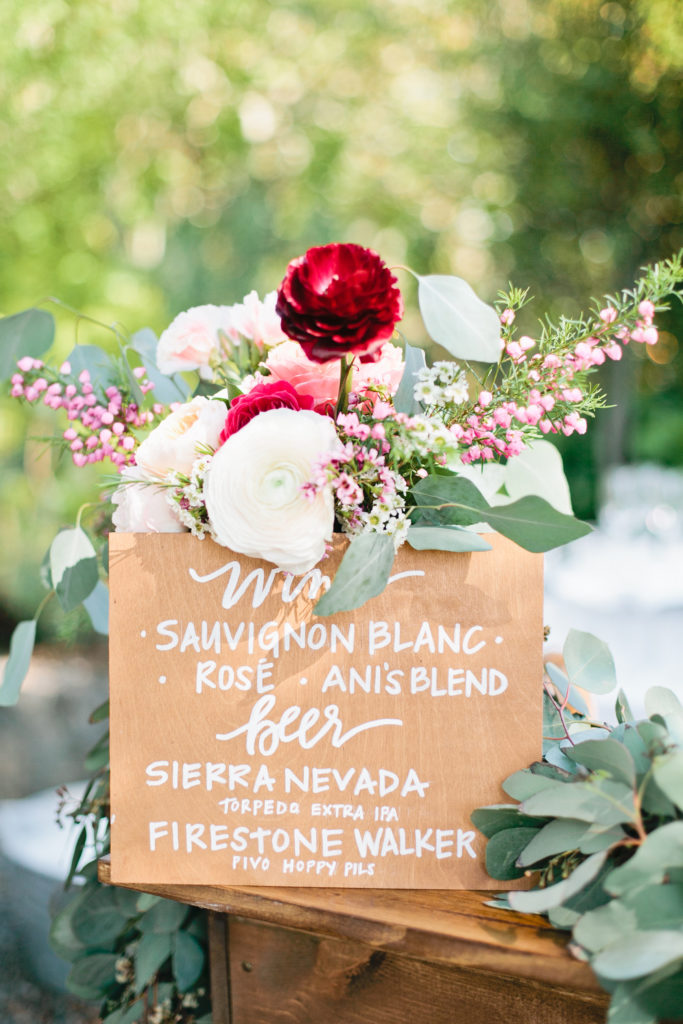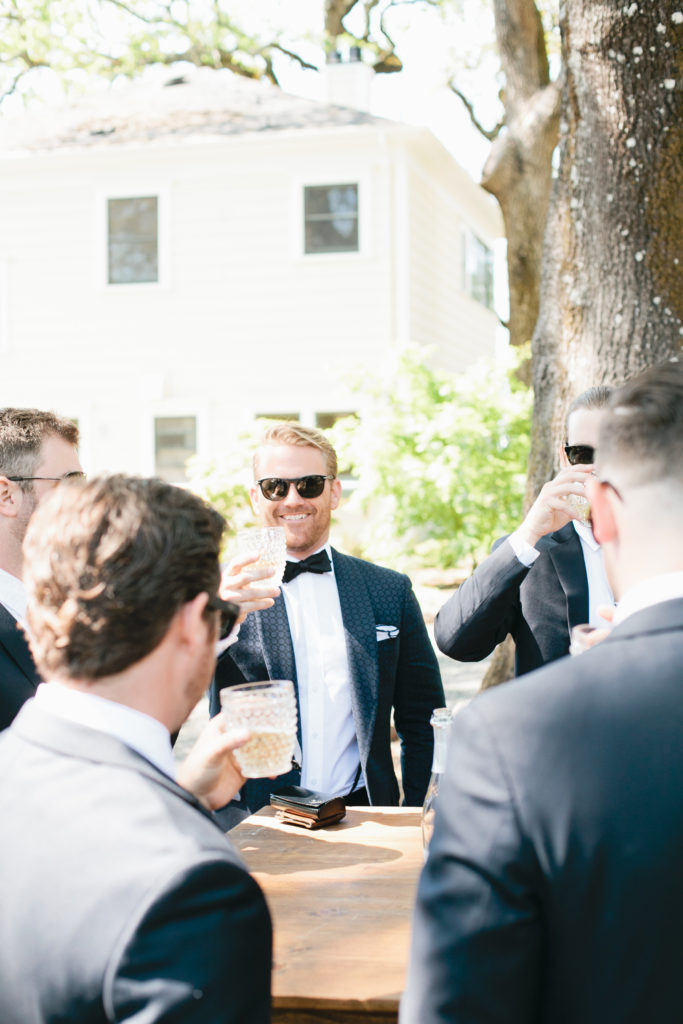 Here is a little bit from the bride…
We wanted to make our wedding a reflection of ourselves – all of our favorite things to enjoy with our favorite people!  We had bespoke details here and there to speak to both of us, and our personal style.  For example, Sean is a high school English teacher so we incorporated books into our escort display, and pencils as part of the tablescape.  I work in film and am a huge movie buff, so we had a projection of movie clips playing during the reception.
Here is that amazing escort display that Janna is talking about, we love love love the way this turned out!!  Everything was hand done by none other than Meghann Miniello…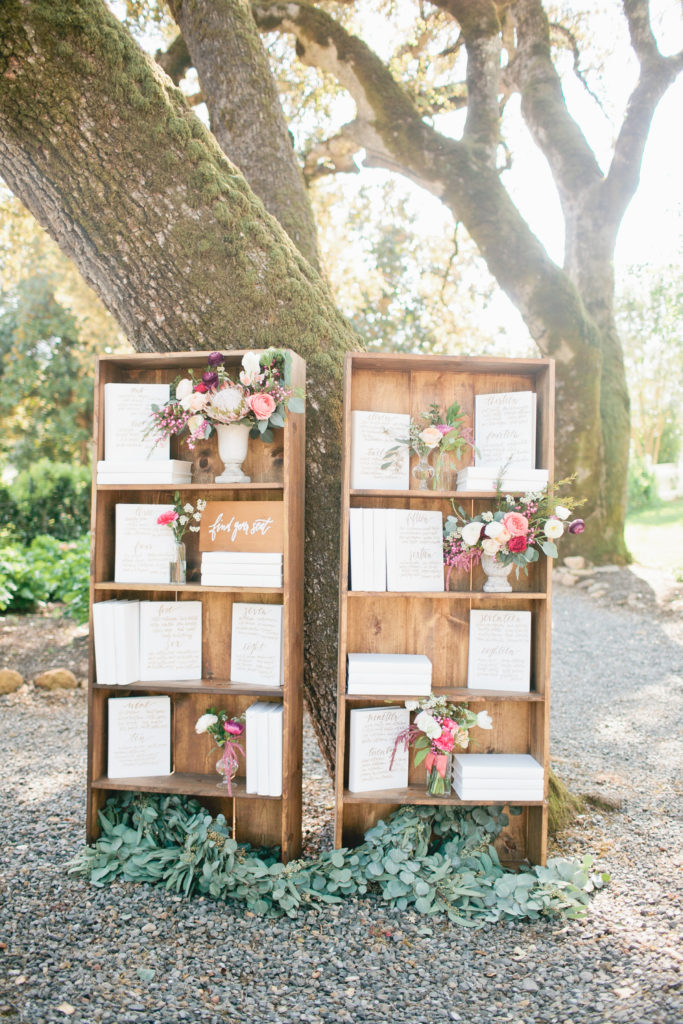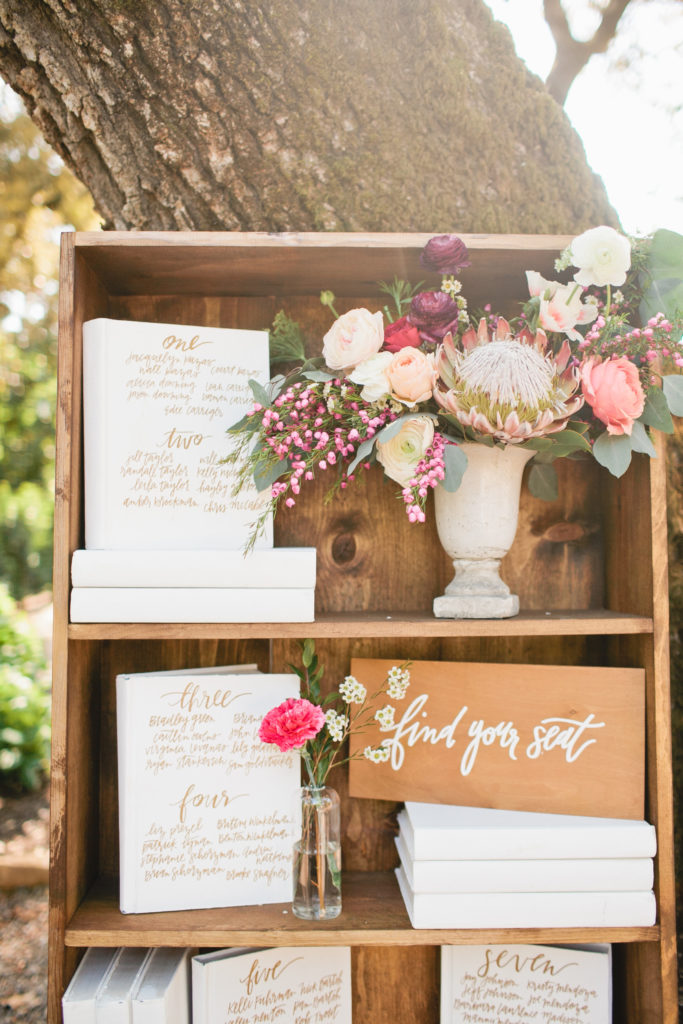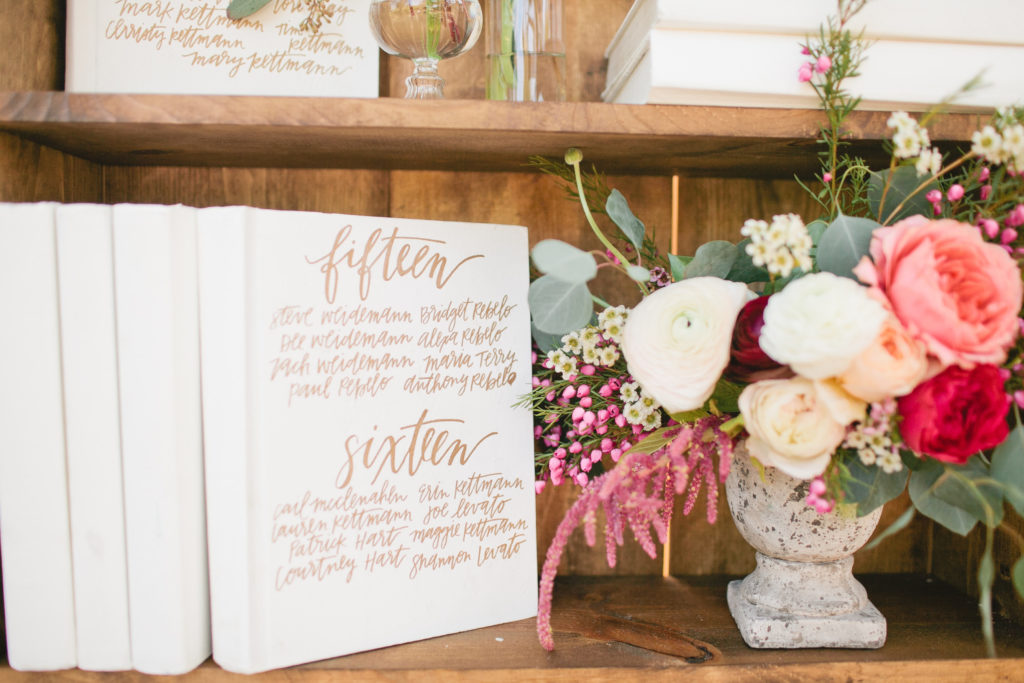 This leads us to the reception… How gorgeous is this setting?!  We kept things fairly simple yet classic with little pops of color…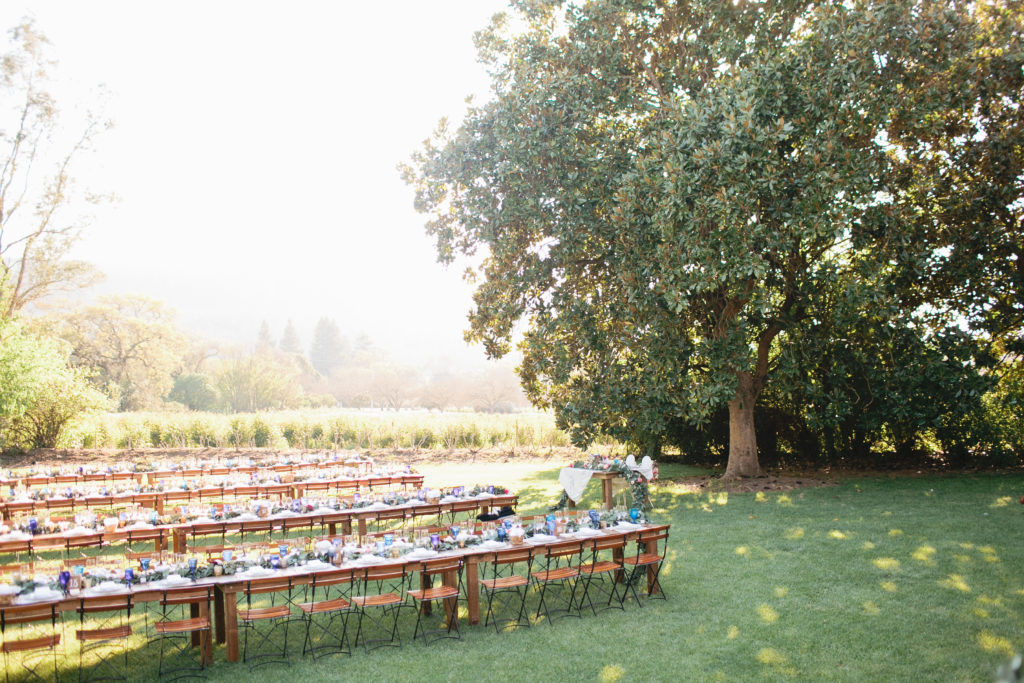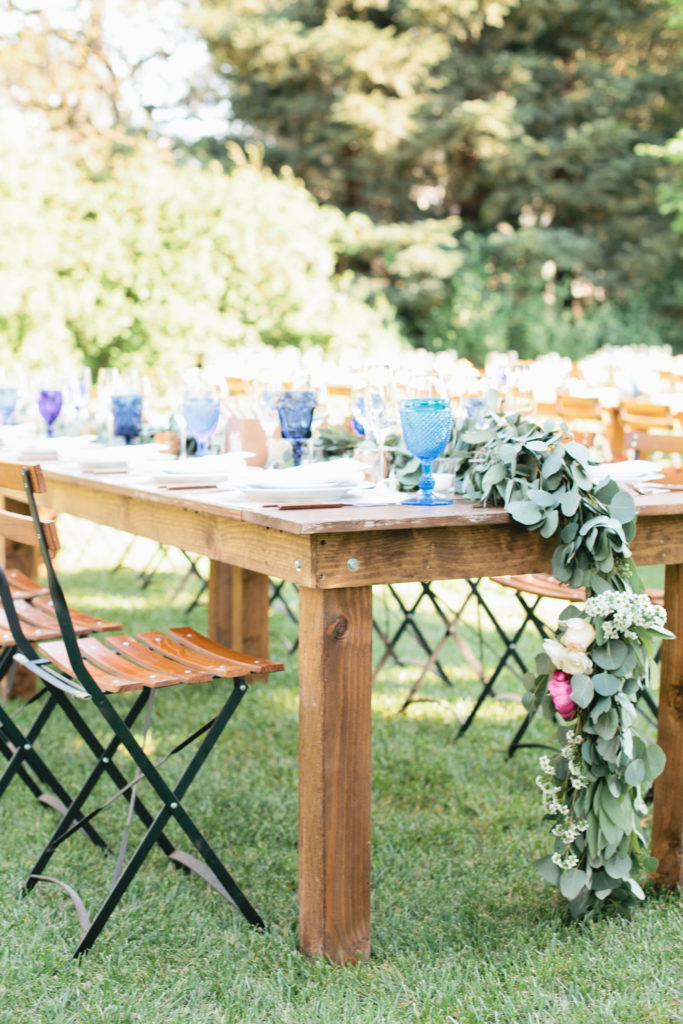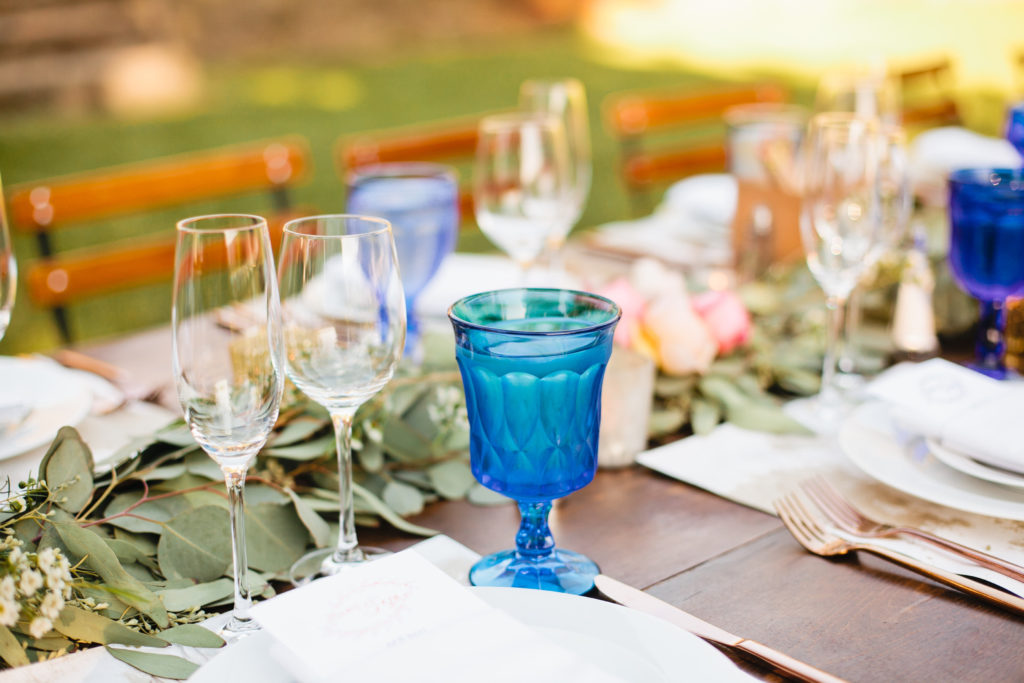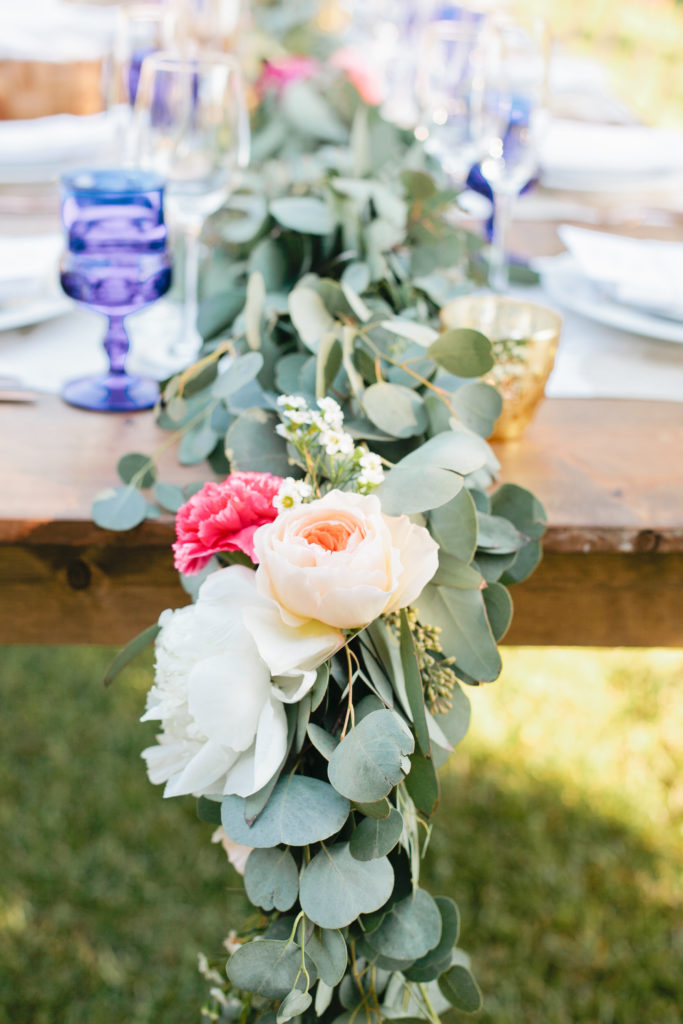 Each place setting had a placemat with the guest's name written in the top corner so they would know their seat… The menu also mentioned Janna & Sean's favor, a donation to the Alzheimer's Foundation  – a cause that is very close to our family's heart.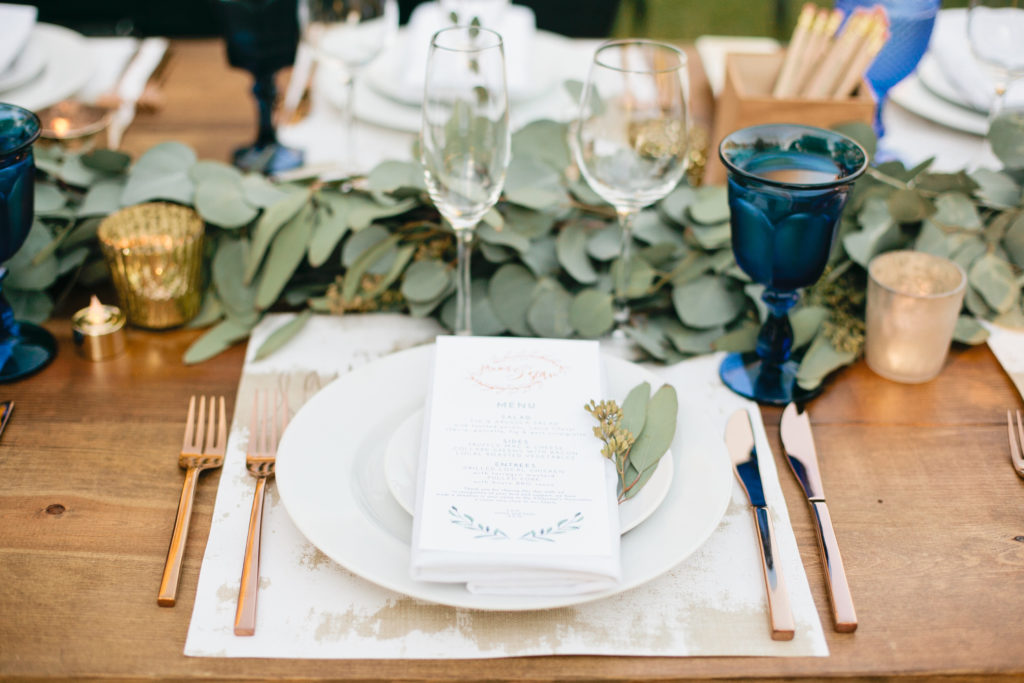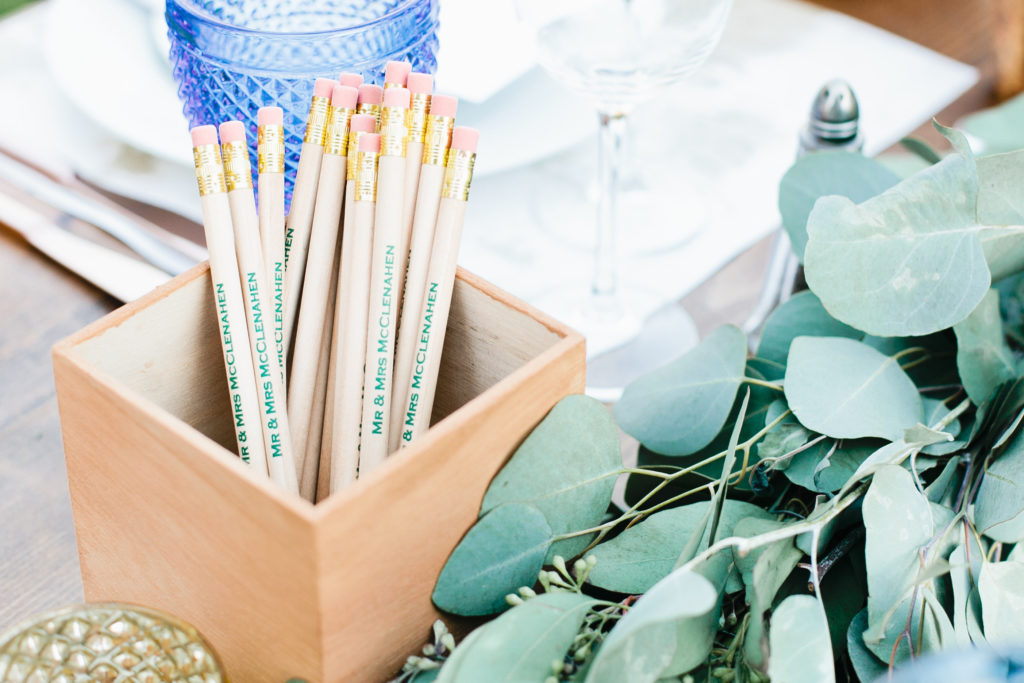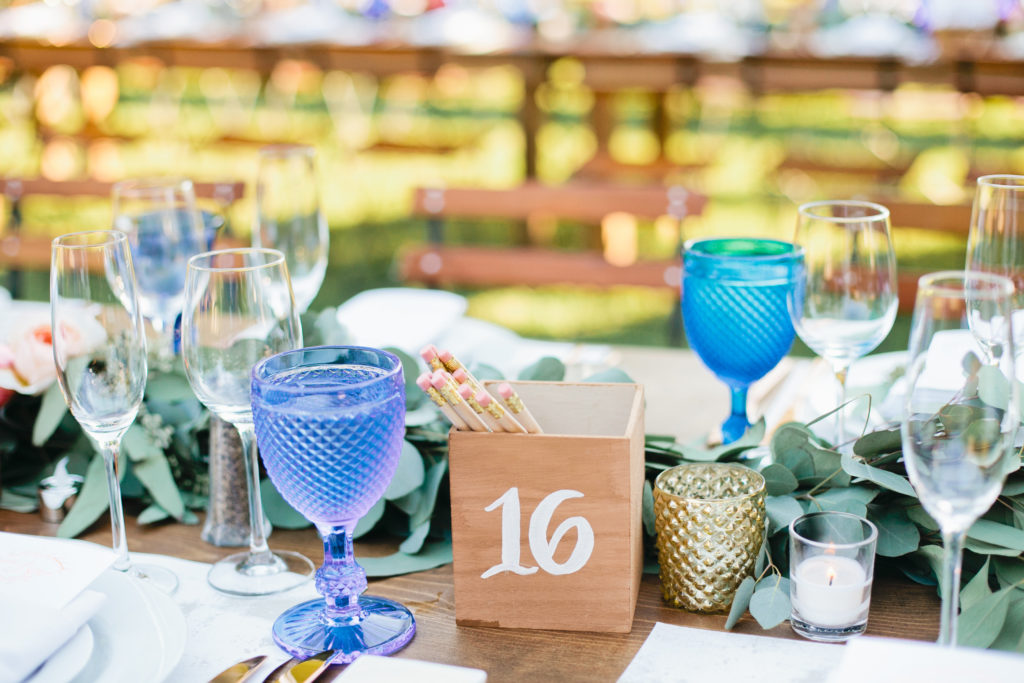 Here is Janna & Sean's stunning sweetheart table… Similar to the main tables but with a few more details…  The lace tablecloth belonged to my late grandmother and I used it at my sweetheart table for my wedding as well.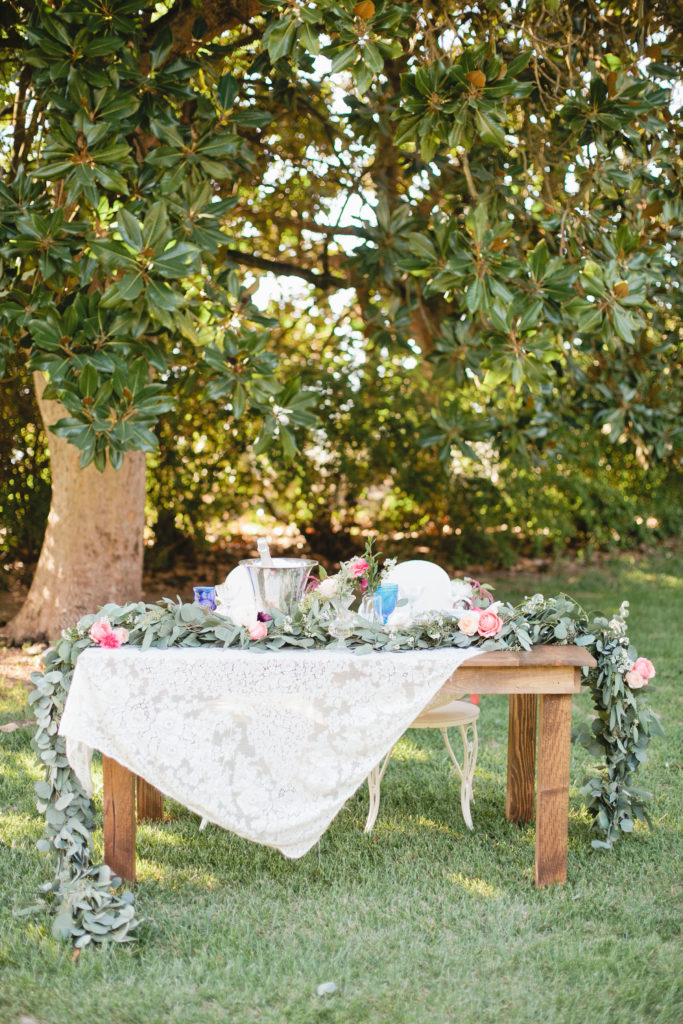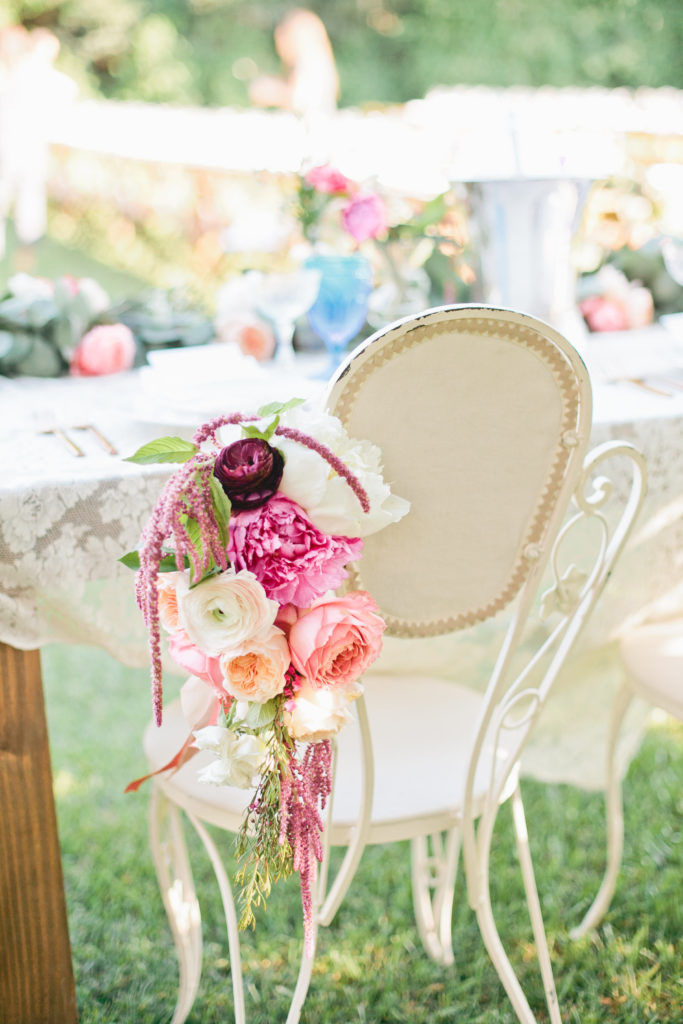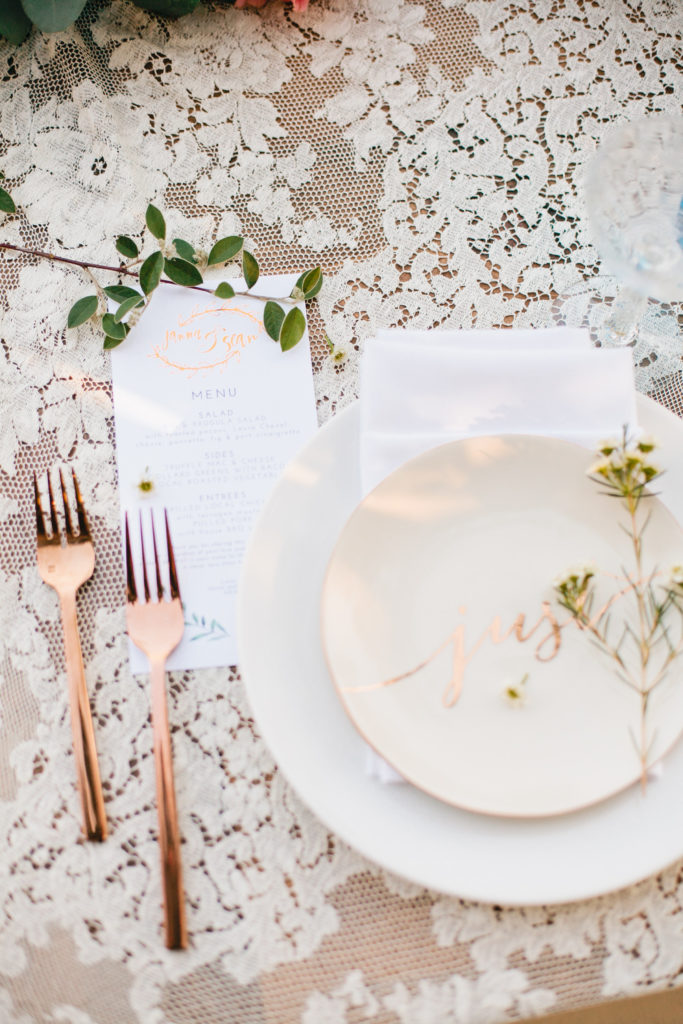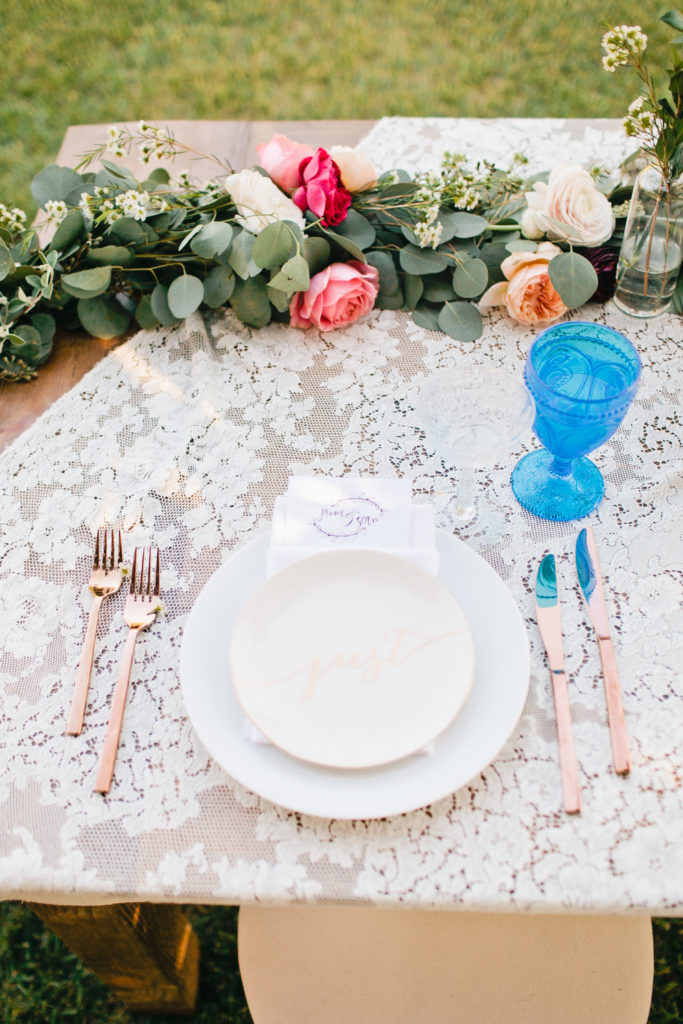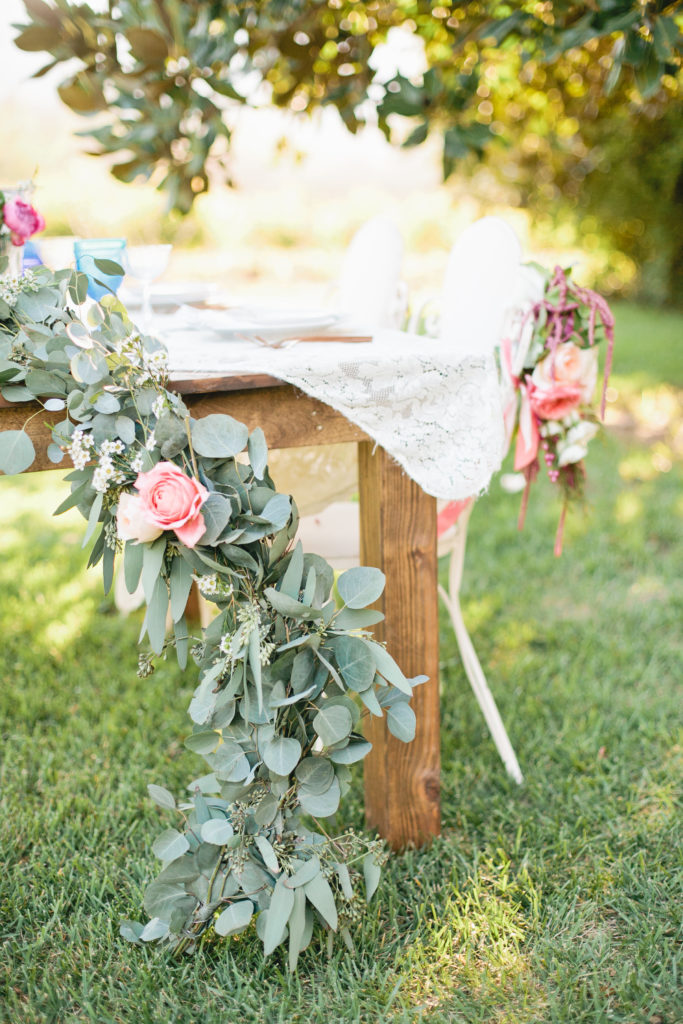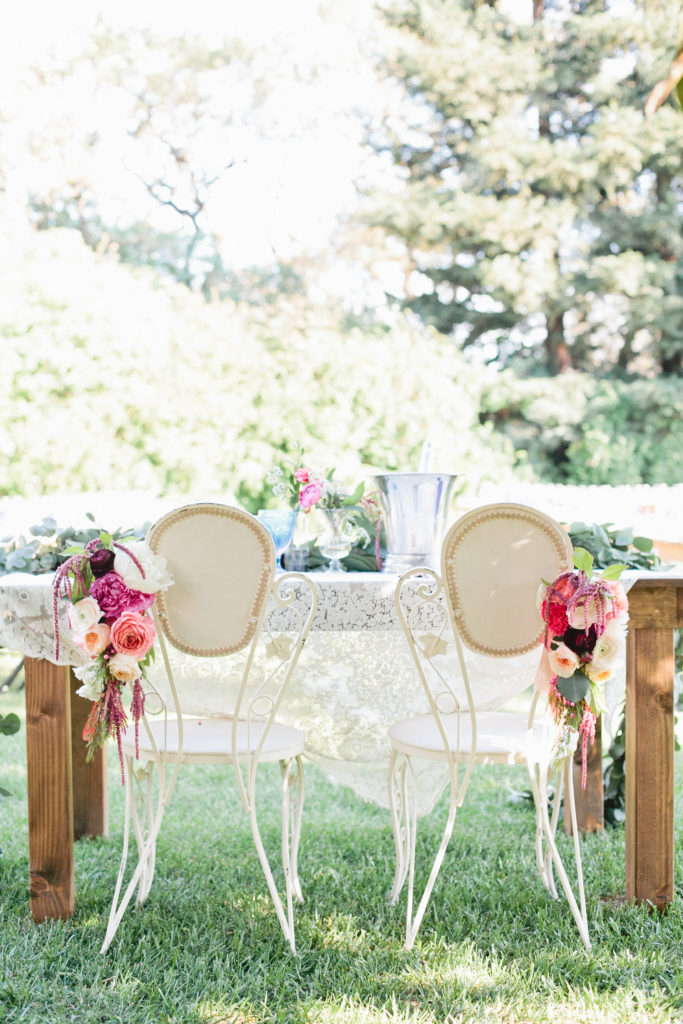 The couple made their grand entrance, and the rest of the night began with lots of delicious food from The Girl and the Fig to go with the yummy drinks!!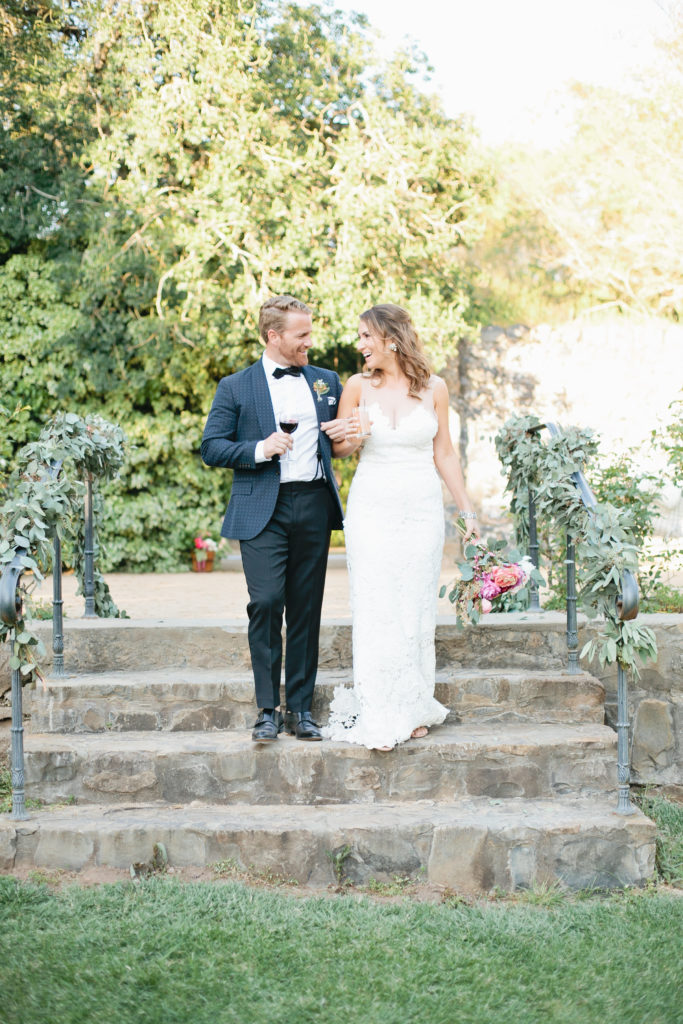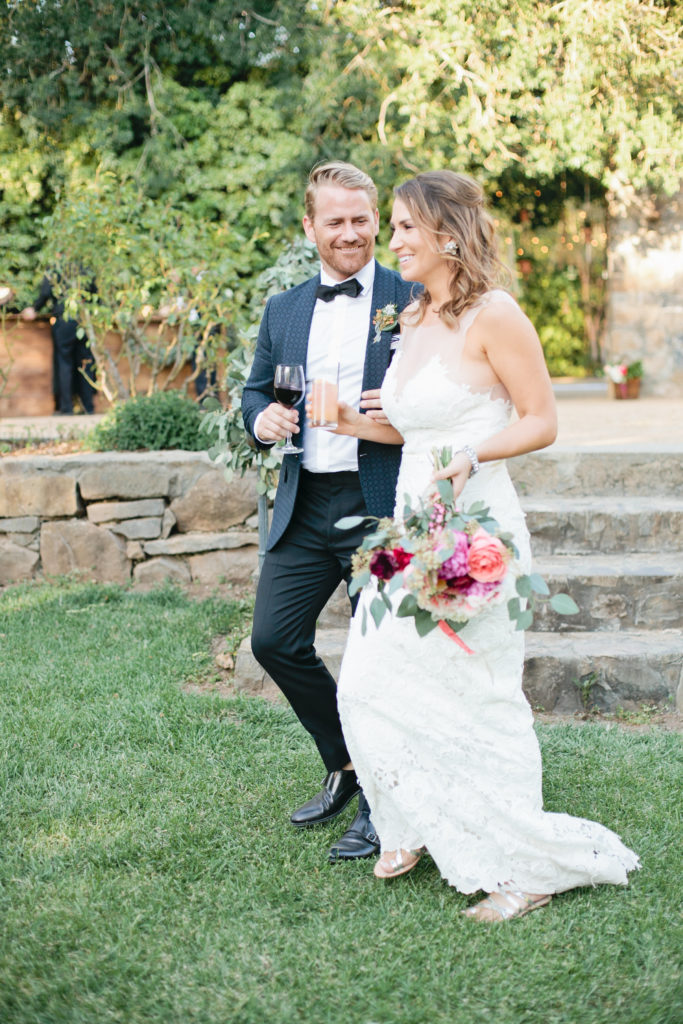 But first… It's time for a selfie…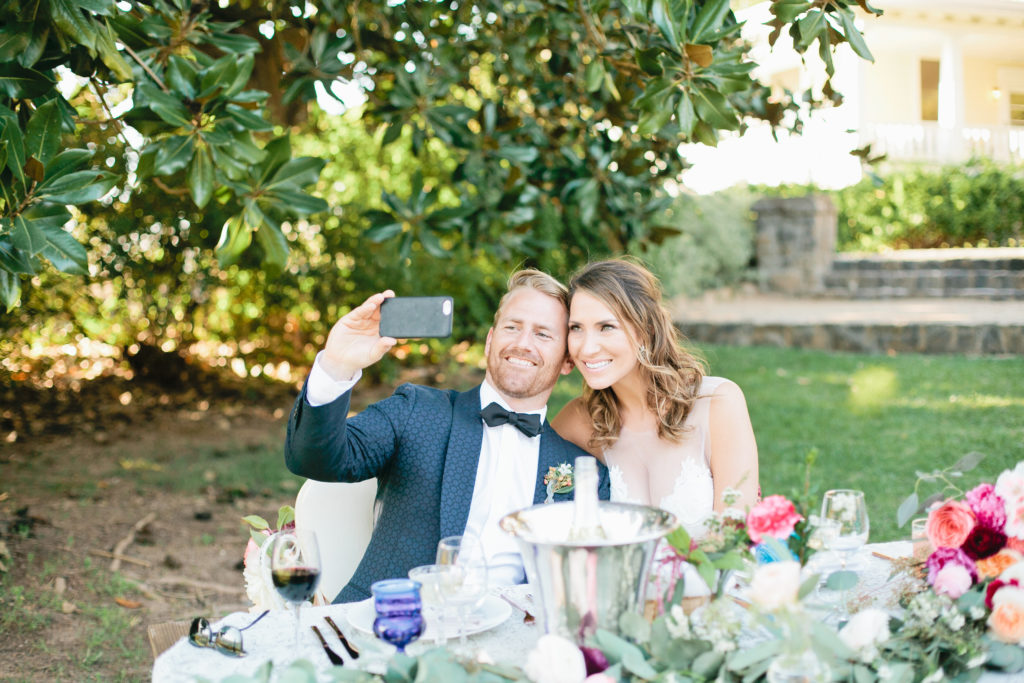 Here's a bit more from the bride on her and her new husband's favorite part of their day…
We loved listening and reacting to the speeches together.  My dad and sister, and his 2 younger brothers brought the house down!  All of the speeches were hilarious, yet touching, and we were both waiting with baited breath to see what they would say next.  I love all of the reaction shots Megan captured of us!  I'll also never forget dancing with my dad.  We had practiced briefly the weekend before with varying results, but we really nailed it on the big day. The look on his face in all the pictures is priceless – we were having so much fun!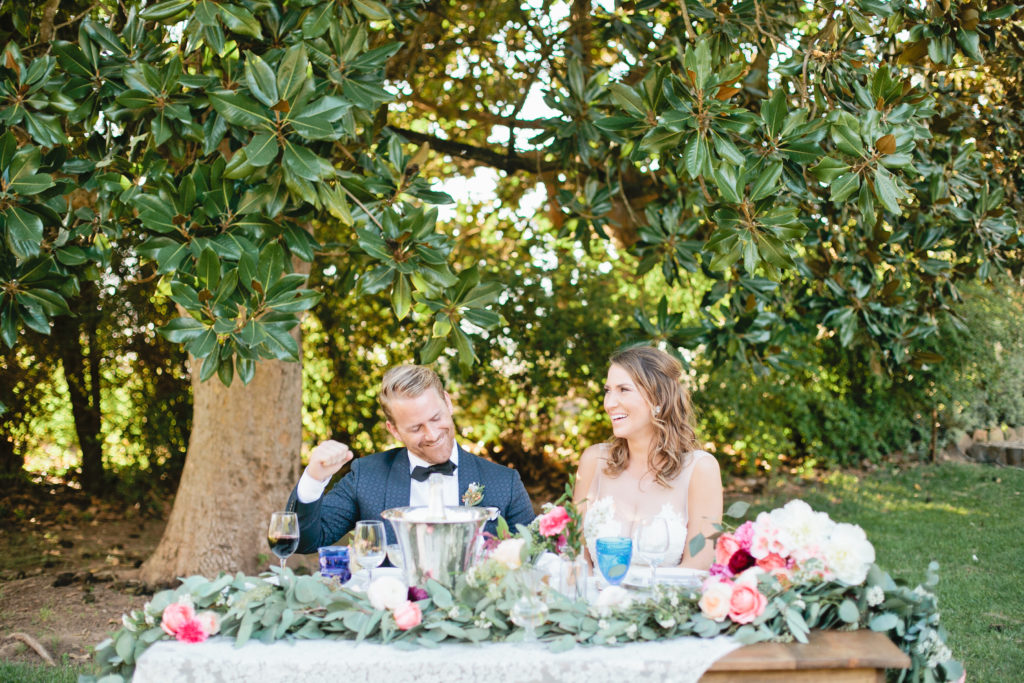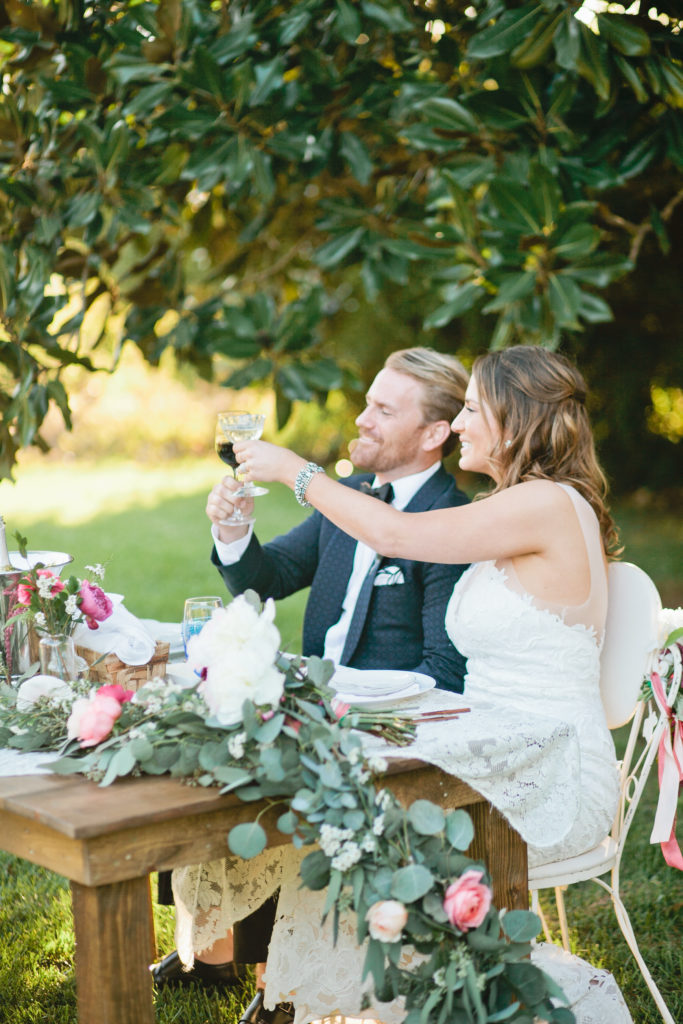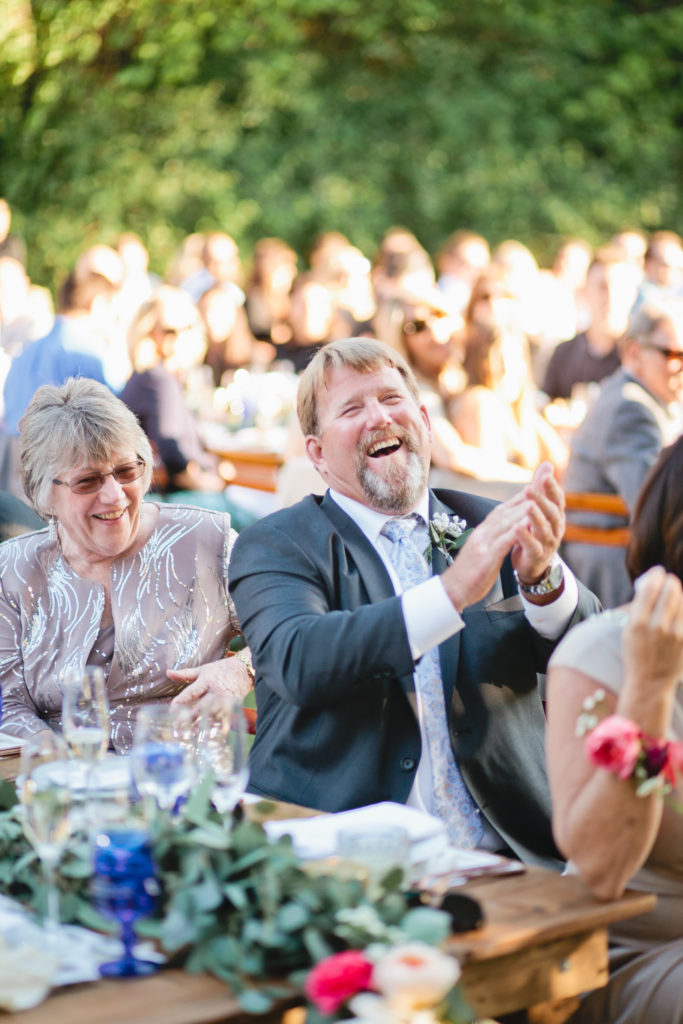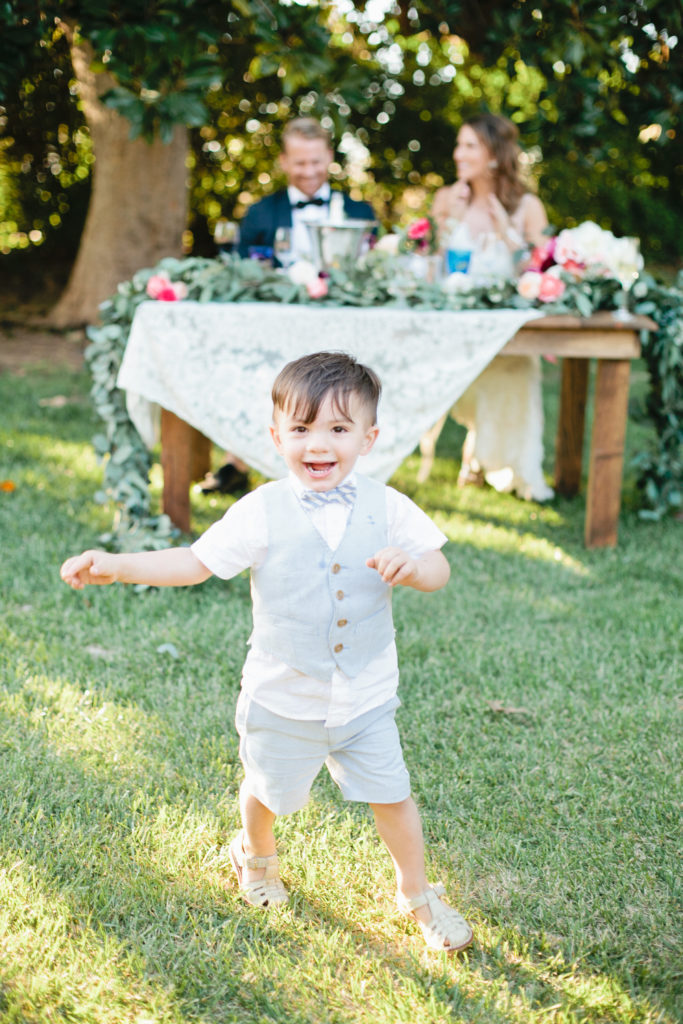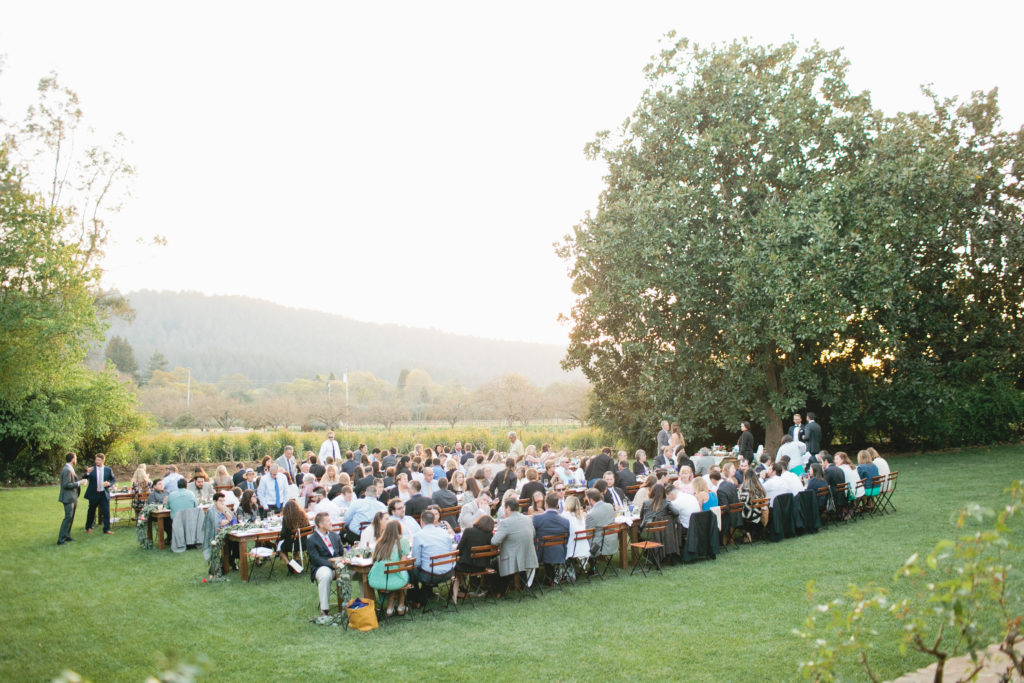 We'll get to the dance later, but first how about a few beautiful portraits of the couple by Megan Welker…  We love when we get to see what magic the photographer creates when he or she steals our couple away during sunset!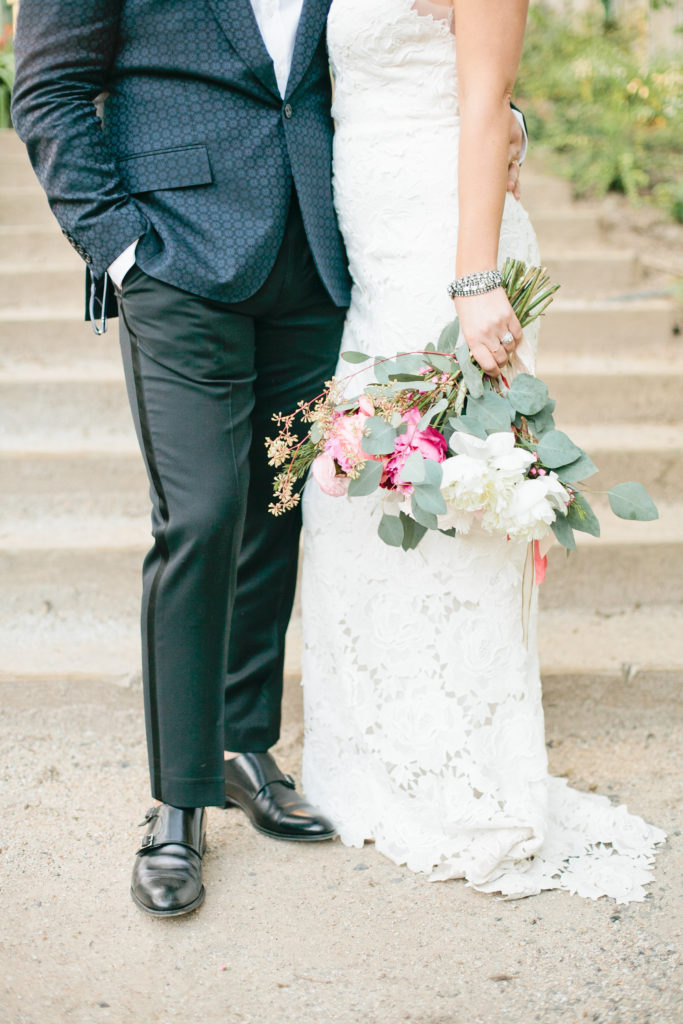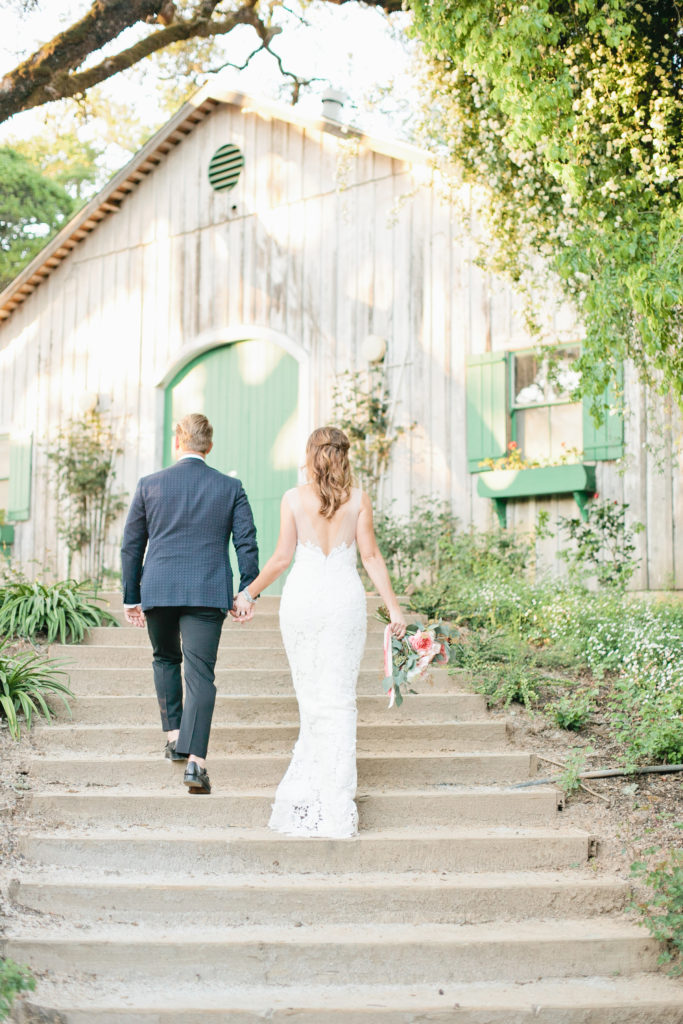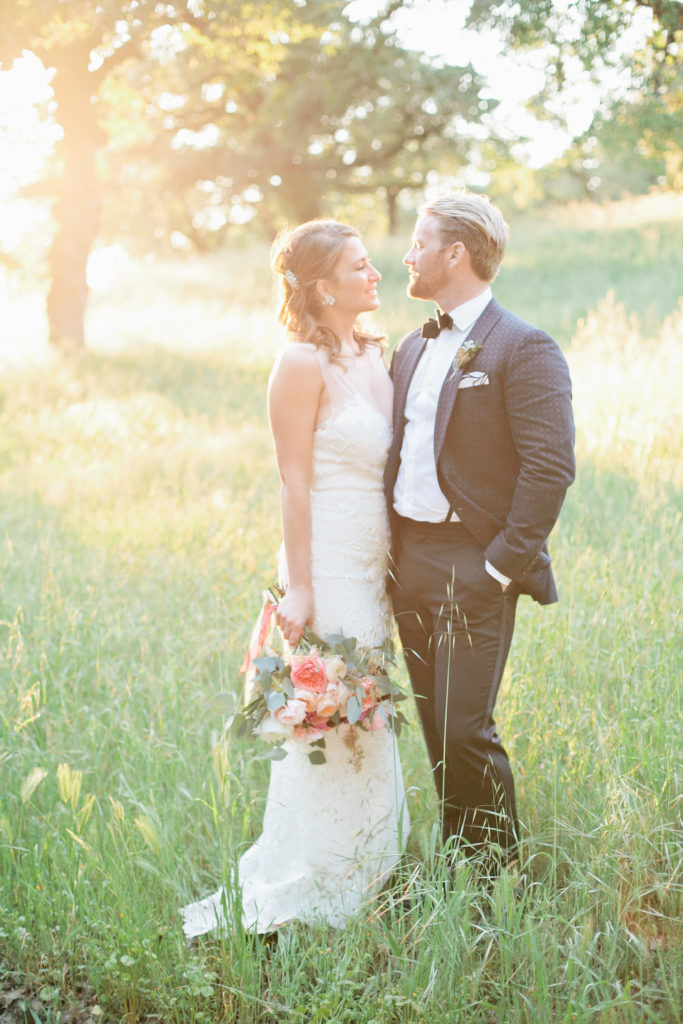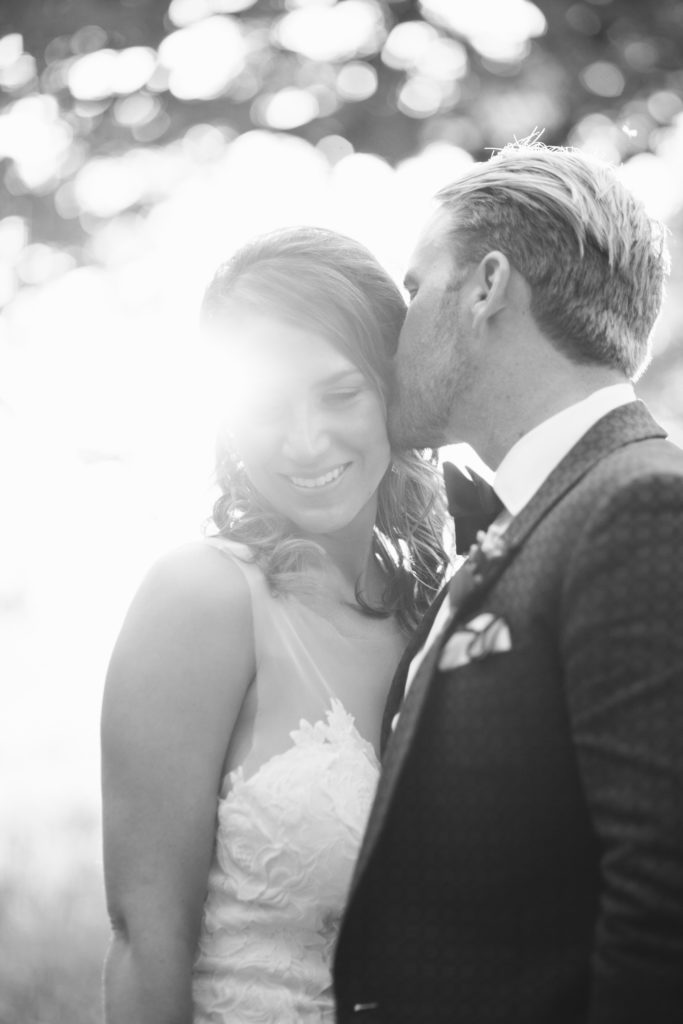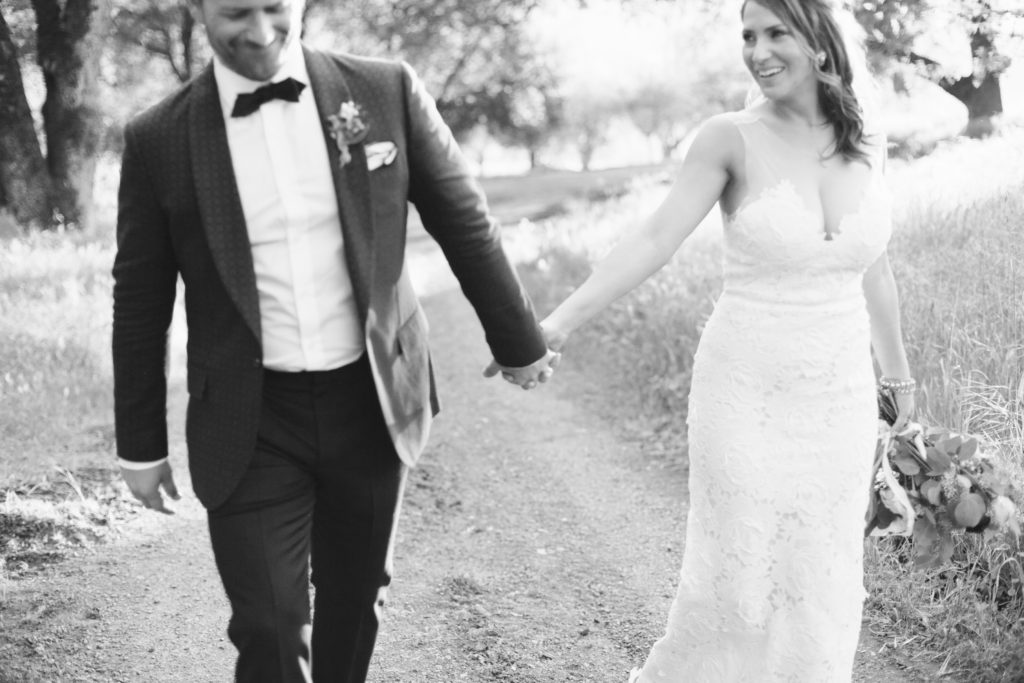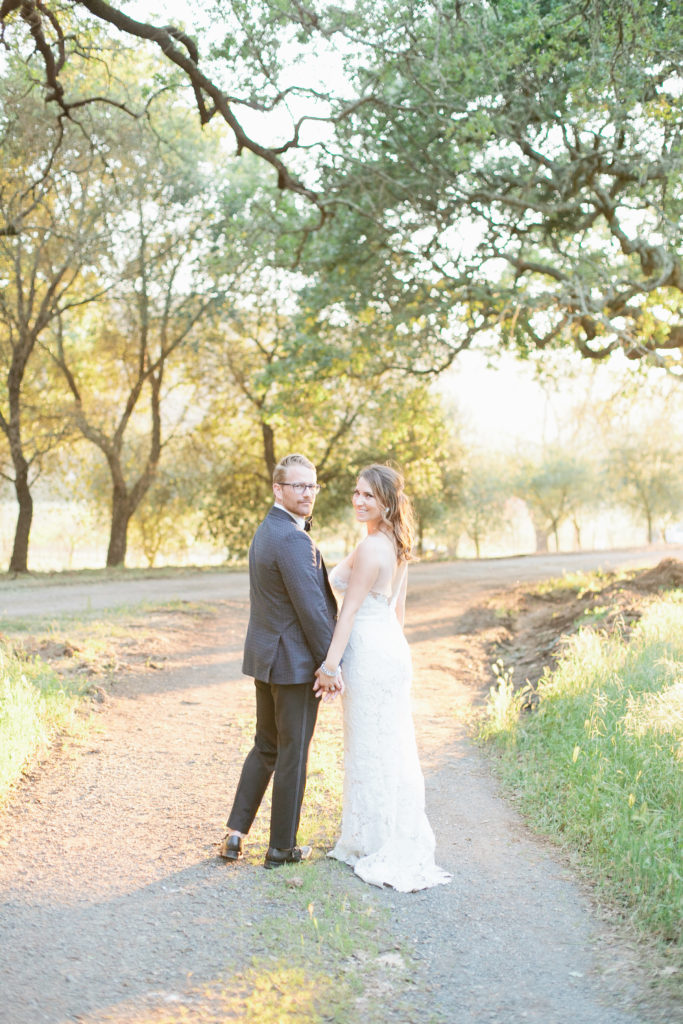 And now for the dancing and the desserts!!  A little more from Janna…
Another fun personal touch was with the desserts. We had Portuguese sweets to represent my family's roots, and it was very important to us to have an ice cream cart with Its Its – they are not only our favorite dessert ever, but a Bay Area staple and a nod to the event location and area where we both grew up.  We also were really thoughtful with the songs we chose throughout the day. More than anything we wanted our wedding to be fun and relaxing for our guests, all while enjoying everything beautiful wine country has to offer!   
Here are the delicious desserts including a beautiful cake by Sugar Studio Bay Area and the ice cream cart filled with the yummy Its Its!!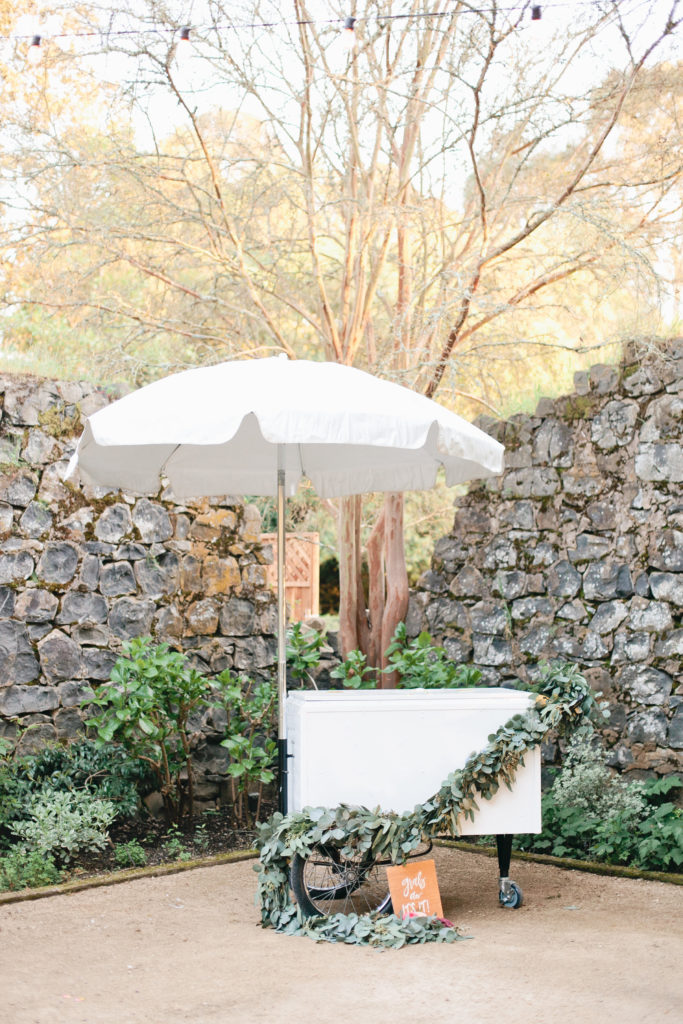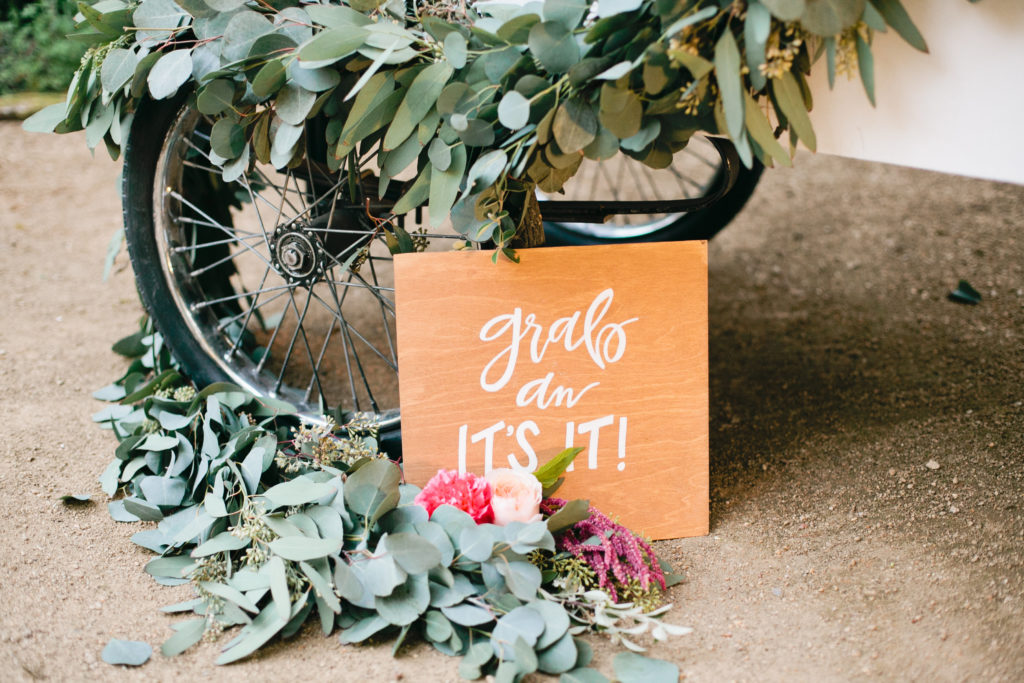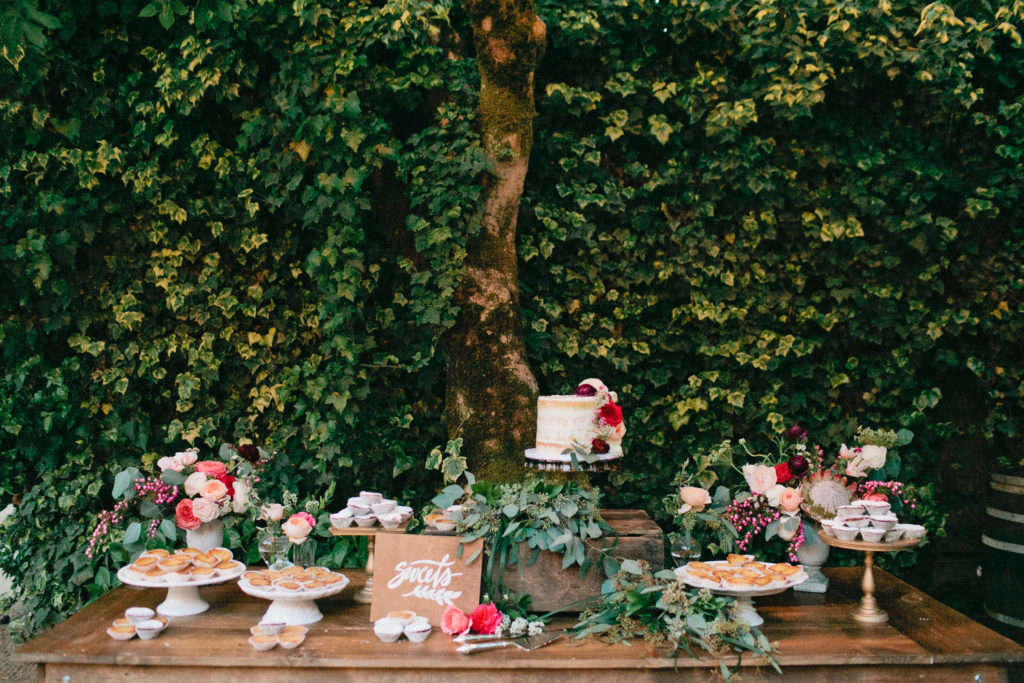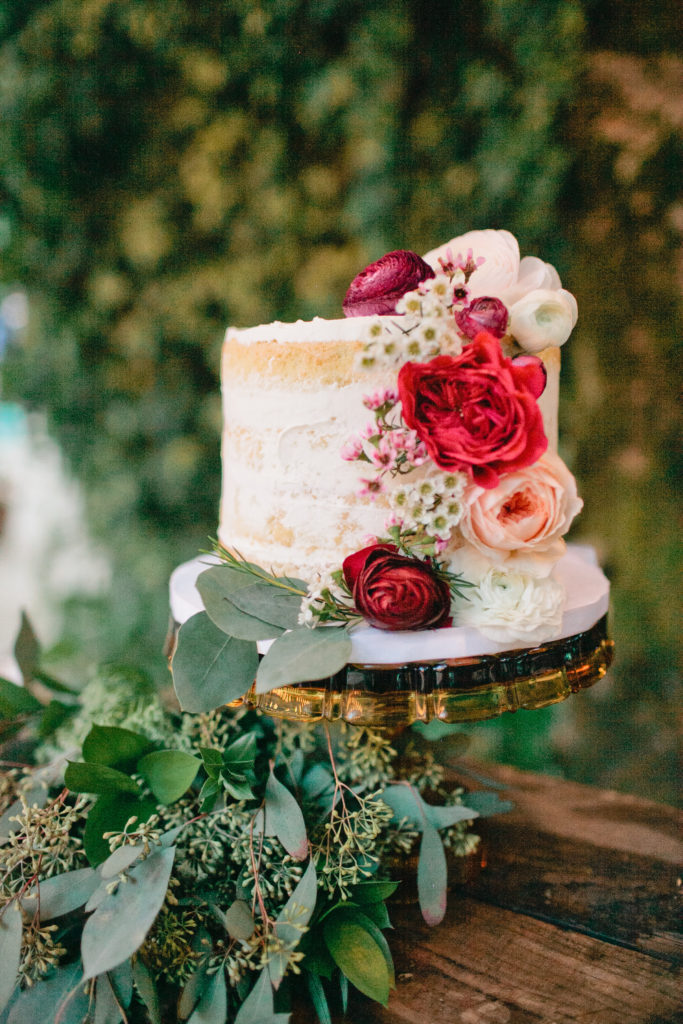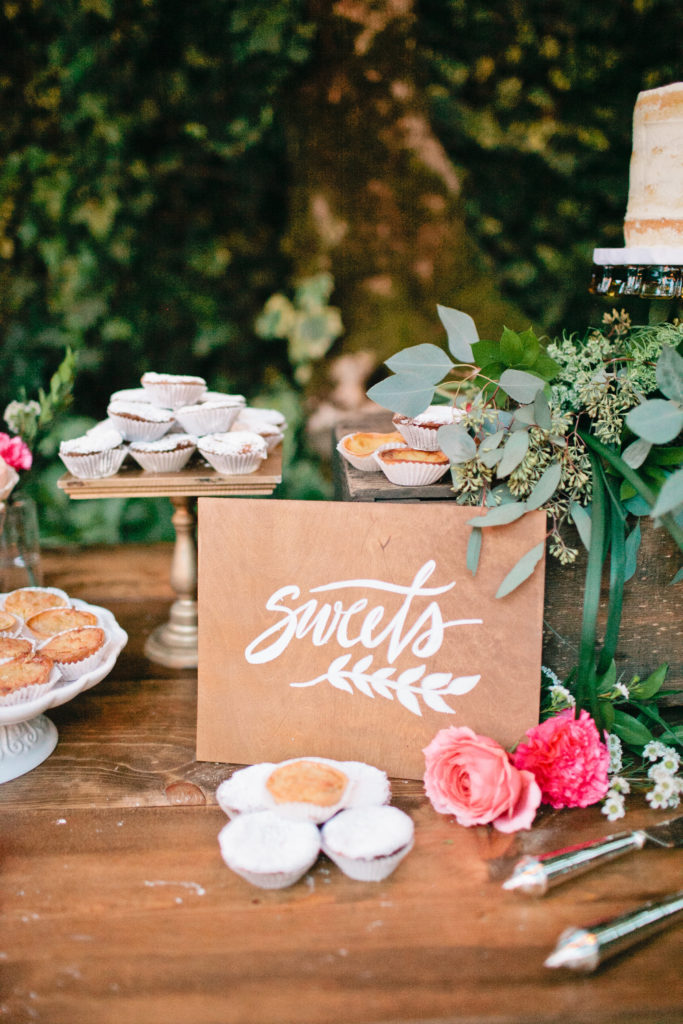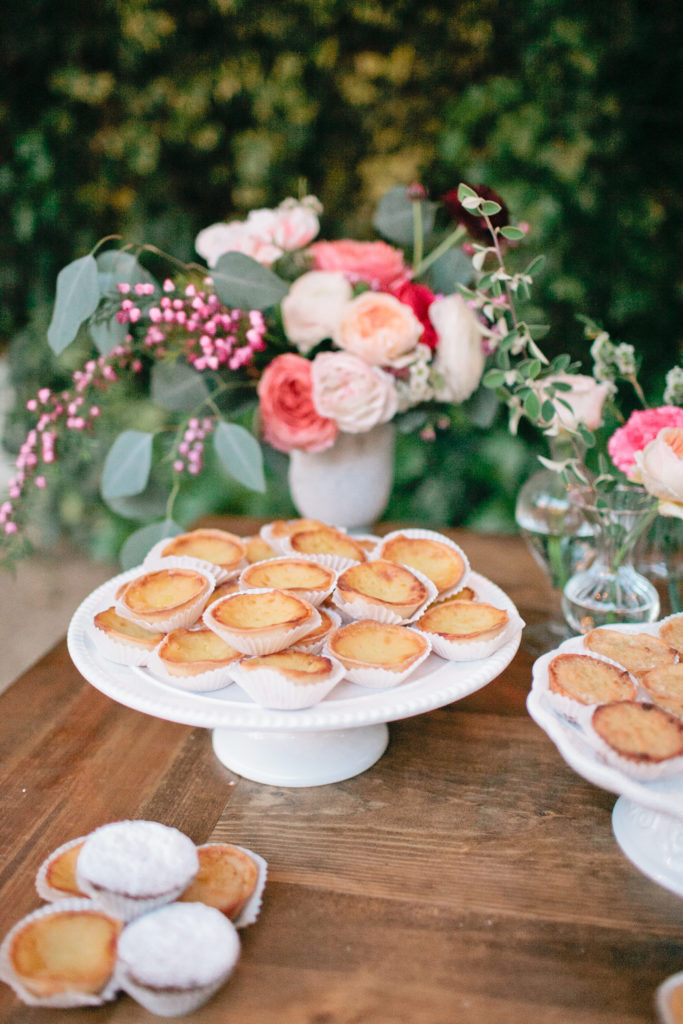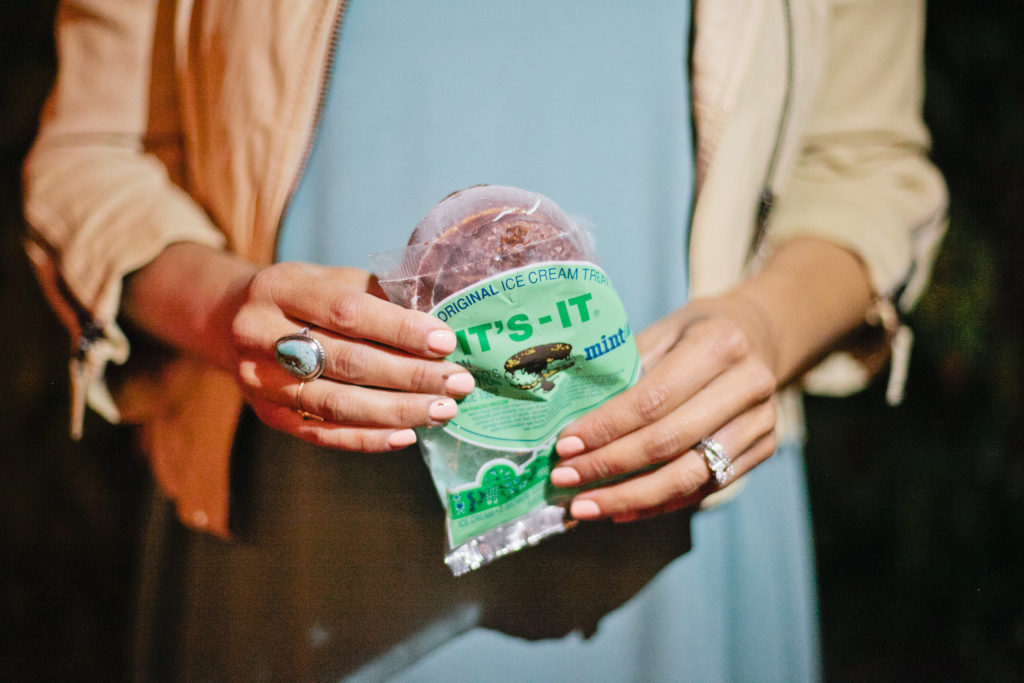 There was an epic dance party thanks to the amazing Dart DJ's!!!  Gotta love the couple's first dance and the sentimental Mother/Son and Father/Daughter dances… Check out my dad busting a move below, ha!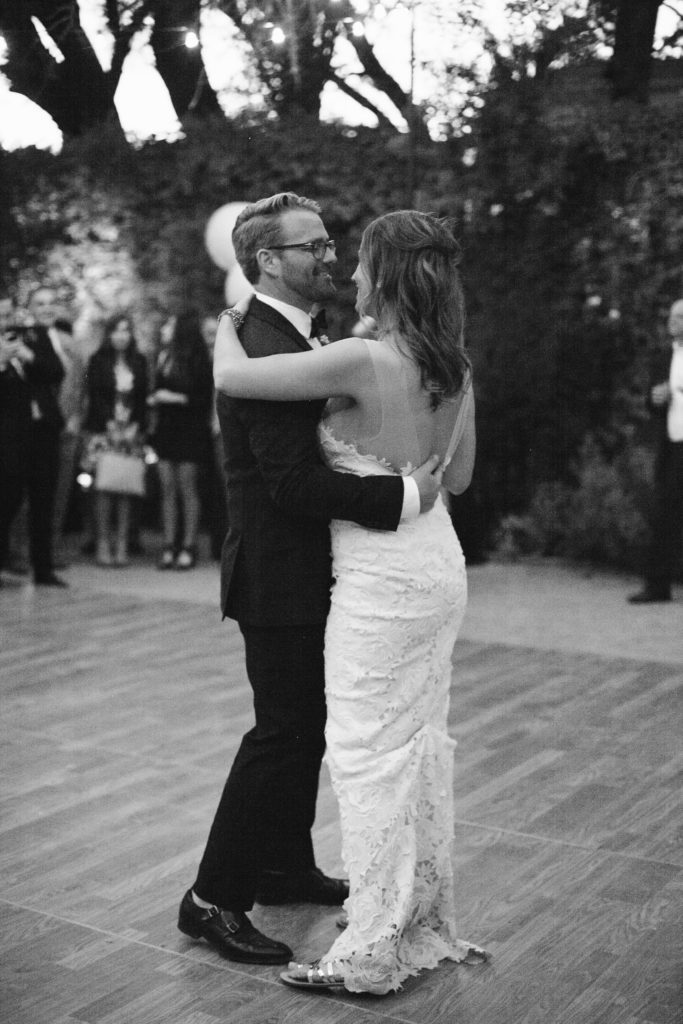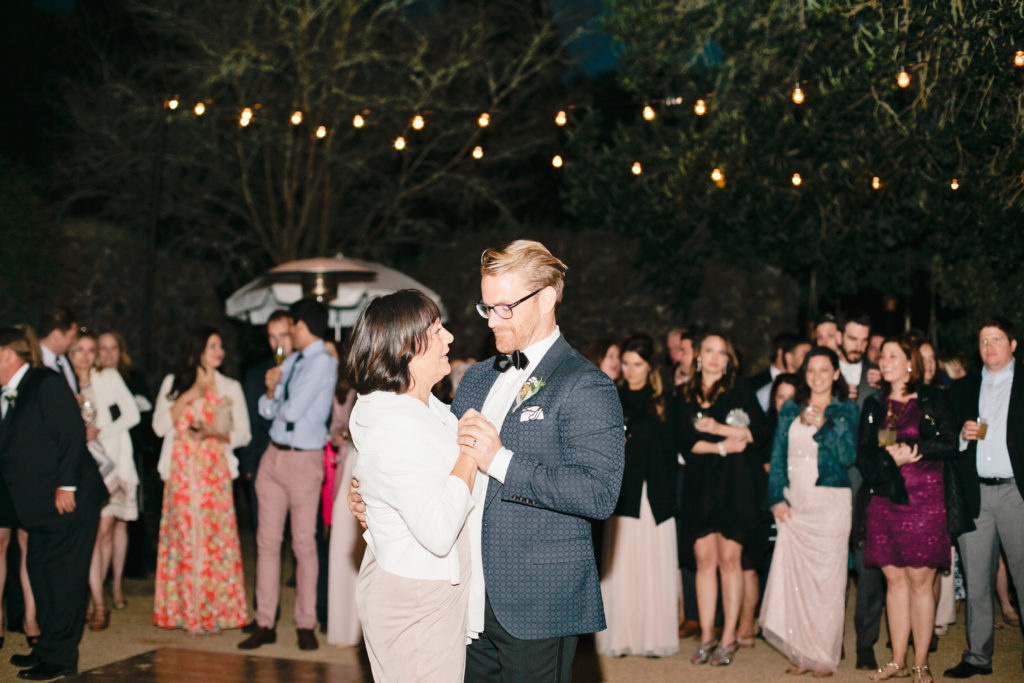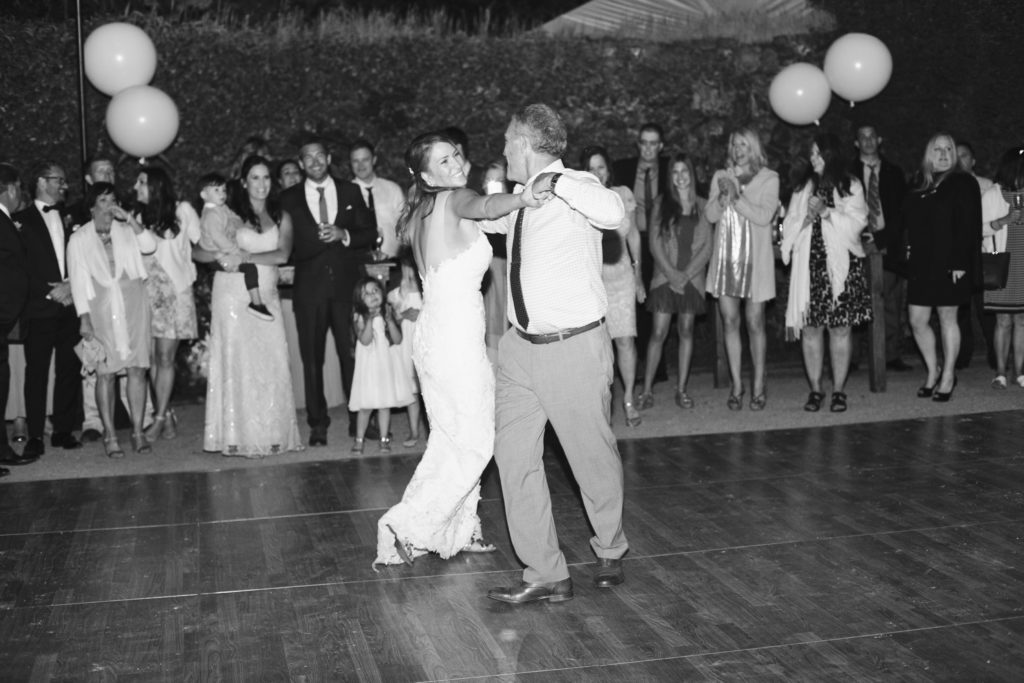 And of course, the stylish bride busted out a hot little number by Parker to get her dance on!!!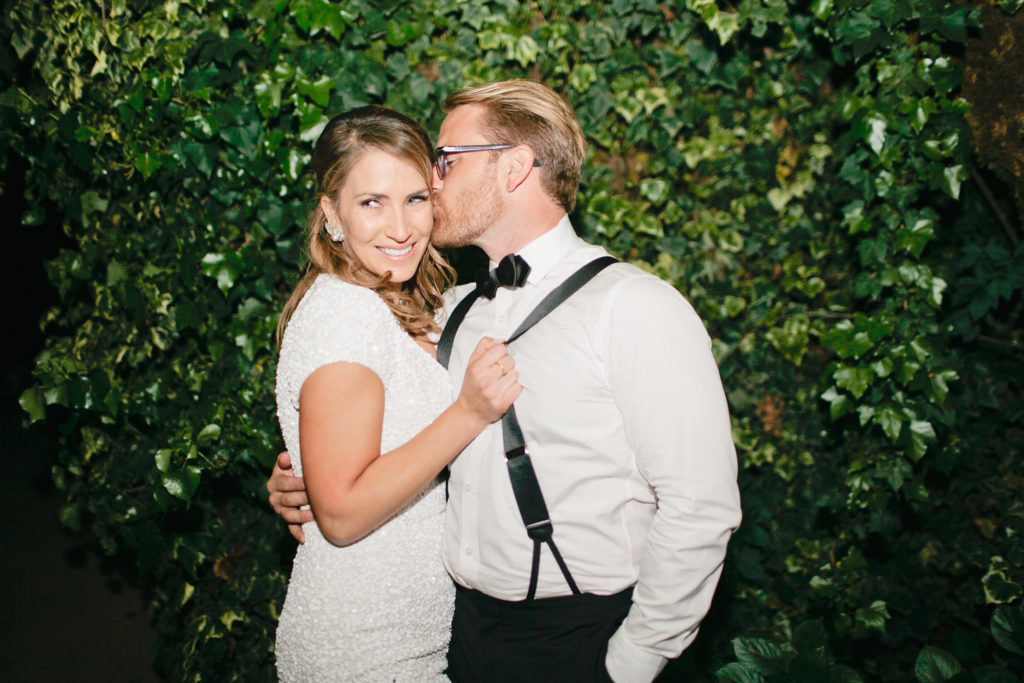 It was truly a beautiful day and I couldn't be happier with how it all turned out!  A big congrats again to my beautiful sister and handsome brother in law who will be celebrating their 3 month anniversary in just a few days!
xx
Jacquelyn
Here are all the vendors…
Styling/Design/Planning – Beijos Events
Photography – Megan Welker
Venue – Annadel Estate
Florist – Natasha Kolenko
Hair & Makeup – The Hair & Makeup Co
Invite/Signage – Meghann Miniello
Catering – The Girl and The Fig
Cake – Sugar Studio Bay Area
Rentals – Letter & Grain, Encore Rentals, Frances Lane, & Pieces by Violet
DJ – Dart DJ