Here we are again! Another year has passed us by and we are ready to start another. We started the year hopeful and boy did it pay off. Believe it or not, 2021 was our busiest year for events to date. Once things settled down our clients were ready to go back to the partying way of life and we were there for it. It was exciting to get back out there and see our lovely clients and create again for them. Being so busy we also expanded our team hiring amazing people to help us bring our visions to life for clients. This was exciting for Leah and I as it helped us have more time with family, be able to take on more projects, and kept us sane! Haha!
Meanwhile the blog continues to be an amazing place for us to showcase our events and creative ideas. It's a special place for Abby and I to work together on creating a space that's all Beijos all the time! Another huge milestone we hit this year was 50K followers on Instagram! A great accomplishment that we feel so lucky to have achieved.
We are looking forward to 2022 being even busier than last year and we are so grateful for your continued support. Beijos wouldn't be what it was without our followers and readers. Thank you for showing us your love each and every day!
Now, time for our favorite posts of 2021!!! Keep scrolling to see what made the list this year….
---
J A C Q U E L Y N
This year was full of so much pretty and so much fun! A big challenge for me this year was balance. With my kiddos home and doing virtual learning for part of the year and trying to maintain the blog I really had to find that sweet spot of being a mom and being a business owner. Then we got SUPER busy with actual events and the balancing act really started to get tricky! Haha! But we did it and boy did the year fly by! I challenged myself with new themes and fun ideas and bringing them to fruition. That is my favorite part of my job, especially when the final product comes out so cute!! I'm excited to bring more creativity out this year, and to balance all of the crazy again!! It was very hard to narrow down my favorites of 2021, but here we go!!
Pretty In Pink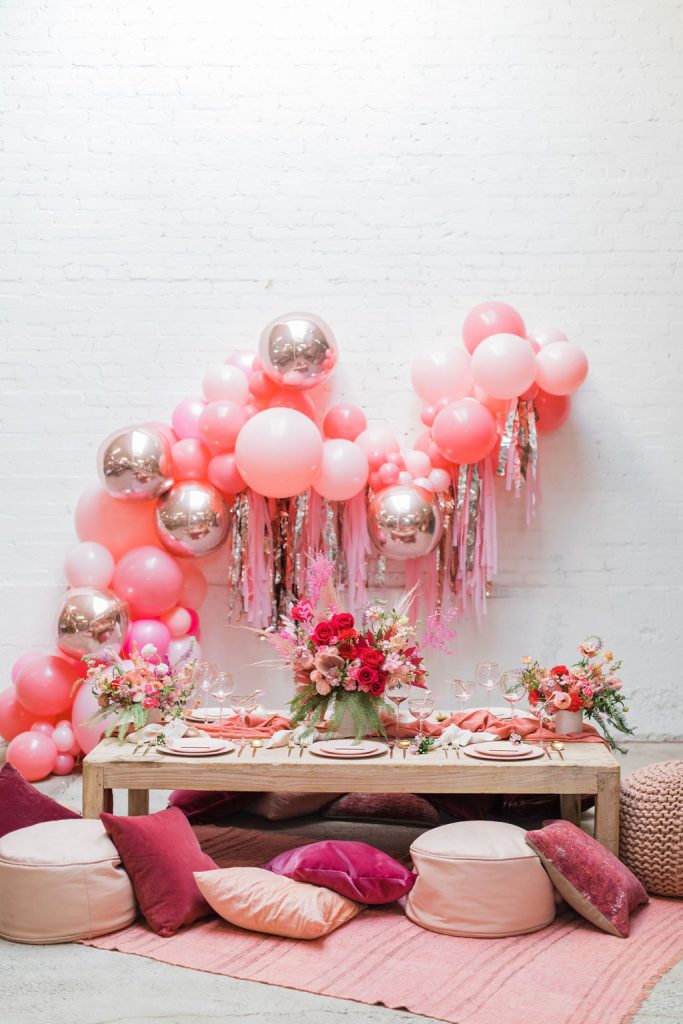 I love me some Valentine's Day and I love me some 80's movies!! This shoot was inspired by Pretty in Pink – one of my favorites that I watched over and over again when I was little. We went all pink with tons of great details with nods to the infamous movie. One of my favorite aspects of this shoot were the gorgeous florals by Cobra Lily and the rad balloons from The Pop Shop. A Valentine's Day classic if you ask me!
Spring Citrus Table with Sur La Table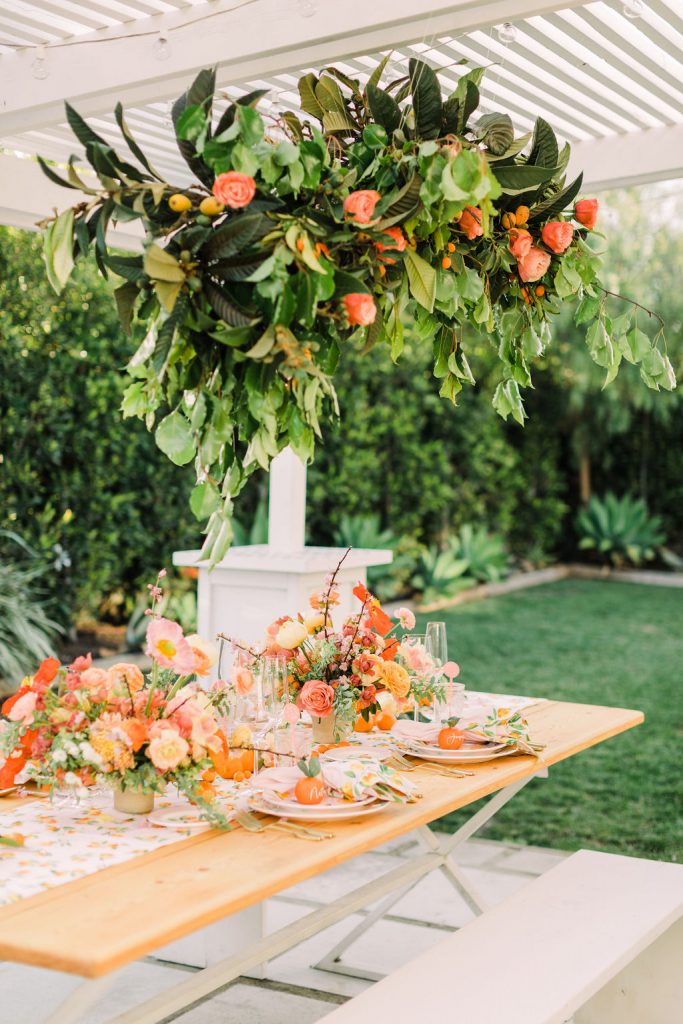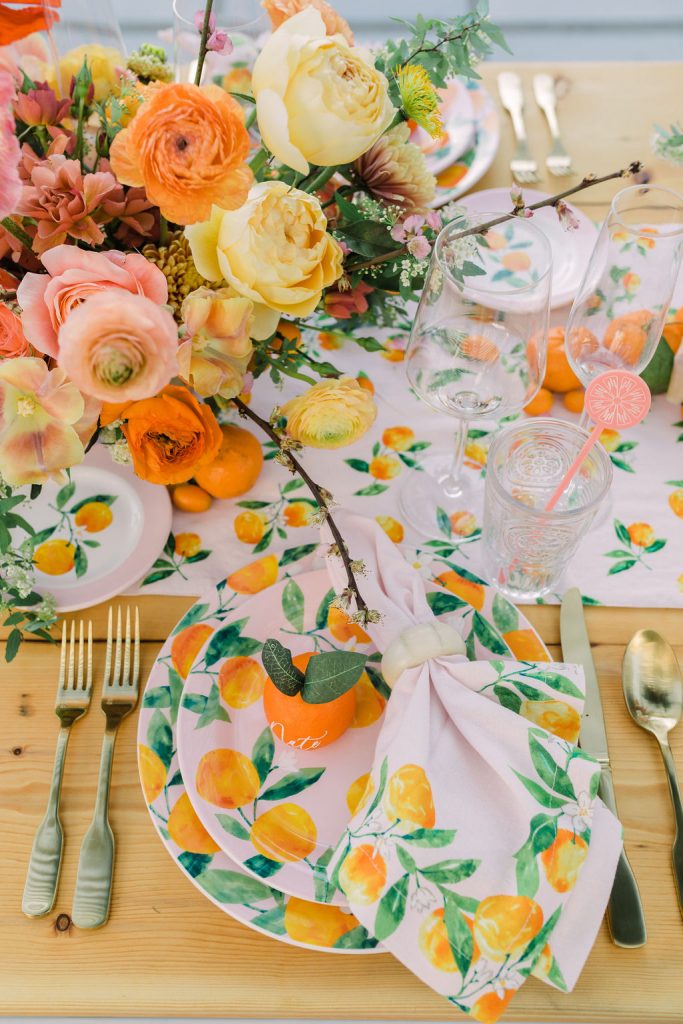 When Sur La Table approached me to do a shoot for this gorgeous plate collection of theirs I was giddy with excitement! One of my favorite color combos is orange and pink and this print was just so fresh and fun! The talented Jessica Lynn Photo came over to my backyard to shoot this one. With the stunning florals by Not Just in Novels, adorable details by Proper Letter, and delicious food and drinks from Greenleaf, this one just pops out to me!
Daisy Party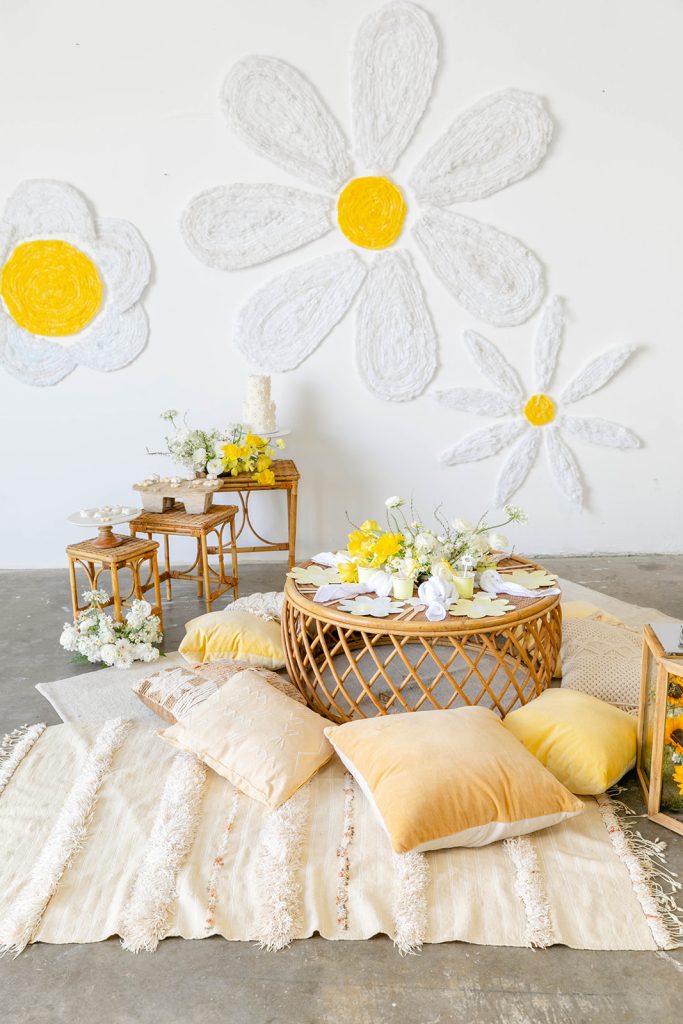 My favorite color is yellow, and when we decided to do a little Daisy themed week on the blog last year I got super excited to play with my favorite color! I enlisted the help of my talented friend Jesi Haack to do a backdrop for this one going outside the box and not using balloons. What she created blew me away! When she explained it to me I just sort of said, ok I trust you, but when I saw it I was blown away!! Adding in all of the rattan furniture from Sweet Salvage Rentals just completed our whimsical boho look! Love, love, love!
Peace Love & Hoppiness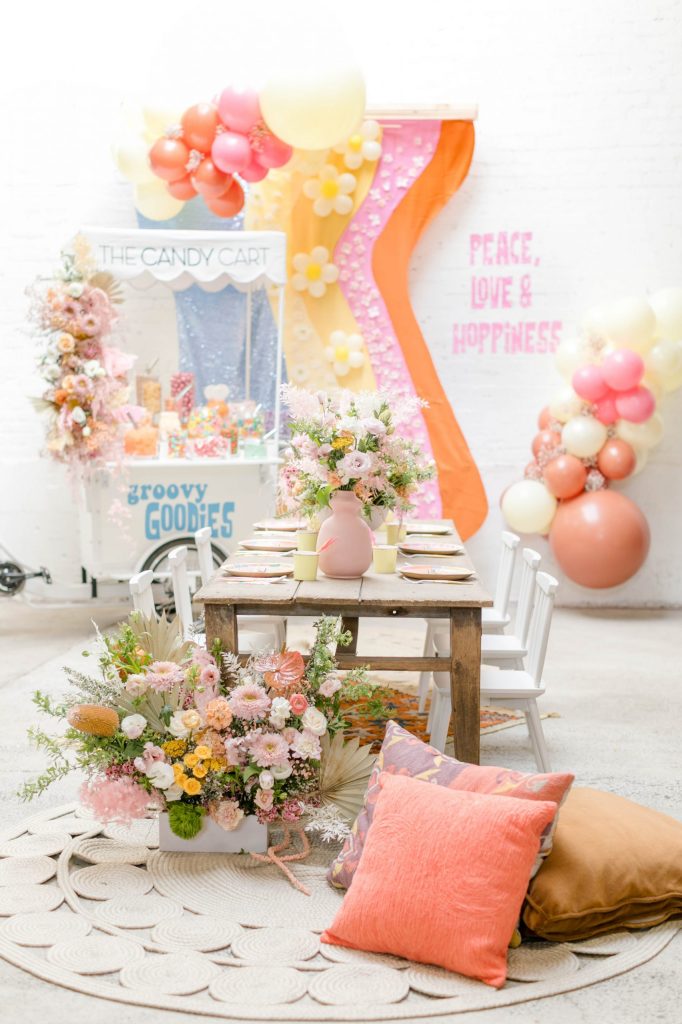 This one was catchy from the start with the tag line! A hippie take on Easter full of amazing colors, gorgeous flowers and an incredible backdrop – not to mention the cutest little girls styled to perfection! Plus, my friend Lorin Kelly captured this one so well for me! This was one of the first times I got to work with the talented Michelle Rogers and she didn't disappoint creating a fun backdrop that made this shoot as amazing as it was! I loved Poppy Jack Shop's details and our fun take on the hippie theme. This will be a forever favorite for sure!!
Court's Camo 7th Birthday Party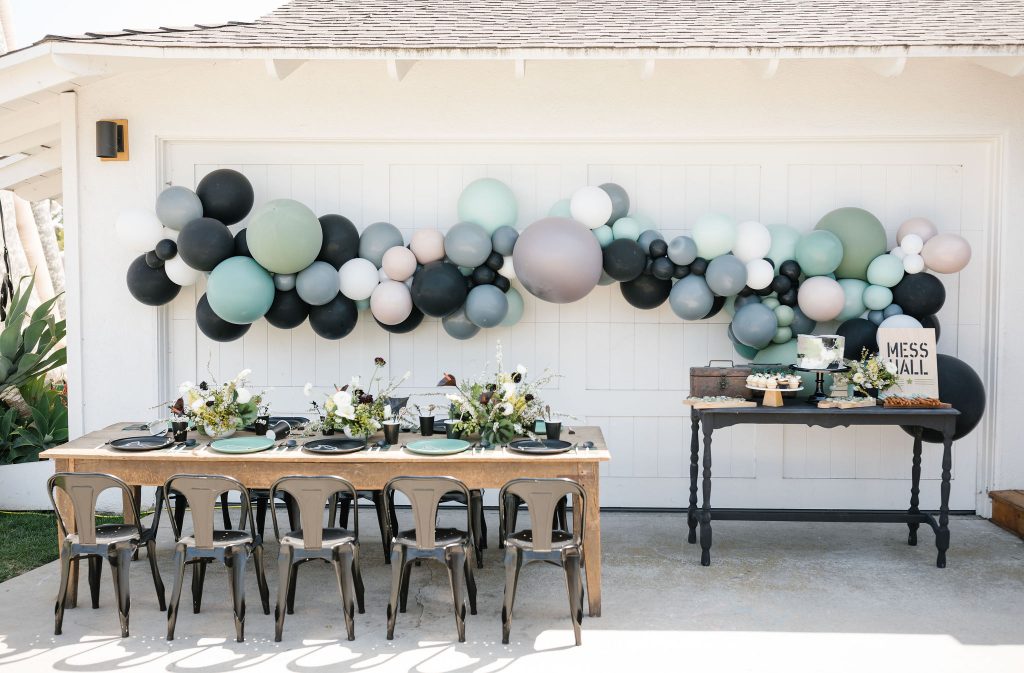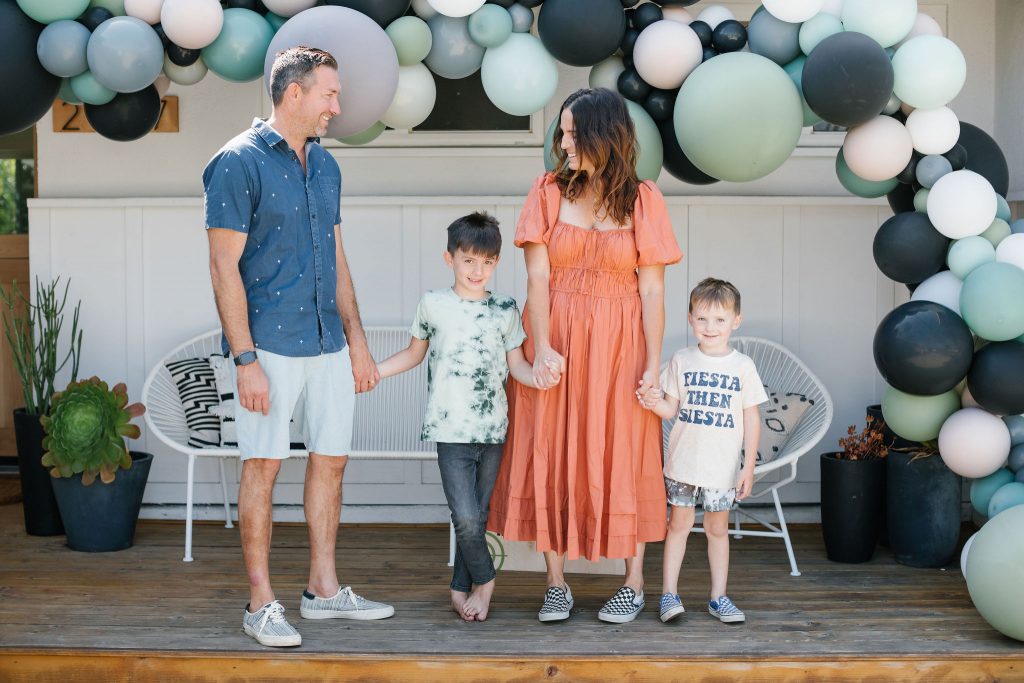 Every year I have to include my boy's birthday parties!! Court turned 7 this year and had some making up to do since his birthday is in April we couldn't do a big party last year. We decided on a camo/army theme with a big Nerf gun battle – in his words, it was epic! This year he noticed how much work goes into these parties and told me "Mom, I don't want you to work so hard on my birthday, next year lets go on a trip instead" so that's what we are doing! Bittersweet but also excited to try something new. Don't worry, I'm still planning something small for him, just not on this large scale. As usual I couldn't have pulled off his party without the love and help of my vendors that aren't only friends but basically family at this point!
Ella's Enchanted 1st Birthday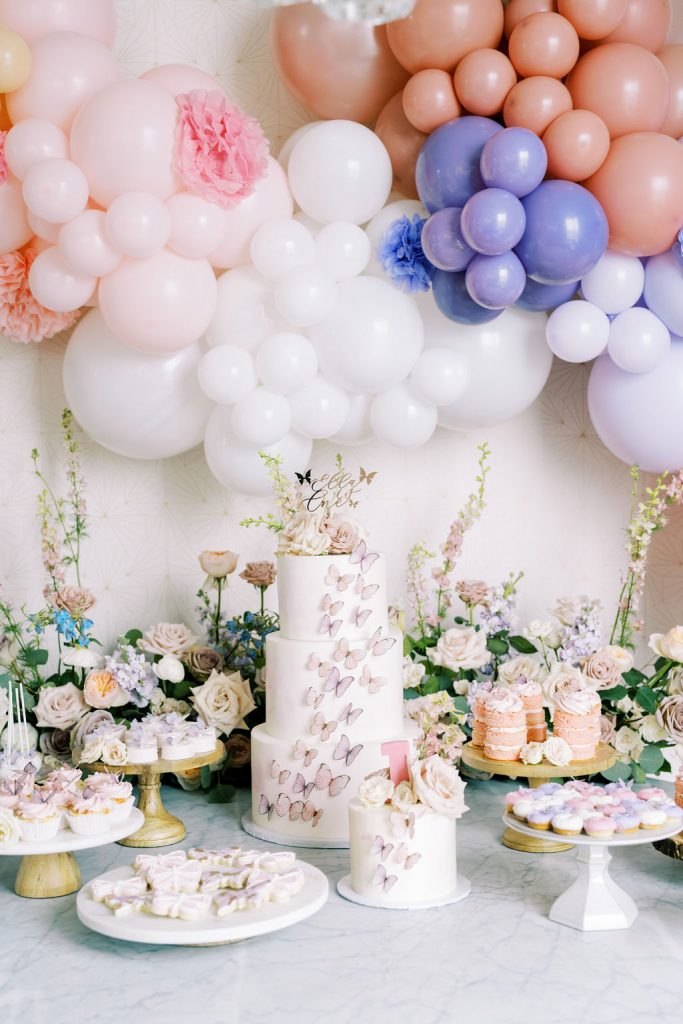 This was such a special party for Leah and I! It had us travel out of state to Houston, our first Texas event! Not only was it fun to travel to a new place but Ella's family are absolutely lovely and definitely our new favorite clients (I say that a lot, they're all so good!!) Ella's mom Niousha was incredible to work with and we were so lucky to find amazing vendors to work with to create this magical party. The day of the party it rained so we had to move it all indoors into their high rise and I think it was meant to be because the party was one of the prettiest we've ever done! We can't wait to do her 2nd birthday!!
Piñata Party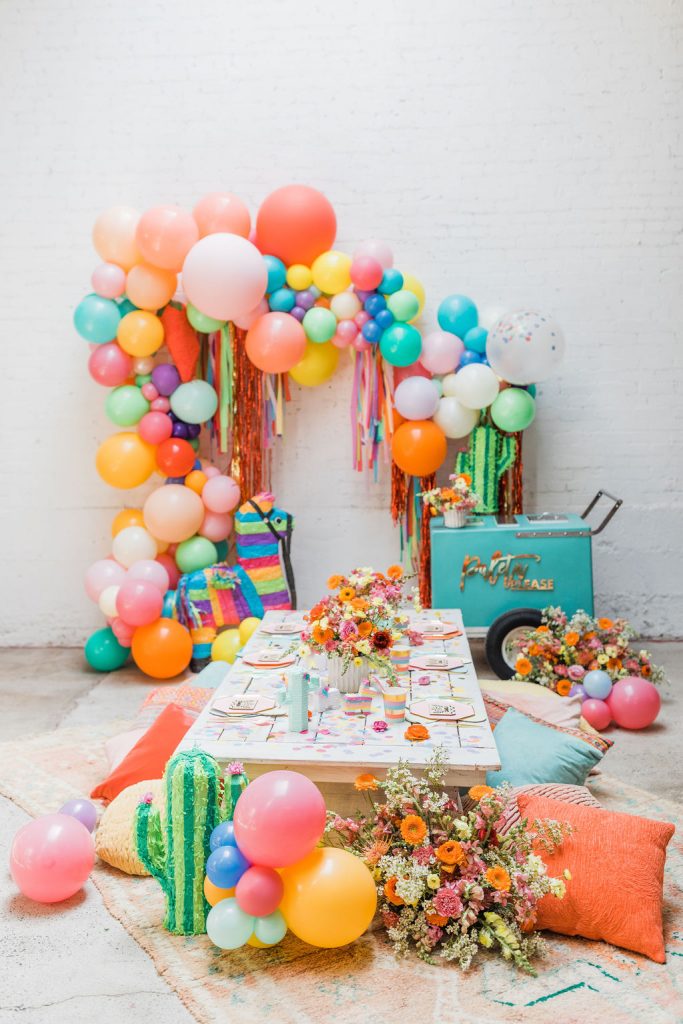 I'm a big fan of lots of color and a big fan of Cinco de Mayo! Any holiday I can eat all the Mexican food and have all the margaritas, I'm in! Making it fun for the kiddos is always great as well! So a piñata party was in order this year. My kids LOVE piñatas, most kids do! So we went all out with lots of bright colors, the cutest piñata themed desserts from Sugar Crush Sweets, an amazing balloon installation from The Pop Shop and the CUTEST details by Poppy Jack Shop. And I love that my girl Jessica Lynn Photo was there to capture it!
Back to School – Be a Buddy Not a Bully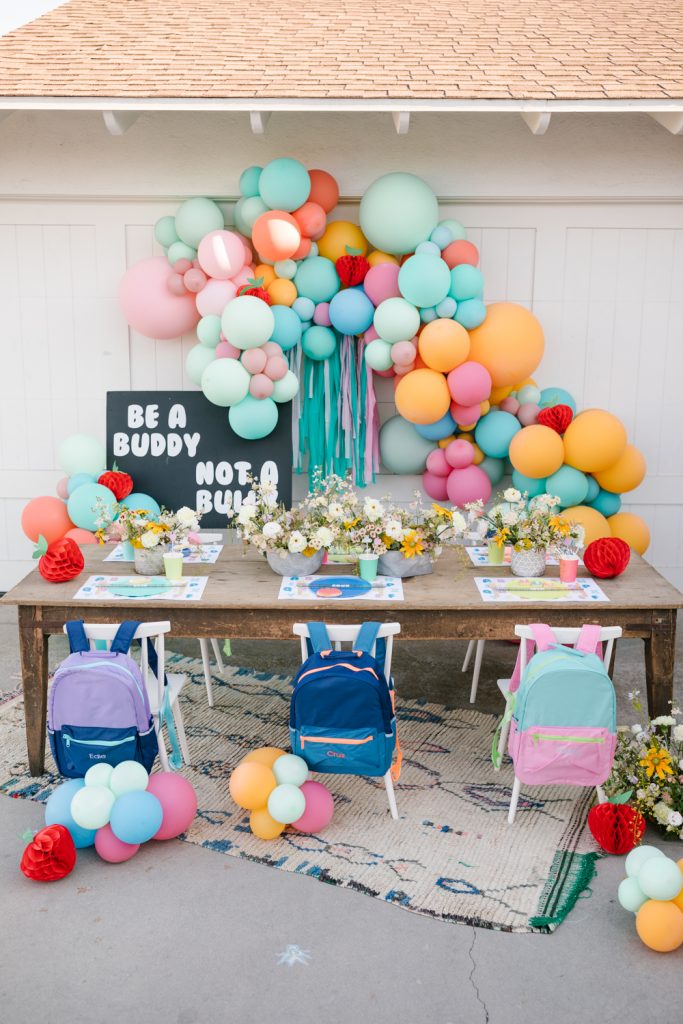 I've had the concept in my mind for this shoot for a while. Since last year we didn't have a "back to school" I had to bring it back for 2021. It was a fun thing to celebrate, going back to school and also to celebrate being kind! It's one of the most important lessons we can teach our children. My lovely friends Alison Bernier, Sweet Salvage Rentals, The Pop Shop, Poppy Jack Shop, The Lamb & Poppy, and Really Cute Sweets were all happy to be a part of this message. And I love them all for it!
Cruz's Star Wars Birthday Bash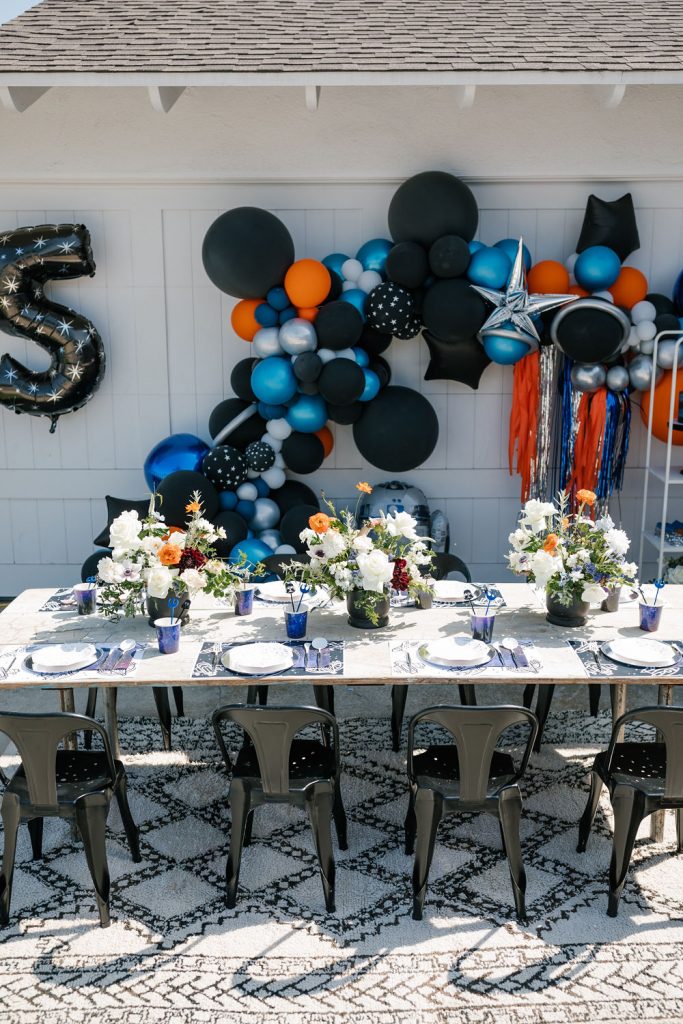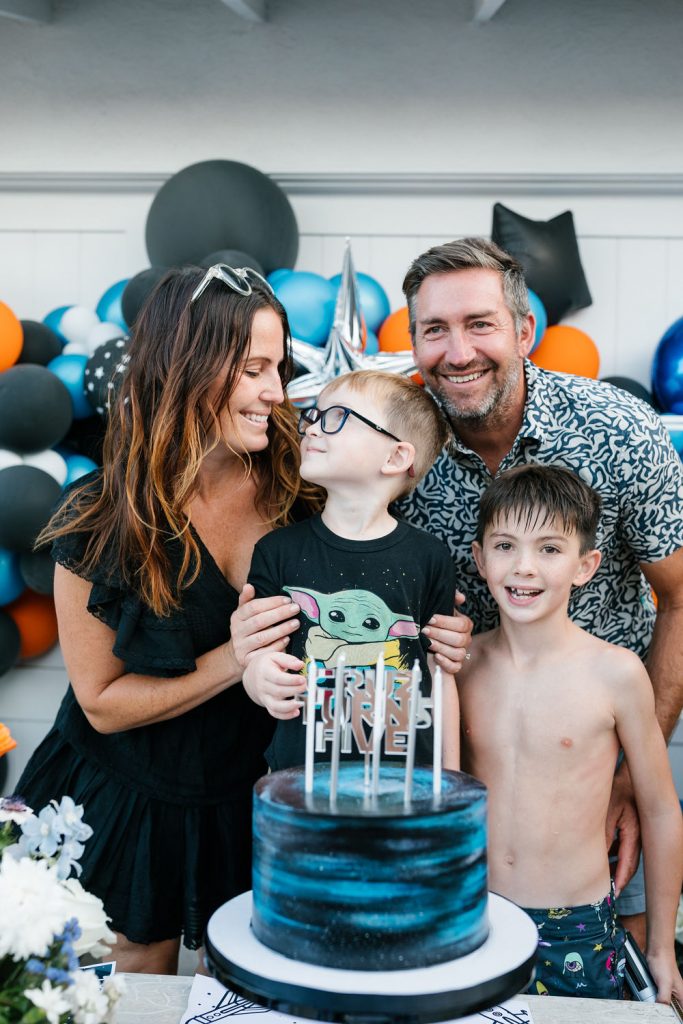 Another one of my own!! My littlest, Cruz, was turning 5 and wanted a Star Wars Bash. What Cruz wants, Cruz gets ;) Not always, but this year my poor little guy was getting surgery on his eyes just days after his birthday so I wanted to go all out. He is the sweetest boy and I am so proud of how far he's come this past year. He had the best birthday party and I loved seeing him shine and be so happy and proud on this day. Again, I couldn't have put that smile on his face without all of my amazing vendors that help me make smiles day after day!
Blush Boo Bash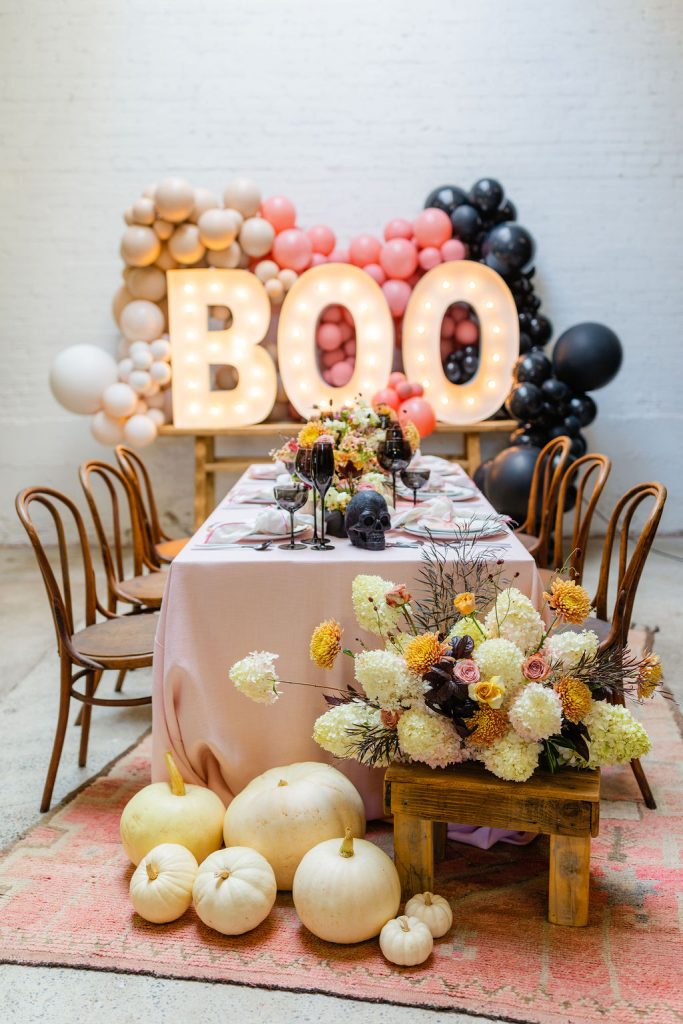 Last but not least, my Bush Boo Bash! Halloween is one of my favorite holidays – I have a lot, haha! But Halloween is definitely up there in my house! This year I wanted to do something fun and different for adults, so I added our favorite color – PINK! It's always fun to use unexpected colors, themes, or decor ideas for events – especially holidays. Halloween is usually all orange and black so I wanted to Beijos it up a bit! The final outcome was this gorgeous party that I wouldn't mind hosting for my girlfriends myself!!
---
L E A H
First of all this year, was a crazy beautiful one, that's how I would describe Beijos 2021!! Crazy, because people were ready to party and make it one to remember with our help, hence the gorgeous. I had so many favorites, I literally narrowed it down from 30 and decided to go with 10, and here they are….
Beach Bunny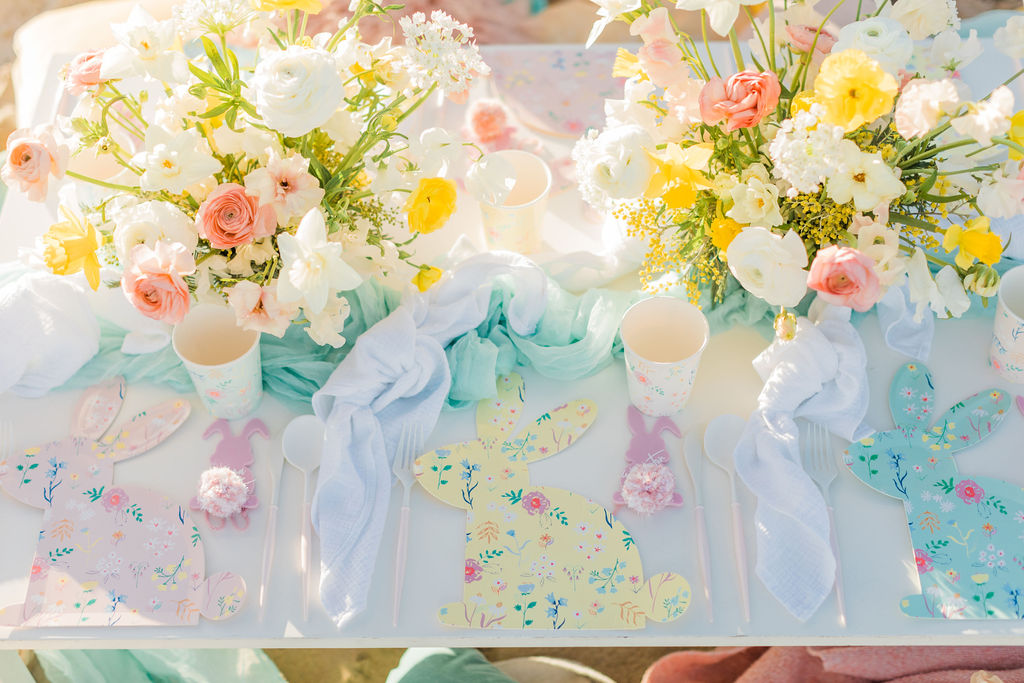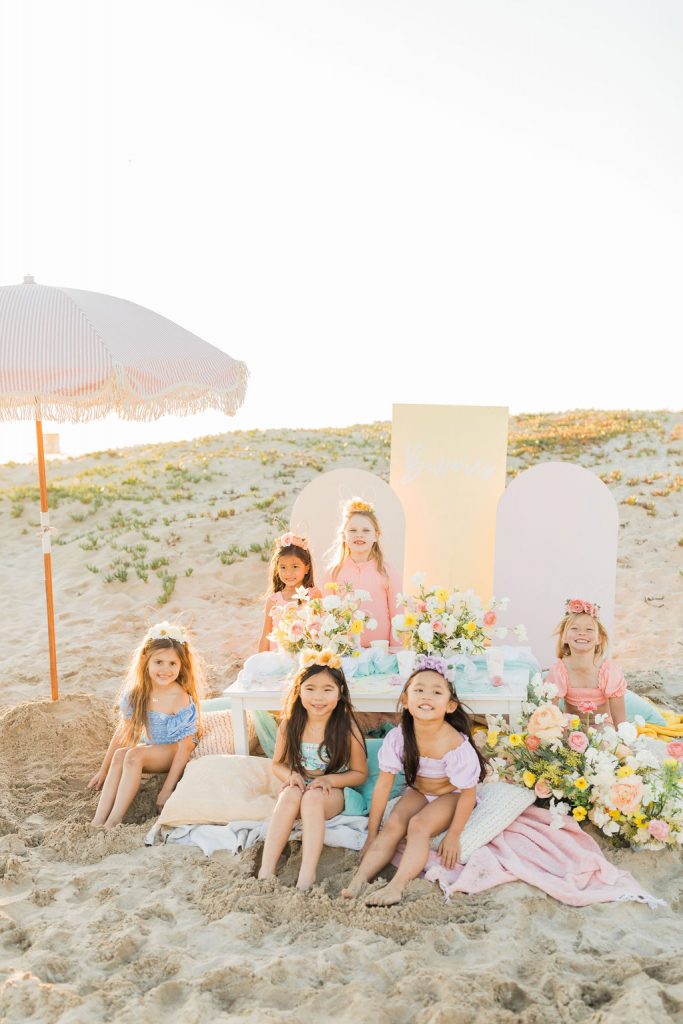 This Easter shoot was ultimate cuteness and details overload with the beautiful beach backdrop. From the muted pastel colors, and textured table. The theme "Beach Bunnies" was to die for with the cutest little models around.
Tager Ranch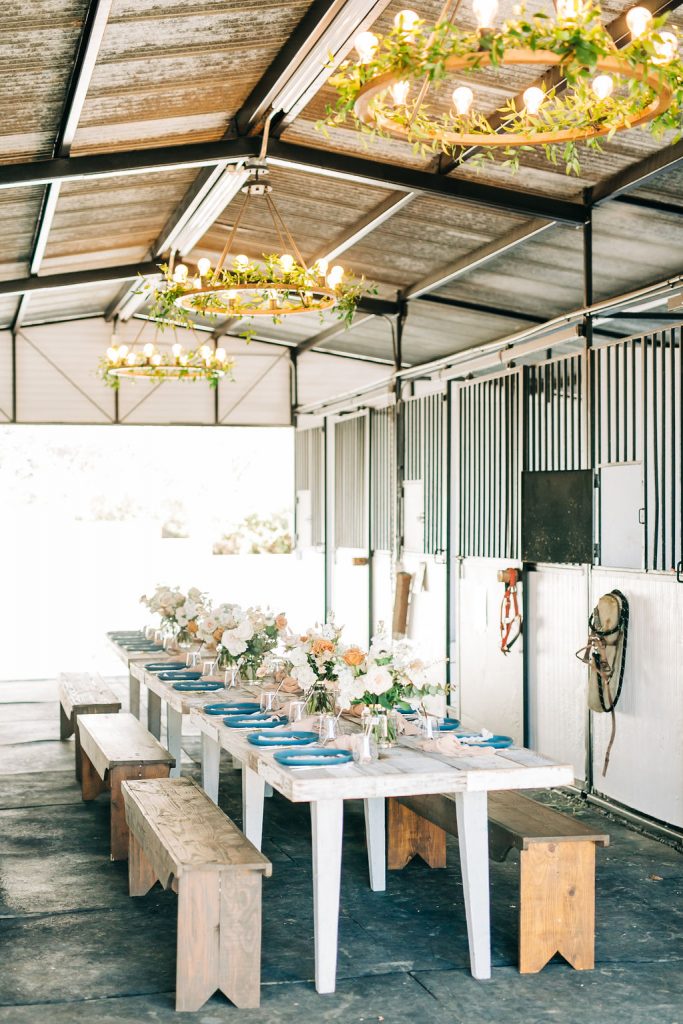 The rustic ranch backdrop to this one is my favorite. The beautiful details mixed with this beautiful horse barn is bananas!!
Tapas for the Mamas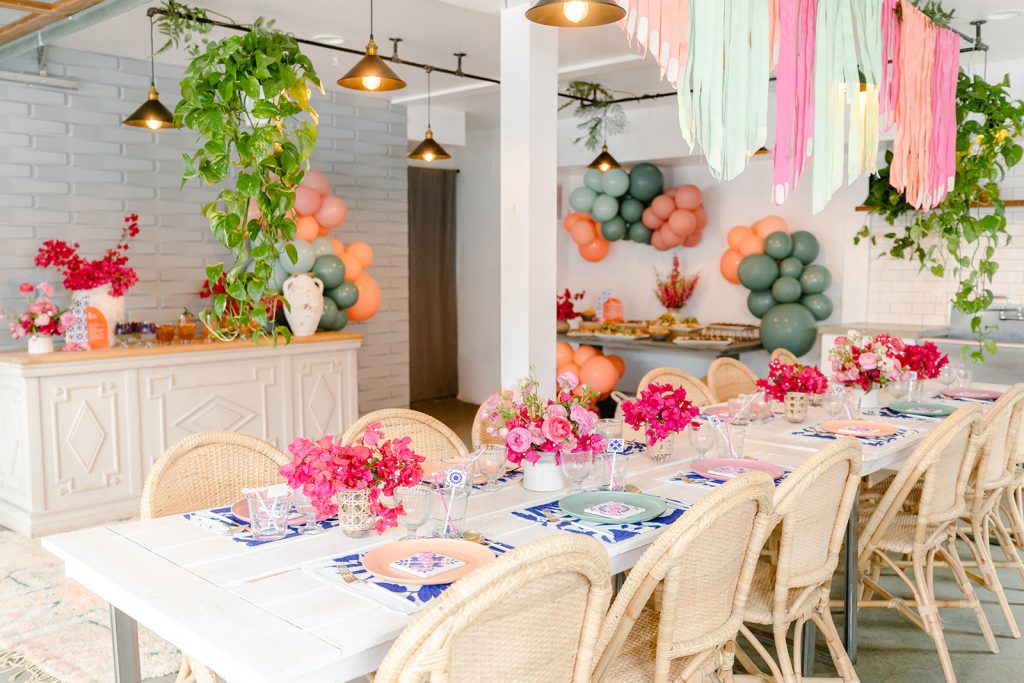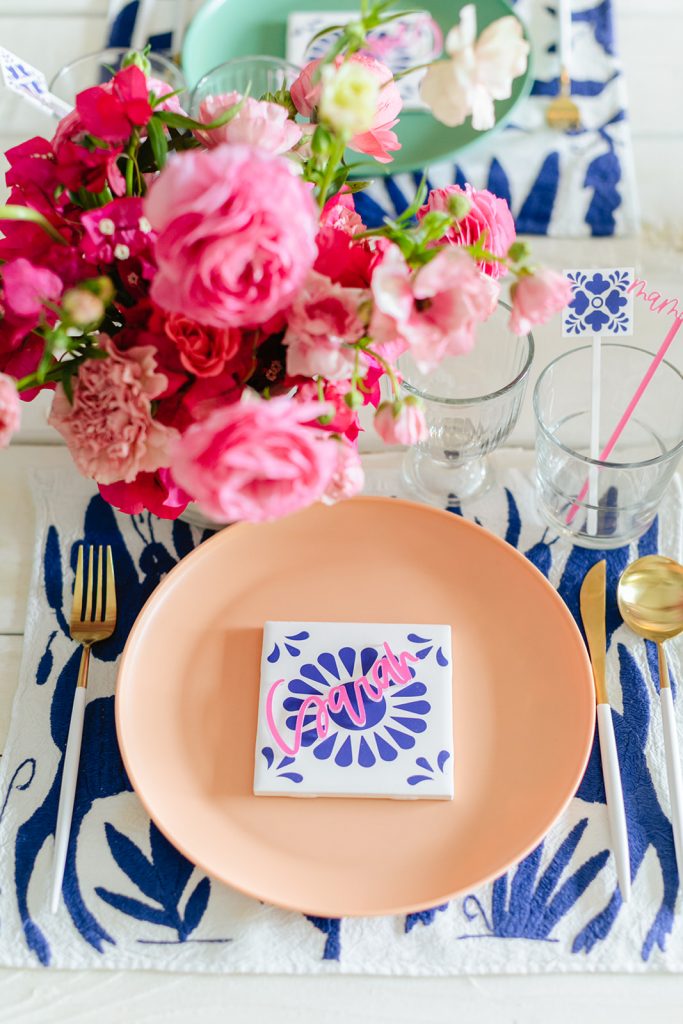 I'm always drawn to the bright colors of a Cinco de Mayo inspired shoot. This one was gorgeous with the pinks, bougainvillea, and the traditional otami fabrics.
You're the Bomb Pop!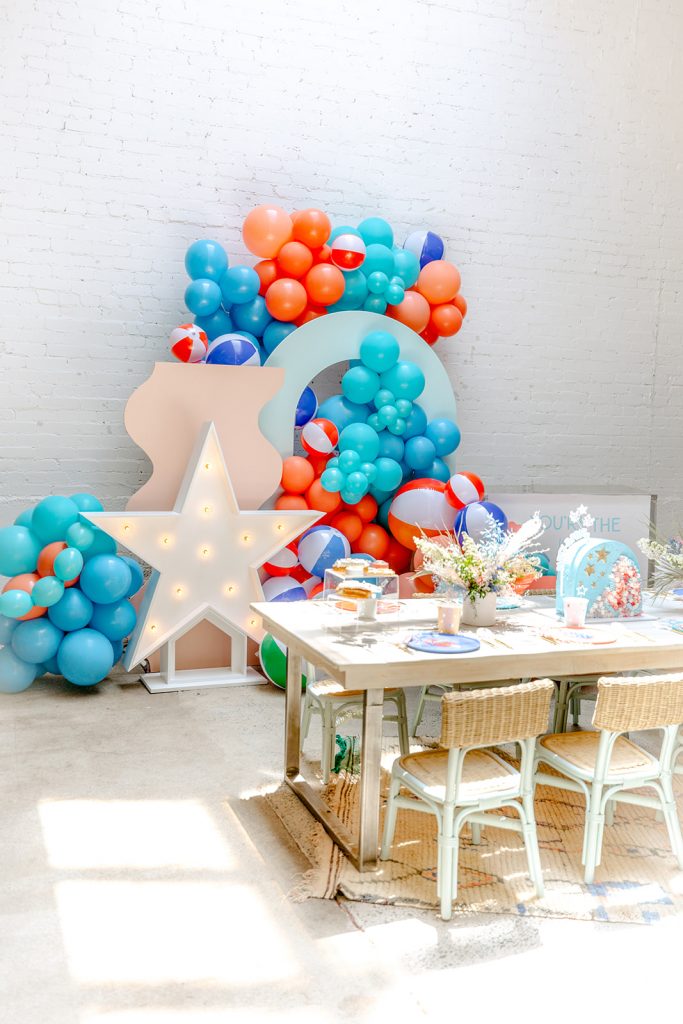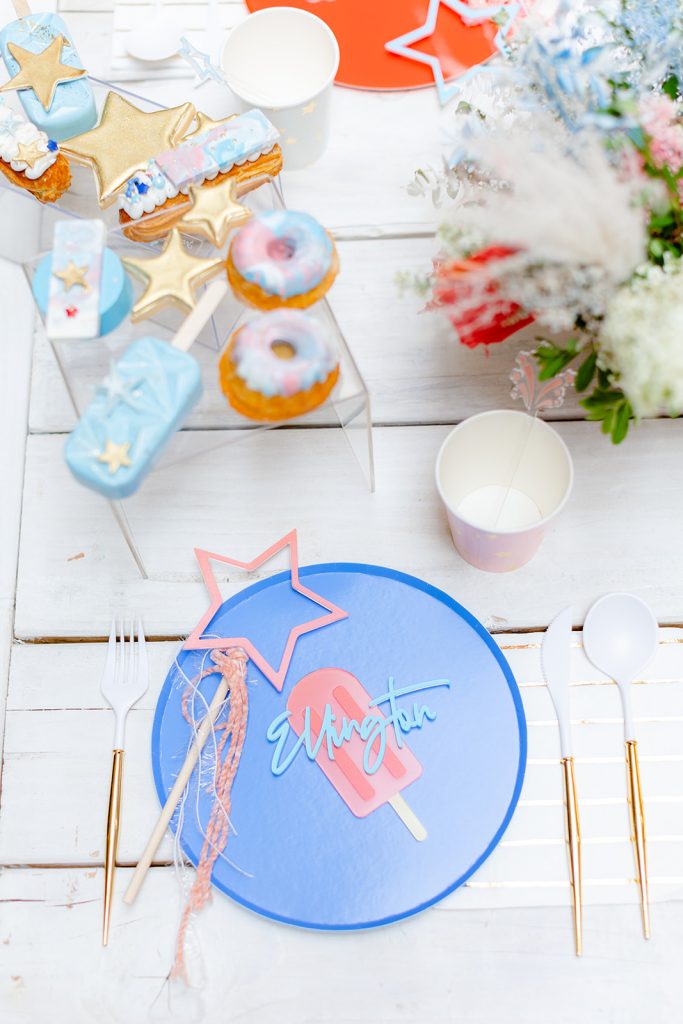 Again with the cute punned Fourth of July theme. Taking a traditional holiday and focusing on the bomb pop to inspire the shoot, which turned out so amazing. The colors and all the pretty little details!!
Malibu Farms Bridal Shower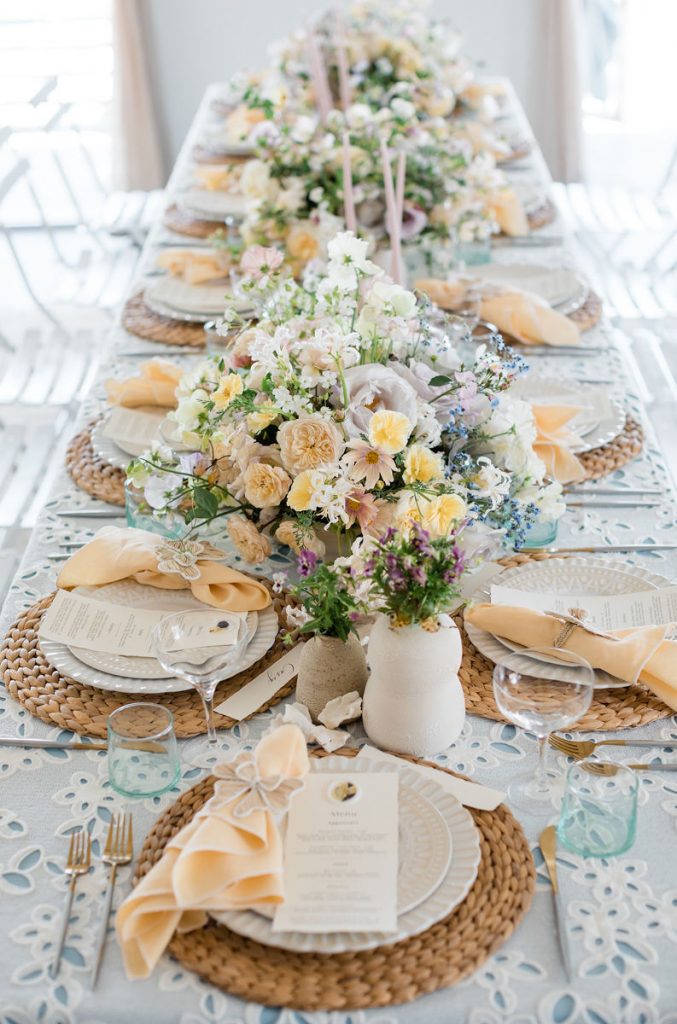 This floral themed shower was to so beautiful, definitely one of my favorites of 2021. The linens, the napkin ring, and he overabundance of flowers, how could you go wrong!?!
Bodhi's Trash Truck Party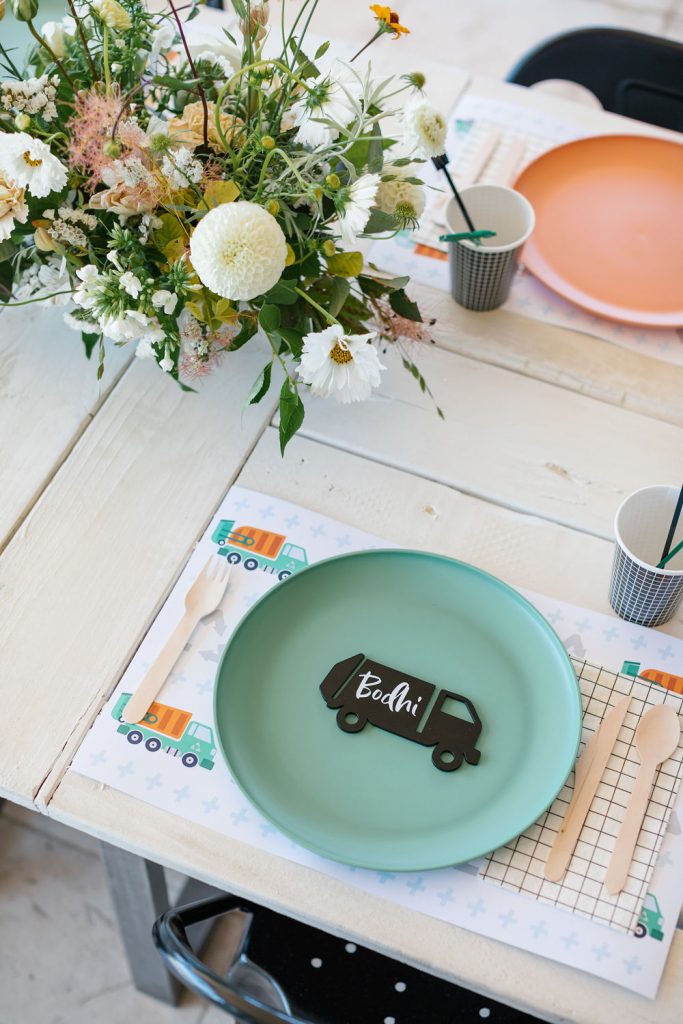 This trash truck party theme is one little boys love!! It's so fun to take a traditional party theme and make it cute and modern with the muted colors and fun details.
Celestial Birthday Party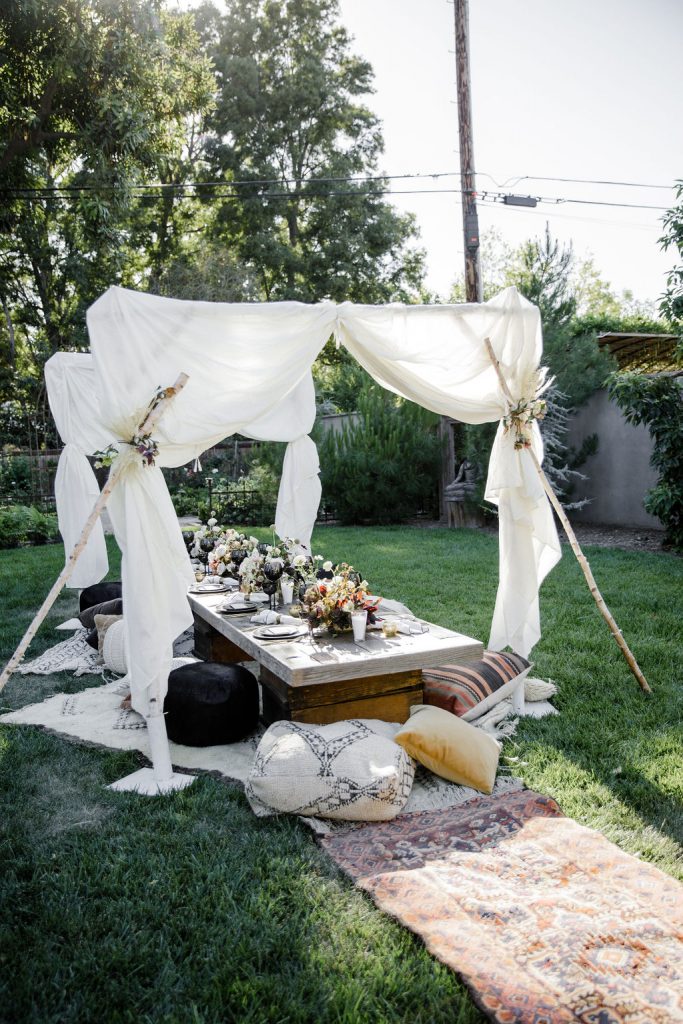 This celestial party was so gorgeous and definitely a favorite in 2021! The whimsical canopy over the table and all the black and white details on the table. So intimate and fun in a beautiful backyard.
Cheetah Halloween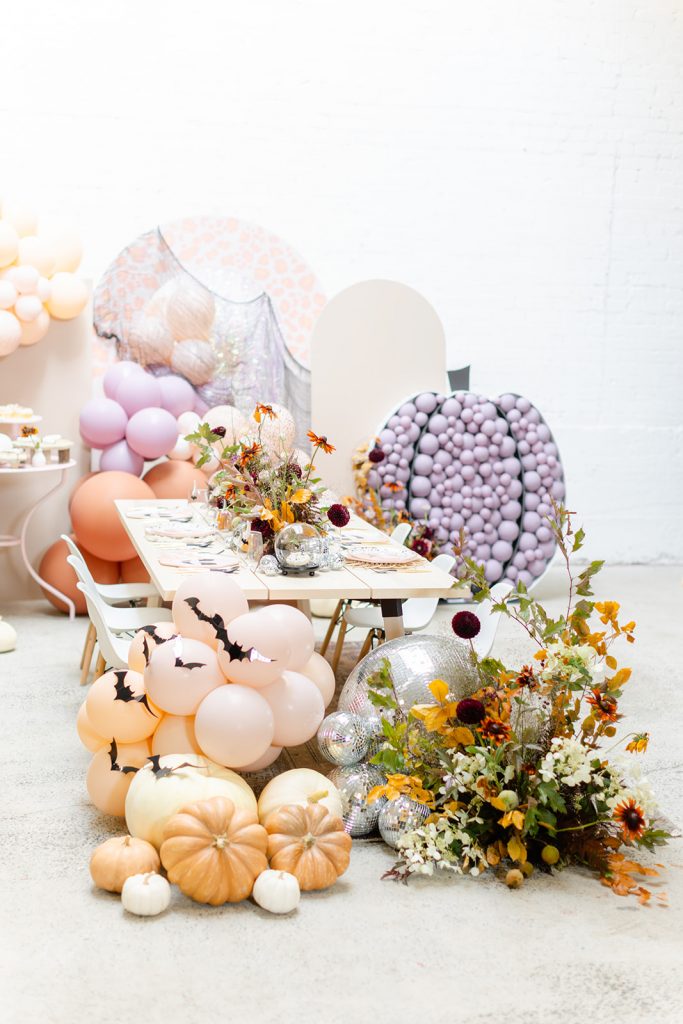 If you know me, you know I love cheetah print, so this one spoke to me big time!! I love the pastel take on it all and combining the Halloween vibes as well.
Art & Ice Cream Party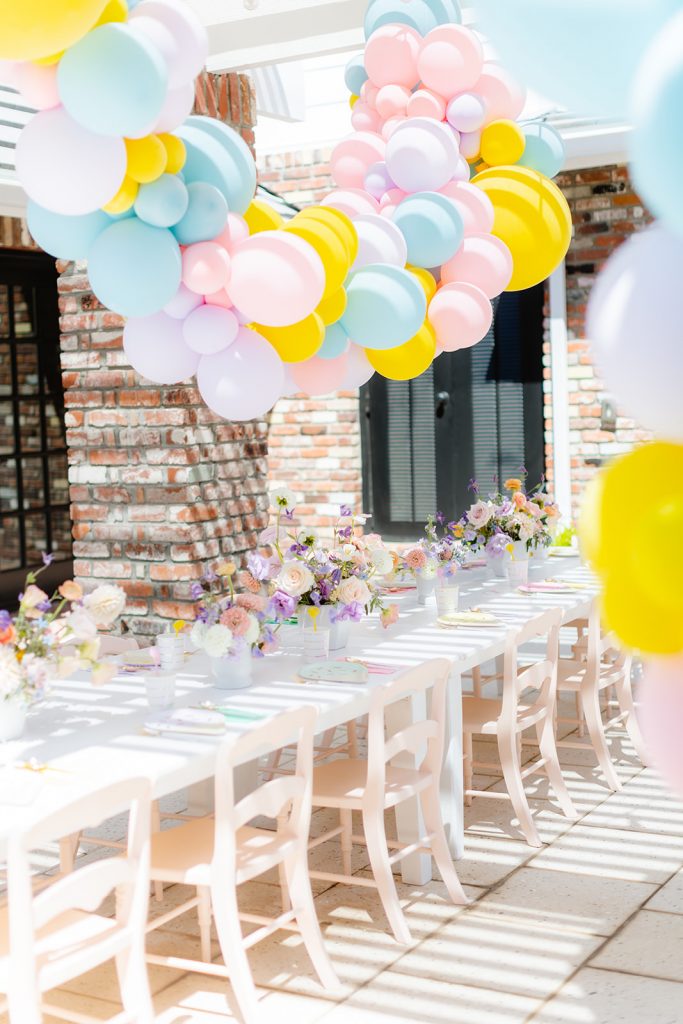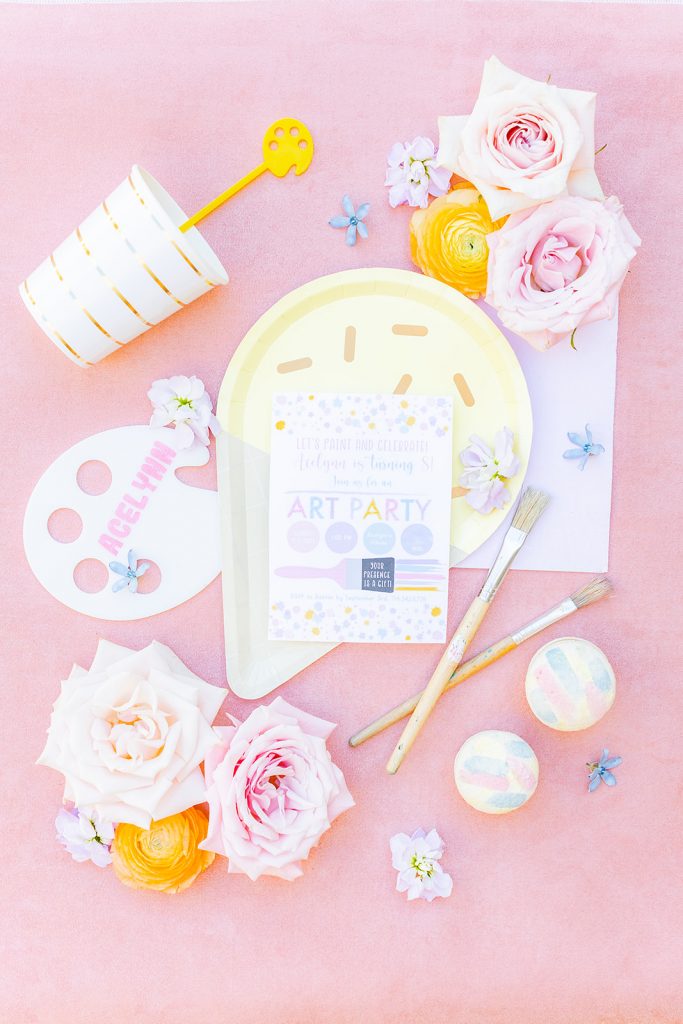 This party was so gorgeous, with a traditional girly color palette, but a fun theme combining art and ice cream…how can you go wrong!!
Disney Christmas!!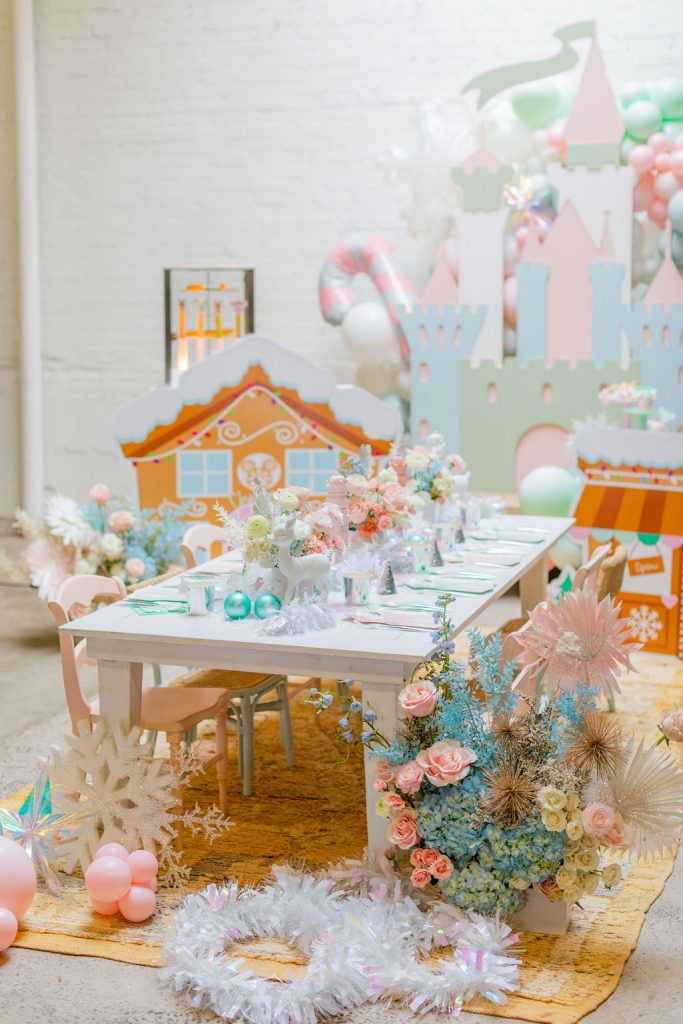 This shoot, maybe because it was the one of the last ones of 2021, is my favorite. One because of Disney, two because of the pastel vibes and three because of the details and that backdrop!! So amazing… Bravo!!
---
A B B Y
This past year, I played around with many new recipes that I usually wouldn't do at home. It feels really good to challenge yourself. I also wanted to create different layouts, which were fun to play creatively with. This next year, I have some pretty fun ideas that I can't wait to share with you all! In the meantime, here are my favorite yummies and cocktails from 2021. I hope everyone had a happy and safe New Year's Eve!
A Pink Tropical Citrus Salad for Beautiful Skin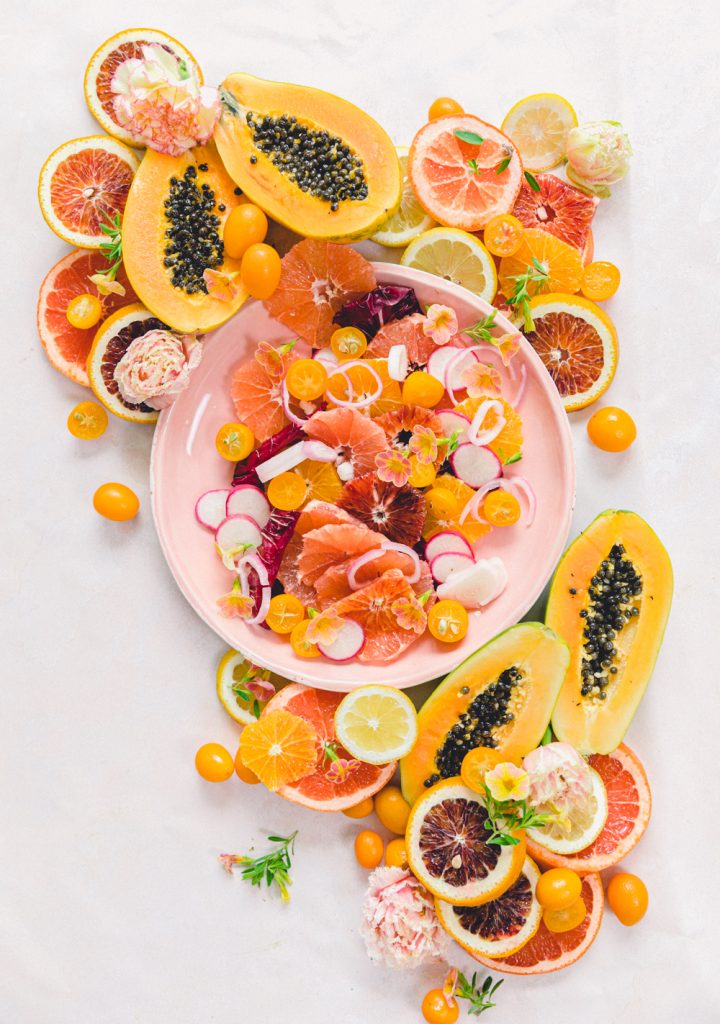 It's no secret that we love playing around with girly colors. I'm a big salad girl, so I'm always looking at salad ideas. This pink tropical citrus salad is not only super yummy but also good to achieve that glowing skin. That is a win for me when anything you eat not only benefits your inner health but also outer health.
Fresh Out Of The Garden And Onto Your Toast- Heirloom Tomato + Herb Garden Toast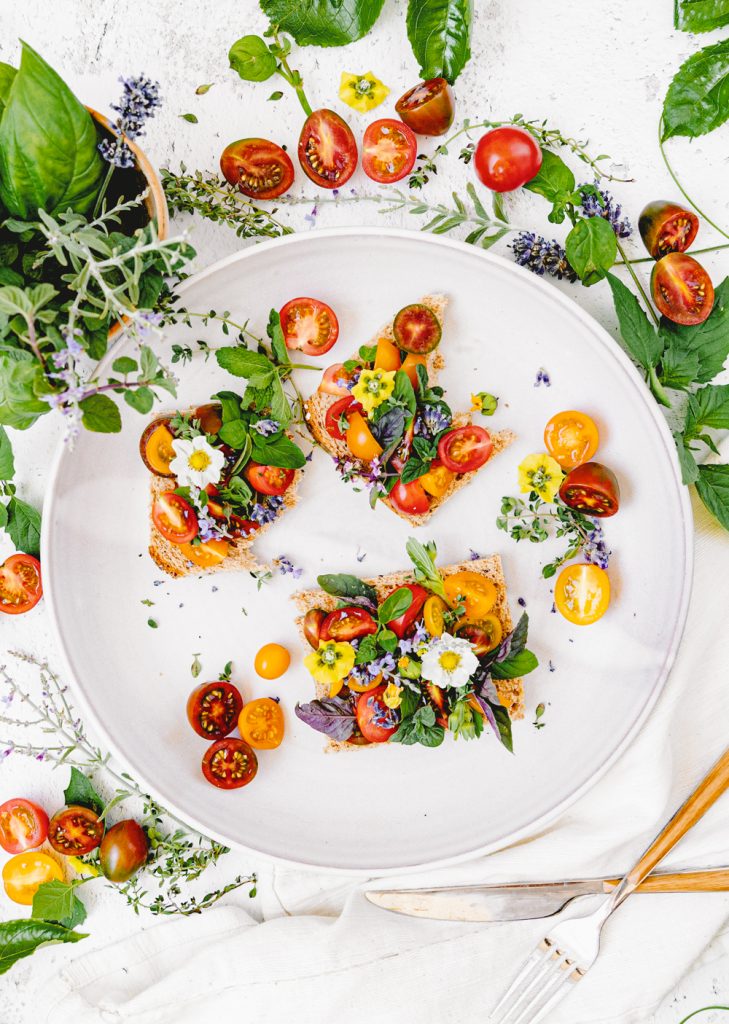 This past year, I started growing tomatoes, herbs, peppers and added more citrus trees in our backyard. There is nothing better than walking outside and grabbing fresh tomatoes and herbs to create an heirloom tomato toast. I mean, look at those bright colors! I hope to get more of these beauties growing this spring.
Acts Of Kindness Gifts With Dylan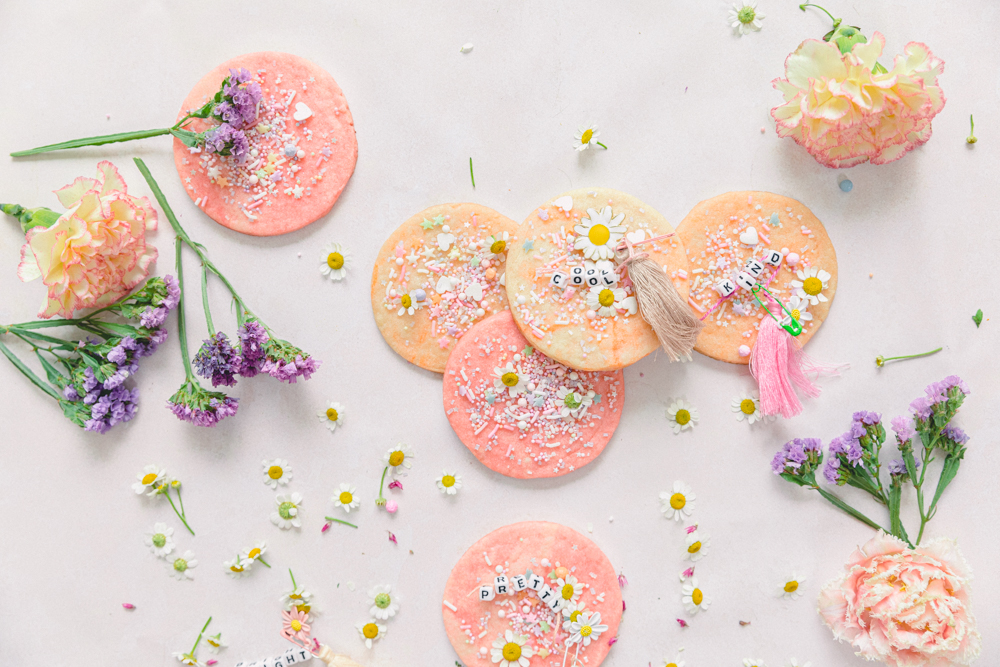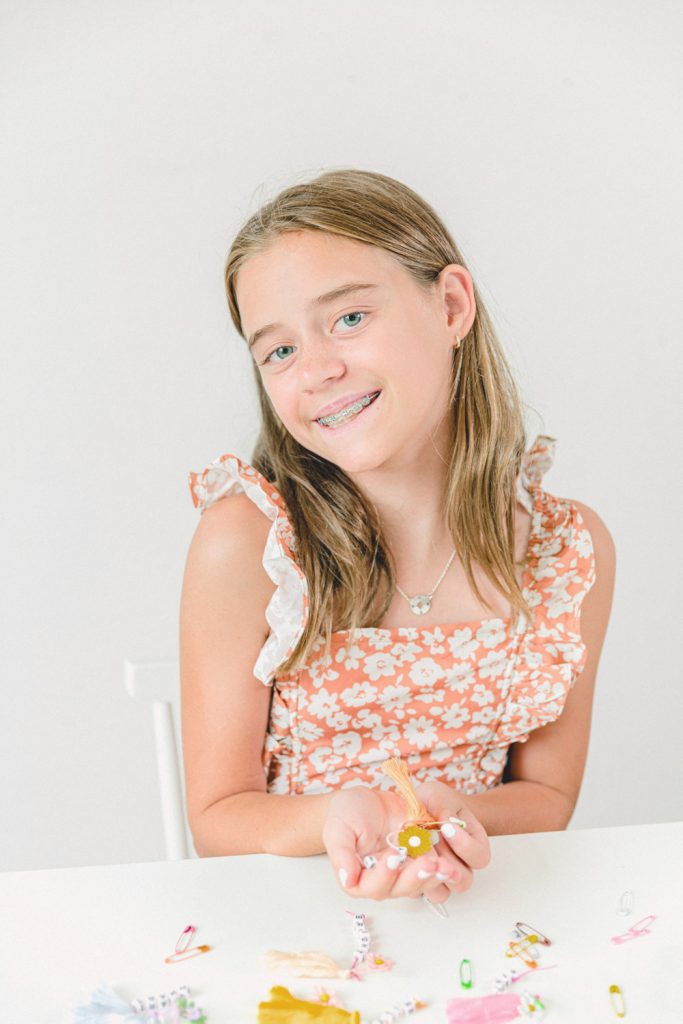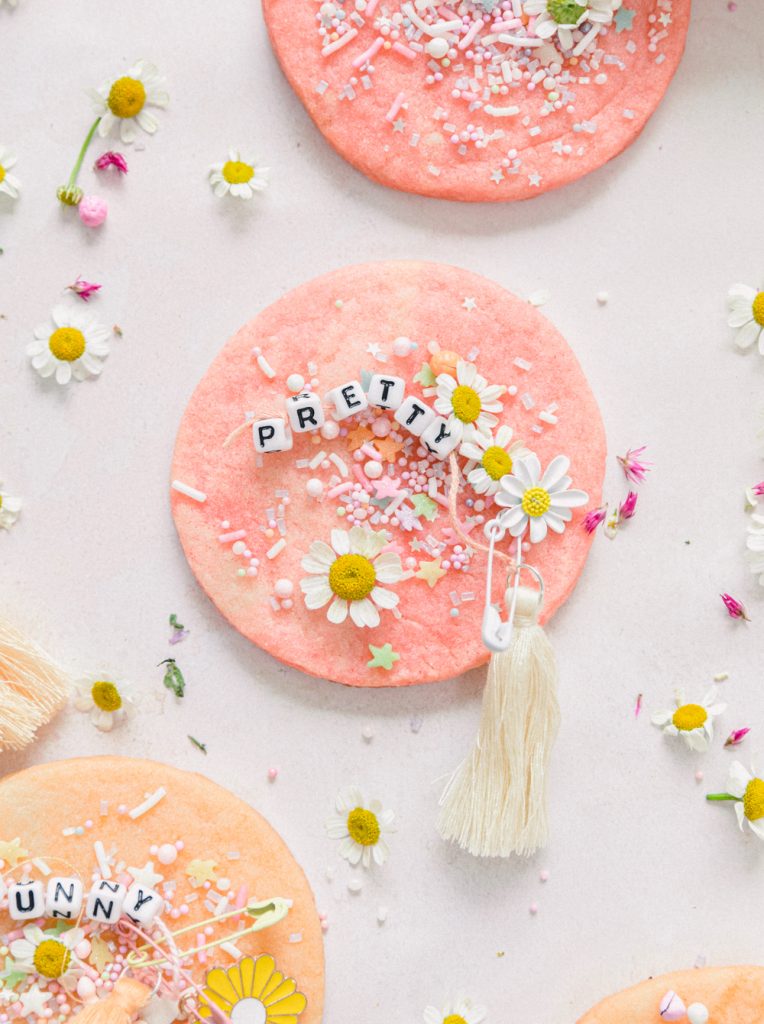 This post was probably my favorite by far! My daughter, Dylan, did her 1st post on the blog this year. She made the cutest pastel-colored cookies and decorated them with homemade keychains with kind words on top for her friends. I couldn't have been more proud of her big heart and also to see how she is falling into my footsteps with her creativity.
A Zesty Fruit Cup To Serve Up For Cinco De Mayo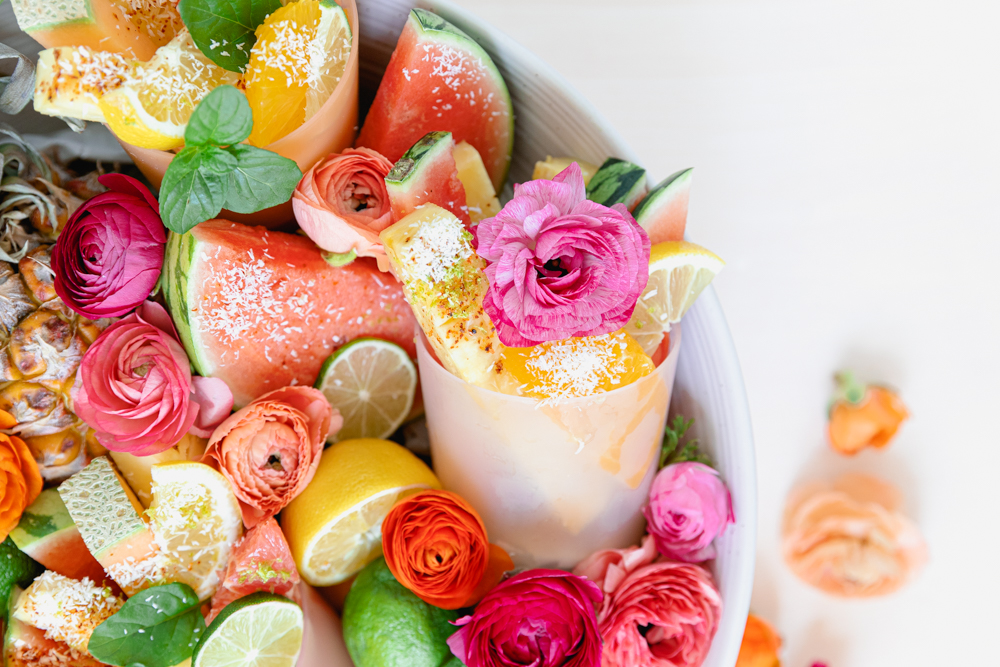 I have a strong love for fruit, and this zesty fruit cup to serve up for Cinco De Mayo was filled with bright colors, tangy fruit, and spice! I like to take simple ideas like this and show you how to go the extra step to wow family and friends. If there is one tip, always add flowers! They make everything pretty.
Mango + Pineapple Micheladas For Dad!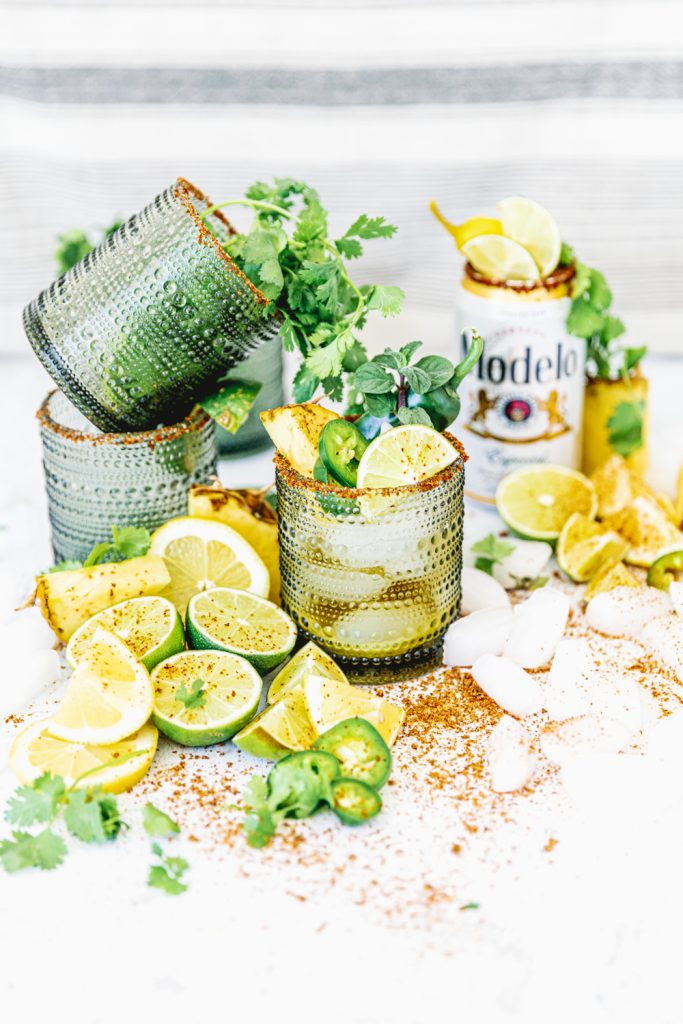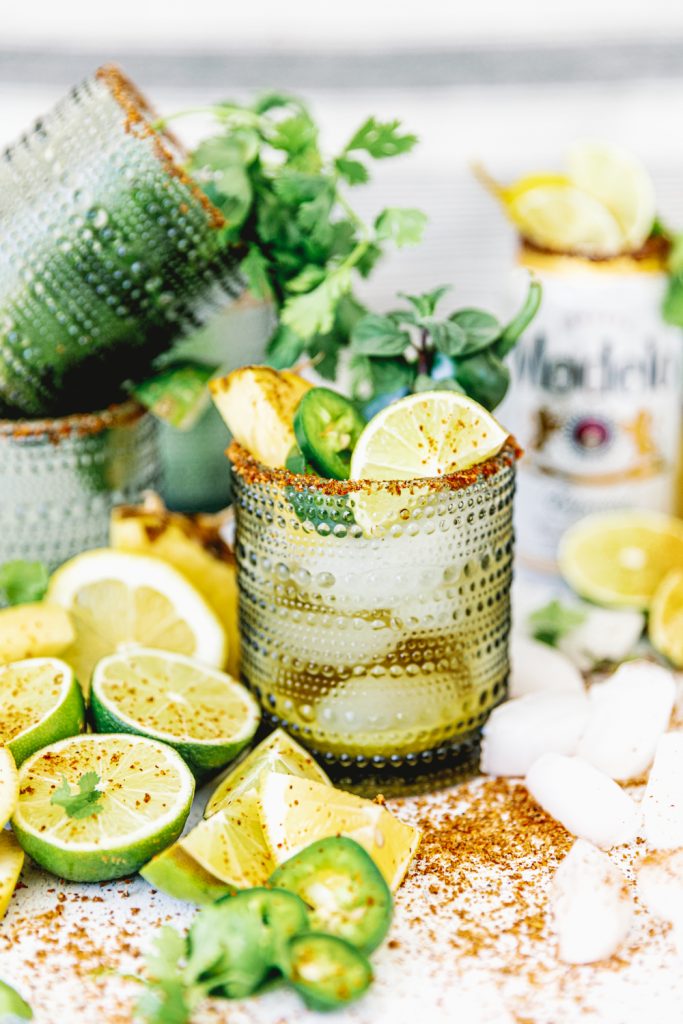 Mango and pineapple micheladas for Father's day! I try not to have the same layout all the time; that gets boring and repetitive. This cocktail layout was a fun one to play around with.
Black Magic Flowers- Halloween DIY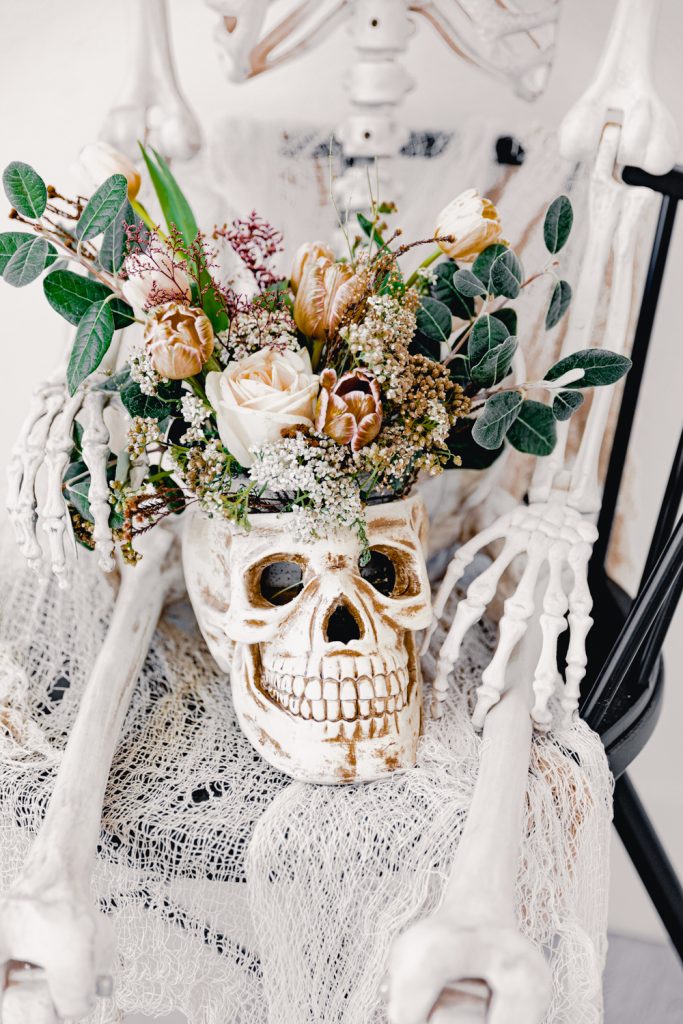 This black magic flower post was one of those DIY ideas where it takes a couple of times to come out the way I wanted. I initially tried to dye the flowers to make them black, but they were coming out blue. So last minute, instead of squashing the idea, I tried using brown hues. They came out better than I thought! I like how they aren't the traditional spooky colors, a more feminine look.
An Easter Egg Aperitif- Beijos Cocktail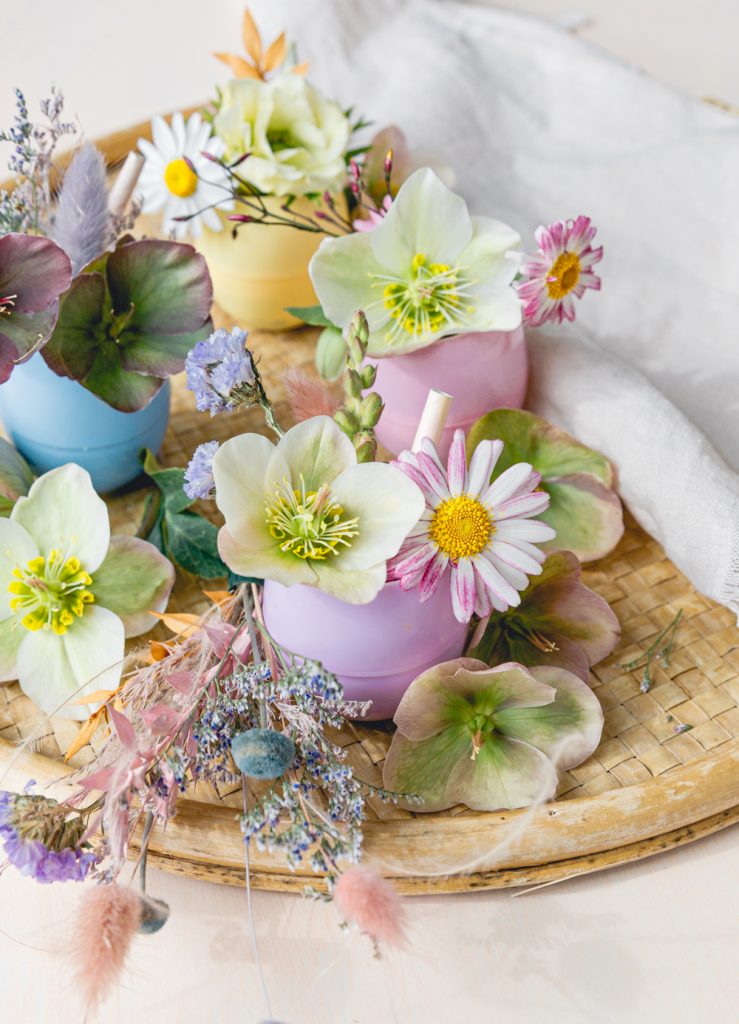 Another example of how you can take an idea and take it up a step for any holiday, party, or just a Friday! Spring content is my absolute favorite, especially Easter. Aren't these Easter egg aperitif just the cutest things?
---
Thank you for a great year!! Here's to more pretty in 2022!!!
xx
Jacquelyn